Firecracker…Great Way to Describe 1932 Ford Highboy Roadster as It Moves Down the Road with Blown Small-Block Chevy

Blown Dart Iron Block gets this Highboy Down the Road
By Chuck Vranas – Photography by the Author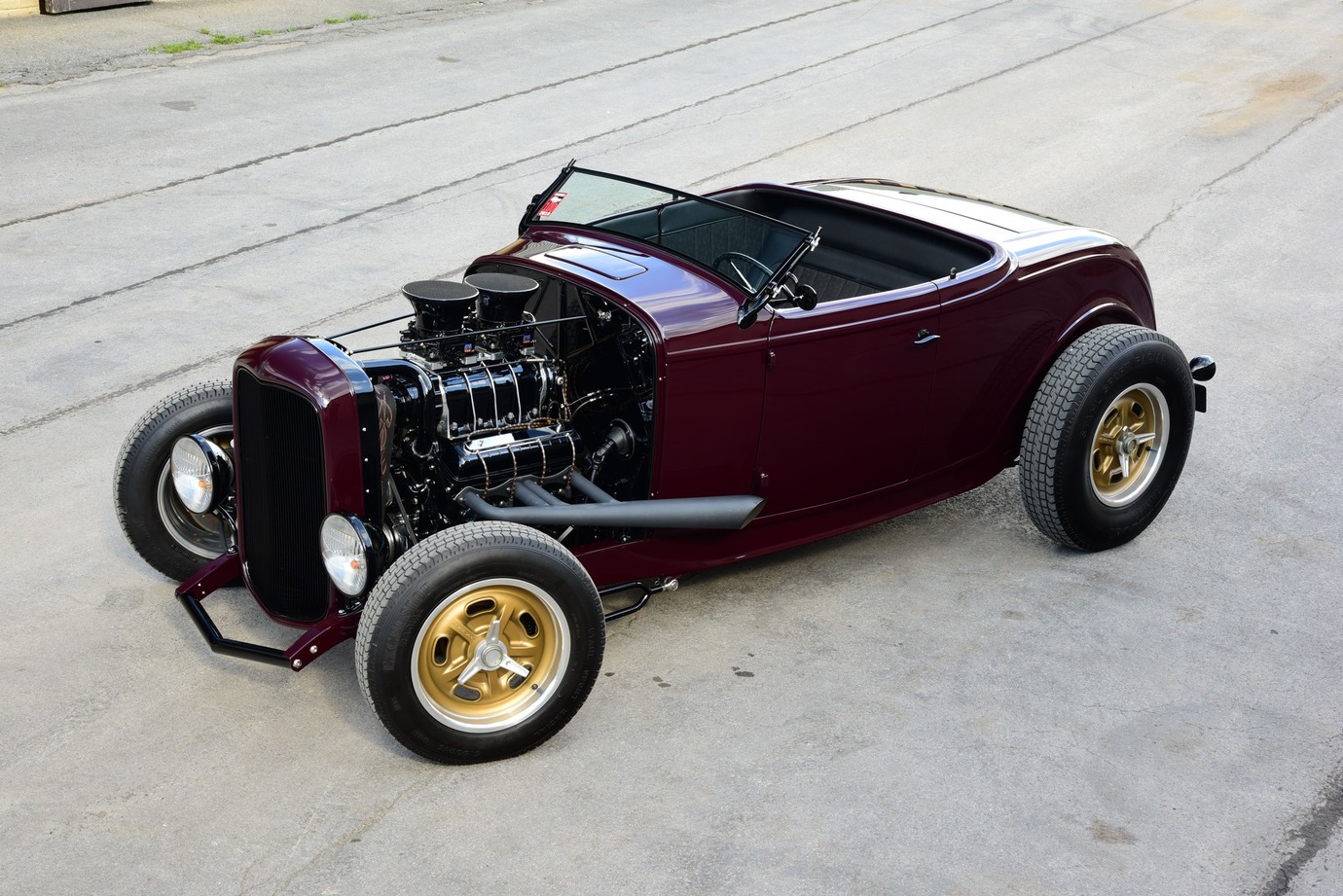 There's nothing more badass than the sounds of a hot rod thundering down the road packing a hopped-up V-8 fused with the combined whine of a supercharger and quick-change rear to create the ultimate moment in time. It may have taken Kristina Plumley of Middletown, Delaware, a little while to get in the driver's seat, but the journey was well-worth the wait. Growing up in Beckley, West Virginia, her earliest automotive memories started while sitting on a milk crate in her dad Carl's gutted '41 Oldsmobile. While clutching the tattered steering wheel, she'd often gaze out the panoramic windshield imagining what it might have been like wheeling the car through the local town streets.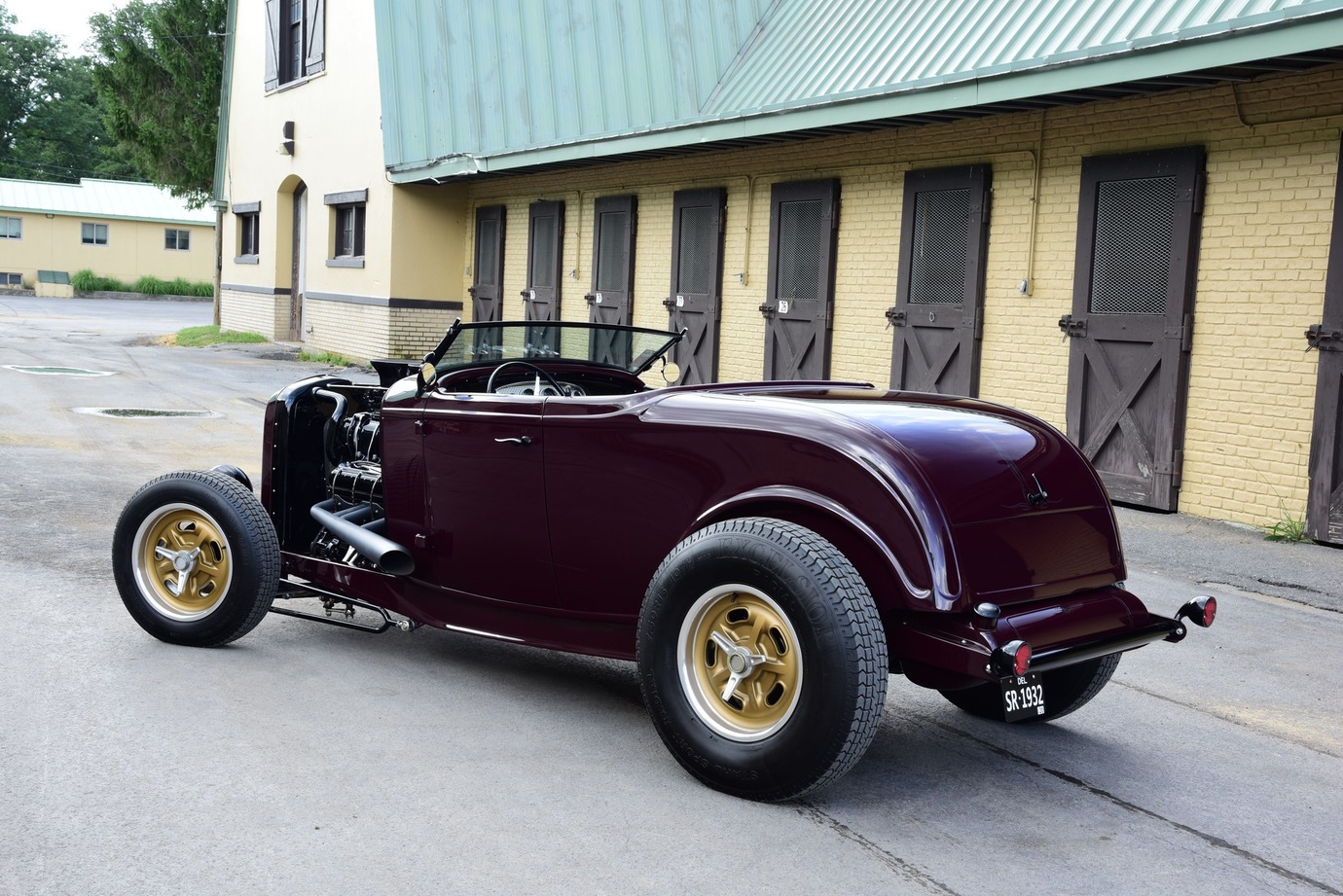 As the years passed, her passion for hot rods and customs were fueled through an endless array of rodding magazines and stories her dad would tell of his personal experiences. Once in her teens, plenty of nights were spent hanging-out at various venues along the local strip to see who could prove they had the hottest set-up in town. Her performance path eventually led her to one of the East Coast's legendary shops, One-Off Rod & Custom in Middletown, owned by Gary Corkell. Working at One-Off as an Office Manager with a twist, Kristina also spends plenty of time helping out with body work on many of the shops custom builds as well as hitting the road to showcase them on a national level.
When it came time to lay out the plans to build her own personal Deuce roadster, Kristina reached deep into her bag of tricks and pulled out a speed shop full of go-fast goods to make sure it had a perfect balance of good and evil. Having been on the scene with Gary for a number of years gave her plenty of great ideas on what would give her car a unique signature look. The most astounding facet of the build was that the team was able to complete the car in a short 3-month timeframe. Let's take a look at just what makes it so bitchin.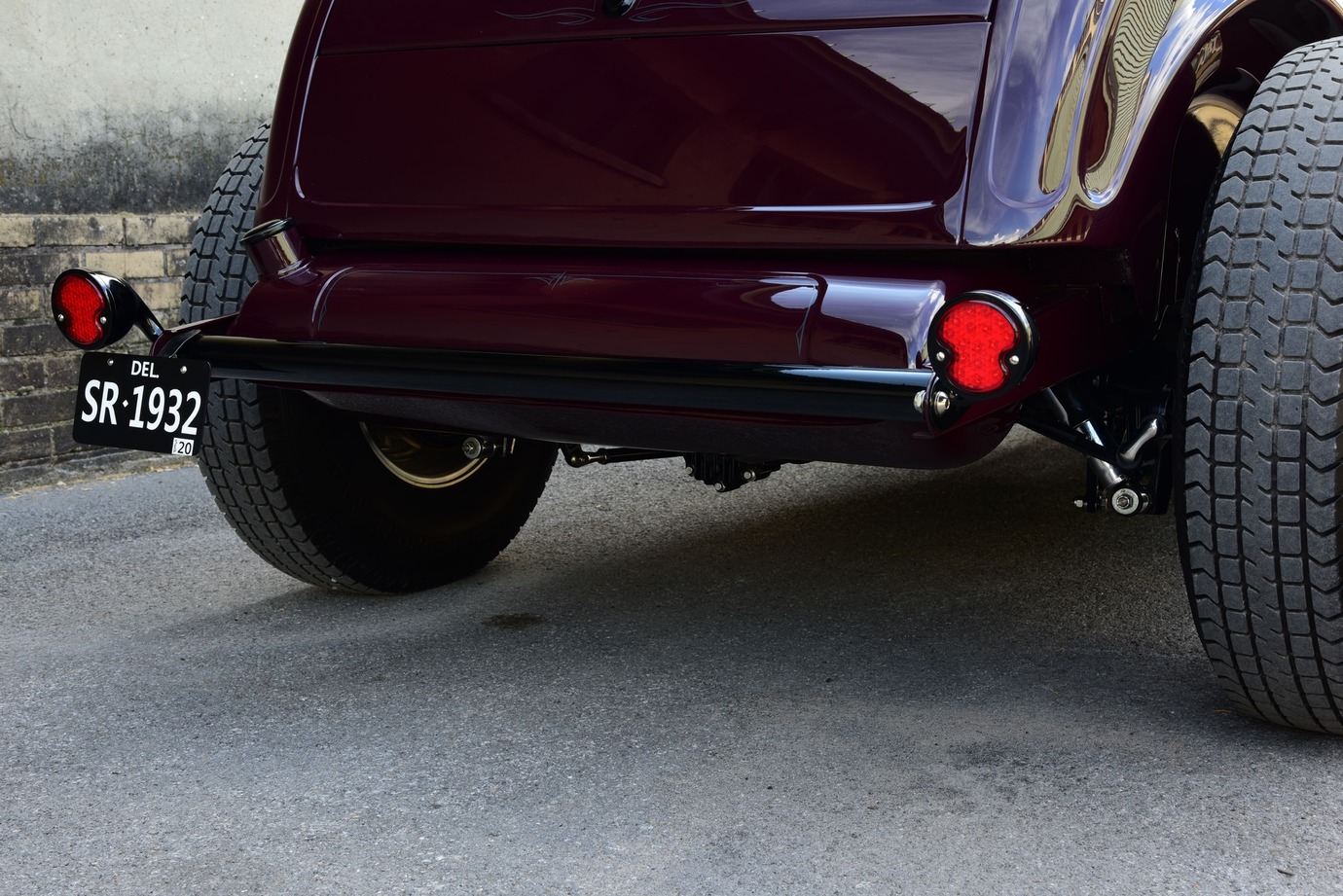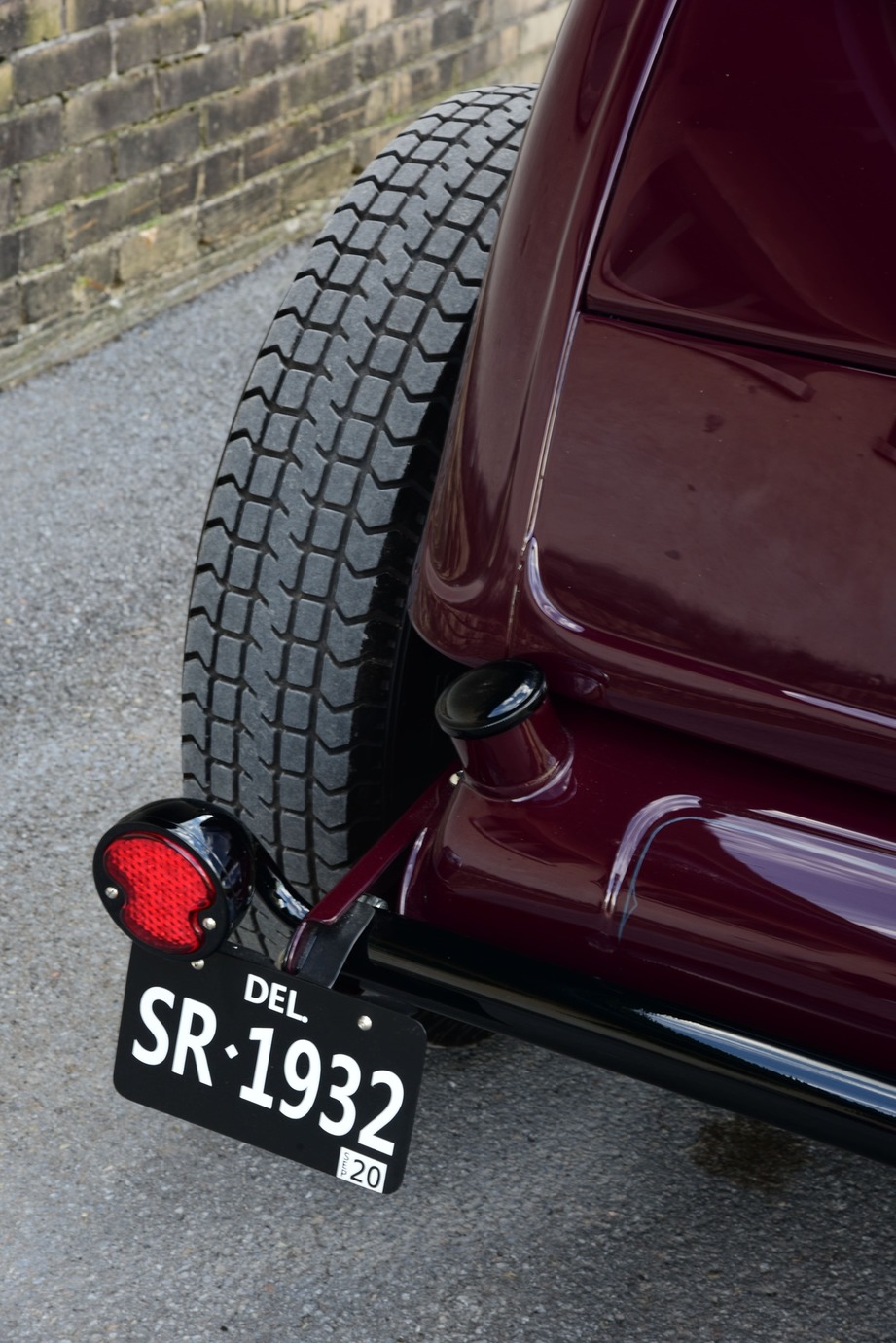 To lay out the perfect foundation a call was made to Affordable Street Rods in Peabody, Kansas, for one of their rock-solid '32 Ford perimeter frames. To give the roadster a perfect rake, the One-Off team fabricated custom crossmembers starting with a 1 ½-inch dropped spring pocket up front while also moving the radiator location forward by 2-inches. To deliver the goods out back a Winters V-8 quick-change rear spins 3.73 gears while being suspended in place by a SO-CAL Speed ShopGT2 triangulated 4-link combined with a matching tube shocks and Panhard bar along with a Posies Super Slide buggy-style spring. Stuffing the nose in the asphalt, a SO-CAL Speed Shop 4-inch dropped axle was deftly matched to early Ford spindles combined with a Posies Super Slide spring, hairpins from Pete & Jakes and SO-CAL Speed Shop tube shocks. When its time to drop anchor; a dual master pushes fluid through stainless lines to 12-inch Corvette-style discs with four-piston calipers up front combined with Ford drums out back. Linking it all to the street are a set of 16-inch, pin-drive knock off Hot Rod wheels from SO-CAL Speed Shop treated to a custom gold coating wearing Excelsior rubber to make the look complete.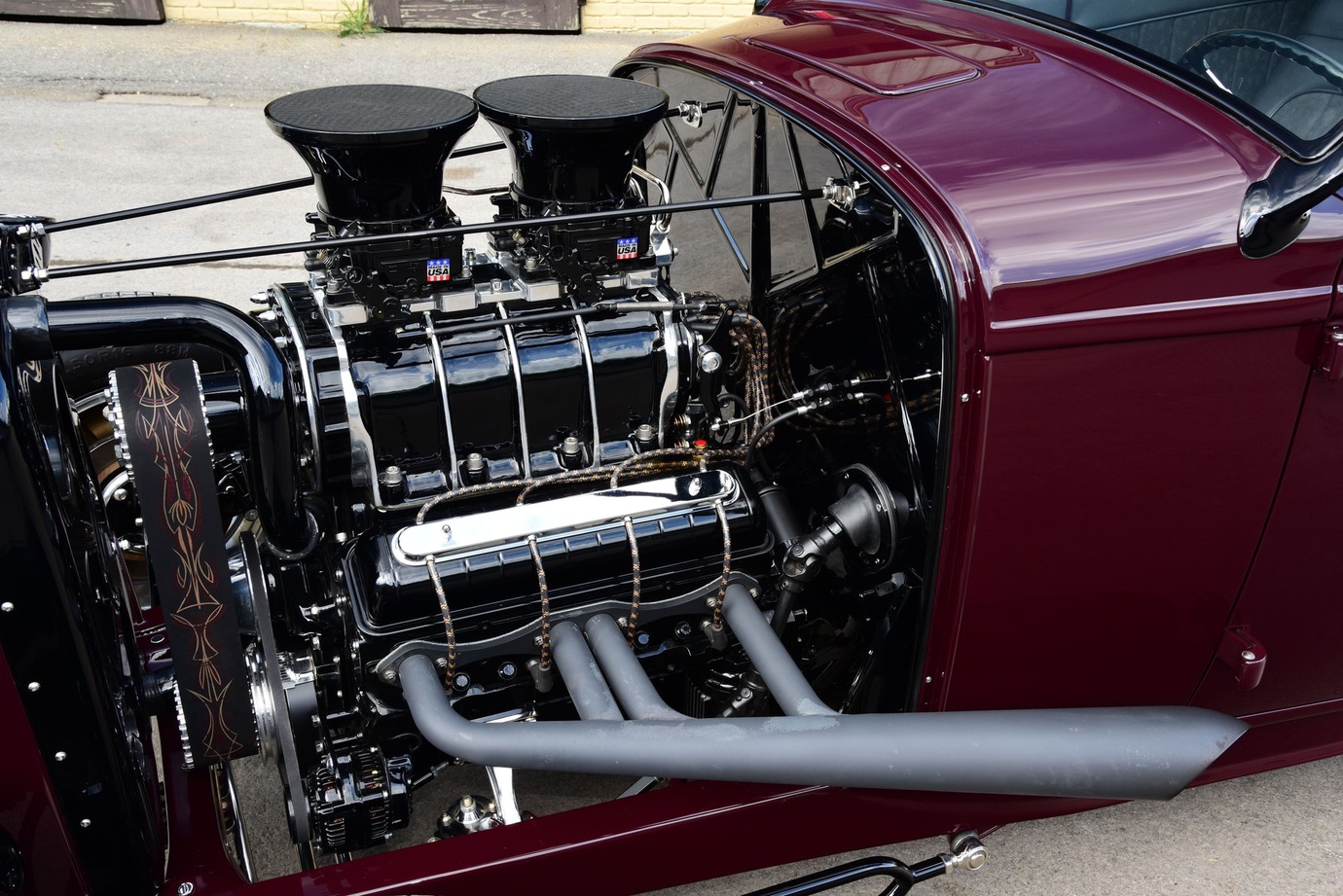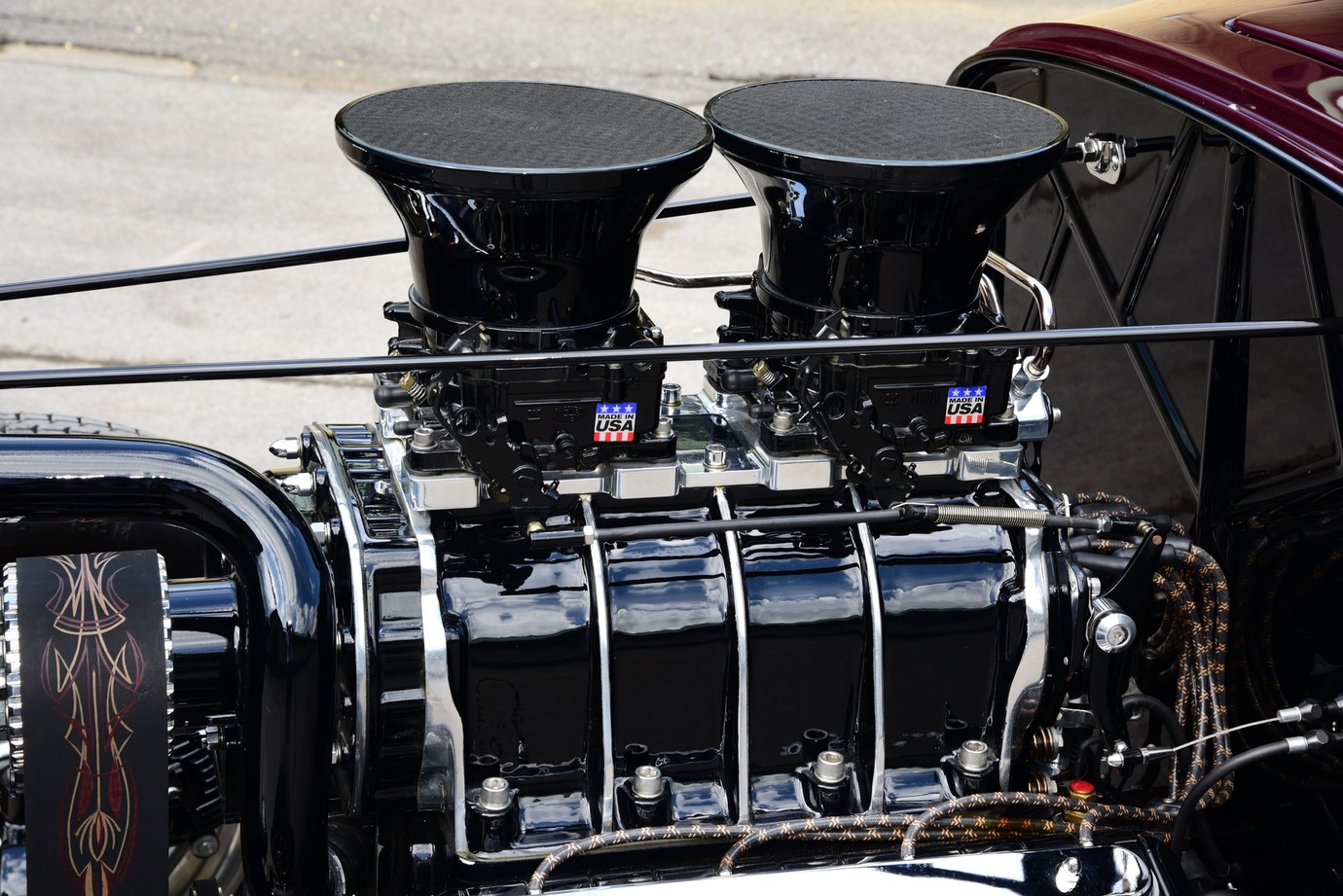 Kristina wanted to make a statement when it came time to flick the ignition so she called on Big Al's Toy Box in Gaylordsville, Connecticut, to assemble a fire-breathing small-block Chevy with all the right bits. To start, a Dart cast iron Chevy block with four-bolt mains was massaged to 355ci. The base was then filled with an Eagle forged 4340 crank linked to matching I-beam steel rods topped with Keith Black forged pistons with bump from a COMP Cams Xtreme Energy stick. Up top a set of heavily massaged aluminum heads from Big Al's make seamless power especially when matched to a Weiand 6-71 huffer perched on a matching intake fed by a pair of Edelbrock 750cfm wearing custom velocity stacks to deliver the knockout punch. An MSD ignition lights the fire with spent gasses dumping through a set of custom lake pipes by team member Donnie Reeder. To move the goods, a GM 700-R4 trans by Donnie packs a special shift kit, all linked to a custom driveshaft. The package, good for 650hp, is more than enough for any top-down cruise along the shoreline.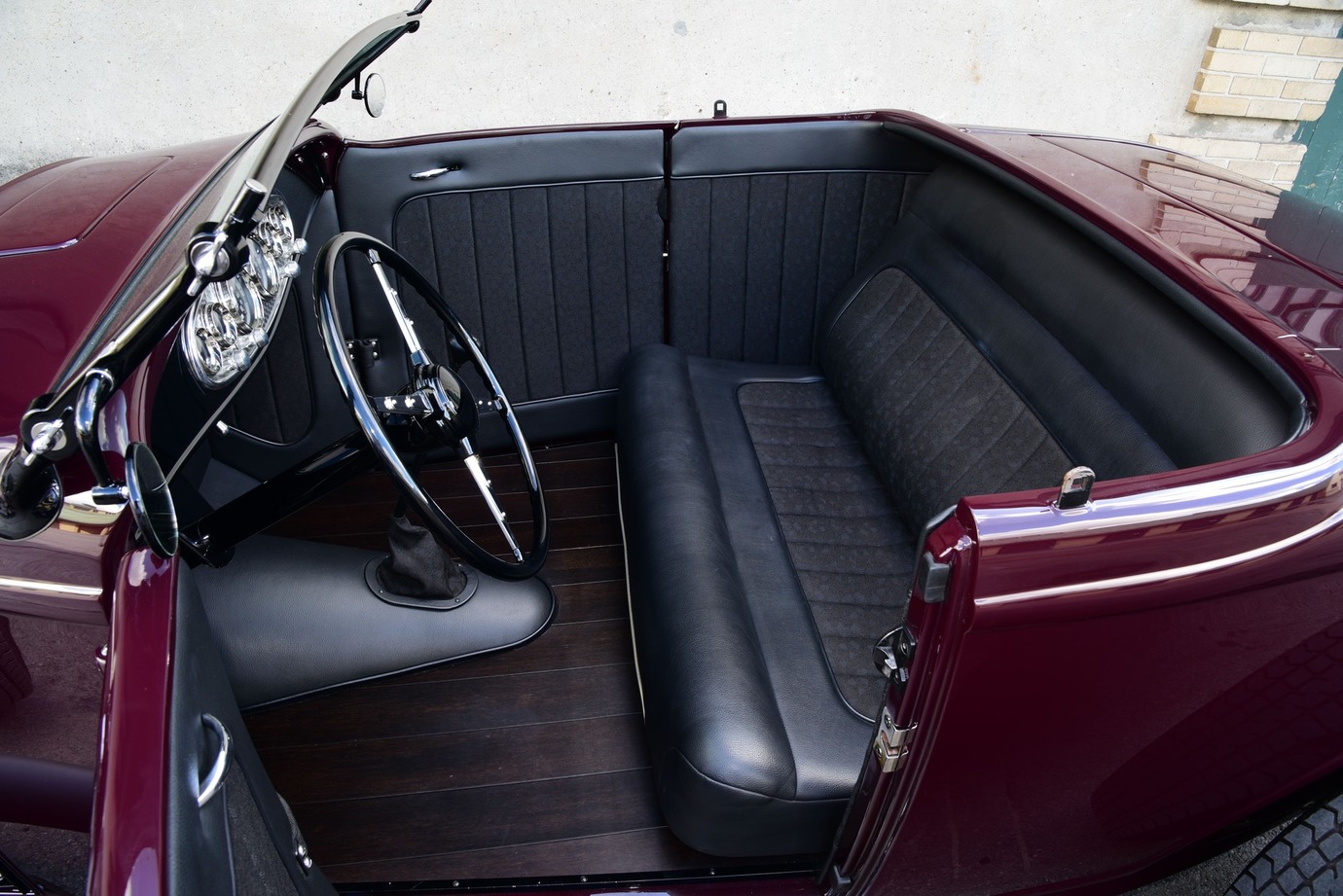 There's nothing like working with freshly struck steel when it comes to building a hot rod so Kristina contacted Brookville Roadster for one of their classic Deuce bodies. Upon arrival, the One-Off team massaged every bit of the new body to perfection and set all the gaps. Wanting to give the car just the right amount of dramatic allure, Kristina had Gary blend a custom Glasurit Oxblood hue. Team member Eric Annas then filled his spray gun and laid down the vibe, bringing the project to life. To bring an equal amount of allure to the interior the stock dash wears a custom engine-turned dash insert from One-Off filled with dials form Classic Instruments accented by knobs from SO-CAL Speed Shop. An ididit column links to a Modern Vintage steering wheel from Johnsons Hot Rod Shop while shifts pull from a Lokar stick. The business office is the handiwork of Brad Wurzbacher of Stitcht Interiors in Manchester, Maryland, who flawlessly blended a winning combination of black leather and cloth accented by a dark walnut hardwood floor to make a statement. Wiring from team members Brian Painter and Jared Schmitt completes the build. This is one Deuce roadster that sees plenty of action on the street, making itself known wherever it goes and to us that's the real deal! MR
1932 Ford Highboy Roadster Powered by Dart Small-Block Chevy