Greg Stokes
1932 Ford Highboy Roadster
Auckland, New Zealand
I built my roadster 10 years ago in my home garage and now it is a rolling business card for my GMS Hot Rods business here in Auckland, New Zealand. Using Dennis and Debbie Kyle's USA based orange "STROKER" highboy (formerly Tom Senter's roadster) as my blueprint for stance and style. The initial inspiration for this car came from famed New Zealand hot rod builder the late Pete Dore. Pete was actually inspired by Gary Kessler's original roadster and he built his own version here in 1989 in New Zealand. It was around that time as a kid, I was inspired to have my own yellow Deuce highboy roadster.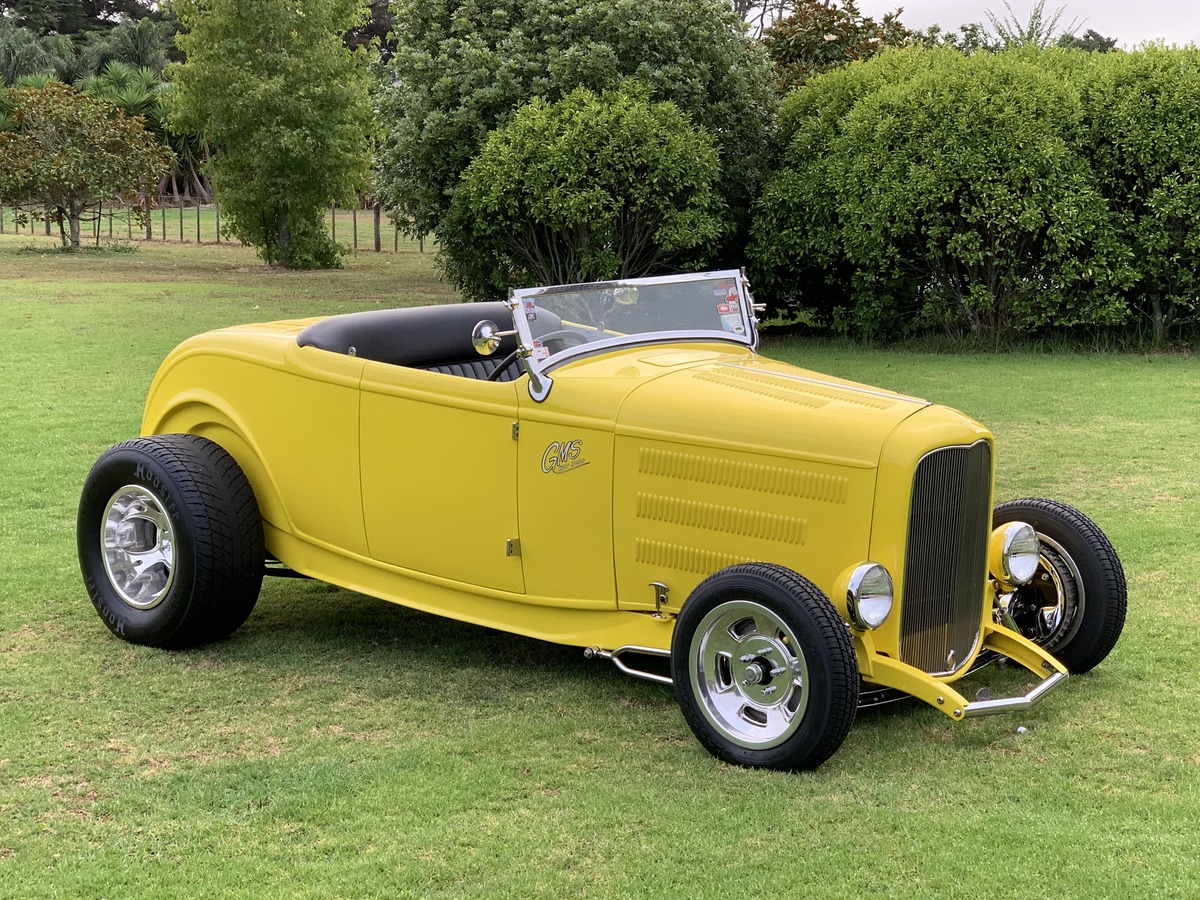 My tastes zeroed in on not only the Kyle roadster but the style of the late Barry Lobeck and the late Pete Chapouris. As a kid in the 90's I researched these cars and read everything I could regarding them and where their influences came. Fast forward to mid-to-late 2000's and I had a very clear idea as to how I wanted this car to look.
The 5-inch I-beam with hairpins, a quick-change rearend and the exaggerated rake combined with the 16×10 ET wheels and 15×4-1/2-inch Halibrands were all part of the formula. I started with a bare pair of American Stamping Corporation framerails and built the rest. The "floppy" fiberglass body needed straightening out and the doors hung all of which I managed to do myself.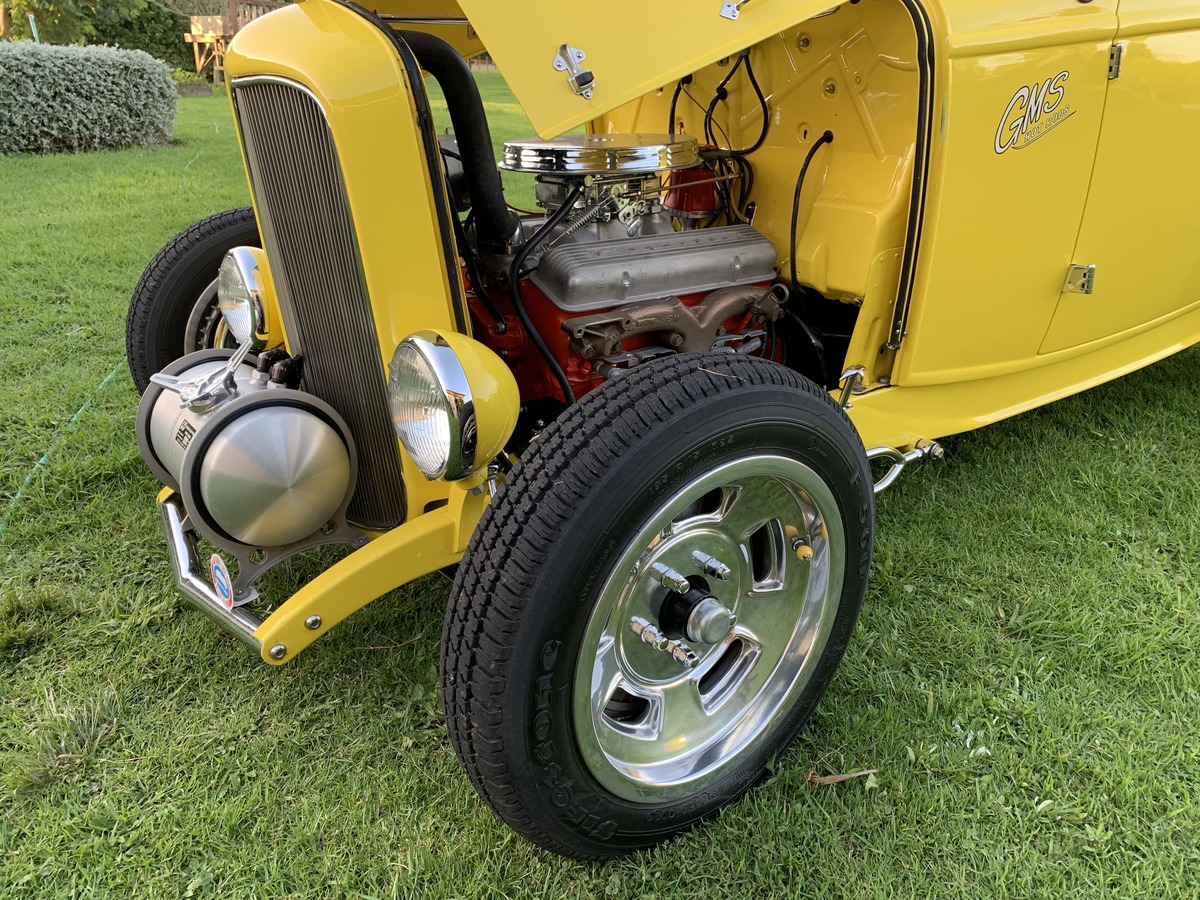 Under the hood is a genuine numbers 1957 Chevy Corvette dual-quad engine, which for now has a Z/28 four-barrel intake. This is backed by a four-speed box plus a Winters Champ quick-change rearend, which sure "sings hard"! The rear suspension is a Model A spring with custom ladder bars. I mounted 45-fin Buick drums with early Ford hydraulic brakes on all four corners as well. The 5-inch axle is held in with a mixture of Pete & Jakes and SO-CAL Speed Shop components. From here I flattened the spring and the front crossmember. Inside I bead rolled my own aluminum interior panels and Ian Goodwin did the seat for me. The 17-inch Bell four-spoke wheel, Stewart Warner gauges, Hurst shifter and P&J chrome spoon throttle are all features I had to have for my '60s-'70s era build.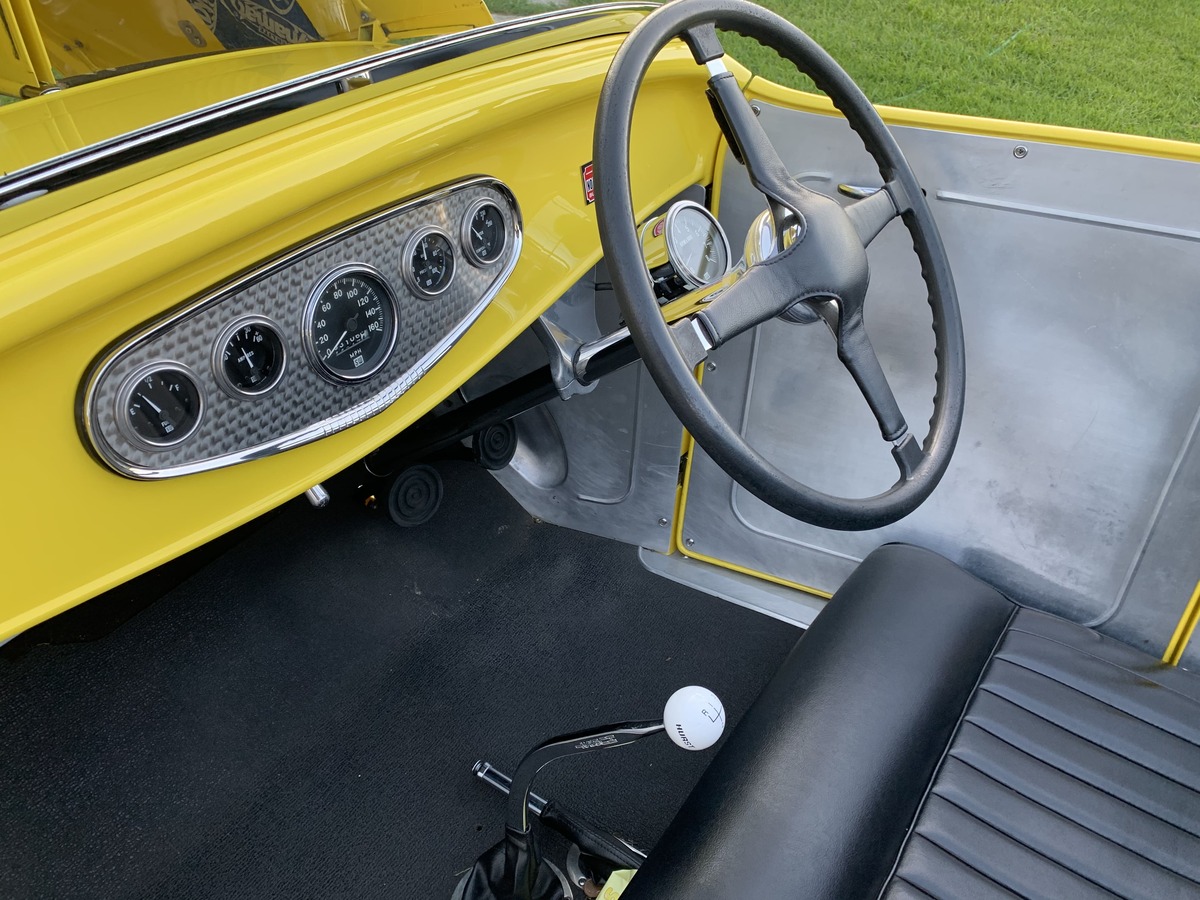 What's it like to drive? Ask Roy Brizio who visited New Zealand in 2012. He was genuinely impressed saying it was one of the better Model A rear sprung cars he had driven. Personally, for me it's a dream come true from when I was 10 years old. I built the car to the look like what was in my head inspired by the aforementioned cars and people. It's a rush to drive with the Comp Cams Thumper cam, three pedals, four nasty sounding tailpipes, and straight cut gears in the quickie. It's all hot rod and I love it!
To change the look out I can remove the Moon tank quickly and I have either a set of 1933 headlights or smaller SO-CAL Sped Shop headlights. Rolling stock runs between the ET's and Halibrands to the 16-inch steelies on Firestone dirt trackers and ribbed fronts. I also have a set of original American five spokes to try with "pie crust" slicks and a Firestone bias ply. MR
1932 Ford Highboy Roadster New Zealand-Style