Richard Miller's 1965 Chevy II Nova Gasser
By Nick Licata   –   Photography by Wes Allison
Certain events remain lodged in the brain and are pretty much impossible to delete—the time and place continue sitting right up front of the brain's recall center. One such incident for Richard Miller was the infamous 1994 Northridge earthquake. At 4:31 a.m. on a crisp January morning, Southern California shook like a giant paint mixer on steroids for 20 very long seconds. That 6.7 magnitude trembler set Richard back two cars, both of which were damaged beyond repair in the massive quake. If there was one bright spot that came from the seismic upheaval, it's this here 1965 Chevy II Nova that he found soon after in an Auto Trader ad posted by the original owner. "I needed a car right away, so I went to see it in person, and without hesitation I handed the guy his asking price of $1,100 for it. To me the car was a diamond in the rough—to my friends it was just "rough" with no diamond in sight. They just laughed and thought it was a total POS," Richard chuckles. "The paint was original and faded, the interior was held together with duct tape, and the straight-six engine was beyond tired, but it ran, and that beats walking."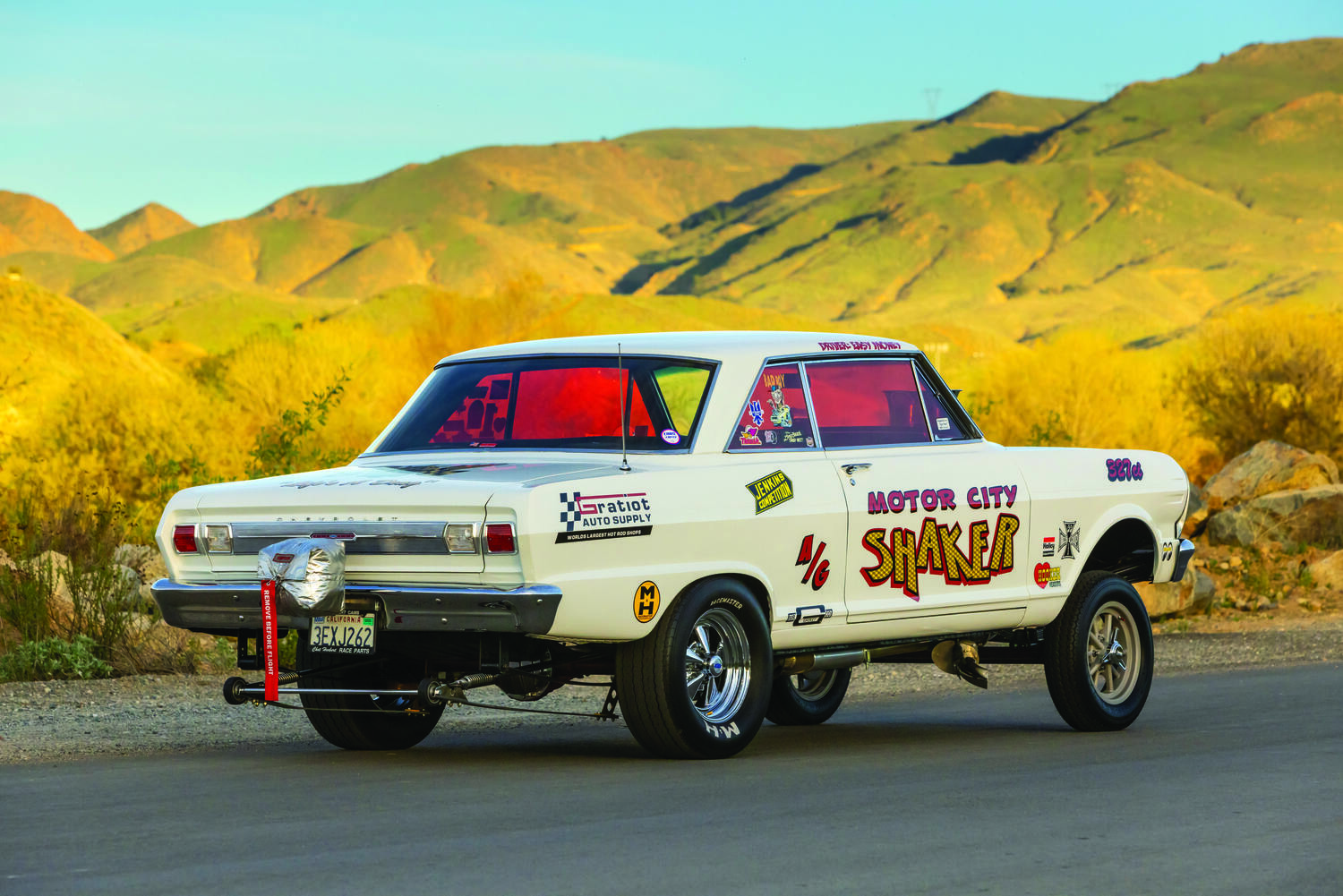 Richard's car-guy roots go back to his high school days in Detroit while racing his Roadrunner at Milan Dragway for the school's film class project where he ended up winning his designated racing class. From that day on he was hooked … not on filmmaking but drag racing.
It was those formative years that confirmed his need for speed. With that passion, he rebuilt the Nova's six-banger then promptly drove it from his home in the San Fernando Valley to Terminal Island Raceway in San Pedro where he ran a best 13.06 at 93 mph—a respectable time considering the small cubic inch mill underhood. With a quest for more speed and lower e.t.'s Richard soon dropped in a V-8. "I was working at one of the old Super Shops speed shops at the time, so I had access to all kinds of performance parts," Richard tells. "I put Cragar S/S wheels on it and Cragar management took notice and put the car in their catalog and on promotional posters, so it's always been pretty much a cruiser and show car."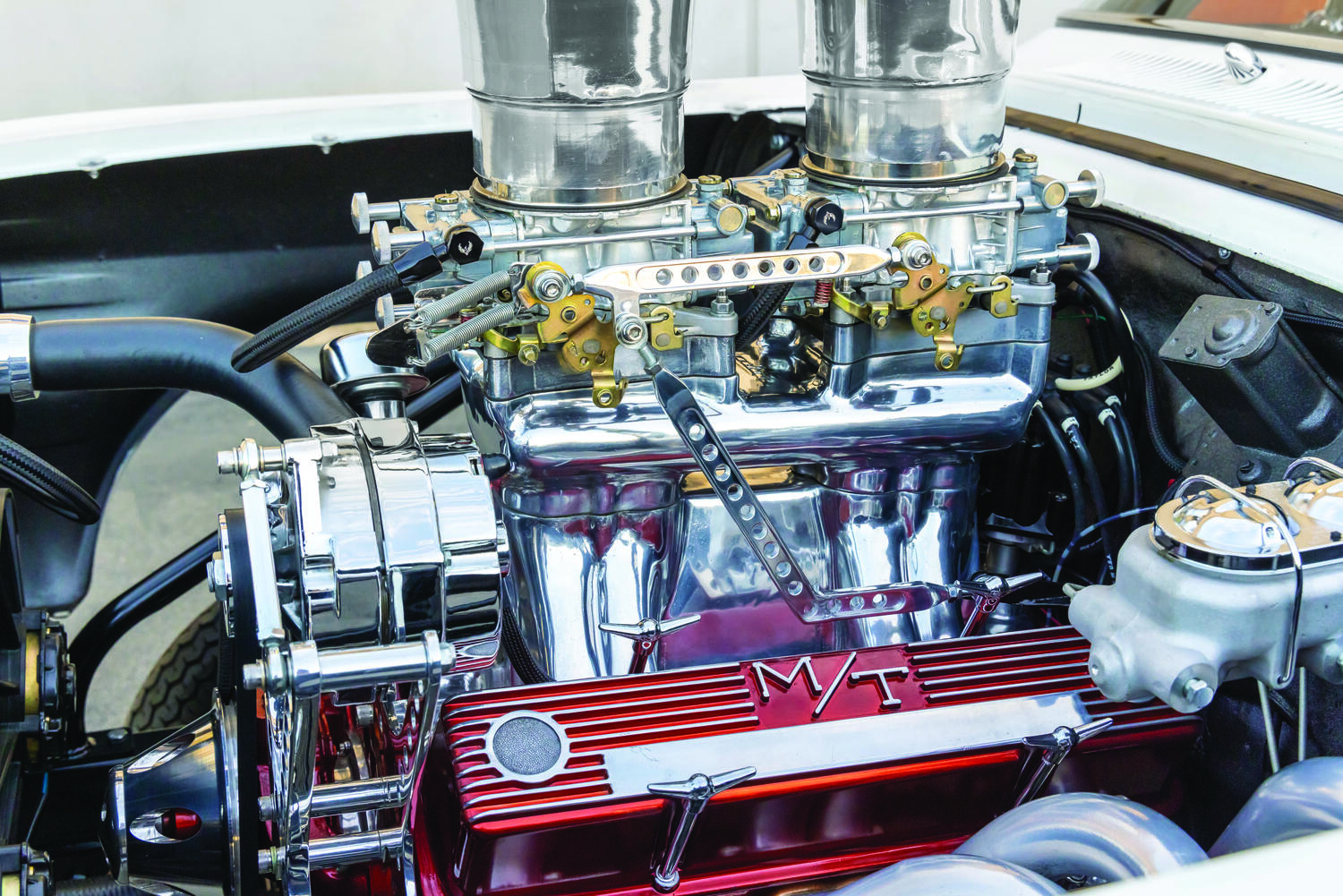 For 35 years Richard raced a 1969 Camaro in Sportsman classes within a number of sanctioning bodies, including NHRA, Goodguys, and the old Super Chevy Shows. Twenty-three final rounds and 17 race wins later, Richard got a hankerin' to shift gears and rest the Camaro and take the Nova from show car to full-on drag racer. He gave it a face-lift in the literal sense and raised the front end for a nostalgic gasser look. "When I caught wind of the Southeast Gassers Association a few years ago, I knew that was the direction I'd be taking the car."
Today Richard's Nova reeks of traditional old-school style, starting with a 327 V-8 straight from 1965. With an engine-building background, Richard handled assembly post machining work from Wayne's Engine in Riverside, California. Highlights include a GM Performance 4340 crankshaft, forged steel GM Pink Rods, TRW pistons, King bearings, Total Seal File Fit rings, Comp Thumpr Series cam, and GM 487X steel heads. To carry on the vintage vibe a Weiand tunnel ram plays host to dual Holley 450-cfm carbs. The vintage Mickey Thompson Tall V-stack air cleaners and OG Mickey Thompson valve covers comply with the period-correct vibe. The small-block exhales through a set of Hooker Super Comp 1 5/8-inch headers and 3-inch exhaust, finished off with Thrush Turbo mufflers. Doug's cutouts open up on race days and the occasional cruise nights when Richard wants to announce his approach.
With the engine dishing out 520 hp and 495 lb-ft of torque, Frank Coscarelli at Coscarelli Racing beefed up a vintage Turbo 350 to handle every bit of mayhem the vintage mill throws its way, then backed it up with an FTI Performance 9.5-inch 3,200 stall converter. That madness makes its way to a Drivelines (Mission Viejo, California) 3-inch aluminum driveshaft and onto a 10-bolt rearend fitted with 3.73 gears, an Auburn posi unit, and Tom's 31-spline race axles.
To get that ideal nose-high stance, a Speedway Motors Heavy Duty Gasser Kit was bolted in along with Pro Shocks SM300 shocks and GM disc brakes up front. A Flaming River Vega steering box takes care of course direction. Mark LeCerte masterfully bent the brake lines for a stellar appearance. Gabriel HiJacker air shocks were employed in the rear and work in concert with a set of Lakewood traction bars and Competition Engineering wheelie bars.
Complementing the Nova's vintage straight-line lineage, a pair of 15×4.5 Rocket F-Launcher wheels wrapped in Mickey Thompson Sportsman rubber reside up front, while a set of 15×7 Cragar S/S five spokes sheathed in M&H Racemaster tires take residence out back. These days, mismatched wheels might be an unlikely scene, but back in the day this was a common practice.
The interior is a surprisingly stock affair as the factory front bench seat has been recovered in black vinyl and no longer relies on color-matched duct tape to hold in the escaping seat foam. The no-nonsense cockpit includes a Performance Online steering column topped with a Grant Vintage Series red metalflake steering wheel and dash-mounted Auto Meter rpm gauge. A red RCI racing harness looks cool and offers additional safety per the Southeast Gassers Association rulebook. The Moon barefoot high beam switch is a cleaver nod to the past and red tinted windows contribute to the car's legit gasser look.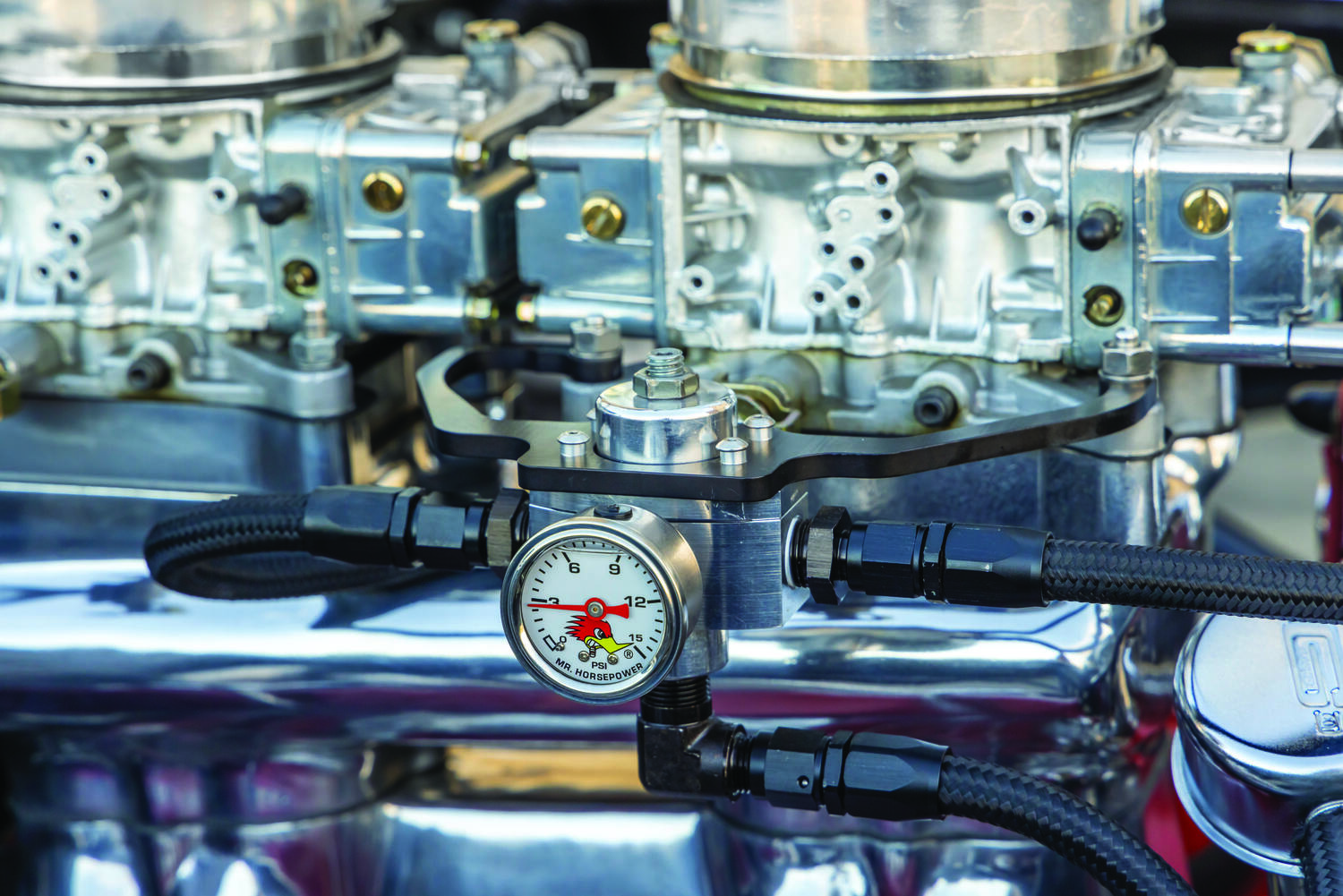 Richard shined up the stock exterior bits, and although he takes credit for the bodywork portion of the redo, he claims "it's not great but it looks pretty damn good for a home job." From there he handed the reigns over to Johnny's Auto Color & Body Works in Riverside, California, to splash the Chevy in a timeless off-white pigment—a perfect base for Bob Kasch's (Rialto, California) nostalgic-looking graphics, which takes the car way back to Lions Drag Strip on foggy late-'60s Saturday night.
"The Motor City Shaker moniker on the side of the car comes from my roots in Detroit and the 'Shaker' portion of the name derives from the earthquake, which was the reason I ended up with this car," Richard says.
It took Richard a little less than one year to change the car's personality and he relied on the help of John Williams, Mark Lacerte, Paul Mathias, and Frank Coscarelli for making it happen. Although, he's yet to run with the big dogs in the Southeast Gassers Association series, doing just that is on his list of summer activities. So far this Chevy time capsule has turned quite a few heads, but Richard is now looking forward to turning in some competitive time slips.
ACP
TECH CHECK
Owner: Richard Miller, Corona, California
Vehicle: 1965 Chevy II Nova
Engine
Type: 1965 327ci small-block
Compression Ratio: 10.0:1
Bored: 0.030 over
Stroke: 3.25 inches
Cylinder Heads: GM 487X
Rotating Assembly: Chevrolet Performance 4340 crankshaft, GM Forged Steel Pink Rods, TRW pistons, King bearings, Total Seal File Fit rings.
Valvetrain: Comp Cams B-hive valvesprings, 1.5 Scorpion rockers
Camshaft: Comp Thumpr Series 0.540 lift, 0.253 duration at 0.050
Induction: 1984 Weiand Tunnel Ram, dual Holley 9776 450-cfm carburetors, Mickey Thompson Tall V-Stacks
Ignition: PerTronix
Engine Assembly: Owner
Machined by: Wayne's Engine (Riverside, CA)
Exhaust: Hooker Super Comp, Doug's cut-outs, 3-inch exhaust, Thrush Turbo mufflers
Ancillaries: Weiand aluminum water pump, dual Be-Cool electric fans, Power Master 100-amp alternator, Mickey Thompson valve covers, Taylor wires, custom alternator bracket and carb linkage (Williams Machine)
Output: 520 hp at 6,200 rpm and 495 lb-ft at 5,800 rpm
Drivetrain
Transmission: Turbo 350 by Coscarelli Racing (El Monte, CA), Hughes Pro Race Kit
Converter: FTI 9.5 inch, 3,200 stall
Driveshaft: Drivelines (Mission Viejo, CA)
Rear Axle: GM 10-bolt, Auburn posi, Tom's 31-spline axles
Chassis
Chassis: Speedway Motors Gasser Kit
Steering: Flaming River Vega steering box
Front Suspension: Speedway Gasser Kit (straight axle and leaf springs) Pro Shocks SM 300 shocks
Rear Suspension: Lakewood traction bars, Gabriel HiJacker air shocks, Competition Engineering wheelie bars
Brakes: GM disc front, drum rear, Corvette master cylinder
Wheels
Wheels: Rocket Racing Launcher Series 15×4.5 front, Cragar S/S 15×7 rear
Tires: Mickey Thompson Sportsman 26×7.5 front, M&H J60/15 rear
Interior
Upholstery: Stock
Seats: Stock bench black vinyl cover
Safety Harness: RCI five-point harness
Steering: POL steering column, Grant Vintage Series red metalflake steering wheel
Shifter: B&M Quicksilver
Dash: Stock
Instrumentation: Stock, Auto Meter tach
HVAC: None
Exterior
Bodywork: Owner
Paint: Brand N/A, by Johnny Hammonds
Graphics: Bob Kasch, Kasch Graphics (Rialto, CA)