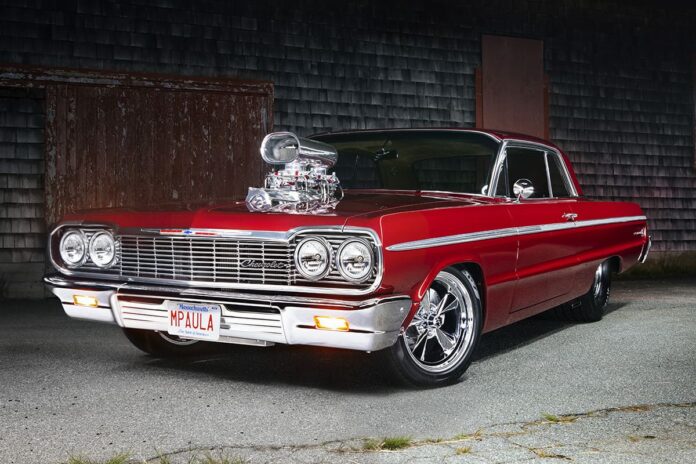 Paula Lewis' '64 Impala is the Fulfillment of a Teenage Desire
By John Machaqueiro – Photography by the Author
For many years Paula Lewis had a problem—and it was one that she was desperate to fix. You might be asking what possible problem could she have had? She explains, "Since the first day I got my license I have always been a Chevy girl. My first car was a Camaro and as most who love Camaros, I always wanted a '69." While that might not seem like a problem, when she tied the knot, her husband, Matt, didn't share in her appreciation for anything with a Bowtie. He was—and is—a hard-core Mopar guy and for her she states that "it was not a car that I was really into." As the family grew, going to car shows became a problem for her because Matt's '67 Belvedere was tubbed and essentially a two-seater. Whenever the kids wanted to go she got bumped out of the passenger seat.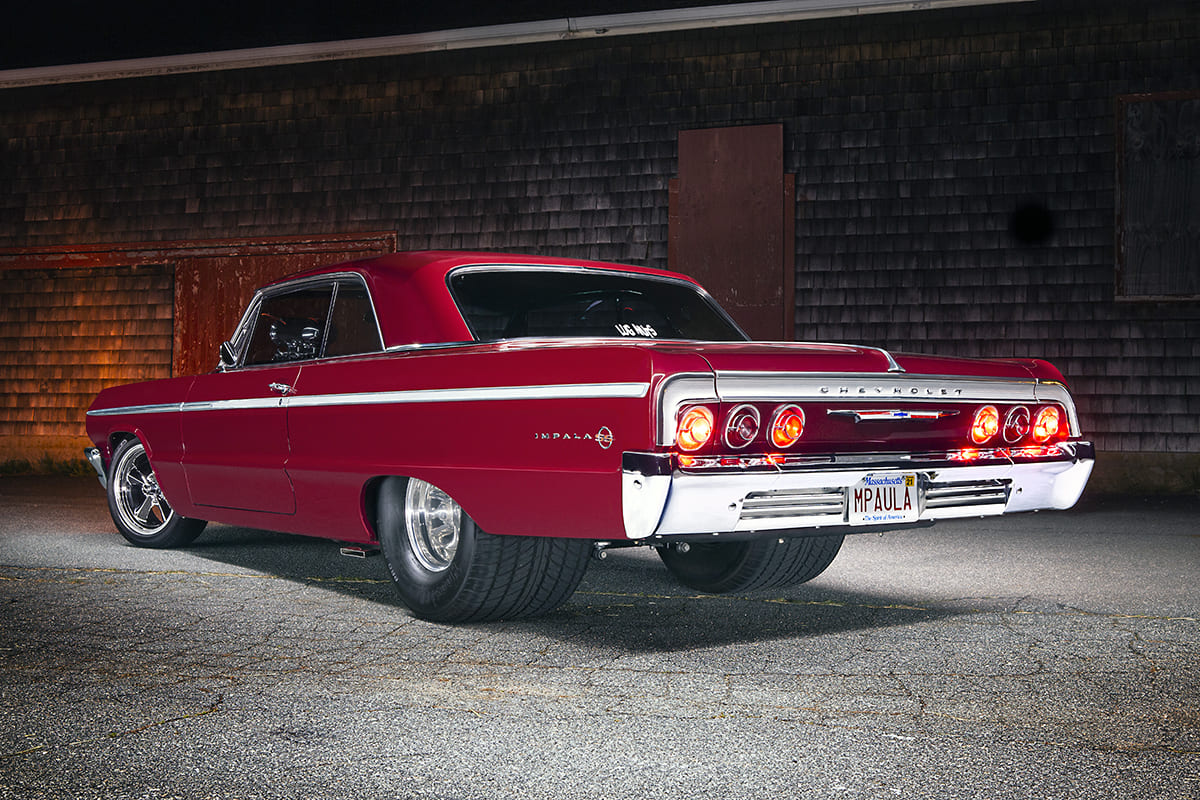 As a family, they were active with a local car club and that kept her automotive flame alive, and when Matt joined the Lugnuts—another local club—the dynamics of this club had a profound impact on her. "From the time I met this group we just all hit it off like the best of friends," she explains. This club had a greater diversity of individuals and it was a mix that she enjoyed. The tipping point for her to get her own ride came at the Ocean City, Maryland, show on a club outing. "That was when I decided that I wanted my own car," she recalls. "The car show was just an awesome experience. The people, the cars, it was just a great time and I wanted to have a more active part of that."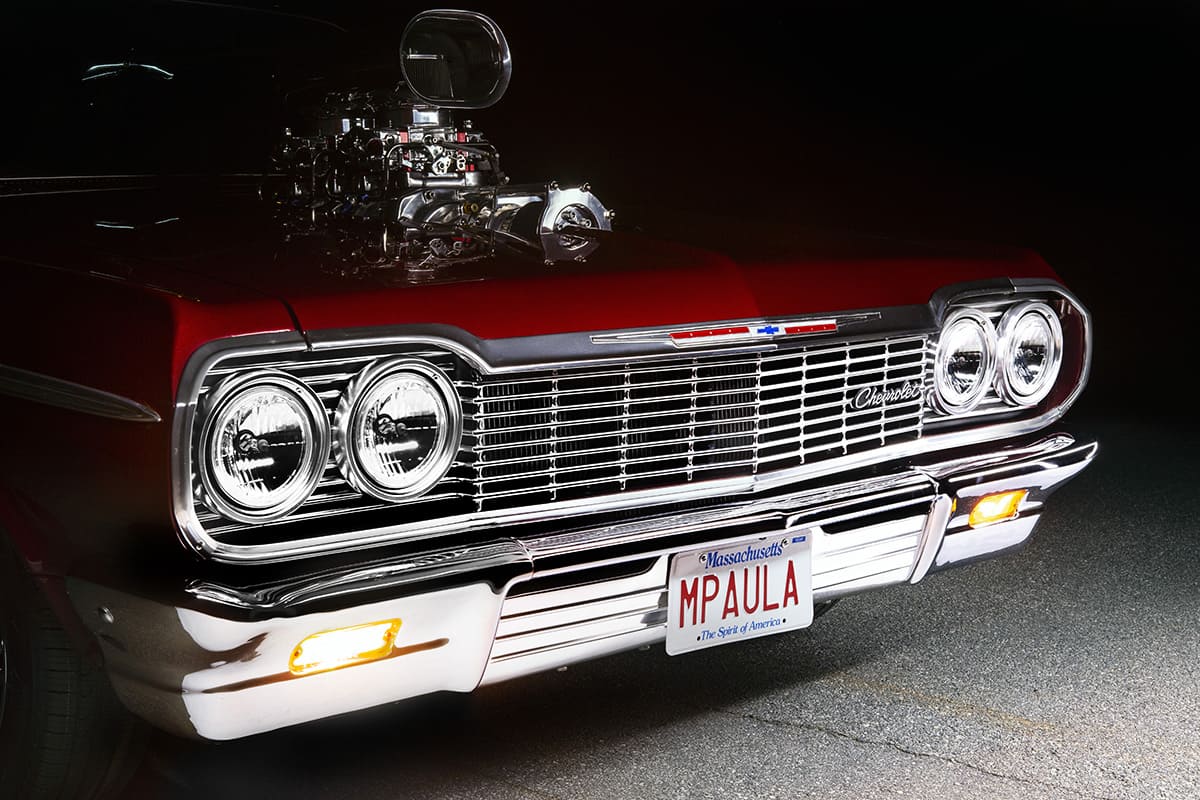 When Paula embarked on her quest, she had a short list of criteria to adhere to. She was armed with a fixed budget and wasn't willing to look at any red or black cars. She was also looking for a newer build that was finished—and it had to have a blower. Her '69 Camaro love bubbled to the surface at that point, however, as she points out, "the price of '69 Camaros—even when they were total wrecks—were just way out of the price point I was willing to spend." When the search intensified, it went from coast to coast, but ultimately landed only 20 minutes from her house. Matt found a '64 Impala SS that he thought was a prime candidate; she had other thoughts. "It was red, and I had absolutely no interest in it," she notes. Her desire was in something with a bright color that stood out, but it did score some love because it was a big-tire car with a blower. Partially encouraged by her car club friends she caved and went to look at it. She recalls, "Since it was in my price range and it had a blown engine I figured I'd take a look at it. As we drove up to the house, my heart started pounding, and I never said it out loud but I said to myself, I am buying this car. It was red but I got over that real quick." Ironically the owner didn't really want to sell it. It was his wife who had put the car up for sale but he quickly agreed to sell it. "I convinced him he was selling it to a good home." She recalls. "He had to sell it to me because it was a perfect fit—it was the IMPAULA."
The Impala was in great condition. It was originally built as a show car back in 1996 and spent most of its time parked in a garage, so it didn't see much road use. Her plan was to free it from its trailer queen status and log some miles on it. It was ready to roll, which was what she wanted, however, with older builds some of the custom work becomes dated—like the gray tweed interior. That was remedied with the installation of some custom Caramel leather-covered seats, a suede Pecan-colored headliner from Miami Corporation, and a matching reskin in the trunk. Other custom touches included a one-off center console to complement the dash that housed a full array of Auto Meter gauges. They were painted in the same color as the exterior, which was another thing Paula didn't leave alone.
The Impala left the factory wearing Ember Red paint and when it was given the show treatment it was retained. Although a repaint wasn't in her original plans, a minor accident at a car show that required some paint touch-up evolved into a full respray. At that point, she opted to keep the original color but it didn't have enough impact so a healthy dose of red flake was added.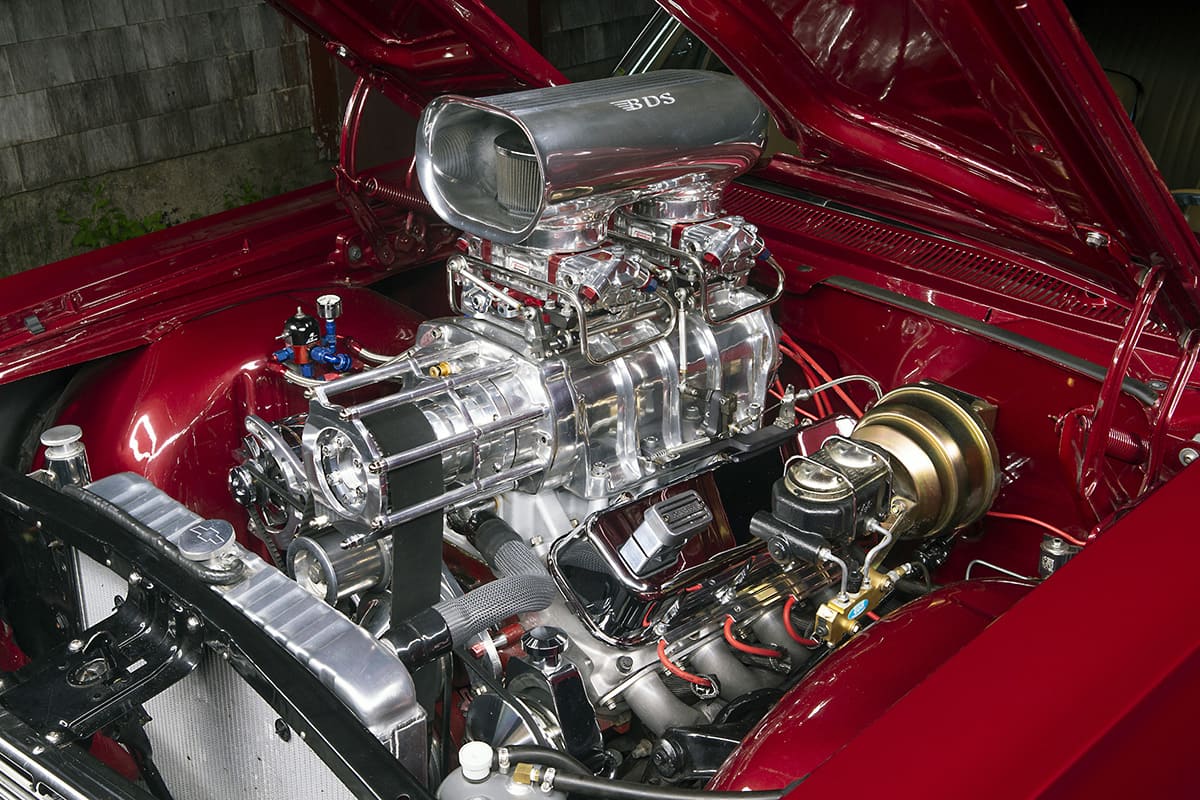 Some massaging also took place underhood. The big-block was gone through, as was the Mooneyham blower. The Holley Quick Fuel carbs were also another upgrade. Another stone not left unturned was the front suspension. It was given a full rebuild and the braking upgraded. All of this work relied heavily on Matt, his buddy Mike Rowell, her son Nick, and some of the folks in the car club.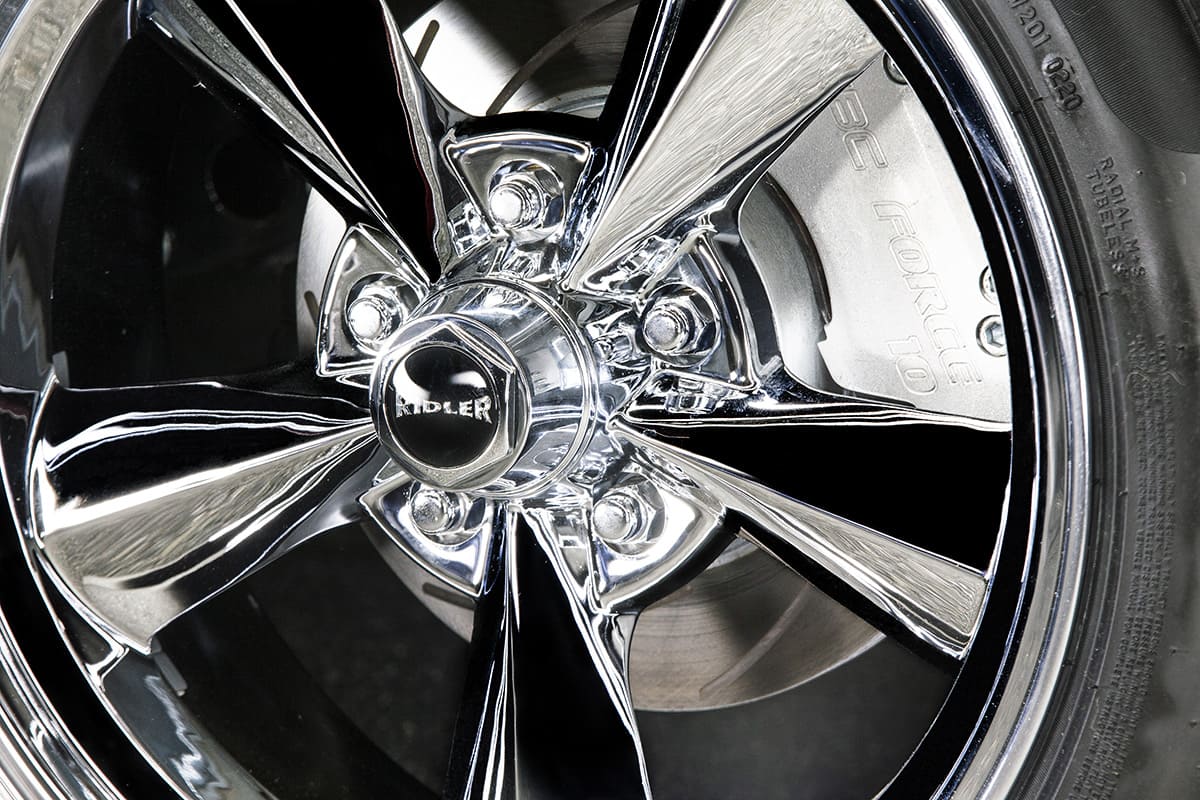 The experience has been immensely rewarding for Paula and she notes, "It's been a labor of love, and I do love driving it." That was one of her goals, to log some miles with it. She ended up putting just over 800 miles in two months after its makeover. Beyond the sheer enjoyment of being behind the wheel, her involvement in the club has also allowed her to give back to the community with the Impala. The club holds a number of cruises during the year, along with a Toys for Tots toy drive. She is also actively involved with the Prom Angels organization, which allows special needs boys and girls to be driven in hot rods to their proms. She proudly explains, "These are amazing organizations that we are able to participate in and do great things for others in need. That is the best part of being involved in the car world—something that I had never even thought of when I was looking for a badass car to drive."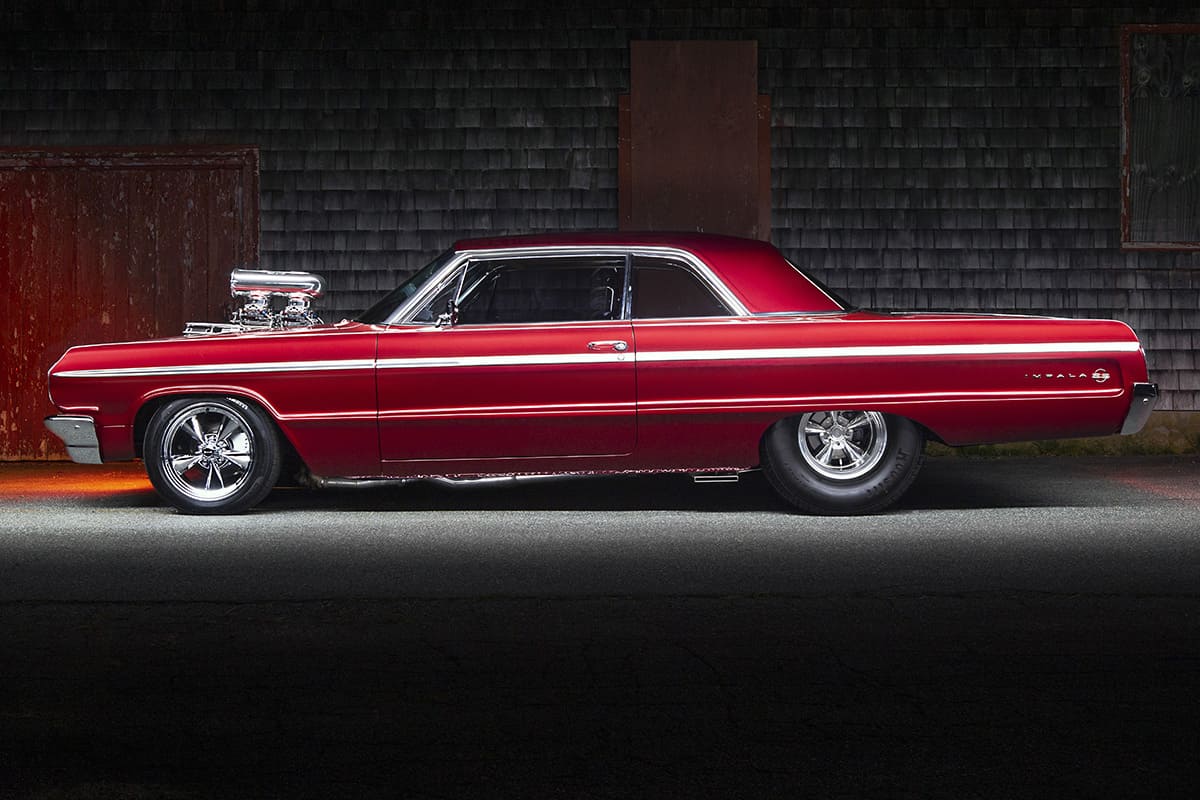 Tech Check
Owners: Paula Lewis, East Bridgewater, Massachusetts
Vehicle: '64 Chevy Impala SS
Engine
Type: Big-block Chevrolet
Displacement: 468 ci
Compression Ratio: 8.5:1
Cylinder Heads: Edelbrock Performer 60499
Rotating Assembly: Forged crankshaft, forged connecting rods, TRW forged aluminum pistons
Valvetrain: Edelbrock
Camshaft: Comp Cams custom grind
Intake: Weiand aluminum
Induction: 671 Mooneyham blower, Holley Quick Fuel carburetors
Coils: MSD
Assembly: GM
Exhaust: Custom headers and 3-inch exhaust and 1×8 rectangular exhaust tips with Borla Pro XS mufflers by Lou's exhaust (Stoughton MA)
Ancillaries: BDS air cleaners and blower scoop, Griffin Radiator, Classic Performance Products power steering box, custom aluminum valve covers, Flex-A-Lite fan, Big Al's blower belt cage, custom brackets for alternator
Output: 650 hp, 580 lb-ft
Drivetrain
Transmission: Chevy Turbo 400
Driveshaft: One-piece custom
Rear Axle: Ford 9-inch, 4.11:1 gears, limited slip, 31-spline Strange axles
Chassis & Suspension
Chassis: Factory X-frame, custom Pro-Street back half
Front Suspension: Factory
Rear Suspension: Four-link coilover
Brakes: SSBC 12-inch rotors, four-piston calipers front; 12-inch rotors, four-piston calipers rear
Master cylinder: Classic Performance Products
Wheels & Tires
Wheels: Ridler 675, 17×8 front, custom Mickey Thompson ET 15×15 rear
Tires: Pirelli 205/55R17 front, Hoosier Pro Street Radial 33×21.50R-15LT rear
Interior
Carpet: Classic Industries Custom Pecan
Headliner: Suede Pecan by Miami Corporation
Upholstery: Custom Caramel leather, custom metal console; Metalwork by MaterFab, paint by Shaun MacPherson at Platinum Auto (Rockland, MA)
Seats: OEM
Steering: GM steering column, Billet Specialties steering wheel
Shifter: B&M
Dash: Custom painted
Instrumentation: Auto Meter
Exterior
Bodywork: Factory Collision & Restoration (Weymouth, MA)
Paint: Ember Red basecoat/clearcoat with custom red flake
Painted by: Tony DelGallo
Body Mods: Custom hood for blower
Grille: OEM
Bumpers: OEM