Clint Sroke Sells His Slot Car Stash to Buy a Big-Boy Toy to Thrash
By Scotty Lachenauer – Photography by the Author
Hobbies come in all shapes and sizes. Luckily for us, the hot rod pastime proliferates in a myriad of different forms, making it a user-friendly activity for people of all ages, gender, financial status, and mechanical skill level.
Many of us jump into the fire at a young age and grab our own piece of the horse-power pie, whether it be in the form of peddle cars, go-karts, fullsize hot rods, or even smaller-scale modeling—slot cars and the like. So, however you want to slice it, once in, you're now part of the hot rodding adventure. You just gotta strap in, hammer the pedal, and enjoy the ride.
When Clint Sroke of Brodheadsville, Pennsylvania, needed a new means of "quick" transportation, he decided to do something he never thought he would: liquidate his 40-plus-year collection of cars, parts, and his beloved slot car collection. It was difficult to part ways with the assemblage, but Clint knew the cash reward was going toward something way better.
Next was deciding exactly what he wanted to inhabit his newly found garage space. "I was open to just about any Chevy, but I was really looking for a Pro Street–styled ride," Clint says. He also had an urge to get a '62-'65 Chevy II, as it was a car that had eluded his grasp over the years and it was a model he had greatly admired since he was a teenager.
"My friends were eager to get me back in the hot rodding game, so they urged me to find something that had most of the work already done–a road-ready, turnkey ride. That was the right choice," Clint says.
A long search soon commenced for Clint and his wife, Christine. Their perfect match came through a social media group for Pro Street rides. "I put an ad up on a Pro Street website and someone saw it and contacted a friend who was ready to sell his big-block–powered Chevy II," Clint recalls.
Kenny Soehnlein of Pasadena, Maryland, was the guy with the car. "Christine and I were enjoying Valentine's Day dinner when I got a message from [Soehnlein], who said he might have exactly what I was looking for. I wanted to leave dinner and head to Maryland that night," Clint exclaims.
A week later, Clint, Christine, and good friend Steve Hemhauser set out to Pennsylvania in Steve's dualie and an enclosed trailer in anticipation of buying the Chevy II. "Once we saw it, we knew it was the perfect car for us. [Soehnlein ] did a great job on the car," Clint says.
Once back at the family garage, Clint went over the ride. There was a laundry list of parts in the car and he was impressed with how well the Chevy was put together. "It's an original six-cylinder car that had been slowly built over the years by several past owners," Clint informs.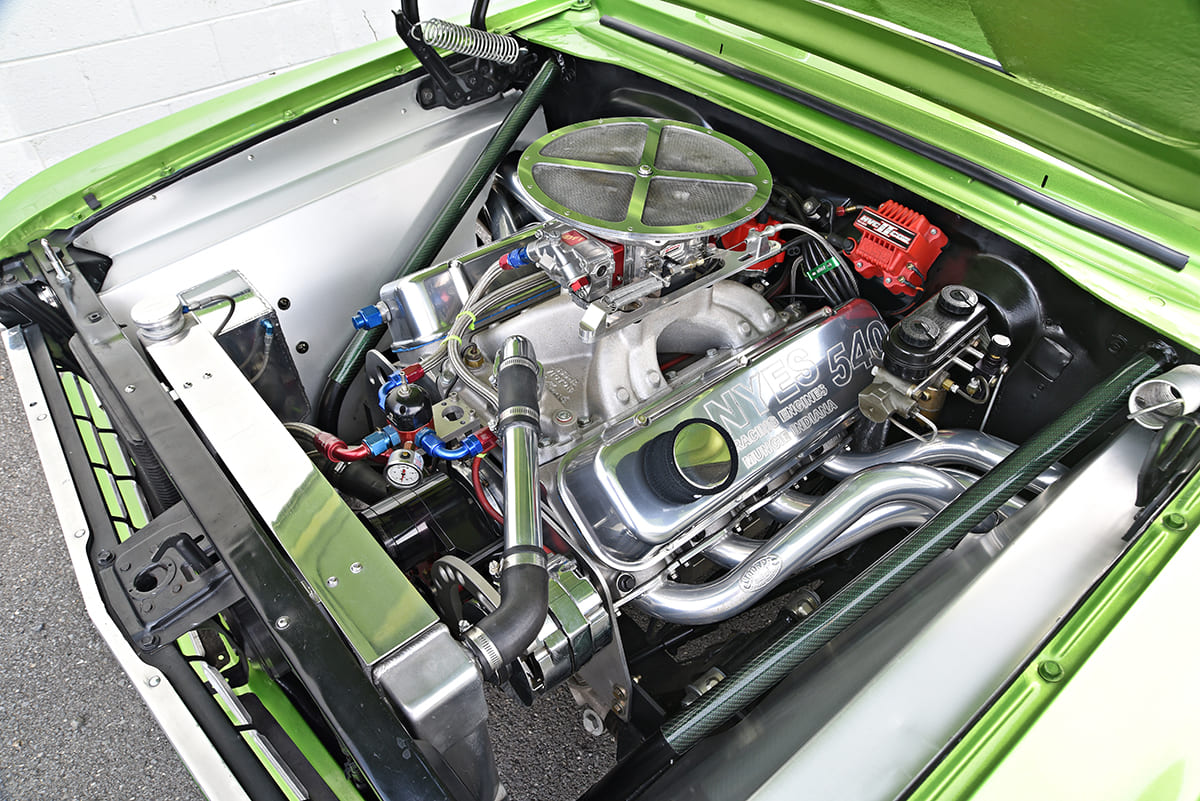 It all starts up front where a Checkered Racing frontend kit with manual rack-and-pinion was installed. A Chassisworks back-half kit was mounted in the rear and runs a ladder bar suspension. Power is supplied by a 540ci Chevy big-block built by Nyes Racing Engines out of Muncie, Indiana. Top-of-the-line parts help the powerplant make an impressive 747 hp and 665.9 lb-ft of torque—plenty of power to give this Chevy an A+ on its power-to-weight-ratio report card.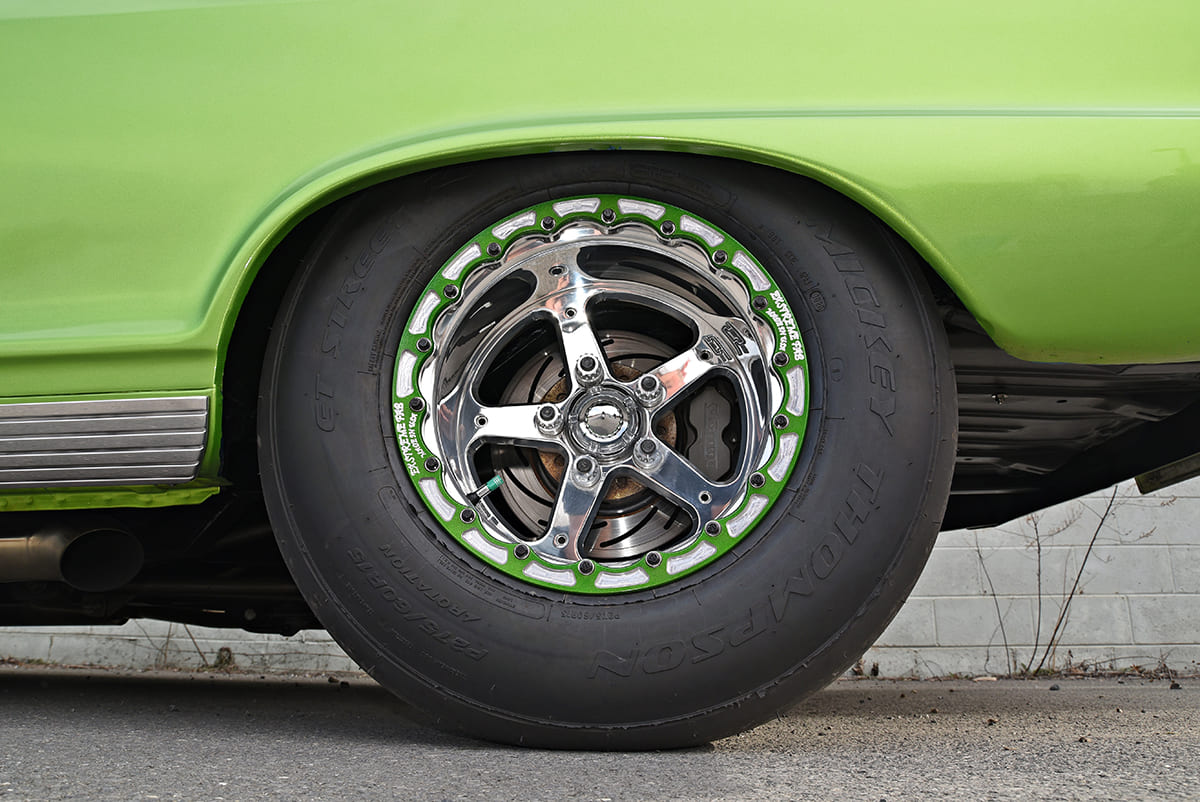 All that power is fed through a Turbo 400 transmission built with a reverse manual valvebody and 8-inch 4,500 stall converter. This setup feeds a Strange centersection with spool encased in a Chassisworks Fab9 housing stuffed with 3.90 gears. Strange 35-spline axles twist a pair of 15×10 Champion Speed Series wheels shod in 275/60R15 ET Street R tires held by single beadlocks installed by Exstreme Fab in North Haven, Connecticut.
Prior to paint, the side trim was shaved as well as the original fuel cap and cowl vent. The bumper bolts were also taken off and the pieces narrowed 1 inch on each side. A Glasstek fiberglass cowl hood gives off a true Pro Street feel.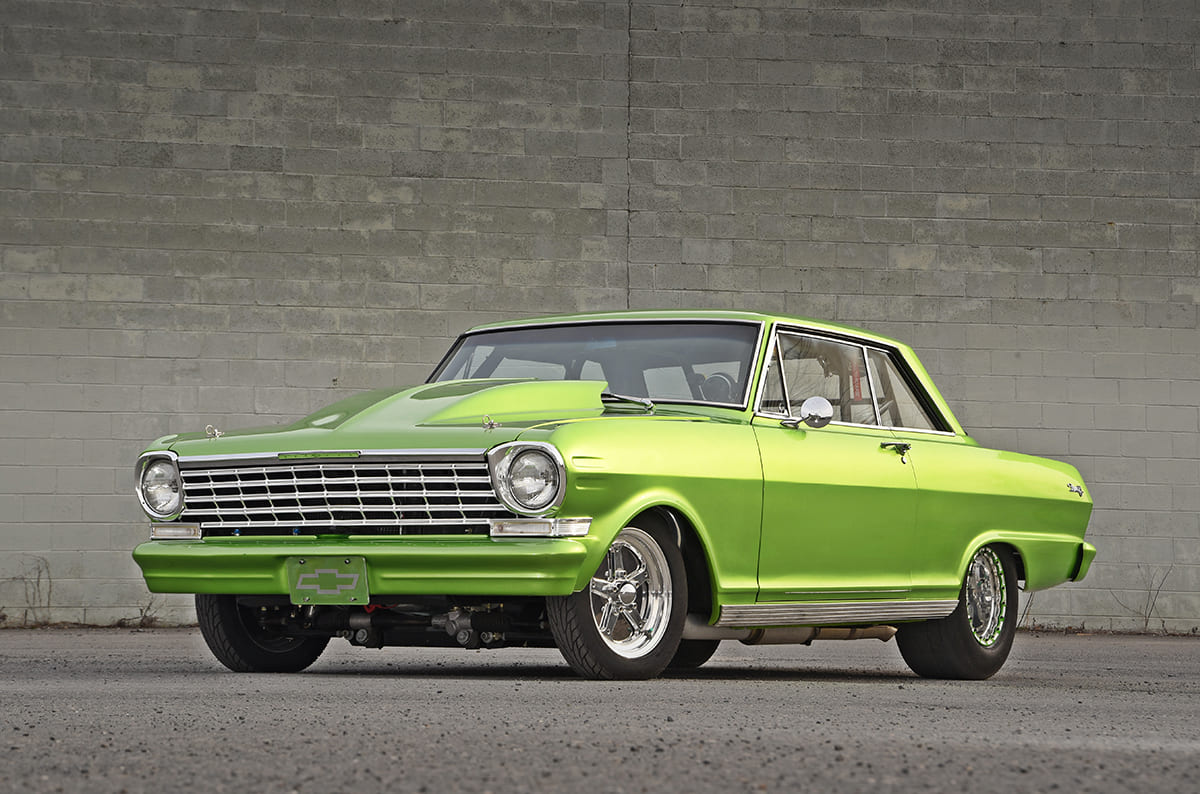 The skin on this Chevy is nothing short of spectacular. The hue was made by laying a '97 Range Rover Le Mans Green Mica topcoat over a blue base. It pops in the daylight and draws attention wherever this Chevy rambles.
When Clint and Christine received the car it needed a few mods to make it their own. "We definitely wanted a fresh new interior, so we sent it over to Jose at J&A Custom Interiors in Nazareth, Pennsylvania. Not only did Jose accomplish just that, he also had to build the new cockpit around the existing 10-point NHRA-certified 8.50 'cage that came with the car.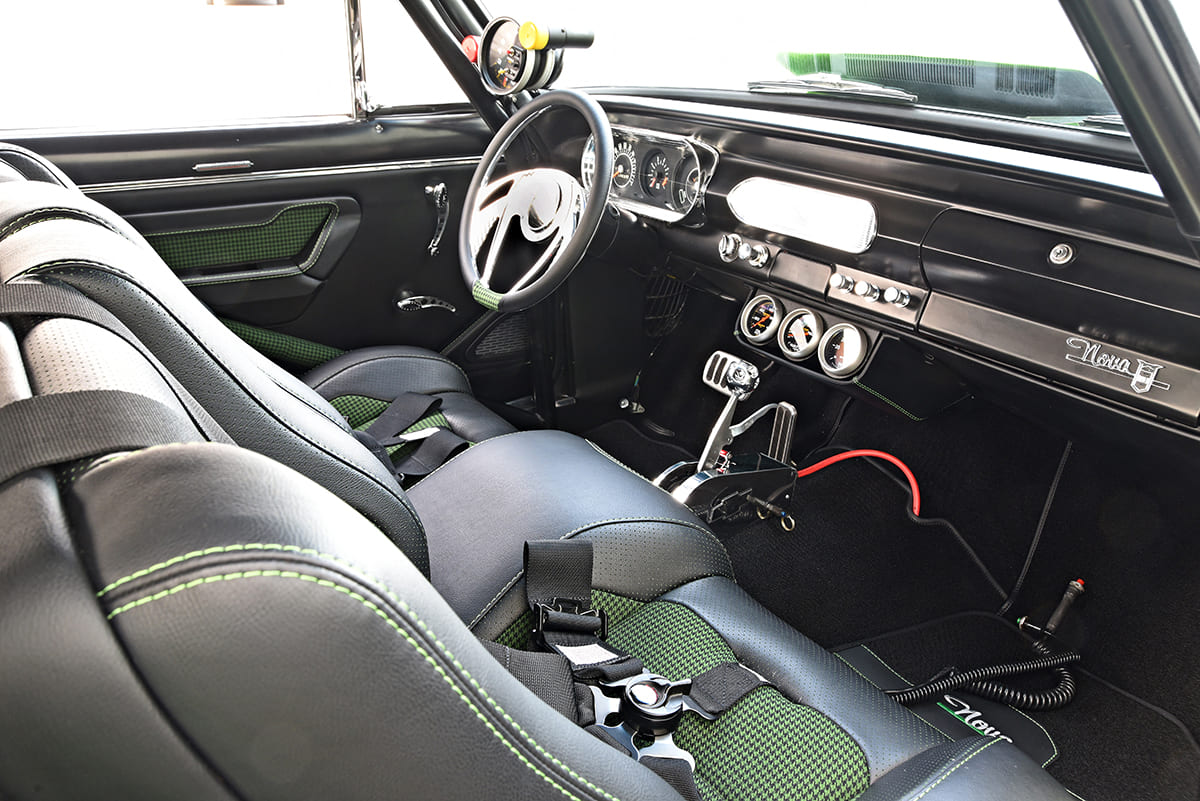 A B&M Pro Stick shifter gets this ride through the gears and a Billet Specialties Psycho steering wheel keeps it pointed in the right direction. A Pro 1 Safety five-point harness keeps Clint safe behind the wheel.
Once finished Clint wasted no time getting the ride out on the street. His future plans include a ProCharger supercharger up top of that nasty 540.
Clint wanted to mention Steve and Sam Hemhauser, JCP fabrication, Jose at J&A, and Bruce Blair at Exstreme Fab for their help with the project.
Special thanks go to Clint's mom and dad, and one big "thank you" to the love of his life: "This wouldn't have happened without the support of my wife, Christine. We absolutely enjoy this Chevy together."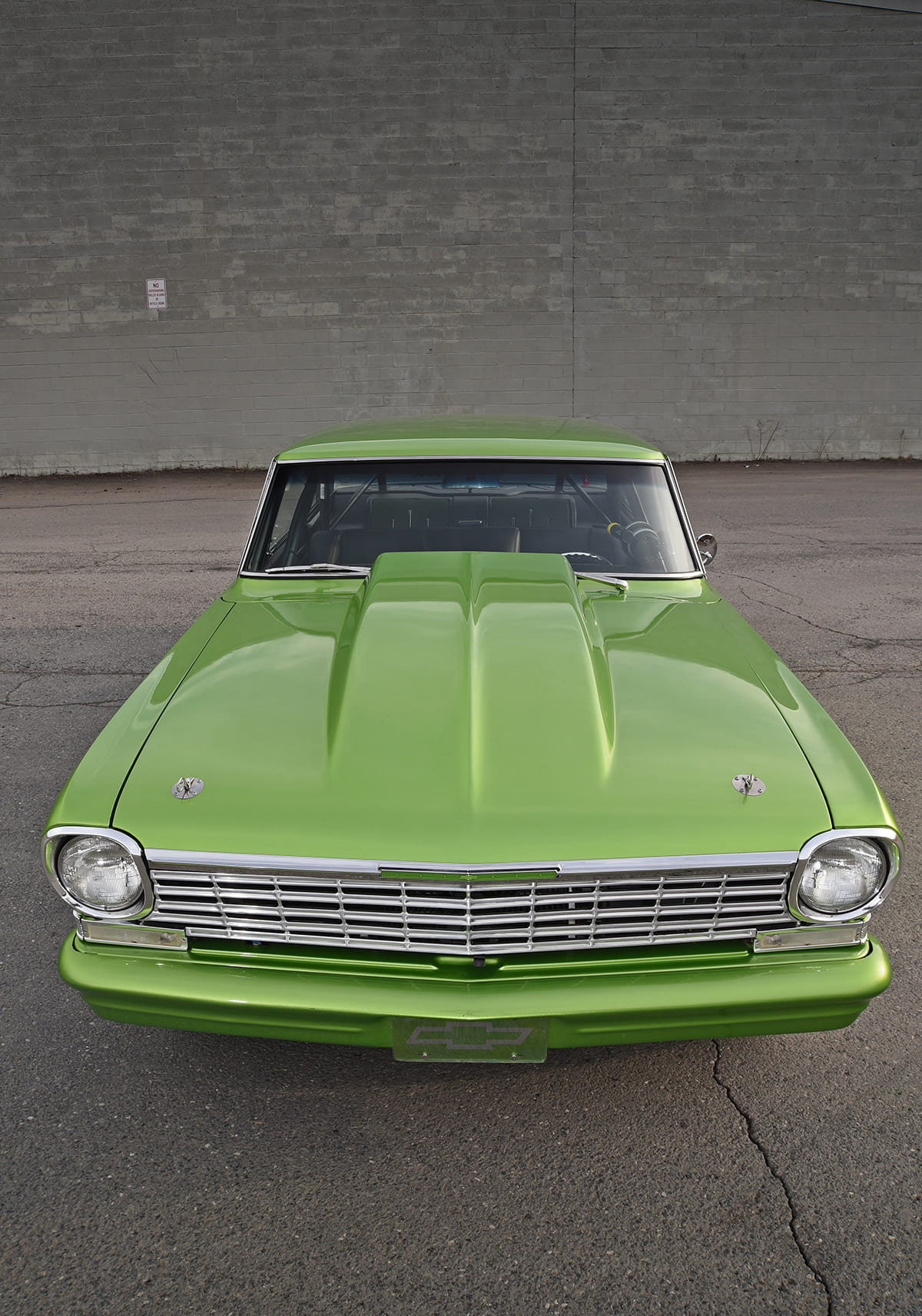 TECH CHECK
Owner: Clint & Christine Sroke
Vehicle: '63 Chevy II
Engine
Type: Nyes Racing Chevy big-block
Block: Dart M
Displacement: 540 ci
Compression Ratio: 10:1
Bore: 4.500
Stroke: 4.250
Cylinder Heads: Dart Pro 1 CNC heads
Rotating Assembly: Compstar crankshaft and rods, SRP pistons
Valvetrain: Crane roller rockers
Camshaft: Comp Cams solid roller camshaft duration 304/312 lift 714/714
Induction: Edelbrock Victor Jr intake, Super Sucker spacer, Quick Fuel 1050 Dominator
Ignition: MSD Pro Billet distributor, MSD crank trigger, MSD Digital 7
Exhaust: Hooker fenderwell headers, 3.5 stainless pipe, Borla Xr1 mufflers
Output (at crank): 747 hp, 665 lb-ft of torque
Drivetrain
Transmission: Turbo 400 trans, reverse manual valvebody, 8-inch 4,500 stall converter, trans brake, B&M trans cooler, Hurst line lock
Rear Axle: Chassisworks Fab9 housing, Strange centersection with spool, 3.90 gears
Chassis
Front Suspension: Checkered Racing Mustang II frontend kit, manual rack-and-pinion, QA1 coilovers
Rear Suspension: Chassisworks back-half, ladder bar suspension, QA1 coilovers
Brakes: Strange lightweight master, front GM metric-style disc brakes, single-piston with 10.5-inch rotors, rear Strange disc with four-piston calipers with 10-inch rotors
Wheels & Tires
Wheels: Champion Speed Series 15×3.5 front, 15×10 rear with single beadlocks
Tires: Mickey Thompson radial front, 24×5 rear 275/60R15 Mickey Thompson ET Street R rear
Interior
Upholstery: J&A Custom Interiors (Nazareth, PA)
Material: Vintage vinyl
Seats: Custom from original bench frame
Steering: Billet Specialties Psycho steering wheel on stock column
Shifter: B&M Pro stick shifter with Ringbrothers shifter knob
Dash: Stock
Instrumentation: Auto Meter gauges
Audio: Stock
HVAC: Stock
Exterior
Bodywork: Daniel Carlson
Paint by: Paint Spot (Addison, IL)
Paint: '97 Range Rover Le Mans Green Mica over blue base
Hood: Glasstek cowl hood
Grille: Stock
Bumpers: Original modified