1966 Nova Reborn for Gear Jammer Racing
By Jesse Kiser – Photography by the Author
On a chilly Carolina night, the sky is dark with stars hiding behind tall trees. There's little noise—cicadas are dormant in wintertime. A single glow from an open garage door is like a bug zapper attracting local gearheads. A sudden blast of noise from the garage echoes off the trees, like a dam giving way. It's the roar of a 900hp open-header-big-cam small-block. The sound is followed by the sweet, stinging smell of race gas.
It's a sensory overload on this cold night in Greer, South Carolina, outside Tom Joseph's shop, Southern Rods and Parts. They offer a variety of parts, including A/C kits, carb screens, and front suspension conversions. Between the shelves of inventory lays the R&D shop with a customer's C10 and Tom's dragster and 1932 highboy coupe. Tom's the one making the noise warming up his newest project, a 1966 Super Stock Nova for a nighttime photo shoot.
Tom's Nova was campaigned for over 30 years by various teams, including driver Ken Hutchinson, who died in 2019. Tom then picked it up as a roller to bring it back to its former glory.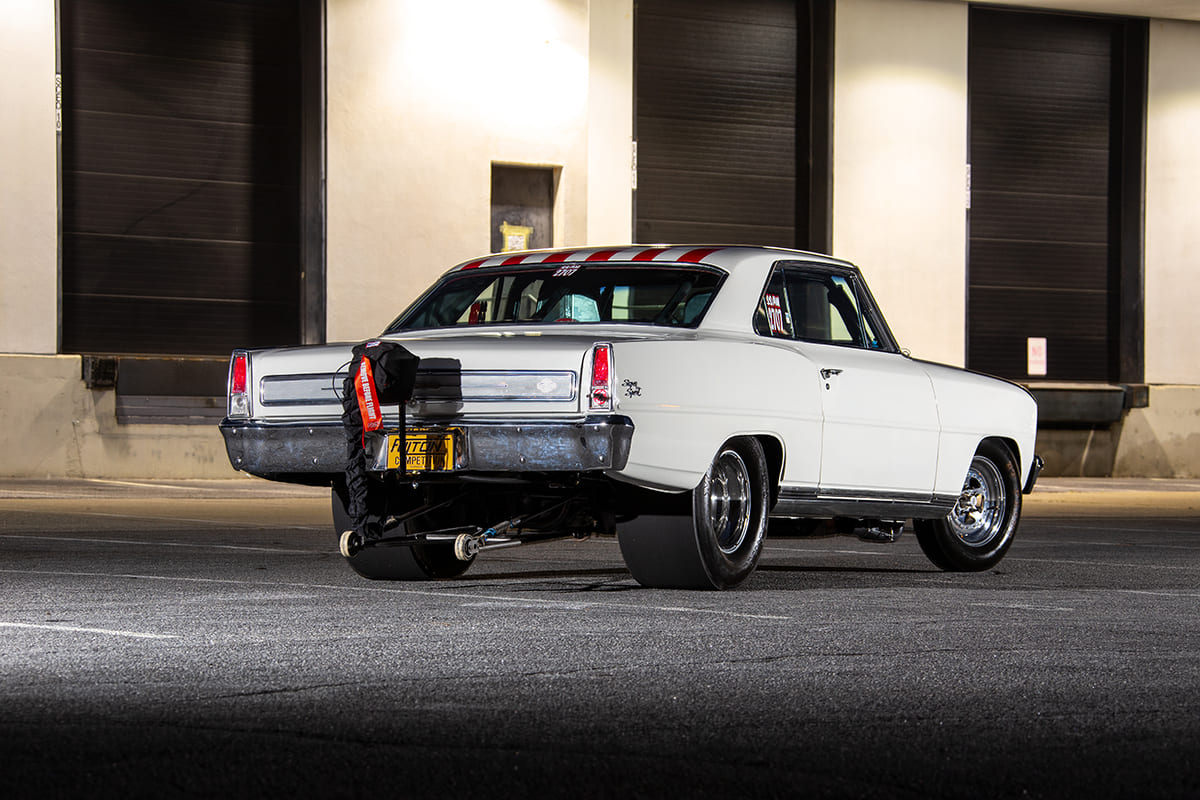 Tom and his team went to work rebuilding the Nova for NHRA Super Stock and Southern Gear Jammers. "We thought we could just stab a drivetrain in it," Tom says. "But we ended up going through everything."
NHRA stamps horsepower or cubic inch ratings on preapproved drivetrain combinations, resulting in every car having a predetermined horsepower and/or cubic inch to weight ratio. The Nova plans to run Super Stock A Modified, which only gives a cubic inch to weight rating. Then, they'll qualify based on a preset index E/T and dial in whatever the driver wants at the index or below for eliminations. This makes for a more liberal rule book and plenty of options.
Super Stock is one of the largest fields on a given NHRA weekend. It consists of fat-tire cars that raise front wheels and fans out of their seats. It's a diverse display of driver ingenuity with cars ranging from muscle machines and fullsize classics to late-model grandma cars like Chrysler Sebrings. The winningest NHRA car is a Super Stock car, Dan Fletcher's 1969 Camaro Z/28.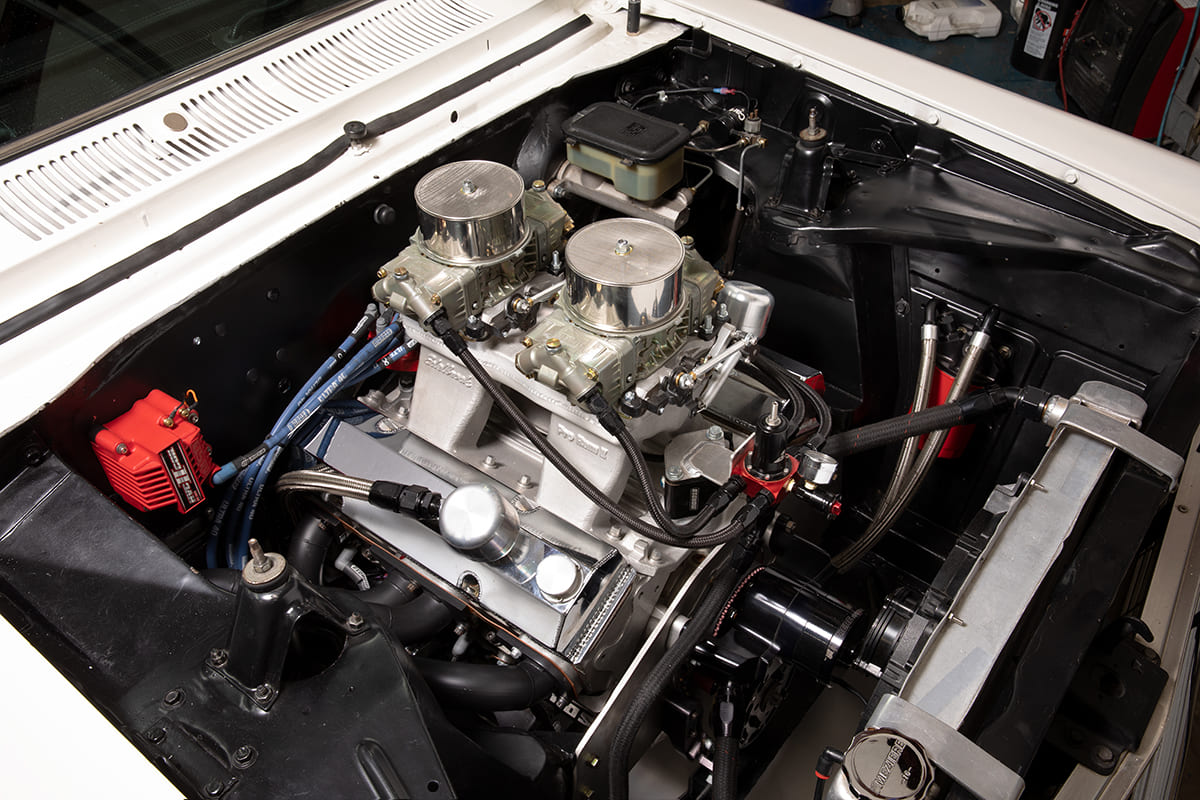 The idea is simple: Take a cool 15-second car and make it run 9s, consistently. But a winning car's package of parts must be very refined. There's no room for error. A winning Super Stock, above all else, must be fast, consistent, and reliable.
"I wanted it simple and didn't want to get wrapped up in EFI," Tom says. "I want to have fun and not be working on it all the time."
Tom's car is fast, or at least it's going to be, as due to COVID-related cancellations he hasn't run the car yet. The source of the Nova's speed is the wild 421ci small-block built by legendary drag engine builder Fulton Competition.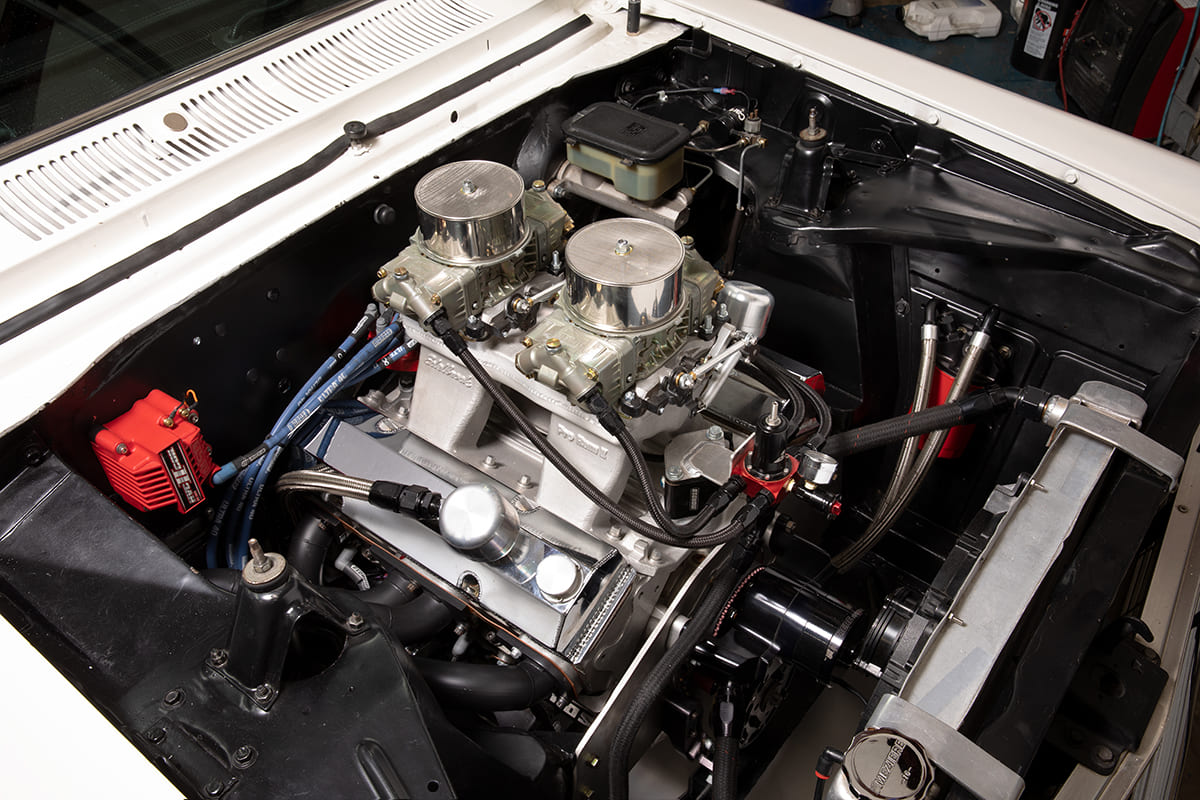 They started with a Brodix aluminum block and added a Crower crank, Dyers Top rods, and Ross pistons. The bottom end is topped with AFR 245 70cc heads that were worked over and assembled by Fulton. The resulting combo makes 15.5:1 compression. All they would tell us about the Fulton-spec'd cam, ground by Bullet Cams, is that it's big. The engine made 915 hp at 7,500 rpm.
The Lemons Headers 2 1/8-inch coated fender headers are a work of art. The shock towers are minimally notched to fit. No exhaust past the headers.
The engine is fast and the electronics are simple, which is where the reliability comes in. The small-block features an MSD Magnetic pickup distributor, HVC-2 coil, and MSD Grid. Rules don't allow much in terms of electronic assistance anyway, so the MSD Grid is about all the data they can use to dial in the car. K&R Racing Products provided the solid-state board and harness.
Fulton worked over an Edelbrock Pro Ram tunnel ram intake and topped it with a pair of Holley Ultra HP 650cc carbs. Aeromotive 3000 inline pump pulls the VP Racing C25 fuel from a Jaz fuel cell. The carbs are topped with Tom's Southern Rods and Parts drag racing air screens.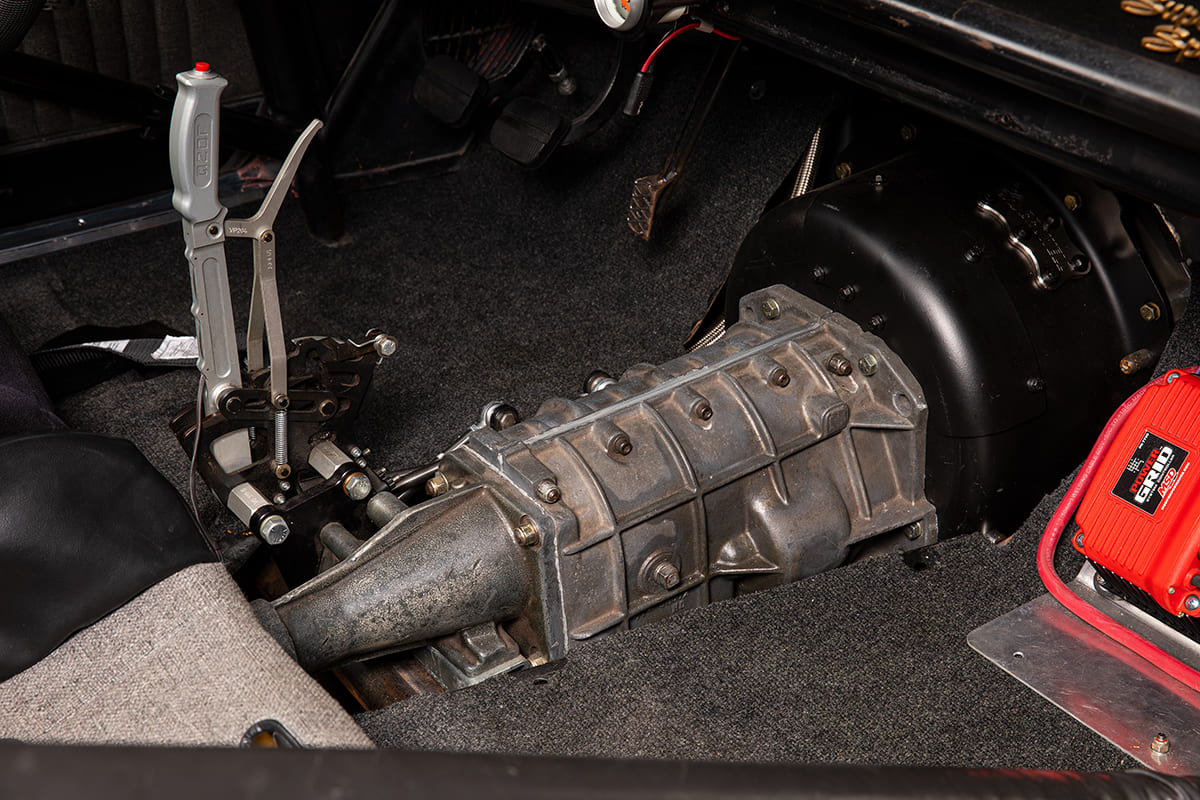 Despite what the Internet will tell you, automatics don't always win races. Naturally, the Gear Jammers require four- or five-speeds, but NHRA Super Stock can run automatics. However, the lack of significant horsepower loss in a manual has made it a preferred transmission for some. The Nova uses a G-Force GF-5R and billet Boninfante Friction Clutch. The G-Force trans is clutchless where the clutch is only used for launch and it allows for wide-open throttle shifts without the need for torque cut. The transmission is fast, simple, and reliable. Seeing a theme yet?
The car was already back-halved with a perimeter-style frame with Horton Race Cars subframe connectors that tie into the front clip. An NHRA-legal full cage sits nicely in the mostly original interior. Out back is the Moser 40-spline 9-inch with a spool measuring 42 inches wide.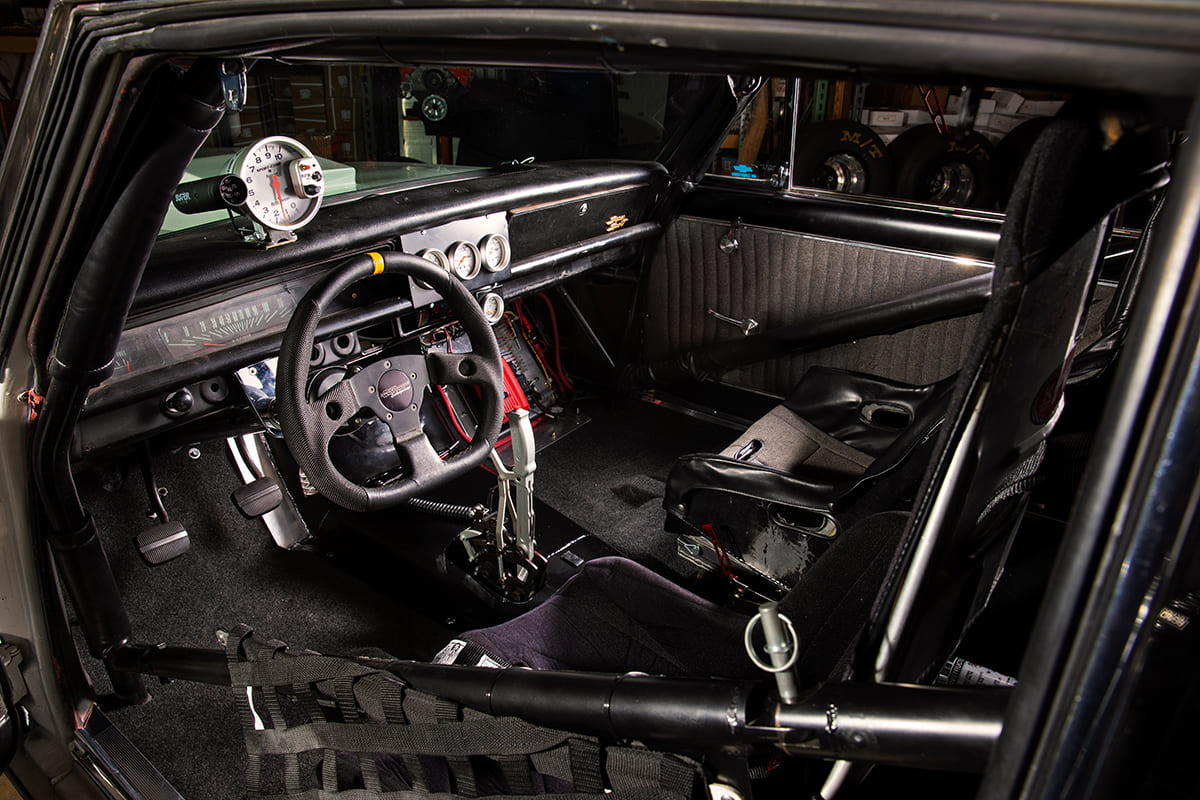 The interior is business attire with leftover Kirky seats and a factory dash, carpet, and door panels. The team built a removable transmission tunnel for easy access. Part of the reliability factor is the ability to tear the car down quickly for repairs and the occasional post-race inspection. AutoMeter gauges accompany the OEM dash.
Bodywork was minimal, but the quarter-panels were beaten from tire rub, so they were replaced and the openings widened. Richard Wright Paint and Body (Lexington, South Carolina) shot the Nova in PPG Classic White to match the original factory white. The roof stripes are inspired from Bill "Grumpy" Jenkins' first 1966 Nova #666, which was lost in a trailer accident (he campaigned an all-white 1966 Nova #666 and #667 after the red/white one). The hood is the only fiberglass piece on the car, the rest is real steel and glass.
Tom raced Pro Modified in the '70s and recently a few seasons in a big-block dragster. When the Nova is dialed it should run high 8s in the quarter and low 5s in the eighth, right in line with some of the best Gear Jammers and Super Stock cars.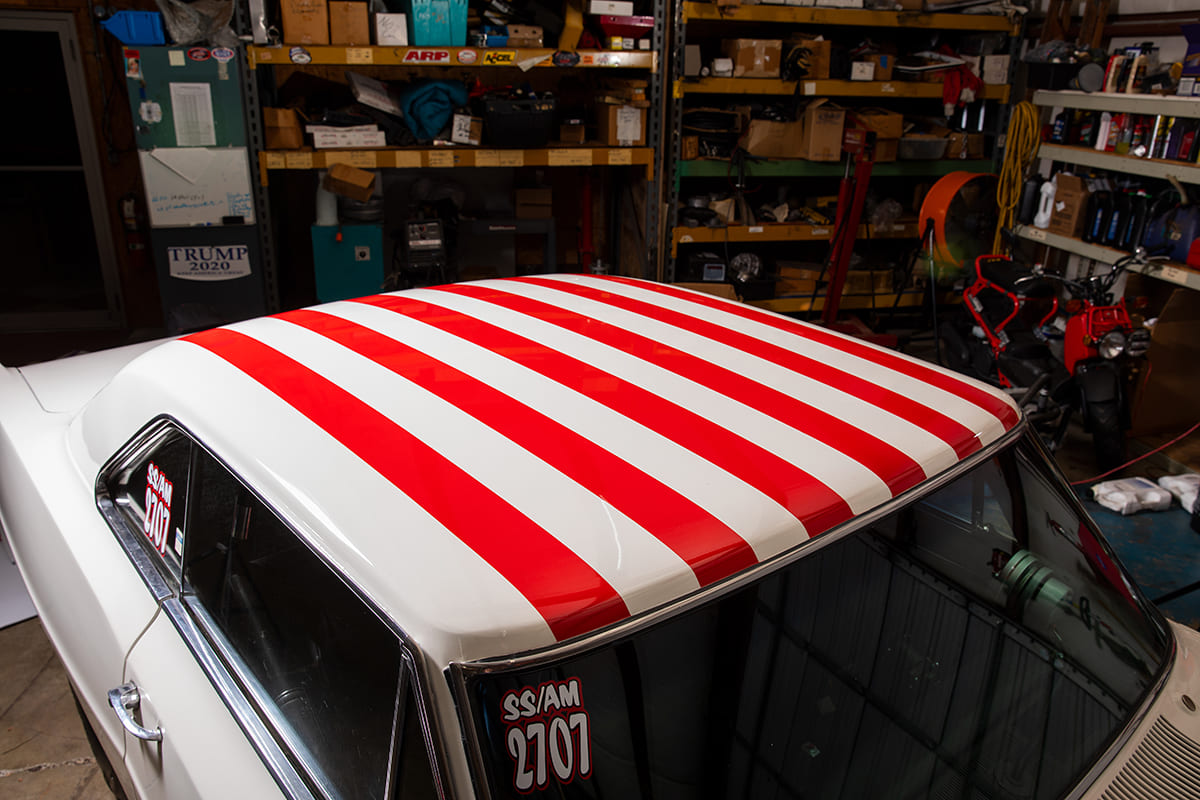 Super Stock is an essential class in NHRA and hot-rodding history. It evokes memories of guys like Jenkins or Martin lifting tires in a muscle car. But rather than build a museum piece or clone, Tom built a 175-mph machine to honor Super Stock racers. From pioneers to the local heroes like Hutchinson , the original driver, this reborn Nova will carry on a legacy of bangin' gears.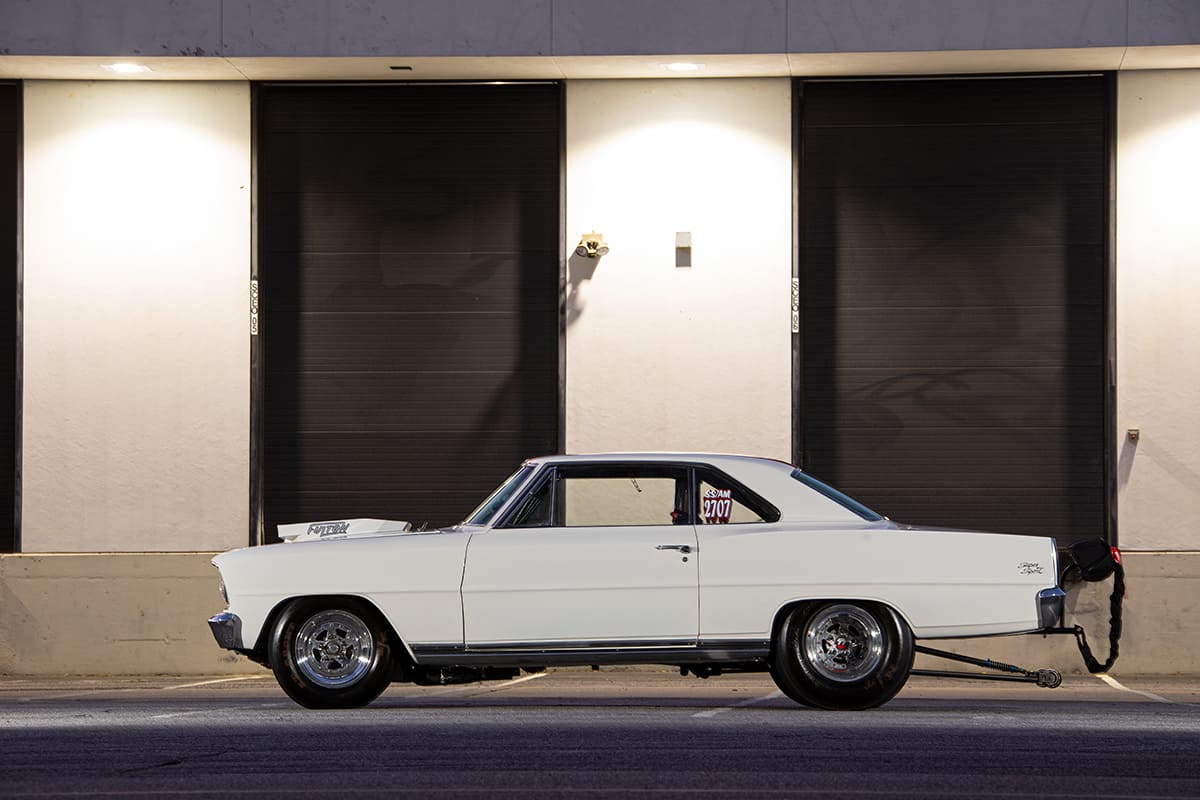 TECH CHECK
Owner: Tom Joseph, Greer, South Carolina
Vehicle: 1966 Chevy II
Engine
Type: Fulton Competition SBC
Displacement: 421 ci
Compression Ratio: 15.5:1
Bore: 4.165 inches
Stroke: 3.88 inches
Cylinder Heads: Aluminum AFR 245 by Fulton Competition, 2.125 titanium valves, 70cc combustion chambers
Rotating Assembly: Brodix aluminum block, Crower billet crankshaft, Dyers Top Rods, Ross pistons with Total Seal rings
Valvetrain: Comp Cam beltdriven cam, T&D Machine rockers
Camshaft: "Big" Fulton-spec'd Bullet Cam
Induction: Two Holley Ultra HP 650cc carbs, Edelbrock Pro Ram modified by Fulton Competition, Aeromotive 3000 fuel pump, Jaz fuel cell
Ignition: MSD distributor, HVC-2 coil, MSD Grid
Exhaust: Lemons 2 1/8-inch headers only
Ancillaries: Rob Hyson, Brian Fifer, Gene Fulton, Phil Hartman, Tommy Mauney
Output (at crank): 914 hp at 7,500 rpm
Drivetrain
Transmission: Clutchless G-Force GF-5R, billet Boninfante Friction Clutch
Rear Axle: Narrowed Moser Ford 9-inch, spool, 5.67 final drive, Big 40-spline
Chassis
Front Suspension: Stock with Lamb standard with coil spring, Unisteer Performance Products manual rack-and-pinion
Rear Suspension: Back-halfed with ladder bars, Lamb coilovers, Horton Race Cars subframe connectors
Brakes
Aerospace Aluminum four-piston, Wilwood pads, 11-inch rotors, Hurst line lock
Wheels & Tires
Wheels: Sander Engineering; 15×4 front, 15×14 rear
Tires: Mickey Thompson
Interior
Material: Dark gray and black
Seats: Kirky
Steering: Grant Pace
Shifter: G-Force Long Shifter
Dash: Stock
Instrumentation: AutoMeter
Audio: N/A
HVAC: N/A
Exterior
Bodywork: Richard Wright Paint and Body (Easley, SC)
Paint By: Richard Wright Paint and Body
Paint: PPG white, red stripes
Hood: Aftermarket fiberglass hood
Grille: Stock
Bumpers: Original