A Killer '72 Chevelle That Hides in Grandma's Clothing
By Tommy Lee Byrd – Photography by the Author
It's hard to pull off the sleeper look with a car that most people consider a muscle car. The '72 Chevrolet Chevelle seen here certainly fooled us on first inspection, but all bets were off when we saw it make a pass down the dragstrip on a heavy dose of nitrous oxide. Shannon Medley bought the car several years ago and built it as a fun project that he could drive on the street and take to the track. When he bought it, the car was so nice that he hated to make it a serious race car, so he did what he could to retain the car's original appearance. That's part of what plays into the car's sleeper theme—green on green with a bench seat isn't exactly the most common go-fast combination.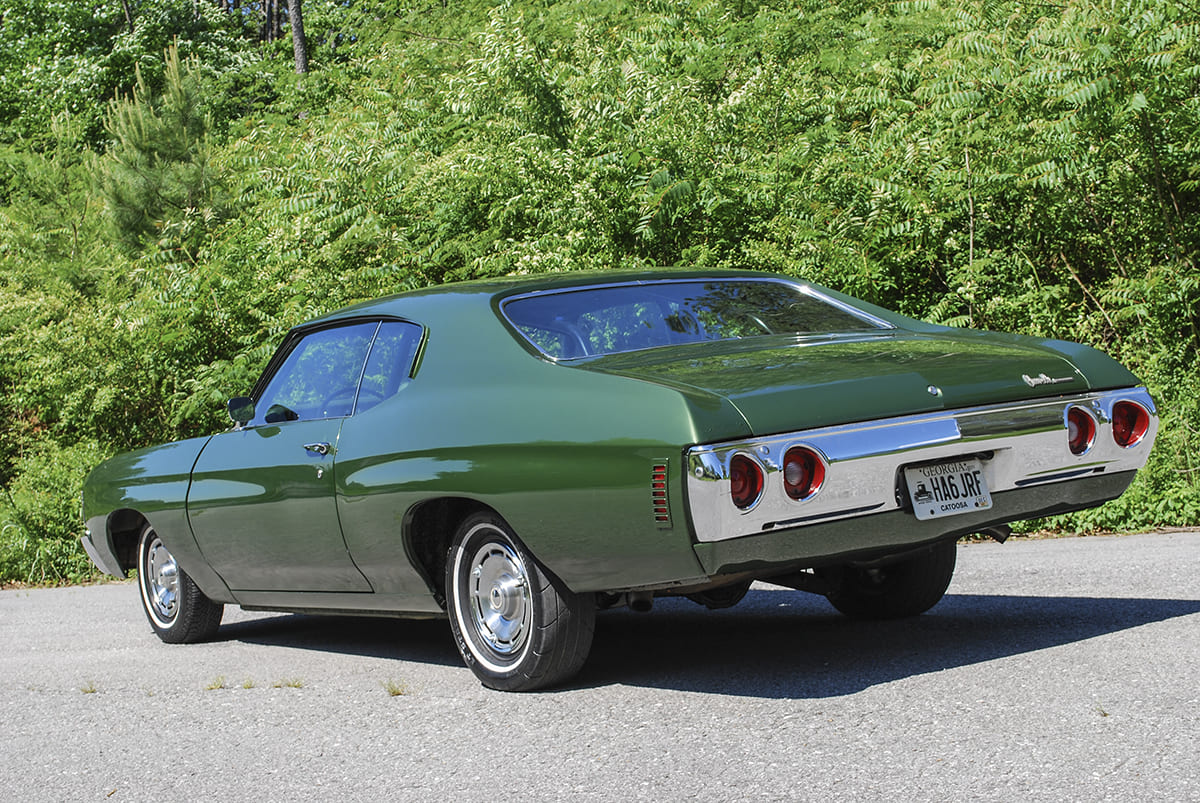 Shannon has toyed with several different wheel-and-tire combinations on the Chevelle and has run a best of 6.32 at 106 mph in the eighth-mile on a set of Weld Draglite wheels and Mickey Thompson bias-ply slicks. This combination totally ruins the sleeper look, so he rarely runs it, even though it's a half second quicker than the sleeper whitewall and hubcap setup. By the way, the whitewalls are just painted onto a pair of tiny Mickey Thompson 215/60R14 drag radials. He used stock 14×6 steel wheels and full hubcaps, which are bolted into place for safety. The car ran consistently in the 6.80s with the whitewalls. Shannon has also worked hard to get the car to perform well on regular street radials. He's tested numerous times with the car and has learned the proper launch technique and the right moment to lay the nitrous to it. His best effort on hard street radials (275/60R15 Futura) has been a 7.10 at 102 mph.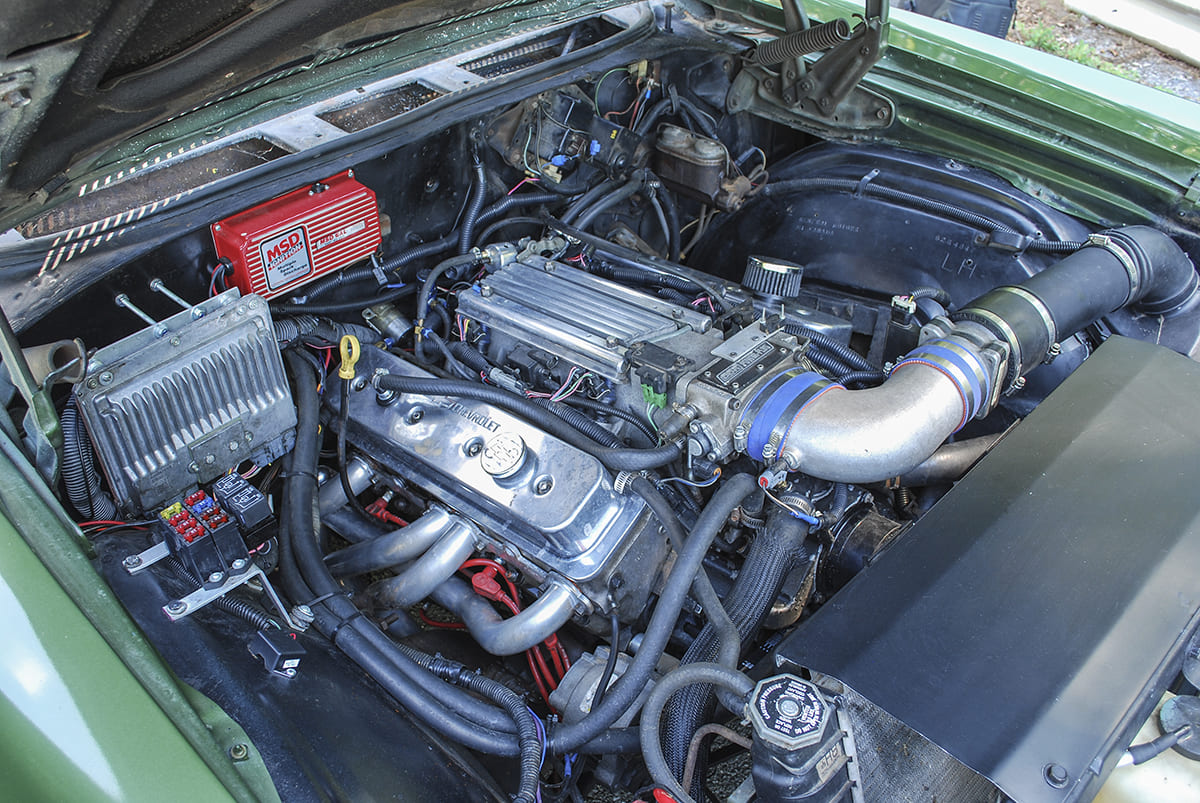 Shannon's Chevelle relies on an LT1 powerplant from a '90s Trans Am. He sent the block and bottom end to Lance Fugate to prepare it for a rebuild, one that would increase the cubic inches from 350 to 383. The 4.030-inch cylinders are stuffed with Speed Pro forged pistons, which are connected to a set of Scat forged 5.7-inch connecting rods and a Scat cast steel crankshaft. This combination of components, when combined with the stock cylinder heads, creates an 11.3:1 compression ratio. Shannon felt confident in the stock oiling system, so he simply installed new replacement parts.
While the cylinder heads are the stock LT1 aluminum castings, with the original 1.94-inch intake valves and 1.50-inch exhaust valves, Shannon had Steve Chapman perform some additional massaging. This allows the heads to flow 262 cfm at 0.600 inch of lift. Shannon then installed a Comp Cams 292XFI hydraulic roller camshaft and a set of Comp 1.6 roller rockers. The original intake manifold proves to be a limited factor in most LT1 applications, but Shannon seems to have great success with it after installing a 58mm throttle body and a set of 36-pound injectors. The secret to the combination resides in a blue bottle that hides in the trunk—Shannon sprays the Chevelle with a 175hp dry shot of nitrous. That's generally way too much nitrous for a dry shot, but Shannon tunes the car to provide an adequate amount of fuel when the nitrous is activated.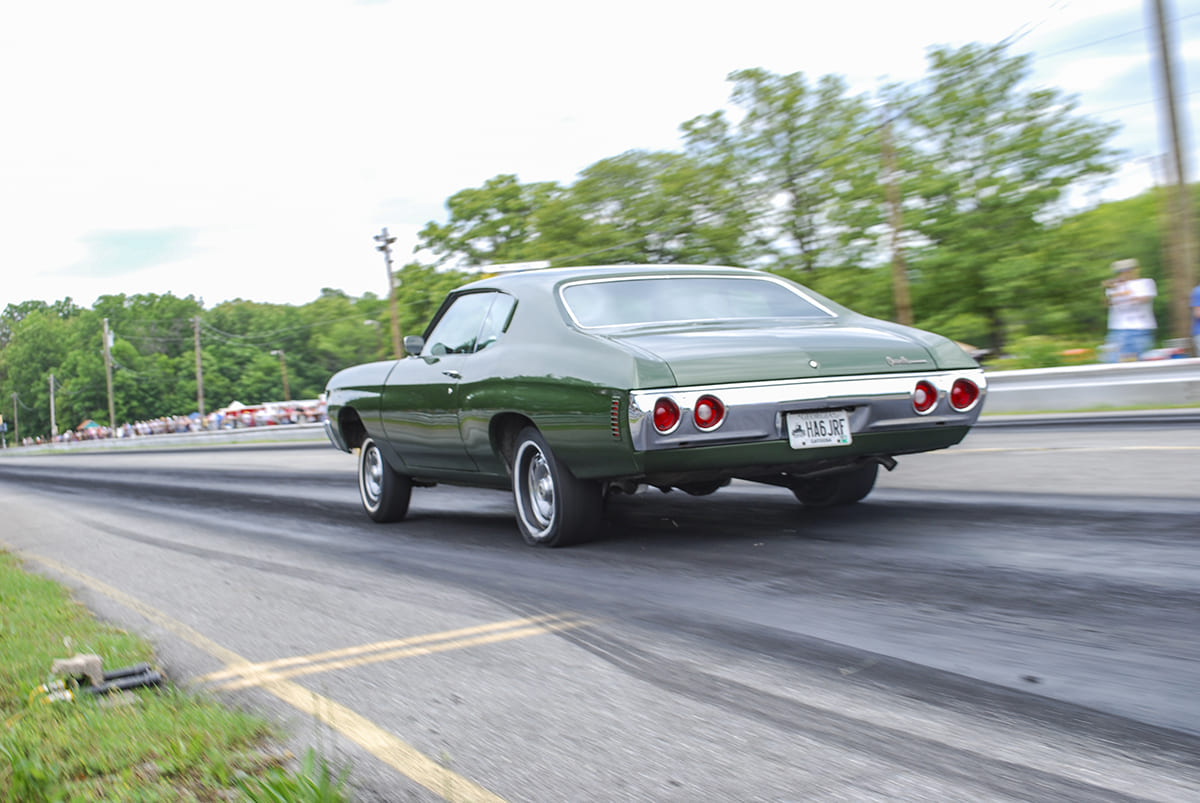 Behind the stroked LT1 is a TCI TH350 transmission, which features a manual valvebody and a PTC 10-inch torque converter, which allows the car to leave the line at 3,600 rpm. Moving further back, you'll find a GM 12-bolt rearend, which features a "Lincoln Locker" and a 3.55 gearset. Surprisingly, it weighs in at 3,280 pounds without a driver, which is fairly light, considering the full frame design and lack of weight reduction.
For aesthetics, Shannon gave his Chevelle the least-desired color for most muscle cars: green. He also retained the all-steel body panels, original windows, bumpers, and trim. His friend, Michael Hudgins, did the bodywork on the panels and then laid down a few coats of the original "Grandma Green," and followed that with clearcoat. The car has a great, factory look.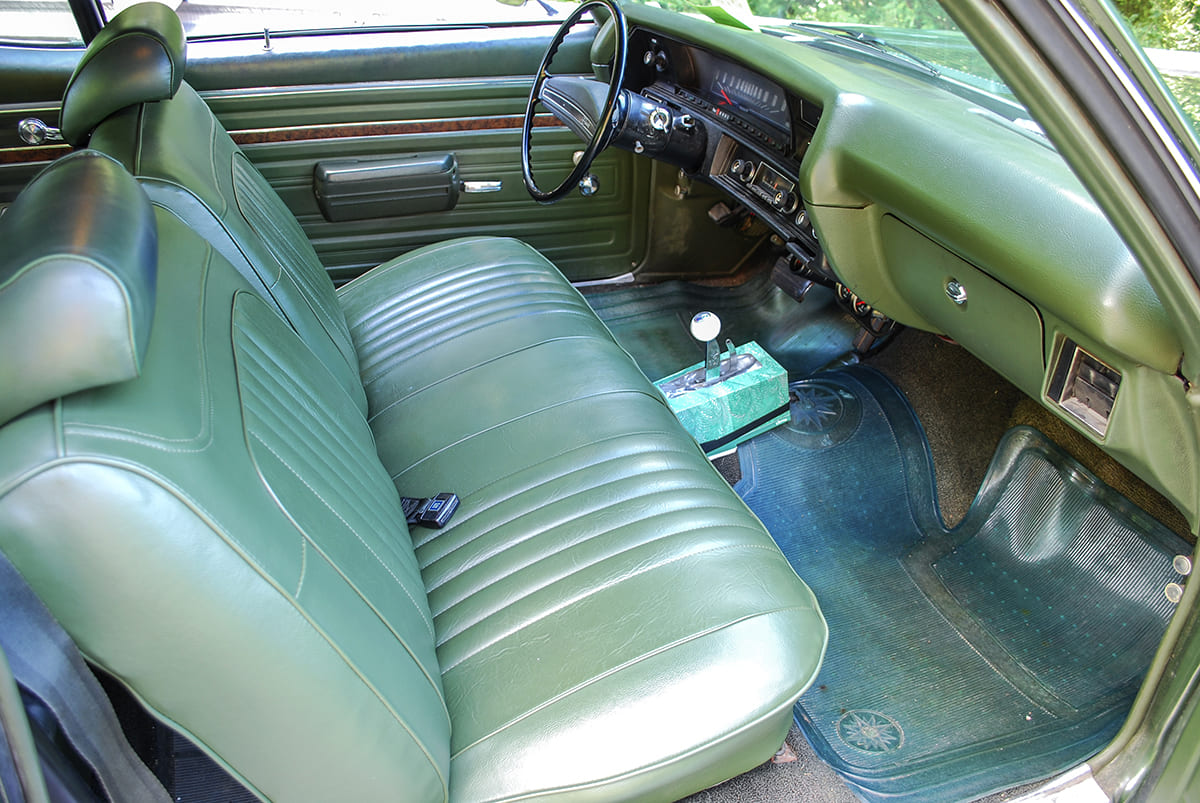 The interior is equally green with a vinyl-covered bench seat and virtually no factory accessories. It's a Plain Jane car but local tracks didn't like seeing the car run deep into the 6s with no rollcage, so Shannon had Sam Daffron build a custom five-point rollbar that is tucked tightly to the inner structure with enough room for the headliner and interior panels, of course. Daffron built the rollcage as a bolt-in unit, so Shannon can take it out when he's in all-out sleeper mode. The only giveaway to this car's potential is the B&M Ratchet shifter, but Shannon gave it some personality with a "custom" console.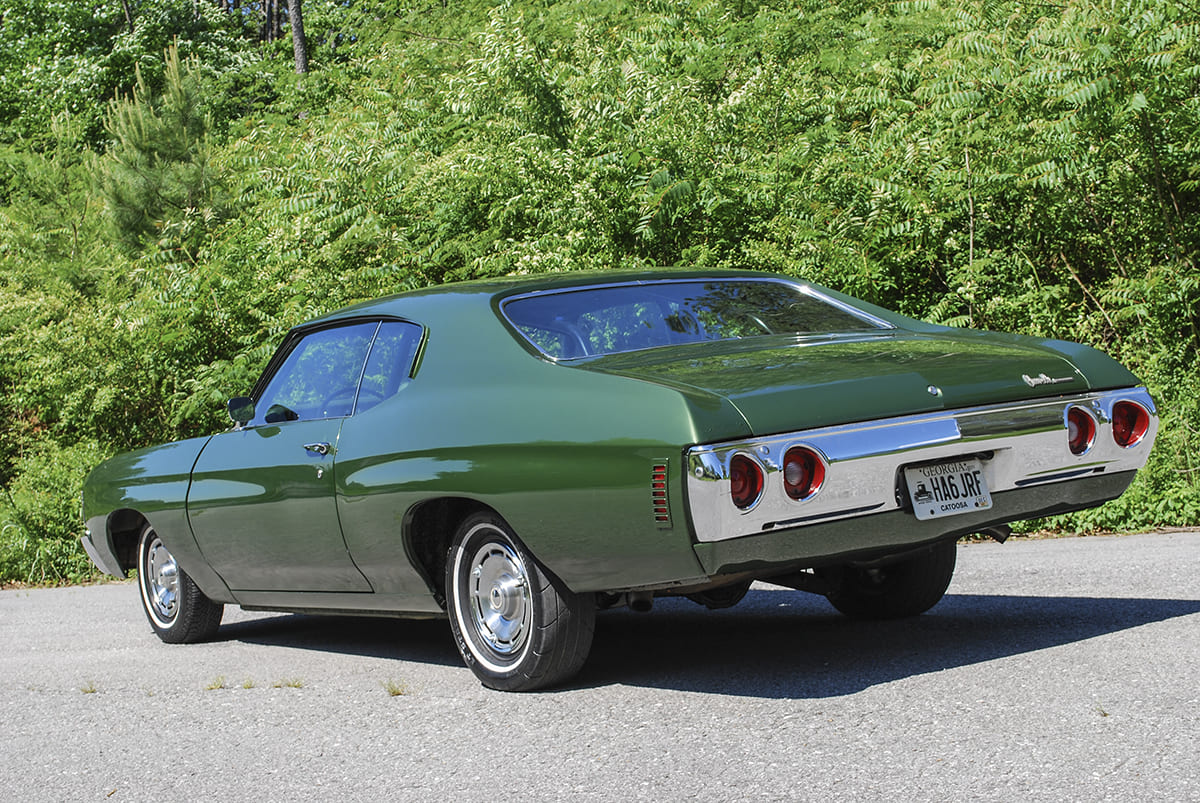 Even after figuring out the car's secrets, it's still unbelievably fast, considering the extremely simple combination. Not to downplay the work that went into it, but a '90s LT1 with nitrous does very little to impress most car guys. This one does just that inside a bone-stock Chevelle that rolls on the stock 14s with hubcaps and whitewalls. And though his car had options for go-fast material from the factory, Shannon pulled off the sleeper look with some creative components, and he did it all on a tight budget.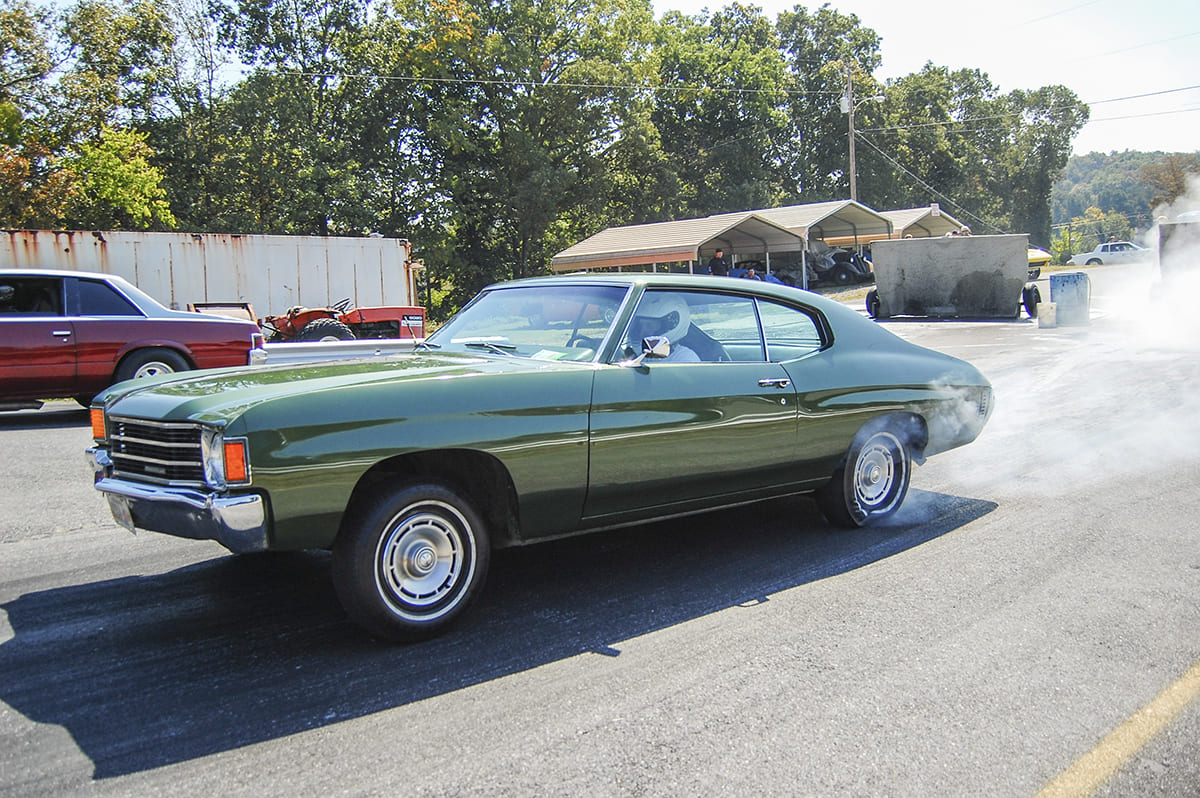 TECH CHECK
Owner: Shannon Medley, Ringgold, Georgia
Vehicle: '72 Chevrolet Chevelle
Engine
Type: LT1 small-block Chevy
Displacement: 383 ci
Compression Ratio: 11.3:1
Bore: 4.030 inches
Stroke: 3.75 inches
Cylinder Heads: Original LT1 castings, ported by Steve Chapman
Rotating Assembly: Scat crankshaft, Scat rods, Speed Pro pistons
Valvetrain: Comp 1.6 roller rockers
Camshaft: Comp Cams 292XFI hydraulic roller
Induction: Port-matched LT1 intake, 175hp dry nitrous system
Ignition: MSD 6AL
Exhaust: Summit Racing 1-5/8-inch headers, Flowmaster mufflers
Drivetrain
Transmission: TCI TH350 automatic transmission, manual valvebody, PTC 3,600 converter
Rear Axle: GM 12-bolt, Lincoln Locker, 3.55:1 gears
Chassis
Front Suspension: Stock
Rear Suspension: Jegs control arms, adjustable shocks
Brakes: Stock drum brakes
Wheels & Tires
Wheels: 14×7 steel wheels and hubcaps
Tires: 215/70R14 front, 215/60R14 drag radials
Interior
Upholstery: Stock
Material: Green vinyl
Seats: Bench
Steering: Original
Shifter: B&M Ratchet
Dash: Original
Instrumentation: Original
Audio: Original AM radio
HVAC: N/A
Exterior
Bodywork: Michael Hudgins
Paint By: Michael Hudgins
Paint: "Grandma Green" base/clear
Hood: Original
Grille: Original
Bumpers: Original