Bill Hugill's '65 Pro Street Corvette
By Shawn Brereton – Photography by the Author
With queues borrowed from drag racing cars—fat tires and power adders being the most prominent—it is hard to deny the appeal of a Pro Street vehicle. A Pro Street car will stop anyone in their tracks as soon as they see (or hear) it. If you don't like attention, don't buy one because you will get plenty of it—both good and bad. They usually draw the largest crowd at any show. Eavesdropping on the conversations, you'll often hear detractors talking about how it isn't practical; but they aren't supposed to be.
Instead, they are the exact opposite—impractical, exaggerated, absurd, and extreme—and there's nothing wrong with that. They are not daily drivers or grocery getters; they are weekend fun cars. Some say their sole purpose is to gain attention. The surprising part is that one would expect the owners to be maniacal egomaniacs who crave attention, but this is often the opposite. They just love watching people enjoy their creations. Such is the case of Bill Hugill from Boyd, Texas, and his '65 Pro Street Corvette.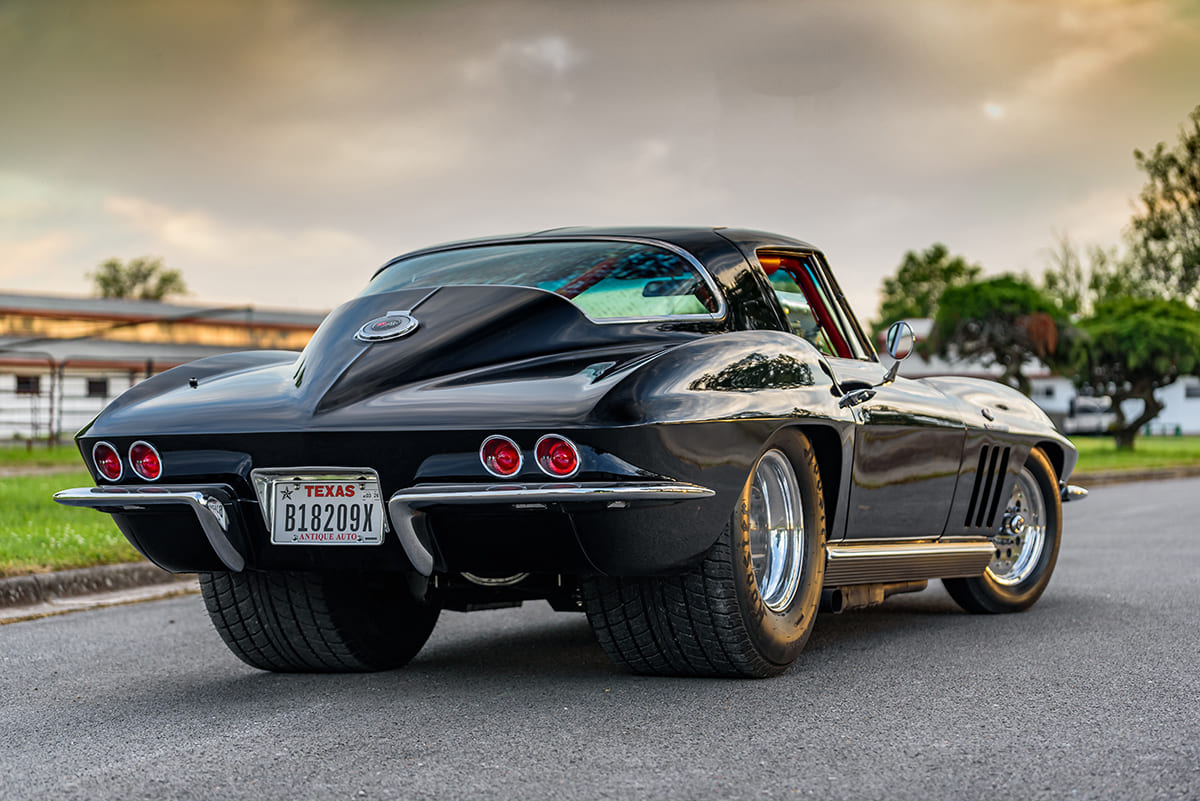 Bill has been a mechanic almost his entire life. Growing up with a mechanical inclination, he began by fixing other kids' bikes. Bill's career as an auto mechanic was born out of necessity when he bought a $600 car to drive and asked his dad for help. His dad said, "sure," and then purchased the young lad a Chilton's manual and told him to learn. Soon, it turned into working on friends' vehicles, which blossomed into a lengthy, lucrative career with two shops now under his ownership. He was always tinkering, buying motorcycles and cars, fixing them up, and selling them (at one time he owned over 85 motorcycles).
Now semi-retired living on a farm, Bill doesn't have the spare time he once had to do complete builds, so he likes to buy cars already done and put his spin on them. Once he gets bored with one, he has no problem moving onto the next. Though he leans toward Mopars, Bill opened up his horizons when looking for his latest conquest. He wanted something to "wow" him, and always liked the shape of split-window Corvettes, when this Pro Street '65 popped up on Facebook.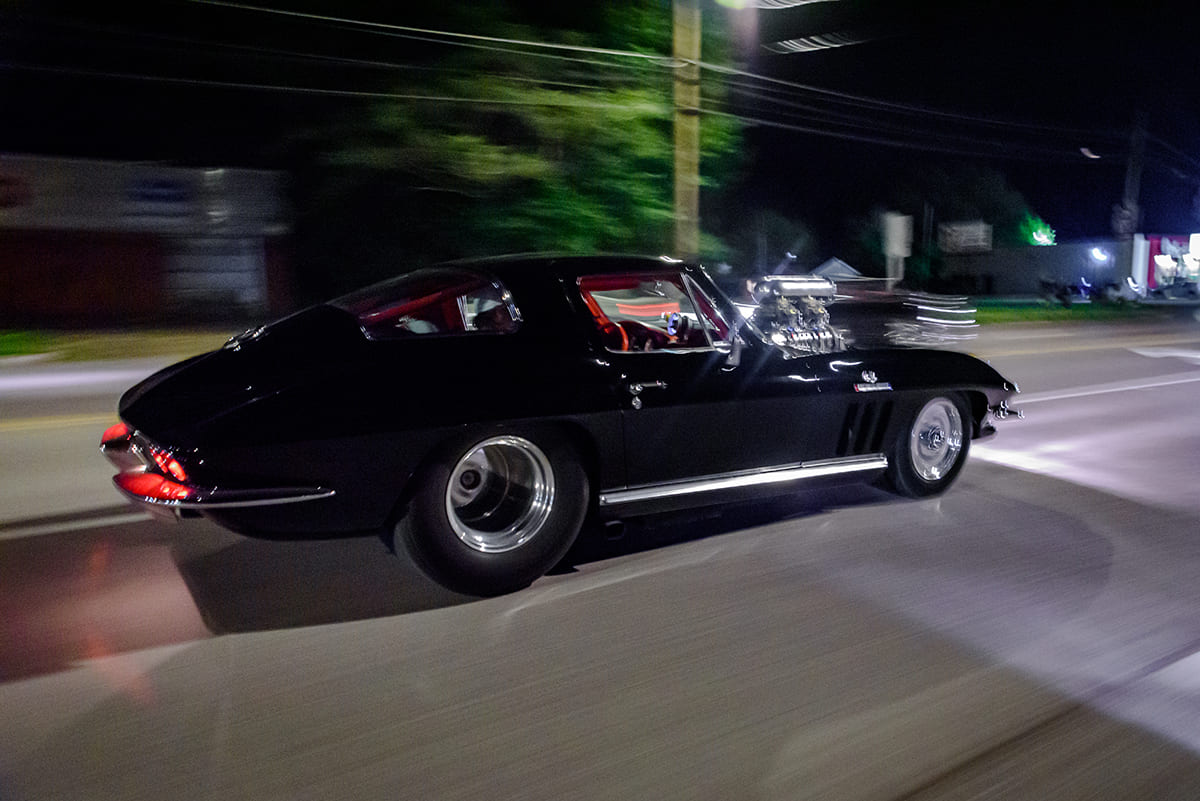 The Vette certainly had the wow factor covered. The only problem was it was located in Calgary, Canada, and the COVID-19 pandemic had the border shutdown. Luckily, the owner's friend was a car dealer who could cut through the red tape to get it into the U.S. Once the money changed hands, the dealer did his part and Bill made a 2,200-mile round trip to pick it up at the border.
He left the next day for the Street Machine Nationals in Du Quoin, Illinois, where we spotted the car. There is just something about a black Corvette with a red interior that says "classy." Throw a blower through the hood and it screams "sexy." The fastback shape of a '65 coupe lends itself well to a Pro Street–style build as the roof tapers into the rear quarters like an arrow drawing your eye down to the rear tires.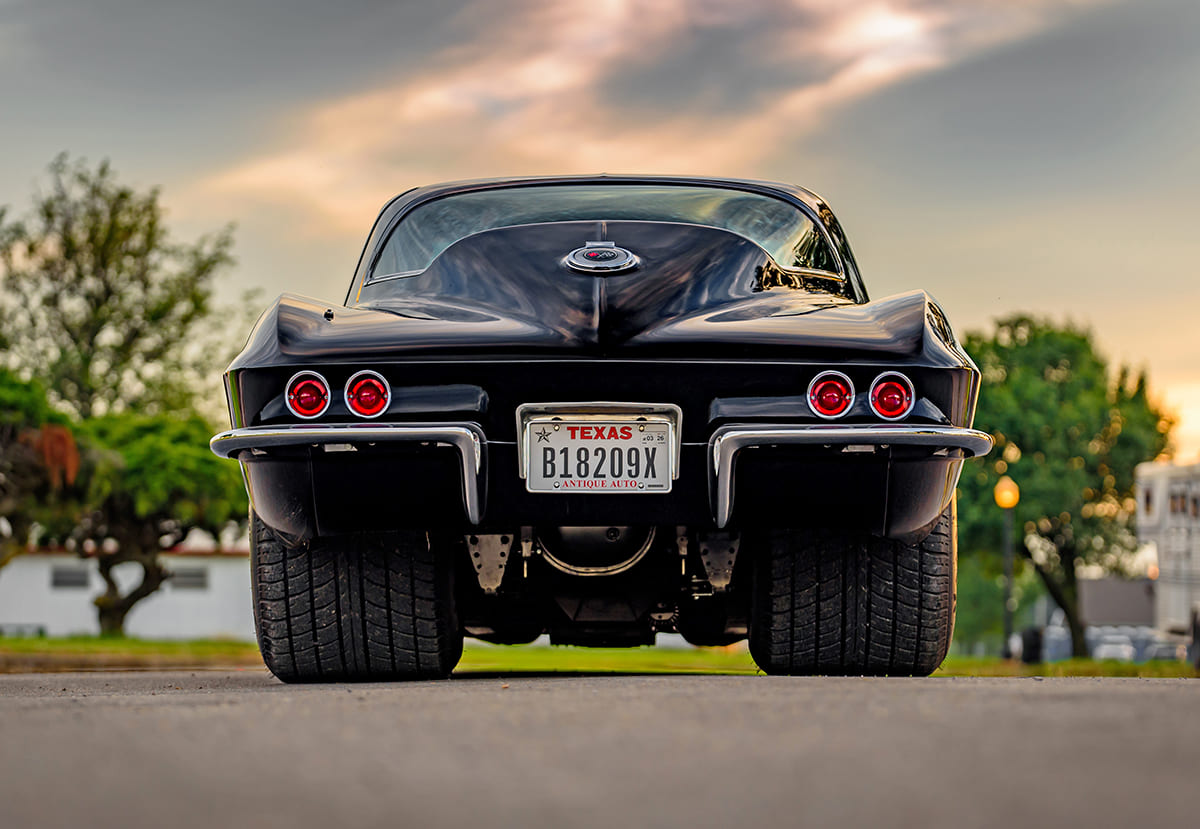 In this case, those wide 31×18.5 Hoosiers mounted on 15×14 Bogart Classic Fly Lite wheels frame a spooled Ford 9-inch center chunk with 4.56:1 gears and narrowed Strange 31-spline axles. It is held in place by a four-link, Panhard bar, and antiroll bar. Double-adjustable shocks and Aerospace Components four-piston brakes help keep it under control.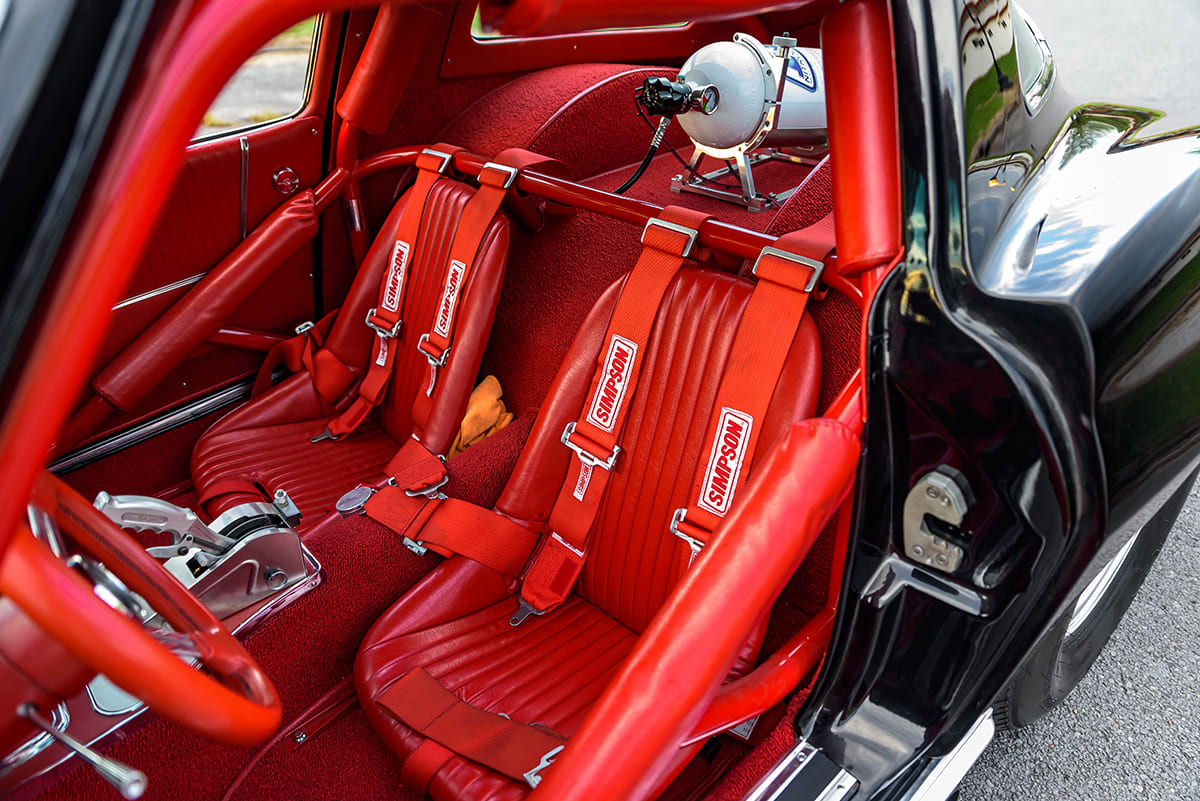 An eight-point rollcage tucked into the passenger compartment strengthens a Martz chassis. Meanwhile, the front suspension from a C5 Corvette gives this 65-year-old car rack-and-pinion steering, tubular control arms, and coilover shocks. The C5 Corvette brakes were retained for stopping skinny 15×3.5 Fly Lite wheels with 6-inch Mickey Thompson tires.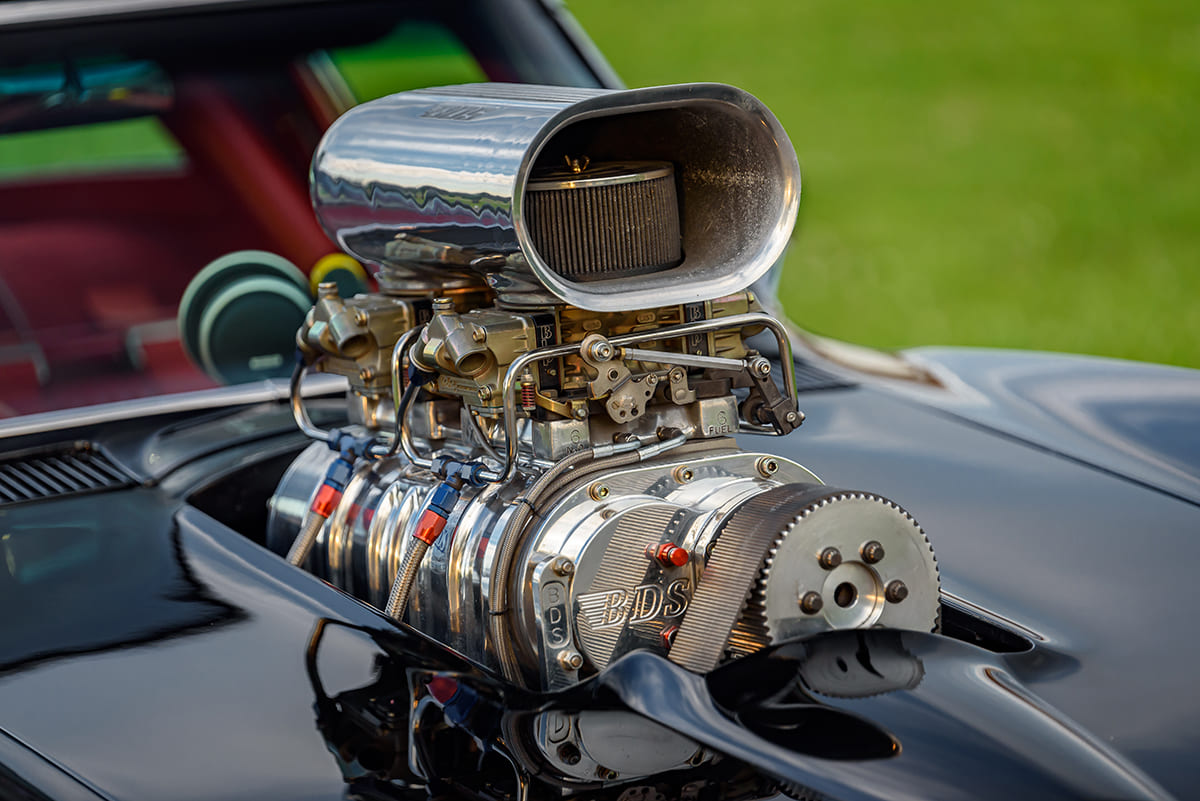 Under the hood sits a potent 7:1 compression 406ci aluminum Donovan engine filled with Diamond blower pistons, Callies crank and rods, topped by Dart Pro 1 aluminum heads. A Bullet solid roller cam with the 7/4 swap provides the lope. Two Holley 750-cfm carbs plumbed with a 250-shot of NX nitrous flow fuel through a surging 10-71 BDS supercharger. All of the power transfers through a Reid 5,000-rpm stall converter and Powerglide transmission. The combo is good for an astounding 1,200 hp at 5,000 rpm.
Inside, the interior looks virtually stock with red vinyl bucket race seats mimicking the originals. Other than the Kenwood stereo head unit, Auto Meter tach, oil, and water gauges, the dash is all original, with a clock and instruments that work like new. A TCI shifter with a Hurst stick resides on the console while the nitrous bottle is secured between the massive tubs.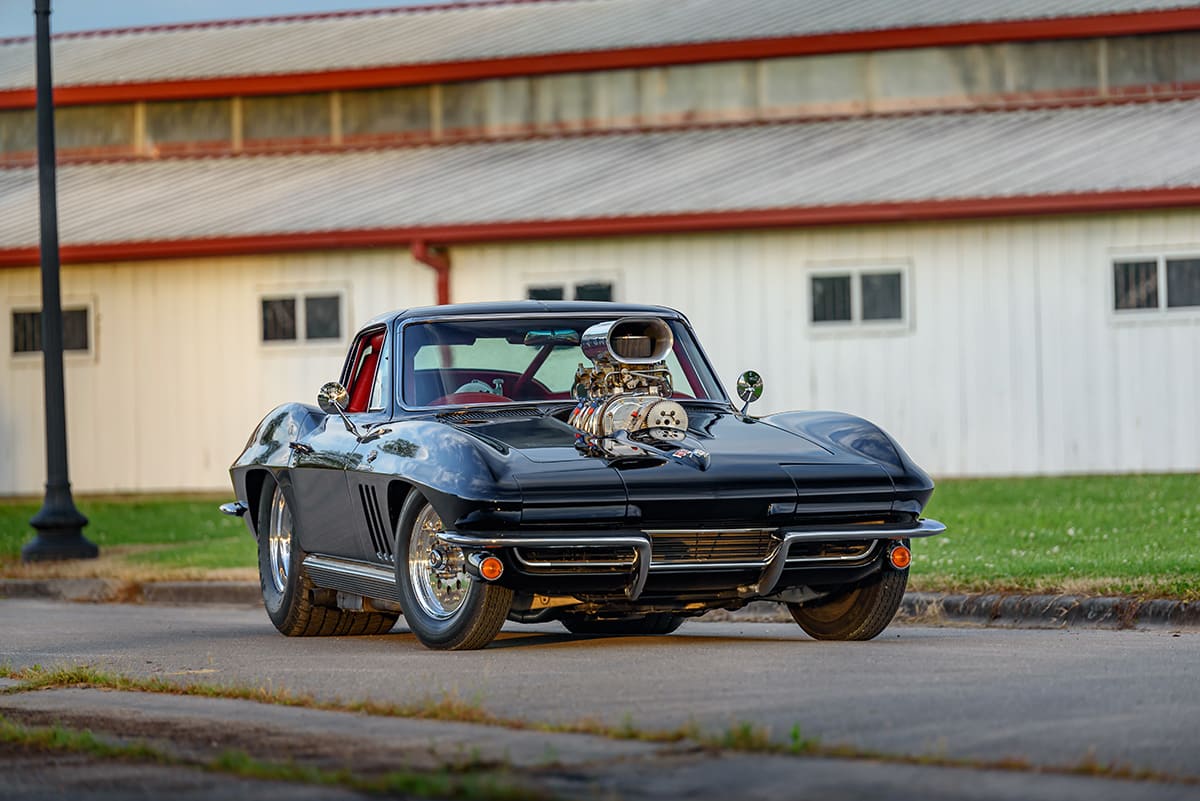 Bill has enjoyed the Vette since bringing it down from the great white north, taking it to some local shows, Du Quoin, and the OBX Rod & Custom Festival in North Carolina. He does have a few plans to change it up a bit. It's currently fitted with chromoly wheelie bars, and look for a fun, eye-popping paint scheme coming soon. And why not? After all, it's Pro Street—subtle went out the window a long time ago!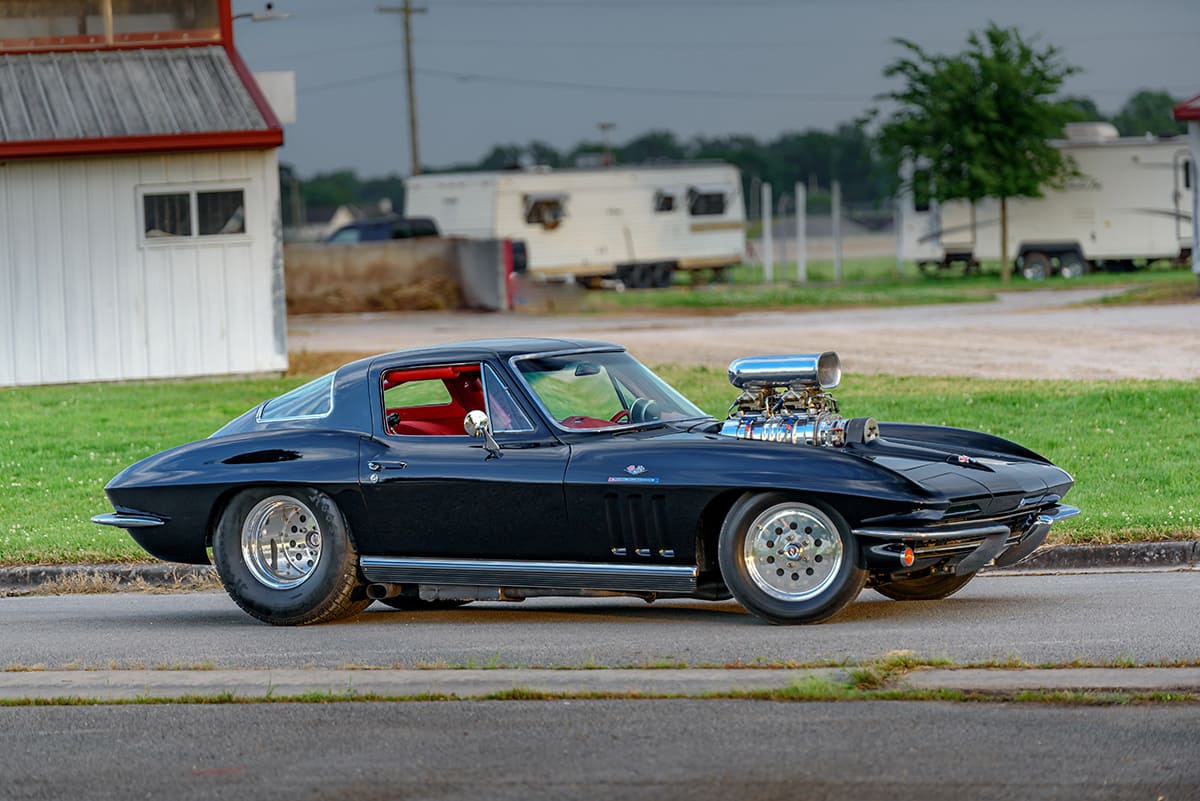 TECH CHECK
Owner: Bill Hugill, Boyd, Texas
Vehicle: '65 Chevrolet Corvette
Engine
Type: '05 Aluminum Donovan
Displacement: 406 ci
Compression Ratio: 7:1
Cylinder Heads: Aluminum Dart Pro 1
Rotating Assembly: Callies crankshaft, Callies rods, Diamond Blower pistons
Camshaft: Bullet solid roller (294/305 – 2.080 intake, 1.60 exhaust)
Induction: BDS 10-71 supercharger, NX 250hp nitrous, (two) Holley 750-cfm 4150 carbs
Assembly: Jeffrey Brewster
Ancillaries: Be Cool radiator, one-wire alternator, MSD ignition
Output: 1,200 hp at 5,000 rpm 
Drivetrain
Transmission: Reid Powerglide and converter (5,000-stall)
Rear Axle: Ford 9-inch with spool, 4.56:1 gear ratio, 31-spline Strange axles
Chassis
Front Suspension: C5 Corvette, coilover shocks, stabilizer bar
Rear Suspension: Four-link with antiroll bar and Panhard bar, coilover shocks
Brakes: Aerospace Components four-piston disc with Wilwood master cylinder
Wheels
Wheels: Bogart; 15×3.5 front, 15×14 rear
Tires: Hoosier 31×18.5R15 rear, Mickey Thompson 6.00×15 front 
Interior
Upholstery: Red leather, red carpet
Seats: Stock
Steering: Stock
Shifter: TCI
Dash: Stock with Auto Meter tach, oil, and water
Instrumentation: Stock
Rollcage: Eight point 
Exterior
Bodywork and Paint: Unknown
Paint: Black
Hood: Fiberglass
Grille: Stock
Bumpers: Stock