For Katrina Updike, Patience Paid Off in Getting the '69 Camaro of Her Dreams
By John Machaqueiro – Photography by the Author
Katrina Updike has always had a soft spot for first-gen Camaros. As she quickly points out, "I've always wanted a Camaro, and the '69 is my favorite because it was the year I was born." That longstanding desire to own one was a bucket list item, but as any hard-core Chevy person will tell you, '69 Camaros in decent shape have become increasingly hard to find–and expensive. As is often the case, being in the right place at the right time, or knowing the right person, goes a long way to finding what you lust after. In Katrina's case it was a matter of knowing the right person and playing the long game, which in her case was about 10 years.
The object of her desire was a '69 Camaro that was owned by a friend of the family. Her only obstacle was that he was having fun with it a quarter-mile at a time. That's right–it was a race car. Buying a car that has seen track time can be a mixed blessing. On the one hand you might score a car with low miles that hasn't been wrecked, or you may end up with a car that has been cut up and stripped down to the bare minimum for the sake of speed. This '69 was covering it at both ends–it had low miles but was tubbed and caged. Motivation came in the form of a 400ci small-block on steroids mated to a TH400 that transferred the power to a Dana 60 stuffed with 4.88:1 gears. She explains, "The body was still in beautiful condition. It had a huge hood scoop so it took two of us to drive it. One would steer, and the other would look over the scoop to see where we were going. It ran on airplane fuel and it was fun to drive, but it wasn't very functional."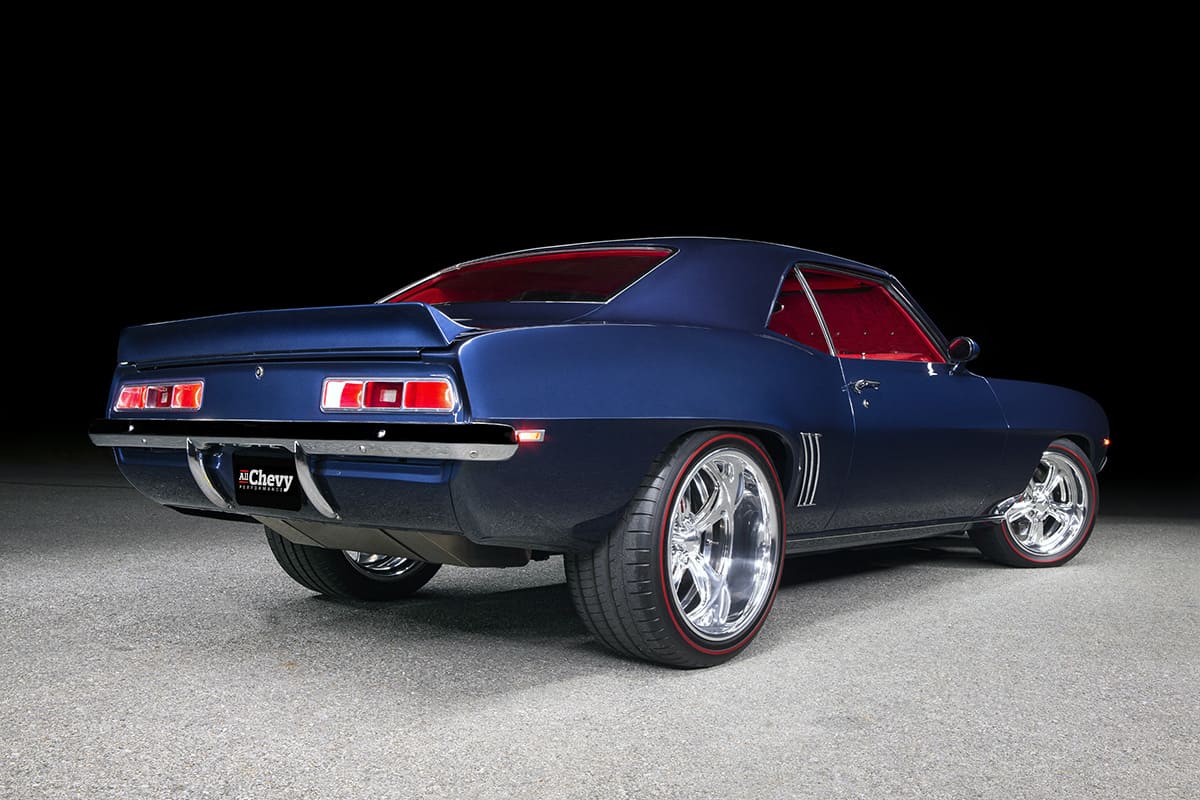 Katrina's plan from the outset was to do something with the Camaro that reflected her personal tastes. Helping her along the way was her husband. She points out, "Bob encouraged me to make all the decisions and all the choices. He wanted it to be all my ideas–my baby, so to speak."
When it comes to building custom cars, ideas need skilled enablers to bring them to life. That's where Lonny Gordon and the crew at East Coast Muscle Cars (ECMC) in Craley, Pennsylvania, came into the picture. Their mission was to bring some civility back to the Camaro by retaining the classic lines of the '69 while updating everything.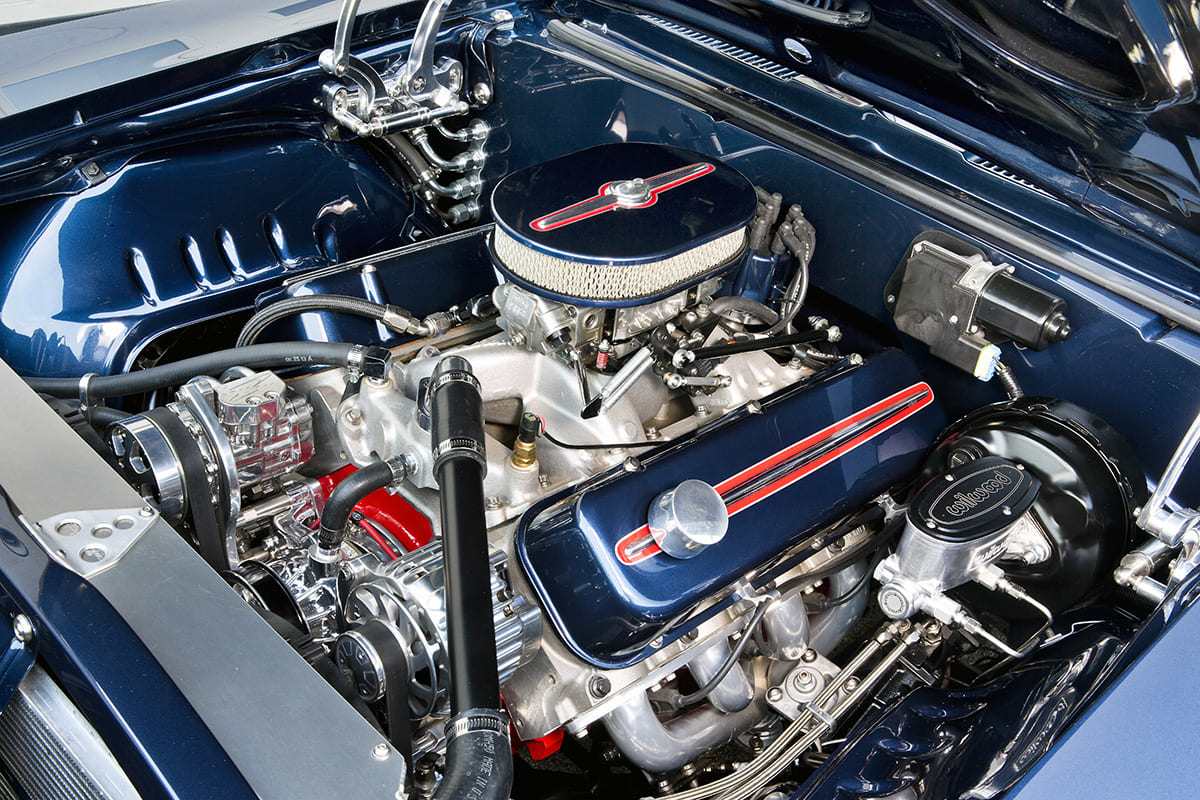 One of the first decisions she made was to nail down what would lie under the hood. Using the existing 400 was on the table for a split second, but the "bigger is better" mantra led to the installation of 540ci big-block. The guys at RaceKrafters Automotive in Lancaster, Pennsylvania, were given the task of building up the cast-iron block with some Dart aluminum heads, JE pistons, Eagle rods, and an Edelbrock aluminum intake capped off with a Holley carburetor. Spent fuel exits via a set of Sanderson headers and a 3-inch stainless exhaust system mated to a pair of Flowmaster mufflers. It's a combination that cranks out a solid 650 ponies.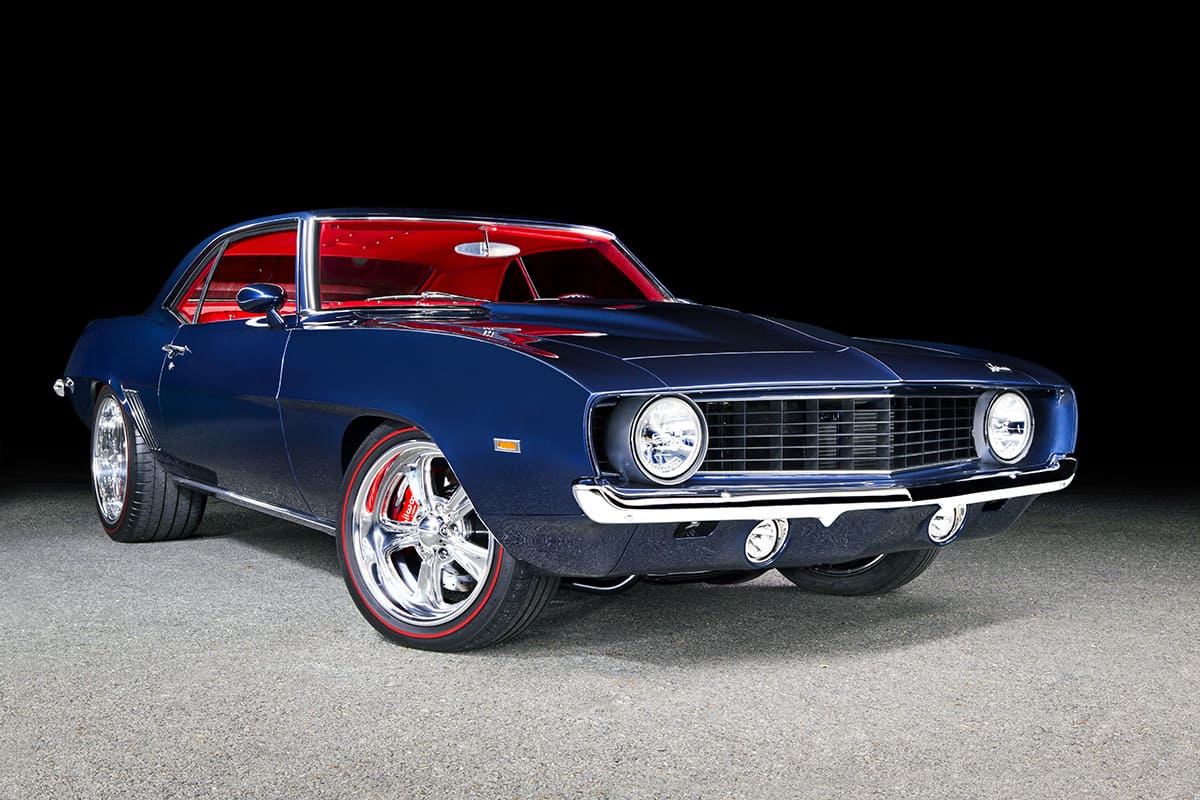 Backing up that big-block goodness is a GM 4L85E four-speed automatic with a 3,200 stall converter, while a Ford 9-inch shod with 3.73:1 gears and a Truetrac limited-slip differential lays it all down. Further additions at the rear included some Detroit Speed 3-inch lowering springs, JRi adjustable shocks, and Detroit Speed mini-tubs. Up front, the Camaro received 2-inch drop spindles, tubular A-arms, coilovers, and a sway bar—all from Detroit Speed, along with JRi adjustable shocks. Wilwood binders were employed to enhance stopping, with six-piston calipers up front and four-piston units out back clamping down on 13-inch rotors at all four corners.
Building a solid drivetrain comes down to a seasoned chef who puts all the right ingredients in place. Dealing with the body involves a completely different set of subjective choices, which are usually driven by the customer's tastes. For Katrina, the visual aspect of the car was the most important, but before that could happen, the crew at ECMC had to peel back the old paint. What they found underneath was in surprisingly good condition, with only the quarter-panels and hood needing replacement. With the body fully rejuvenated, the color choices were put on the table. She recalls, "I didn't want a color that everyone else had. I wanted it to stand out. Axalta Solar Blue is what I ended up choosing." When it came to the interior, nothing transferred over from the drag car. She adds, "Lonny and I worked on the interior and all the details to the way that I liked it. For color, he suggested that I go with a red interior. I wasn't sure about going with that color, but I went with it. People love it, and I love it, too."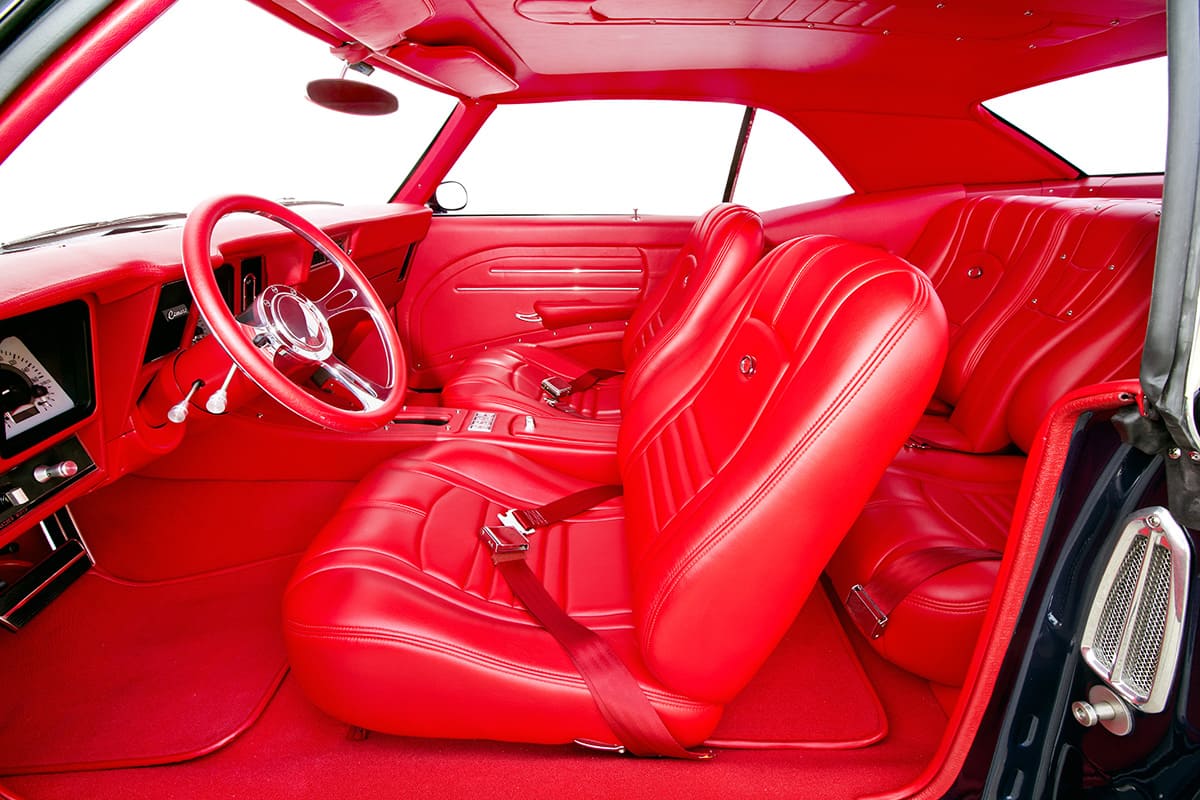 Crafting that interior was farmed out to the guys at Driven Fabrication & Upholstery in Middle River, Maryland. They created everything around a set of custom seats, console, and carpet. It was all wrapped in red Ultraleather, with Dakota Digital instruments installed, along with a Billet Specialties Fast Lane steering wheel and a Hurst quarter stick. The last piece of the visual puzzle was the wheel-and-tire combo. That choice came down to a set of Billet Specialties aluminum wheels wrapped in Michelin Pilot Sport tires.
Her journey to transform the Camaro into something personal spanned just over five years, but it's been well worth it. Beyond the sheer enjoyment every time she gets behind the wheel, Katrina also points out, "the thing that makes me smile and laugh the most is when we are out somewhere with the car and guys look at my husband and ask whether 'is that really her car and you actually let her drive it?'"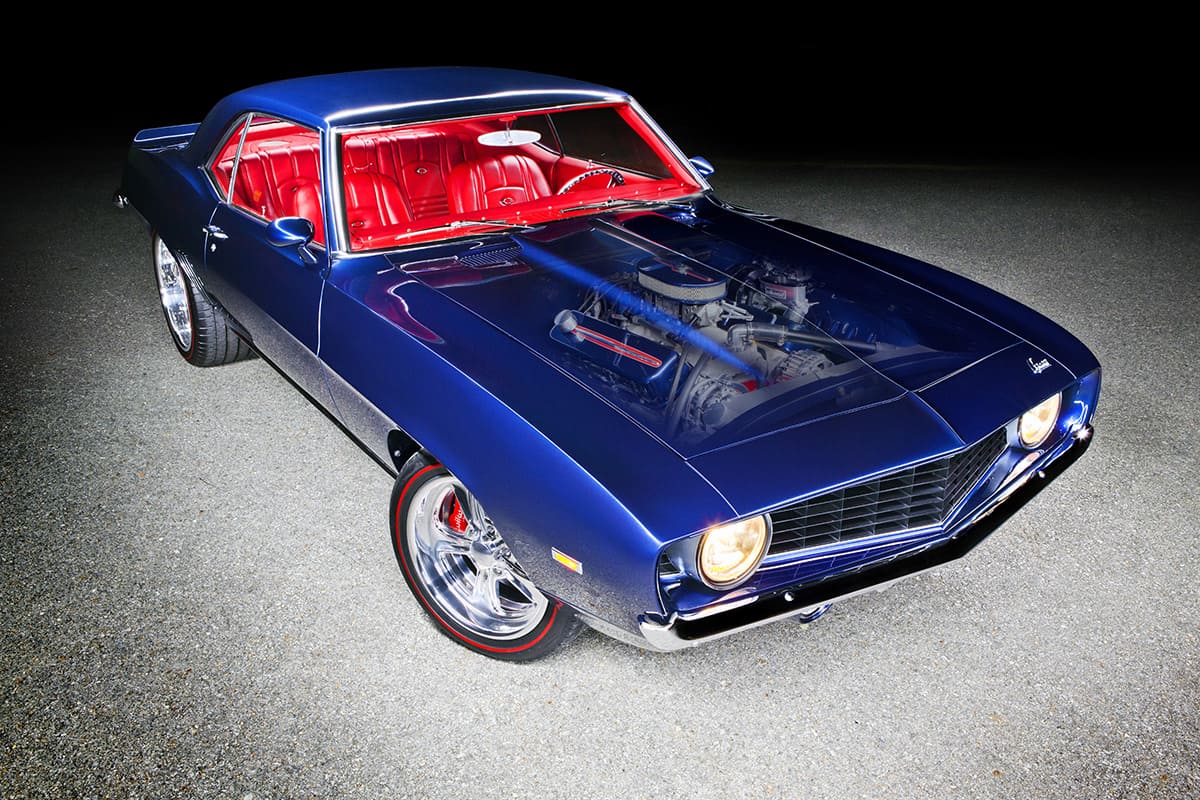 Tech Check
Owner: Katrina Updike
Vehicle: '69 Chevrolet Camaro
Engine
Type: GM cast-iron big-block
Displacement: 540 ci
Compression 10.4:1
Bore: 4.500
Stroke: 4.250
Cylinder Heads: Dart 325 aluminum
Rotating Assembly: Eagle forged crank, JE aluminum pistons, Eagle rods
Camshaft: Comp Cams hydraulic roller camshaft
Induction: Edelbrock aluminum intake, Holley 950-cfm carburetor, Holley electric fuel pump, Billet Specialties air cleaner
Ignition: MSD 6AL electronic, Powermaster 140-amp alternator
Cooling: Ron Davis Racing aluminum radiator
Exhaust: Sanderson headers, stainless steel 3-inch tubes, crossover pipe, 3-inch Flowmaster mufflers
Built By: RaceKrafters Automotive (Lancaster, PA)
Drivetrain
Transmission: GM 4L85E four-speed automatic, 3,200 stall converter
Rear Axle: Ford 9-inch, 3.73:1 gear ratio, Truetrac limited-slip diff
Driveshaft: Strange Engineering chromoly
Chassis
Front Suspension: Detroit Speed 2-inch drop spindles, Detroit Speed tubular A-arms, Detroit Speed coilovers, JRi adjustable shocks, Detroit Speed sway bar
Rear Suspension: Detroit Speed 3-inch lowering springs, JRi adjustable shocks, Detroit Speed sway bar, Detroit Speed mini-tubs
Brakes: Wilwood 13-inch rotors, six-piston calipers front, Wilwood 13-inch rotors, four-piston calipers rear
Wheels & Tires
Wheels: Billet Specialties SLC62, 17×8 front, 20×12 rear
Tires: Michelin Pilot Sport 235/45R17 front, Michelin Pilot Sport 315/35R20 rear
Interior
Seats: Custom front and rear
Upholstery: Red Ultraleather
Gauges: Dakota Digital VHX-69C-CAM
Steering Wheel: Billet Specialties Fast Lane
Carpet: Custom red
Shifter: Hurst quarter stick
Console: Custom wrapped in red Ultraleather
Headliner: Custom covered in red Ultraleather
Head Unit: Pioneer DEH-80PRS
Amplifier: JL Audio HD900/5
Speakers: JL Audio 16×9 front and rear
Interior Work Performed By: Driven Fabrication & Upholstery (Middle River, MD)
Stereo Installation By: East Coast Muscle Cars (Craley, PA)
Exterior
Paint: Axalta Chromapremier Solar Blue basecoat/clearcoat
Paintwork Performed By: Joel Keller, East Coast Muscle Cars (Craley)
Bodywork Performed By: East Coast Muscle Cars
Hood: Stock
Grille: Stock
Bumpers: Stock