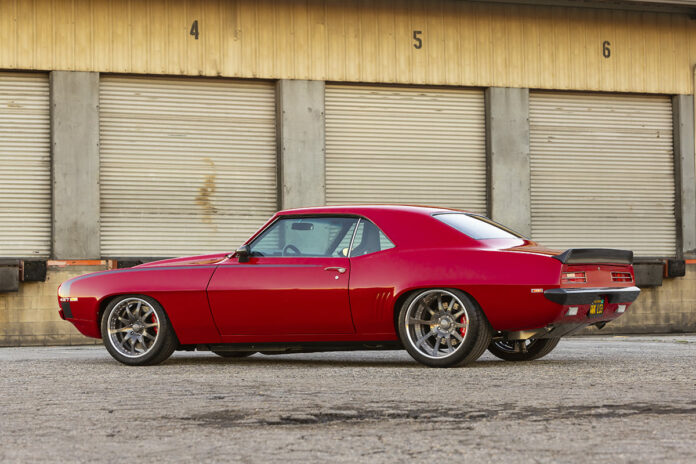 Rick Foster's Home Recipe for Building a Top-Notch Pro Touring 1969 Camaro
By Nick Licata – Photography by Wes Allison
"It all started with the magazines," Rick Foster says about how he got into muscle cars. "Back in my high school days I used to get all the cool car mags. You know, Hot Rod, Car Craft, and Popular Hot Rodding; I'd read them all cover to cover. I couldn't get enough. During some of my high school classes I used to hide the magazines inside my Pee-Chee folder (remember those?). All of us car guys did it. This was way before handheld video games or cell phones. Those magazines are what got us hooked on the whole muscle car thing and inspired us to wrench on our cars after school. And it helped living in NorCal back then as muscle cars were pretty much everywhere."
Over the years, Rick has owned several muscle cars. "I had two 1969 Camaros in high school," Rick says. "That's when I started wrenching, pulling engines, and having my first big-block machined and then assembling it myself. Later on I had a 1970 Chevelle and even a Mopar for a short time. That was followed by another 1969 Camaro and then I went the Pro Street route with a 1967 Camaro. It had a 540ci engine topped with an 8-71 blower. It was nasty."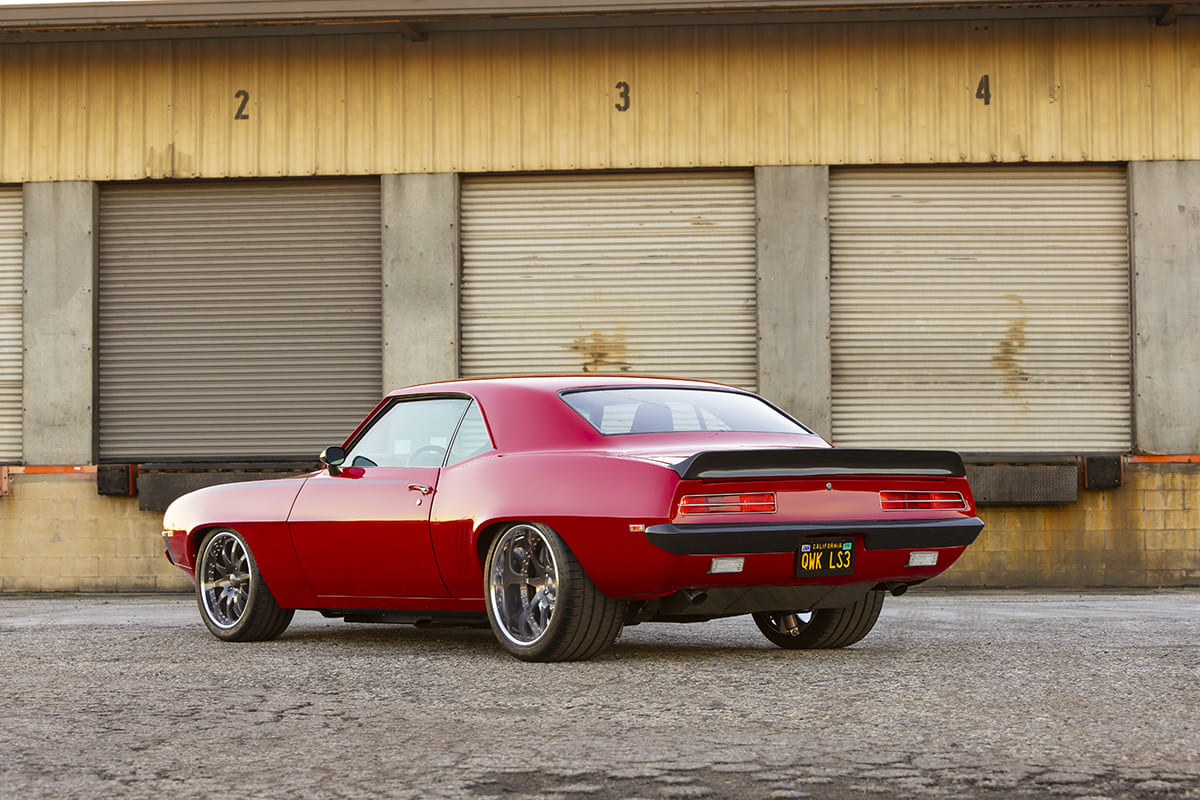 After owning so many big-horsepower cars, Rick decided to build something geared more toward the street. But it still had to be something totally kick ass. "The whole Pro Touring build style was very attractive to me," Rick claims. "With these cars, you get the best of both worlds: they can be built with a lot of power yet be totally reliable and street compliant.
With the Pro Touring movement piquing Rick's interest, he sold the Pro Street 1967 and started the hunt for a new project–something he could start from scratch and build entirely with his own vision. Doing an online search, he came across this 1969 Camaro. It was basically a shell and came with only doors and a decklid but appeared to have very little rust. When he went to look at the car in person it was on a metal cart with no suspension, no engine, no interior, no nothing. Rick pulled the trigger. Rick got busy. He got dirty and he got challenged, but he remained determined. "I wanted to build a Pro Touring Camaro my way and with the best parts—something I could be proud of when this thing hits the road." Rick says. "I replaced the floors, patched some small rust spots around the doors, windows, and dash. It was a lot of work, but I was all in."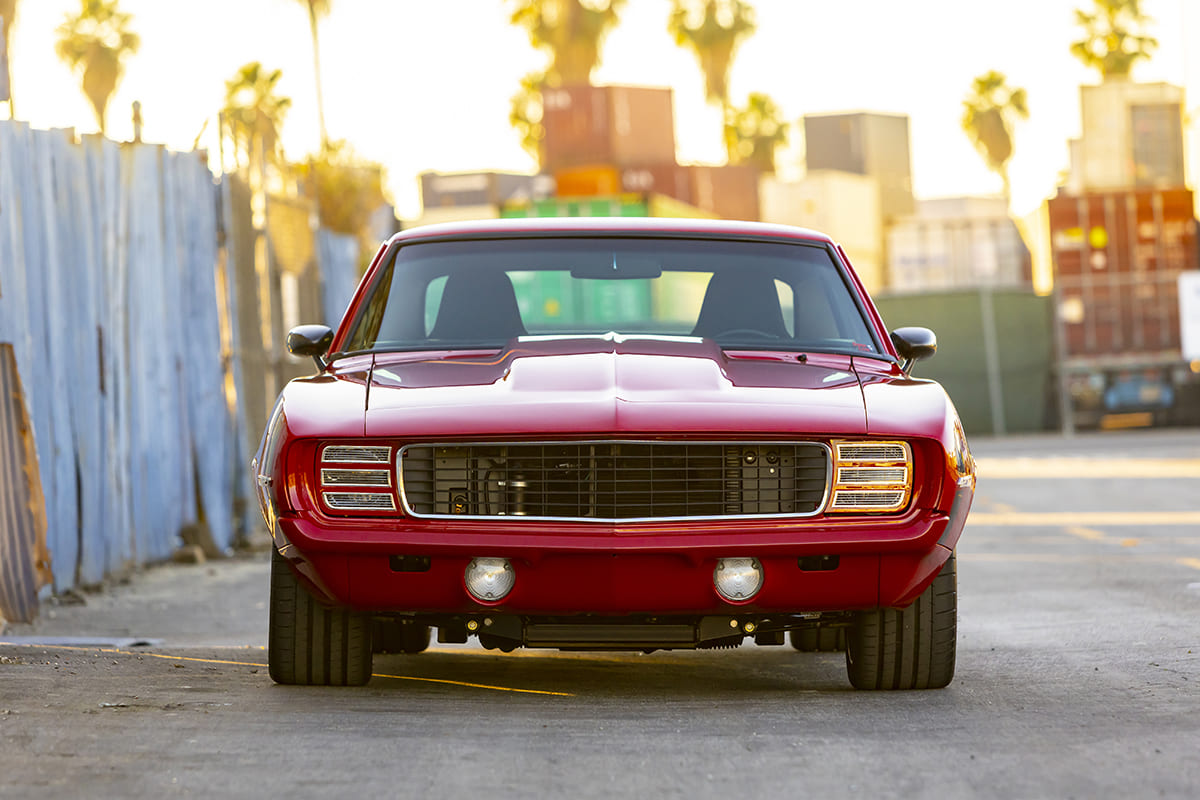 The four-year endeavor included a lot of late nights welding and wrenching, but the outcome was worth every bloodied knuckle and numerous swear words—words we'll just let flounder within the walls of Rick's garage.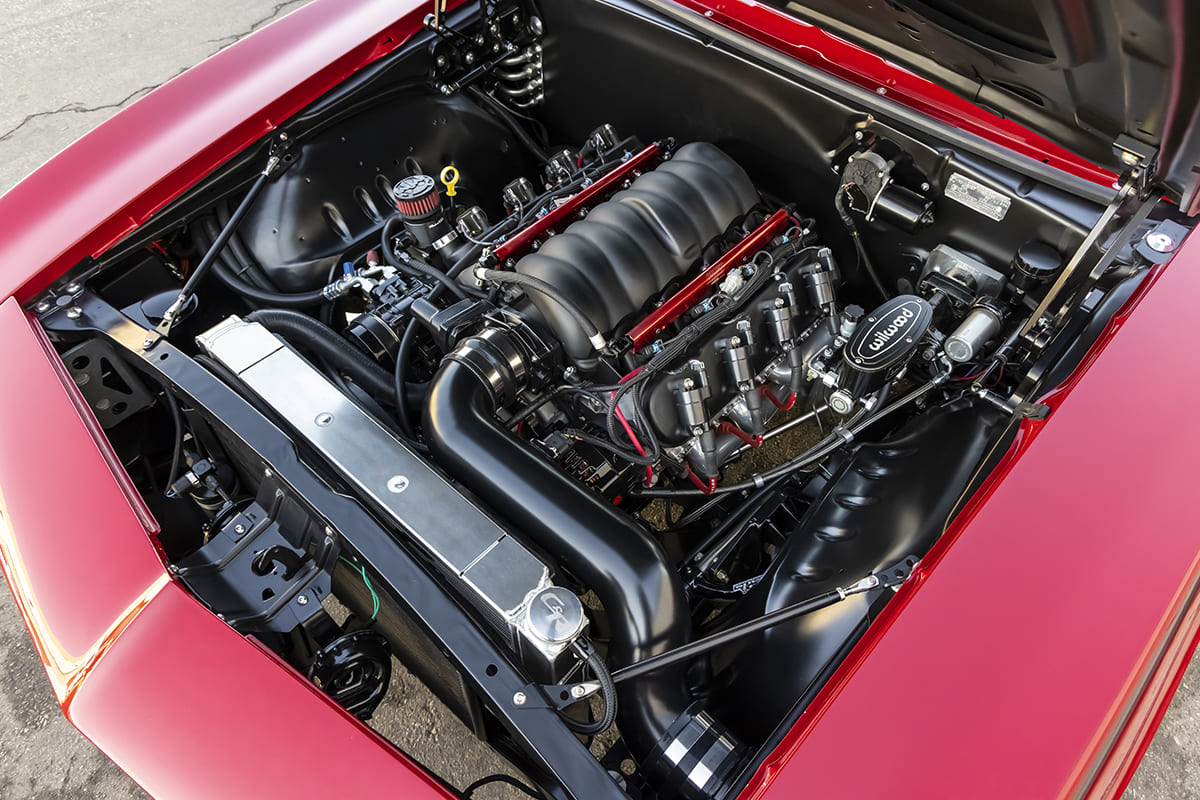 Rick tided up the sheetmetal then smoothed the firewall. He created a sano engine room in preparation for the arrival of the BluePrint Engines stroked 427ci LS3. The stout mill comes in at 11:1 compression and consists of an OEM block bored 4.069 inches with a 4.125-inch stroke. The bullet is topped with an LS3 intake manifold and sucks atmosphere through an 87mm drive-by-wire throttle body, with fuel delivery being handled by 42 lb/hr fuel injectors and returnless fuel rails. A Drive Junky LS serpentine system runs the accessories. Exhaust exits via a pair of Ultimate Headers stainless headers, custom 3-inch exhaust, slightly restrained by a set of Black Widow Venom 250 mufflers. A TREMEC T56 transmission backed by a Monster single-disc clutch allows crisp, high-rpm shifting and provides ample strength to handle the grunt generated by the potent LS weapon.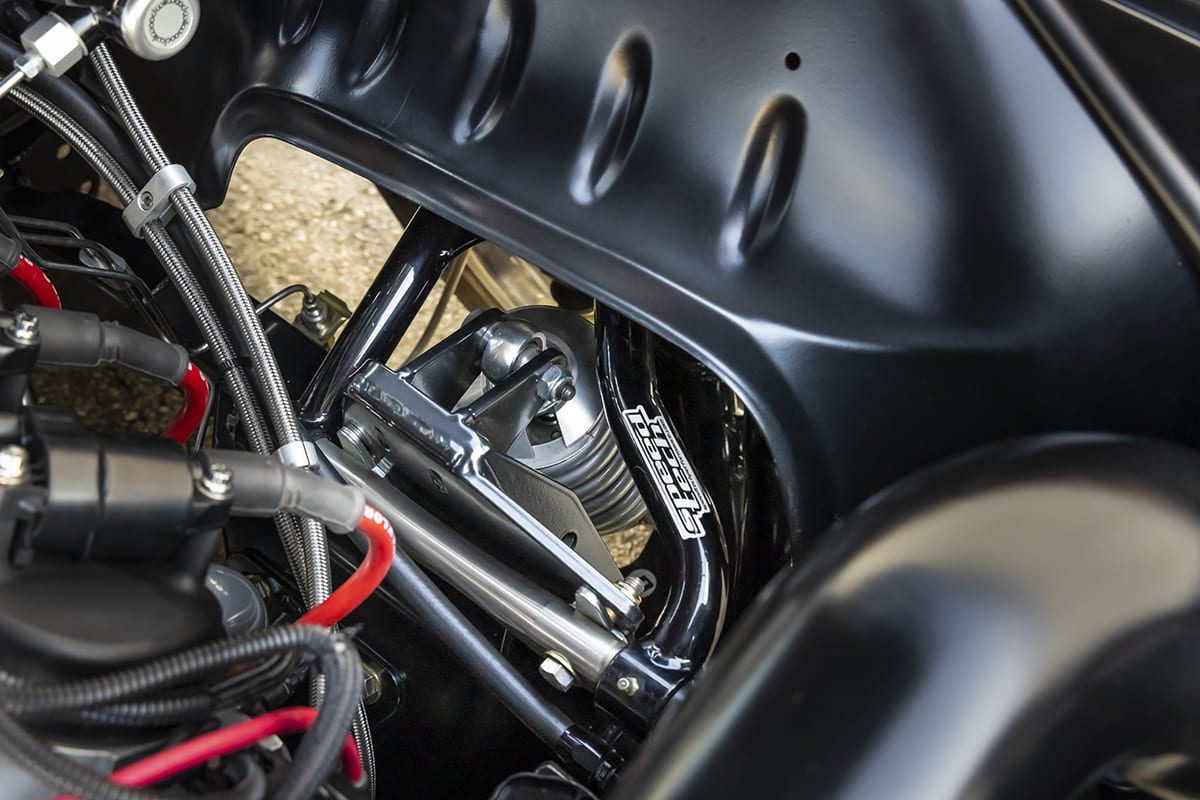 Keeping in tune with the Pro Touring motif, Rick dialed in a Speedtech subframe up front armed with their tubular control arms anchored with Viking double-adjustable coilover shocks. Out back, a quick performance 9-inch rear stuffed with 3.89 cogs, a Wavectrac limited slip and 31-spline axles are accompanied by a RideTech four-link and double-adjustable shocks. Detroit Speed subframe connectors tie it all together. This top-shelf suspension system is a far cry from the inefficient turning capability of his earlier Pro Street Camaro.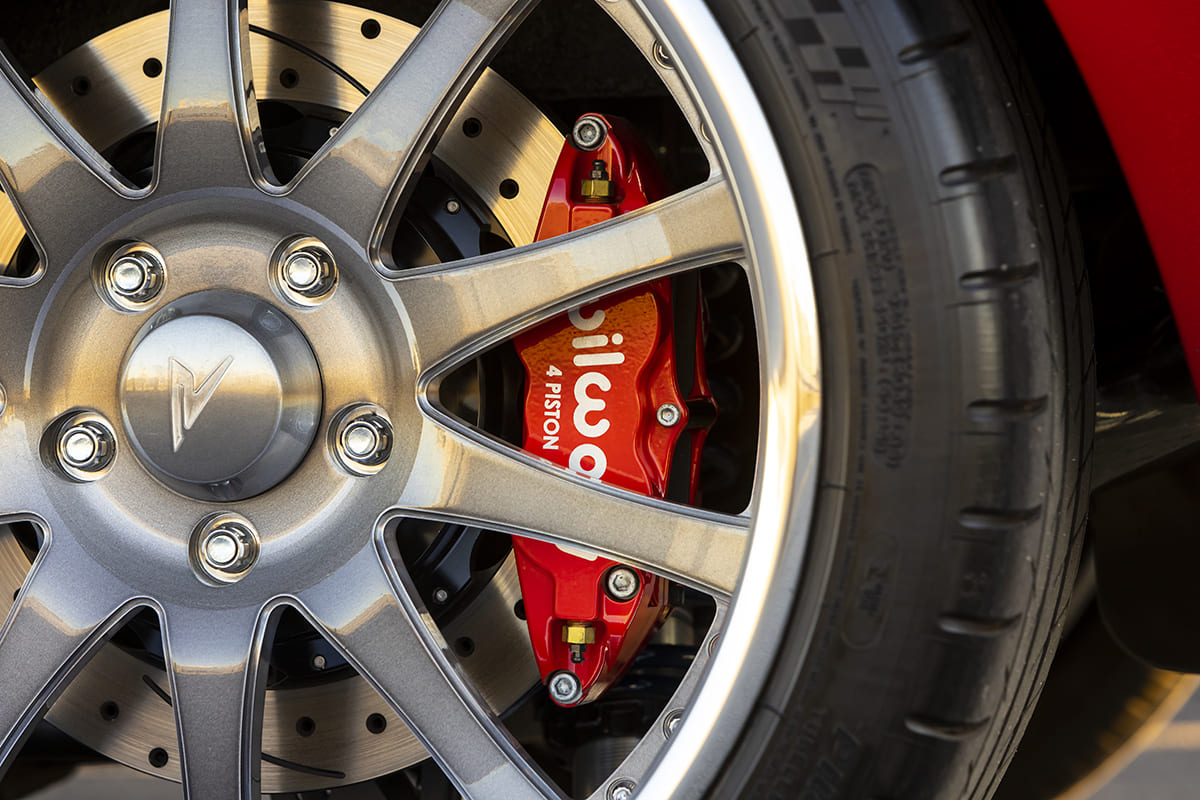 For stopping obligations, Rick employed Wilwood 14-inch plates and six-piston binders up front, and 14-inchers with four-pistons binders out back. Consistent pedal effort is because of the Wilwood Hydratach master cylinder. Continuing to capture the Pro Touring narrative, wide Rushforth Rated X wheels (18×10 front, 19×12 rear) inhabit all four corners, while Michelin Super Sport rubber (275/35R18 front, 325/30R19 rear) retains a firm grasp on the tarmac.
The business center features a combination of performance components blended with comfort-offering necessities, including a set of Recaro Sportster seats garnished with a set of Crow lap belts. A Vintage Air A/C system keeps the cockpit temps cozy. A Detroit Speed dash employs a set of Auto Meter gauges for tracking engine vitals while a MOMO steering wheel sits atop a Flaming River steering column. The Clayton Machine Works shifter and pedals contrast perfectly with the black TMI carpeting to provide an engaging ensemble that generates additional style to the performance-driven theme.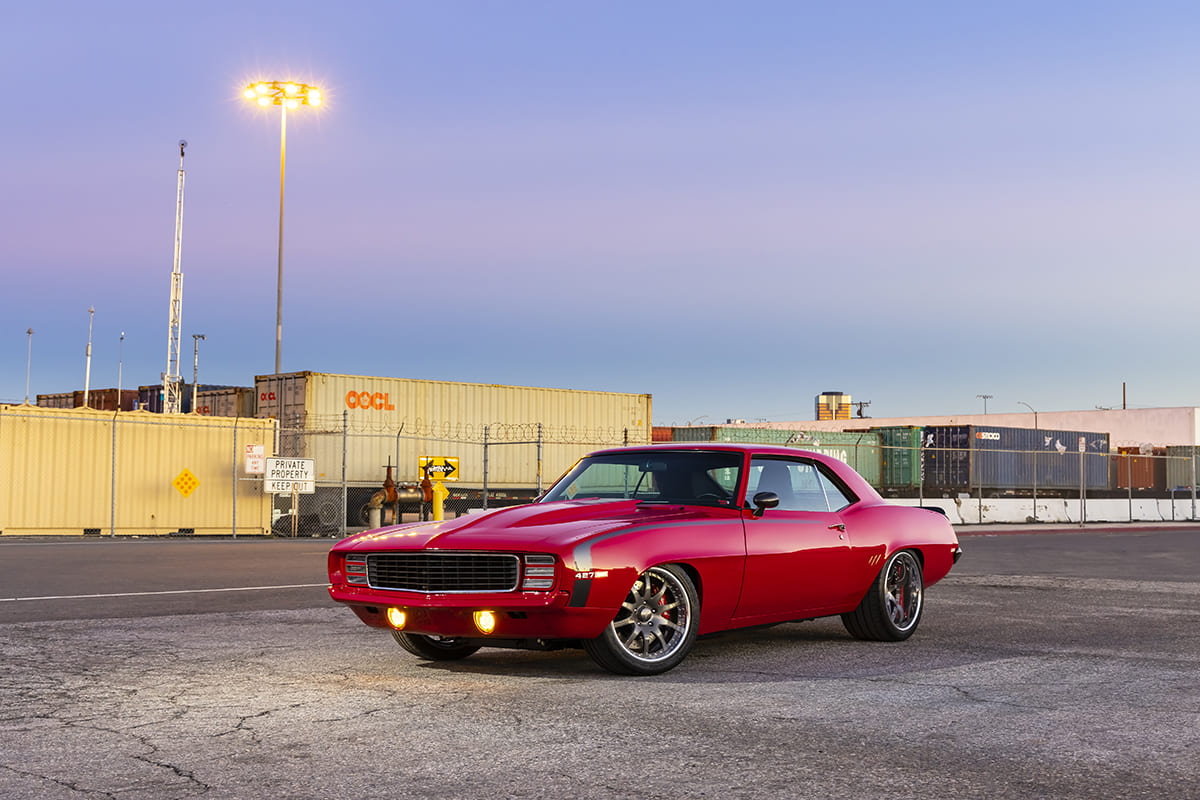 Contributing to the car's boisterous character, the exterior is coated in PPG Salsa Red, which gives the car a vibrant personality and aggressive attitude—all part of Rick's Pro Touring recipe. No End Customs (Morgan Hill, California) took the Camaro to the absolute next level by performing precise bodywork (rear seams and cowl welded smooth) and laying down the spicy pigment throughout the factory and Auto Metal Direct aftermarket sheetmetal. The gaps were done pristine and proper. Certainly not his first rodeo, Rick's design ability took the lead and he mixed in carbon-fiber side mirrors, rear spoiler, and rear bumper for further personalization and flair. The Ringbrothers hood hinges and door handles add a subtle but effective touch.
It's rare to come across a homebuilt car constructed to the magnitude of this stunning 1969 Camaro. Rick took the tried-and-true approach yet created a car well above the familiar sea of Pro Touring first-gen Camaros—red ones at that.
Rick admits the challenge of dealing with rust removal and some of the final wiring set back the timeline on getting the car on the road, but he sucked it up and persevered. "Starting it up the first time and driving it down my street made it all worthwhile." Rick states. "Even today, I feel the same excitement when I fire it up to go for a cruise. The way it sounds, the way it handles—it's just a fun car to drive."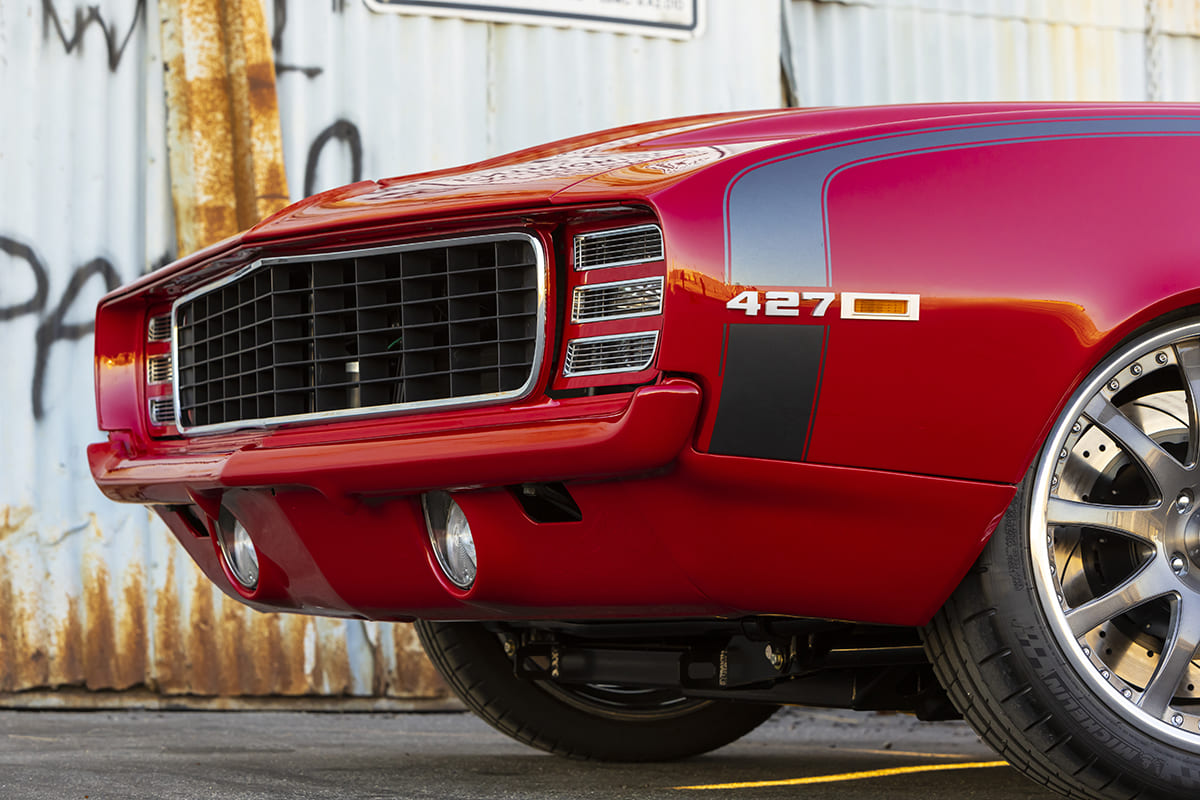 We can only hope Rick Foster's 1969 Camaro will have the same influence on someone today just as the cars in those old hot rod magazines did with him back in his high school days. And, who knows, maybe Pee-Chee folders will make a comeback. Nah, that's a bit of a stretch.
ACP

TECH CHECK
Owner: Rick Foster, Huntington Beach, California
Vehicle: 1969 Chevy Camaro
Engine:
Type: BluePrint Chevrolet LS3
Displacement: 427 ci
Compression Ratio: 11:1
Bore: 4.069 inches
Stroke: 4.125 inches
Cylinder Heads: Aluminum, 72cc chamber, 2.165-inch intake/1.600 exhaust valves, 259cc intake/102cc exhaust runners
Rotating Assembly: Forged crankshaft, forged 6.125-inch connecting rods, forged pistons
Valvetrain: Stock GM LT5
Camshaft: Hydraulic roller 0.624 intake/0.624 exhaust lift, 239 intake/255 exhaust duration at 0.050, 114-degree lobe separation
Induction: LS3 intake manifold, 87mm LT5 drive-by-wire throttle body, 42 lb/hr injectors
Assembly: BluePrint
Exhaust: Ultimate Headers stainless headers, 3-inch custom exhaust, Black Widow Venom 250 mufflers
Ancillaries: Drive Junky accessory drive system, C&R Racing aluminum radiator, Powermaster 180-amp alternator, Ringbrothers hood hinges, SPAL dual electric fans, American Autowire wiring kit, Rick's Tanks notched, Vaporworx ZL1 fuel pump
Output: 625 hp / 565 lb-ft
Drivetrain:
Transmission: TREMEC Magnum T56 six-speed manual
Clutch: Monster single disc
Rear Axle: Quick Performance 9-inch, Wavetrac differential, 3.89:1 gears, 31-spline axles
Chassis:
Front Suspension: Speedtech subframe, GM spindles, Viking double-adjustable coilover shocks, Detroit Speed subframe connectors
Rear Suspension: RideTech 4 Link, RideTech double-adjustable coilover shocks
Brakes: Wilwood 14-inch rotors with six-piston calipers front, Wilwood 14-inch rotors with four-piston calipers rear
Wheels:
Wheels: Rushforth Rated X; 18×10 front, 19×12 rear
Tires: Michelin Super Sport; 275/35R18 front, 325/30R19 rear
Interior:
Upholstery: TMI black loop carpet
Door Panels: Deluxe GM
Center Console: Gen 5 Camaro
Seats: Recaro Sportster
Seatbelts: Crow lap belt
Steering: Flaming River column, MOMO steering wheel
Shifter: Clayton Machine Works
Pedals: Clayton Machine Works
Dash: Detroit Speed
Instrumentation: Auto Meter
HVAC: Vintage Air
Head Unit: Kenwood
Speakers: Focal front and rear, JBL subwoofer
Exterior:
Bodywork and Paint: No End Customs (Morgan Hill, CA)
Paint: PPG Salsa Red
Hood: Auto Metal Direct Cowl
Grille: RS
Bumpers: GM Endura front, Anvil Auto carbon-fiber rear
Outside Mirrors: Anvil Auto carbon fiber
Door Handles: Ringbrothers
Taillights: Stock RS with DIGI-TAILS LED