A Deep Dive into the Unwritten Textbook of Day Two Muscle Cars
By Tommy Lee Byrd   –   Photography by the Author
As the automotive hobby has matured through the years, we've watched trends come and go, and as time marches on, the constant evolution leaves many folks with a yearning for nostalgia. Some reflect to the Fabulous '50s with fender skirts and whitewalls, others go back to the Gasser Wars with a nose-high stance and Hilborn stacks poking through the hood. If your nostalgia clock doesn't rewind quite that far, you might find yourself somewhere in the late '60s or perhaps the '70s. During that time, muscle cars roamed the streets, and the pages of your favorite magazines were flooded with new and exciting performance parts that would bolt directly to your showroom-fresh hot rod. If slapper bars, side pipes, N50-15s, or tunnel rams hold a special place in your memory bank, then you know the very special era we're referencing.
These cars were often labeled as street machines in those days, and the scope of that label ranged from simple bolt-on modifications to wild body alterations, candy paint, and custom interiors that can only be described as "tacky." Much like the fashion choices of the '70s, we like to remember the tasteful selections instead of dwelling on the bad decisions, which is where "Day Two" muscle cars come into the picture. If you're unfamiliar with the term Day Two, don't worry. Terms like Pro Street, Pro Touring, and Gasser have well-established and thoroughly discussed formulas in magazines, books, and all over the Internet. The Day Two movement has a cult following on social media but sometimes goes unnoticed or underappreciated in the mainstream.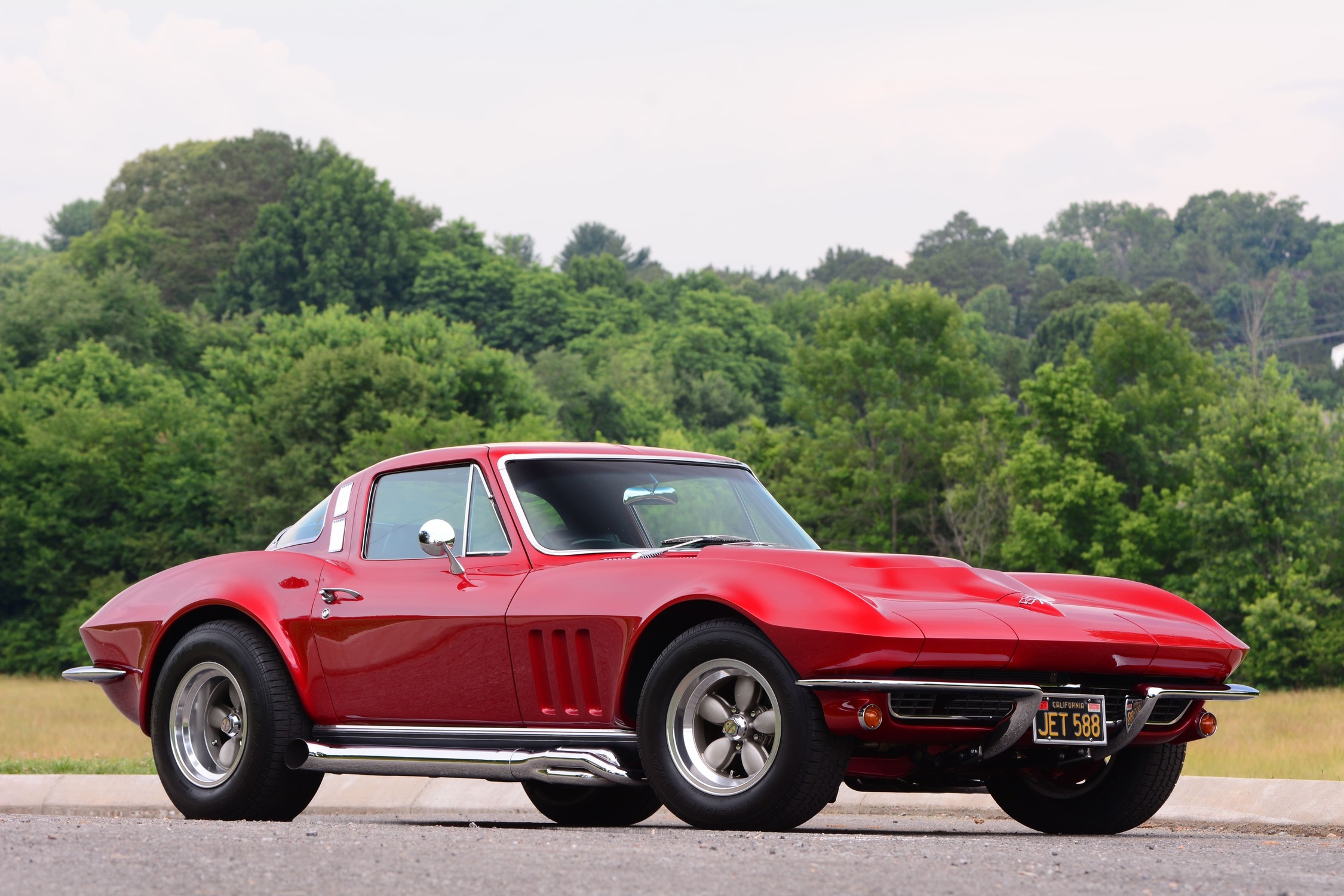 The term Day Two came from the idea that on day one you bought a brand-new muscle car, and on the theoretical day two you modified it with a selection of parts from your local speed shop. Items like valve covers, headers, hood scoops, steering wheels, and shifters were common upgrade items, and it was a no-brainer to personalize your new muscle car with new tires and wheels. Fast-forward about 50 years and you can still personalize your muscle car with period-correct components. The beauty of the Day Two movement is that you can easily undo it and switch back to stock or jump ahead into a more contemporary build without major expense. Follow along as we spill the beans on this somewhat-undiscovered segment of the hobby and depict some of the most popular Day Two modifications that you can easily apply to your muscle car restoration to give it the perfect amount of retro styling.
Stance Matters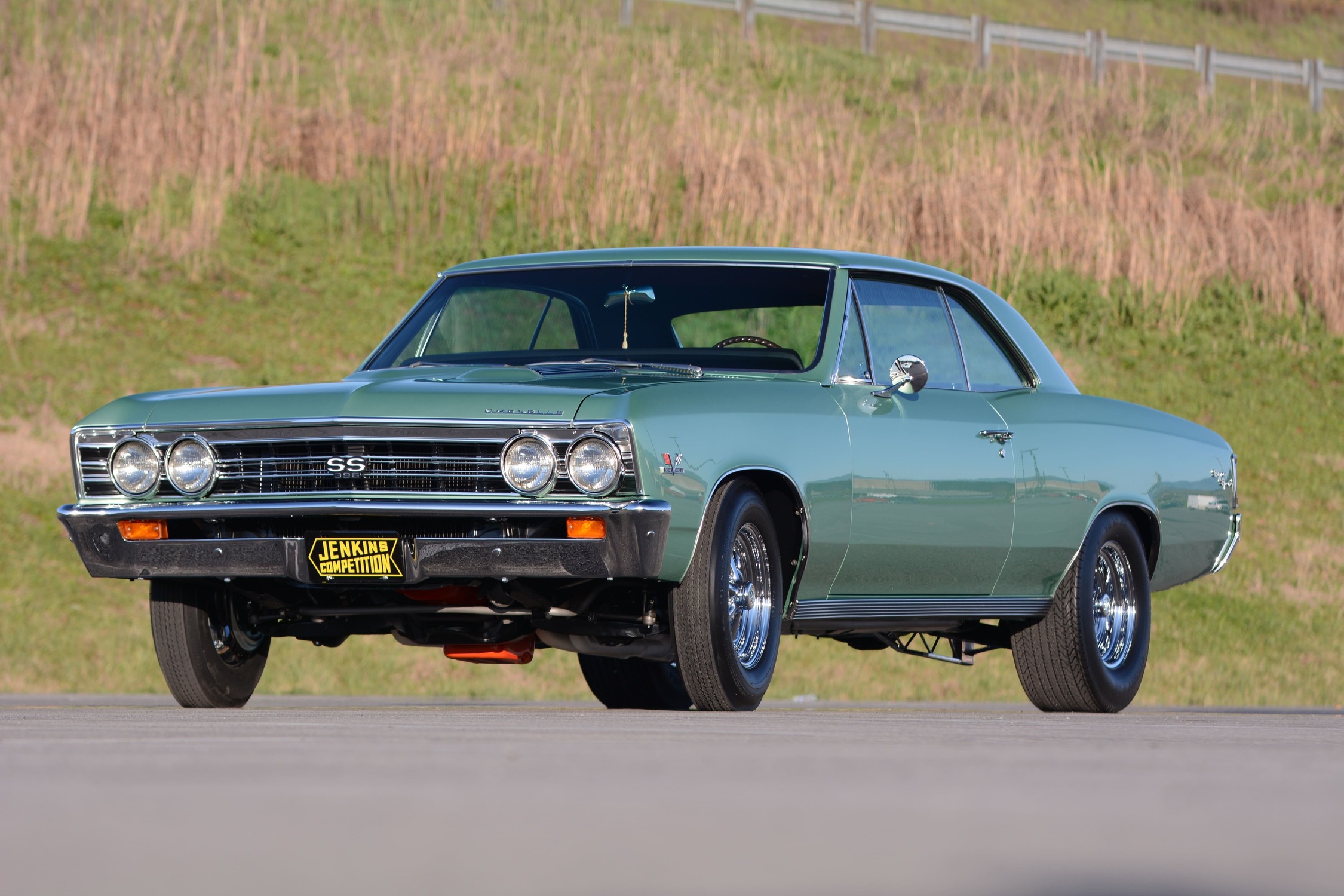 Our most recent example of a Day Two muscle car restoration is Jimmy Arnold's immaculate 1967 Chevelle, which we featured in the Jan. '22 issue of All Chevy Performance. This car perfectly embodies the Day Two movement. While some cars of the era had a stinkbug stance (raised rear suspension, lowered front suspension), Jimmy's Chevelle is tasteful, yet mean.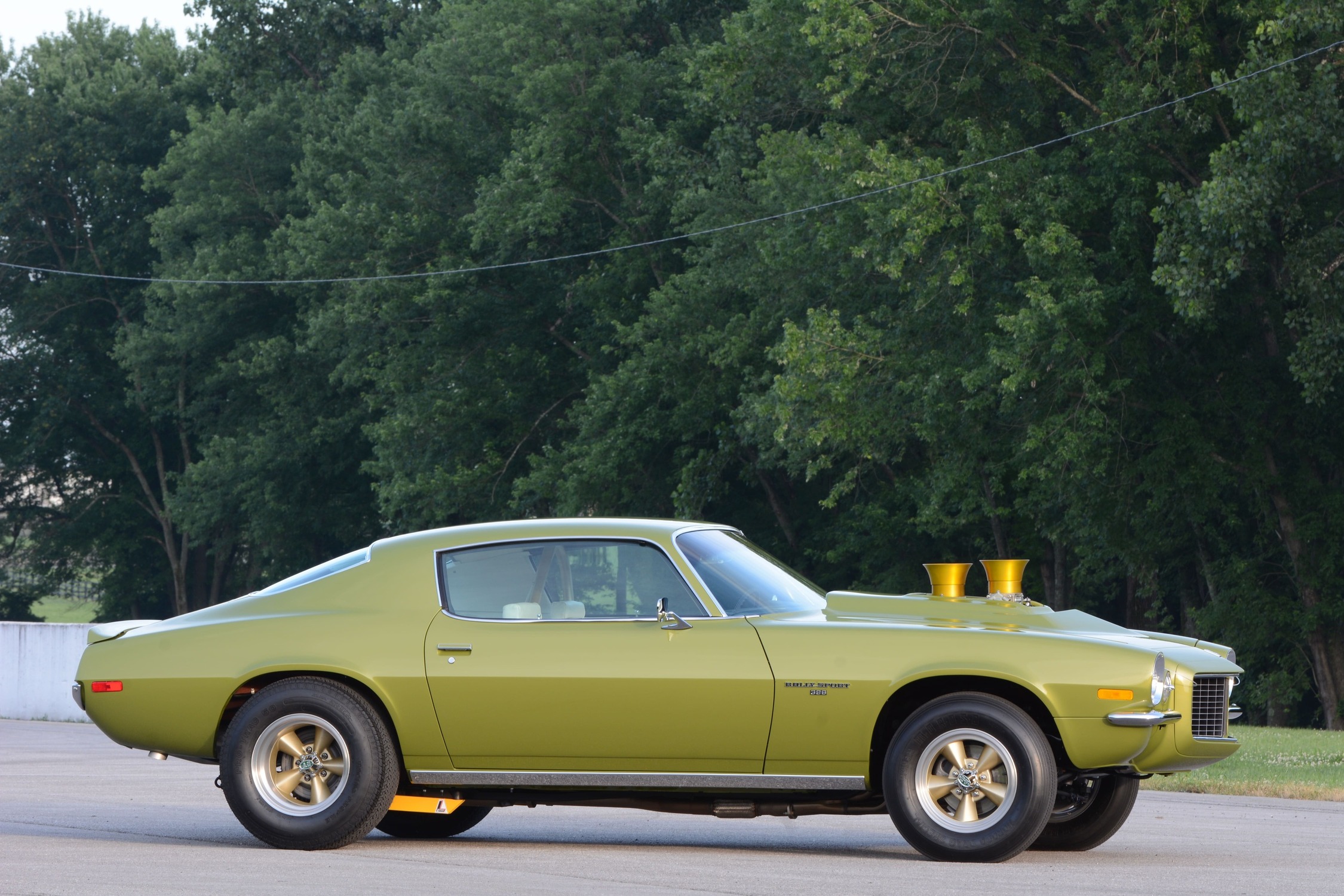 Through the years, we've become accustomed to cars sitting low. Jeff Mumford's 1970 Camaro is proof that standing tall is a great way to command attention with a Day Two build. Moroso trick springs and Lakewood 90/10 shocks dial in the stance up front, while re-arched Calvert Racing split monoleaf springs position the rearend perfectly.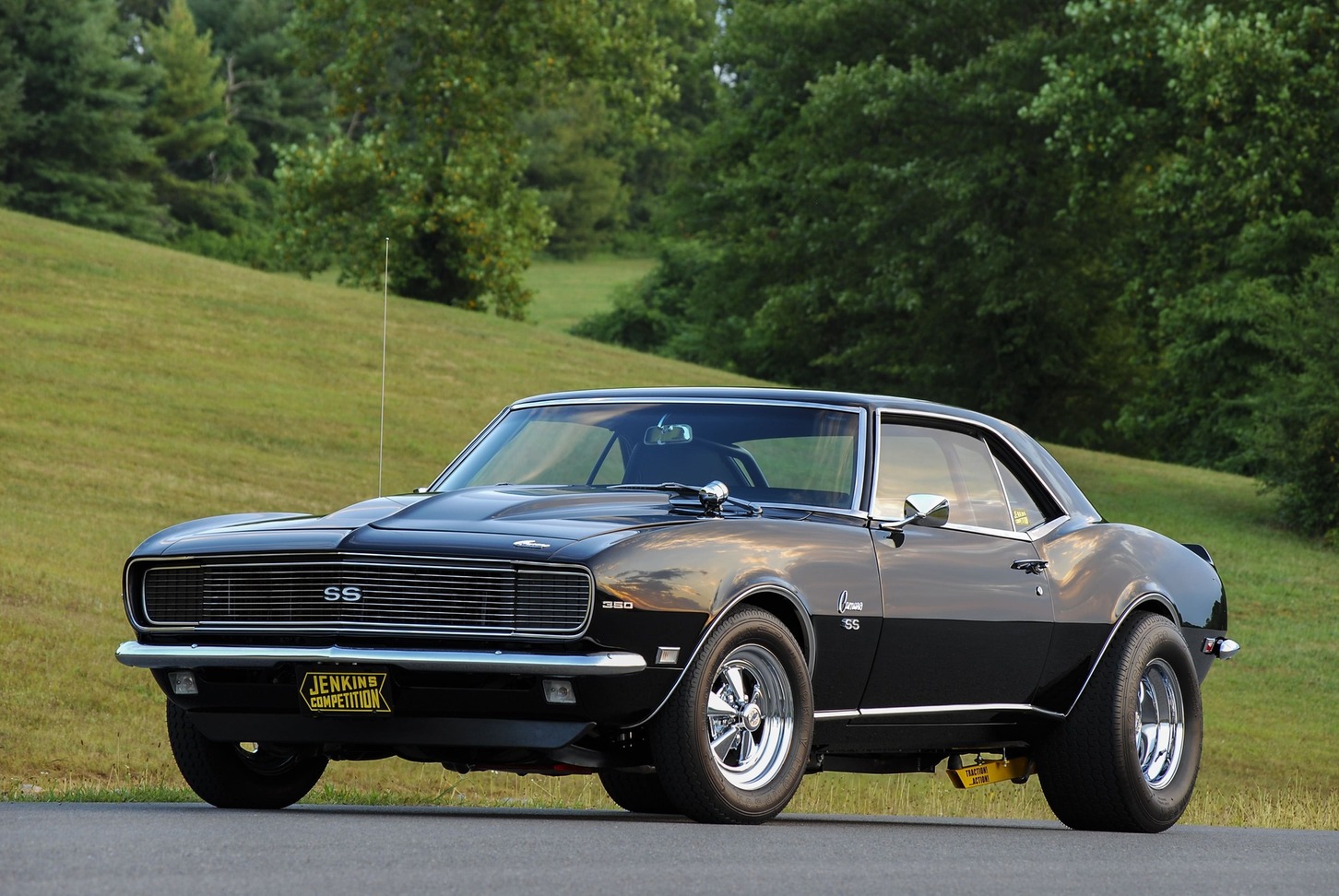 Claude Minor's 1968 Camaro Rally Sport is oozing with early '70s goodness. The tire and wheel combination is largely responsible for the stance on this car, as it rides on stock coil springs in the front and stock leaf springs out back. Minor added Lakewood traction bars for a splash of color and the perfect old-school look.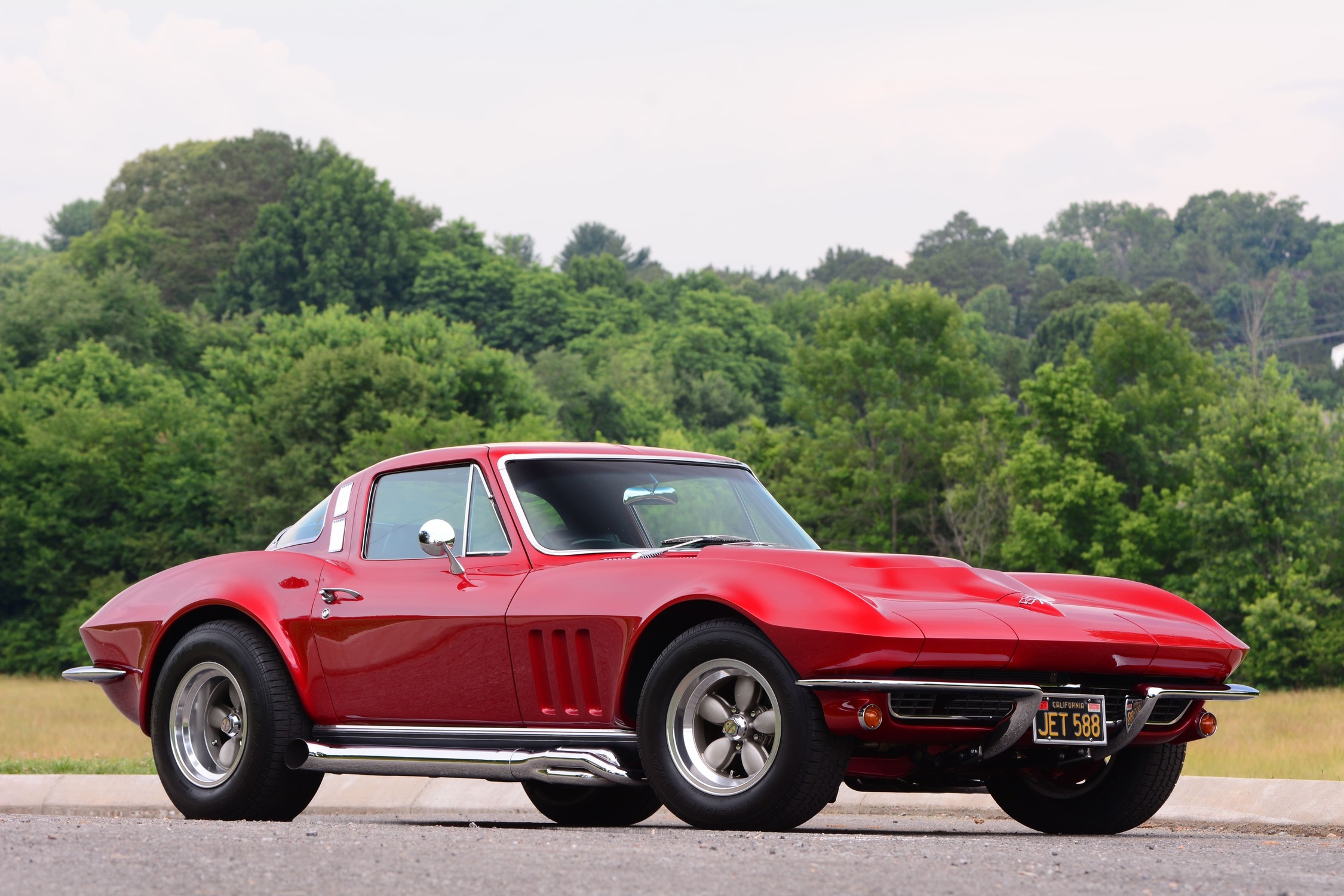 Modified Corvettes were crazy hot in the '70s, and Gary Watson's 1965 Corvette coupe has the perfect old-school stance without any drastic suspension changes. The stance comes from the beautifully molded fender flares and a combination of 15×8.5 and 15×10 American Racing 200S wheels and 255/60R15 and 275/60R15 rubber, respectively.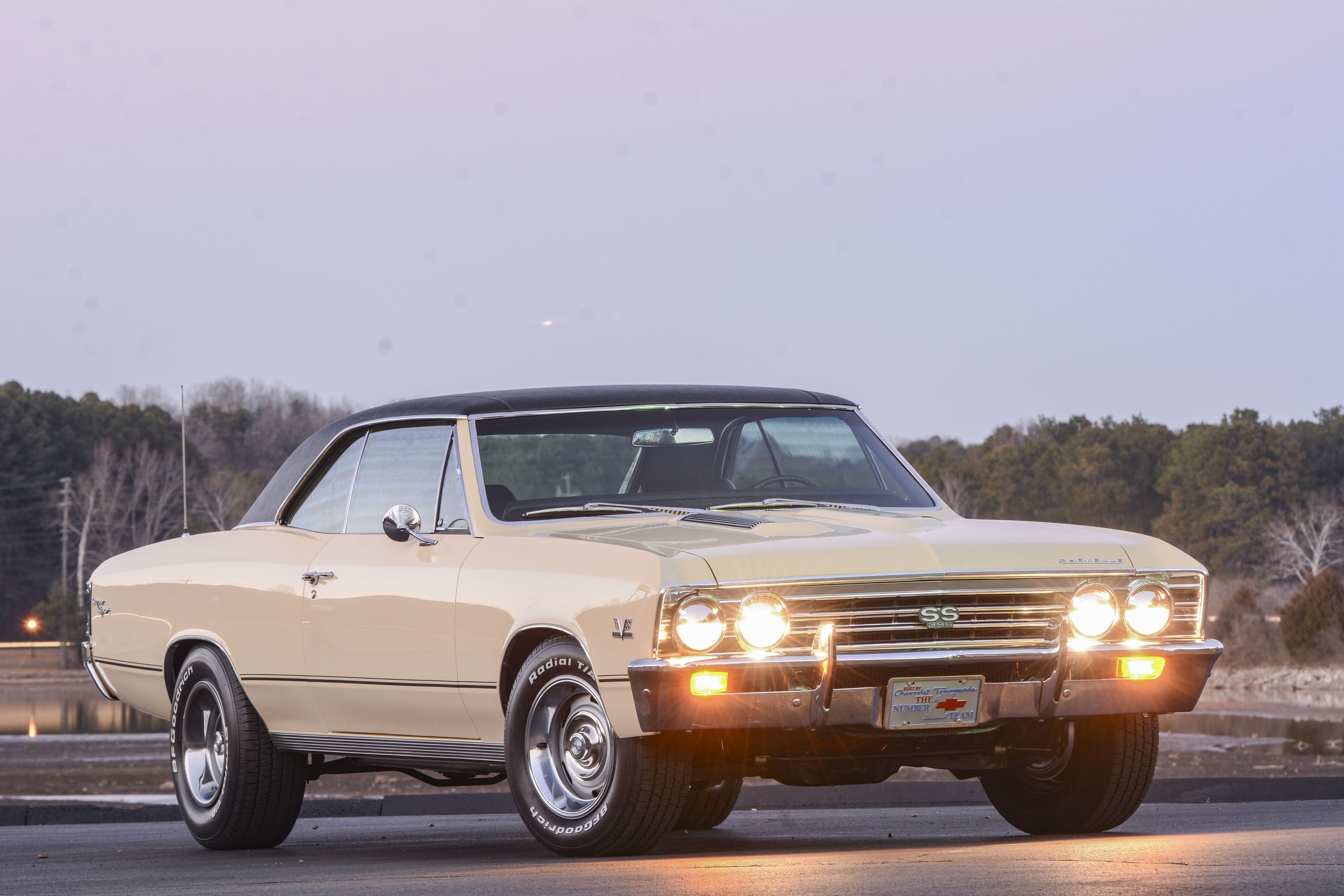 The 1967 Chevelle SS is another example of tires and wheels affecting the stance. Although it would've originally come with 14-inch wheels and F70-14 bias-ply tires, the upgrade to 15×8 Corvette Rally wheels and fat BFGoodrich radial T/A tires make all the difference in the world. Suddenly, this classic Chevy restoration takes on a whole new attitude.
Rolling Stock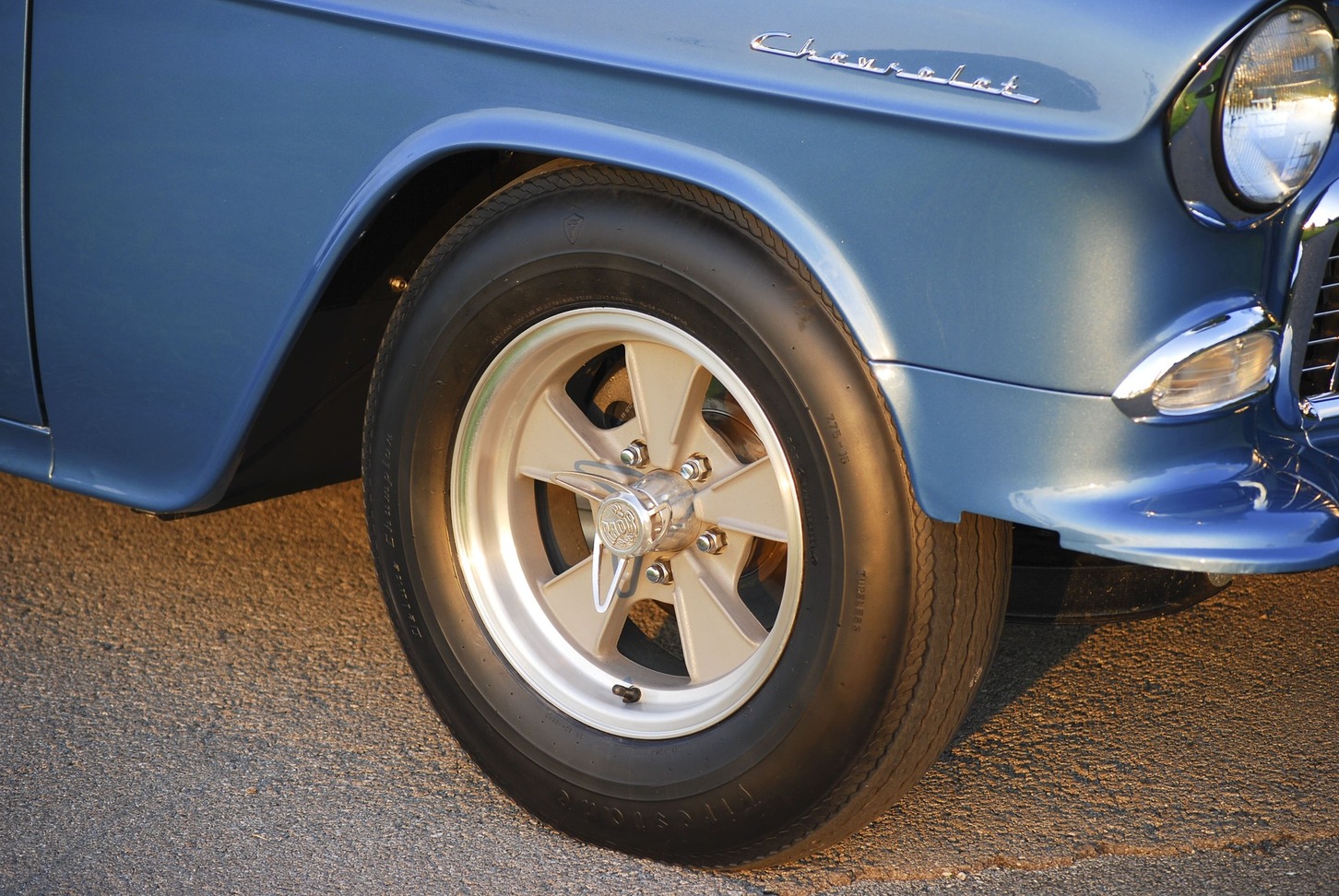 Although many retro wheel designs are available, it's still fun to stroll through a swap meet and pick out a truly vintage set of wheels. Radir, American Rebel, ET, and Cragar offer excellent old-school designs, but to get a wheel like the one pictured, you'll have to find those used and restore them.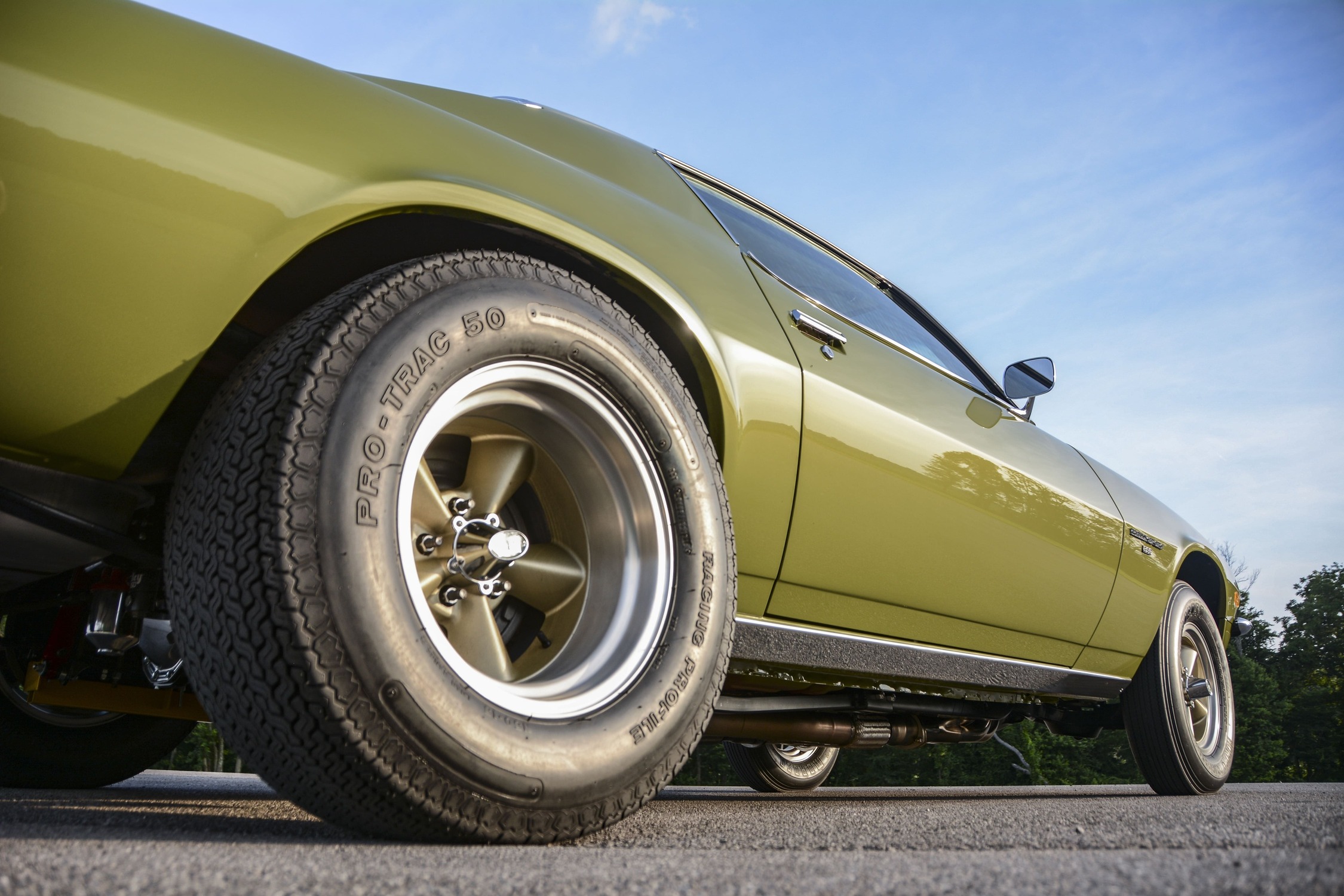 One of the most popular rear tire sizes in the early '70s was N50-15. This peculiar alphanumeric sizing is a little hard to understand, but it can be compared to a modern 295/50R15 radial. Coker Tire is one of the only sources for N50-15 rear tires, offering Pro Trac and M&H brands to fit your preference. Jeff Mumford chose Pro Trac with 15×10 ET five spokes.
You can't go wrong with a set of Cragar S/S wheels. These wheels were released in 1964 and will always be a staple in the muscle car world. Again, Coker Tire offers Cragar wheels and a huge variety of tires to give you the right look. It's also worth noting the awesome appearance of headers hanging down below the framerails of a Day Two car.
Part of the fun of building a Day Two car is tracking down the period-correct parts. These American Racing 200S front runners are a fine example, as these wheels are incredibly rare in this 15×4 sizing. American Racing reintroduced the classic "Daisy"-styled wheel, but not in the super narrow front runner sizing.
There is a fine line between period correct and dangerous. Vintage wheels are typically serviceable and reusable on a Day Two build. However, tires are another story all together. This 1968 Camaro rolls on the same Goodyear L78-15 bias-ply tires it had 50 years ago, and while they look cool they are not safe for use on the highway.
This big-block Chevy engine is covered with vintage speed equipment. You could easily pick up a cheap, chrome, dual-feed line on the Holley four-barrel carburetor, but going with an old-school distribution block and lines adds to the vintage style. Also notice the fly eye air cleaner, a popular, low-profile breather during the era.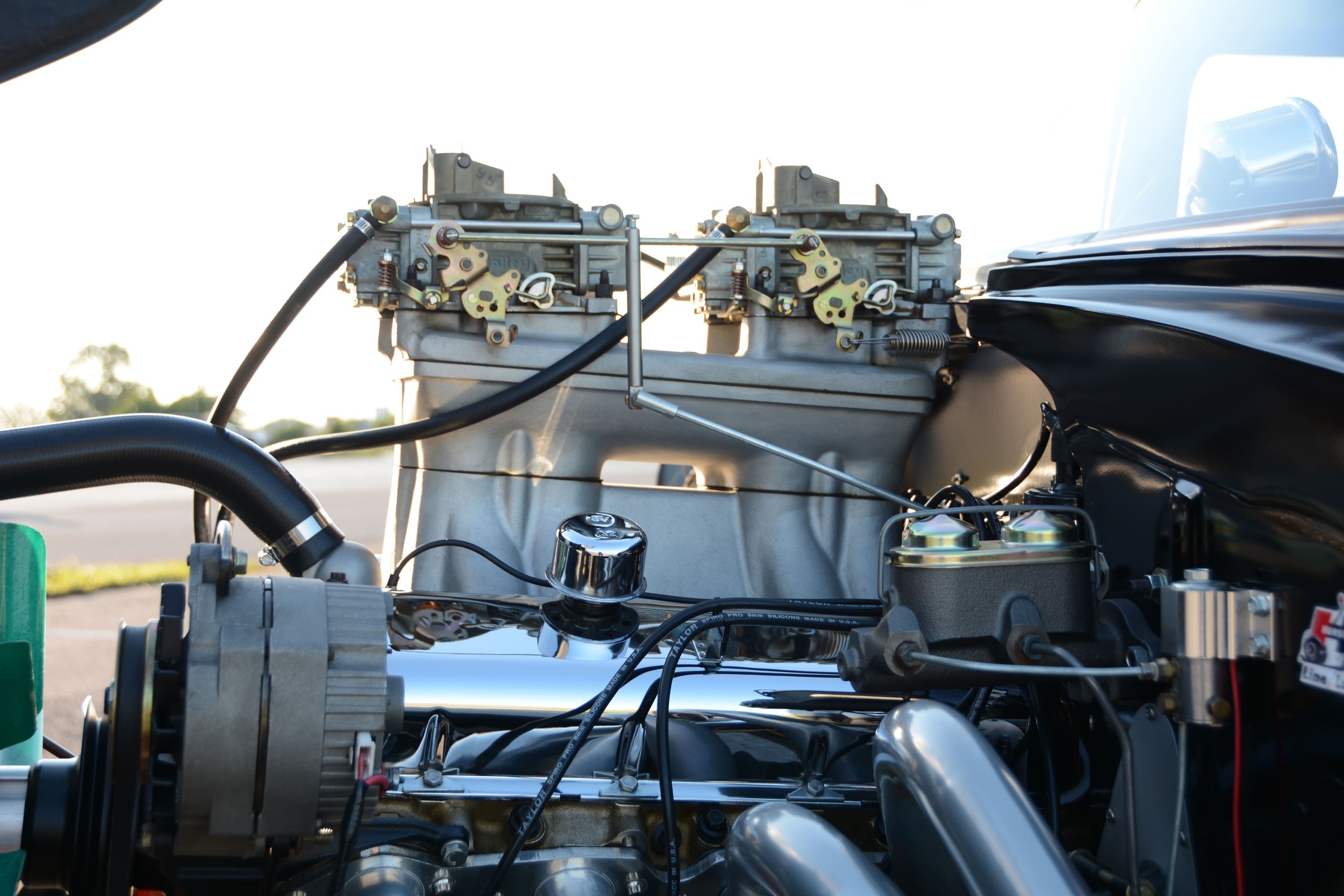 The tunnel ram was the king of the street, although they rarely performed great on mild-mannered engines. Fuel distribution issues and over-carburetion were common, but they sure look cool on just about any small- or big-block combination. You can still buy new tunnel ram intakes, and those Holley four-barrel carburetors are still readily available.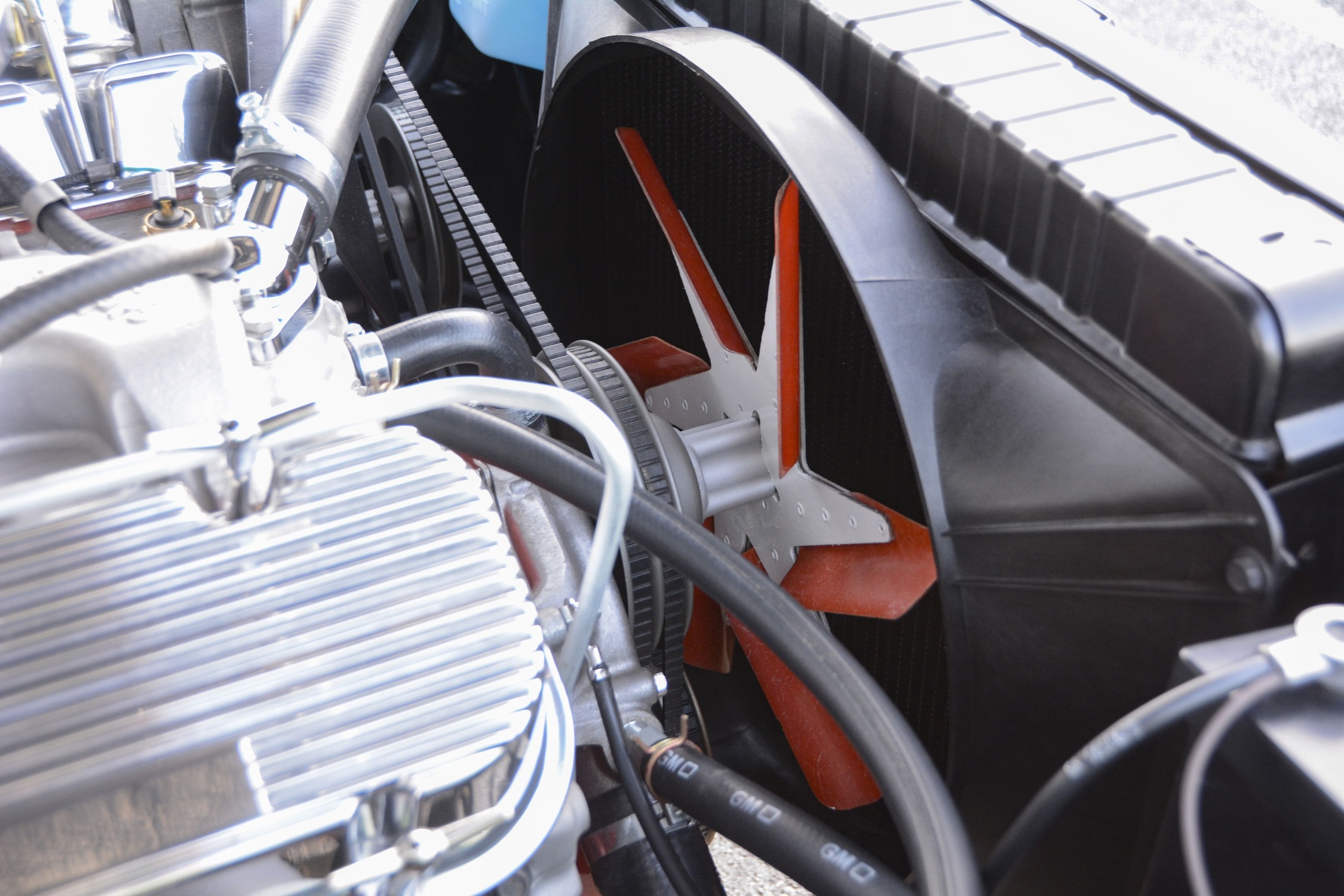 While we're on the subject of engine bay details, let's take a quick look at the cooling system. Aluminum radiators hadn't become commonplace in the '60s and '70s so the radiator needs to be black for the proper look. A stock cooling fan is OK, but an aftermarket flex fan with colored blades really looks the part.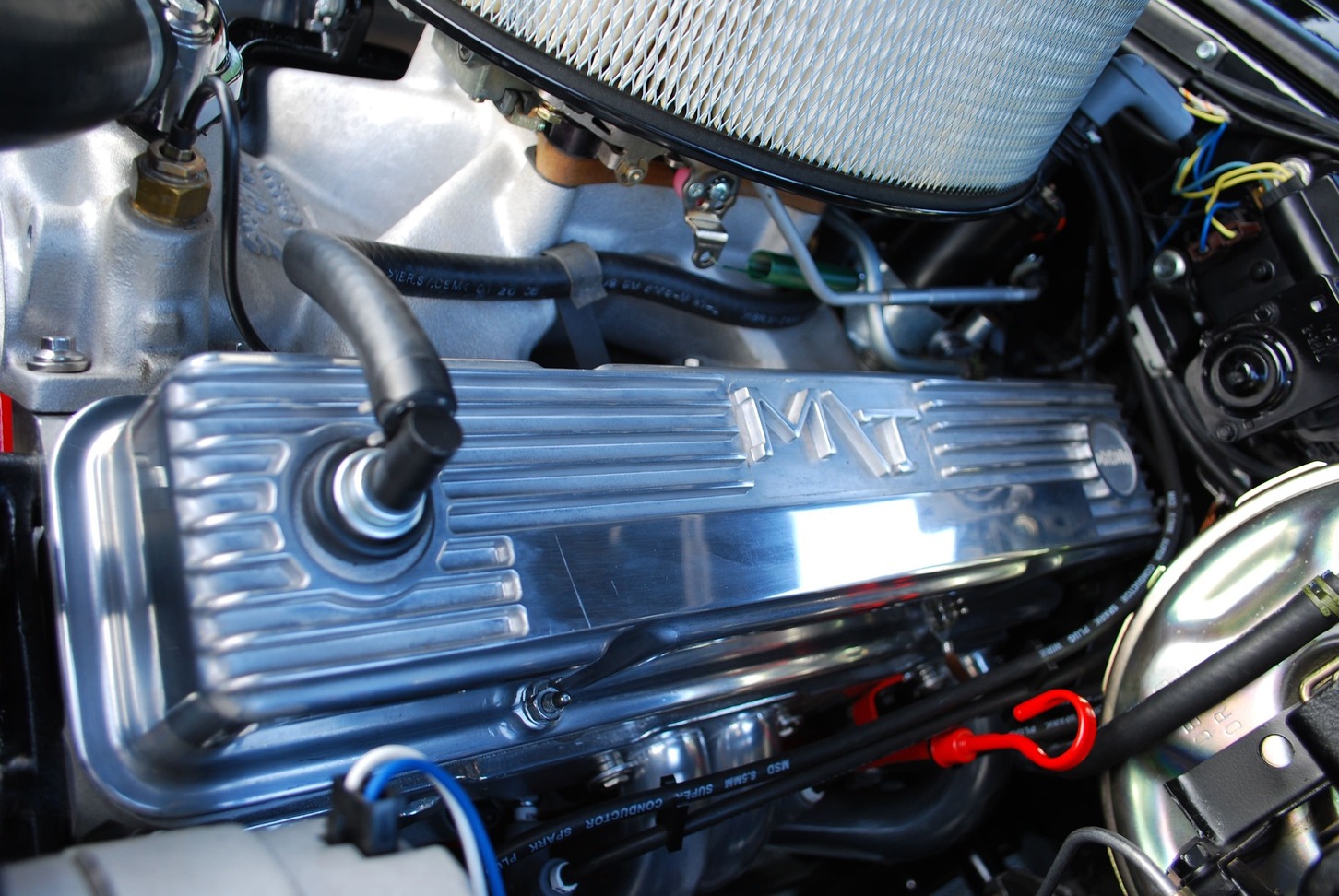 Valve covers were one of the first things that car guys would change out on their new muscle car. Mickey Thompson made these cool finned valve covers for years, and Holley recently reintroduced them so you can get brand-new ones. After these valve covers ran their course in the '70s, the famous gold anodized Moroso valve covers took over.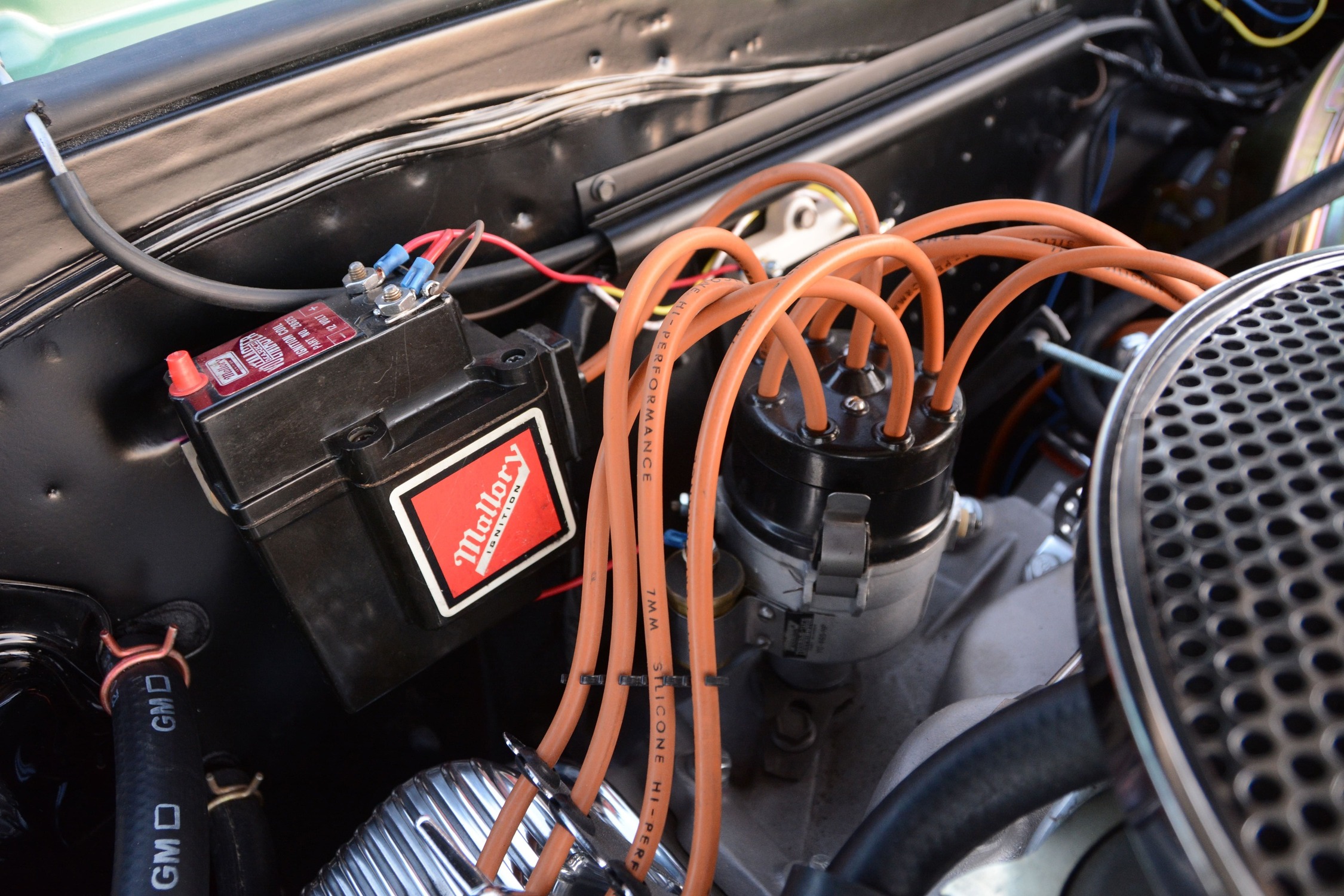 It's easy to order a brand-new ignition system, but it takes a little more effort to put an old ignition system back into service. Luckily, Mallory still produces quite a few retro-styled pieces, including the famous Unilite distributor if you can't track down an original, but the old box-style coil and silicone plug are swap meet items that must be refurbished.
Inside Job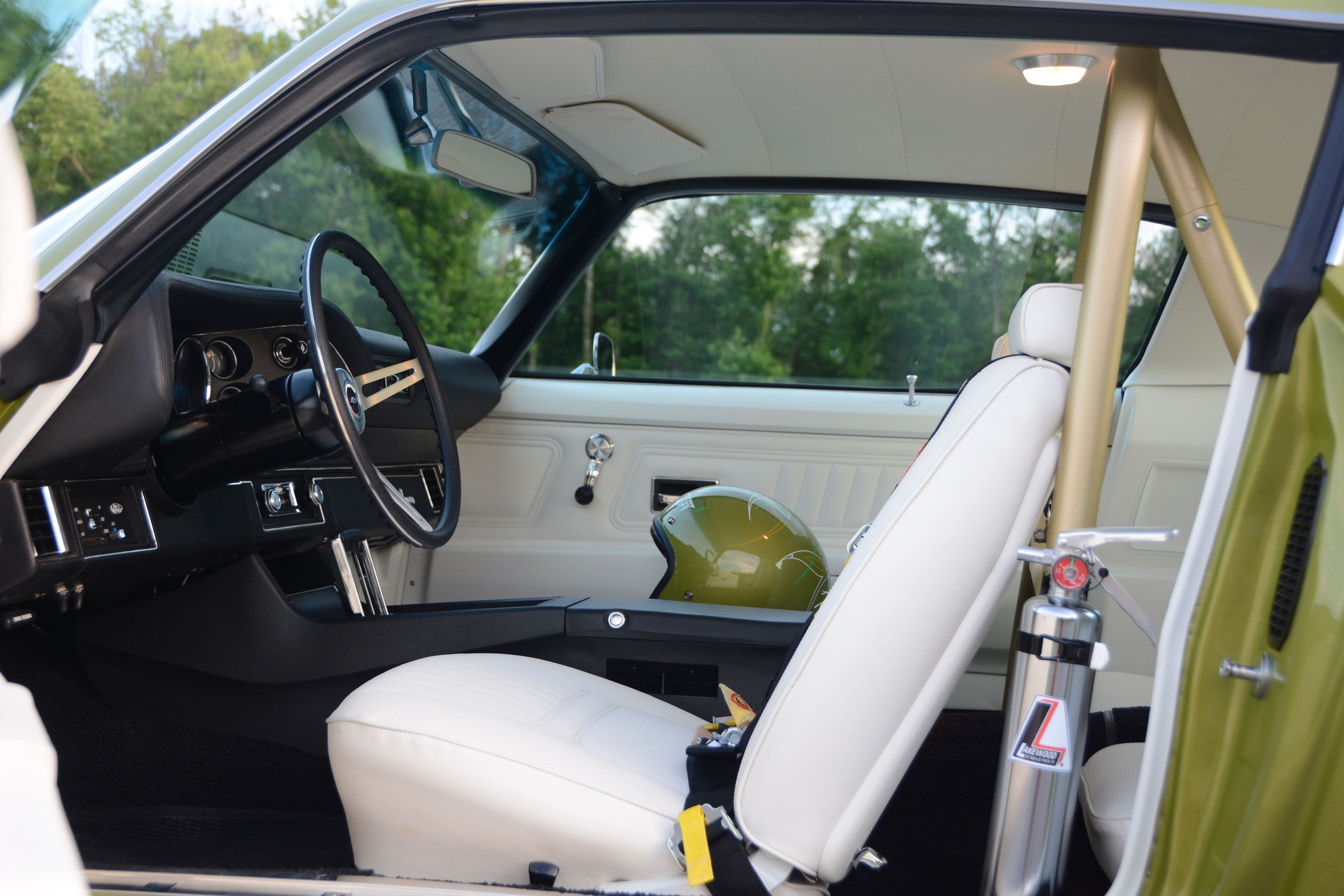 White interior was quite popular in the '70s, and Jeff Mumford's Camaro wears it well. Notice the Lakewood-style three-point rollbar with chrome fire extinguisher. The interior is otherwise stock, utilizing a factory steering wheel and horseshoe automatic shifter.
This 1968 Camaro interior has an original dash and console with simulated woodgrain trim. The real gem in this combination is the vintage AM/FM radio with cassette player. Although an 8-track player would seem more appropriate, Phillips actually came out with an automotive cassette player in 1968, so this totally works for a Day Two build.
There's a lot going on inside Claude Minor's 1968 Camaro. First is the Grant steering wheel, which features the iconic drilled three-spoke design. The smaller-than-stock steering wheel changes the entire look of the interior, while the Hurst vertical-gate shifter adds to the period-correct components. An authentic aftermarket tachometer is attached to the steering column.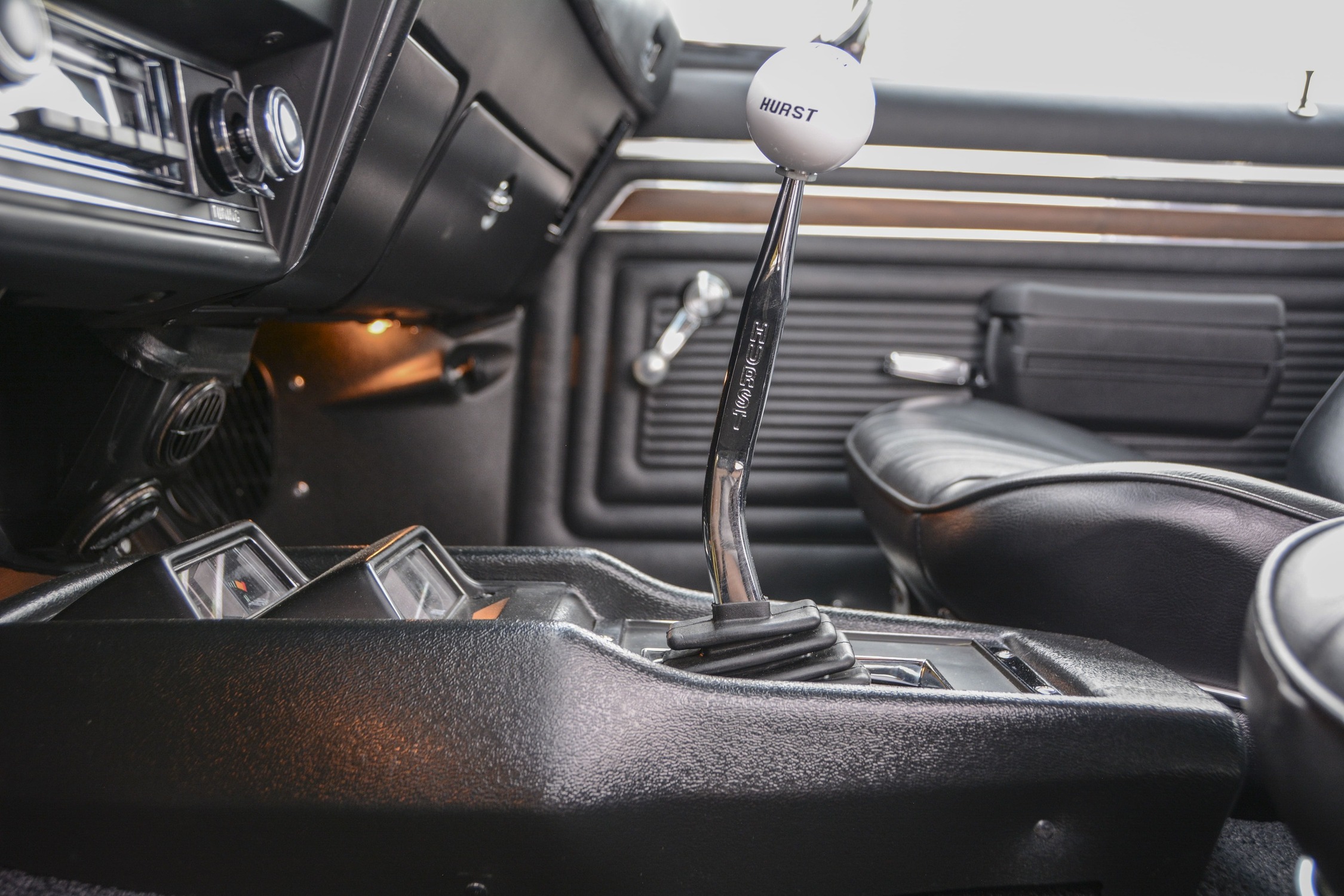 Something as simple as a shifter can really change the attitude of an old car. Hurst is the undisputed leader in old-school shifters, so that's a no-brainer for a Day Two build, even though other companies, like Mr. Gasket, made shifters back in the day.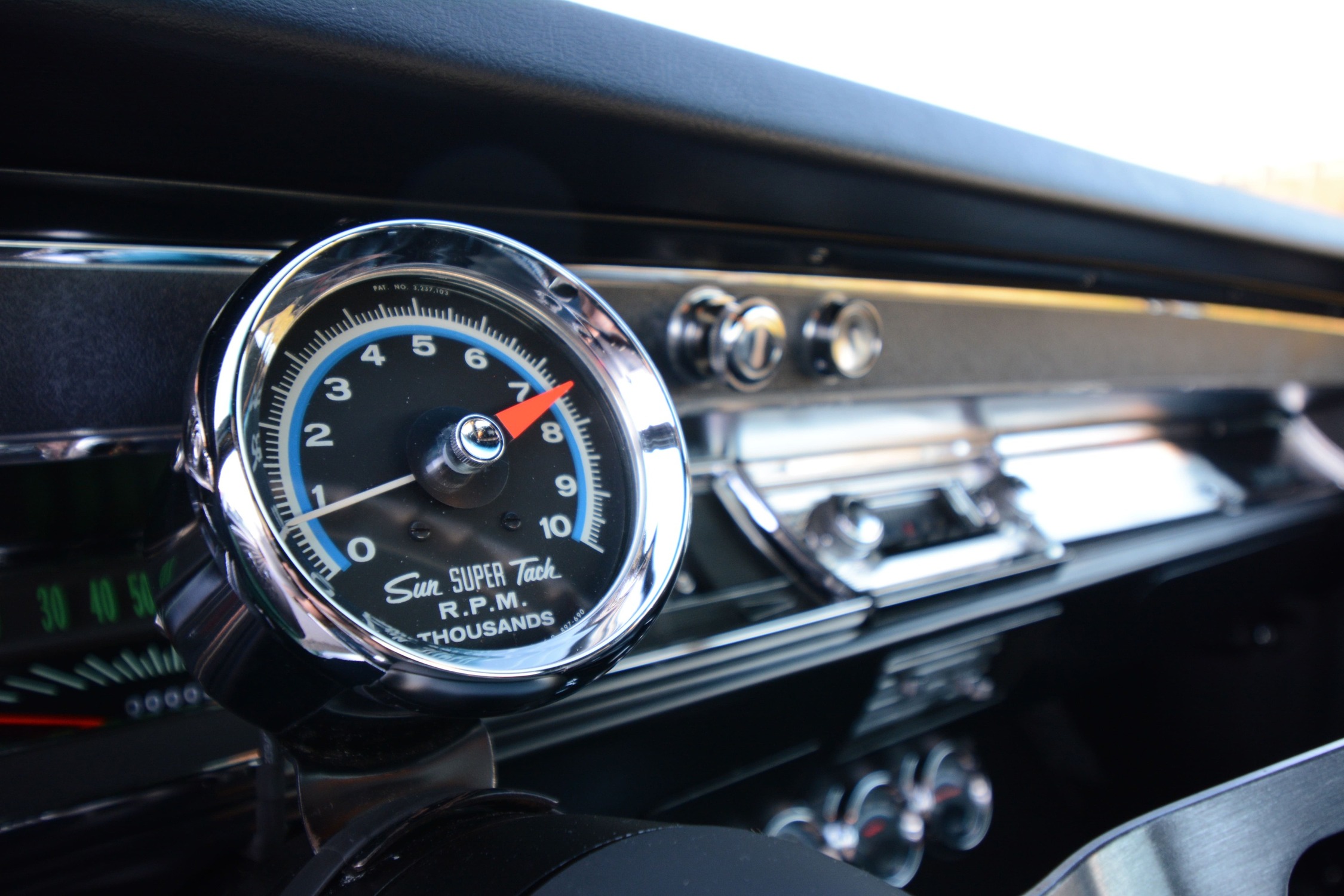 By the mid '60s, many car dashes were simplified to the point of removing the tachometer all together. The Sun Super Tach, an electronic tach, was often attached to the steering column and used on modified street cars, while cable-drive tachs, like the popular Moroso unit, came a little later for more serious drag racing use.
Exterior Details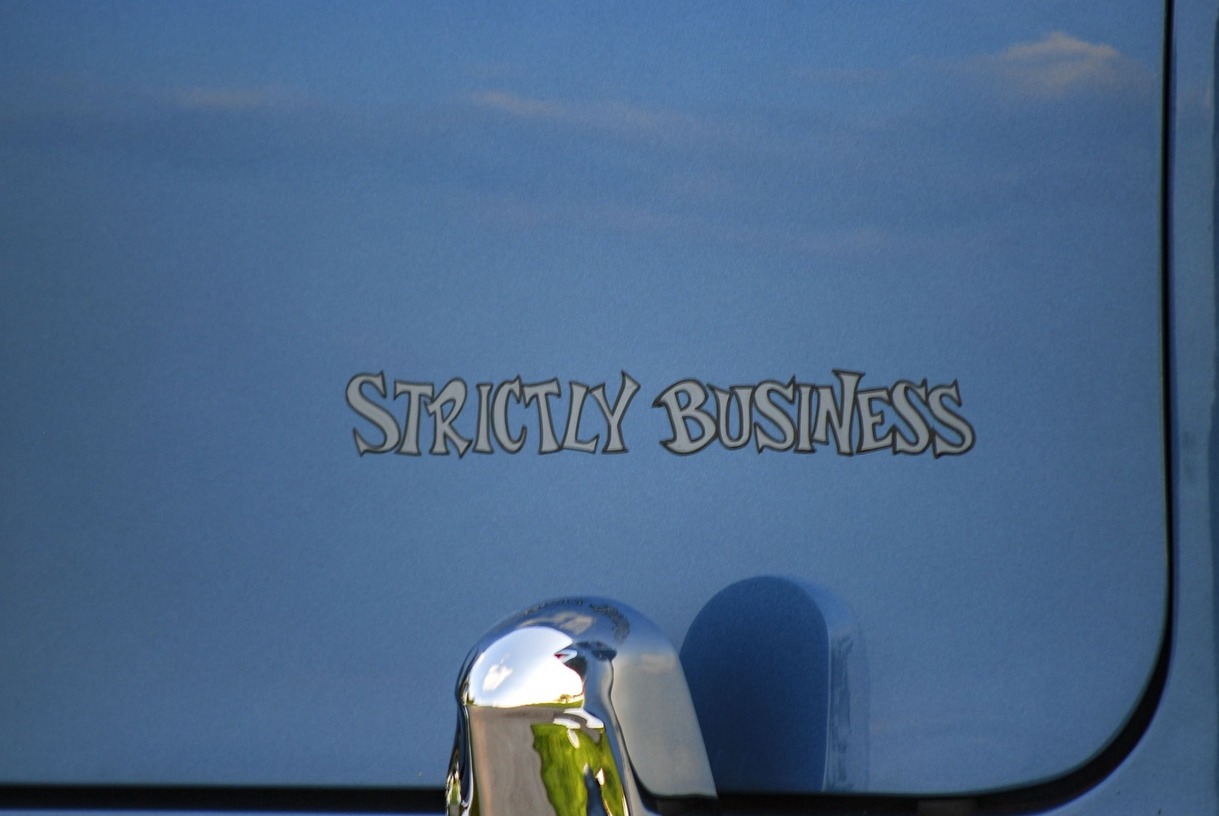 Hand-lettering was a popular addition to any hot rod, and it's a great way to give your Day Two build a little extra personality. Unless you clear over the top of it, hand-lettering can usually be removed if you get tired of it or decide to go a different route.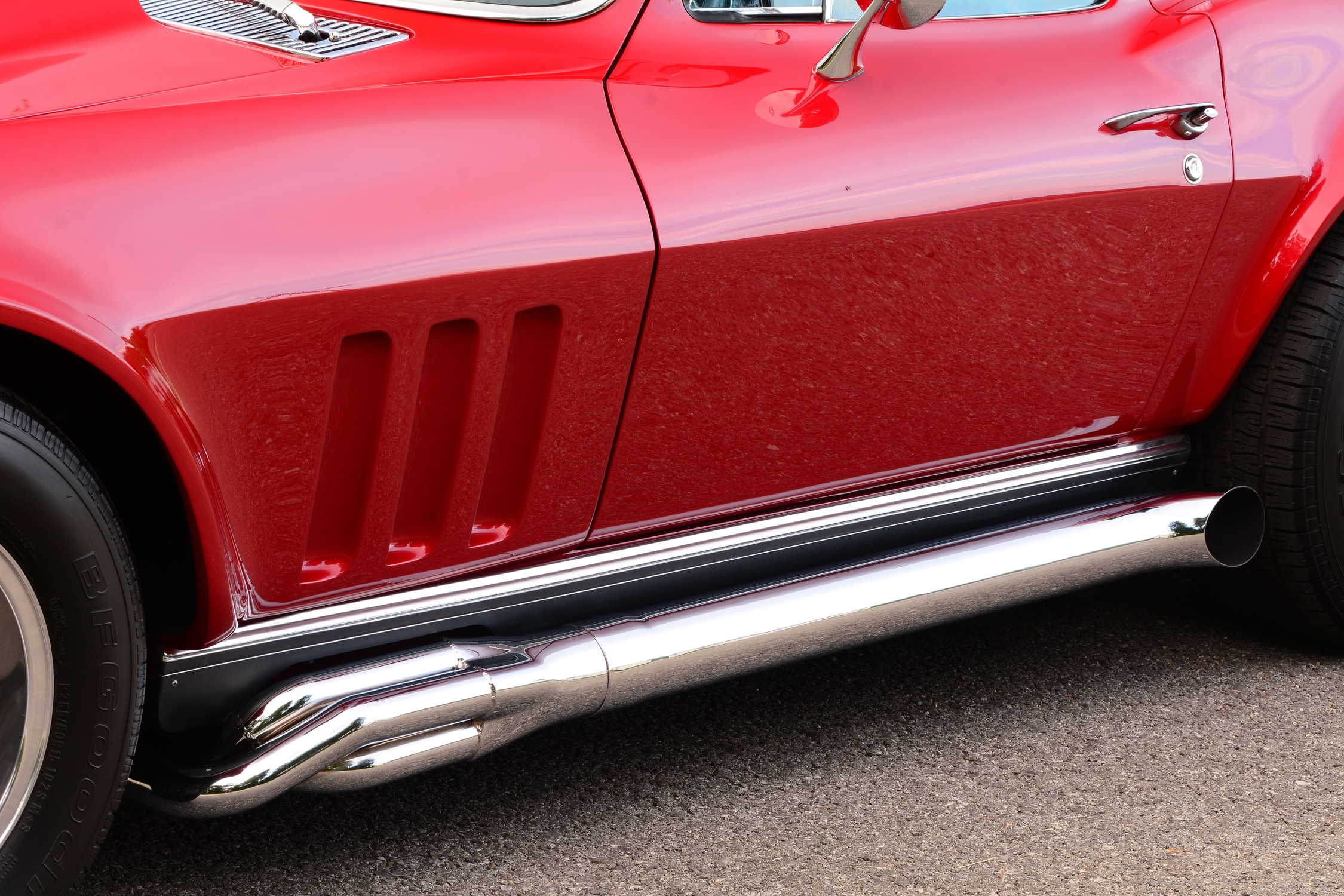 Side pipes were a big deal in the '70s. This look became popular on Corvettes and Cobras and translated well to other makes and models. Thrush was a big player in the exhaust game during that time frame and offered many custom side pipe options for muscle cars. Hooker still makes cool retro-styled header and exhaust components for vintage builds.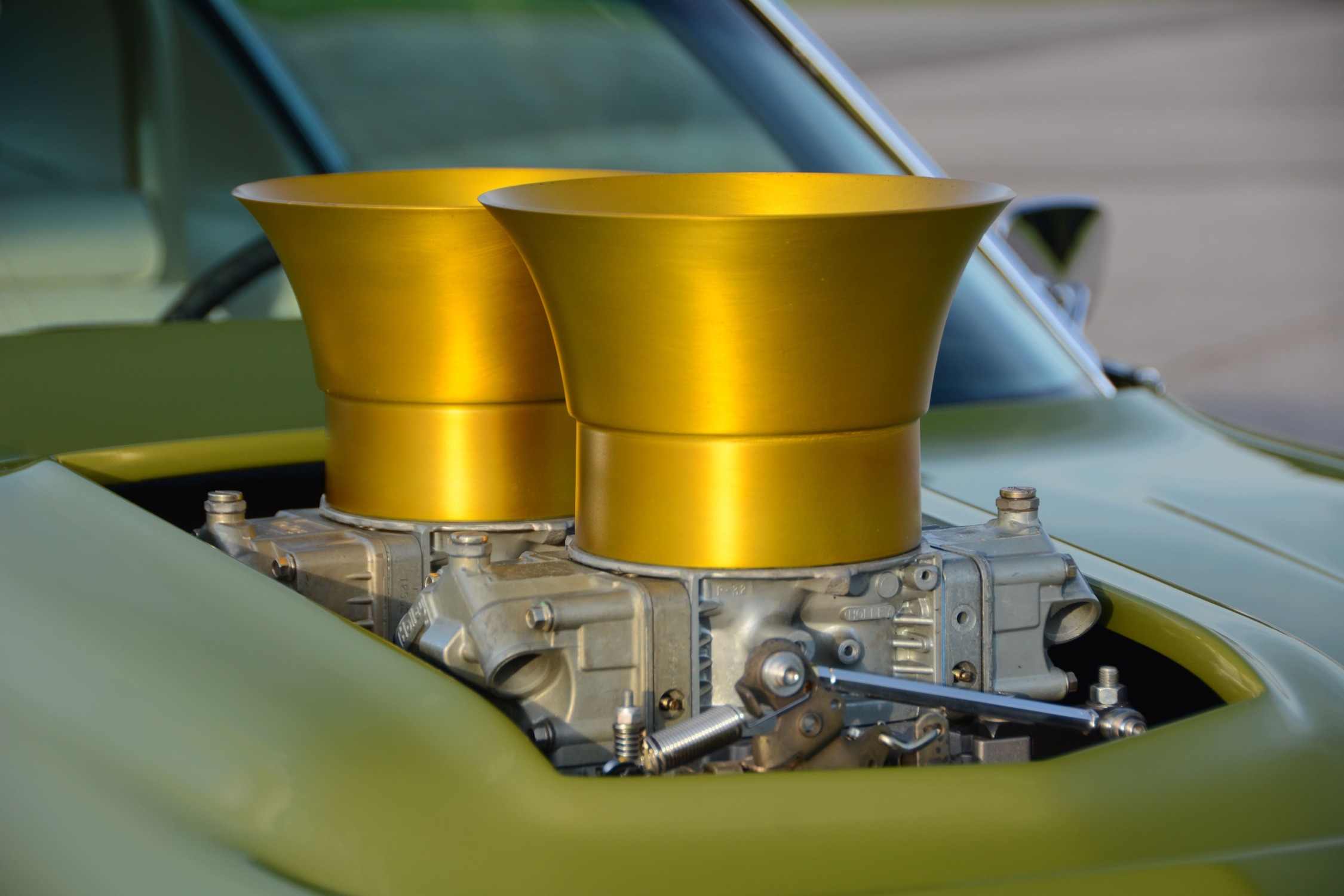 Jeff Mumford's 1970 Camaro once again offers up a great Day Two styling reference. Hood treatments were all over the map in the '70s, so you can go no hood, snorkel scoop, L88-style scoop, and the list goes on. Cowl hoods are OK as long as it is an original style and not a giant 4-inch cowl. No matter the hood choice, visible carburetors and gold velocity stacks earn major cool points.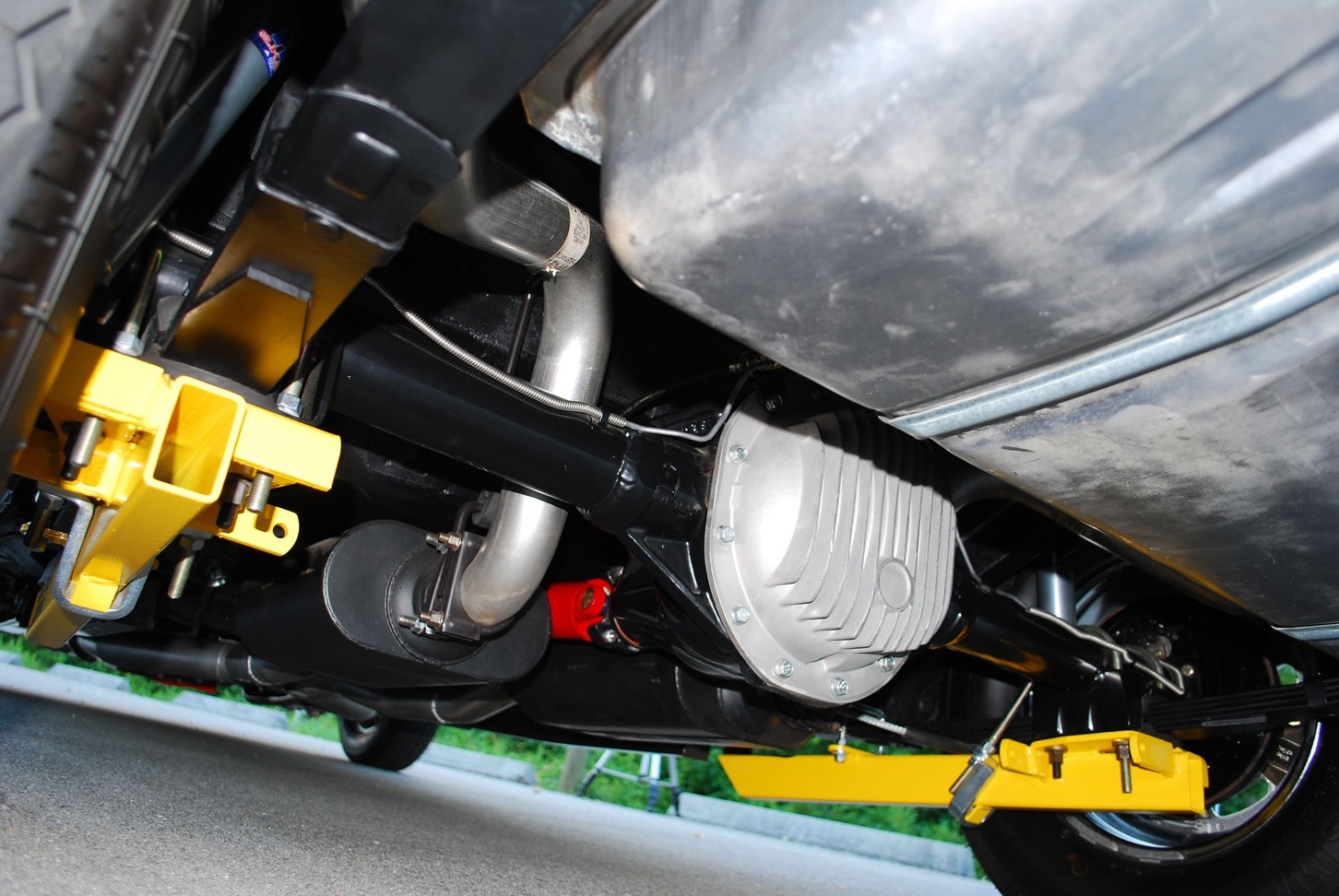 Even though it's tucked underneath the car, rearend accessories are an easy way to spice up your Day Two restoration without any extreme modifications. Lakewood still makes old school slapper bars, and you can easily track down a vintage finned differential cover for 10- and 12-bolt applications.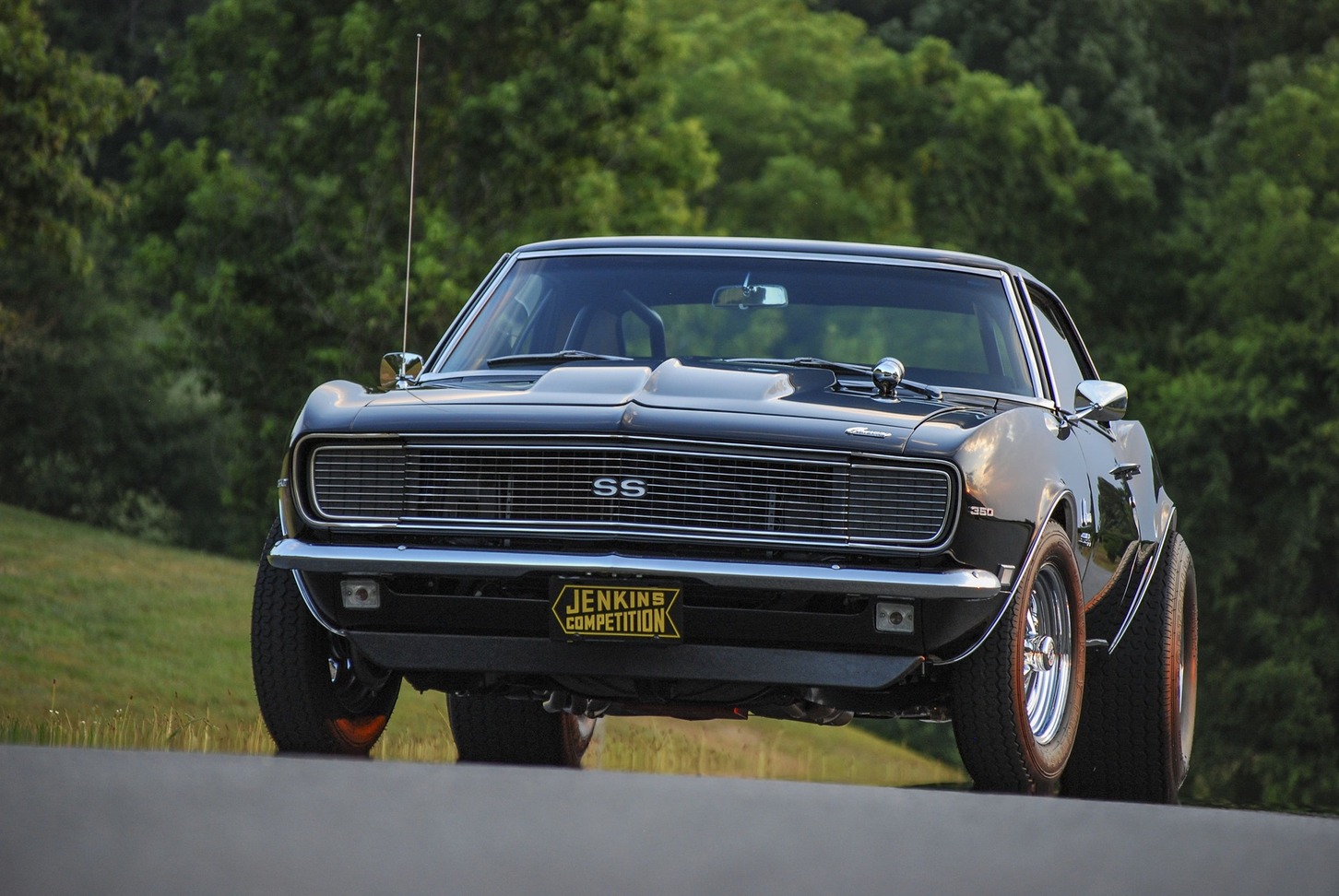 You can add old-school flavor to any car from the muscle car era with a Jenkins Competition license plate and a few tastefully placed decals. Claude Minor's 1968 Camaro has the look nailed with a killer tire and wheel combination, a rollbar visible through the glass, and a chrome-plated gauge mounted to the cowl.
Time Capsule
When it comes to building a car to match a particular period of time, it's always good to have a legitimate reference. As gearheads, we have a tendency to romanticize certain aspects of our past, but having a solid reference point really helps. This 1968 Camaro Rally Sport serves as a time capsule from the '70s, as it was hidden away in an Atlanta garage for more than 40 years. Josh Bailey bought it and was amazed at the originality. The car had been repainted a Rally Green color with black stripes but the body was left in its original configuration. You'll notice a cowl induction hood, additional badging, and a few speed parts decals on the glass.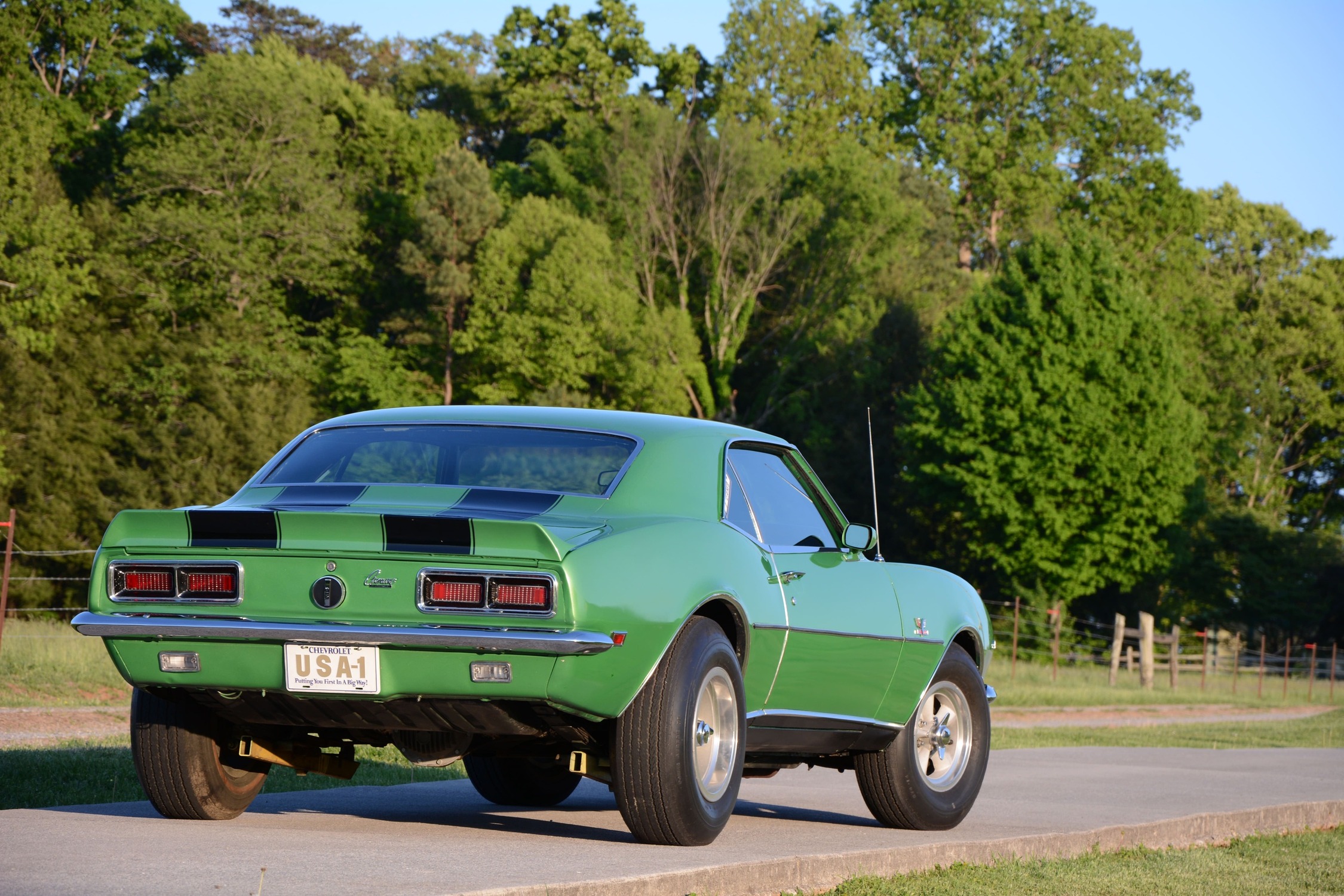 The car rolls on a set of American Torq Thrust wheels, wrapped in vintage Goodyear rubber, sized at F78-14 and L78-15, for a nice rake. A finned rearend cover and yellow Lakewood slapper bars add to the list of modifications. Underhood is a 427ci big-block Chevy, fit with 074 aluminum heads, a solid-lift camshaft from Reed Cams, and a GM aluminum intake. The Holley 780-cfm four-barrel carburetor, Mallory dual-point distributor, and box-style coil are vintage pieces, as are the Mickey Thompson valve covers. Although this car isn't wildly modified, it's an excellent example of the types of cars that roamed the streets in the late '60s and early '70s, so it's a fitting addition to this article.