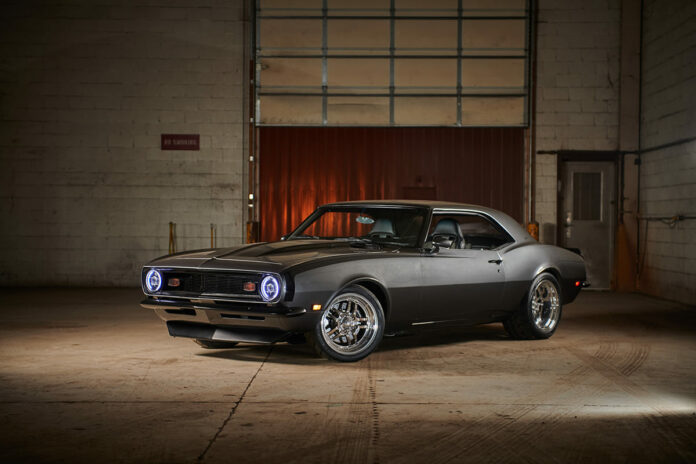 An Eclectic Group Helps Mike Friend Build his 1968 Camaro
By Nick Licata – Photography by Randy Pugh
When it comes to building a classic hot rod you can pay a shop to do it all and have it done fairly quickly, or as in Mike Friend's case with the build of his 1968 Camaro, you can take the ol' "start 'n' stop" route, which, unfortunately, adds a few more years to the build. It's not ideal, and it wasn't Mike's initial plan, but that's how it went down.
"I bought the car off an eBay auction about nine years ago from a guy in Detroit who claimed he was the second owner who purchased it from a guy in Bakersfield who claimed to be the original owner," Mike states. "The shell was in good shape with little-to-no rust, although it needed a tail panel, doorskin, hood, and fender. Oh, and the engine, seats, and console were stolen when the shop doing the restoration got broken into.
"I've wanted a 1968 Camaro since before I could drive. My uncle Ed (he goes by Elf, as those are his initials; it has nothing to do with his size), who has been into building hot rods his whole life, would help me with the build, so he and I headed about three hours north to pick up the car and bring it home to get cranking on the new project. We were excited to start tearing into the car at first, but as time went on, little work took place. The car basically sat the next three years, due to me not having a clear direction with the build."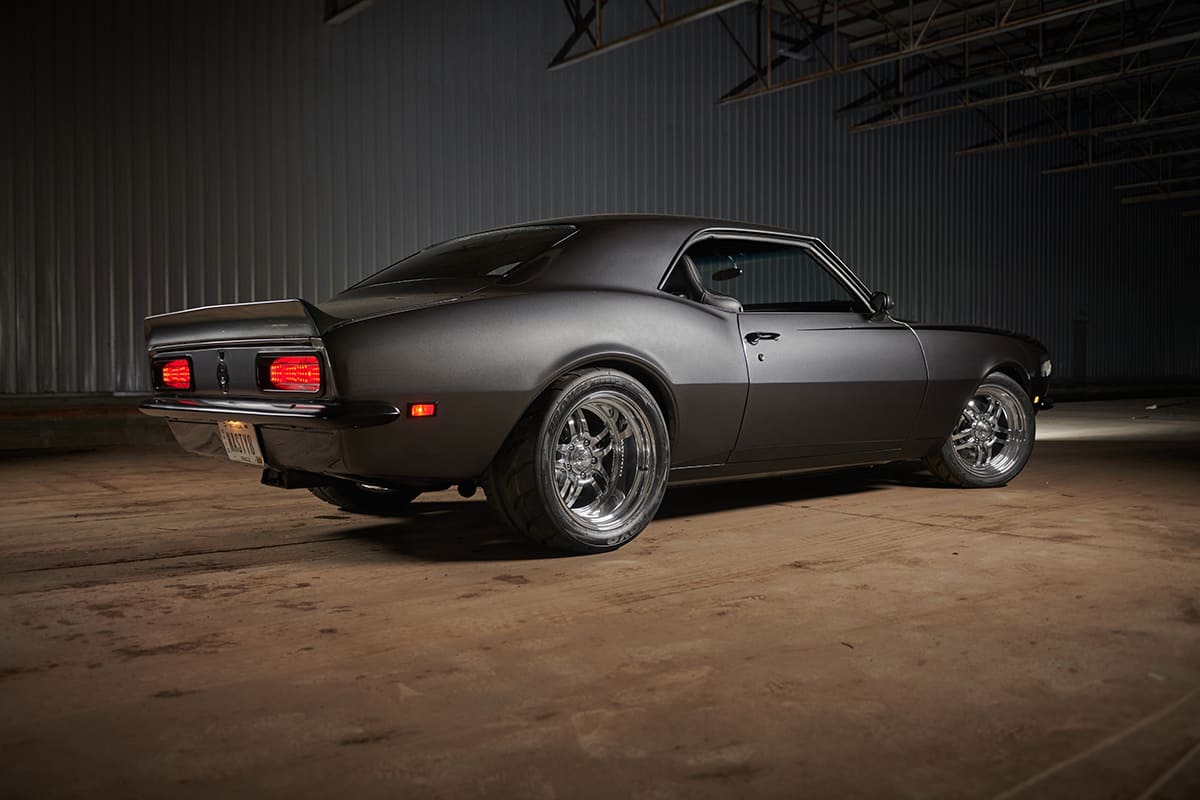 Initially, Mike was heading down a Pro Street path with the car, but once he laid eyes on a Pro Touring–style first-gen Camaro, everything changed. "Uncle Elf was more old school, so building a Pro Touring Camaro was all new to him," Mike reveals. "So, not having anyone around to pick their brain on how to go about building a car like I wanted meant the car would continue sitting."
One night while heading home from a dinner date with his wife, a badass Pro Touring 1968 Camaro passed him going down the road. Mike explains it like this: "Once that car drove by, I literally cut off two lanes of traffic to chase the guy down and ask him to pull over. The car looked awesome and sounded mean. The dude must have thought I was nuts, but he pulled over and I told him about my car and how I wanted to build my car just like his. After that night, we've since become good friends and that guy, Ray Thompson, has been a huge help with my project most of the way. He told me what parts I needed to get the look and performance I was going for. I've called him so many times with so many questions, I'm surprised he hasn't blocked my number."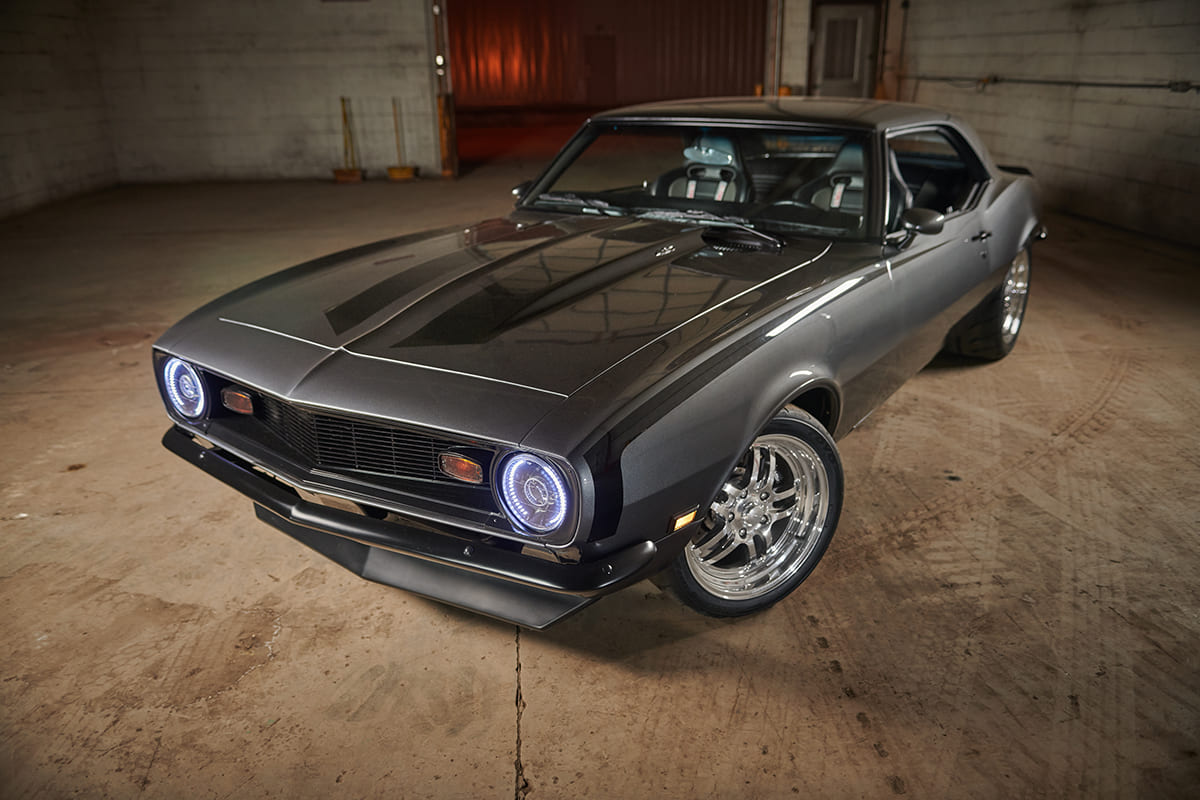 With Thompson's experience and knowledge a huge help, Uncle Elf and Mike were rejuvenated–they got all fired up and got going on some fabwork and began installing a Detroit Speed coilover kit up front and their QUADRALink suspension system out back. They were making progress but things were still moving a bit slow until Mike learned of an old guy up the road from him who specialized in building first-gen Camaros. His name was Larry "The Boss" Hale, and he was building first-gens two at a time. "Larry is a total Camaro guru who knows every nut, bolt, and clip on a Camaro." Mike says. "He helped me with all the restoration parts and hard-to-find bits for the car, but being another old-school guy he didn't quite grasp onto the modern direction I wanted to take the Camaro, which once more contributed to the car's progress getting held up."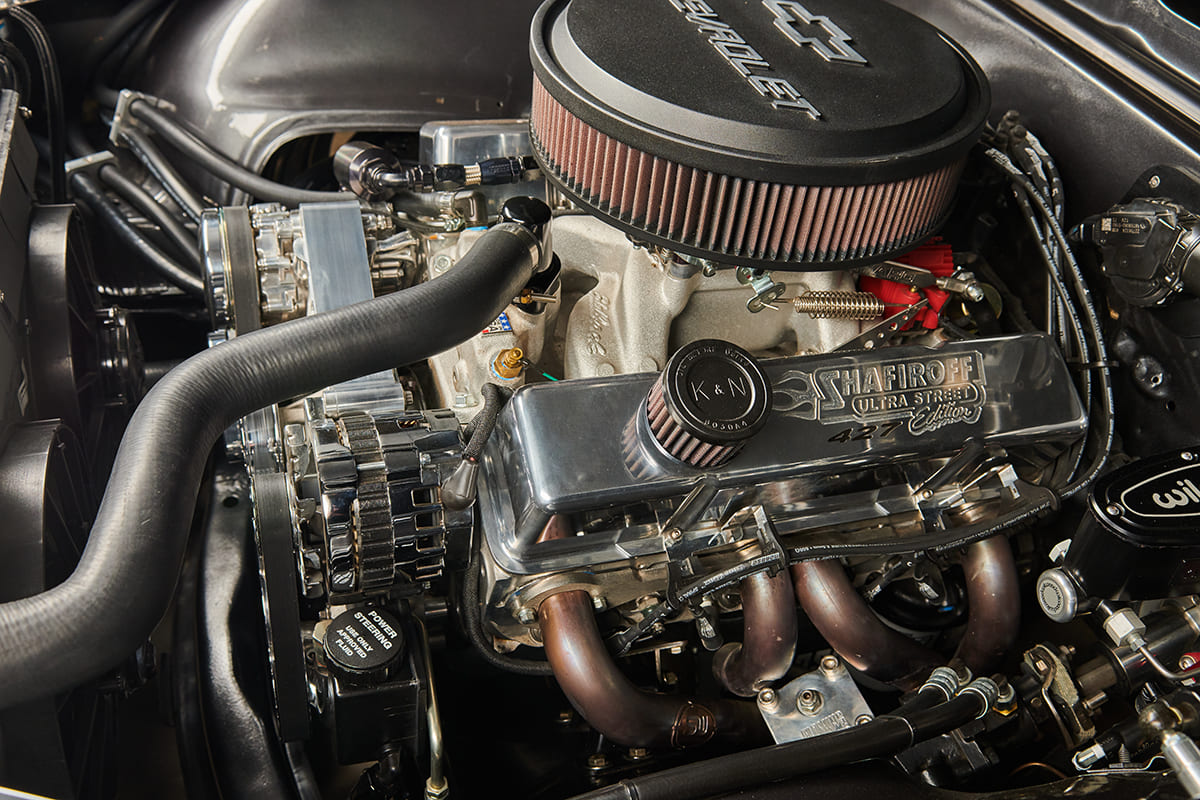 Thankfully, Mike was introduced to Dan "The Bushwacker" Buschur, a guy who was into old and new cars. He understood the whole Pro Touring vibe. Buschur and Mike mocked up the small-bock, ordered the trans, driveshaft, and brakes, then Buschur took over the wiring process. Progress on Mike's Camaro was finally moving in high gear.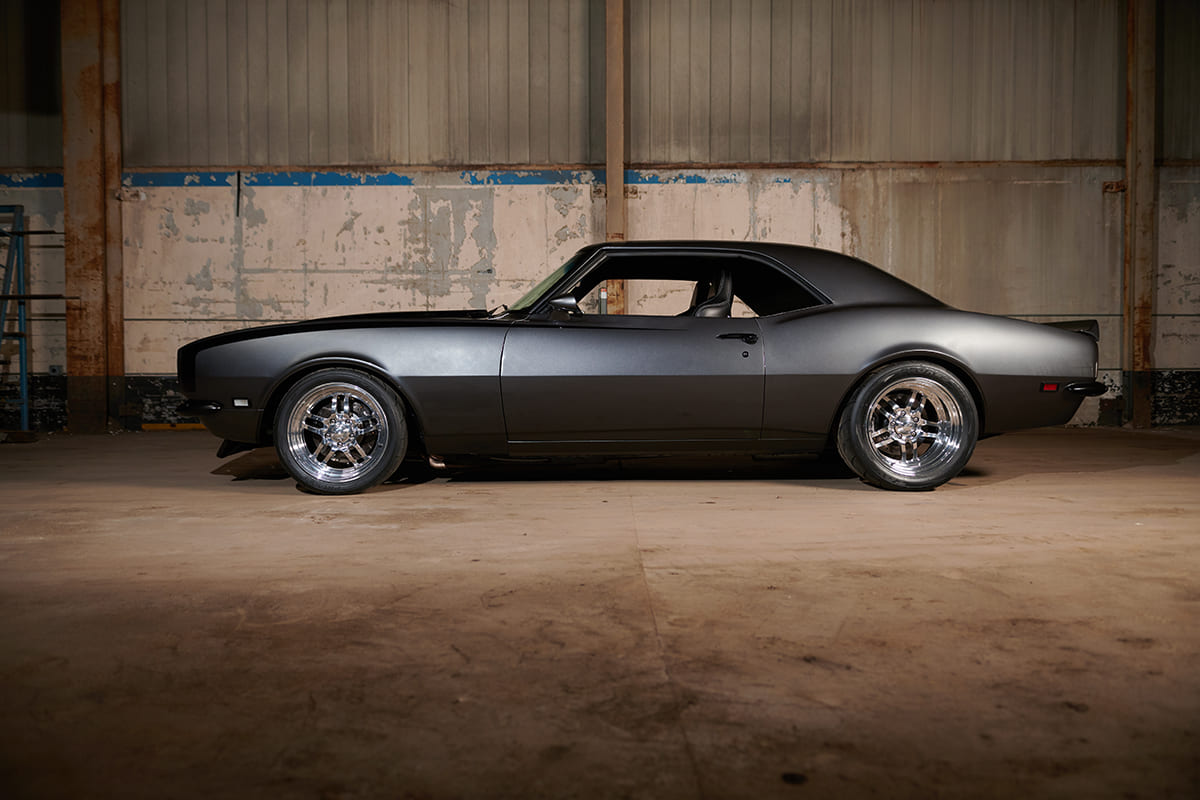 "With things moving along nicely, it was then time for paint, which is where Uncle Elf shines." Mike excitedly conveys. "He's an amazing body man and he's a magician with a paint gun, so he did his magic and laid down a deep smooth coat of Matrix Premium Gray Metallic with a splash of black."
With the exterior looking just how Mike envisioned, he called up Shafiroff Racing for one of their Real Street Pump Gas 427ci small-block bullets. At over 525 hp, it definitely cranks out the performance to stand up to just about any other Camaro out there and keeps Mike glued to the Recaro X seats.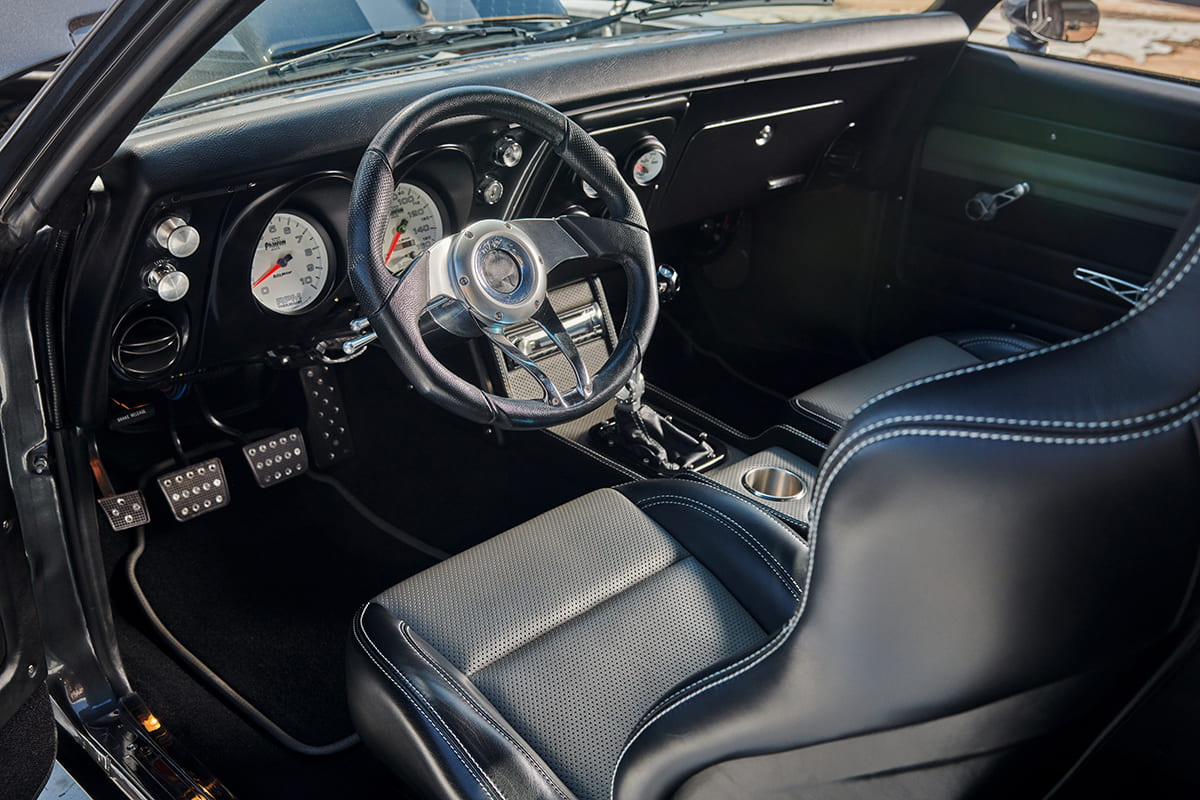 "With the paint and engine taken care of, I went to John Miller, owner of Hide Originals in New London, Ohio, for a custom interior," Mike states. "I threw him some ideas of what I was looking for and he absolutely nailed it. It's the perfect blend of performance and comfort and is actually one of my favorite parts of the car front to back. It's got a Vintage Air A/C system and I installed a kick-ass sound system. There's not much more I could ask for."
Throughout the nine-year process, there were times when Mike was ready to throw in the towel and sell the car, but his wife digs muscle cars, although she's actually a Mustang gal, she pushed Mike to stay focused on finishing the Camaro. "My wife, Erin, was a huge supporter of this project from the very beginning," Mike adds. "She kept pushing me to keep going, and I can't thank her enough for staying on me to stick with it.
"I hustled side work and saved like crazy to be able to own a Camaro like this. I totally love this car and how it jumped from one hillbilly garage to another–one for paint, one for fabwork, and brakes, and still another for final assembly," Mike reveals. "Hell, I don't even have a lift, so it shows how things can come together with the help of friends and family.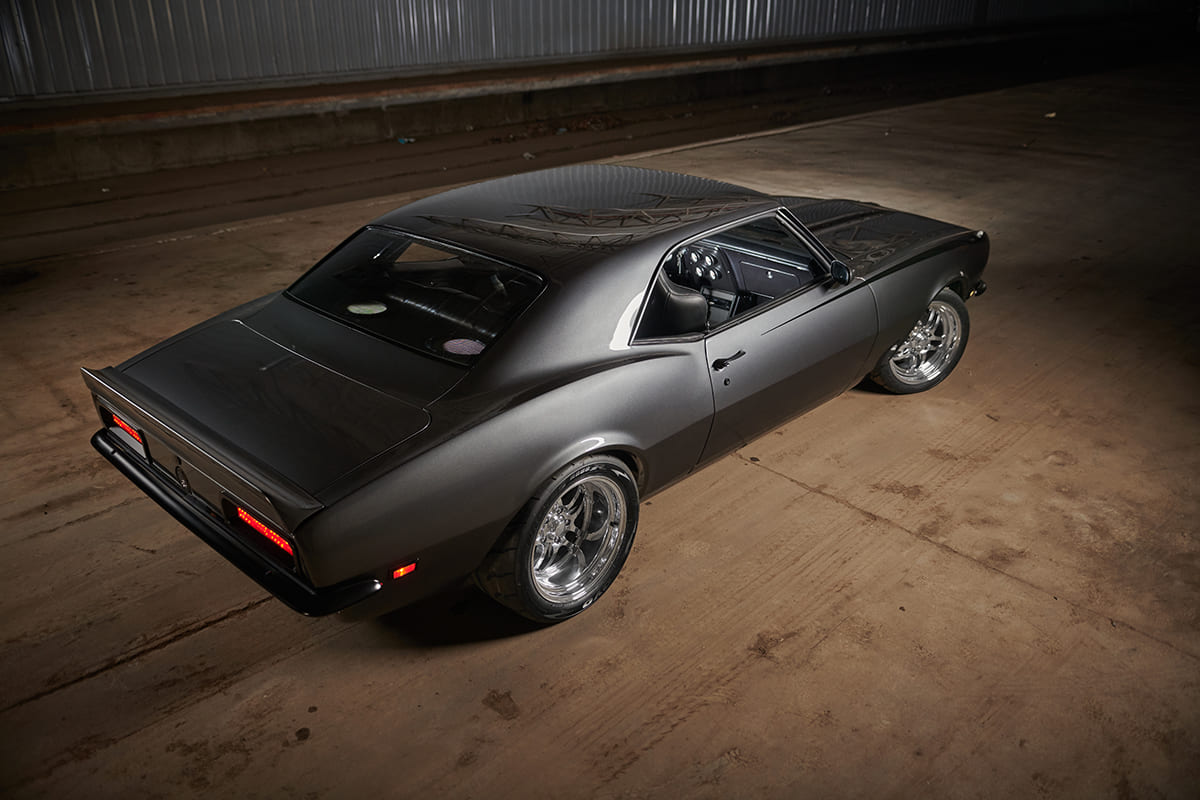 "Yup, amazingly this Camaro was built by a bunch of hillbillies, and I couldn't be more proud. Proud to call them friends and proud of what we accomplished with this the car."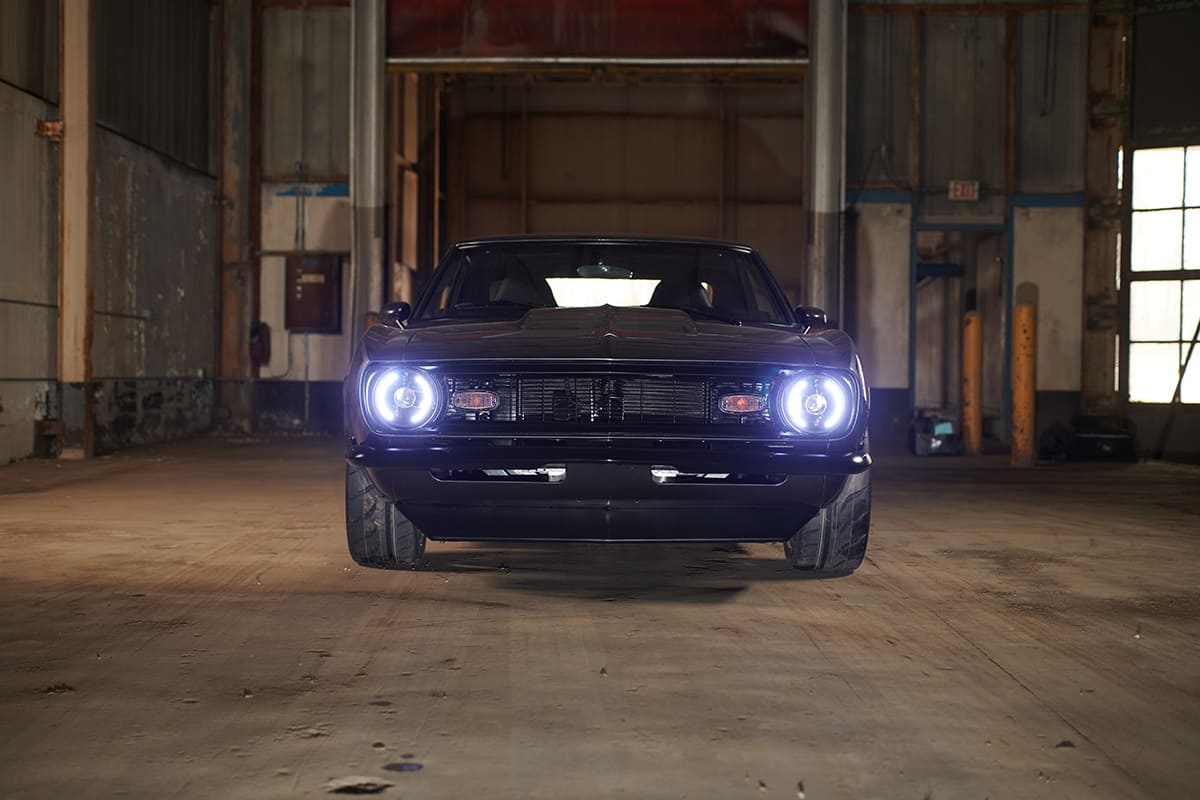 TECH CHECK
Owner: Mike Friend, New London, Ohio
Vehicle: 1968 Chevy Camaro
Engine:
Type: Dart SHP block
By: Shafiroff Racing
Displacement: 427 ci
Compression Ratio: 10.25:1
Cylinder Heads: AFR
Rotating Assembly: SSRE/Scat 4340 4.000-inch stroke steel crankshaft, Scat 4340 6.000-inch H-beam steel rods, Mahle Forged aluminum pistons, Plasma moly ring set
Valvetrain: High-performance hydraulic roller lifters, 2.080 inch/1.600 inch stainless steel valves, hydraulic roller springs with steel retainers, Comp Cams Ultra Pro Magnum roller rockers
Camshaft: SSRE/COMP cams custom grind hydraulic roller (specs proprietary)
Induction: Edelbrock RPM Air Gap aluminum intake, Quick Fuel 830-cfm carburetor
Assembly: Shafiroff Racing
Exhaust: Stainless Works 1 7/8-inch headers, custom stainless 2 ½-inch exhaust, Flowmaster stainless steel mufflers
Cooling: Be Cool aluminum radiator
Accessory Drive System: Vintage Air Front Runner
Ancillaries: K&N air cleaner, MSD ignition, Ringbrothers hood hinges, Ron Francis Wiring, Dynamat insulation
Output: 584 hp at 6,000 rpm, 576 lb-ft at 4,700 rpm
Drivetrain:
Transmission: TREMEC TKO 600 five-speed manual
Clutch: McLeod twin-disc, McLeod flywheel
Driveshaft: Driveshaft Shop
Rear Axle: Moser 12-bolt, truetrac limited slip differential, Motive 3.90 gears, Moser 33-spline axles
Chassis:
Front Suspension: Detroit Speed coilover tubular A-arms, Detroit Speed shocks; Detroit Speed sway bar, Detroit Speed subframe connectors
Rear Suspension: Detroit Speed QUADRALink with Panhard bar, Detroit Speed shocks, Detroit Speed sway bar
Brakes: Wilwood 12-inch rotors with four-piston calipers front, Wilwood 12-inch rotors with four-piston calipers rear; Wilwood master cylinder and proportioning valve
Steering: Flaming River
Wheels:
Wheels: Billet Specialties Street Smart Launch; 17×8 front, 17×11 rear
Tires: Toyo Proxes R888; 235/40R17 front, 315/35R17 rear
Interior:
Upholstery: California Black carpet, black/gray leather
Installer: Hide Originals LLC (New London, OH)
Seats: Recaro X
Harness: G-Force five-point
Pedals: SRP Racing
Steering: Flaming River column and steering wheel
Shifter: Clayton Machine Works
Dash: Factory
Instrumentation: Auto Meter
Sound System: Pioneer head unit, Rockford Fosgate Amp, Infinity speakers, Infinity sub
Stereo Installation: Owner
HVAC: Vintage Air
Exterior:
Bodywork and Paint: Uncle Ed Friend (Elf)
Paint: Matrix Premium Gray Metallic/Black
Body Modifications: Detroit Speed mini-tubs
Bumpers: Original powdercoated
Outside Mirrors: Factory Second-gen Camaro
Headlights: LED
Taillights: Digi-tails