Sully's '65 Chevelle SS
By Nick Licata – Photography by John Jackson
Mentors come in various types of relationships. Whether it's a friend, an acquaintance, a big brother, or someone closer. "My dad, Jim Sullivan, got me interested in cars at a very young age," Sean (Sully) Sullivan explains. "I went to car shows with him for as long as I can remember. Building cars came later when my dad bought me a '67 Camaro for my eighth grade graduation to work on until I got my driver's license."
That Camaro was the catalyst to more builds of assorted brands over the years, but Sean always had a hankerin' for an early Chevelle. "I really liked the looks of the square-body '64 and '65 Chevelle," Sean states. "When I met Pat, the previous owner of this '65 Chevelle, I'd contact him every month or so to see if he was ready to sell it. Of course, the answer was always 'no,' and at one point he stopped responding. Worried he had sold the Chevelle, and without my knowledge, Jennifer, my wife had contacted him and purchased the car and then gave it to me for my 40th birthday. Talk about a cool birthday present. That was the best gift ever."
With the car finally in Sean's hands, he upgraded it right away with an LS3, TREMEC TKO 600, and bolted up a Ridetech air-ride suspension to the stock chassis. After several years in that configuration it was time to build it to version 2.0, if you will. It was already a nice car, but Sean had new ideas to bring onboard to the Chevelle. Having done so many builds with his dad, when he died Sean took to building cars solo. "My garage is too small for the type of work I wanted to do on this car," Sean explains. "So, I contacted my buddy, Derek Carlson, owner of The Hot Rod Shop in Rancho Cordova [California], to see if he'd help me with the rebuild and use his shop. He understood the direction I wanted to go and he was excited to get involved. Besides, it was nice for me to get back to working on a project with someone else."
The duo bounced ideas off one another and compiled a game plan that featured a unique build style, unlike the current Pro Touring trend that we see so much of today. The plan was to build a car with a sleeper look that would handle like a track fiend and carry a fierce amount of power–a total wolf in sheep's clothing.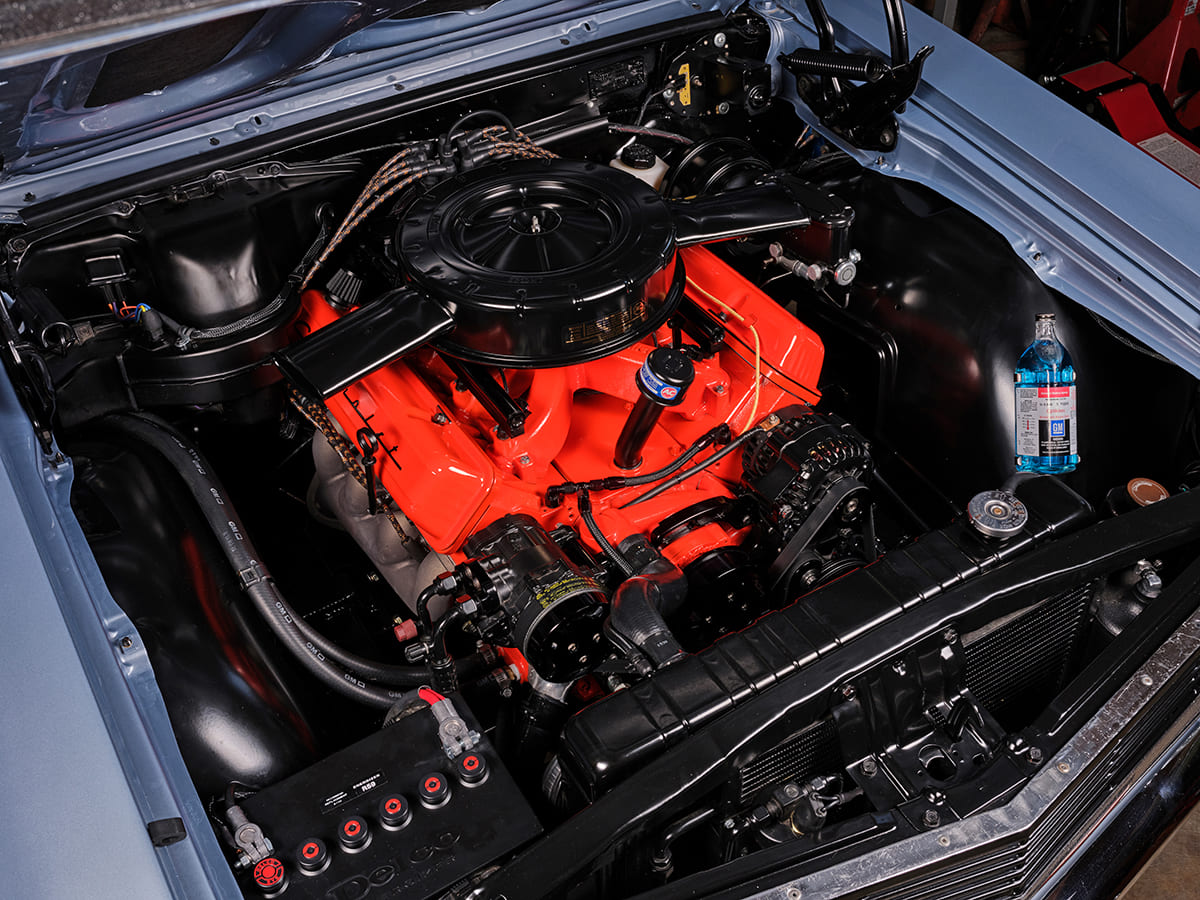 Said power comes by way of a 440ci LSX LS7 built by Don Hardy Race Cars in Floydada, Texas. The bored and stroked LS block is accompanied with Dart LS7 aluminum heads and Lunati LS7 valves and springs. Diamond pistons and Hardy H-beam steel rods hang from a Lunati six-bolt crankshaft while a Cam Motion cam keeps it all working in time. The mill is topped with a Holley LS7 intake and 4150 throttle body with FAST 50-pound injectors all tuned by Dave Ehrlich of Autotrend EFI.
This is where it gets really cool: Sean went for a totally vintage small-block look and disguised the LSX by incorporating Chevy Orange paint on the block and intake, used factory GM small-block valve covers painted orange with black "Chevrolet" script, then topped it with a factory GM dual snorkel air filter. The custom braided plug wires and Hooker cast-iron exhaust manifolds do a damn good job of keeping the factory vibe in check. The engine is a work of art–an absolute head-turner—and at 711 hp and 602 lb-ft of torque it's a stellar performer as well.
That power is managed by a TREMEC Magnum six-speed transmission and McLeod RXT twin-disc clutch, which sends twist to an ADCO Driveline 3-inch steel driveshaft. A Roadster Shop (RS) 9-inch housing, 4:10 gears, Truetrac posi, and 31-spline axles get that grunt to the ground.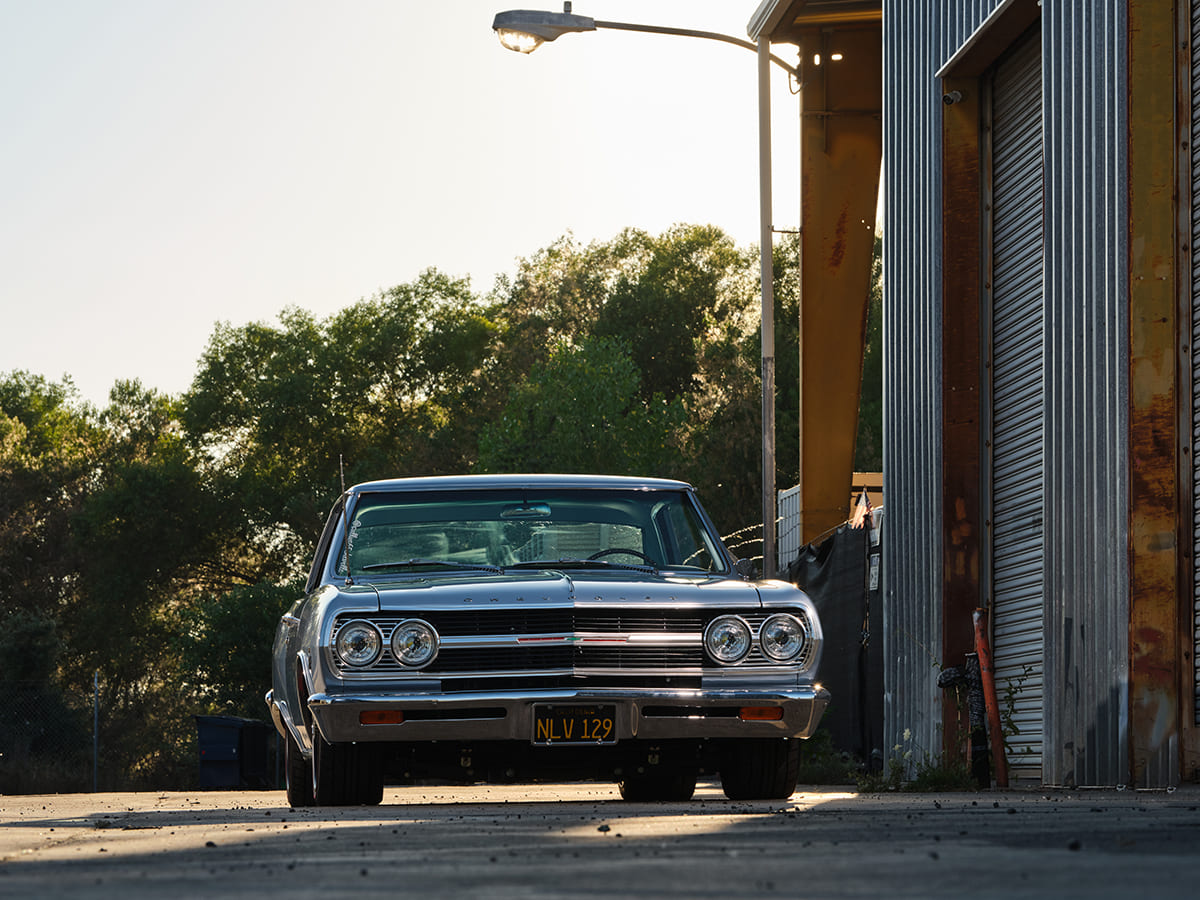 The chassis is an all-RS affair, featuring their SPEC chassis, which includes an A-arm-style suspension up front that plays host to Wilwood Pro Spindles, RS Fox coilover shocks, and Hyperco springs. Wilwood 14-inch rotors and six-piston calipers handle stopping chores as the RS rack-and-pinion steers the ship. Out back a set of 13-inch rotors and four-piston calipers were employed. The rear suspension is a four-link system armed with RS Fox coilovers and Hyperco springs rounded out with an RS Panhard bar and sway bar.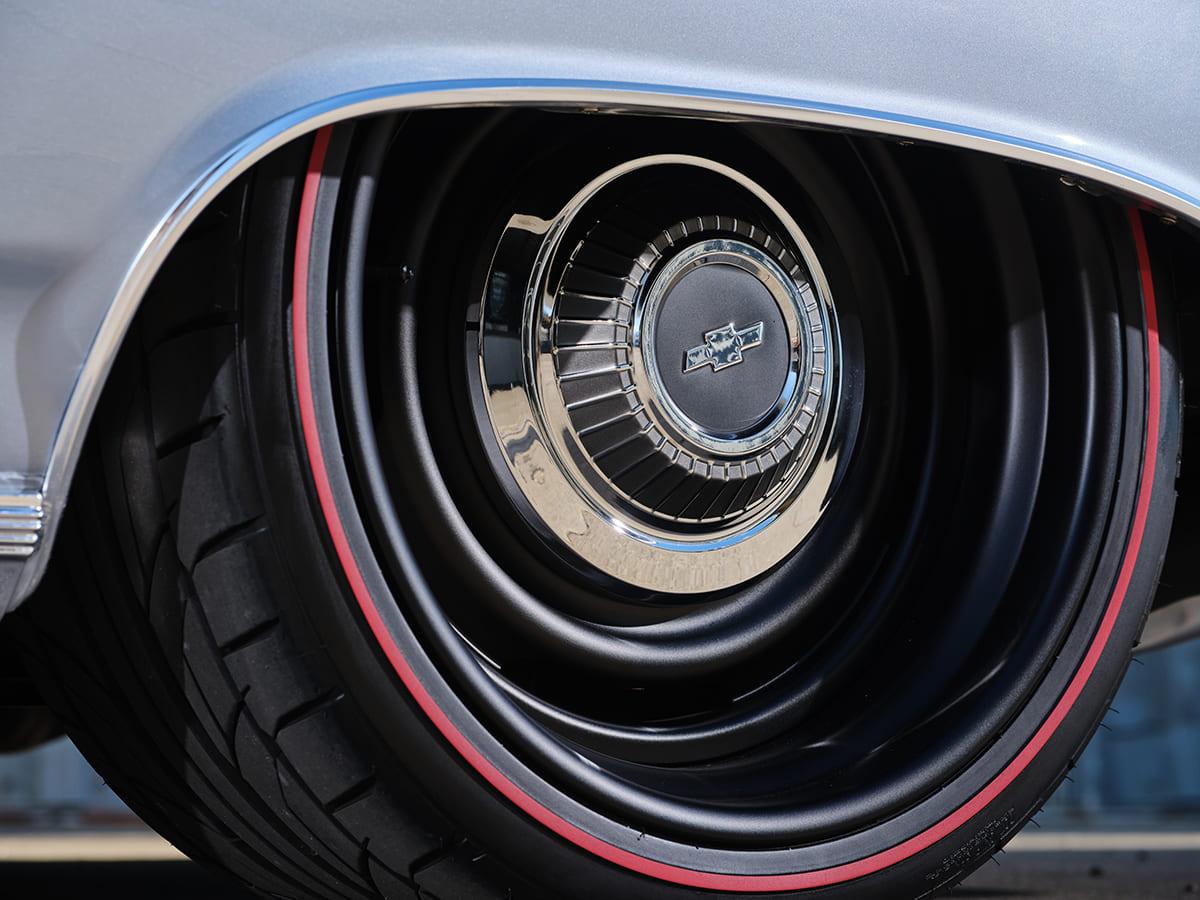 On a typical muscle car build, that Wilwood hardware would be an attractive facet, but in this instance, contributing to the sleeper vibe, is a set of Forgeline OE1 rollers that totally nail a classic "steelie" look and hide the brakes completely. Amazingly, the 19-inch wheels appear much smaller in stature due to the Chevelle's über-aggressive stance. The Forgelines are smothered in Nitto GSII rubber with redlines by Diamond Classics (245/35R19 front, 305/30R10 rear).
A tour of the interior reveals a factory-looking landscape where Sean incorporated modern functionality with the original pieces careful not to agitate the '65 vibe. The Dakota Digital RTX gauges in the factory dash insert look the part and the original door panels, console, and seats were reworked by Danny Williams at DJ Designs (Hayward, California). He also modified the rear seats to accommodate the mini-tubs and expanded trans tunnel.  Carlson from The Hot Rod Shop wired up the car with an American Autowire Classic Update kit then set his attention to the Custom Autosound head unit and JL Audio speakers.
Gamboa's Body and Paint in Rancho Cordova smoothed the already-pristine body to perfection before Sacramento's own Allen Sailors splashed the shell in PPG Glacier Gray custom mix. The hue keeps the car period-correct yet adds a little more moxie while staying true to the car's low-key stature.
Yep, a unique build this nice required extreme attention to detail and an out-of-the-box mindset. Sean's and  Carlson's skills didn't go unnoticed as Sean has received nice compliments from builders of whom he's had major respect for years. "When I post a photo on Instagram and people enjoy seeing the car, then ask questions about a particular part on the car and how I did something, it's very humbling and I'm very appreciative of the comments," Sean states.
From start to finish, the process took a little over eight months. While the duo worked pretty much straight through, Sean credits his work ethic to his dad. "He taught me everything I know about cars," Sean points out. He encouraged and supported me, not only in building cars but in every aspect of life, so when I'm working on cars it makes me feel close to him. When you've have a dad like mine, you just want to keep making him proud."
ACP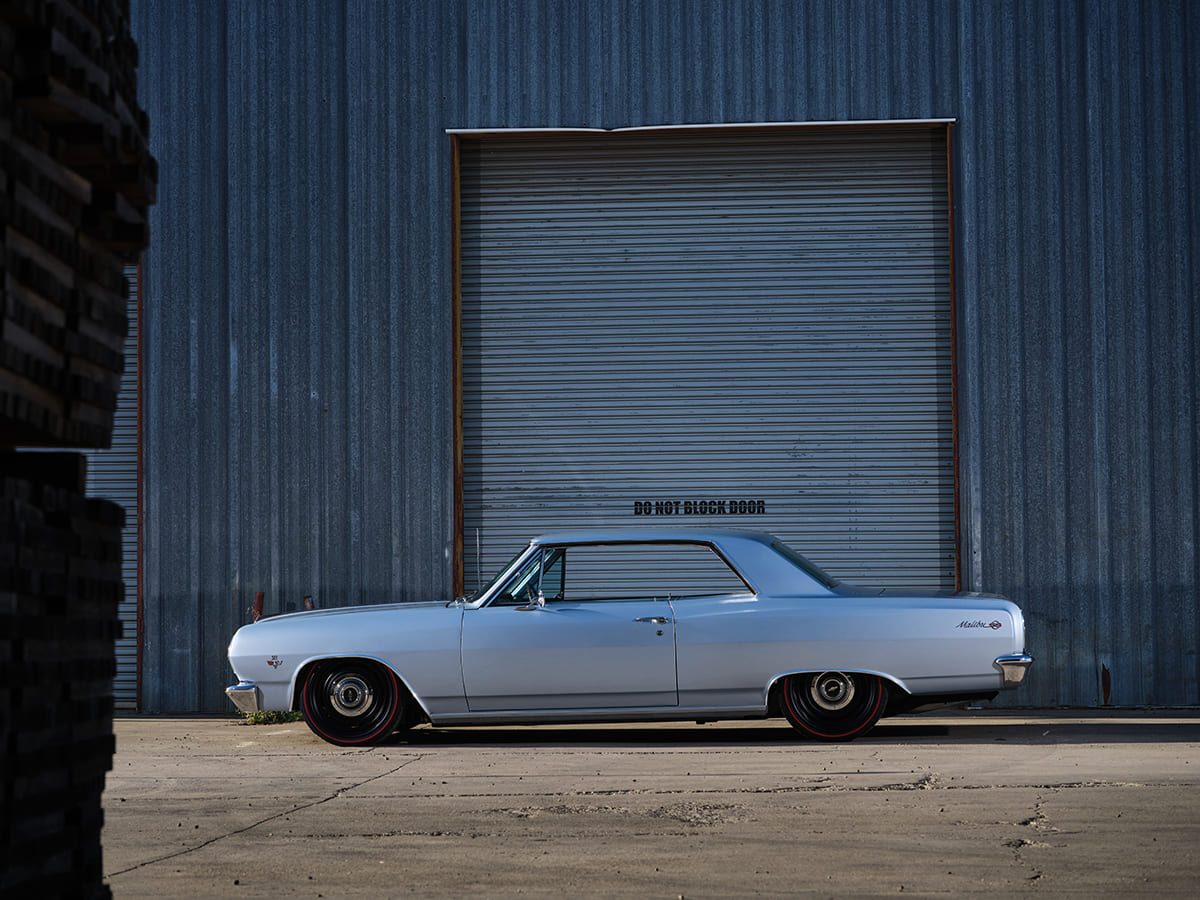 TECH CHECK
Owner: Sean Sullivan, Diamond Springs, California
Vehicle: '65 Chevrolet Chevelle Malibu SS
Engine:
Type: Chevrolet LS7
Displacement: 440 ci
Compression Ratio: 11.2:1
Bore: 4.185 inches
Stroke: 4.00 inches
Cylinder Heads: Aluminum Dart LS7
Rotating Assembly: 4340 Lunati crankshaft, 4340 H-beam rods, Diamond forged pistons
Valvetrain: Lunati LS7 valves and springs, 1.8 GM
Cam: Cam Motion custom grind cam, 0.657-inch lift, 254/264 deg., duration at 0.050.
Induction: Holley LS7 intake manifold, Holley 1,000-cfm 4150 throttle body, Holley fuel injection with FAST 50 lb/hr injectors
Assembly: Don Hardy Race Cars (Floydada, TX)
Exhaust: Hooker LS cast-iron manifolds, 3-inch custom exhaust, Borla Pro XS mufflers
Ancillaries: Drive Junky accessory drive system, factory dual snorkel air cleaner, LT coils, custom braided plug wires, factory GM small-block valve covers, Edelbrock water pump, dual Spal fans, DeWitts Aluminum radiator, factory hood hinges
Output: 711 hp at 7,000 rpm, 602 lb-ft at 5,100 rpm
Drivetrain:
Transmission: TREMEC Magnum T56 six-speed manual
Rear Axle: Strange Engineering 9-inch, Strange Pro Case with Truetrac posi, 4.10 gears, 31-spline axle
Chassis:
Chassis: Roadster Shop SPEC chassis
Front Suspension: Wilwood spindles, RS Fox coilover shocks, Hyperco springs, RS sway bar
Rear Suspension: RS four-link, RS Fox coilover shocks, Hyperco springs, RS sway bar, RS Panhard bar
Brakes: Wilwood 14-inch rotors, six-piston calipers front, Wilwood 13-inch rotors, four-piston calipers, rear
Wheels:
Wheels: Forgeline OE1 19×8.5 front, 19×11 rear
Tires: Nitto 555 GSII 245/35R19 front, 305/30R19 rear, redlines by Diamond Back Classics
Interior:
Upholstery: Daytona Blue loop carpet, blue vinyl
Upholstery Work and Restoration: DJ Designs by Danny Williams (Hayward, CA)
Seats: Factory restored
Steering: Factory steering column, factory wood steering wheel
Console: Factory
Shifter: Modern Driveline offset shifter with Muncie handle
Dash: Factory
Instrumentation: Dakota Digital RTX
HVAC: Vintage Air
Wiring: American Autowire by Derek Carlson, The Hot Rod Shop (Rancho Cordova, CA)
Sound System: Custom Autosound USA-740 head unit, JL Audio 4-inch speakers front, 6×9-inch rear, installation by Derek Carlson
Exterior:
Bodywork: Gamboa's Body and Paint (Rancho Cordova)
Paint: PPG Glacier Gray custom mix
Paint by: Allen Sailors (Sacramento, CA)
Hood: Factory steel
Grille: Factory
Bumpers: Factory
Headlights: Dapper LED OE 575
Taillights: United Pacific