Jason Scudellari Builds His Wife a 1963 Nova from the Ground Up… Literally
By Nick Licata – Photography by Wes Allison
Getting a car for free sounds cool, right? That's exactly what Jason Scudellari thought when his buddy Evan Perkins, who was the editor of Hot Rod magazine at the time, offered him a 1963 Nova at no cost. Perkins was looking to start the restoration project but his day job and a busy family life left little time to get the thing going, so the car sat stagnant for a few years before he offered the car to Jason.
"I've never been one to say 'no' to someone offering me a vintage car for free no matter what condition it was in," Jason says. "That was before I actually saw the car in person. When [Perkins] trailered that rust bucket to our shop, I took one look and wondered what I was getting myself into; it was an absolute mess."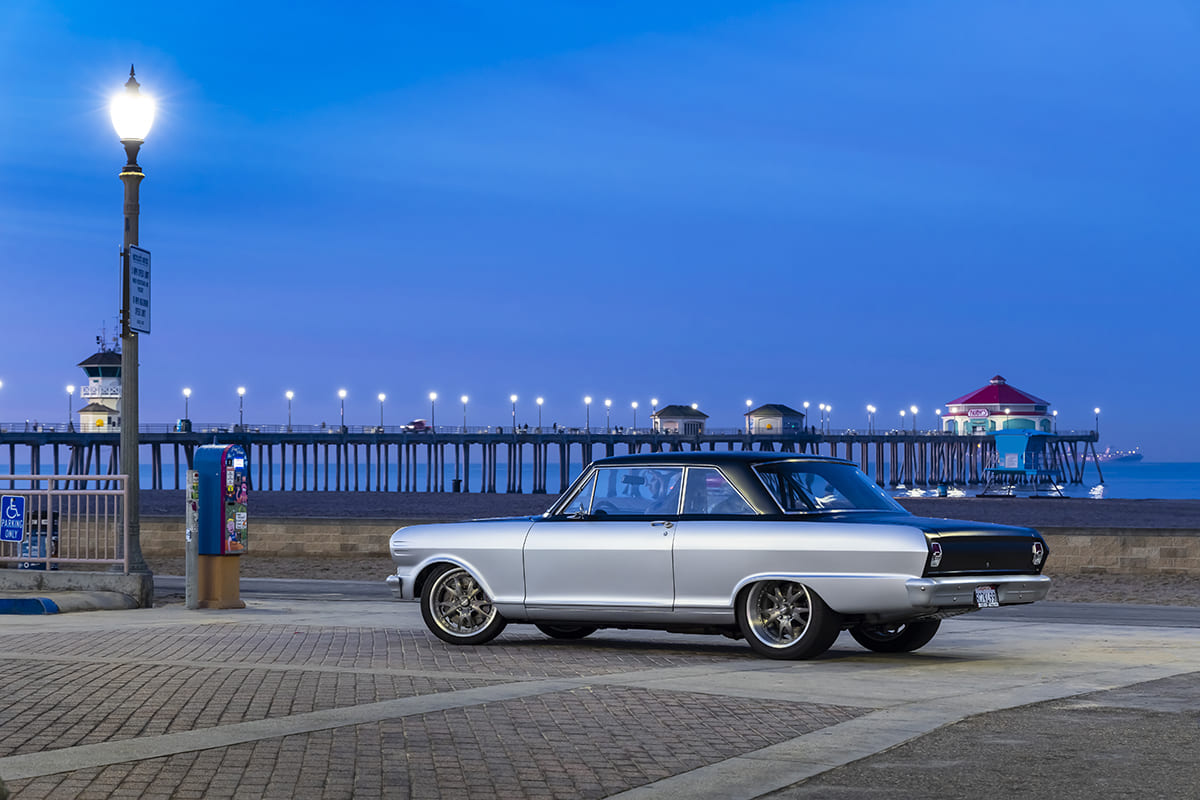 Now the "proud" owner of a 1963 Nova, Jason had the idea to build the car for his wife, Randi. She's always wanted a first-generation Chevy II—it was her dream car—one she always talked about. Still a bit reluctant on having this be the car to build for Randi due to the car's condition, he sucked it up and got busy putting together a plan.
Randi confirms the car's harsh condition. "When Jason took me to the shop to surprise me by showing my gift, I really was surprised—surprised at the amount of rust, it was everywhere and I could see through places I shouldn't have been able to see through. Even though the car was in poor condition I knew Jason could see the car in a different light than I. He saw potential, I saw rusty body panels. But, I know he's a talented car builder, so I was thankful and couldn't wait to see how he would transform it into a great car."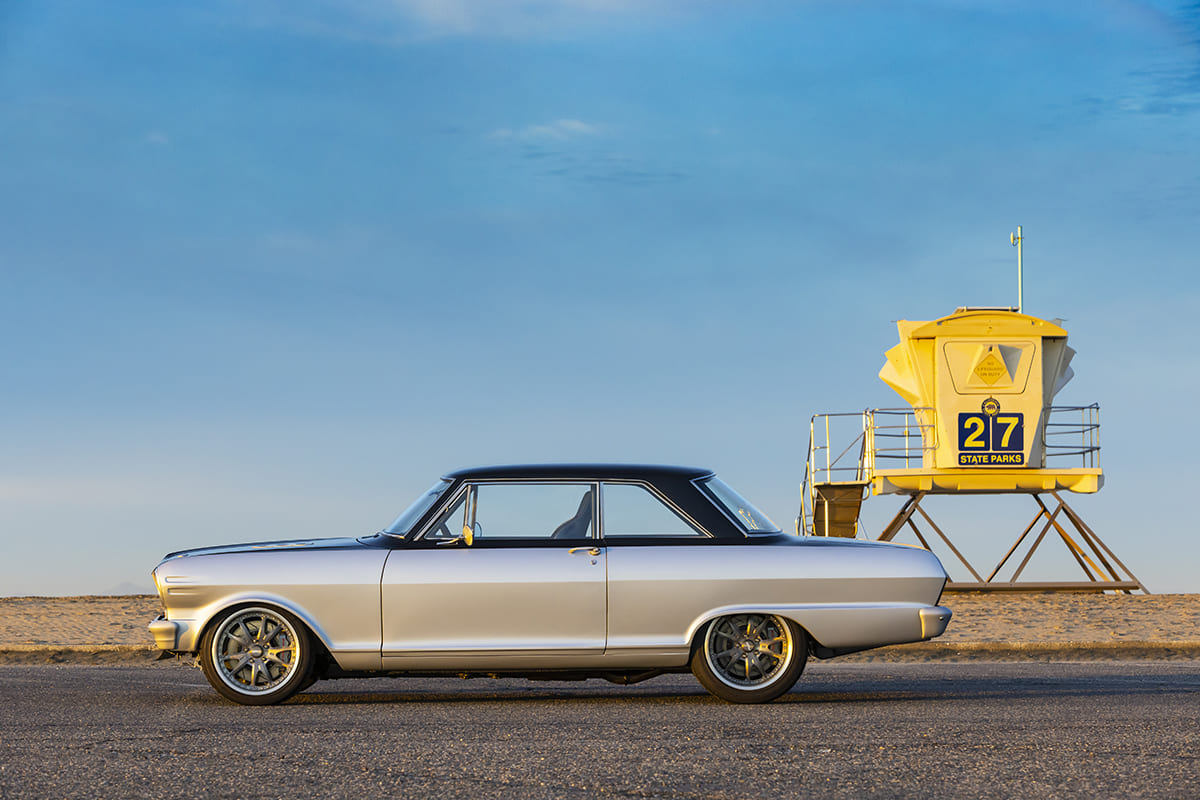 Jason loaded up the rusty husk and a truckload of fresh sheetmetal from Golden Star Classic Auto Parts and headed east to see Justin Smith, a sheetmetal install whiz in Arizona. When Jason pulled up, Smith snickered at what he saw on the trailer. He and Jason immediately got busy tearing apart the car's remains right in the parking lot with a sandblaster, as they knew the only salvageable parts of the car were the floors.
Seven days in, the car began looking like a Nova and was back in Jason's shop ready for the next stage of the resurrection. Jason moved from the ground up and installed a complete G-Machine chassis from Schwartz Performance. The Schwartz frame is all done up with Schwartz spindles QA1 MOD double-adjustable shocks with remote reservoirs, and a splined sway bar up front, while the triangulated four-link carries the same shock arrangement out back, including a splined sway bar to keep body roll in check during hard cornering.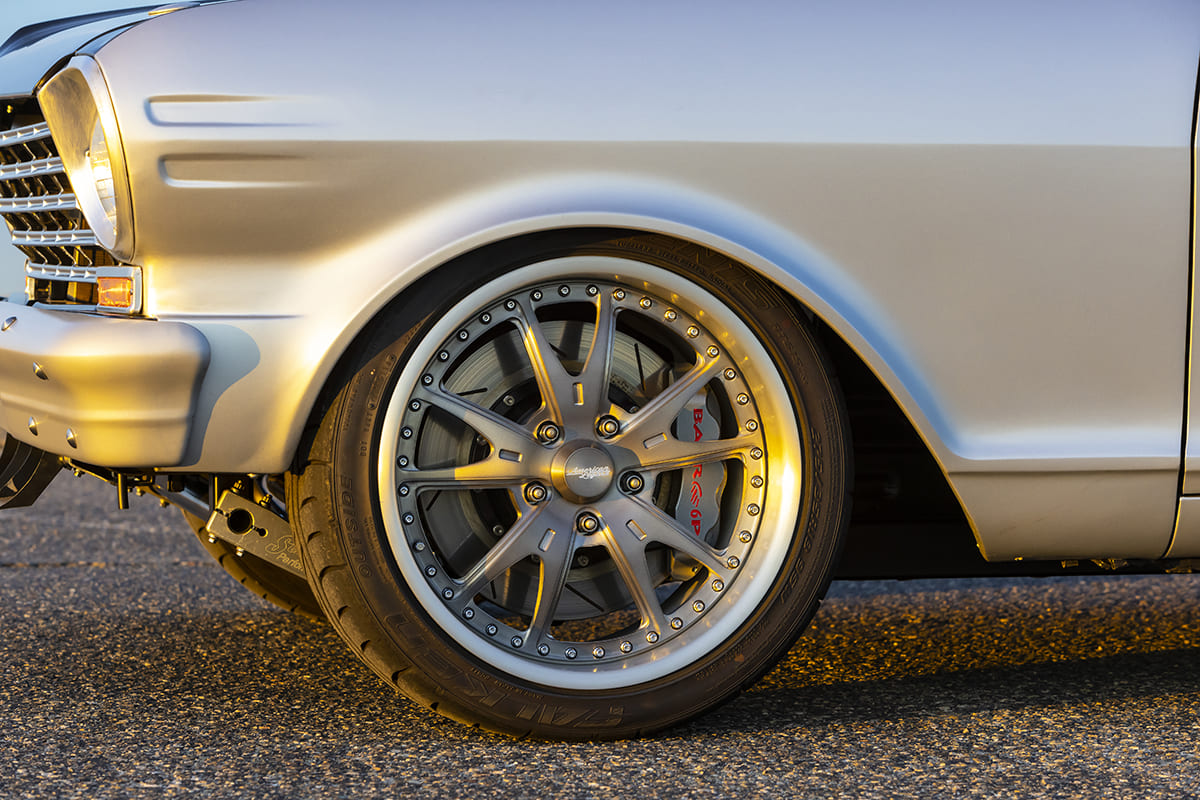 With the car destined for a good beating on the autocross and road courses, Jason went with Baer brakes all around for accurate and repeated stopping chores; 14-inch rotors and six-piston calipers up front and 13-inch rotors and six-piston calipers in the rear. A Tilton pedal system with balance bar applies pressure to get the job done. American Legend Scorpion wheels were called on to match the car's performance capability and vintage style (18×10 front, 18×11 rear). Falken Azenis RT615K rubber keeps the car asphalt-compliant in strenuous driving situations.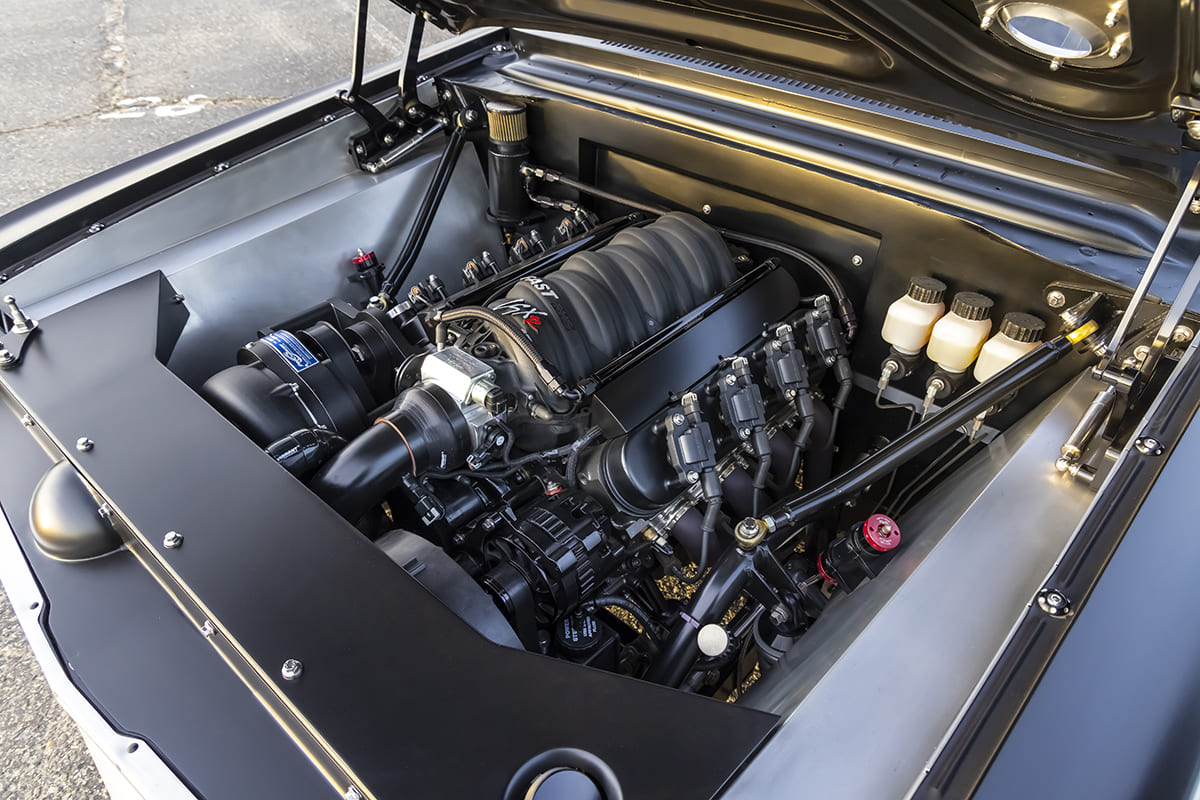 The original plan to build his wife a mild-mannered street machine with a little "pep" took a back seat when Jason decided on an LSX376-B8 from Chevrolet Performance for power. Knowing down the road Randi will likely get an appetite for a little more punch, he bolted on a ProCharger D-1SC supercharger now instead of waiting for the inevitable "honey do" at a later date. "I know my wife's personality, and she'd get used to the feel of a naturally aspirated LS engine," Jason says, "so I figured I should put the supercharger on while the car was in the build stage."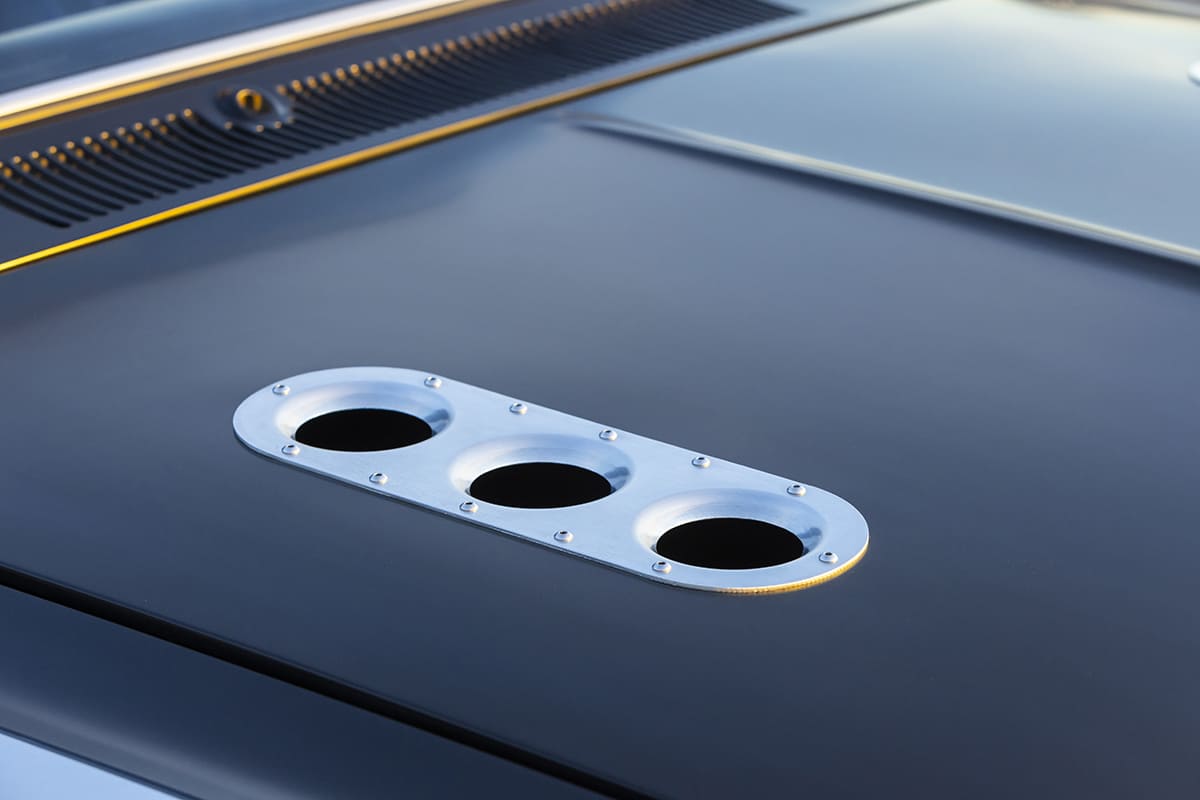 All that power requires a trick cooling system to keep the operating temps in check, so a one-off arrangement from U.S. Radiators includes two four-row radiators tied together. It's an idea Jason came up with, and he informs the unique assembly performs great and has yet to see temps reach over 206 degrees, even while hammering the road course in Fontana on a 100-degree summer day. That system works in conjunction with the custom hood vents Jason designed to expel hot air while ensuring fresh air runs through the engine bay.
The potent ensemble cranked out 878 hp and 748 lb-ft on the Westech Performance (Mira Loma, California) chassis dyno. "I figured that's a good amount of horsepower; should keep her happy for quite a while," Jason says with a smile.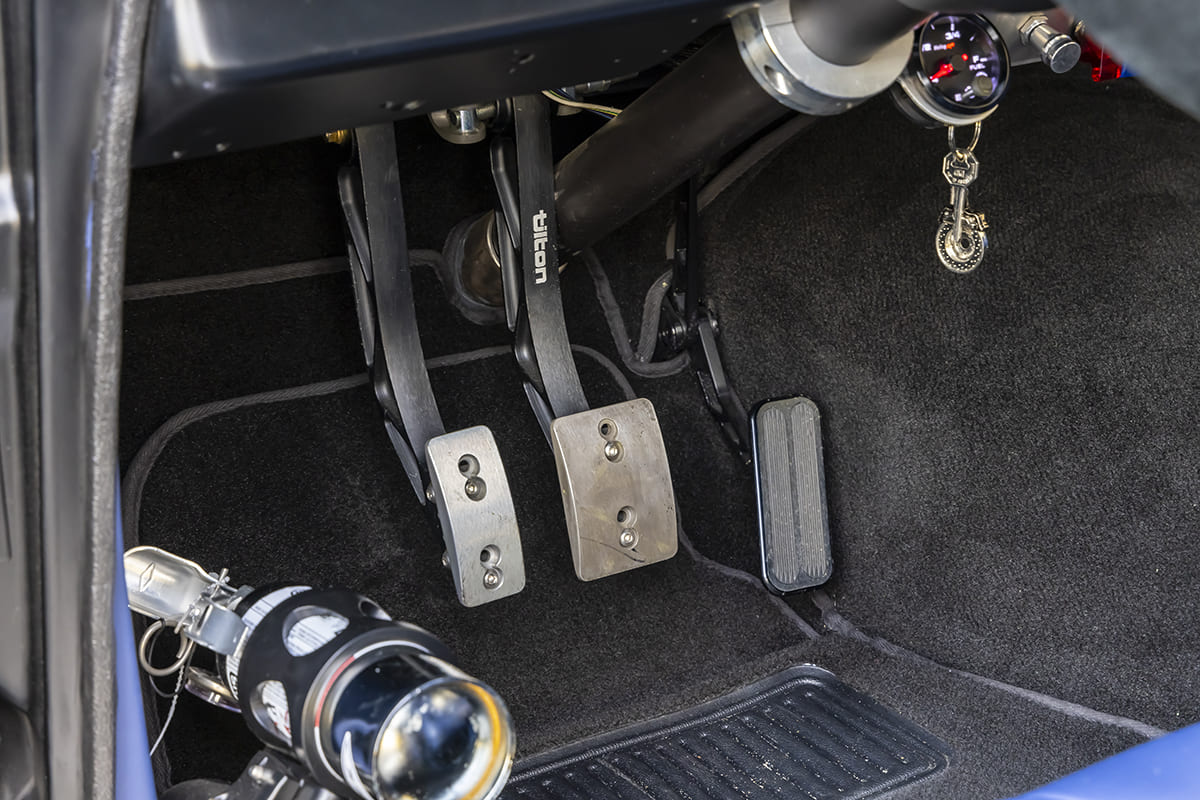 A TREMEC Magnum six-speed transmission backed by a McLeod twin-disc clutch offers prompt high-rpm gear changes and the strength to handle all the havoc Randi can dish out. A G-Force carbon-fiber driveshaft sends the twisting force to a Moser 9-inch housing stuffed with a limited-slip Truetrac, 3.70:1 gears, and 31-spline Moser axles—a stellar combination assembled for aggressive driving on the street, strip, or autocross.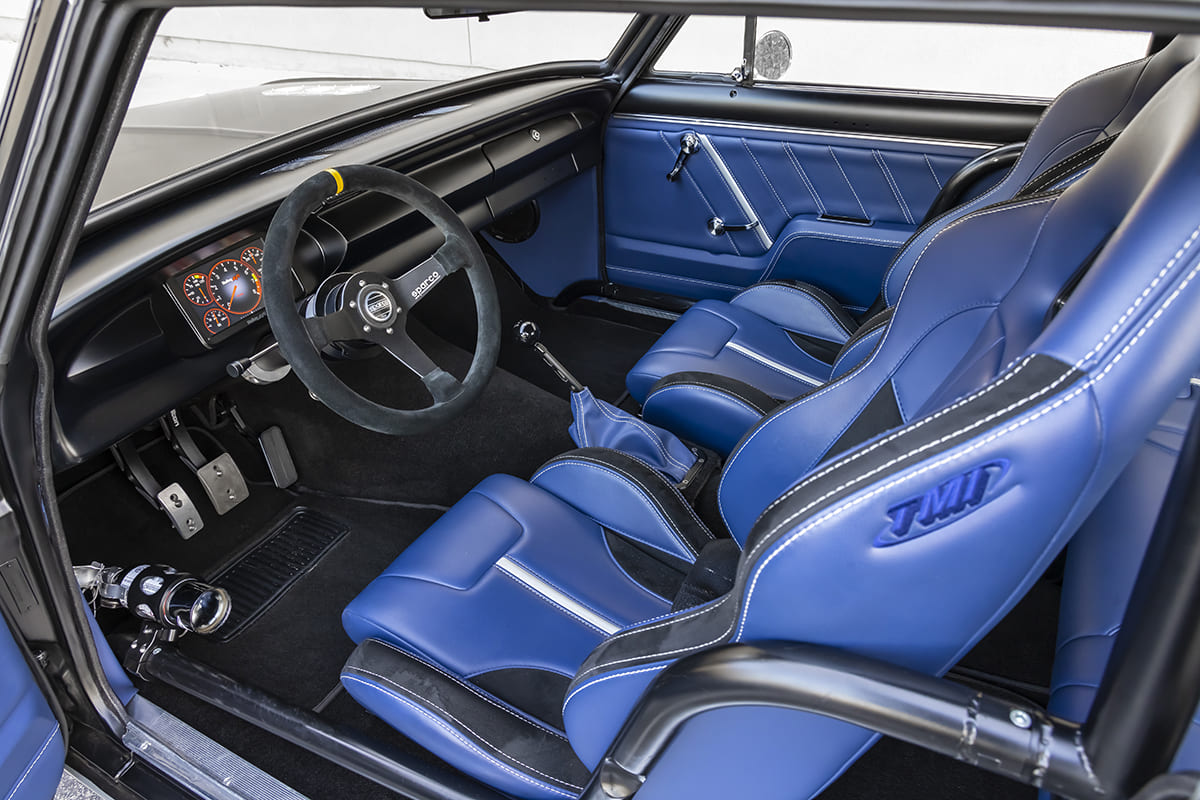 Designed with comfort crossbred with a race-oriented theme, the work station features a well-coordinated color combination of blue and silver upholstery covering the seats and door panels created by TMI. The black carpet sets a sinister tone and jives with the black suede Sparco steering wheel and the custom black dash Jason fabbed up prior to installing the Holley EFI 6.86-inch Standalone Pro Dash. An Art Morrison Enterprises rollcage assures additional safety, along with the G-Force Racing Gear four-point harness. Randi pulls off gear changes via the McLeod shifter and enjoys the cool breeze provided by the Vintage Air A/C system.
Forgoing the typical paint route, Randi chose to go with a silver and black wrap combination installed by SoCal Wraps (Fontana, California) highlighted with pinstriping by well-known SoCal striper Jeff Styles. Randi likes the opportunity of a scene change should she feel like taking the exterior theme in a different direction.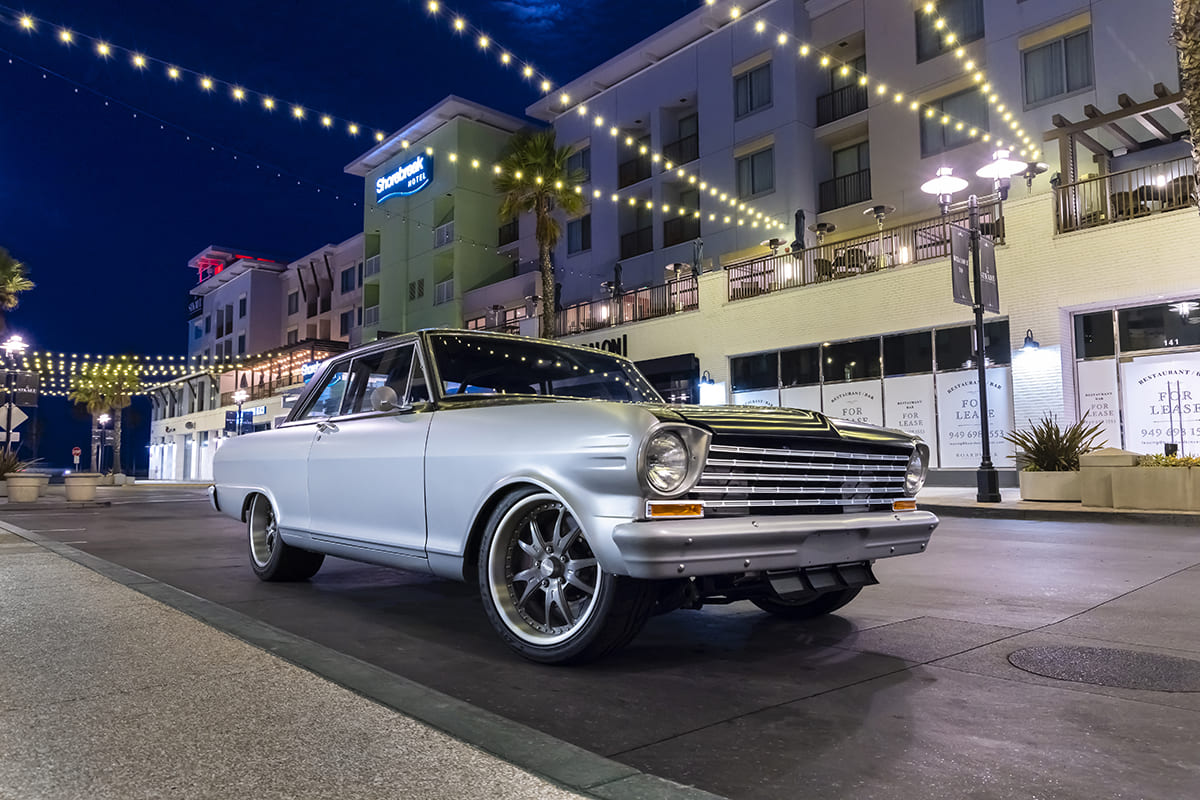 For Randi, the most memorable moments include showing the car at the 2019 SEMA Show in the TMI booth and driving it out to the 2019 LS Fest in Las Vegas. Jason agrees those were great times spent with the car, but one occasion really stands out: "For me, the most special moment was when I handed the keys to Randi and watched her drive it for the first time," Jason smiles. "That, along with Randi and I working on the car together for 13 months, made it worth all the sweat, frustration, and late nights and weekends spent getting this car not only done but done right."
We see Randi driving the Quarantine Cruise and other SoCal events on a regular basis and she shows no signs of slowing down anytime soon. As she likes to say. "I'm a lucky girl."
Yes, you are …
ACP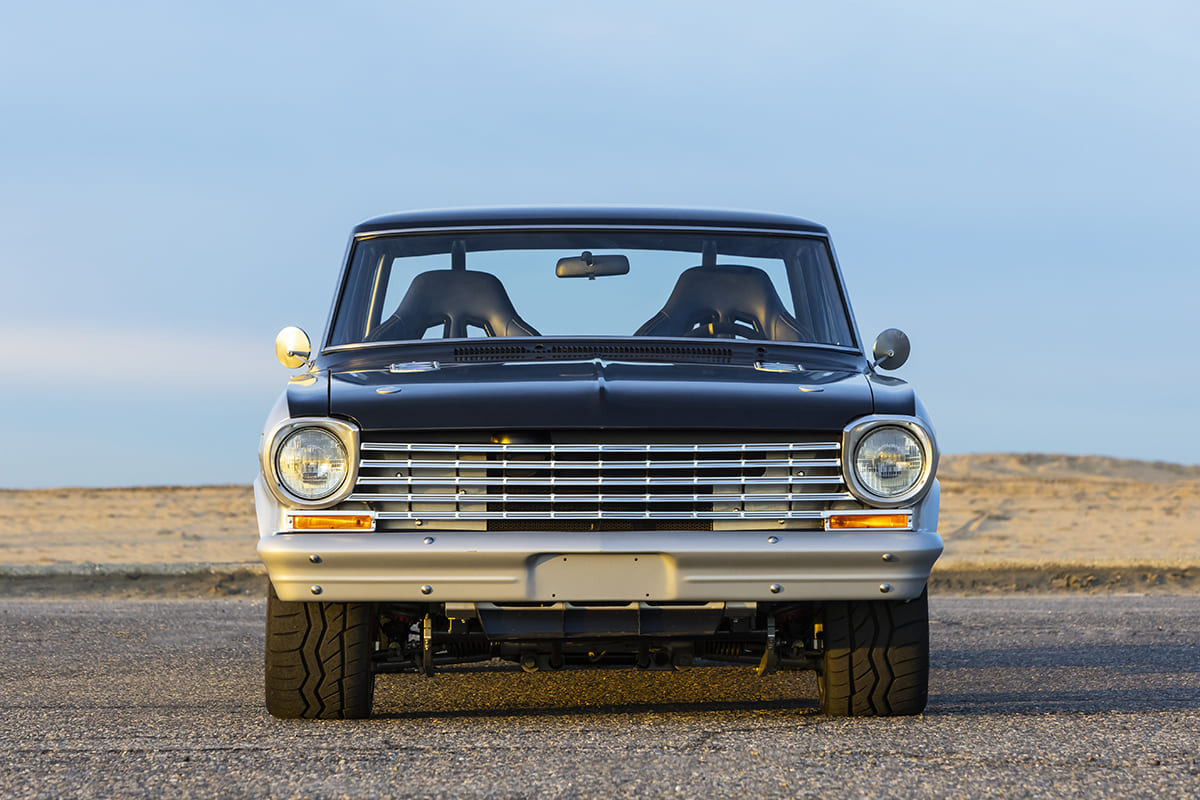 TECH CHECK
Owner: Randi & Jason Scudellari, Huntington Beach, CA
Vehicle: 1963 Chevy II Nova
 
Engine:
Type: Chevrolet Performance LSX376-B8
Displacement: 376 ci
Compression Ratio: 9:1
Bore: 4.070 inches
Stroke: 3.622 inches
Cylinder Heads: RHS
Rotating Assembly: Nodular iron crankshaft, powdered metal connecting rods, hypereutectic aluminum pistons
Valvetrain: Stock GM
Camshaft: Comp LSA (0.614/0.614-inch lift, 227/227 deg. duration at 0.050
Intake: FAST LSXR
Fuel Injection: Holley 75 lb/hr
Induction: Procharger D-1SC supercharger, Holley two-stage water meth kit, Holley Dominator ECU
Coils: FiTech
Assembly: GM
Exhaust: Ultimate Headers 2 7/8-inch, 3-inch PerTronix exhaust, Black Widow mufflers
Ancillaries: Eddie Motorsports eight-rob accessory drive system, U.S. Radiator dual aluminum radiators, Holley valve covers, custom-fabricated air cleaner, ARP fasteners, Eddie Motorsports hood hinges, Holley Sniper EFI tank, Lokar oil dipstick
Output: 878 hp, 748 lb-ft
 
Drivetrain:
Transmission: TREMEC Magnum T56 six-speed
Clutch: McLeod twin disc
Driveshaft: G-Force Performance carbon fiber
Rear Axle: Moser 9-inch, 3.70:1 gears, Truetrac limited slip, 31-spline axles
 
Chassis & Suspension
Chassis: Schwartz Performance G-Machine
Front Suspension: Schwartz spindles, QA1 Mod Series double-adjustable with remote canister, splined sway bar
Rear Suspension: Schwartz Performance triangulated four-link with Teflon-lined spherical rod ends, splined sway bar
Brakes: Baer 14-inch rotors, six-piston calipers front, 13-inch rotors, six-piston calipers rear
Master cylinder: Tilton
 
Wheels & Tires:
Wheels: American Legend Scorpion three-piece, 18×10 front, 18×11 rear
Tires: Falken Azenis RT615K  275/35R18 front, 295/40R18 rear
 
Interior:
Carpet: Black loop carpet
Upholstery: TMI Products blue and silver vinyl/suede, door panels, center console, and seats
Seats: TMI Products
Safety Harness: G-Force Racing Gear four-point harness
Steering: ididit steering column, Summit Racing steering wheel
Shifter Arm and Ball: Lokar Performance Products
Window Cranks: Eddie Motorsports
Dash: Custom Fabricated by Jason Scudellari
Instrumentation: Holley EFI Digital Dash
HVAC: Vintage Air
Rollcage: Art Morrison Enterprises
Gas Pedal: Lokar Performance Products
 
Exterior:
Bodywork: Justin Smith
Body Mods: Shaved driprails, filled seams
Wrap: Black and silver by SoCal Wraps (Fontana, CA)
Pinstriping: Jeff Styles
Headlights and Taillights: Classic Industries
Glass: Classic Industries
Door Handles: Eddie Motorsports
Hood: Golden Star, custom hood vents by Jason Scudellari
Grille: Classic Industries
Bumpers: Classic Industries