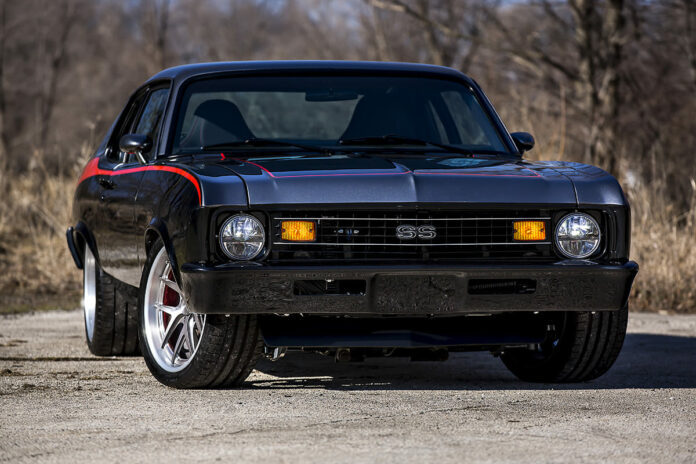 Henry Shelton's 1974 Nova Takes a Road Less Traveled
By Nick Licata – Photography by Dominick Damato
"I've always liked doing things my way. I've been like that throughout my entire life," Henry Shelton states. "When it comes to muscle cars, most of my friends have old Chevelles, but I wanted to build something different, which is why I built this 1974 Nova. It's not even considered the most desirable year in the Nova world, but I just dig the look of this particular model. I guess it goes back to wanting to build something a little different from everyone else."
For Henry, the muscle car itch began way back in 1986 when he was just 18 years old. A neighbor of his owned a Candy Apple Red Nova–it was loud and it was mean. That car became the motive for Henry wanting a car just like it. The sound and looks of that car scarred his brain–he couldn't let it go.
Fast-forward to 2016 when Henry bought this 1974 Nova. Finally, he had the car he'd always wanted. It was restored and was fine for a while, but Henry wanted more. "It had a small-block and the interior had been redone," Henry explains. "But it was an old restoration and I wanted to take the car into a more modern direction; besides I was getting tired of having my ass kicked by my buddies who had LS engines in their rides."
All that ass-kicking triggered Henry to up the game in his Nova–it was time to bring the car to the next level. He networked and he researched, he spoke with fellow gearheads on both coasts. All that information led him to Schwartz Performance in Woodstock, Illinois, just an hour from his home on the west side of Chicago. "Through all my research, I found out Schwartz Performance was a highly sought after shop that performs top-quality muscle car builds," Henry notes. "I've heard only good things about their chassis and car-building skills, besides it's only about an hour drive, so it would be easy jump in my car and check out the progress on my car."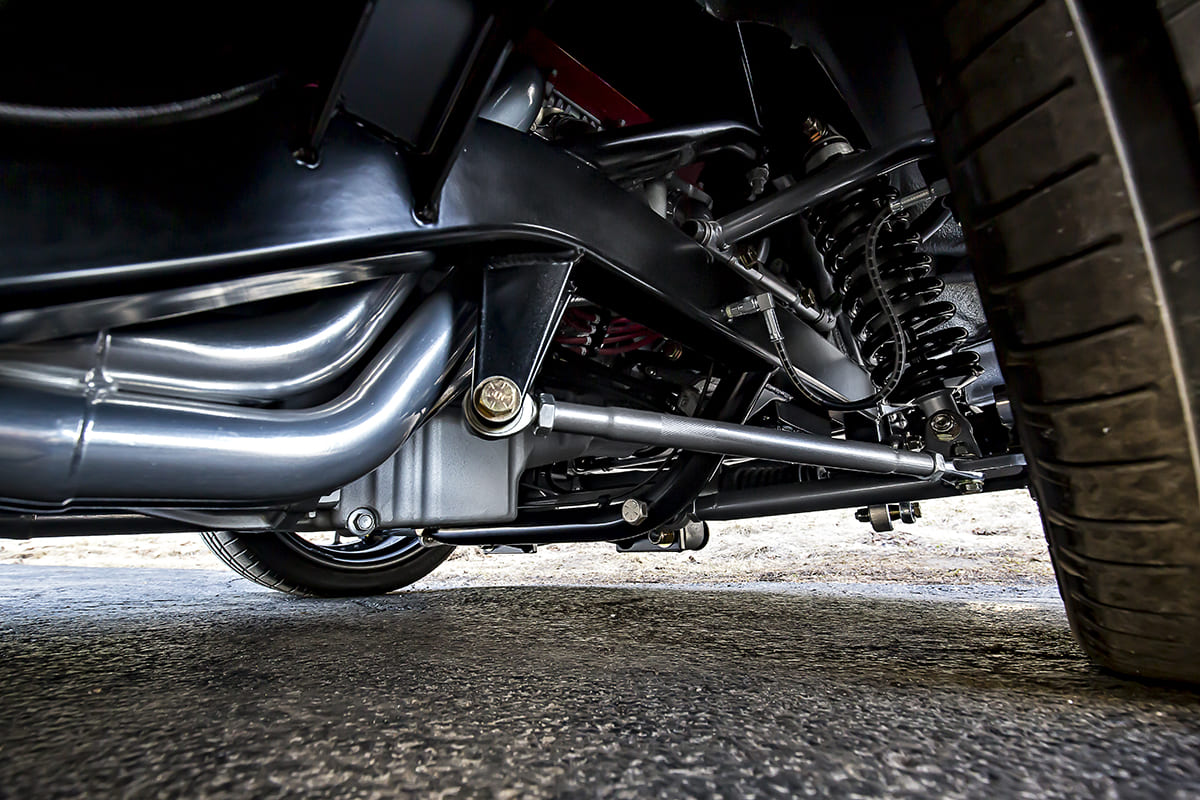 With the Nova in the able hands of the Schwartz crew, they got busy. They started with the car's handling ability, or lack of it, and bolted up a Schwartz Performance G-Machine chassis armed with a Moser full-floater rearend outfitted with a limited slip differential, 3.70 gears, and Moser 31-spline axles. Ridetech single-adjustable shocks and 300-pound springs reside out back and employ a ¾-inch sway bar to keep body roll to a minimum. Up front, Ridetech single-adjustable shocks and 500-pound springs ride between the Schwartz upper A-arm and lower strut bar. A Schwartz 1.25-inch hollow sway bar provides enhanced rigidness for efficient cornering. Schwartz spindles establish the proper ride height, and the Schwartz rack-and-pinion ensure accurate and quick steering to accommodate Henry's aggressive driving style.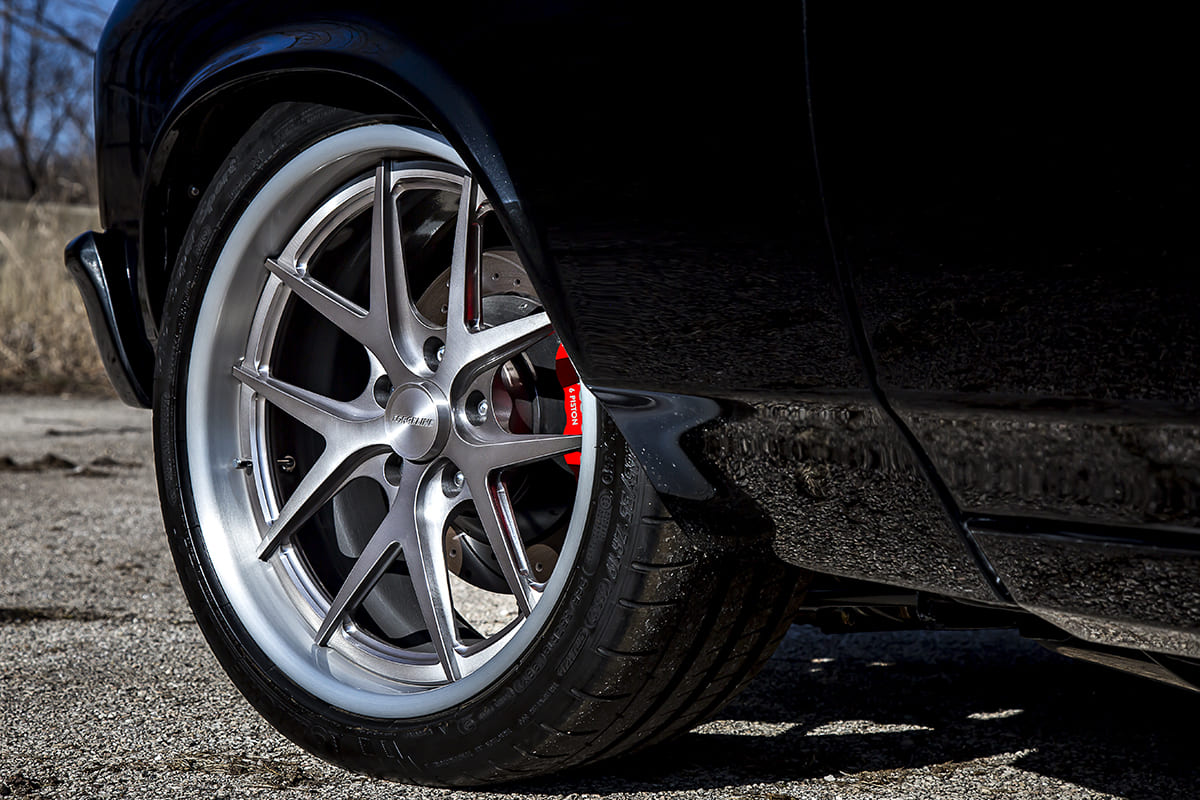 The stopping chores were handed over to Wilwood Disc Brakes on all four corners; starting with 12.88-inch rotors and six-piston calipers up front and 12-inch rotors and four-piston calipers out back. That Wilwood brake booster provides Henry with a smooth, consistent pedal feel while the Wilwood proportioning valve confirms the task is disbursed accurately between the front and rear binders.
It's common knowledge that the wheels and stance are everything when it comes to getting the right look of a vintage muscle car. It's a make or break deal. So, with the stance nailed, Henry knew a set of Forgeline VX3C Concave wheels would complete the look and provide the performance he desired. To accept the wide rubber, 18×9 and 18×12 hoops accommodate the quartet of Michelin Pilot Super Sport rubber (255/35R18, 335/30R18).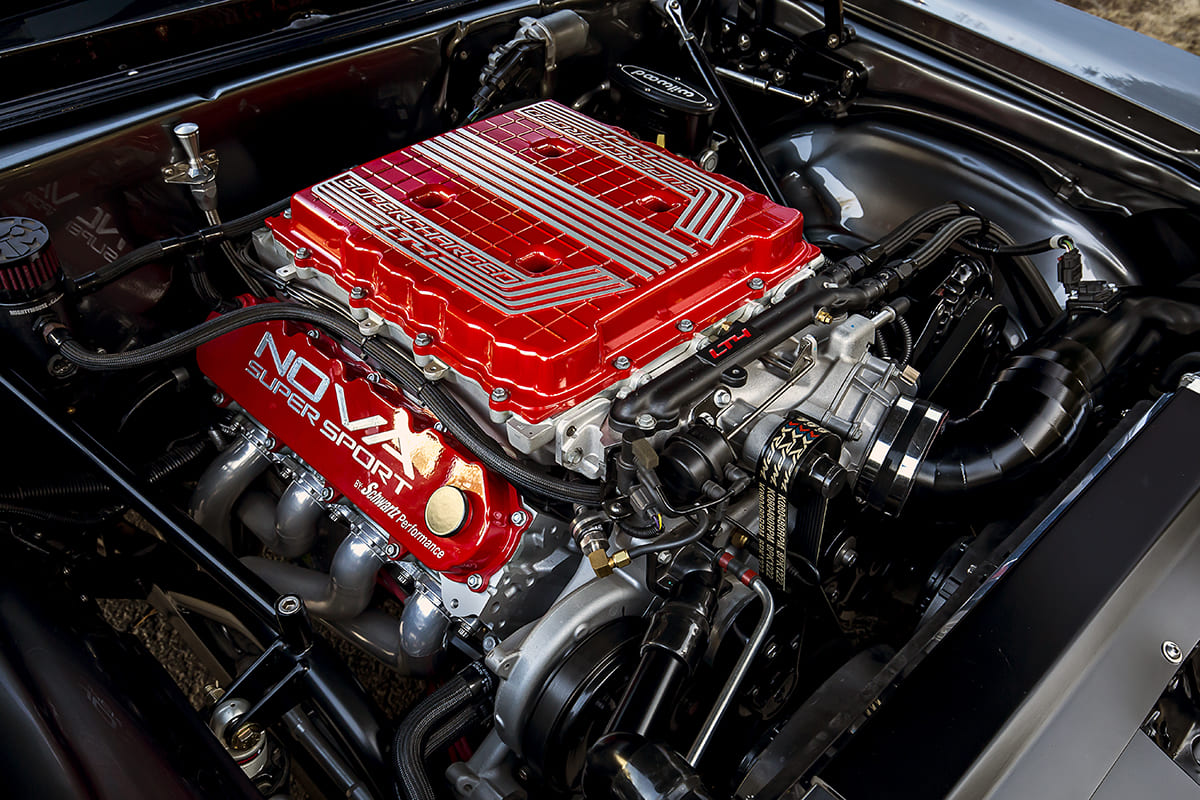 With the car now fitted with a modern suspension and brakes, Henry headed over to Chevrolet Performance for an LT4 engine equipped with enough power to put his buddies in the dust and to challenge the Nova's updated suspension. The stock LT sends waste through a set of custom-built Schwartz 1 3/4-inch headers and 3-inch stainless custom exhaust topped with MagnaFlow mufflers. For additional style, the mill is dressed with Schwartz one-off billet valve covers painted to match the red powdercoated blower top. A black powdercoated Drive Junky serpentine system keeps the accessories in motion and ties in with the black Ringbrothers hood hinges.
In order to handle the 650 hp of supercharged goodness, Advantage Transmission (Woodstock, Illinois) beefed up a 4L65E trans and dialed it all in with a Midwest Converters 2,500-stall converter.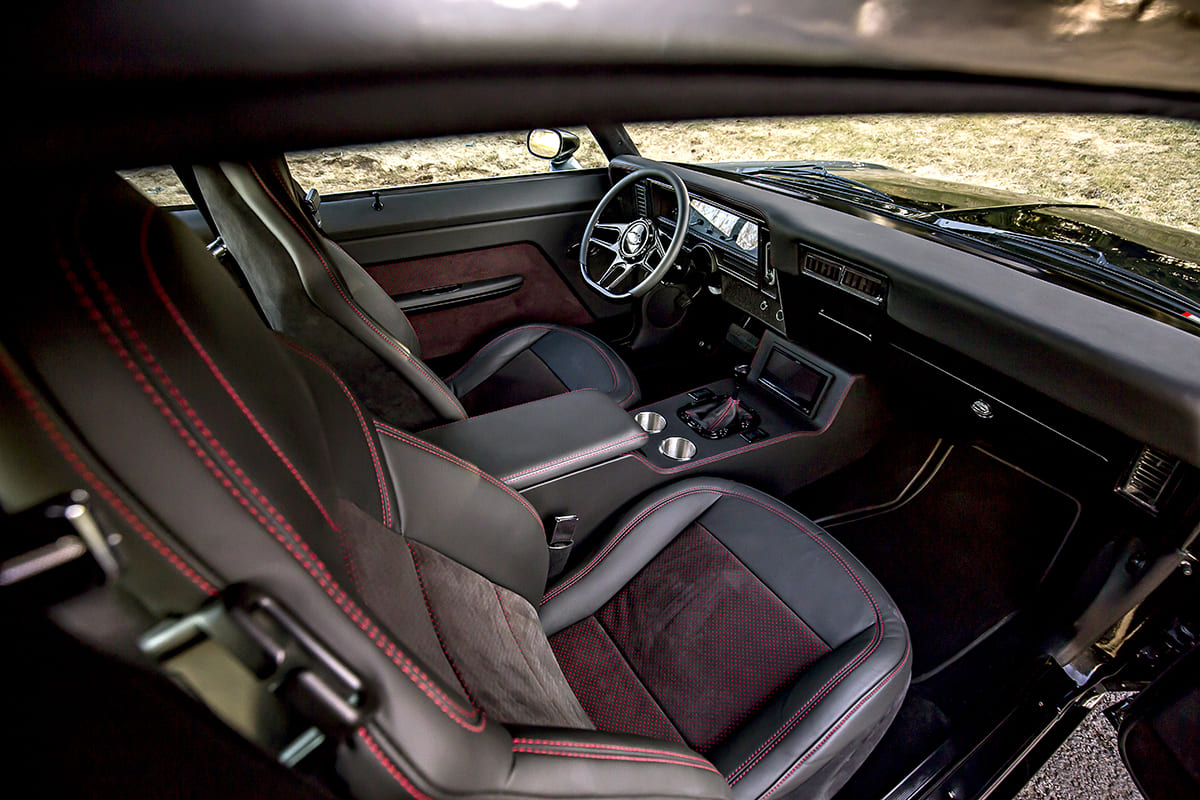 Cassin Customizing (Woodstock) took charge of the upholstery. They made their mark on the custom interior—an all-black custom scene that starts with the German velour carpet, which jibes with the custom-upholstered leather and Alcantara 2016 Corvette seats. The theme carries on to the custom door panels, leather-wrapped dash, and center console—all garnished with red stitching for a tasteful setting. Schwartz Performance whittled up a custom dash then populated it with Dakota Digital dials and Vintage Air A/C control panel. A Kenwood Excelon head unit resides in the custom center console sitting just north of the black Lokar shifter assembly. The black Billet Specialties steering wheel and Flaming River steering column comply with interior motif. With the windows up and Vintage Air A/C on full send, Henry cranks the tunes through the robust Hertz speaker system for the ultimate driving experience.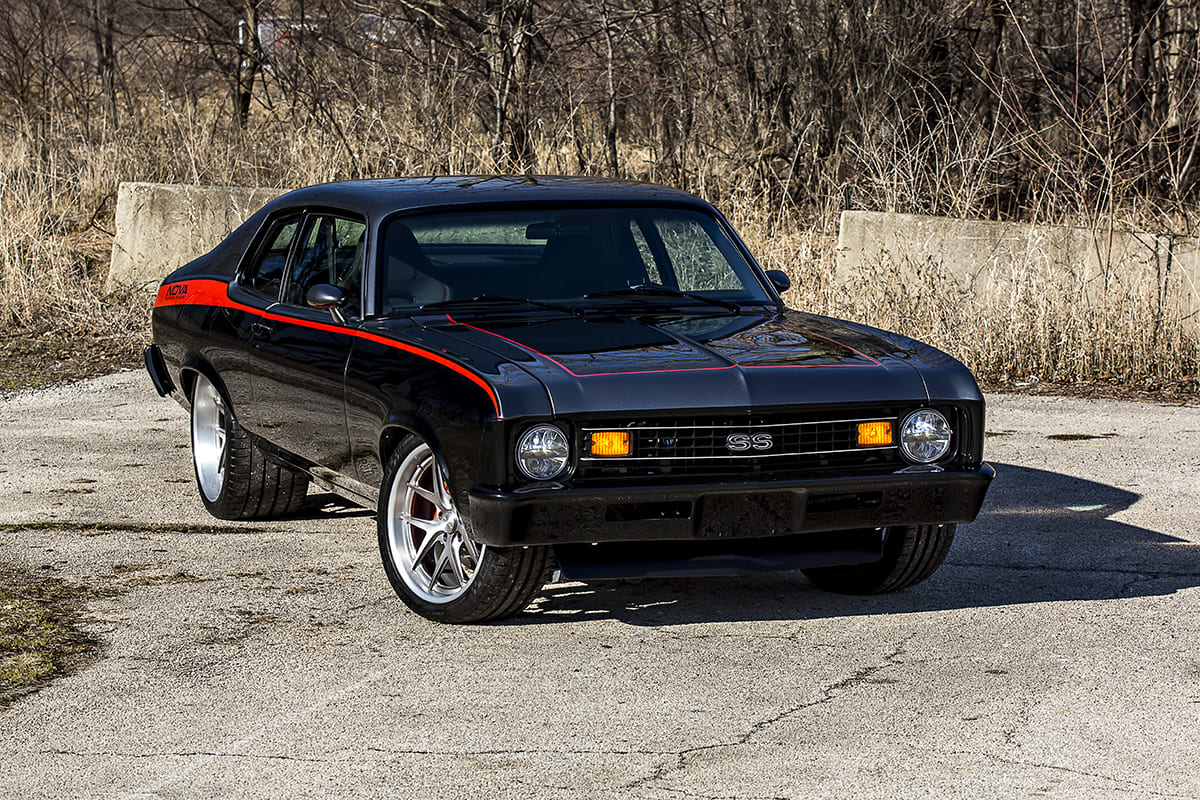 When laying down black paint, the bodywork process mandates a no-nonsense approach, as any subtle blemish becomes an overly pronounced miscue, but the Schwartz crew were up for the challenge and hyper-smoothed the sheetmetal prior to spraying the PPG black vibe. The red stripe and graphic applied by Eby Graphics (Crystal Lake, Illinois) on the beltline provides a sporty theme and separates the black pigment from the gray, which carries onto the upper portion of the quarter-panels and continues onto the roof, trunk, and hood. The unique combination assures this Nova contains a personality all its own. Subtle nuances include the front bumper fitted and tucked, GM Sport mirrors, and Ringbrothers door handles. The freshly painted black grille presents a consistent ominous look.
It was a two-year process that Henry says was well worth the wait. "The car looks absolutely beautiful and the LT engine is a total badass," Henry states. "The car is more than I could ask for. It's a little different and gets a lot of attention when I drive through downtown Chicago. But most importantly, I can keep up and even blow away most of my Chevelle buddies. That right there makes it even more worthwhile."
We get it Henry. Being different is good, but being different and fast is even better.
ACP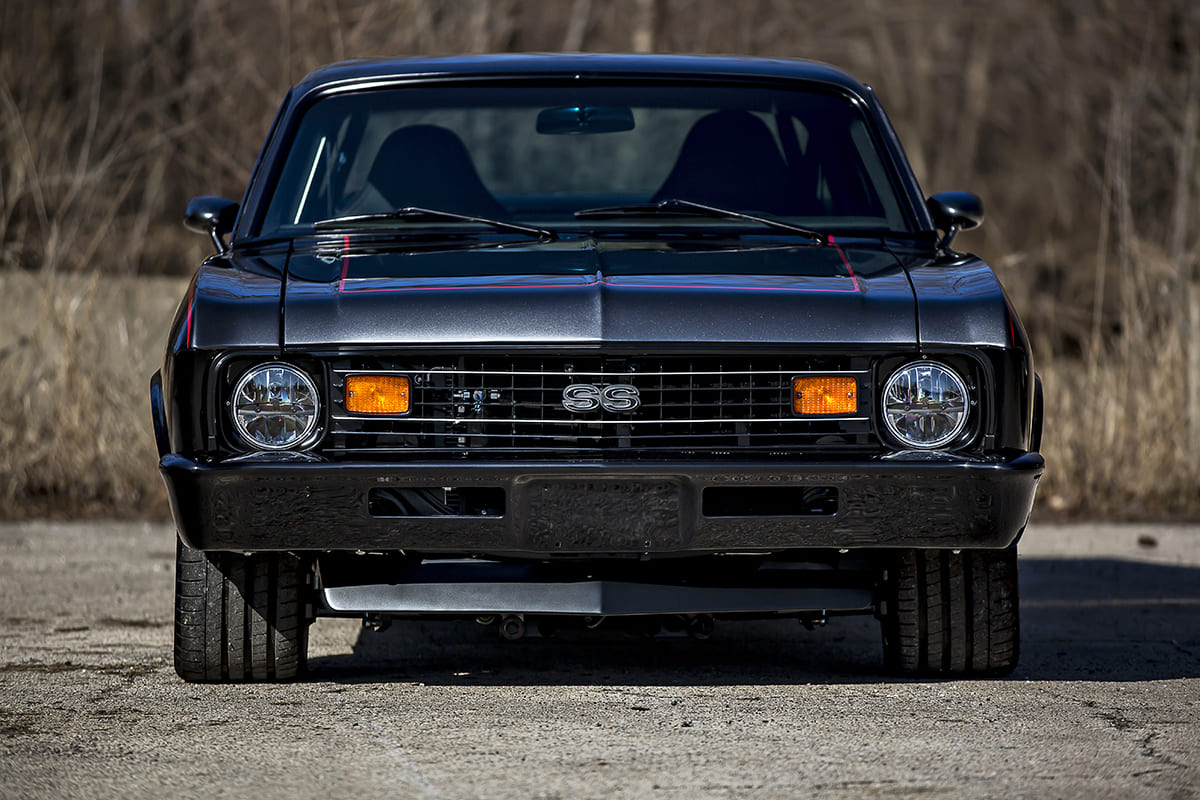 TECH CHECK
Owner: Henry Shelton, Chicago, Illinois
Vehicle: 1974 Chevy Nova
Engine:
Type: Chevrolet LT4
Block: Cast aluminum with six-bolt nodular iron main bearing caps
Displacement: 376 ci
Compression Ratio: 10.0:1
Bore: 4.065 inches
Stroke: 3.622 inches
Cylinder Heads: A356-T6 rotocast aluminum; as-cast with 65.5cc chambers
Rotating Assembly: Forged crankshaft, forged powdered-metal steel connecting rods, forged aluminum pistons
Valvetrain: Stock GM LT4
Camshaft: Hydraulic roller (0.492/0.551-inch lift, 189/223 deg. duration at 0.050)
Induction: 1.7L Eaton R1740 TVS Supercharger
Assembly: GM
Exhaust: Schwartz Performance 1-3/4-inch headers, Schwartz 3-inch 304 stainless exhaust, MagnaFlow mufflers
Ancillaries: Drive Junky accessory drive system, Schwartz Performance billet valve covers, K&N filter, MSD wires, Ringbrothers hood hinges, American Autowire wiring harness
Output: 650 hp at 6,400 rpm, 650 lb-ft at 3,600 rpm
Drivetrain:
Transmission: GM 4L65E by Advantage Transmission (Woodstock)
Rear Axle: Moser 9-inch full floater, limited-slip Tru Trac differential, 3.70 gears, Moser 31-spline axles
Chassis:
Chassis: Schwartz Performance G-Machine full frame
Front Suspension: Schwartz Performance spindles, Schwartz A-arms with lower strut bar, Schwartz 1.25-inch hollow sway bar, Ridetech single-adjustable shocks, 500-pound springs
Rear Suspension: Schwartz triangulate four-link, ¾-inch Schwartz sway bar, Ridetech single-adjustable shocks, 300-pound springs
Brakes: Wilwood 12.88-inch rotors, six-piston calipers front, Wilwood 12-inch rotors, four-piston calipers rear; Wilwood master cylinder and proportioning valve
Wheels:
Wheels: Forgeline VX3C Concave; 18×9 front, 18×12 rear
Tires: Michelin Pilot Super Sport; 255/35R18 front, 335/30R18 rear
Interior:
Upholstery: Custom by Cassin Customizing (Woodstock)
Carpet: German Velour
Insulation: HushMat
Seats: 2016 Corvette leather with red stitching
Seatbelts: Seatbelt Planet (Edmond, OK)
Steering: Flaming River column, Billet Specialties steering wheel
Shifter: Lokar, Lokar shifter boot ring
Pedals: Clayton Machine Works
Dash: Stock dashpad leather-wrapped with red stitching
Instrumentation: Dakota Digital
Door Panels: Custom leather and Alcantara with red stitching
Door Handles: Lokar
HVAC: Vintage Air
Stereo Installation: Schwartz Performance
Head Unit: Kenwood Excelon
Speakers: Hertz
Exterior:
Bodywork and Paint: Schwartz Performance
Paint: PPG black, PPG bray
Graphics: Red stripe graphic by Eby Graphics (Crystal Lake, IL)
Outside Mirrors: GM Sport mirrors
Hood: Dynacorn
Grille: Stock-painted black
Bumpers: OER 1970 fitted and tucked front, stock rear
Headlights: LED
Taillights: LED