Tom Eckholdt's 1966 Nova Carries Some Old-School Innovation
By Nick Licata – Photography by Wes Allison
There are many avenues one can travel to find the road to hot rodding. The typical path happens in one's formative years—not grade-school age, but more so the high school years—the time when the cranium awakens to the sound of a V-8 as it violates the brain and is readily accepted by the heart. Yeah, it sounds medically complicated but it's really quite simple. Gearheads respond to the sound of horsepower, while others consider the rumble an outright annoyance. Tom Eckholdt is one of those who responds. The retired machine shop owner has been that way his whole life and remembers sneaking in Car Craft, Rod & Custom, Honk!, Hop Up, and pretty much all the "little" mags into his high school classes. Hiding hot rod magazines between the pages of schoolbooks is today's equivalent of playing video games on a cell phone during history class.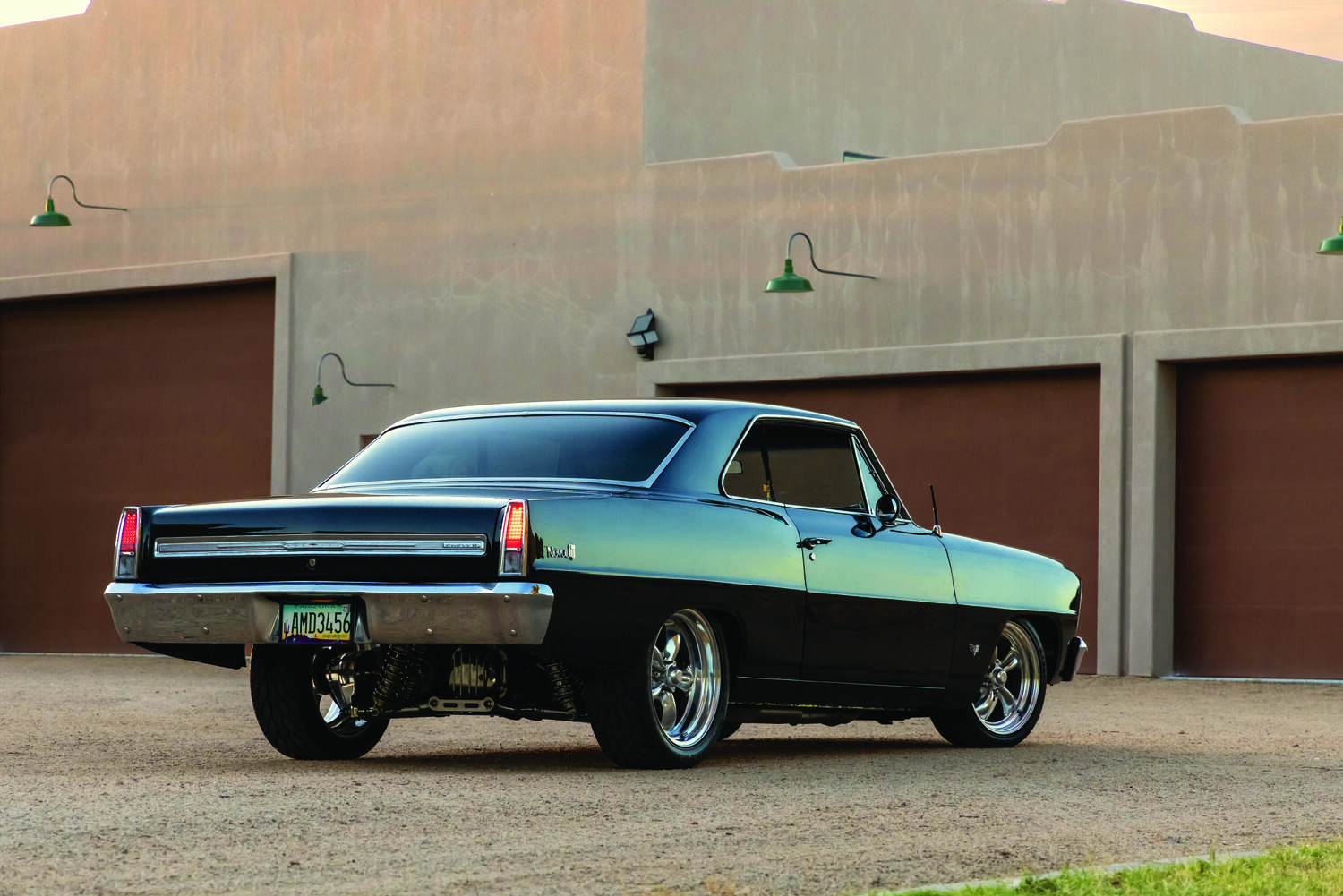 Tom recalls his buddy, Dave, purchasing a 1966 L79 Nova back in the mid '60s–a supercool car in which Tom took part in the hot-rodding process. Dave and Tom upgraded the car with Hurst linkage, 4:88 gears, ladder bars, headers, mag wheels, and a steering column–mounted tach. Ultimately, a Rochester injection system was added as well—you know, all the stuff gearheads did back in the '60s when buying a newish car. To a young hot rodder, leaving a car stock was not an option. As Tom tells, "That car left a long-lasting impression on me, so when this 1966 Nova came up for sale, I was all over it with the idea of building a loose replica of Dave's car from back in the day."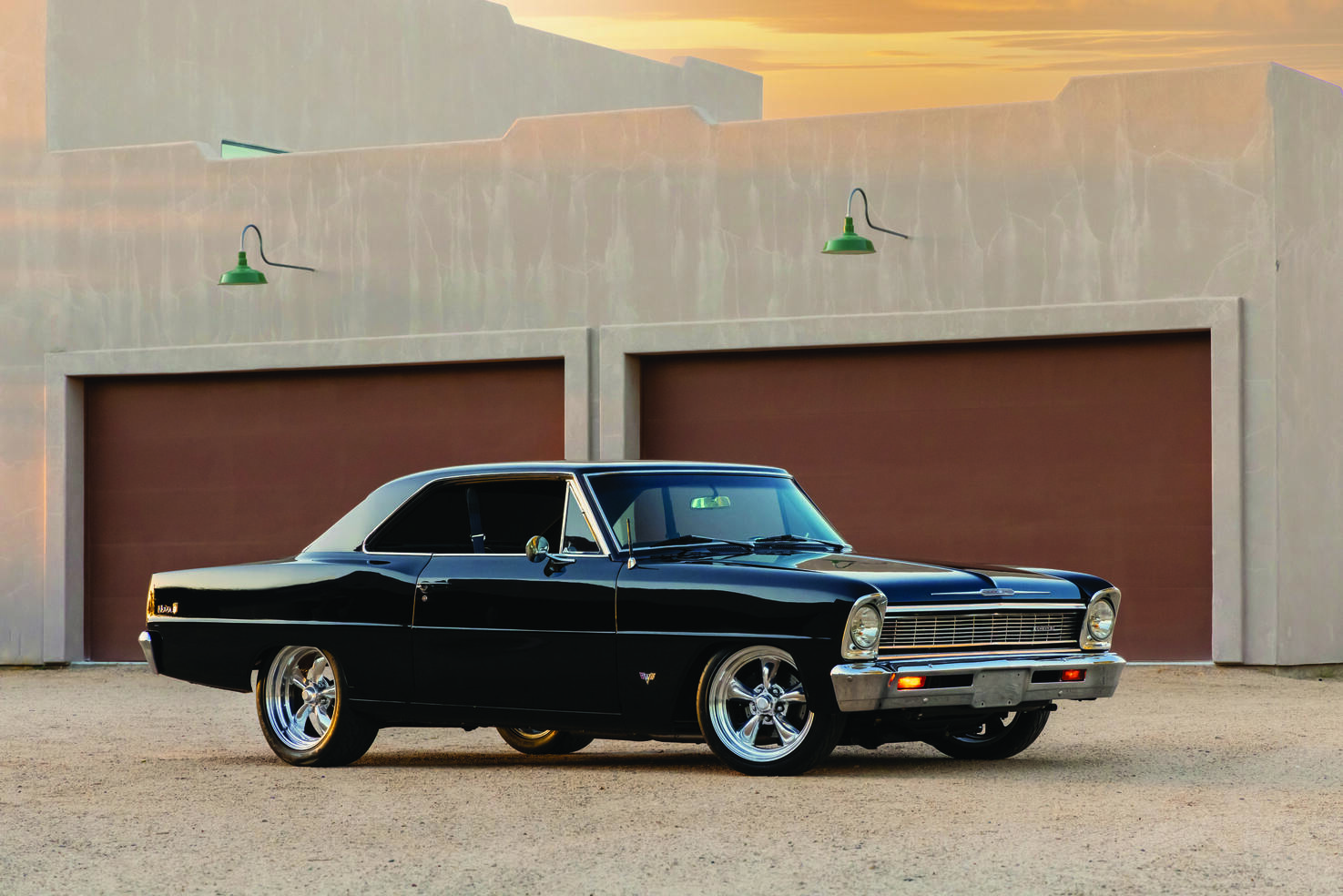 Kurt Schieder did most of the work, but medical issues forced him to sell the car. Tom pretty much left the exterior alone as it was already done right. The engine is where Tom got busy. He went back to the days of his buddy's Nova and that Rochester injection system. Tom loved that look–couldn't let it go, so he modified the Ramjet injection to appear as an old-school Rochester piece. How did he do it? We'll let Tom tell how it all went down. "I had the top cast from a local foundry, I cast some of the fuel meter parts, I welded and machined a fake fuel meter, and hid the wiring inside the side covers. I duplicated the exact dimensions from an original Rochester, built a fake air cleaner that is open on the bottom with a K&N filter, modified the Vortec head center bolt heads to accept the Corvette valve covers, welded the oil filter bug in to accept an early oil filler tube, moved the air meter from the front to the side, made the throttle linkage, and put a sheet aluminum cover over the original housing, which hides the injector wiring." All those years as a machinist provided Tom the knowledge and skills to recreate a look he so fondly remembers.
Beyond that, the small-block is basically stock and breathes through a set of Hooker headers, 2.5-inch custom exhaust, and set of 40 series Flowmaster mufflers to the tune of about 350 hp. But this car wasn't about big power–it's more a reflection of a car that won him over about 50 years ago.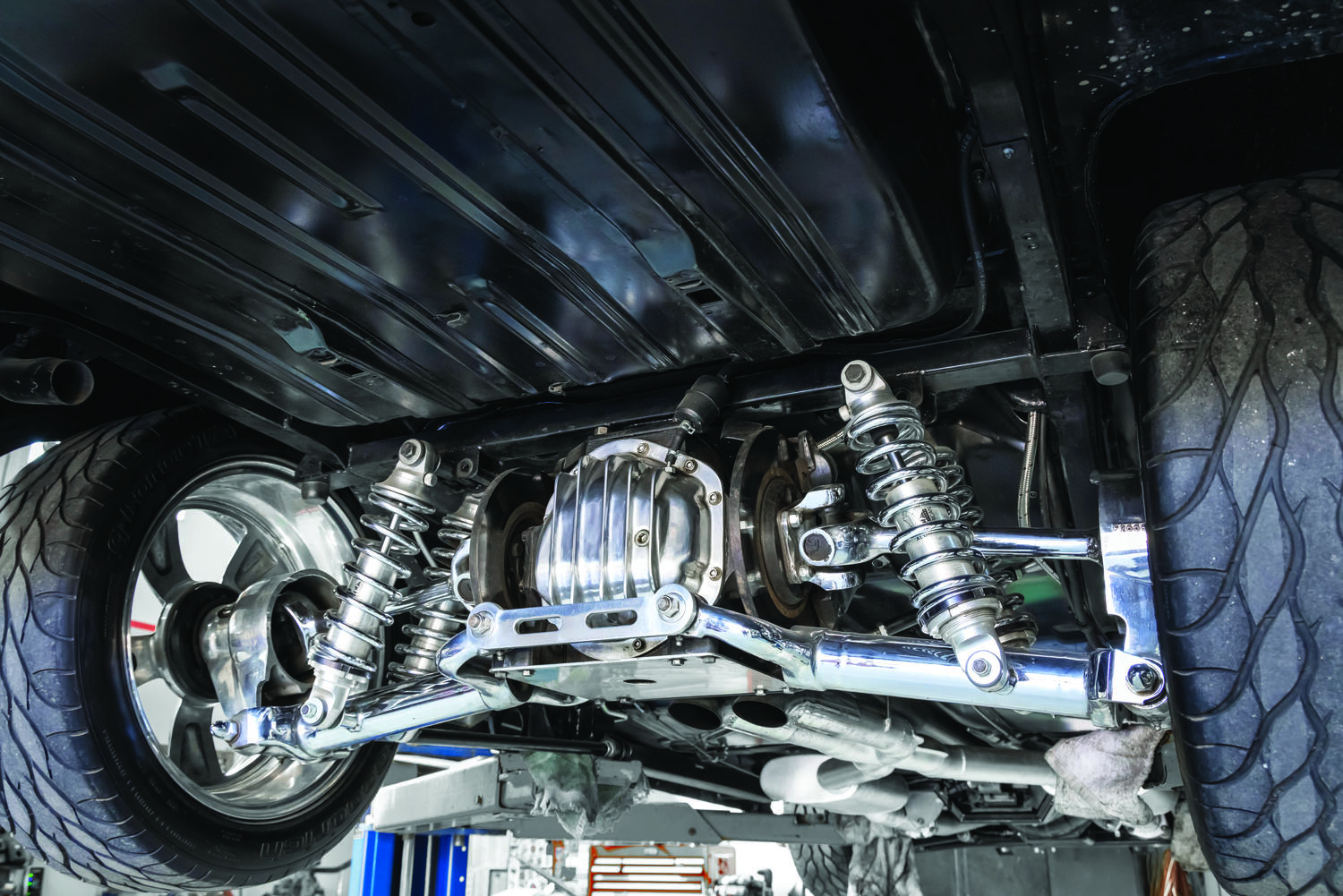 Reaching into the old-school bag of tricks, the car relies on a Jaguar independent rearend just like so many hot rodders did back in the day. A quad set of Aldan American coilovers ensure a modern ride that offers a combination of performance and comfort. Up front is a TCI subframe with GM spindles and Aldan coilovers to complete the premium driving experience. A set of subframe connectors tie it all together.
JFZ brakes take care of stopping duties out back while GM 11-inch rotors and four-piston calipers handle business up front.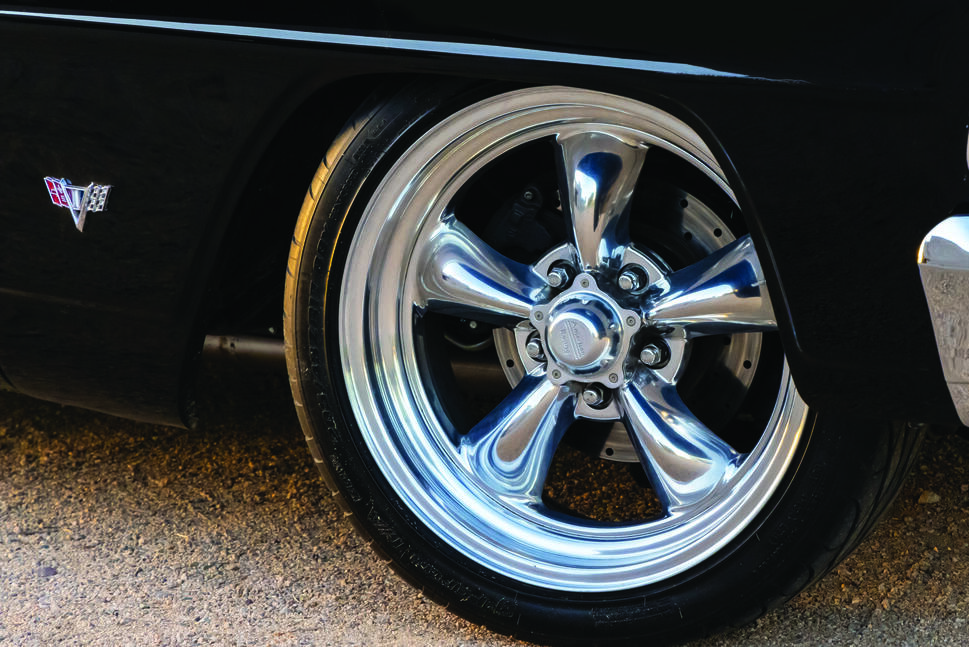 To keep with the vintage '60s style, a set of American Racing Torq Thrust IIs ride on all four corners (17×7 front, 18×7 rear) wrapped in BFGoodrich g-Force rubber (205/45R17 front, 245/45R18 rear). It's a time-honored method that stays true to the car's pedigree.
Shifting duties come by way of an '80s vintage T5 World Class five-speed transmission backed up with a Centerforce clutch.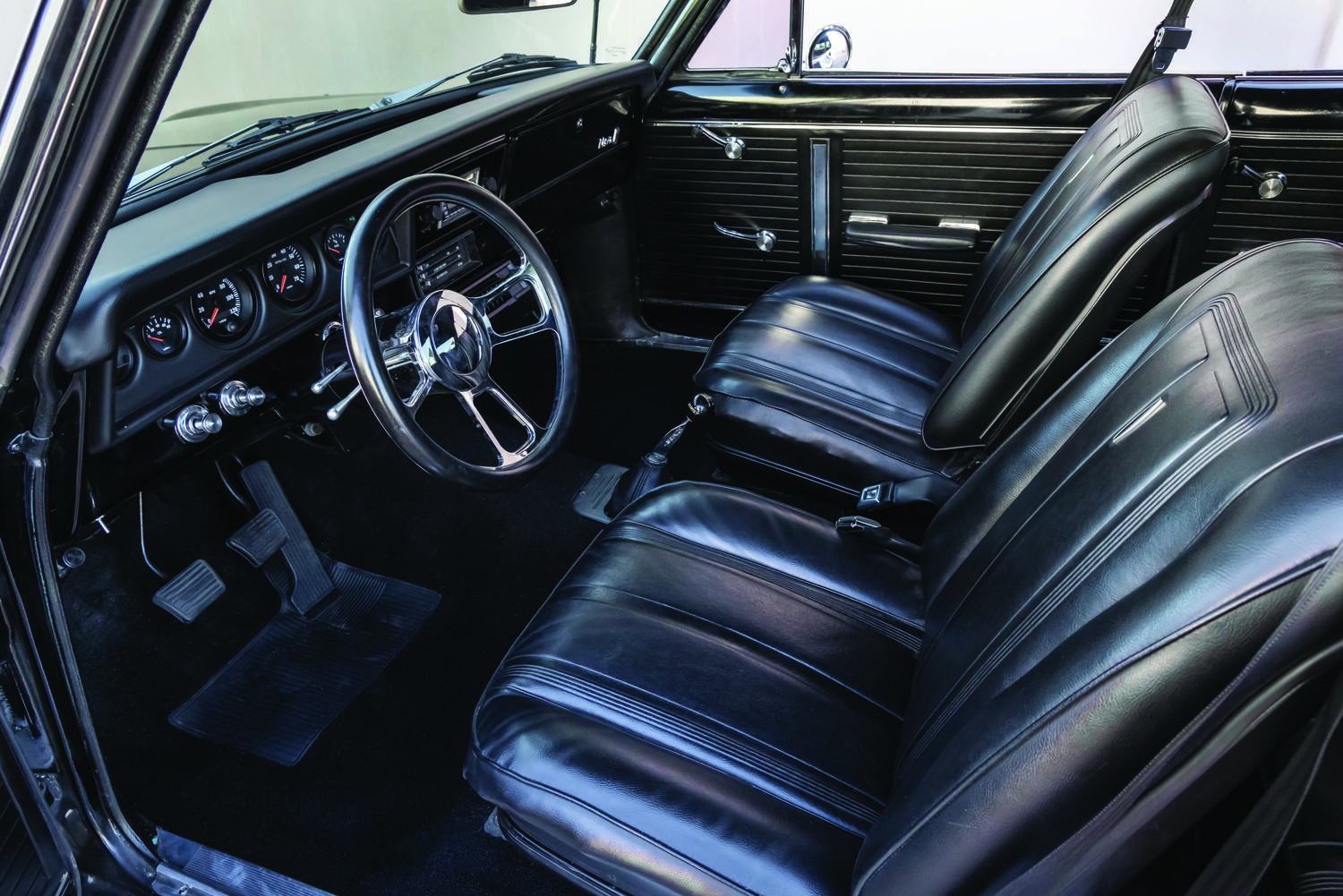 Touring the inside reveals more time-period correctness with stock-appearing bits, including the black loop carpet, door panels, and black vinyl-covered bucket seats. The stock dash made way for modern VDO gauges perched inside the VDO insert and a Billet Specialties steering wheel adds some pizazz, doing little to dilute the classic scene while the Hurst shifter continues the old-school performance notion.
The car was painted prior to Tom taking ownership, but the photos reveal stellar bodywork was performed in a way that conceals any notion of imperfections along the Nova's fluid, black shell.
Tom's had and continues to relish great experiences with the car and enjoys what he calls its go-kart-handling ability. "But when the hood's open at car shows and people look at what they think is a true Corvette injection system that's the biggest compliment, Tom tells. "I put a lot of work into the process of getting the Ram Jet EFI to work properly while employing the illusion of a functioning Rochester. What that said, it's well worth the reactions when I tell them what it really is."
It's common for anyone who puts a good amount of sweat equity into a car to rethink the process and do something just a little differently, but Tom sticks to his guns and said if he had the chance to do it all over again, he wouldn't change a thing.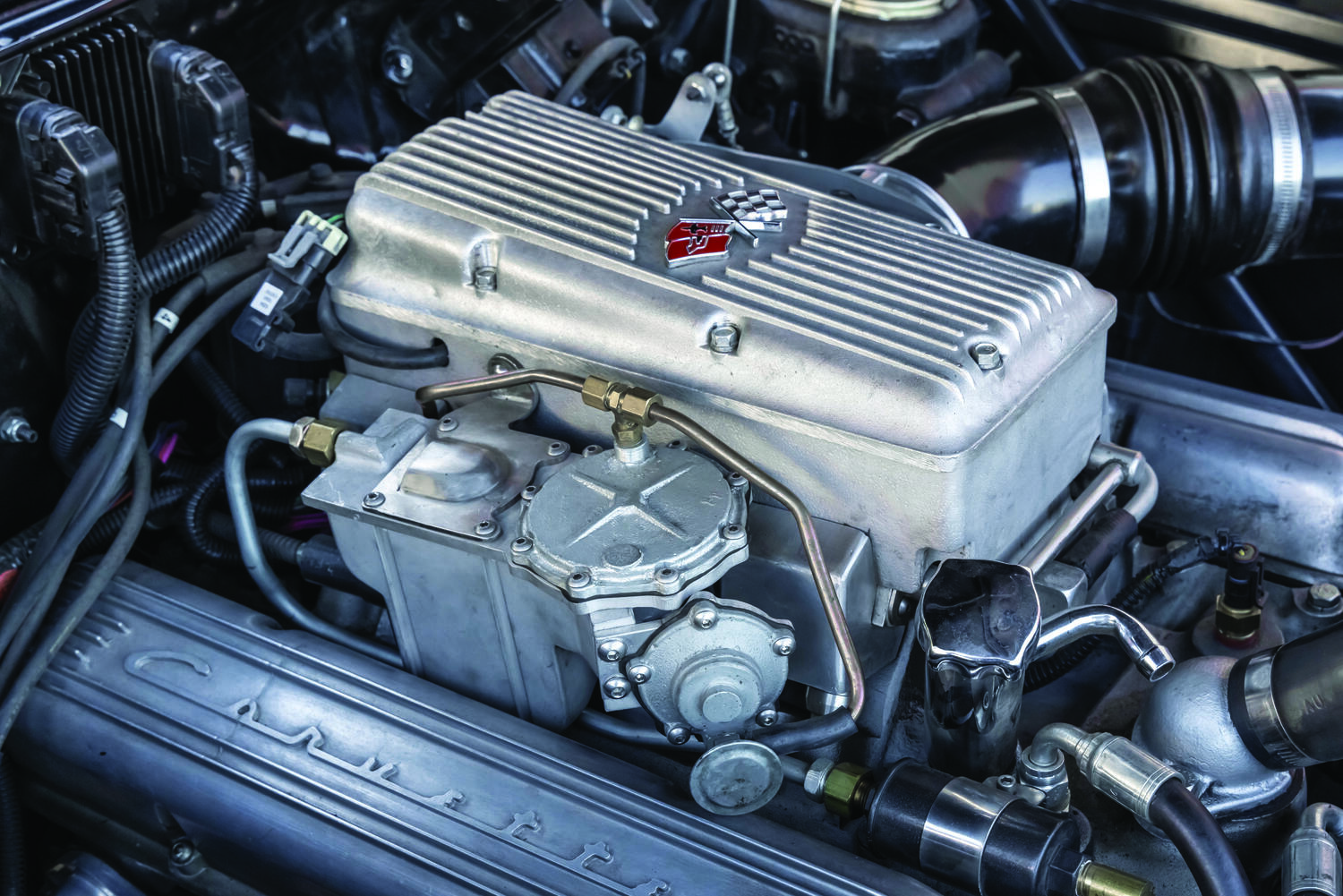 With so many builds emulating a familiar tone underhood, it's refreshing when someone comes along and takes a totally different lane when it comes to building a garden variety small-block and gives it an appearance of something more with an array of innovation that takes a car back in time. In this case it's an era in which Tom has so many fond memories.
ACP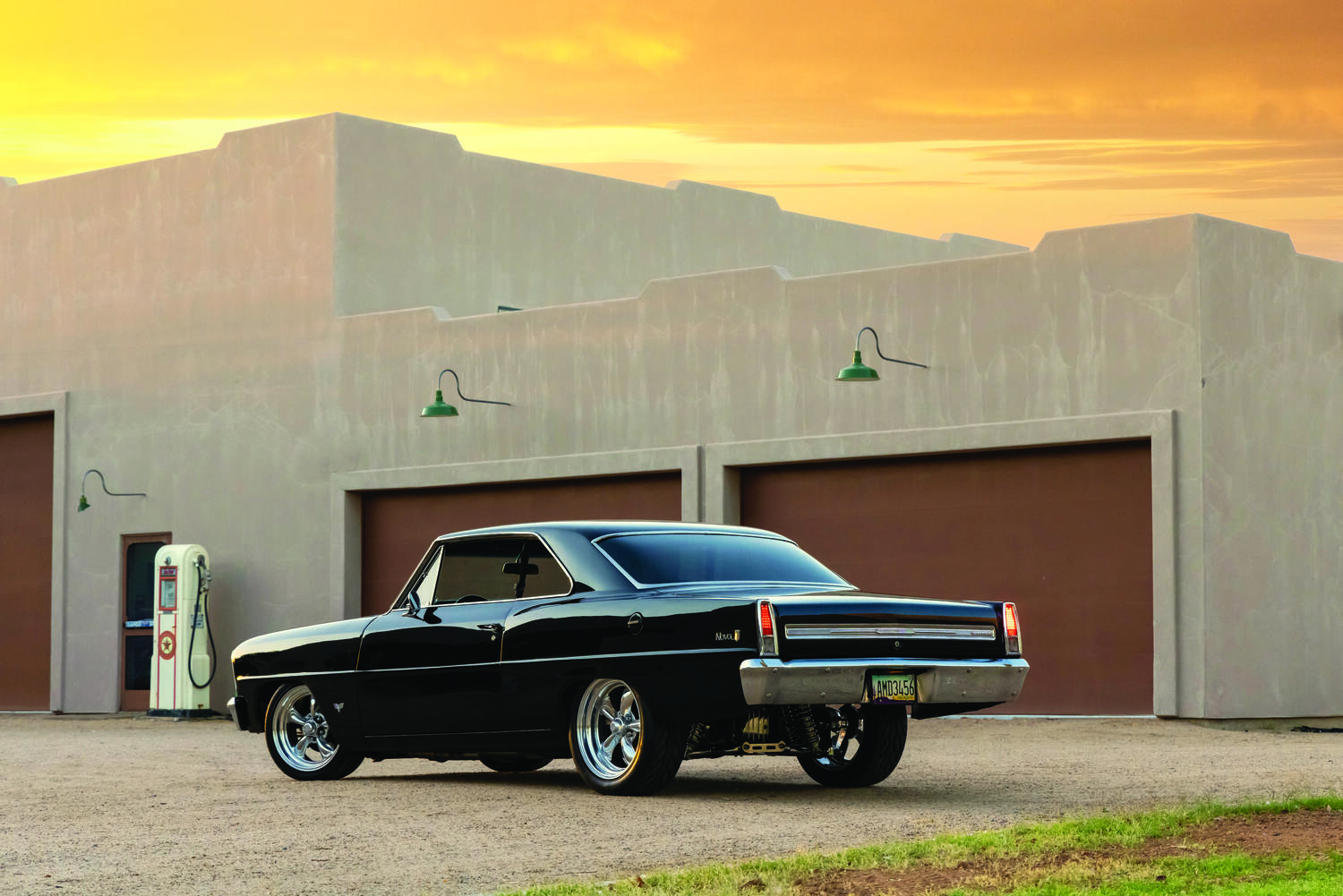 TECH CHECK
Owner: Tom Eckholdt, Gilbert, Arizona
Vehicle: 1966 Chevy Nova
Engine
Type: GM Vortec
Displacement: 350 ci
Cylinder Heads: Stock, modified to fit early Corvette valve covers
Rotating Assembly: Stock
Induction: Ram Jet injection highly modified to appear as vintage Rochester injection
Exhaust: Hooker headers, 2.5-inch stainless, Flowmaster 40 Series mufflers
Ancillaries: Corvette valve covers, K&N filter
Output: 350 hp at 6,000 rpm
Drivetrain
Transmission: TREMEC T5 World Class
Clutch: Centerforce
Rear Axle: Jaguar, 3.42:1 gears
Chassis
Front Suspension: TCI subframe, Aldan American coilover shocks
Rear Suspension: Jaguar independent, Aldan American coilover shocks
Brakes: JFZ rear, GM 11-inch rotors front
Wheels & Tires
Wheels: American Racing Torq Thrust II (17×7 front, 18×7 rear)
Tires: BFGoodrich g-Force T/A; 205/45R17 front, 245/45R18 rear
Interior
Upholstery: CARS Inc. black loop carpet, door panels, seat covers
Seats: Nova bucket
Steering: Flaming River rack-and-pinion, Billet Specialties steering wheel
Shifter: Hurst
Dash: Stock, VDO insert
Instrumentation: VDO gauges
HVAC: Vintage Air
Exterior
Bodywork: N/A
Paint PPG black
Trim and Bumpers: Stock
Plating: Highline Plating (Cuba, MO)
Headlights: Adjure Motorcycle
Taillights: Acadian housings with LED