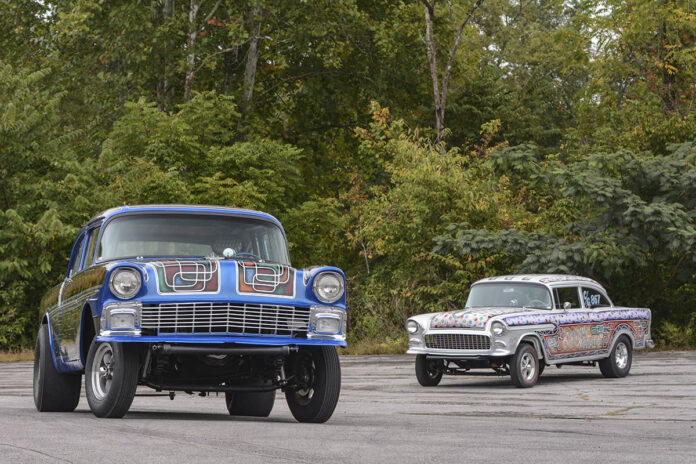 Thrill-Seeking Spouses Build a Pair of Killer Tri-Five Chevy Gassers
By Tommy Lee Byrd – Photography by the Author
Some married couples work out together, some take cooking courses, and some enjoy wine tasting at the local country club. But for Justin and Jenny Moses of Braselton, Georgia, marital bliss comes in the form of a screaming Chevrolet engine and a four-speed manual transmission. The couple campaigns two cars in the Southeast Gassers Association, which is a growing organization that focuses on reliving the glory days of drag racing with period-correct, heads-up racing. With authentic pound-per-cubic-inch classifications and a very strict rules package that applies to both the appearance and performance of the vehicles, this group races hard and thrills spectators all over the Southeast.
With wild paint schemes, and even wilder antics on the track, the two cars might seem like the stars of their racing program, but Justin and Jenny are the real highlights, always providing a helping hand or a good laugh when fellow competitors need it most. The camaraderie and fellowship within the Southeast Gassers Association is second to none, and that's why it's one of the fastest-growing organizations in all of drag racing. Justin and Jenny became involved in this gasser group nearly 10 years ago, and their racing crew includes family and friends who pitch in to keep the operation rolling from race to race.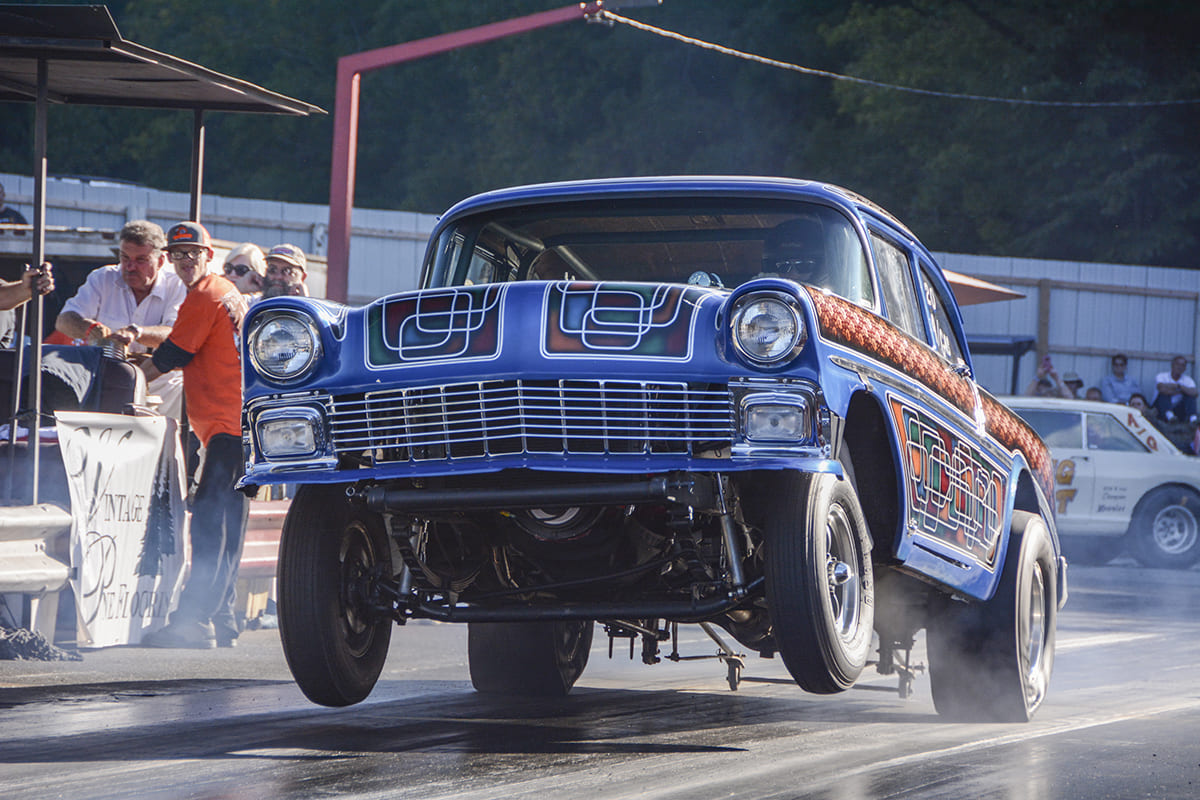 Justin has owned several Tri-Fives through the years. He bought this 1956 Chevy 210 back in 2009 as a fun project to rip around on the street. The car already had the gasser treatment and had a street-friendly small-block and four-speed transmission. He made a few changes and eventually drove it to a local nostalgia race held at Atlanta Dragway. At that event, he was approached by Craig Owen, who was racing his 1955 Chevy named "Bad Company" in the Southeast Gassers Association. At the time, the group was still quite small, but it caught Justin's attention, as he watched several members make passes down the track in their high-winding four-speed gassers. He realized his car was fairly close to being eligible to fit within the stringent rules of the organization and he began working toward a goal of joining the fun.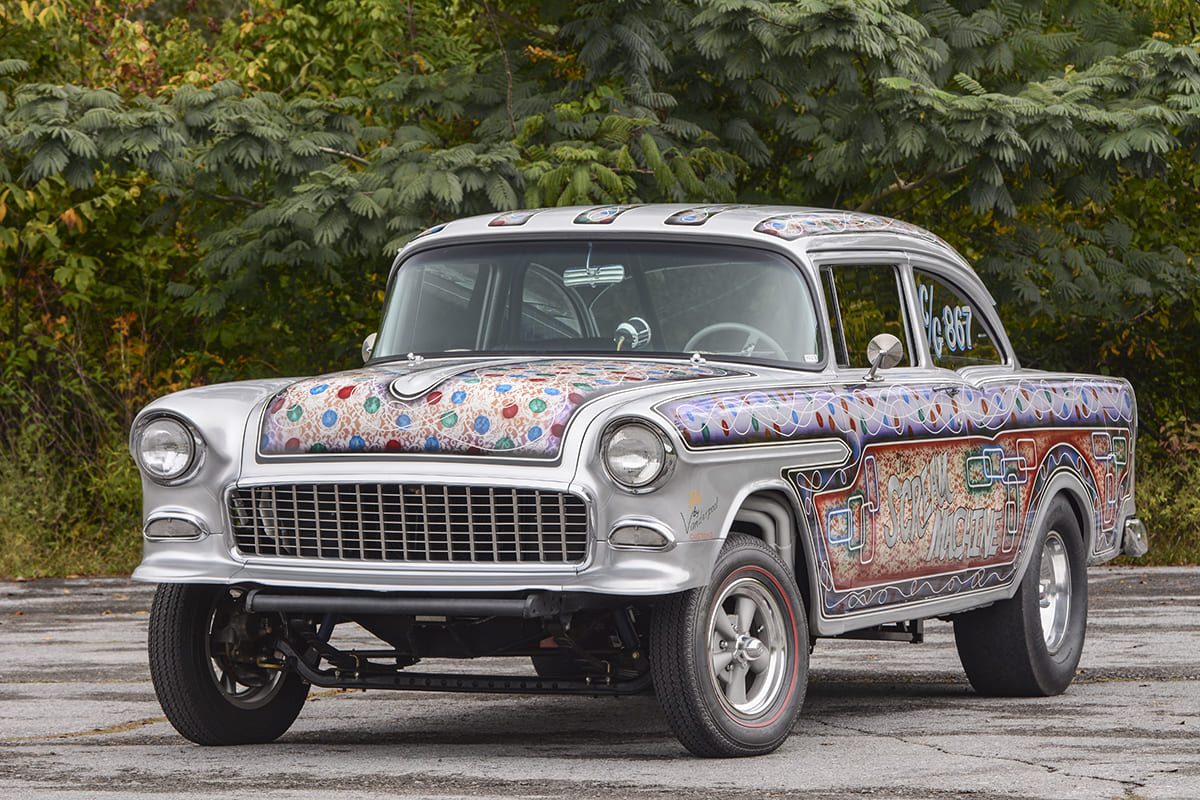 Since then, the car has been through a cycle of upgrades, wild rides, and repairs. The first major change was swapping the small-block for a vintage-styled big-block Chevy with a cross ram intake manifold and two four-barrel carburetors. From there, it was a seemingly endless progression—as he made more horsepower, he needed to plant it to the ground, and as he got the chassis figured out, he needed more power to hang with the A/Gas class, since these are true heads-up classes. Justin seems to have found the sweet spot with the car's current setup, but he continues to dial it in every time he rolls into the staging beams.
Justin was originally hesitant to radius the rear wheel openings, but he eventually bit the bullet in order to run a larger tire. He did the radius job tastefully, keeping the same general shape of the original opening but raising it higher into the quarter-panel for tire clearance. This also felt like the right time to give the car a new personality. He dropped the car off with Paul Vanderpool and let him throw the kitchen sink at it. Endless lines, lace overlay, and wild colors make for an unforgettable paintjob. During this transformation, he brought the car's ride height down a couple inches with a Ron Pope dropped front axle. The rules mandate a minimum ride height, so he stayed well within those margins while trying to get the car to handle the newfound horsepower from a 532ci big-block Chevy.
The engine is made up of several BES Racing Engines components, assembled by Joe McGlaughlin. It consists of a Dart Big M block, stuffed with a forged rotating assembly with a ground-pounding 16.0:1 compression ratio. The hard-hitting stroker combination features Brodix aluminum cylinder heads and a custom-grind camshaft, spec'd by BES. On top of the engine is an Edelbrock Victor Ram tunnel ram intake with two 4150-based carburetors. They are modified to flow 1,000 cfm each into the thirsty big-block. For 2021, Justin's induction combination will face a penalty, so he's changing to a TR2 "bread box" tunnel ram to be more period correct. In its previous combination, the engine cranked out 1,049 hp and 850 lb-ft of torque on the dyno at Engine Labs in Tucker, Georgia.
Justin is a contender in A/Gas and runs mid 5s at 126 mph in the eighth-mile. These cars are blistering the 660 feet with the front wheels in the air on every gear change and plenty of other unpredictable action, but they do not reveal their times to the crowd. It's part of the mystique of these truly old-school racers, and the fans eat it up.
Justin's wife, Jenny, has been by his side during the entire build, and she's spent lots of late nights at the dragstrip to reach this point in their racing program. She lines him up in the groove every pass, and often dresses in vintage attire to continue the theme of these '60s drag cars. Although she enjoys her duties as a backup girl, she wanted to get more involved in the Southeast Gassers Association, so she set about building a car of her own.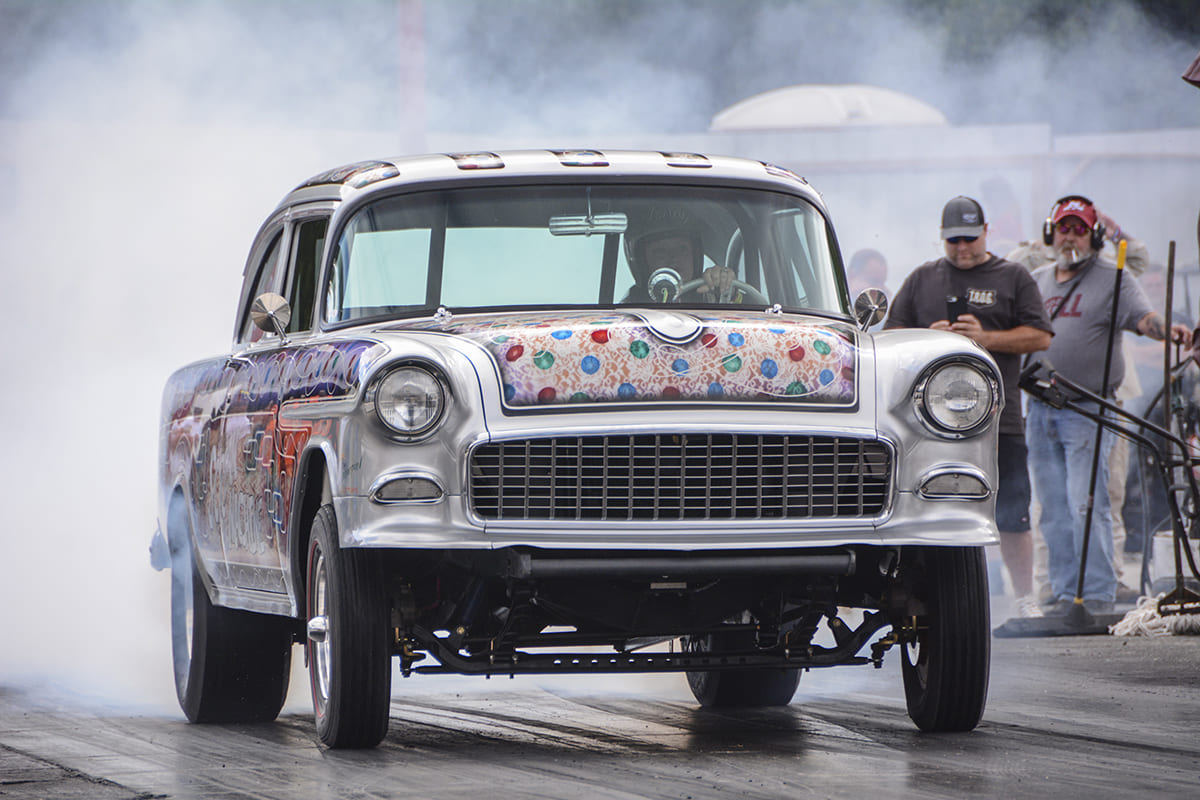 While Justin's car features several fiberglass body panels, Lexan windows, and an all-business aluminum interior, Jenny's car is much more street friendly. It's a 1955 Chevy 150 that originally came from Arizona. It was a very solid car when they bought it a few years back, so it still has all of its factory sheetmetal. It did get some bodywork to reshape the rear wheel openings and a set of Camaro wheelwell patches were grafted into the original quarter-panels. This gives the wheel opening a nice rolled edge and more of a natural contour to follow the shape of the tire. Once again, Paul Vanderpool was in charge of giving the car an incredible psychedelic paintjob. Vanderpool started with a silver basecoat and went crazy with colors, designs, and awesome lettering, with the name "The Scream Machine" on the side.
Jenny runs in the C/Gas category, as she's working with a much smaller engine combination and a heavier car. Her 1955 two-door post still has all of its original windows and even has a full interior. It has a four-point rollbar, compared to the 12-point 'cage inside of Justin's car. Jenny is fastened to a vintage Chevelle bucket seat with G-Force harnesses and bangs the gears in her magnesium Jerico four-speed with a Long vertical gate shifter.
Horsepower comes from a Lamar Walden Automotive–built small-block Chevy. At only 355 ci, the mouse motor packs a big punch with 13.0:1 compression and a set of Dart Iron Eagle 215cc cylinder heads. The solid roller camshaft is a special grind specified by Rob Walden. Induction on the stout small-block includes an Edelbrock tunnel ram and two Holley 660-cfm carburetors. The combination made 550 hp on the engine dyno and then pounded out 465 hp to the wheels on the chassis dyno.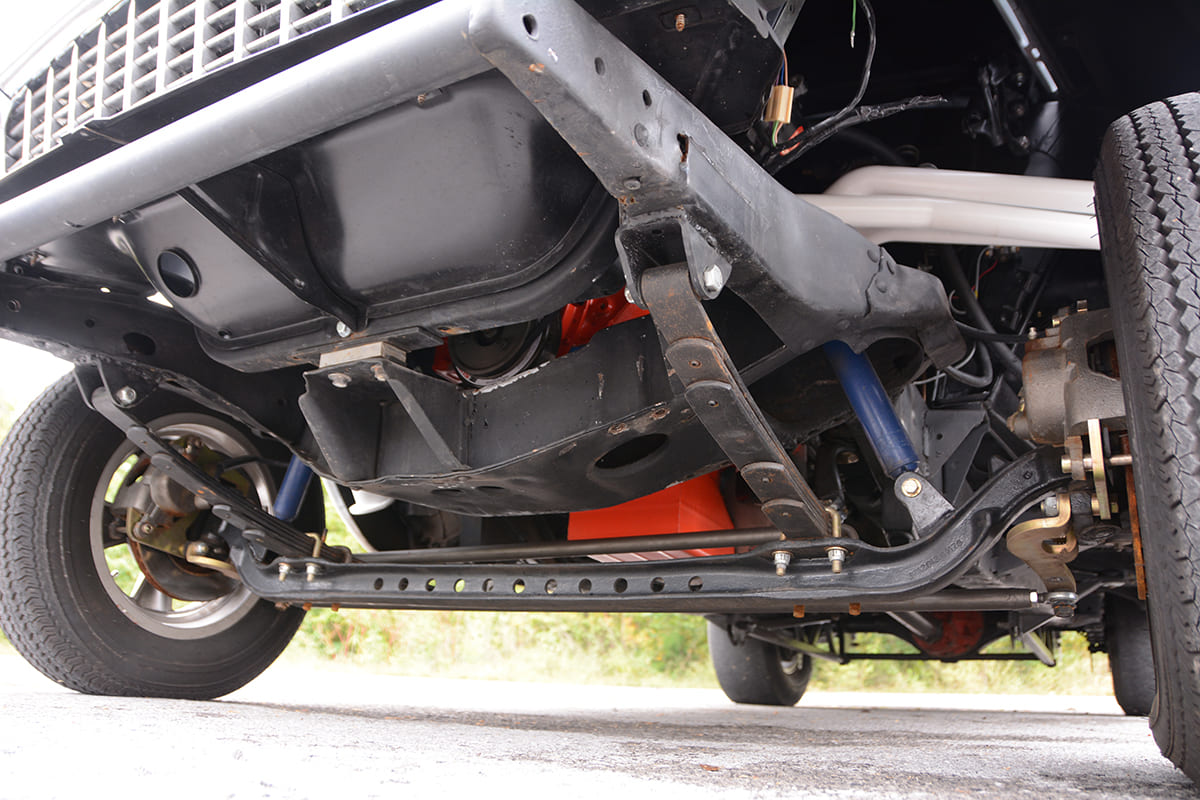 The chassis is mostly original beneath Jenny's car, but they did swap out the original front suspension for a 1955 Chevy truck front axle and Speedway Motors parallel leaf springs. Out back is a Ford 9-inch rearend, which is narrowed and back-braced by Justin. He added 5.88:1 gears and Moser 35-spline axles, then added ladder bars to accompany the original leaf springs. QA1 double-adjustable shocks allows them to determine how hard the car hits those 29.0×9.0-15 Hoosier slicks.
So far, Jenny has competed at several Southeast Gassers Association races, and has been consistently in the 7.0-second range. The car certainly grabs the attention of the crowd, and she takes after her husband with long, smoky burnouts on a regular basis. The car is a little bit tamer than Justin's but still leaves hard when Jenny dumps the clutch.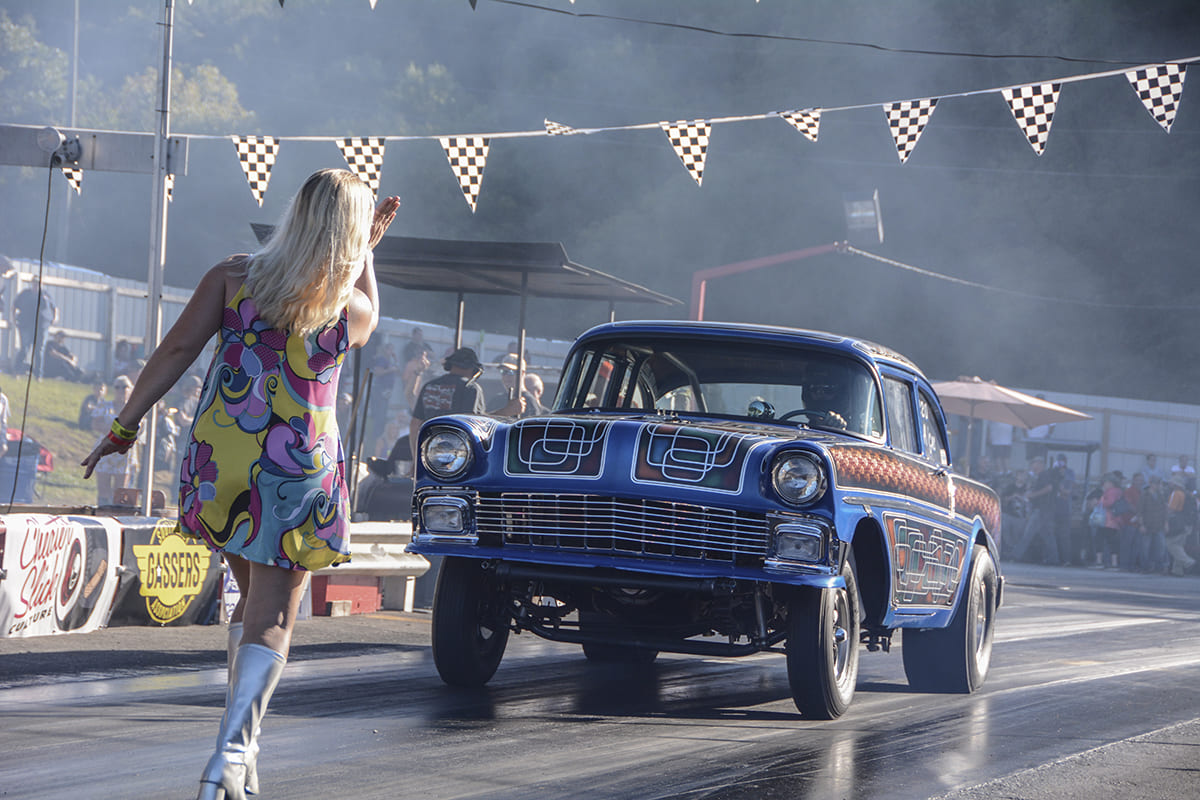 Without question, both of these cars are showstoppers, and the drivers are tough competitors. Between the travel to races, the expense of maintaining two race cars, and always striving to go quicker and faster, this is a passion project for this husband-and-wife team. Folks like Jason Murrell, Rickey Barnes, Rob Walden, and many more help them stay motivated, but it's the thrill of speed and success that keep them coming back to their gear-banging, wheelstanding marriage counseling sessions time and time again.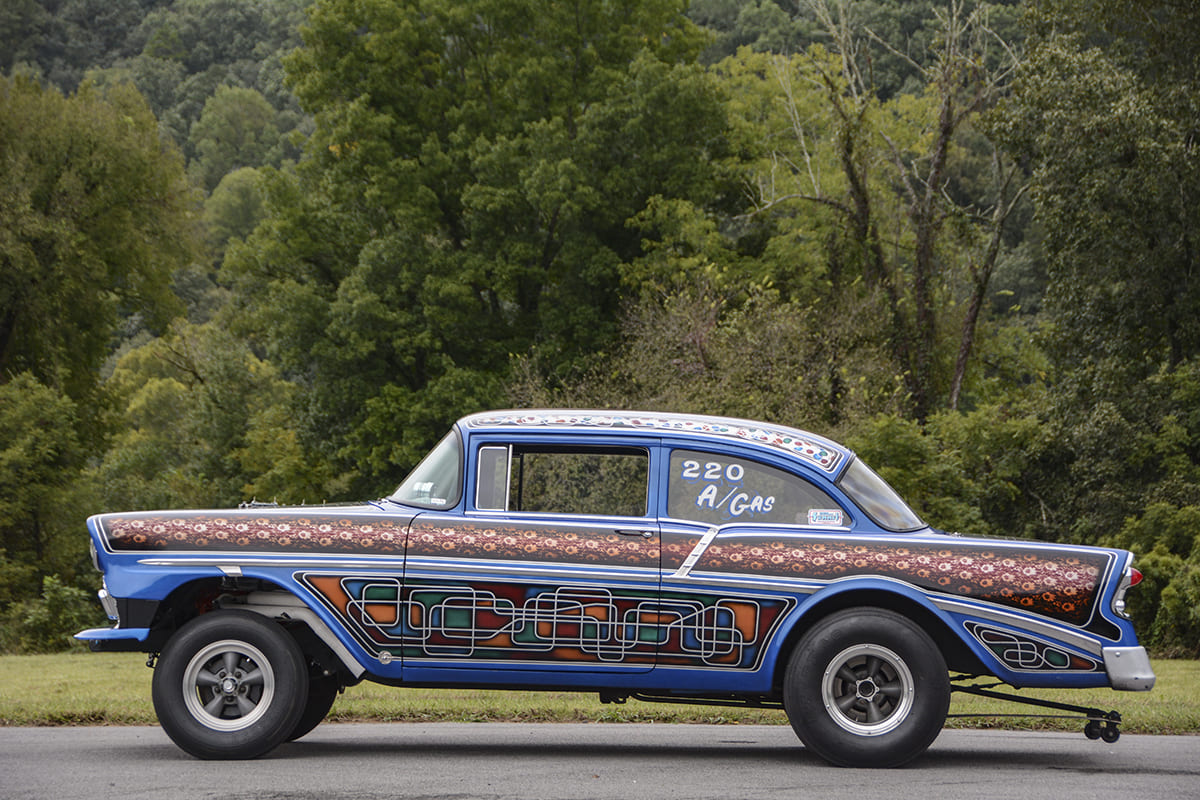 TECH CHECK
Owner: Justin Moses, Braselton, Georgia
Vehicle: 1956 Chevrolet 210
Engine
Type: Big-block Chevy
Displacement: 532 ci
Compression Ratio: 16.0:1
Bore: 4.600 inches
Stroke: 4.00 inches
Cylinder Heads: Brodix by BES Racing Engines
Rotating Assembly: CP pistons, Callies crank, aluminum rods
Valvetrain: Titanium valves, PAC springs, T&D rocker arms
Camshaft: Bullet camshaft, custom grind by BES
Induction: Edelbrock Victor Ram tunnel ram, dual 4150-style carburetors
Ignition: MSD Pro-Billet Distributor
Exhaust: Custom fenderwell headers
Ancillaries: Electric water pump drive, electric fan
Output (at crank): 1,049 hp, 850 lb-ft of torque
Drivetrain
Transmission: G-Ford G101A four-speed, Ram clutch
Rear Axle: Ford 9-inch, 35-spline Moser axles, 5.29:1 Pro Gear
Chassis
Front Suspension: Ron Pope axle, Speedway Motors leaf springs, Competition Engineering shocks
Rear Suspension: Leaf springs moved inboard, custom ladder bars, Viking shocks
Brakes: Wilwood discs
Wheels & Tires
Wheels: American Racing Torq-Thrust D 15×4.5s and 15x10s
Tires: Moroso Drag Special 7.10-15 and Mickey Thompson 29.5×10.5-15 slicks
Interior
Upholstery: Jim Shrader
Material: Mostly aluminum
Seats: Kirkey
Steering: Vintage Superior metalflake
Shifter: Long inline
Dash: Original with custom switch panel
Instrumentation: Vintage-style gauges
Audio: Nope
HVAC: Nada
Exterior
Bodywork: Paul Vanderpool
Paint By: Paul Vanderpool
Paint: Blue base with lace and endless lines
Hood: Fiberglass one-piece front end
Grille: Original
Bumpers: Fiberglass rear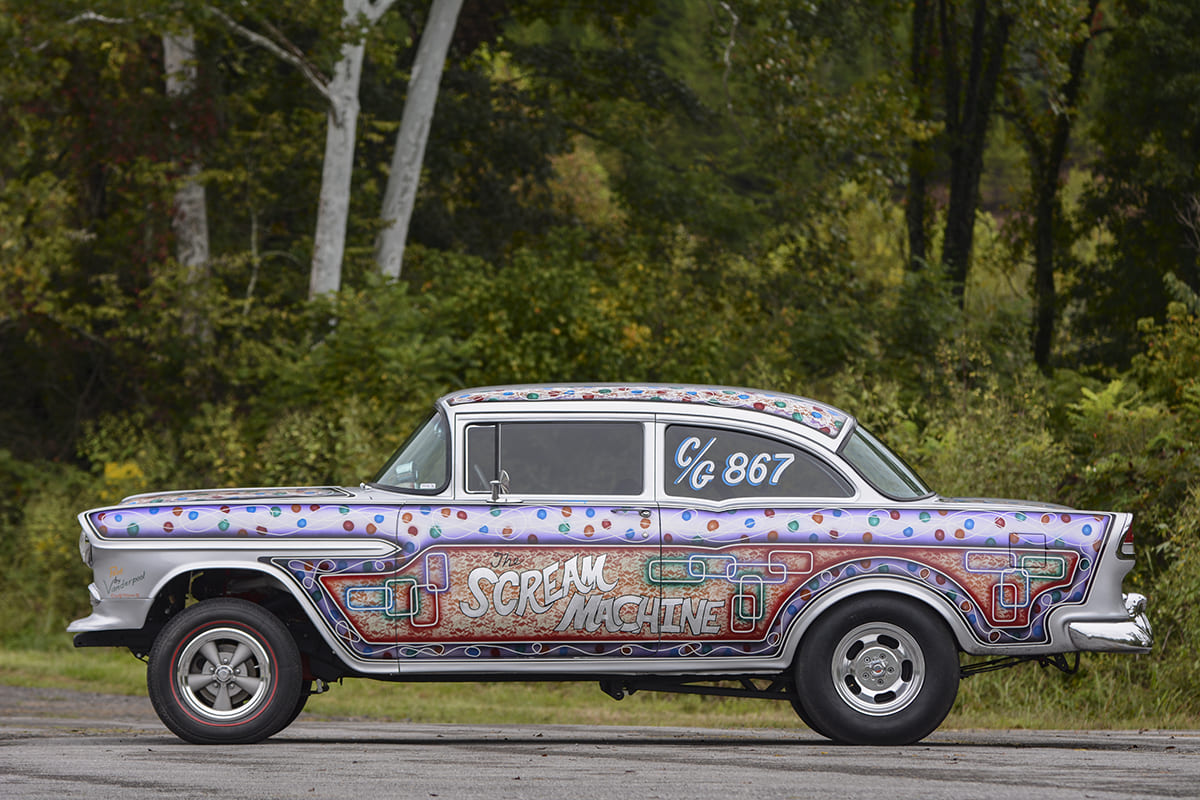 Tech Check
Owner: Jenny Moses, Braselton, Georgia
Vehicle: 1955 Chevrolet 150
Engine
Type: Small-block Chevy
Displacement: 355 ci
Compression Ratio: 13.0:1
Bore: 4.030 inches
Stroke: 3.480 inches
Cylinder Heads: Dart Iron Eagle
Rotating Assembly: GM forged crank, Eagle rods, Eagle pistons, Mahle pistons
Valvetrain: Stainless steel valves, Crane roller rocker arms, Comp pushrods
Camshaft: Lunati solid roller
Induction: Edelbrock tunnel ram, dual Holley 660-cfm carburetors
Ignition: MSD Pro-Billet distributor
Exhaust: Custom fenderwell headers
Ancillaries: Aluminum water pump
Output (at crank): 550 hp, 465 lb-ft of torque
Drivetrain
Transmission: Jerico magnesium DR4 four-speed, Ram clutch
Rear Axle: Ford 9-inch, 35-spline Moser axles, 5.88:1 gear
Chassis
Front Suspension: 1955 Chevy truck axle with Speedway Motors leaf springs
Rear Suspension: Leaf springs, custom ladder bars, QA1 shocks
Brakes: Speedway Motors front disc conversion, rear drums
Wheels & Tires
Wheels: ET Classic V 15×4 and U.S. Mags 15×8.5
Tires: Coker Classic 185R15 redline and Hoosier 29.0×9.0-15
Interior
Upholstery: Mostly original
Material: Black vinyl
Seats: Chevelle bucket seats
Steering: Grant
Shifter: Long inline
Dash: Original
Instrumentation: Original cluster with vintage-style tach
Audio: Nope
HVAC: Nada
Exterior
Bodywork: Paul Vanderpool
Paint By: Paul Vanderpool
Paint: Silver base with panel paint, endless lines and custom lettering
Hood: Original
Grille: Original
Bumpers: Front bumper removed, original rear