A Swap Meet Scrounger's Guide to Vintage Wheels
Text & Photos By Tommy Lee Byrd
One of the easiest and earliest methods of automotive personalization comes in the form of tires and wheels. Aftermarket rolling stock originally offered a combination of upgraded strength, convenience, and appearance. The custom wheel industry kicked off in the racing world, but by the late '60s, aftermarket wheels were commonly used as an upgrade for regular street cars. You could buy them through many mail-order companies, such as JC Whitney, or you could even buy them through major retailers, such as Sears, JCPenney, and more. As aftermarket wheels became more affordable, everything from Corvairs to Corvettes had many options for custom fitments. Dozens of brands gave customers a wide range of styles, finishes, and sizes to fit their needs.
We could write a book about the history of the aftermarket wheel and the major players in the industry, but the purpose of this article is to educate you on the various types of wheels that you may stumble across at a swap meet. While you may be fortunate enough to find some cool Halibrand wheels, or magnesium American's at a swap meet, you'll likely be met with a gigantic price tag. These wheels are like gold to old-school drag racers and hot rodders. You may also find that front runners (wheels that measure 3 to 5 inches in width) bring more than the more common 6-, 7- and 8-inch-wide sizes. It's easy to get a little too excited by the high prices on eBay or at swap meets, so control your spending habits and do your homework before you unload a bunch of cash on a set of wheels.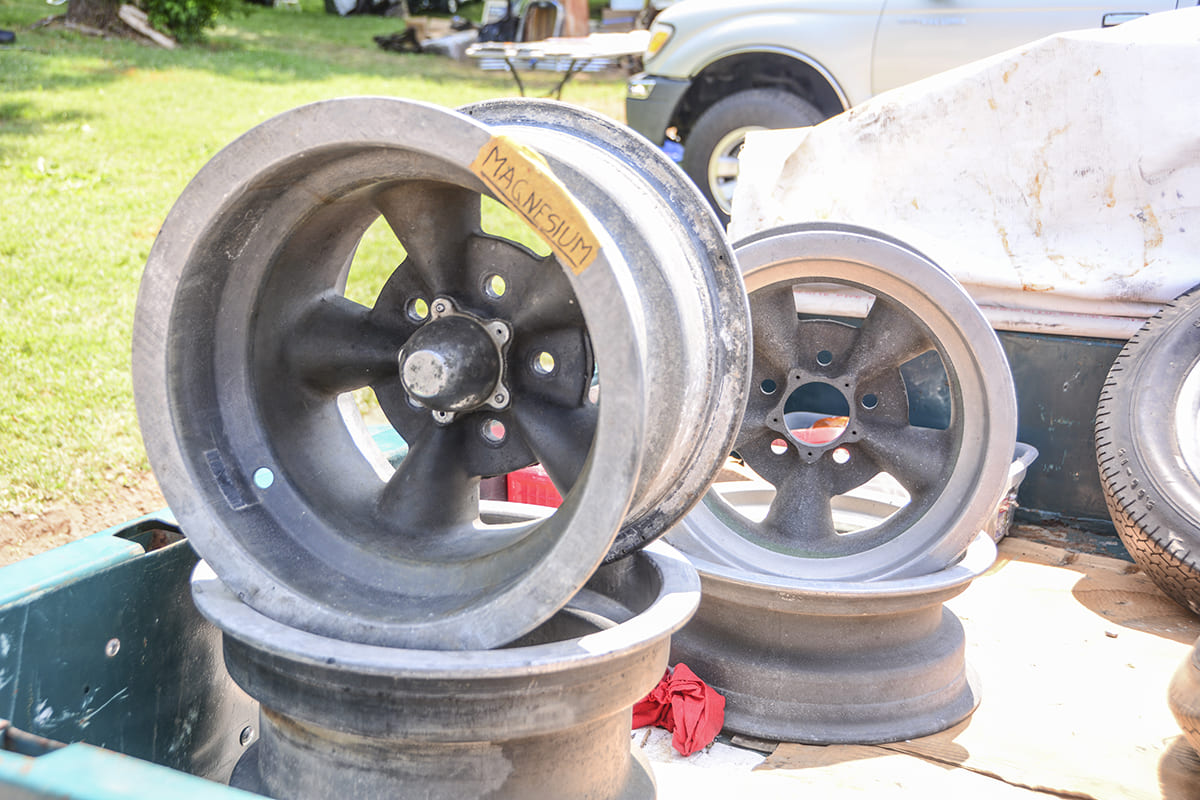 There are lots of important factors to remember when searching a swap meet for vintage wheels. The obvious things, like size and bolt pattern, can be checked with a pocket-sized tape measure, so don't leave home without one. Always check the condition of the wheel thoroughly, but understand that you're taking a gamble when buying vintage wheels. There could be hidden damage, such as bends or cracks in the material. You're dealing with fatigued metals that could be upwards of 60 years old, so be prepared for potential heartache if your wheels end up as garage decoration. On the bright side, the perfect set of legit vintage wheels can take your old-school muscle car to the next level. Let's dig into the fun of scrounging around at a swap meet, and take a look at some great vintage wheels that may be awesome additions to your project car or parts collection.
SIDEBAR: Racing Wheel Pioneers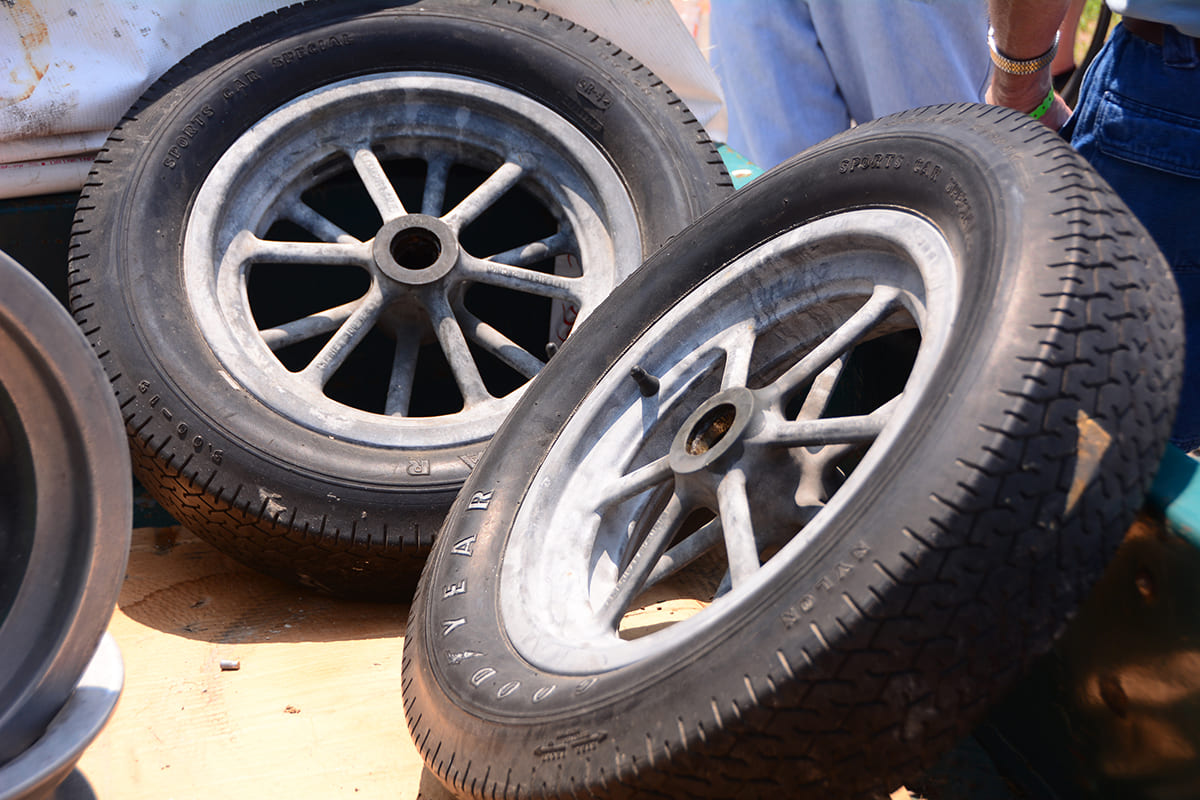 Aftermarket racing wheels can be traced all the way back to the 1900s, but things really got serious in the '40s and '50s. Originally, all-steel racing wheels took the place of wooden-spoke wheels to provide better strength and handling. Then, racers wanted strength without the extreme weight. Magnesium was the material of choice for lightweight racing wheels, dating back as early as 1946 when Ted Halibrand debuted his special 18-inch racing wheels designed for Indy racing.
Halibrand Engineering Company built wheels primarily for Indy racing throughout the rest of the '40s and into the '50s. Racers began using the Indy-style wheels for other types of machines, including salt flat racing and drag racing. As drag racing got more serious in the late '50s, purpose-built magnesium wheels hit the market. The biggest difference in an IndyCar wheel and a drag racing wheel was how it attached to the car: IndyCar wheels attached using six pins and a knock-off hub assembly, while most drag racing wheels attached using conventional 5-lug bolt patterns. It was also somewhat common to see 6- or even 8-lug magnesium wheels for drag cars to match the heavy-duty truck axles that were used in the early days.
While Ted Halibrand's company led the way in magnesium wheel offerings, a fellow by the name of Romeo Palamides came onto the scene during the '50s. He built a pair of magnesium rear wheels for his personal dragster, which graced the cover of Hot Rod magazine in 1956. The enormous amount of feedback he received about his custom rear wheels sparked a new business, which would later be named American Racing Equipment. A few years into his endeavor, Palamides' wheel offerings consisted of a four-window rear wheel (known as a Standard) and a 12-spoke spindle-mount front wheel. A stroke of genius came around 1960 when American Racing Equipment debuted its Torq Thrust wheel, a design that would become an industry icon.
Originally produced exclusively in magnesium, the Torq Thrust wheel eventually transitioned in the aluminum construction and instantly became an affordable custom option for muscle cars and hot rods. This would send a ripple throughout the wheel industry, as many high-performance wheels made the switch from magnesium to aluminum construction. Magnesium had inherent issues with corrosion, as even highly polished wheels would quickly turn back to the original gray finish. Aluminum wheels, even if left completely raw, would keep a good shine, which appealed to hot rodders and muscle car owners. By this point, the term "mag wheel" had already stuck, so even though many aftermarket wheels are constructed with aluminum, steel, or the combination of the two metals, they're still referred to as "mag wheels."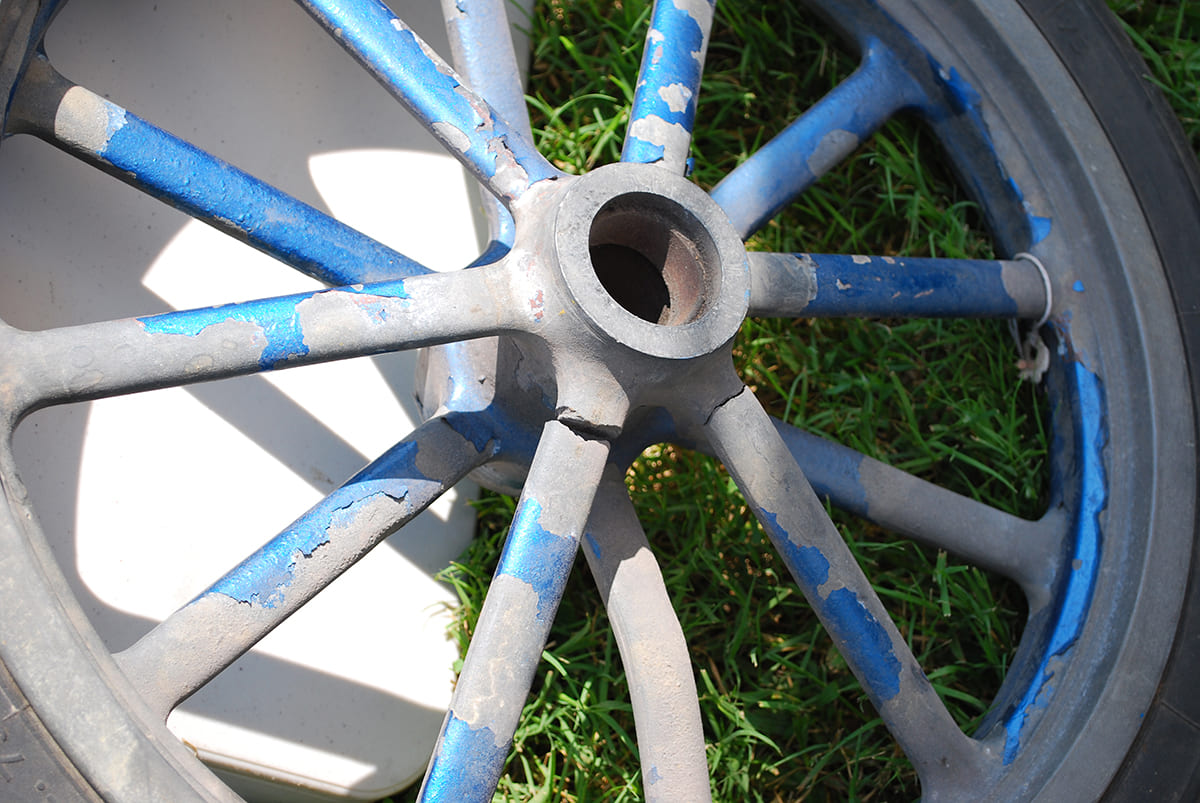 Cragar was another big player in the aftermarket wheel industry. The Super Sport (S/S) wheel took the world by storm in 1964, with a timeless five-spoke design with a combination of a steel hoop and a cast centersection. Cragar S/S wheels were affordable and plentiful, and they ended up on countless drag cars, street machines, and even daily drivers. While they provided little in the way of performance gains, the Cragar S/S holds a special place in the custom wheel timeline, and you can still buy them to this day.