Henry and Garrett Fisher's 1968 Chevelle was Built for Show and Go
By Nick Licata – Photography by Grant Cox
Henry Fisher is into cars; he's been in the used car business for over 51 years and building show-quality vintage cars and trucks for well over 20. His stable leans heavily toward the classic truck scene, which includes a 1972 C10, 1972 Blazer, a 1968 C10, and a slew of other sweet muscle cars and pickup trucks—all built from the ground up and all with LS power. He digs the style of classics yet enjoys the reliability and performance of late-model engines.
So, how did this A-body come about? While attending an auto auction a few years back with his grandson, Garrett, a 1968 Chevelle came across the auction block and Garrett got all wide-eyed for the numbers-matching classic. "It was a true SS 396 car, and after winning the auction I drove it around for a few weeks and told my grandpa we need to turn this thing into a hot rod," Garret tells, "and we need to give it some real power." Henry agreed, so the next day they ordered up an LSX454 from Chevrolet Performance.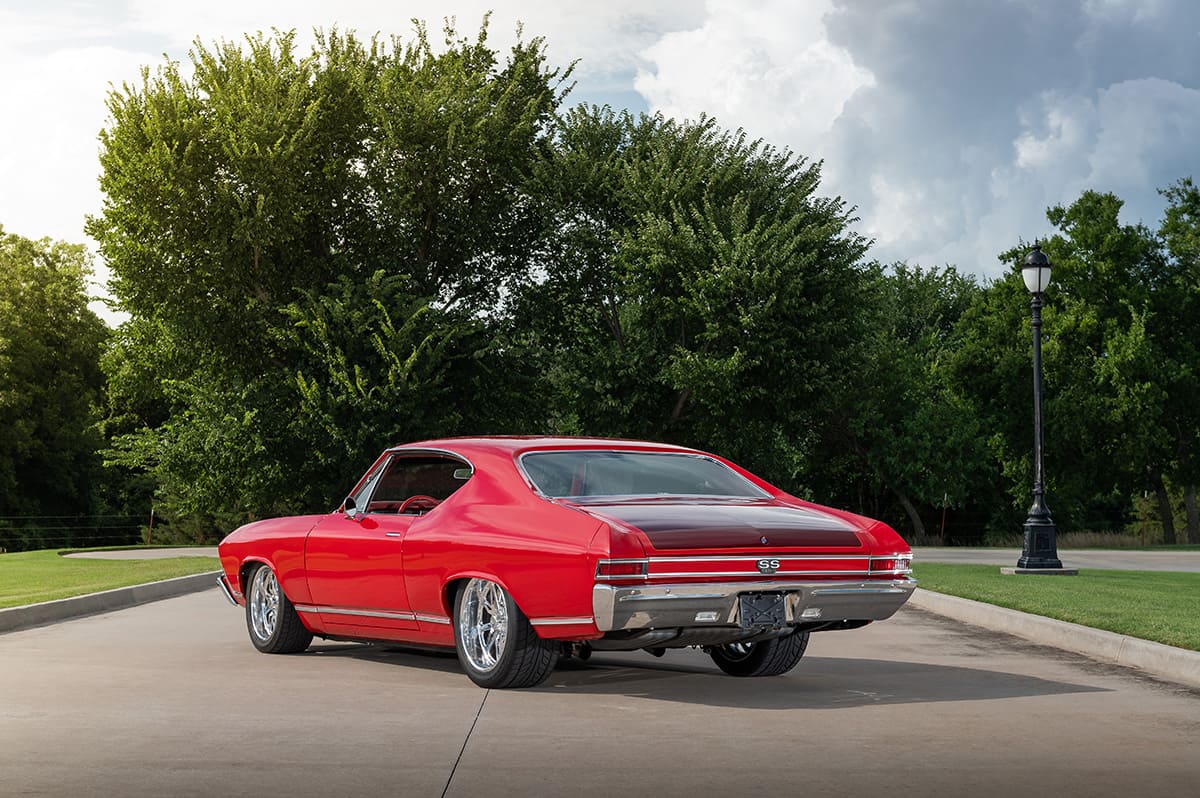 "We felt a little guilty tearing apart the car knowing it was all-original, but that slight bit of regret wore off fairly quickly," Garrett quips. "Turning this car into a badass outweighed keeping it stock."
With the engine ordered up, the duo got busy tearing the car down to the frame on what became a two-year restoration. "Garrett and I really love building cars, so this was a great grandfather-grandson bonding project," Henry explains. "We both work a lot of hours during the week, so the time we spent building the car was very special, even dealing with some of the challenges that go along with builds like this."
"Although this is a 1968, we call the project 'Shake-N-Bake' as a nod to the 1969 Chevelle in the movie Talladega Nights: The Ballad of Ricky Bobby," Garret says. "Adding in some humor keeps projects like this fun, which was the main idea when we decided to do the build."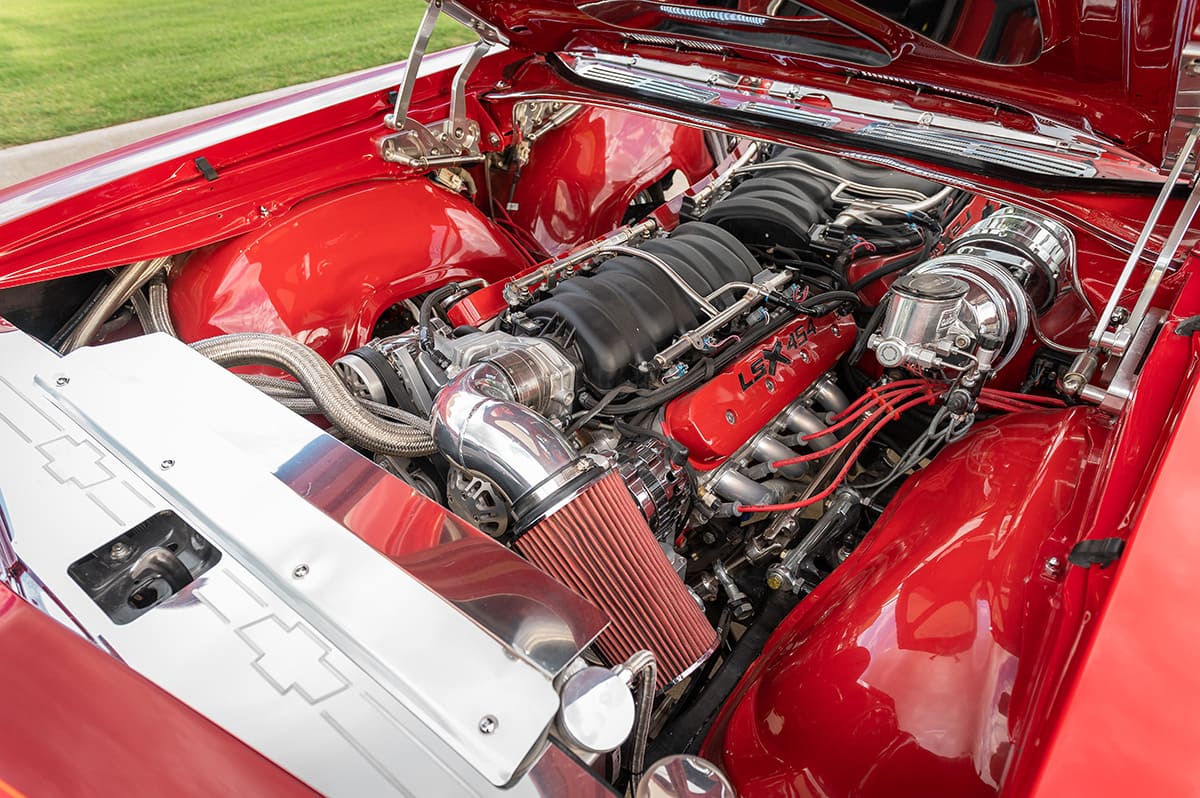 With the stock LSX dealing out a hefty 620 hp, Henry had faith in the strength of a 2015 Chevy truck 6L90 trans. It's a six-speed automatic easily capable of handling the engine's grunt while enjoying the benefits of a modern driveline. A freshly built 12-bolt rearend gets power to the ground and carries a limited-slip posi and 3.73:1 gears.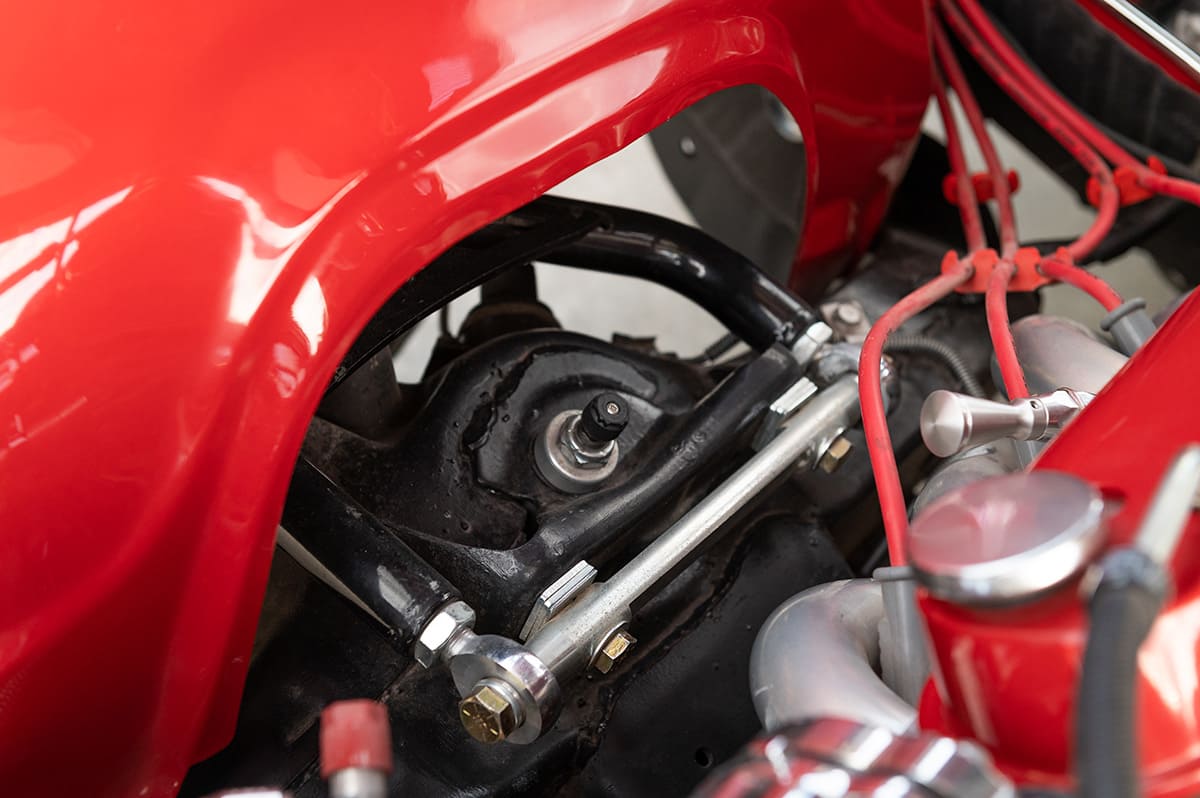 Ron Sexton did fabwork on the chassis, dialed in the ABF suspension components, and bolted in the RideTech coilover suspension on all four corners. Sexton also fabbed up a set of custom sway bars front and rear.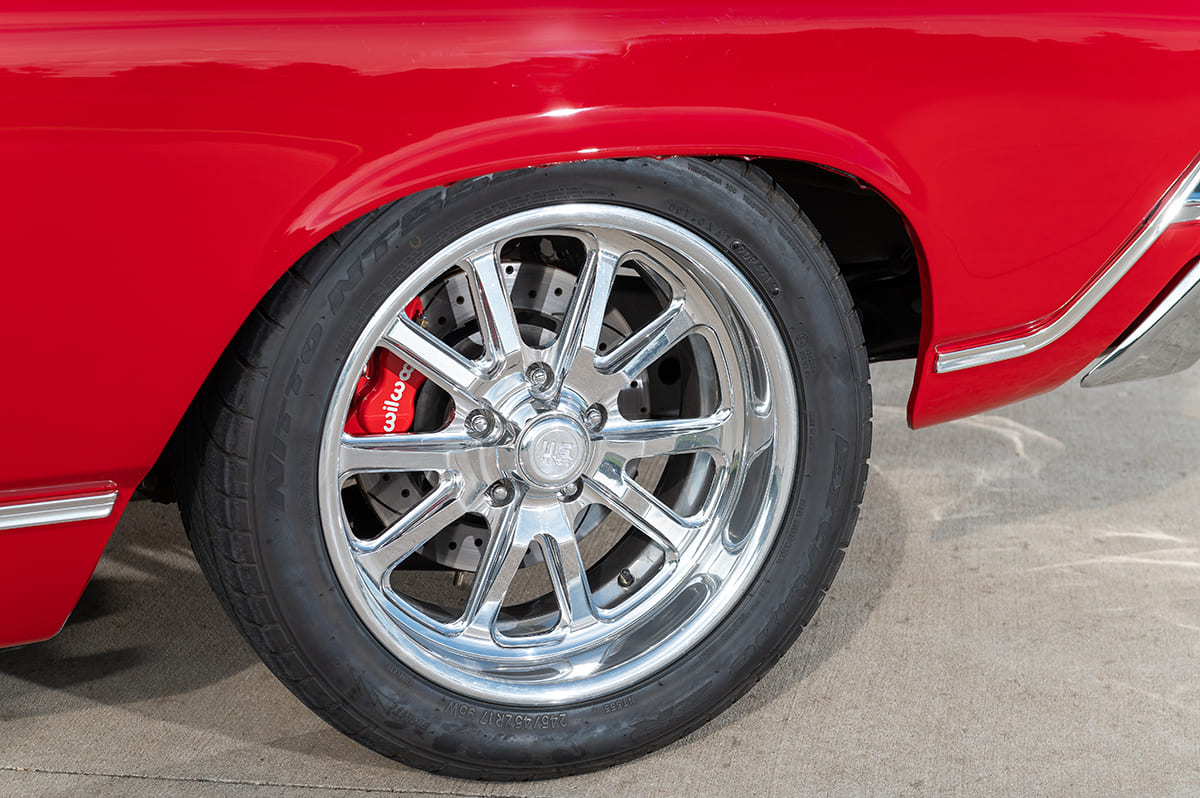 Whoa power was handed over to Wilwood for their 12-inch rotors and four-piston calipers. They peek through a set of U.S. Mags Rambler U110 wheels (17×9 front, 18×10 rear) sheathed in Nitto 555 rubber—a combination of modern style with a whiff of vintage flavor.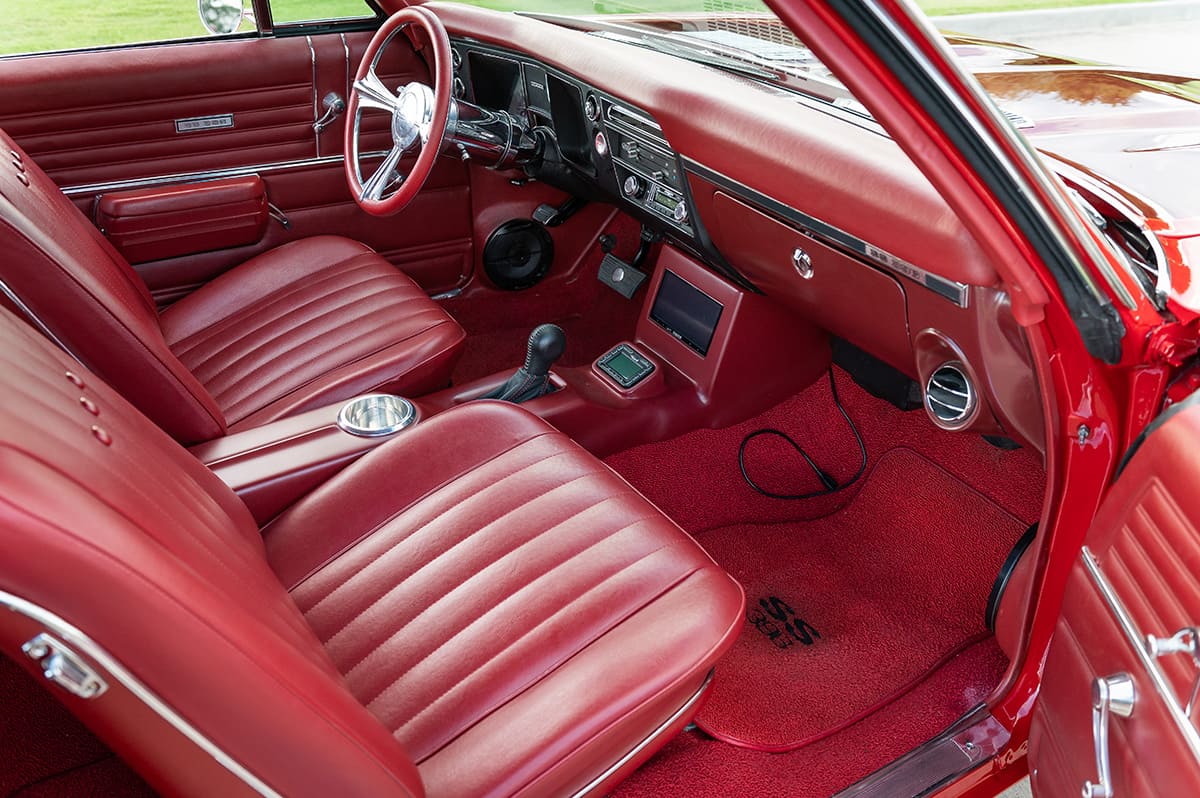 The interior features a compilation of stock bits mixed with plenty of custom pieces built by Justin Arnold of Air Art. Arnold, known for building some elaborate custom interior components, created a center console that houses the touch screen and RideTech suspension controller before working its way between the front buckets and dividing the back seats up to the rear package tray.
The crew at Hot Rod Garage in Sand Springs, Oklahoma, was tasked with minimal bodywork due to the A-body's sheetmetal being in prime condition. They smoothed the body to perfection and  laid down a deep coat of PPG Bright Red pigment, complemented with Candy Apple stripes on the hood and trunklid. The paint scheme creates an original vibe that doesn't go unnoticed as the car was awarded "Best Paint" at the Goodguys Fort Worth, Texas, show.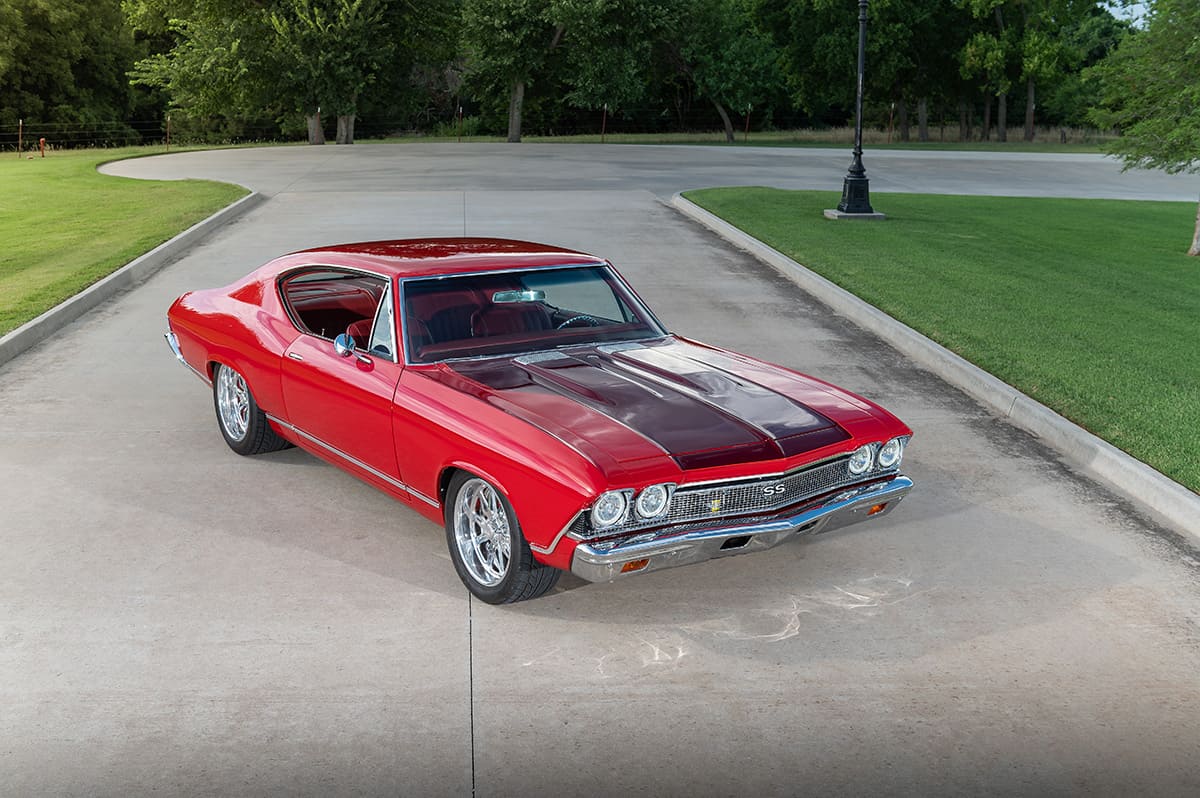 The two-year gestation brought to life a car that might have been just fine for a collector looking to dive into an original concourse-style restoration, but Henry and Garret just don't think that way. They align with the custom side of the hobby where they'd rather build a ride with better suspension, heaps of horsepower, and tons of flash and personality.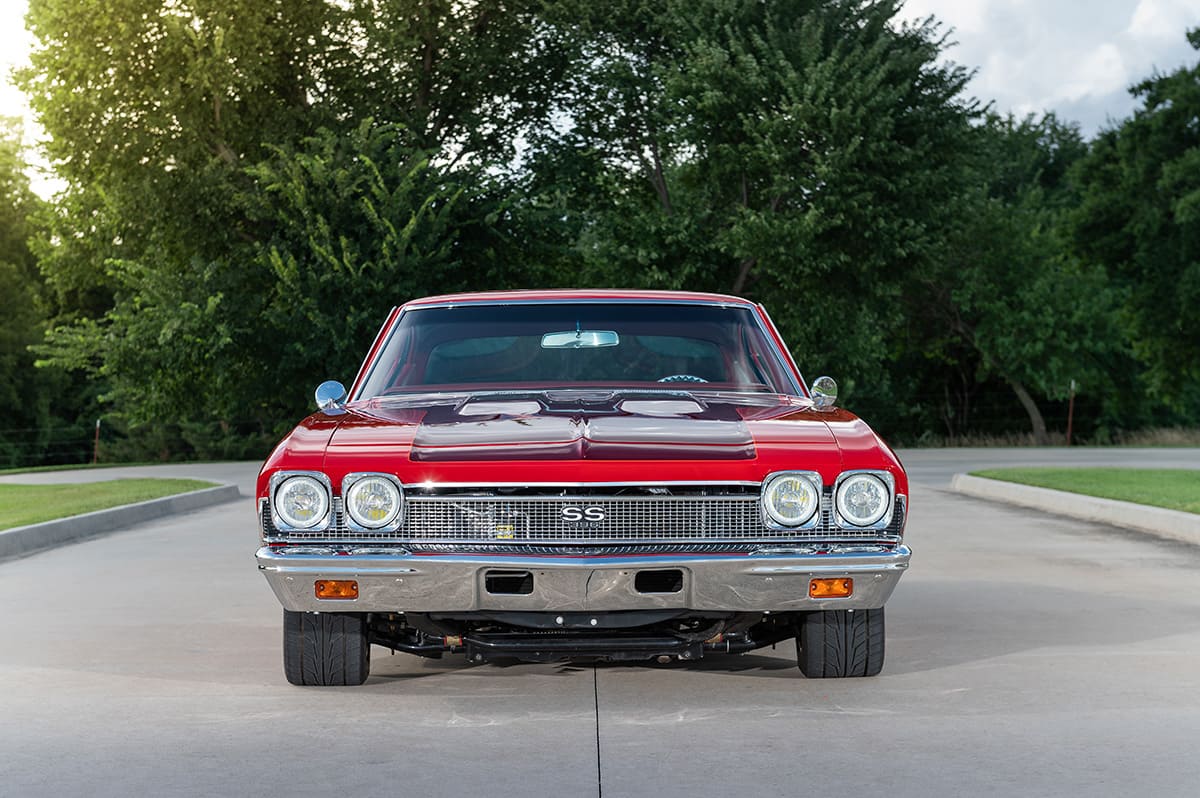 To date, the most fun they've had was showing the car at the Goodguys event in Fort Worth when the show car participants were allowed to take two parade laps on the Texas Motor Speedway's quad oval track. "Garrett and I were cruising at about 40 mph like we were supposed to and were having a hard time driving the car at such a slow speed on a racetrack. It just felt wrong," Henry says. "With Garrett behind the wheel, I told him to hang back a bit and get on it when there was enough space between cars. That thing got up to 120 mph in a hurry. It was a thrill that actually left me breathless for a minute," Henry laughs. "I figured that was one time when it was OK to break the rules."
With Henry now retired, he and Garrett plan on getting the car out to more shows and driving events. With an impish grin, Garrett said he'll work on keeping future rule breaks to a minimum.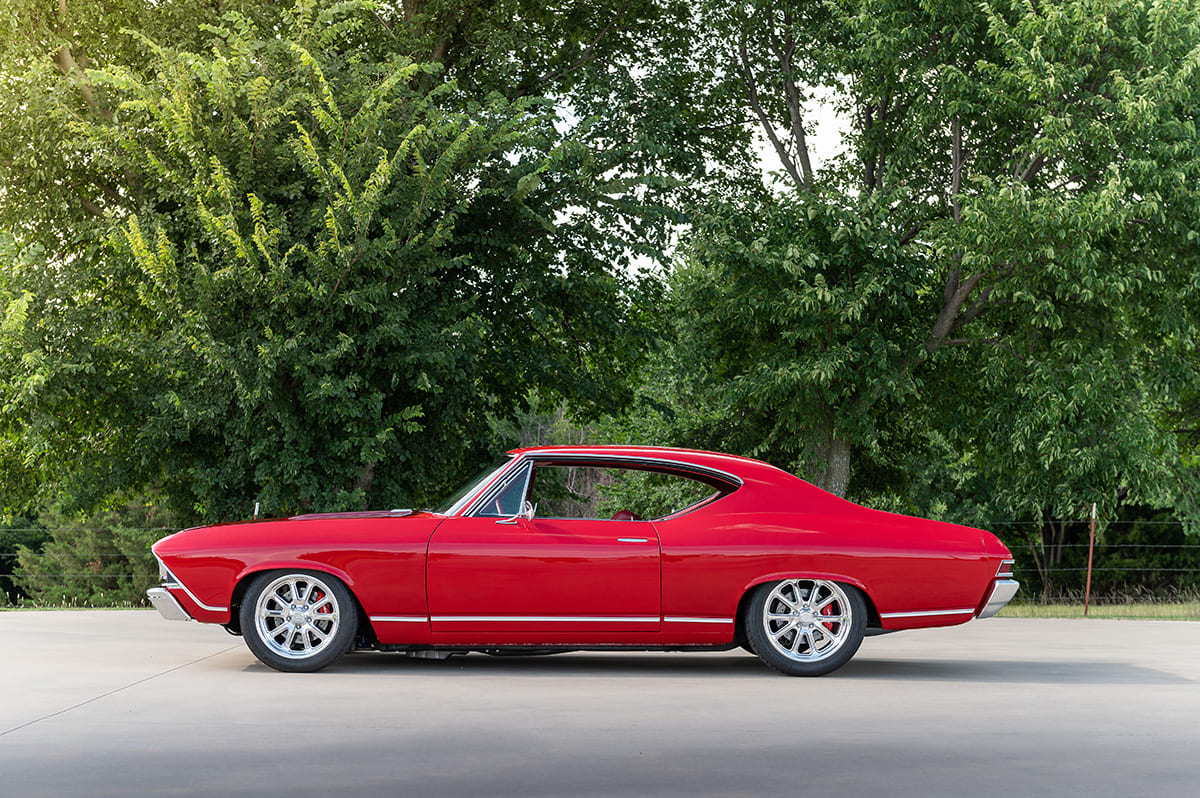 TECH CHECK
Owner: Henry and Garrett Fisher, Oklahoma City, OK
Vehicle: 1968 Chevy Chevelle SS 
Engine:
Type: Chevrolet LSX454
Displacement: 454 ci
Compression Ratio: 11.0:1
Bore: 4.185 inches
Stroke: 4.125 inches
Cylinder Heads: Aluminum LSX-LS7 port with "as-cast" 70cc chambers
Rotating Assembly: 4340 forged steel crankshaft, 4340 forged steel connecting rods, forged aluminum pistons
Valvetrain: Stock
Camshaft: Hydraulic roller (0.648/0.648-inch lift, 236/246-degree duration @ 0.050
Induction: Stock
Assembly: GM
Exhaust: Polished Hooker headers, custom-built 3-inch exhaust system, MagnaFlow mufflers
Wiring: Speartech by Ron Sexton
Ancillaries: Eddie Motorsports hood hinges, Vintage Air A/C, Concept One accessory drive system, Lokar dipstick, Ron Davis aluminum radiator, Spal dual fans
Output: 627 hp at 6,300 rpm, 586 lb-ft at 5,100 rpm 
Drivetrain:
Transmission: 2015 Chevy truck 6L90 six-speed automatic
Rear Axle: GM 12-bolt
Chassis:
Chassis: Fabrication by Ron Sexton (Oklahoma City)
Front Suspension: ABF suspension with RideTech air ride
Rear Suspension: ABF suspension with RideTech air ride, custom sway bar, and Panhard bar
Brakes: Wilwood 12-inch rotors four-piston calipers front and rear, Wilwood master cylinder
Wheels & Tires:
Wheels: U.S. Mags Rambler U110, 17×9 front, 18×10 rear
Tires: Nitto 555 245/40R17 front, 285/40R18 rear
Interior:
Upholstery: Custom red leather
Seats: Factory bucket, new leather
Carpet: Red loop
Steering: ididit column, Billet Specialties steering wheel
Center Console: Justin Arnold at Air Art (Bridge Creek, OK)
Dash: Stock with Flaming River push-button starter
Instrumentation: Dakota Digital
HVAC: Vintage Air
Exterior:
Bodywork and Paint: Hot Rod Garage (Sand Springs, OK)
Paint: PPG Bright Red with Candy Apple custom stripes
Hood: Stock
Trunk: Eddie Motorsports hinges
Grille: Stock
Bumpers: Stock