Don Fardie's Chevy Nova Gasser
By Chuck Vranas   –   Photography and Videography by the Author
Fardie 1967 Nova – Modern Rodding from In The Garage Media on Vimeo.
Nothing sets the pace for a future more than the influences experienced during one's formative years. Many times, a hobby can evolve into great things, as was the case with Don Fardie of Lakeville, Massachusetts. Don, like many of his peers, as a youngster, spent plenty of time at the kitchen table building model kits, including a few 1967 Novas. His, however, came with a twist since he wasn't satisfied till, he could put his own spin on them with custom updates like radiused rear-wheel openings and hopped-up V-8s. His attention to detail raised the bar, especially compared to his peers who were simply slapping the models together.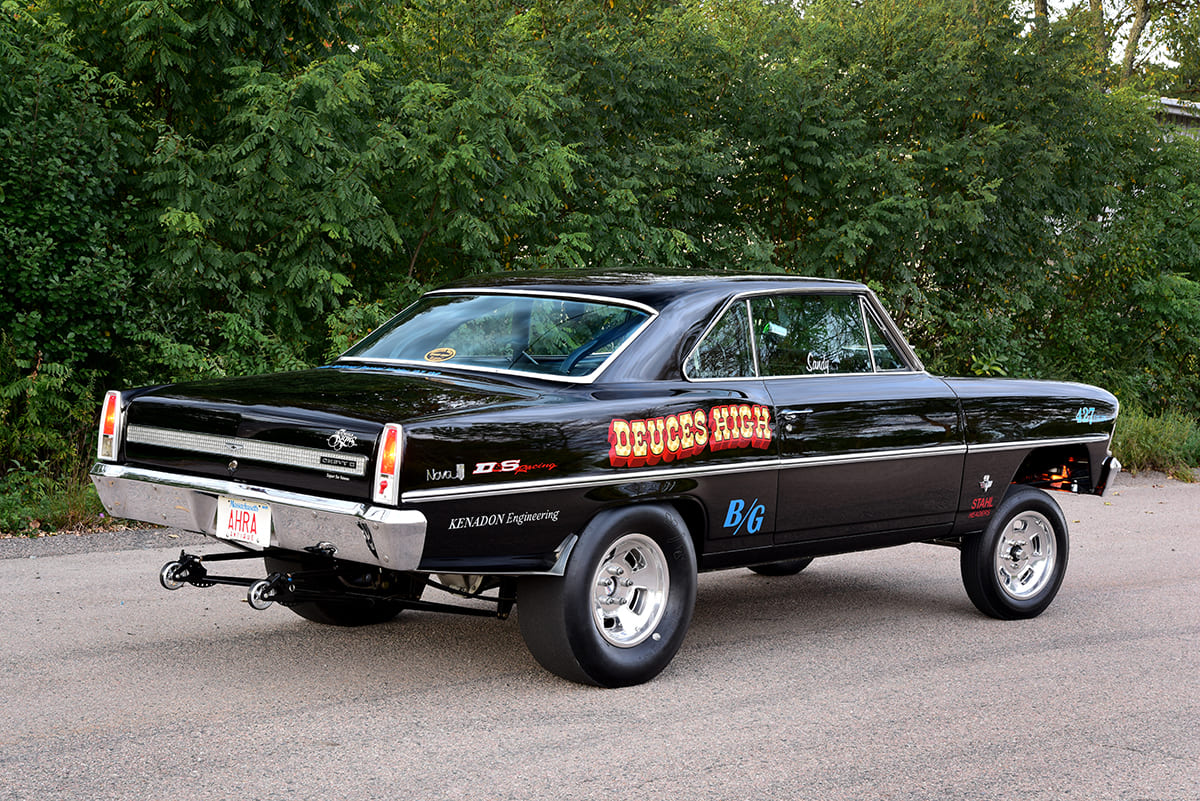 His passion ignited when he was able to bond with his older brother, Ken, and their friends as they wrenched on cars in the driveway. This eventually led to numerous road trips to New England Dragway to feel the power firsthand amid a haze of nitro and burnt rubber, followed by cruising Main Street in Brockton to check out who had the hottest mills running. Over the years plenty of cool rides passed through his home shop, however he never forgot watching ground-pounding Novas run at the drags while growing up. That was all it took to make the decision to start hunting for a car to act as a base for his latest build.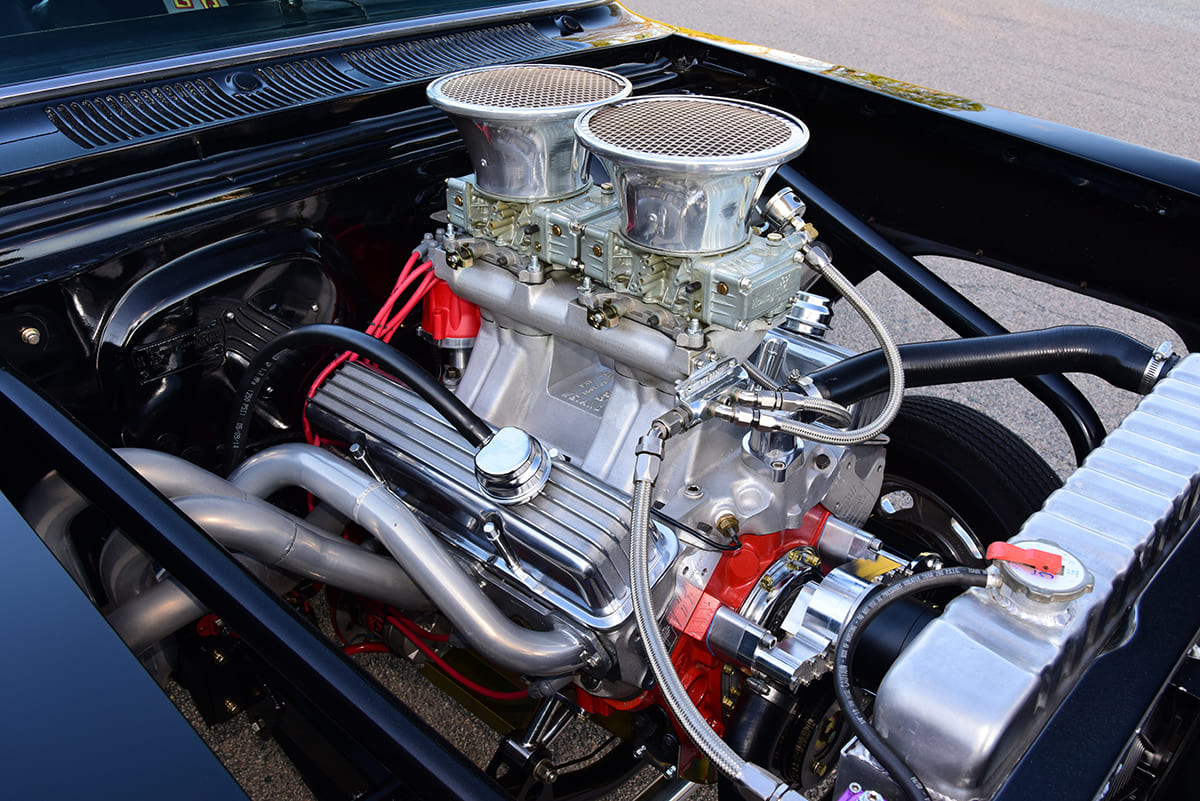 The term barn find, heard quite regularly in the automotive community, is often overused, especially when a car is found with a light layer of dust on it sitting in somebody's garage. Hearing of Don's quest, good friend John Broden tipped him off to a real-deal barn find, 1967 Nova. Recently exhumed from a long sleep in a local barn, the car was actually a former race car from the '70s showing a mere 37,000 miles on the clicker. Closer inspection proved it to be an original 327ci V-8, four-speed car, which had survived the decades unscathed and rust-free—a total miracle back east where salt eats cars for a living. Don immediately swapped greenbacks for the title and hauled the Nova home. To start, Don dropped a warmed-over 327ci mill in the car and hit the streets while making updates as the years passed. It was at the same time that he earned the Stock Eliminator class record in 2007.
By 2016 he finally made the move to update it into a gasser-style build with full support of his wife, Sandy, and good friend, Jason Enos. Out back, a Chevy 12-bolt rear packs 4.56 Pro Gears from Richmond Gear turning 33-spline Strange Engineering axles, suspended in place by Calvert Racing split monoleafs matched to CalTracs traction bars and nine-way adjustable CR-series shocks. Up front, a B'z Rods straight-axle subframe kit sets the stance with their exclusive axle, forged spindles, 29-inch parallel leaf springs, and PRO tube shocks. When it's time to drop anchor, a Strange Engineering dual master moves juice through stainless lines to matching 11-inch slotted rear discs with GM vented discs up front. Meeting the street, you'll find American Rebel Sprint-model 15×4.5 front and 15×8 rear wheels topped with Coker Pro-Trac and Mickey Thompson rubber, respectively.
To bring the thunder, Don contacted Shafiroff Racing, selecting their Special Ultra Street 427ci V-8 filled with a speed shop full of go-fast goods. A Dart Little M Sportsman 400ci block, bumped to 427 ci, was filled with a Manley steel crank with matching H-beam rods wearing Mahle pistons getting bumped by a COMP Cams stick. A pair of AFR 210 Eliminator aluminum heads breathe deep, while a Weiand Hi-Ram tunnel-ram pulls the goods though a pair of Holley 450-cfm carbs topped with Mr. Gasket velocity stacks. An MSD Pro-Billet distributor lights the fire while spent gases exit through Stahl headers to a custom 2 1/2-inch stainless exhaust by Bill Gilsbach. A Jerico Performance DR4 trans with disc and flywheel from Advanced Clutches moves power to a Denny's Driveshaft. It's all good for over 600 hp, bringing the car to a best 10.10 e.t. at 130 mph in the quarter-mile.
It's always great to start with a low-mile original car when it comes time to address body and paint. Dennis Plogger, of Plogger Auto Body, and Derrick Hanoud, of 508 Customs, dialed in the factory sheetmetal and laid down a flawless coating of Axalta Jet Black gloss. Crutchfield Signs then added custom lettering to give the car an era-perfect look. Inside it's all race car, starting with the factory dash filled with gauges from AutoMeter and Sun to monitor the vitals. The stock steering wheel mounted to the factory column plots the course, while shifts move through a Long stick, and a six-point chromoly rollcage by Tube Chassis Designz keeps it all safe. Hot Rod Interiors by Drew freshened up the interior, which included notching the factory bench and covering it in black vinyl while adding seatbelts from RCI Racing.
It takes plenty of help to get the job done and Don wanted to also thank John Santaniello, Phil Sherman, Tim Baptista, Ray Helger, and Broadbent Bros. Racing.
This is one Nova that sees plenty of action, and to us that sort of street cred makes it the real deal! ACP
Straight-axle 1967 Chevy Nova Runs 10-Second quarter-mile times