This 1967 Chevy Nova Satisfies Karl Jones' Need for Speed
By Nick Licata – Photography by Grant Cox
It was in 1967 when the Beatles released one of rock's highest acclaimed albums "Sgt. Pepper's Lonely Hearts Club Band," Ralph Nader's book Unsafe at Any Speed set in motion the U.S. government to implement mandated safety standards for new automobiles, and Karl Jones' fresh little Nova came off the assembly line. Back then, the Chevy II Nova was considered a budget-priced compact car. While the "big dog" SS Nova came with plenty of visual attitude backed up by a 275hp 327ci engine, it was considered a street beast for the time.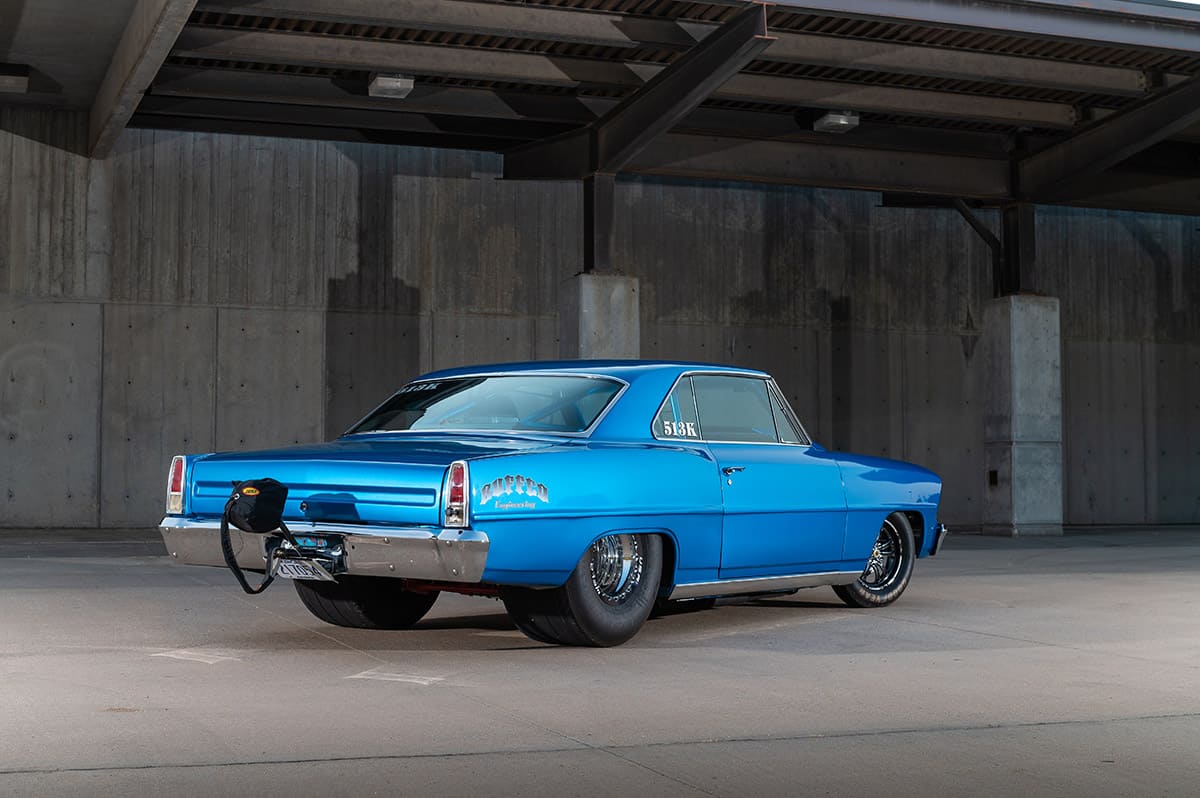 No telling if Karl's Nova began life with a 194ci, 250ci inline-six, or the 283ci V-8, but today it sports a supercharged LSA underhood cranking out over 700 hp. Nader would have totally lost it if he had any idea that kind of power would, or even could, reside between the 'rails of this little econobox.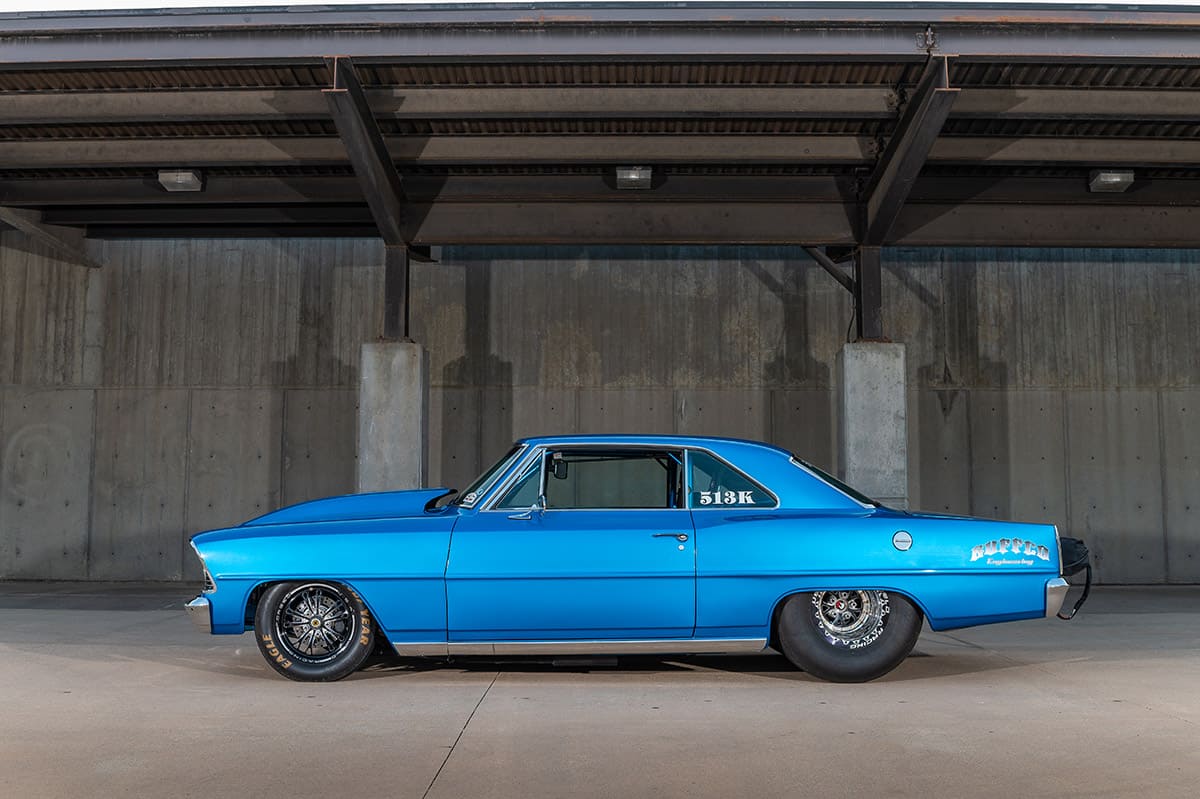 So, how did Karl, a machinist from Belle Plaine, Kansas, come about this car? "I spotted it at racetracks in my area and had admired it for a long time. I always thought it looked clean and had a great stance," Karl remembers. "A friend of mine bought it from his grandpa, which then took me 15 years to convince him to sell it to me."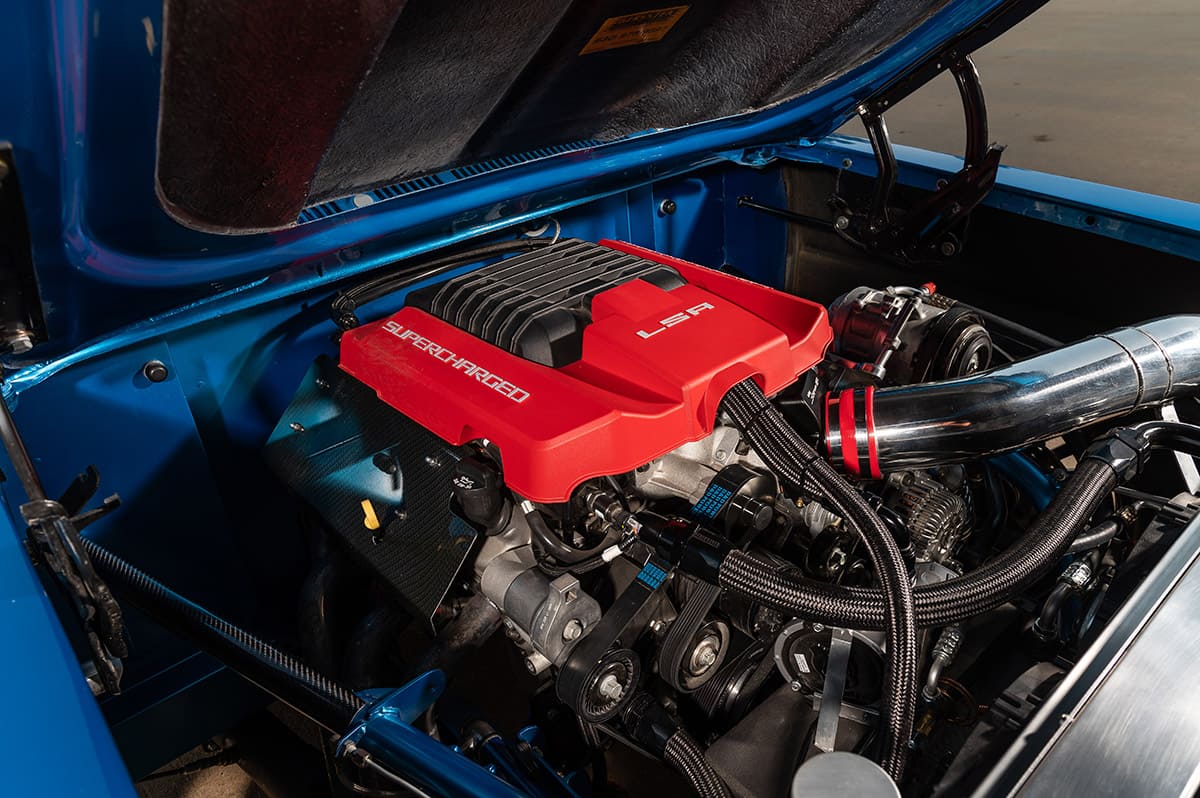 Once in Karl's hands, the focus was to keep the car street-friendly–lots of power for days at the dragstrip–but contain the urge to go balls-out and build a full-on drag car. "That's where the LSA comes in." Karl points out. "I wanted a car that makes a lot of horsepower but one I could drive on the street on a regular basis with no issue."
The car received a full onceover; starting with the chassis, it's a custom tube deal outfitted with a four-link suspension out back and a Chassis Engineering front kit armed with Strange Engineering doubleadjustable shocks on all four corners. Lurking behind the Weld V-Series wheels (15×3.5 up front, 15×16 rear) is an all–Wilwood Disc Brakes affair.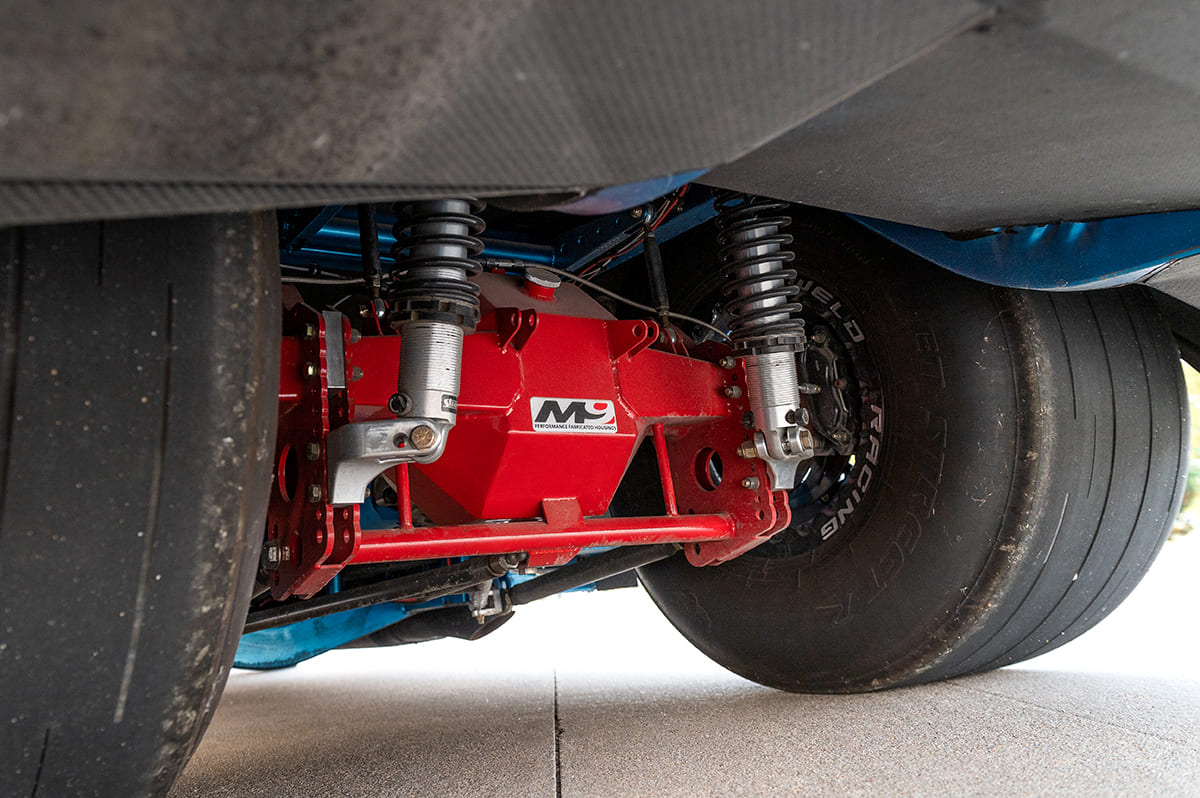 The aforementioned 6.2L LSA engine was reworked and assembled by Ryan Beck,of Newton, Kansas, and features a Texas Speed cam, CNC-ported stock heads, along with Crower rockers and valvesprings. Fuel injection was handed over to Holley Performance and their Terminator system. Beck's diligence paid off, as the little Chevy now makes 800 hp and 700 lb-ft and is mild enough for a trip to the local grocer.
Tom Williams at BTE Racing massaged a Powerglide trans to handle the mayhem, then bolted up a BTE Top Sportsman 5,400 stall converter. For peak-rpm shifting, Williams dialed a Gear Vendors Overdrive system into the mix.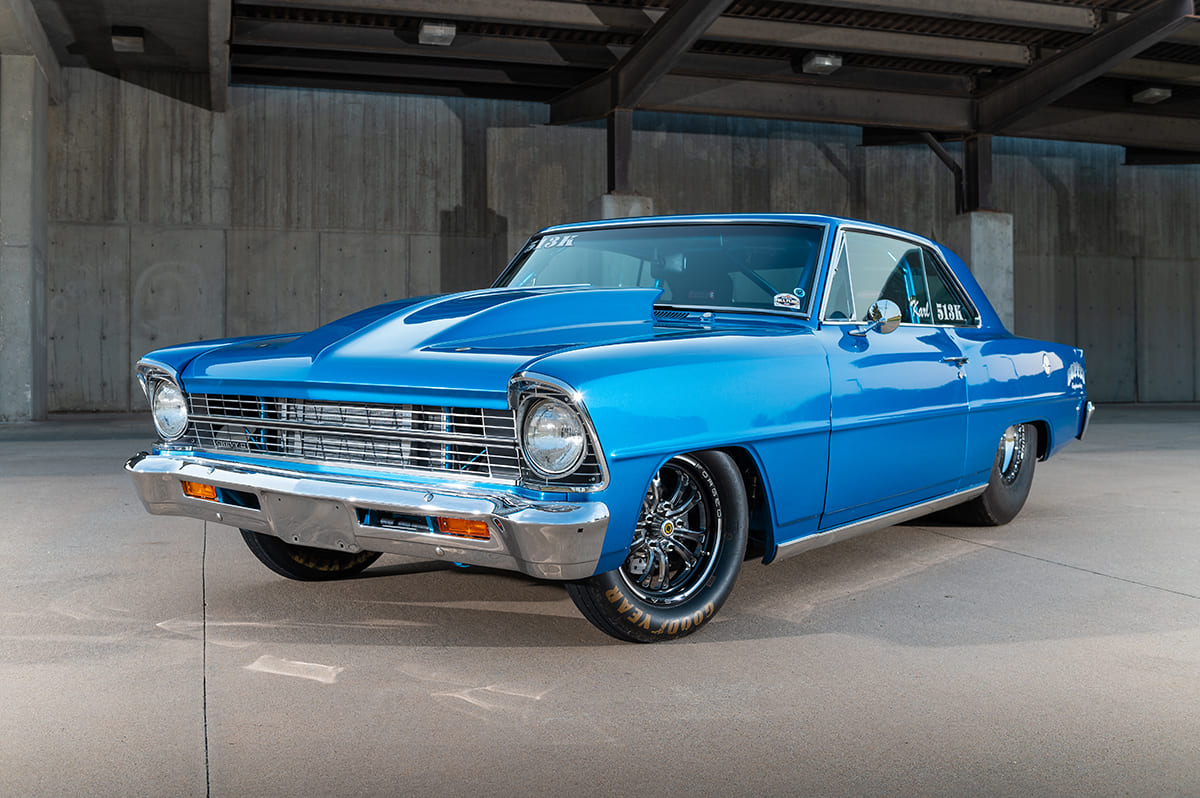 The whole enchilada was smoothed then covered in PPG Batlama Blue by the crew at Kammerer Auto Body in Wichita, Kansas. The retina-stinging color pops big time and saturates your brain well after the car exits the scene.
At first glance the interior resembles the space shuttle command center, but the stock radio face and original speedometer settled in the dash reminds of the car's vintage pedigree. Karl just smirks as he settles in the Kirkey seats and straps himself in via the Simpson five-point harness. He relies on an eight-point mild steel rollcage installed by Steve Beeny for extra protection and peace of mind.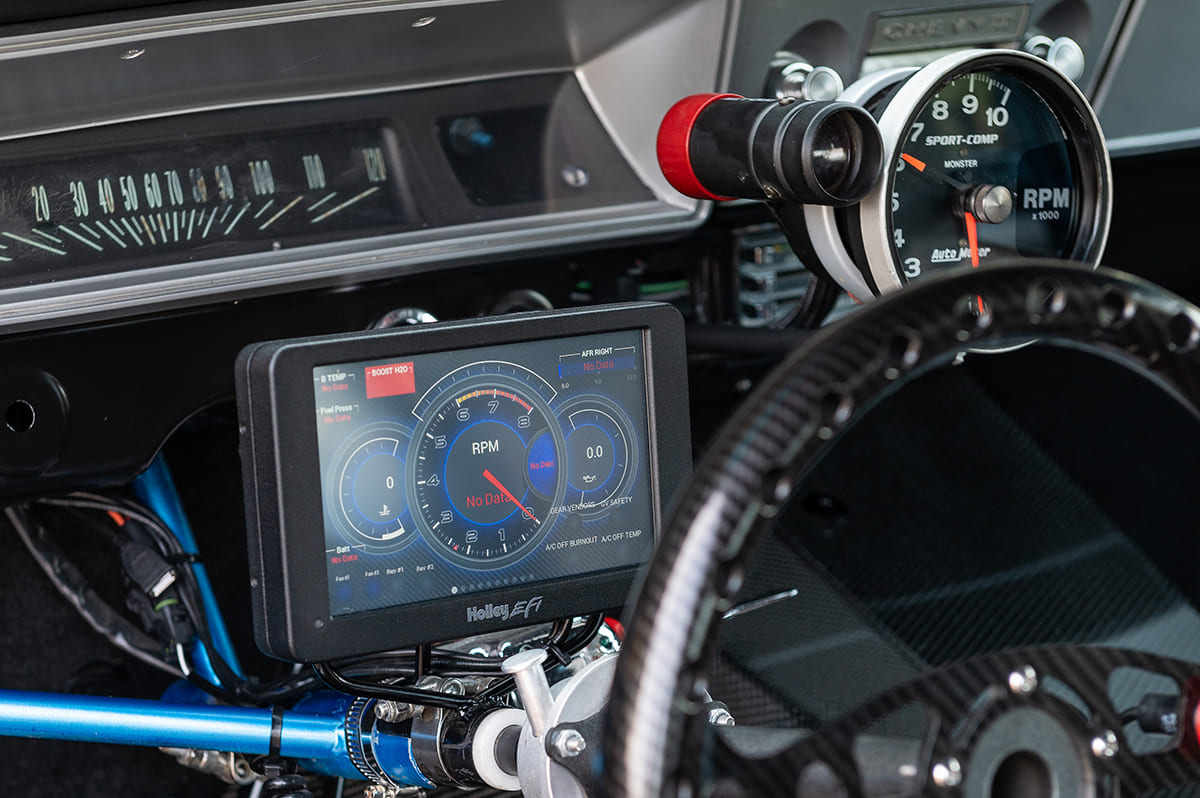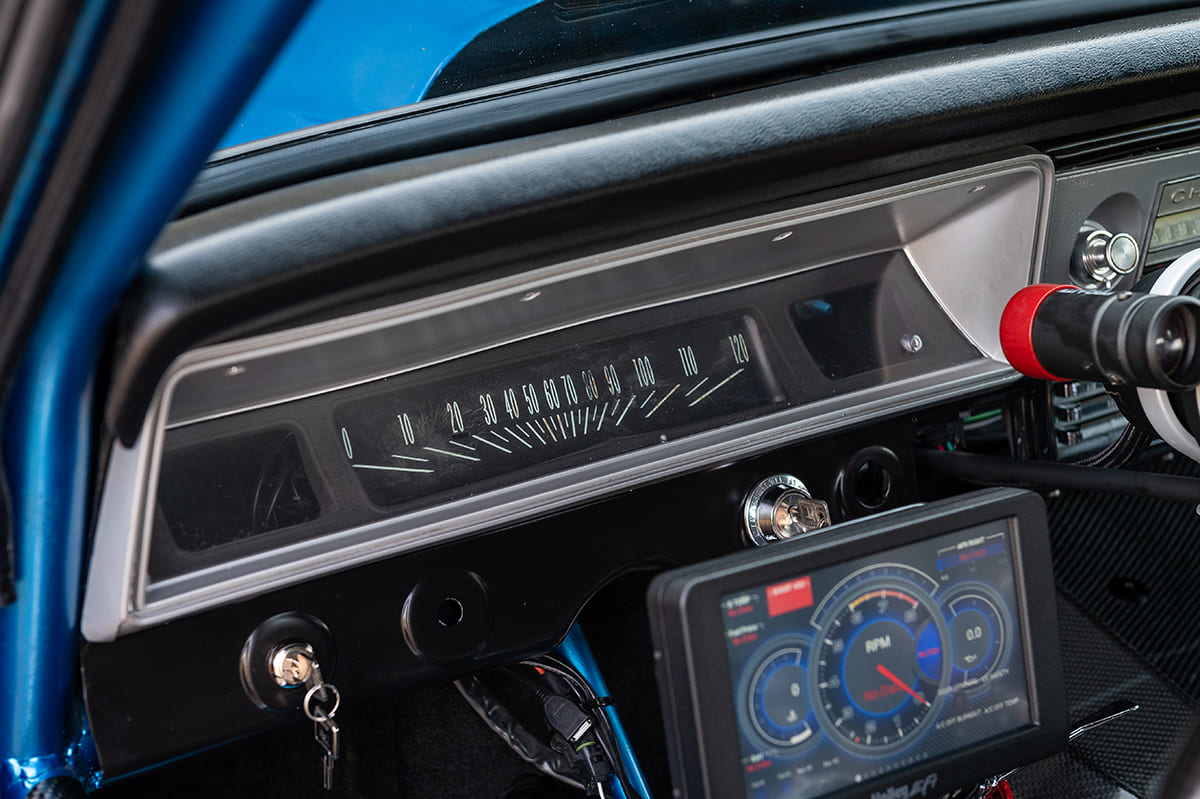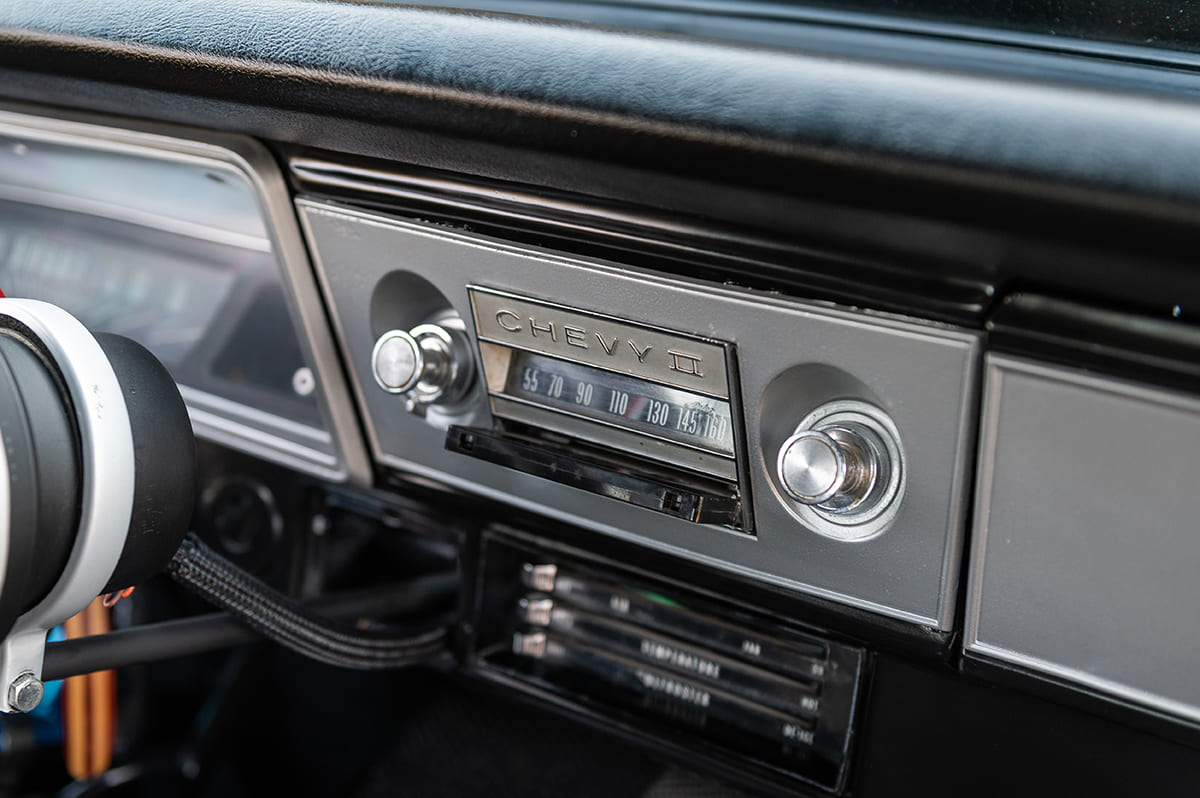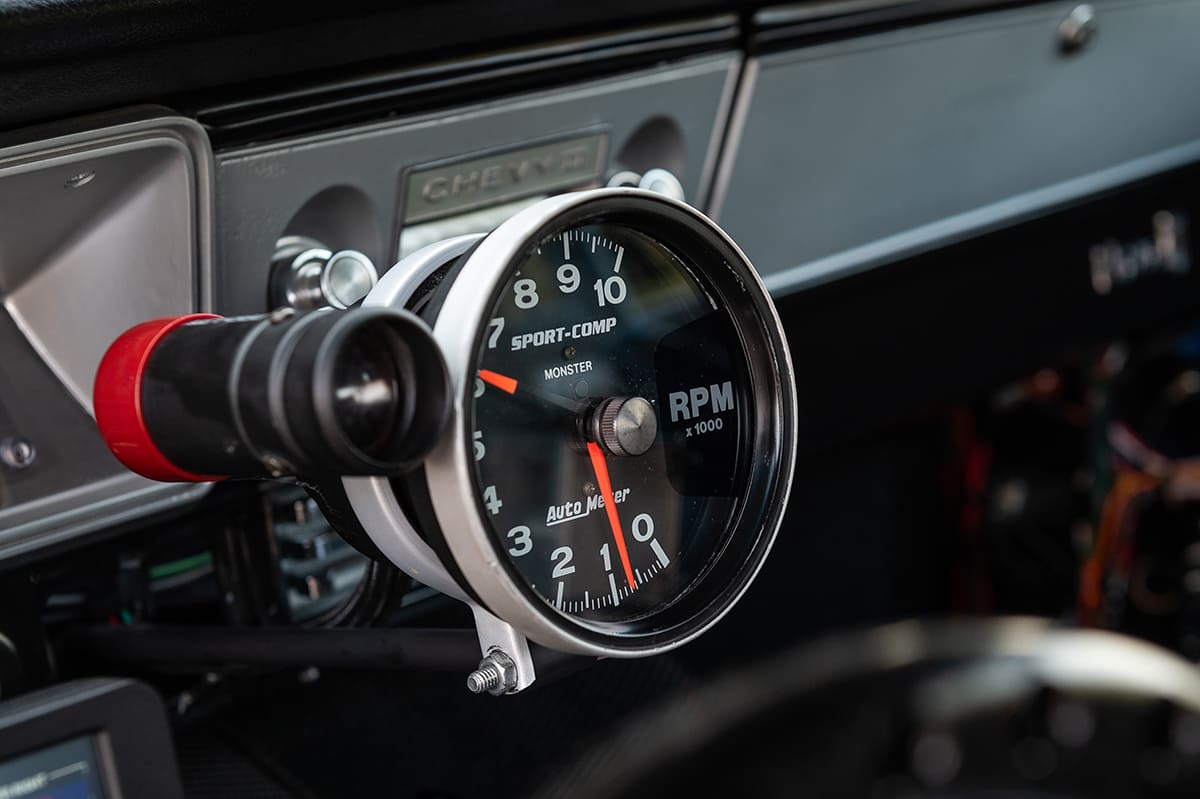 Karl consumes the vitals relayed by the Holley EFI dash and the protruding AutoMeter rpm gauge and shift light. Once at cruising speed, Karl absorbs the tunes blasting from the Kicker speaker system.
Karl's whole intent was to experience the adventure of blending new technology and classic style, and with the help and guidance of the talented of Steve Beeny, that goal was achieved. And the part about the Nova being a street/strip car? Well, this thing has enough raw attitude that it can be whatever it wants. No questions asked.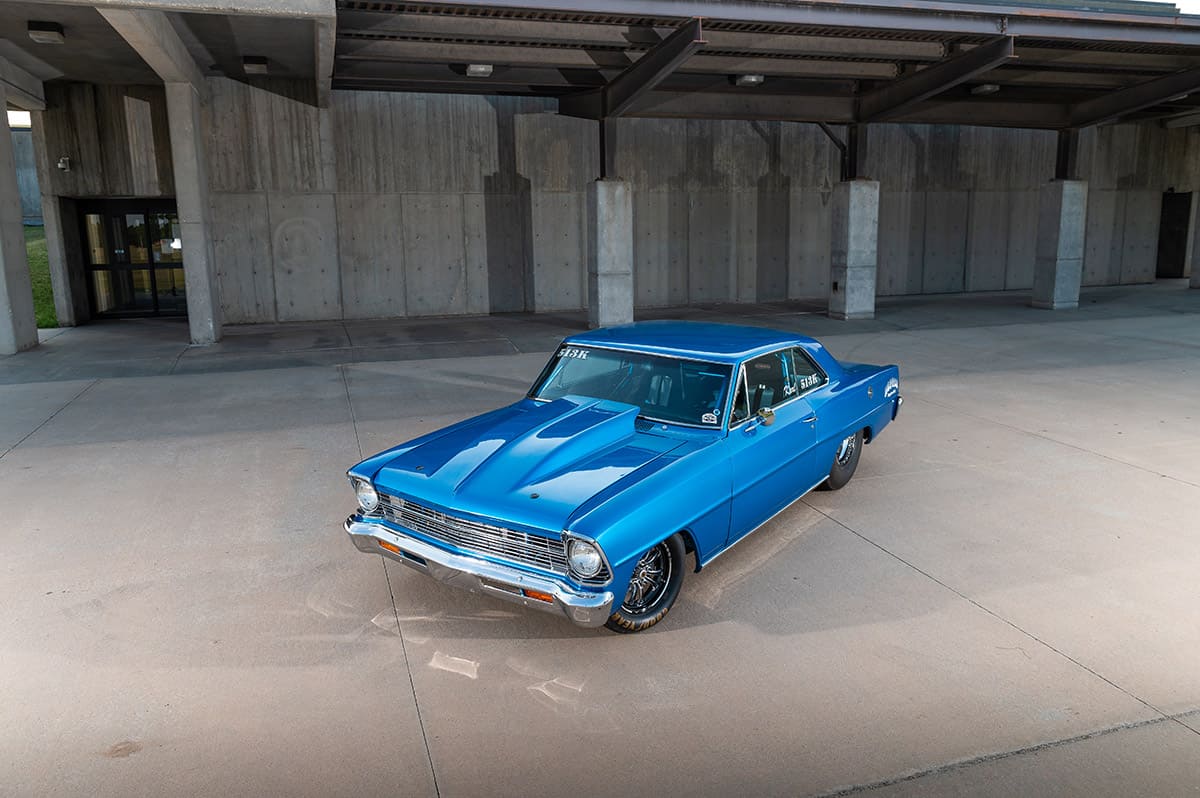 TECH CHECK
Owner: Karl Jones, Belle Plaine, KS
Vehicle: 1967 Chevy II Nova
Engine:
Type: Chevrolet LSA
Displacement: 376 ci
Compression Ratio: 8.5:1
Bore: 4.065 inches
Stroke: 3.622 inches
Cylinder Heads: Stock CNC ported
Rotating Assembly: Stock
Valvetrain: Crower rockers and valvesprings
Camshaft: Texas Speed (0.562-inch lift; 230 deg. duration at 0.050)
Induction: LSA blower, Holley Terminator Fuel Injection
Assembly: Ryan Beck
Exhaust: 2 1/8-inch custom headers by Steve Beeny, 3-inch Custom American exhaust, Flowmaster 40 Series Mufflers
Ancillaries: Carbon-fiber valve covers, custom hood hinges
Output: 800 hp at 7,200 rpm, 700 lb-ft at 6,900 rpm
Drivetrain:
Transmission: BTE Racing Powerglide assembled by Tom Williams, BTE Top Sportsman 5,400 stall converter, Gear Vendors Overdrive
Rear Axle: Moser 9-inch, 3.73:1 gear ratio; limited slip diff, 40-splined axles
Chassis:
Front Suspension: Chassis Worx tubular A-arms, Bell Tech spindles, Competition Engineering springs, Strange Engineering double-adjustable shocks
Rear Suspension: Custom-built four-link, Competition Engineering springs, Strange Engineering double-adjustable shocks, Panhard bar
Brakes: Strange Engineering four-piston calipers, front and rear; Strange Engineering proportioning valve; Strange Engineering master cylinder
Wheels:
Wheels: Weld V-Series 15×3.5 front, 15×16 rear
Tires: Mickey Thompson E.T. Street 28×3.5R15 front, 31×16.5R15
Interior:
Upholstery: Black loop carpet
Seats: Kirkey
Steering: Custom steering column and steering wheel
Shifter: Hurst
Dash: Stock
Instrumentation: Holley EFI
HVAC: Factory with custom install
Rollcage: Eight-point mild steel
Exterior:
Bodywork and Paint: Kammerer Auto Body, Wichita, KS
Paint: PPG Batlama Blue
Hood: Glasteck 4-inch cowl
Grille: Stock
Bumpers: Stock