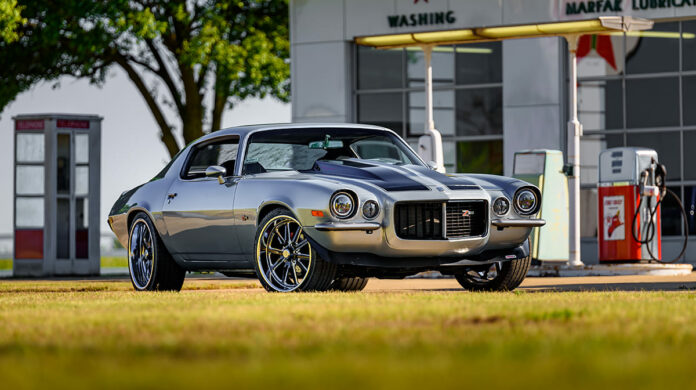 Shawn Rhyne's 1970 Camaro RS Z28
By Shawn Brereton – Photography by the Author
The saying goes, "One man's junk is another man's treasure." For ex-Sprint Car racer Shawn Rhyne of Marion, Arkansas, it took a little bit of time and trading to make the other man's "junk" 1970 Camaro RS into a treasure, but he finally got there. The story is proof that persistence pays off.
Shawn was deep into Sprint Car racing—like over-his-head deep. He was pretty successful punching above his weight, racing on a shoestring budget around the South. However, it all changed in 2011. After spending his winnings refreshing the chassis in the offseason, he was taken out by another competitor in the first race, stuffing the car under a guardrail. With a family on the way and no money left in the bank after fixing the car, he made the tough decision to hang up his racing gloves.
Shawn grew up helping his dad, Mike, build hot rods and hoped to quench his thirst for speed on the street instead of dirt. Having trouble selling the Sprint Car, he traded it for a clean Harley-Davidson motorcycle, figuring it would be easier to sell. Shawn listed it for sale or trade on RacingJunk.com and was immediately contacted by Bryan Bruce of Georgia, who offered to trade his 1970 Camaro.
To Shawn's joy, despite the dull maroon color, the Camaro wasn't junk at all. The fairly solid body sported an L88 hood and the drivetrain consisted of a tired 350ci engine backed by a Turbo 350. It also had the all-original, rare 1970 model Strato bucket seats with the deluxe interior package.
Shawn returned to Arkansas with an adequate foundation to make his treasure. A mechanic for the utility company, he is no stranger to wrenching on vehicles, so he built a healthy 355 and dropped it between the framerails. As Shawn was breaking in the cam, a Sprint Car buddy stopped by and made another too-good-to-pass-up trade offer.
His buddy needed a small-block engine for his Sprint Car quickly, so he offered a straight trade for a brand-new 468ci big-block with dual four-barrels. Not one to pass up a great opportunity, Shawn accepted before he ever got to turn a tire in anger on the Camaro. As soon as the headers cooled, the small-block left its temporary home.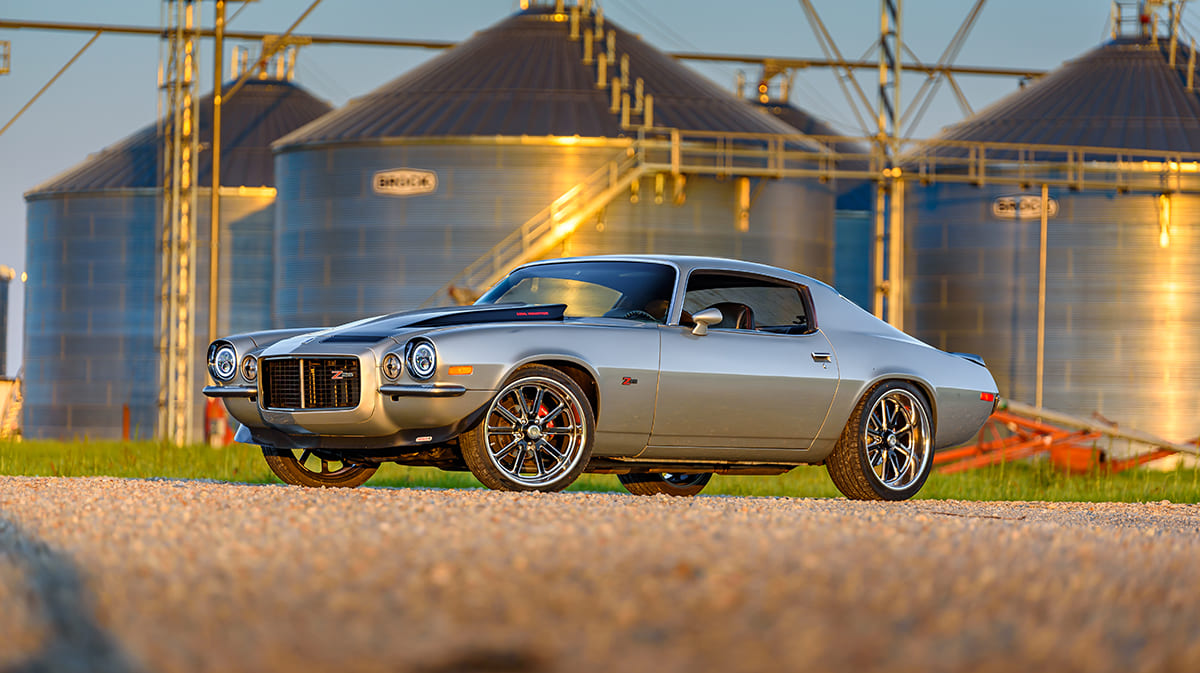 Shawn picked up the 468, fitted it in the engine bay, and drove it that way for quite a few years. But, as the saying goes, they are never done. It was time to get to work on building the Camaro into his Pro Touring vision, so he decided to blow it apart to do a full resto.
The big-block Chevy was just too finicky, ornery, and drank so much gas that employees at the station knew him by name. Shawn liked the power but wanted something more reliable, economical, and fun to drive. What he needed was modern power, so he sold the 468 to fund an LS he found for sale. He employed the experts at BB&T Racing in Southaven, Mississippi, to build it into a 408ci stroker engine with stout internals.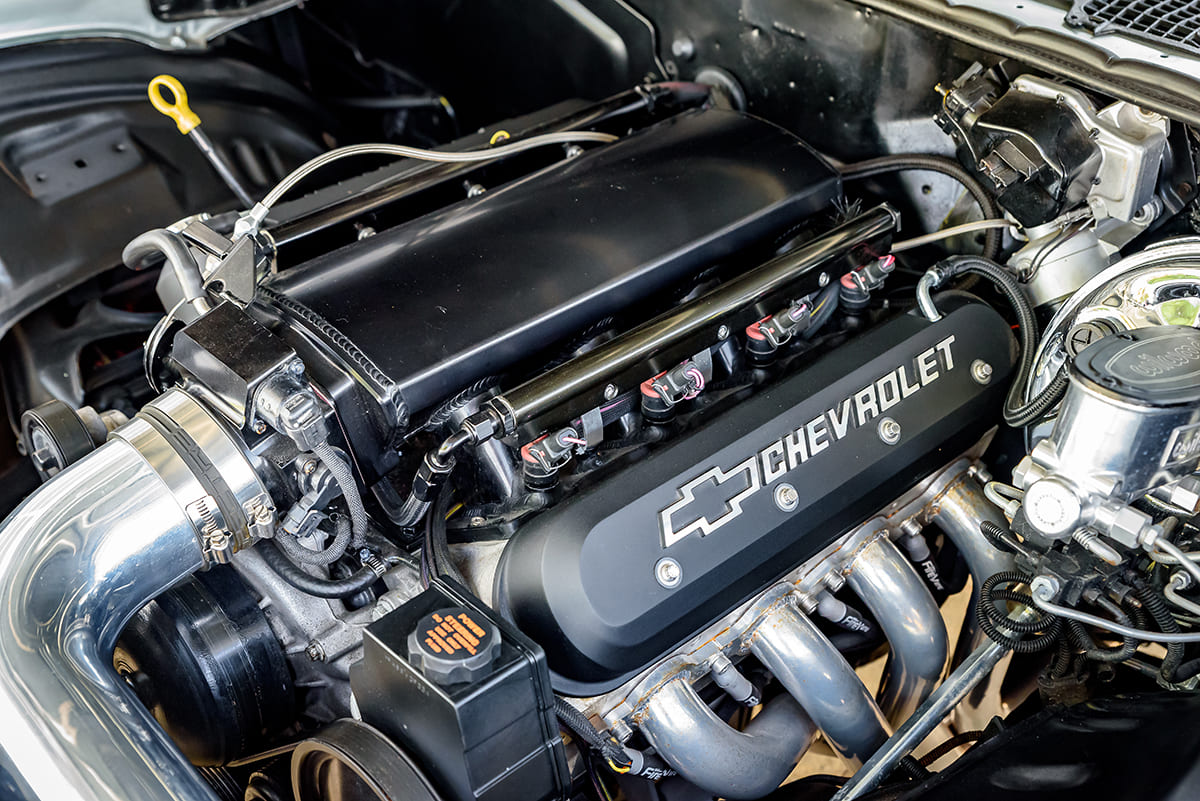 A 4.0-inch-stroke Callies crankshaft with 6.125-inch H-beam rods topped with Probe pistons puts compression at 10.5:1. A Comp Cams cam and valvetrain work in unison with Texas Speed & Performance (TSP) CNC-ported 317 aluminum heads fitted with Chevrolet Performance valve covers. Meanwhile, an MSD ignition box and wires provide the spark to light the fire. Air inhalation is through a Spectre Performance cold-air kit into a TSP 102mm intake. Spent gases exhale through a pair of 1 ⅞-inch primary Hedman Hedders headers to 3-inch X-pipe exhaust with Dynotech Oval race mufflers custom built by Chad Otts.
Shawn doesn't have to worry about cooling with an aluminum radiator and electric fan from Four Seasons. He also decided to keep the stock serpentine system, water pump, and alternator to keep things simple. Once fully assembled, BB&T tuned the engine on the dyno to a relatively healthy 600 hp and 630 lb-ft of torque at 6,500 rpm.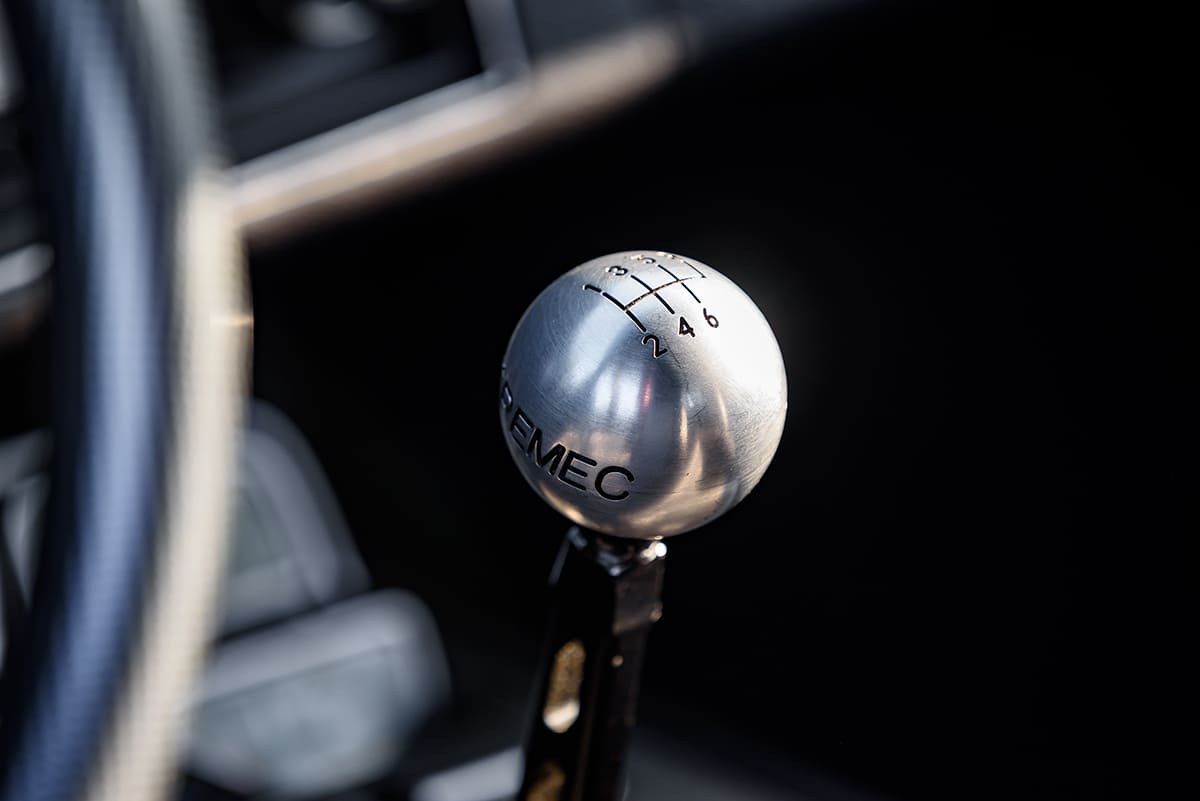 Because he wanted to have fun driving it, he got rid of the automatic transmission and hung a third pedal so he could row gears himself. A SPEC Stage 3 clutch and aluminum flywheel bolted to the LS engine transfer power to a TREMEC T56 six-speed manual to a custom driveshaft.
With the help of his twin brother, Shane, and his son, Peyton, the three worked on handling performance while the engine was being built. They installed a set of Detroit Speed subframe connectors to keep the unibody from twisting. Hotchkis Performance leaf springs with Ridetech RQ Series shocks provide the dampening for the stock Big-10 rearend, which received an 8.5 Positraction unit, 4.10 ratio gears, and 31-spline axles. Shawn dropped in a Tanks Inc. galvanized steel 20-gallon fuel tank powdercoated silver.
The front suspension matches the rear with Ridetech shocks and Hotchkis coil springs, while a Flaming River upgraded steering box provides a better response to driver inputs. Stopping power is compliments of a Wilwood master cylinder with 11-inch Wilwood rotors and two-piston calipers at all four corners. The big 20×9.5 rear and 20×8.5 front wheels are U.S. Mags 117 Ramblers wrapped in Nanking tires (275/35ZR20 rear, 245/35ZR20 front).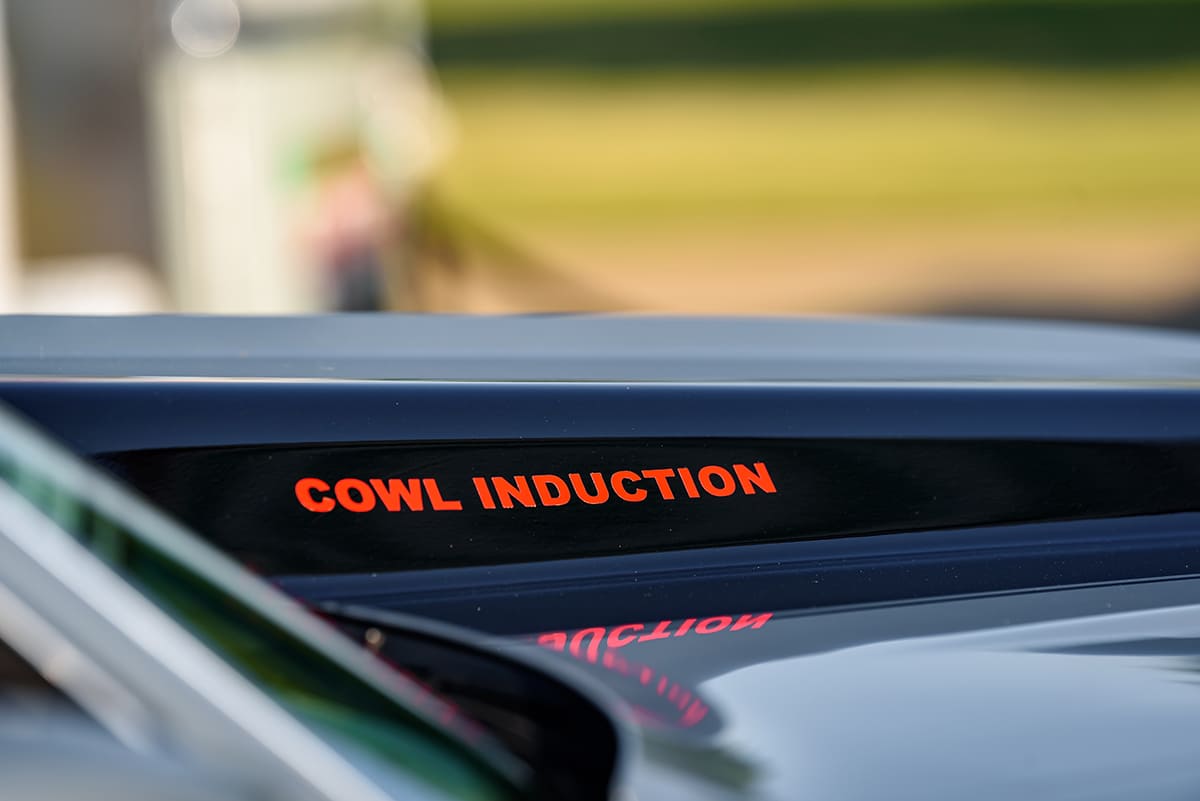 When it came time to address the exterior, Shawn bought a new steel hood from Camaro Central and shipped the car over to Javier's Body Shop in North Little Rock, Arkansas, to have the body massaged. Javier expertly worked the panels before laying down PPG Cortez Silver paint with black stripes. Then, he installed new glass outsourced from Auto City Classics.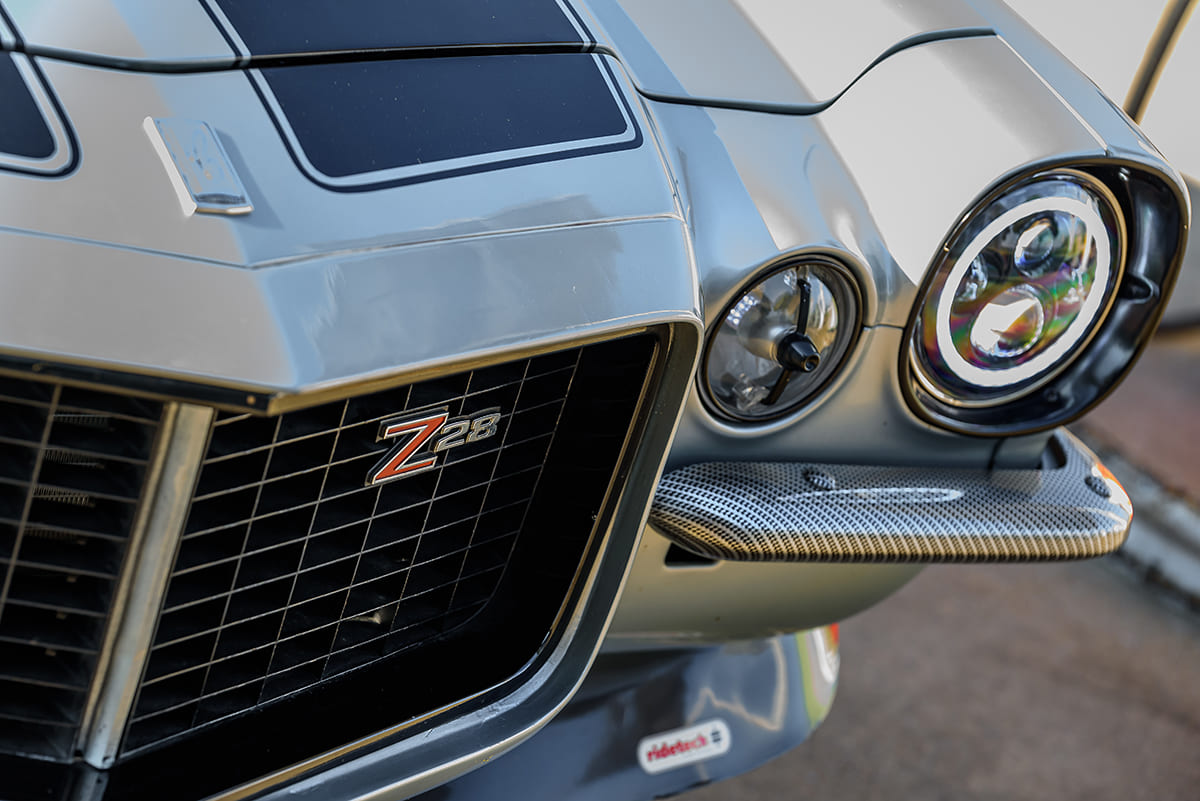 To set the car apart from the crowd, Shawn sent it over to Xtreme Race Graphics in Crawfordsville, Arkansas, to add some hydro-dipped carbon-fiber accents, including the radiator cover, door handles, and bumpers. At the same time, he opted to upgrade lighting with Jeep Wrangler headlights and LED taillights.
Shawn also added a Painless Performance Products wiring harness before sending it to Arkansas Upholstery in West Memphis, Arkansas, to update the interior with black leather and silver suede upholstery. A black carpet sourced from Camaro Central fits perfectly to the floor, and a 2015 ZL1 console now resides between the buckets. The carbon-fiber theme carries on into the interior in the door panel inlays, steering wheel, and CustomWorks Performance instrument panel fitted with red Speedhut gauges. Other notable accents include the doorjamb vents, shift lever, and window cranks from Ringbrothers.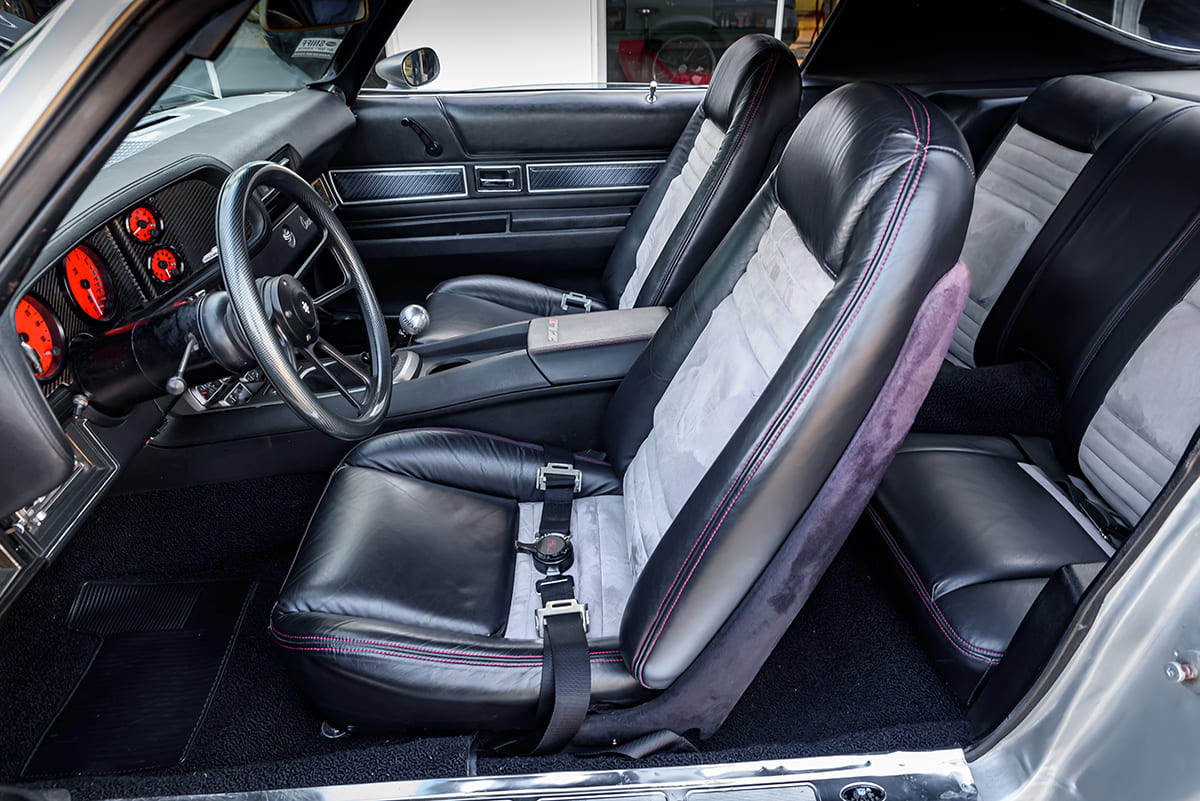 The car was finished just in time to make it to the Super Chevy event at Memphis International Raceway, where Shawn took first place in the Camaro class. Since then, he has shown the car at other significant shows and is busy driving the wheels off of it. Though it took him a while to get here, he's still tinkering and plans forced induction one day. Shawn thanks his friend Gregg Dunkin for the use of his shop and his family (wife Jodi, son Peyton, daughter Presley, brother Shane) for all their patience, support, and help building his 1970 RS Z28 into a showstopper.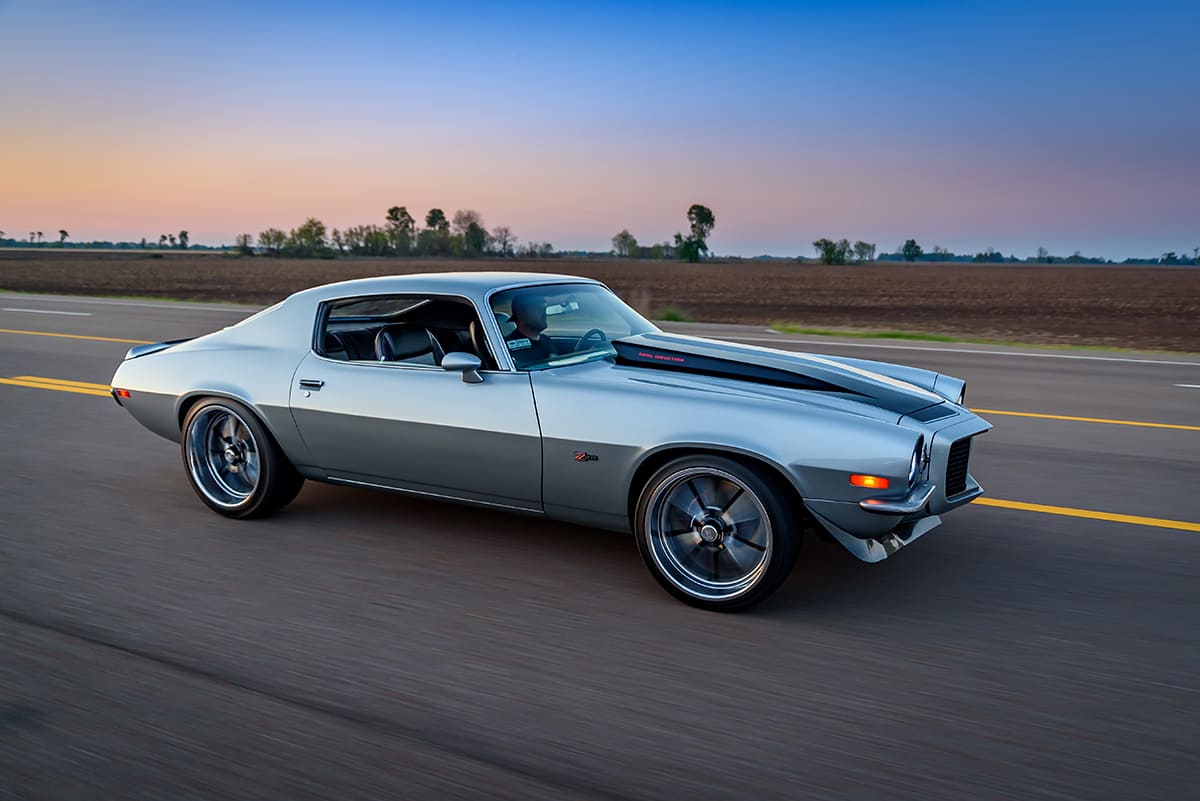 TECH CHECK
Owner: Shawn Rhyne, Marion, Arkansas
Vehicle: 1970 Camaro RS Z28
Engine
Type: 2002 LS stroker
Displacement: 408 ci
Compression Ratio: 10.5:1
Bore: 4.030 inches
Stroke: 4.000 inches
Cylinder Heads: Texas Speed & Performance CNC-ported 317 aluminum
Rotating Assembly: Callies crank, 6.125-inch H-beam rods, Probe pistons
Valvetrain: Comp Cams
Camshaft: Comp Cams hydraulic roller
Induction: TSP 102mm intake
Assembly: BB&T Racing
Exhaust: Hedman Hedders 1 7/8-inch headers and custom 3-inch X-pipe with Dynatech Oval race mufflers
Ancillaries: Stock serpentine system, water pump, and alternator, FSR radiator and electric fan, Spectre cold-air kit, Chevrolet Performance valve covers
Output: 600 hp at 6,500 rpm, 630 lb-ft at 6,500 rpm
Drivetrain
Clutch: SPEC Stage 3 clutch and aluminum flywheel
Transmission: TREMEC Magnum T56 six-speed manual
Rear Axle: Big 10-bolt 8.5 Positraction, 4.10 gear ratio, 31-spline axles
Chassis
Subframe: Detroit Speed subframe connectors
Front Suspension: Hotchkis Performance coil springs with Ridetech RQ shocks
Rear Suspension: Hotchkis Performance leaf springs with Ridetech RQ shocks
Brakes: Four-wheel Wilwood 11-inch rotors and two-piston calipers
Wheels & Tires
Wheels: U.S. Mags 117 Rambler 20×8.5 front, 20×9.5 rear
Tires: Nankang; 245/35ZR20 front, 275/35ZR20 rear
Interior
Upholstery: Arkansas Upholstery (West Memphis, AR)
Carpet: Camaro Central black loop carpet
Seats: Stock reupholstered in black leather with silver suede
Steering: Stock column with carbon-fiber wheel
Console: 2015 ZL1 Camaro
Shifter: Stock shifter with Ringbrothers shift lever
Dash: CustomWorks Performance carbon-fiber dash insert
Instrumentation: Speedhut gauges and stock 2015 ZL1 console gauges
HVAC: Stock
Door Panels: Custom hydro-dipped carbon-fiber inlays with Ringbrothers window cranks
Exterior
Bodywork and Paint: Javier's Body Shop (North Little Rock, AR)
Paint: PPG Cortez Silver with black stripes
Hood: Camaro Central
Grille: Stock RS
Bumpers: Hydro-dipped carbon fiber by Xtreme Race Graphics
Glass: Auto City Classics