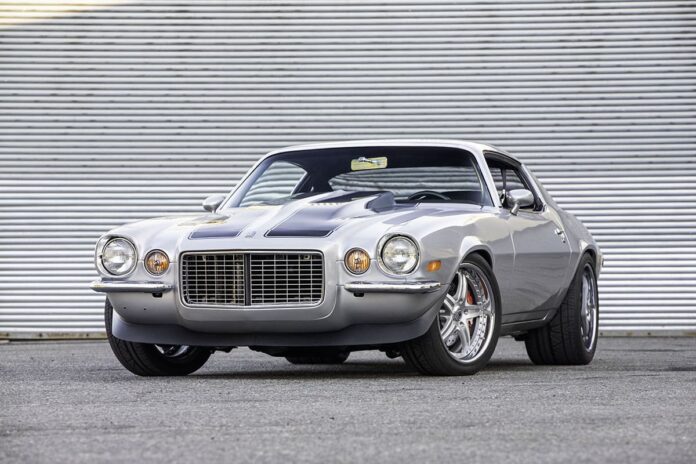 Building a Homegrown Pro Touring Camaro Has its Rewards
By Nick Licata – Photography by Jason Matthew
Many classic Chevy enthusiasts consider the 1969 Camaro the pinnacle of '60s American muscle badassery. The body lines are sexy and timeless–the car looks fast even while sitting still‑and its willingness to accept aftermarket suspension systems and engine swaps make it that much more desirable. That's all fine for most, but Rob Torres has always gravitated a little more toward the unique style of the 1970-1973 F-bodies. "A friend of mine, Franklin, had a 1969 Camaro, and he was the one who inspired me to buy this 1971," Rob says.
As is the case with most projects, this one started with a good ol' Internet search. "I was on a quest to find an early second-gen Camaro, and while cruising on craigslist.org I spotted this 1971," Rob recalls. "The car was in Pennsylvania and after doing some research I found out it was originally from Arizona. The body was rust-free and in fair condition, so I offered the guy $7,000—$3,000 below his asking price." The owner passed on that day's offer, but Rob laid back—stayed cool—and thankfully the seller called the following day to accept Rob's offer.
Rob gathered up the car, brought it home, and enlisted the help of his more-than-willing cousin Jose Toledo, to accompany him in the two-year process. The duo got busy starting with the rear suspension and fitted in a Detroit Speed QUADRALink system out back. They tubbed the inner fenders to accommodate the 19×12 Asanti wheels and massive Nitto 345 rubber. Detroit Speed shocks confirm an aggressive performance ride, while the Wilwood 13-inch rotors and four-piston calipers handle stopping duties.
Up front, they bolted in a Detroit Speed hydroformed subframe complete with Detroit Speed C5 spindles and tubular control arms along with a pair of QA1 coilover shocks. Once again Wilwood binders got the call, with six-piston calipers gripping the 13-inch rotors. A Wilwood tandem brake booster provide Rob the desired pedal feel for aggressive stopping power, and a Saginaw 700 steering box offer precise lateral decisions.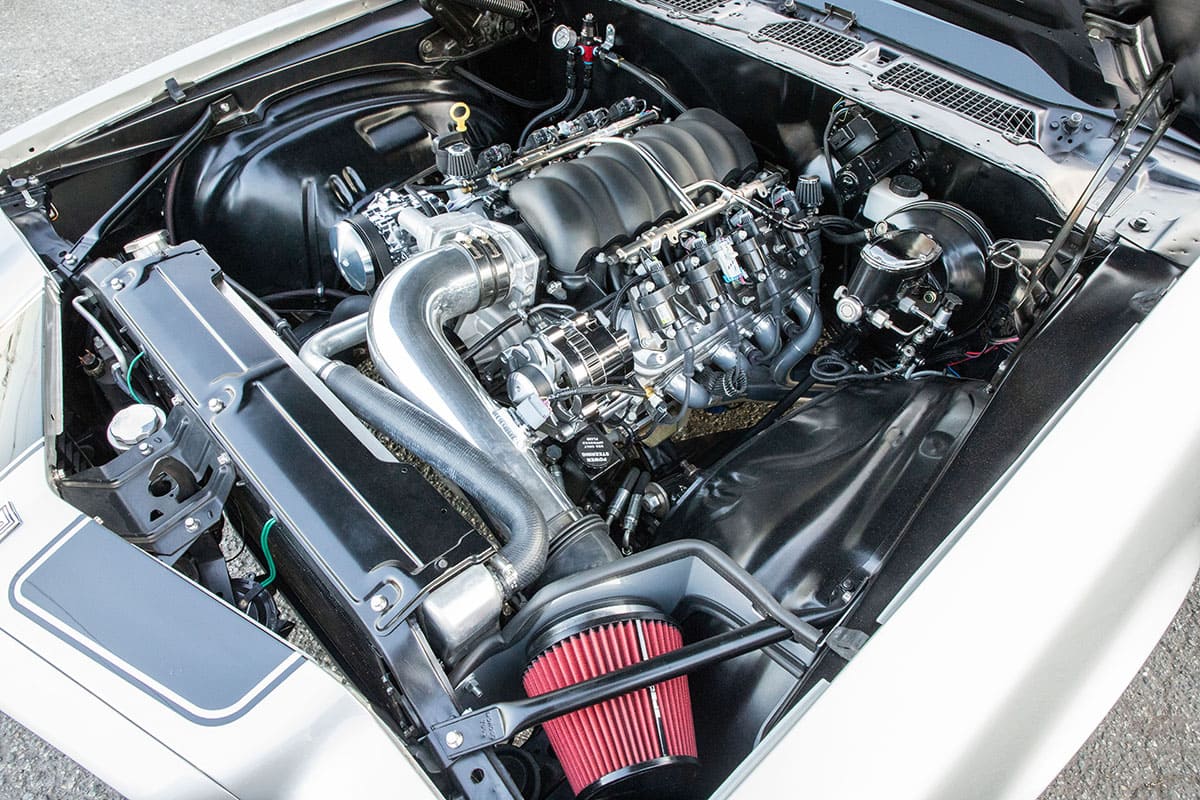 After the first go round of the build Rob armed the Camaro with a 396ci big-block, but after a while he decided to go with reliability over brawn, so he swapped out the Rat motor for a Chevrolet Performance hot cam 376ci LS3 crate engine. He wanted it pretty, too, so for more flair and functionality he bolted on a March LS Pro-Trac accessory drive system. A Spectre cold-air intake inhales massive amounts of atmosphere, while spent fuel exits via Patriot headers and a 2 ½-inch stainless exhaust system slightly subdued by a pair of MagnaFlow mufflers.
A Centerforce clutch ensures smooth gear transitions of the American Powertrain–prepped TREMEC TKO 600 five-speed trans. A rebuilt 10-bolt rearend loaded with Moser 28-spline axles gets power to the ground, but Rob's inner voice (and cousin Jose's real voice) tells him to keep feeding the piggy bank as that feeble rearend is a clutch-dump away from refusing further abuse.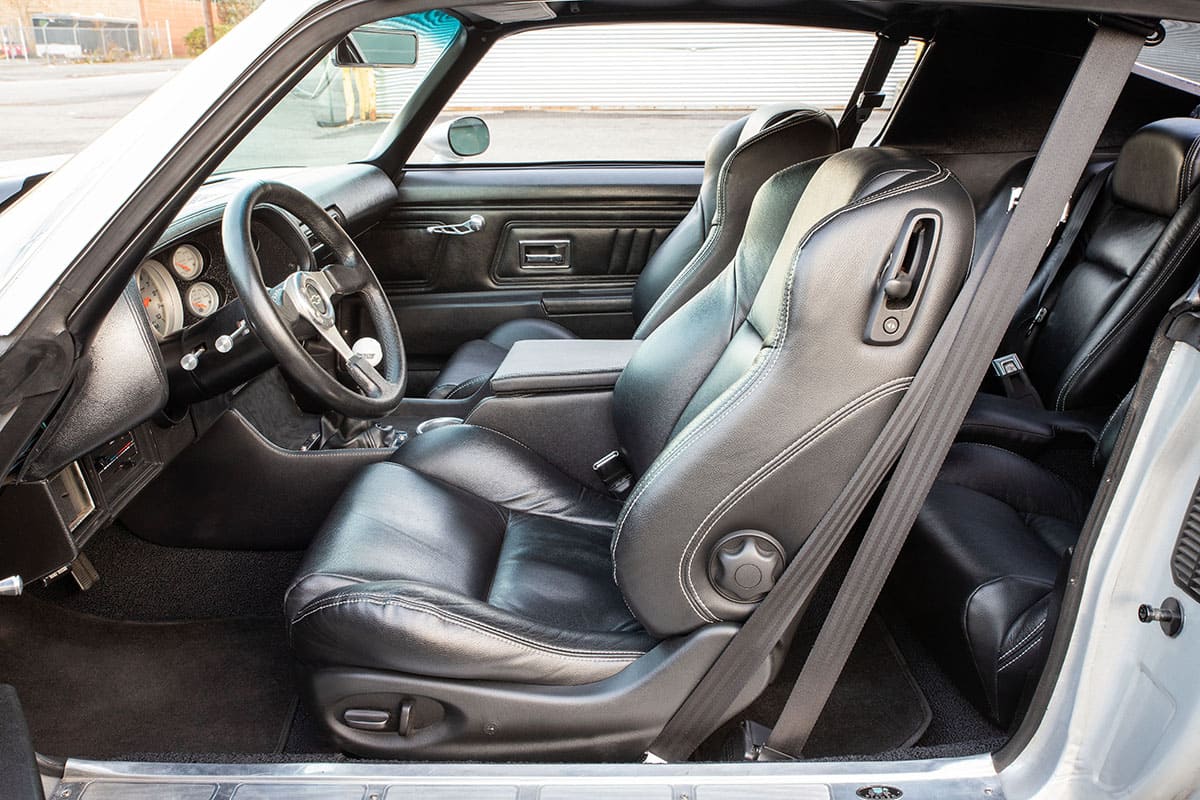 The control room abides by a performance scene, with driver comfort taking priority. The front seats were pilfered from a 2006 GTO for a cushy ride, while a Grant steering wheel fits the bill and an American Powertrain shifter calls the shots. AutoMeter Pro-Comp gauges keep Rob informed on the car's vital stats, while a Classic Air A/C ensures the climate stays in check.
Rob tells us the most exciting point in the build was seeing the car come out of the PM Auto Body paint booth. The Matrix Edge Satin Silver lit up Rob's eyes as the PM crew had smoothed the body to a glass-like finish and set the gaps to perfectly accentuate the car's new pigment. The clan at Mara Polishing and Plating tied it all together by performing their magic on the bumpers and related shiny bits. No doubt this Pro Touring Camaro makes a solid statement while heading down the road.
Rob and Jose put two solid years into to the build, which was accompanied by plenty of sweat and a bit of drama, but when it was all said and done they were overcome with the feeling of accomplishment.
Would they have done anything different if given a chance? "Nope, we'd not change a thing," Rob remarks "We'd do it just like we did. Unfortunately, it's not completely done yet—we just can't leave good enough alone."
Yep, we know how that goes.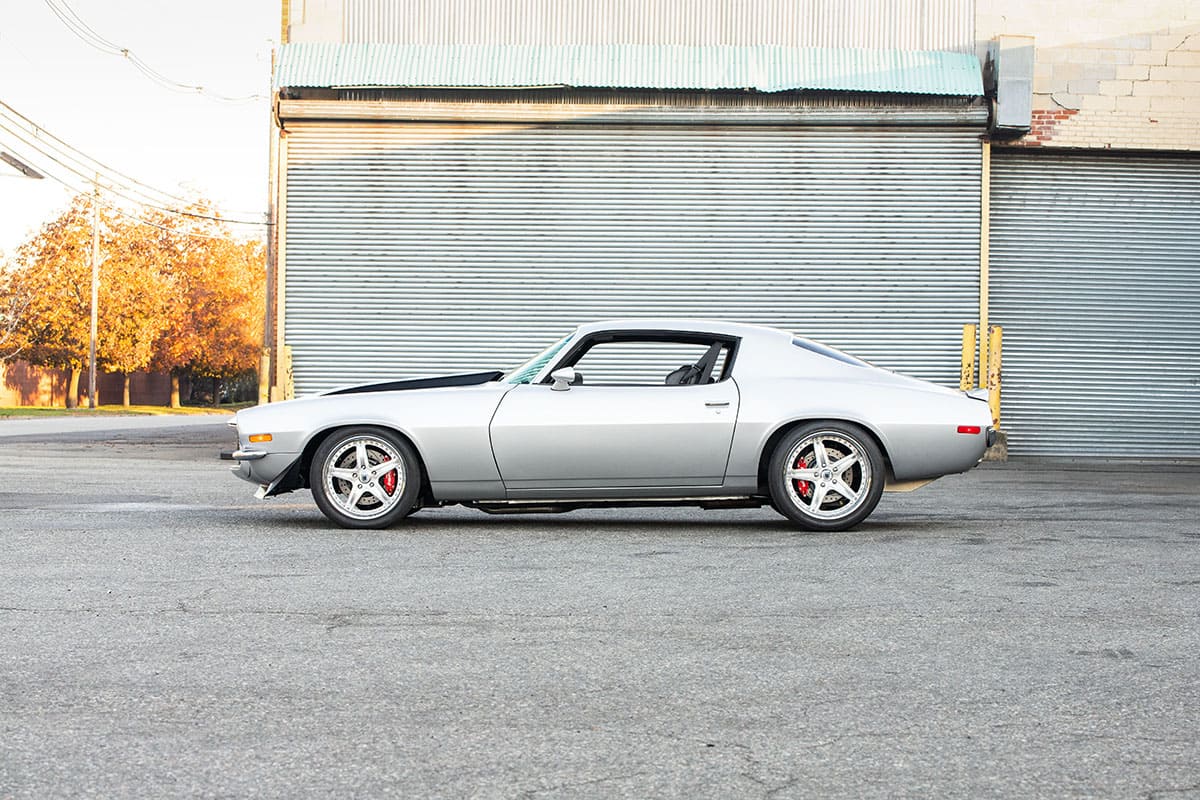 TECH CHECK
Owner: Rob Torres, Clifton, NJ
Vehicle: 1971 Camaro
Engine
Type: Chevrolet Performance LS376 crate
Displacement: 376 ci
Compression Ratio: 10.7:1
Bore: 4.065 inches
Stroke: 3.622 inches
Cylinder Heads: Aluminum L92-style port, "as cast" with 68cc chambers
Rotating Assembly: Nodular iron crankshaft, powdered metal rods, hypereutectic aluminum pistons
Camshaft: Hydraulic roller 0.525-inch lift, 219/228-degree duration at 0.050 inch
Induction: Chevrolet Performance
Exhaust: Patriot headers, 2 ½-inch stainless exhaust, MagnaFlow mufflers
Ancillaries: March Performance LS Pro-Track accessory drive system, Griffin radiator, Rick's Stainless fuel tank
Output (at crank): 495 hp at 6,200 rpm, 473 lb-ft at 5,000 rpm
Drivetrain
Transmission: TREMEC TKO 600 five-speed
Clutch: Centerforce
Rear Axle: GM 10-bolt, 4.10:1 ratio, Positraction differential, Moser Engineering 28-spline C-clip shafts
Chassis
Front Suspension: DSE hydroformed subframe, C5 spindles, tubular control arms, QA1 coilover shocks
Rear Suspension: Detroit Speed QUADRALink, Detroit Speed shocks, subframe connectors
Brakes: Wilwood 13-inch rotors, six-piston calipers (front); Wilwood 13-inch rotors, four-piston calipers (rear); Wilwood tandem master cylinder with 9-inch booster
Wheels & Tires
Wheels: Asanti AF 144 18×8, 19×12
Tires: Nitto 245/40R18, 345/30R19
Interior
Upholstery: Carlos Custom Upholstery, Irvington, NJ
Material: Leather
Seats: 2006 GTO
Steering: Saginaw 700 steering box, GM tilt column, Grant F/X Wheel
Shifter: American Powertrain
Dash: OE
Instrumentation: AutoMeter
Audio: N/A
HVAC: Classic Auto Air
Bodywork and Paint
Jay at PM Auto Body, Paterson, NJ
Paint: Matrix Systems Satin Silver
Hood: 2-inch steel cowl
Grille: Stock
Bumpers: OE, Mara Polishing and Plating, Newark, NJ