Rejuvenated pickup is ready for today's modern rodding demands and worth the wait
By Joe Greeves – Photography by the Author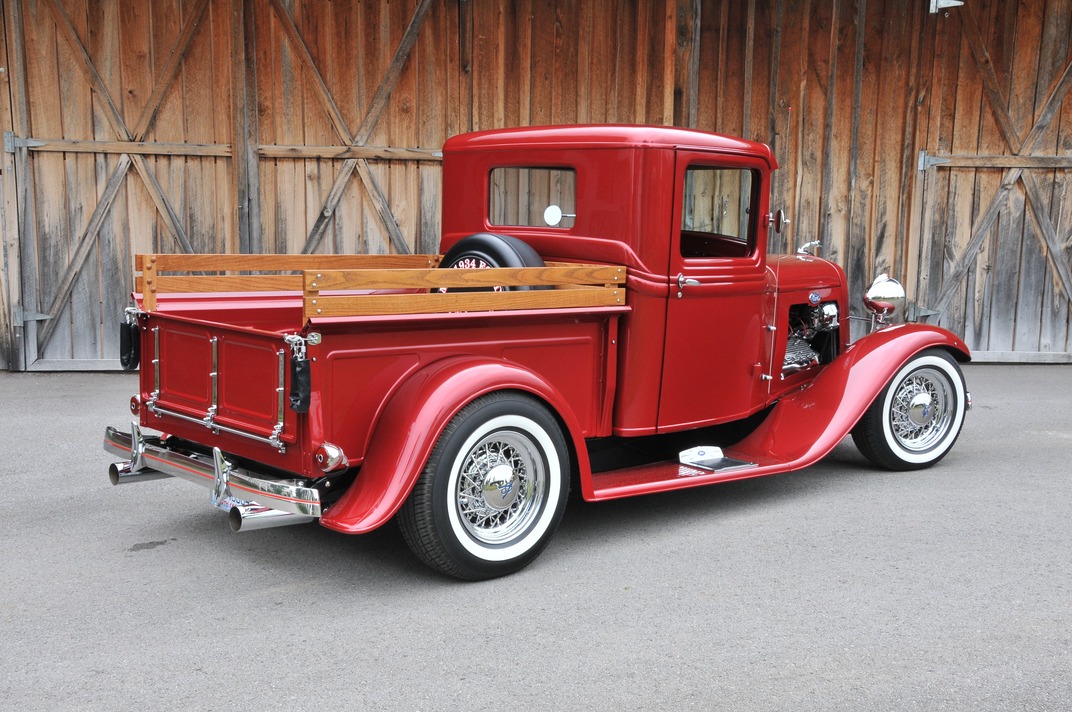 Sometimes it takes a while before you're able to assemble the perfect collection of parts for your automotive dream ride. Most enthusiasts agree it's worth the wait, especially the first time they get behind the wheel of their finished creation. Although Johnny Rowland grew up in an automotive family, tinkering and souping up engines at an early age, this is his first completely restored vehicle, a three-year build accomplished in mid- '70s. His dream ride got off to a hesitant start, beginning with the fact that the 1934 Ford in the photos was not his original choice. He was looking for a 1936 Ford coupe but somewhere in the middle of the search, he decided that he was really a truck guy at heart and adjusted his approach. The delayed gratification with this 1934 Ford Flathead powered pickup was well worth the wait.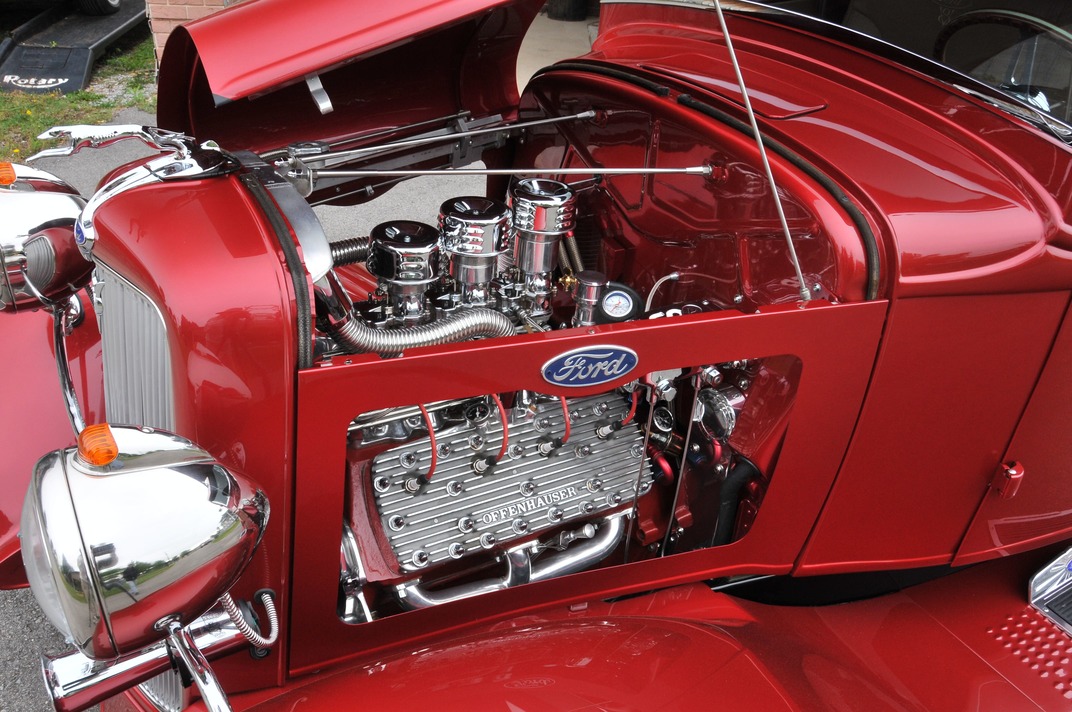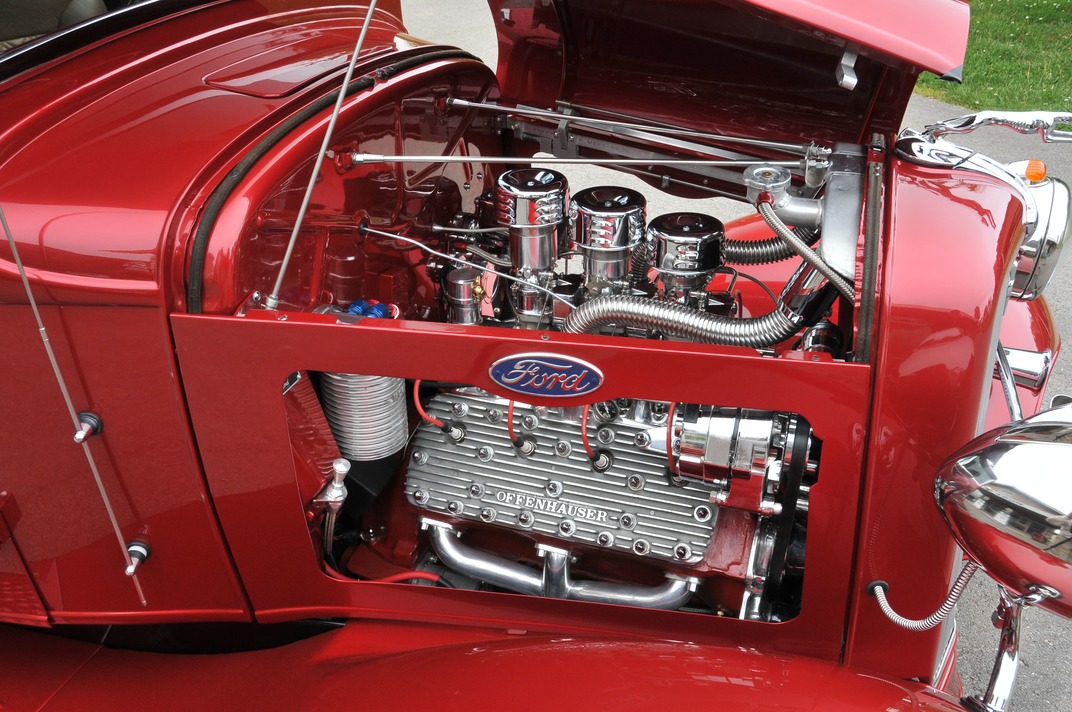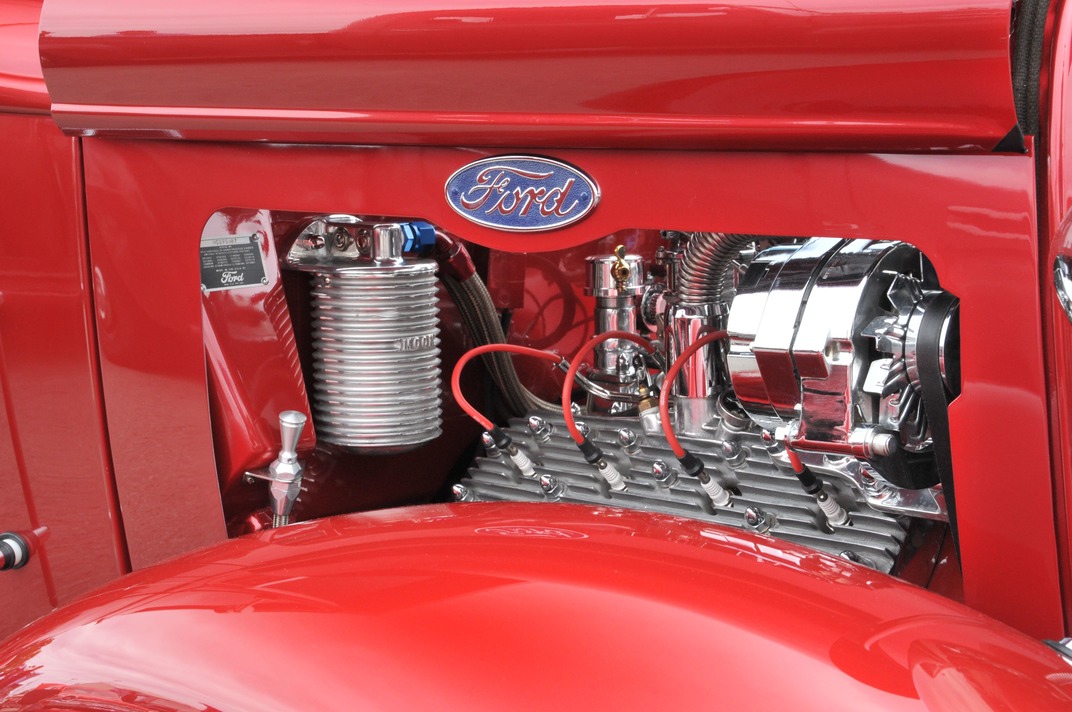 The 239 cubic inch Flathead block was the perfect future power plant and he began the rejuvenation process by having the block machined and bored .125 over by Dunkums Machine Shop in Newport News, Virginia. Doing the assembly himself, he fitted the mill with a new stroker crank, rods, and bearings from SCAT along with pistons from Ross. A full race Isky cam activates stainless steel valves fitted with dual Isky springs. Offenhauser heads, with a 400cc valve relief, guaranteed free breathing while the new 12-volt Mallory Unilite ignition system with their photo-optic, LED-triggering systems ensured a hot spark. On the top end, an Offenhauser manifold holds triple Stromberg 97's equipped with progressive linkage. The bottom end benefited from a set of Speedway center-dump chrome headers, a stainless-steel exhaust, and Magnaflow mufflers. Since a C4 automatic was a sought-after goal, Johnny matched the Flathead with an adapter from Flat-O-Products, adding a custom drive shaft to turn the Ford 9-inch and 3.0 gears. He chose a reproduction Griffin aluminum radiator with a built-in trans cooler and SPAL electric fan, programmed to remain on until temps return to normal. Dress-up details include chrome and polished aluminum almost everywhere from the custom engine pulleys to the classic chrome air cleaners on the 97's.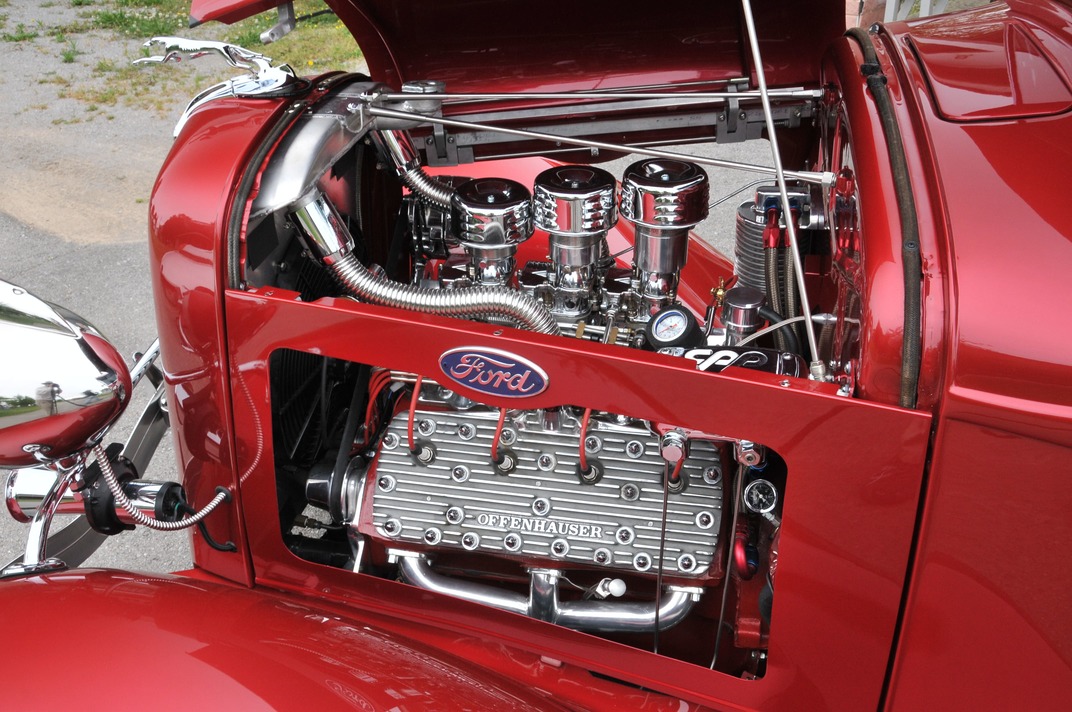 Once the rejuvenated Flathead was complete, he intensified his search and found a beautiful 1934 Ford pickup truck on Craig's list in New York. He drove from his home in Moyock, North Carolina to the Big Apple, looked at the truck, closed the deal, and brought it home. As he began to examine his new prize more closely however, he got the uneasy feeling that the truck was a little too pretty to cut up and make into a hot rod. No problem! Adjusting his search, a second time, he began looking for a donor vehicle not quite so pristine and a better fit for his plans. Fortunately, 'Plan B' turned up another prospect, this time in California. The '34 pickup was missing several components that Johnny already had, making it the perfect choice. When it arrived, it was worth the wait and was exactly what he was looking for.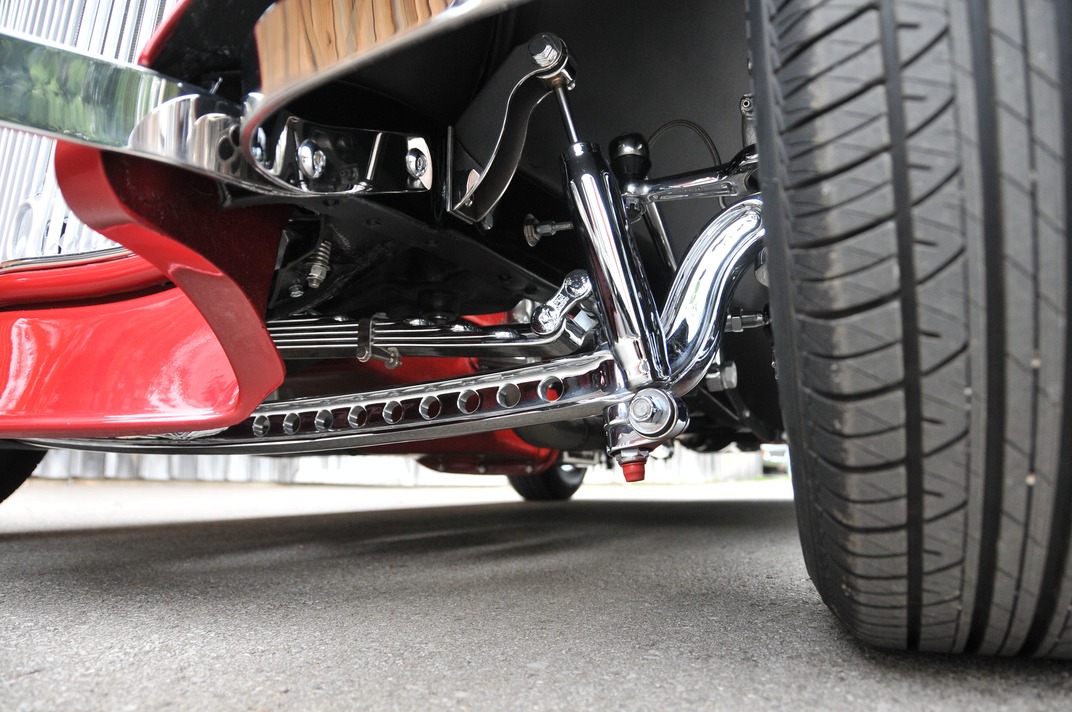 With a sense of excitement, he completely disassembled the truck and since the chassis had already been painted, Johnny's first step was to install the fresh new motor. The suspension uses two leaf springs in the rear and a Pete & Jakes chrome straight axle with disc brakes up front, chrome wishbones, and Super Bell four-inch drop spindles along with lots of chrome additions. The shocks were converted from the original lever action to tubular versions and a Mustang gearbox works with the original arm.
"I wanted it built like the original but incorporating a '50s approach," he told us. The True Spoke 15-inch chrome wheels use 205/70 Diamond Back Classics whitewalls up front and 235/75 versions in the rear.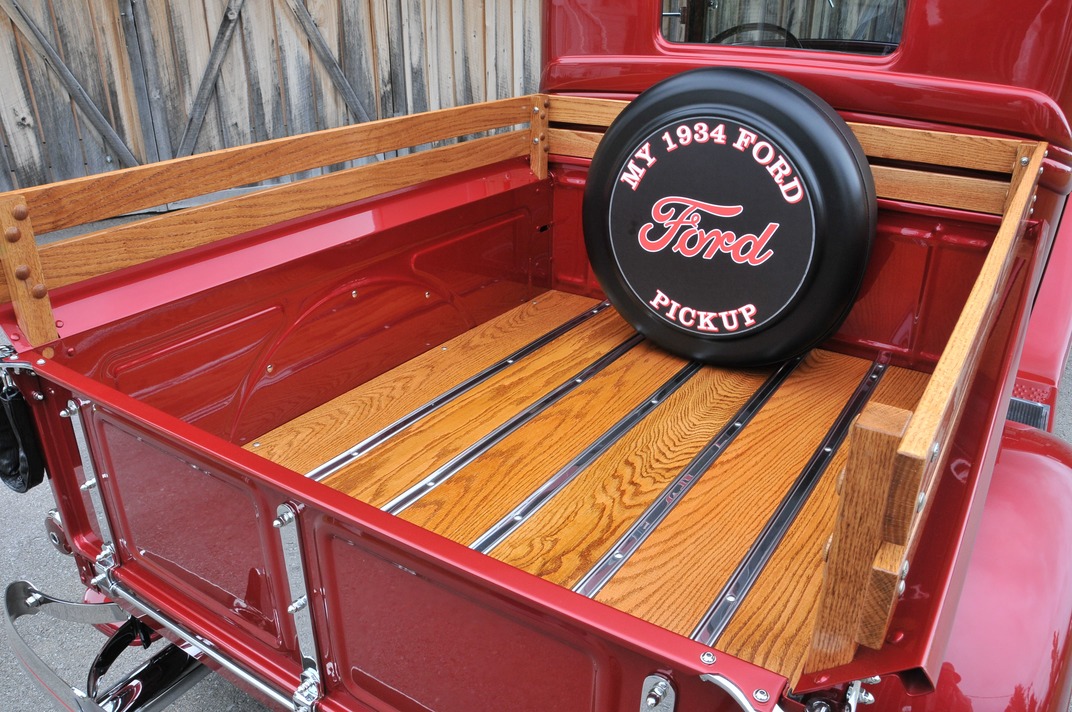 Only minimum bodywork was required on the Ford since the cab, front fenders, and running boards were in fairly good shape. Johnny trimmed the firewall to fit the new V-8 and spent some time creating the distinctive flip-up hood. Aftermarket fiberglass rear fenders completed the body with Johnny fabricating his own bed floor and side rails from Oak. A bed-mounted spare and new rear bumper wrapped it up. Once all the elements were in place, he took the truck to Outlaws Rod and Custom in Norfolk, Virginia who finished the bodywork and sprayed the eye-catching shade of Dupont Chromabase Red Pearl Metallic. The dream truck was finally taking shape!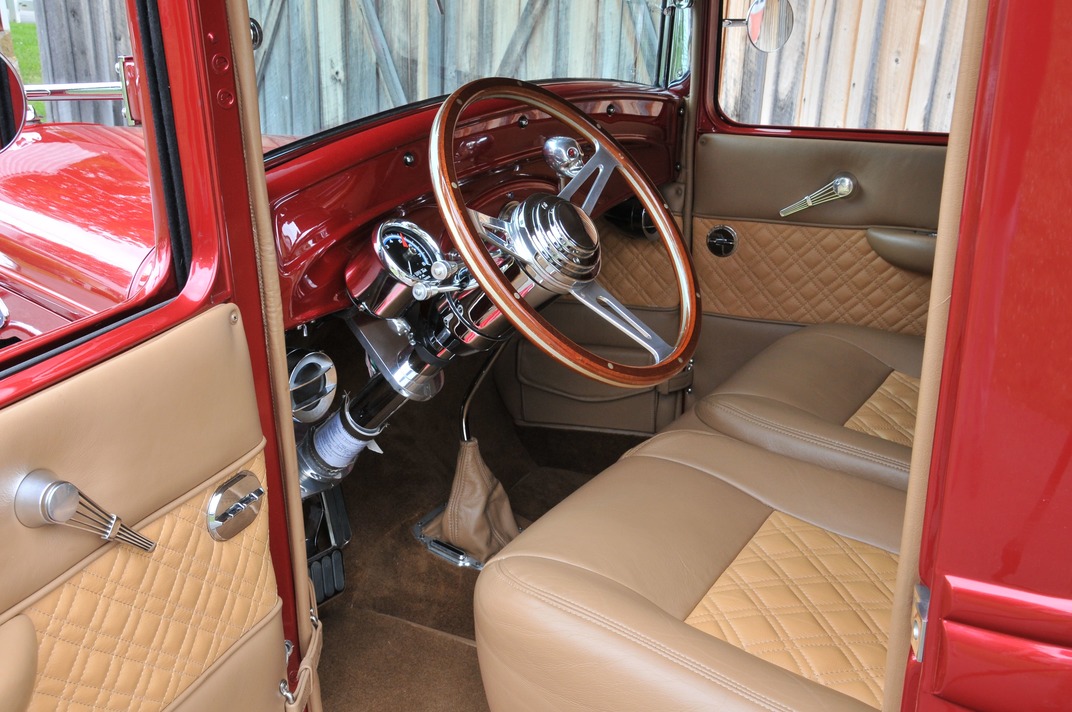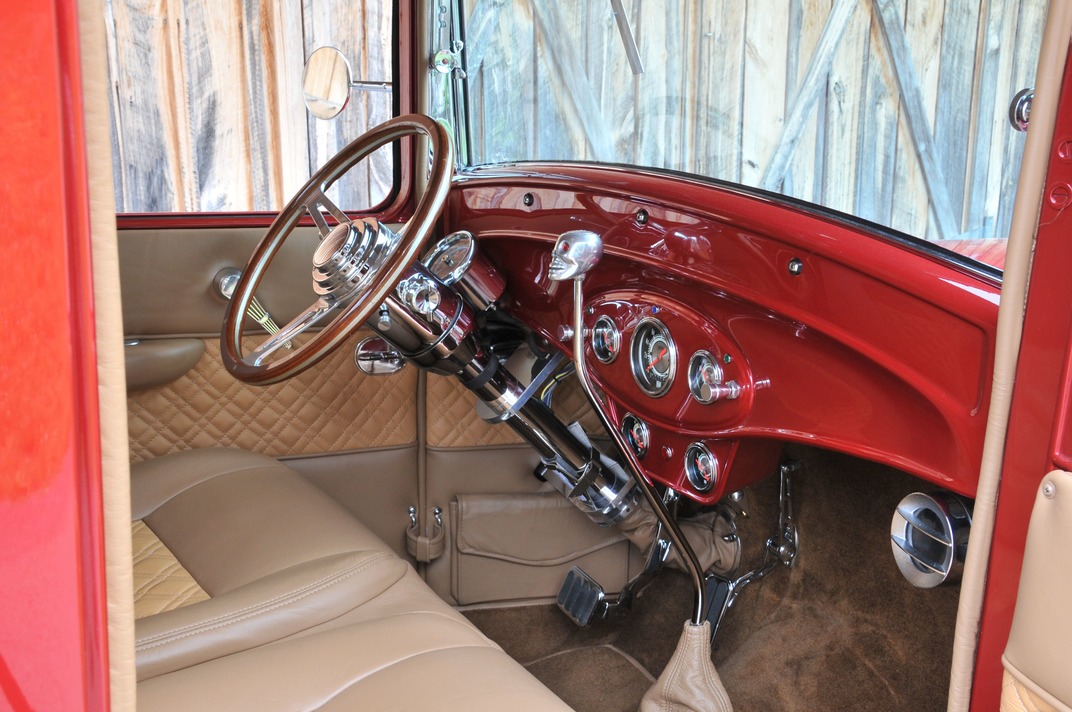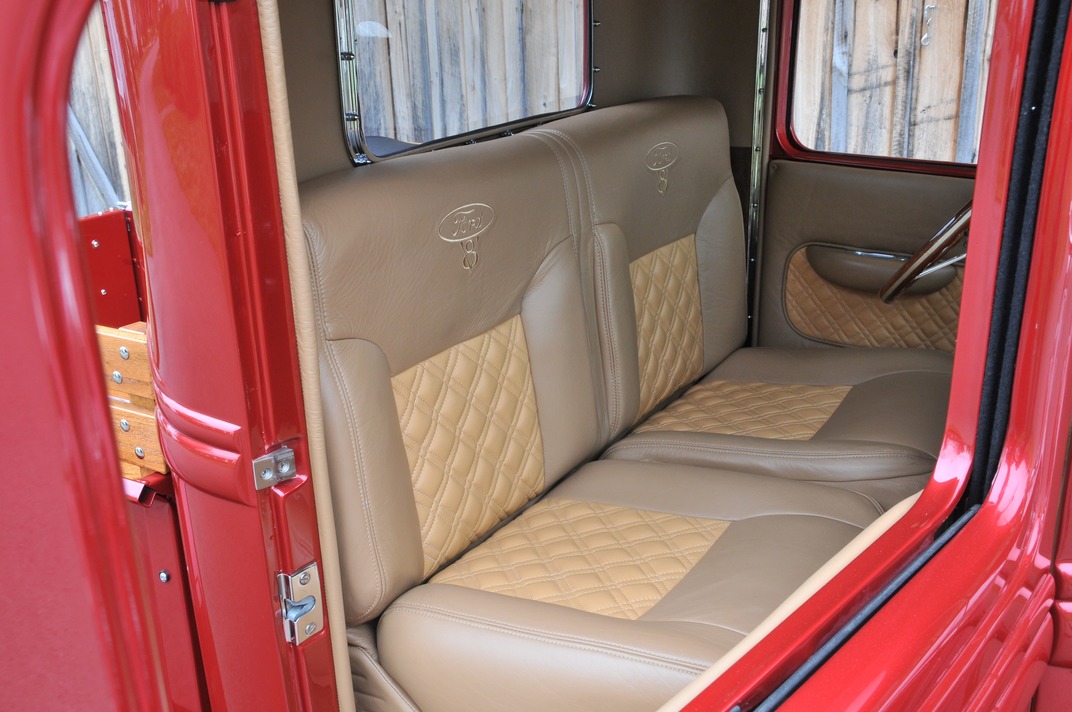 Interior upgrades were next and Precision Auto Upholstery in Norfolk, Virginia had good reports from knowledgeable friends. Using Johnny's design and color choices, the upholstery specialists created an elegant two-tone, tan leather interior for the red truck. Quilted diamond inserts and embossed Ford V-8 emblems added a luxury touch. The same theme was carried out on the door panels, kick panels, and the headliner which now sports an overhead console, complete with an AM/FM radio and an authentic eight-track player. What appears to be air-conditioning vents on the left and right side of the dash are in fact Custom Autosound Undercover mid-range speakers. They are augmented with a center-mounted sub positioned behind the seat and powered by their 250-watt amp. The painted-to-match dash is equipped with modern 12-volt Stewart Warner instruments, three in the stock location, a tach on the column, and two more in a matching panel below. In order to keep the truck looking as stock as possible, the battery, eight track storage, and fuses are hidden under the seat.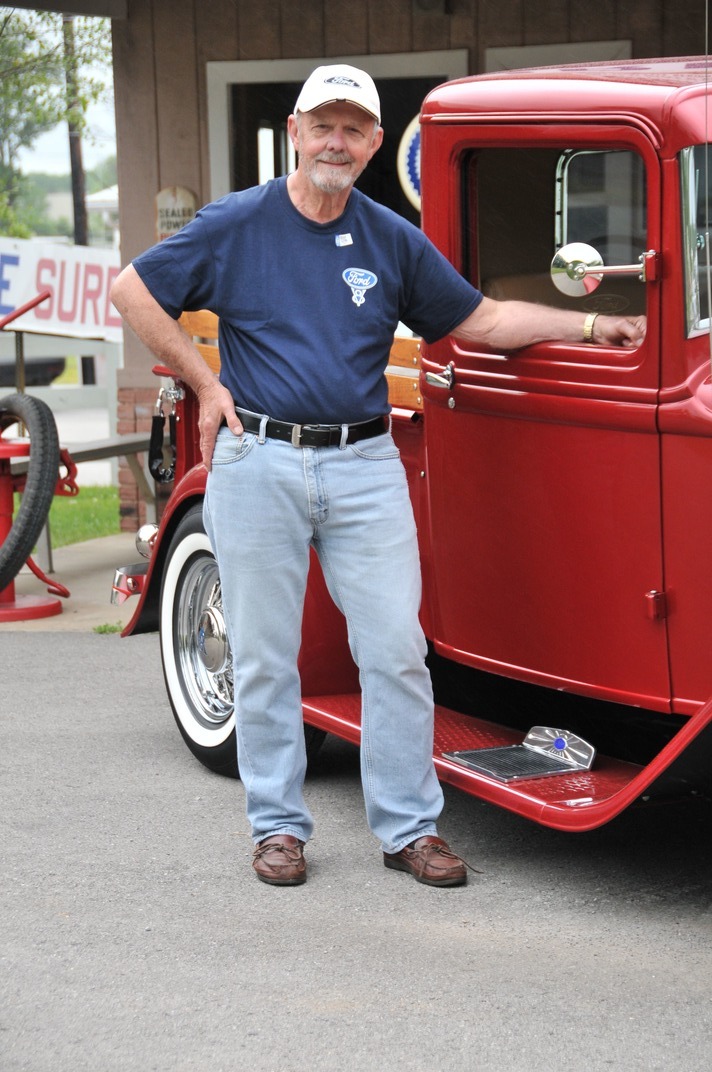 It took Johnny about a year to build the engine, another year to complete the bodywork, and the painters and upholsterers took almost a year for their portions. Now that it's roadworthy, he's been enjoying the finished truck, driving it and showing it everywhere. We photographed it at the F-100 Supernationals in Tennessee where it was the number one vehicle in its class. How does he feel about his brand-new, old truck? "The pride that comes with restoration is a wonderful feeling. Rebuilding my truck from the ground up allowed me to breathe life back into something that would have otherwise been left unseen and forgotten. And it drives really well!" We're guessing from his smile that the time spent was definitely worth the wait. MR
Delayed Gratification with this 1934 Ford Flathead Powered Pickup