This '37 Ford Coupe is No Ugly Duckling
By Dale Moreau   –   Photography By the Author
In the early days of the street rodding era, the '70s, the hot ticket was a '32 Ford phaeton. Those same schools of thought loudly proclaimed that the '37 Ford was an "ugly duckling" or "grocery getter." It was in the late 1930s, and the heyday of the art deco design period was still present—when design and function worked hand in hand. Architecture, furniture, radios, fashion, even trains, and the design of the automobile were all involved. It was a time when design was the priority, making life a little easier on the eyes. Carl Jone's 1937 Ford Coupe is no ugly duckling but rather a tribute to the era of art deco automobile design.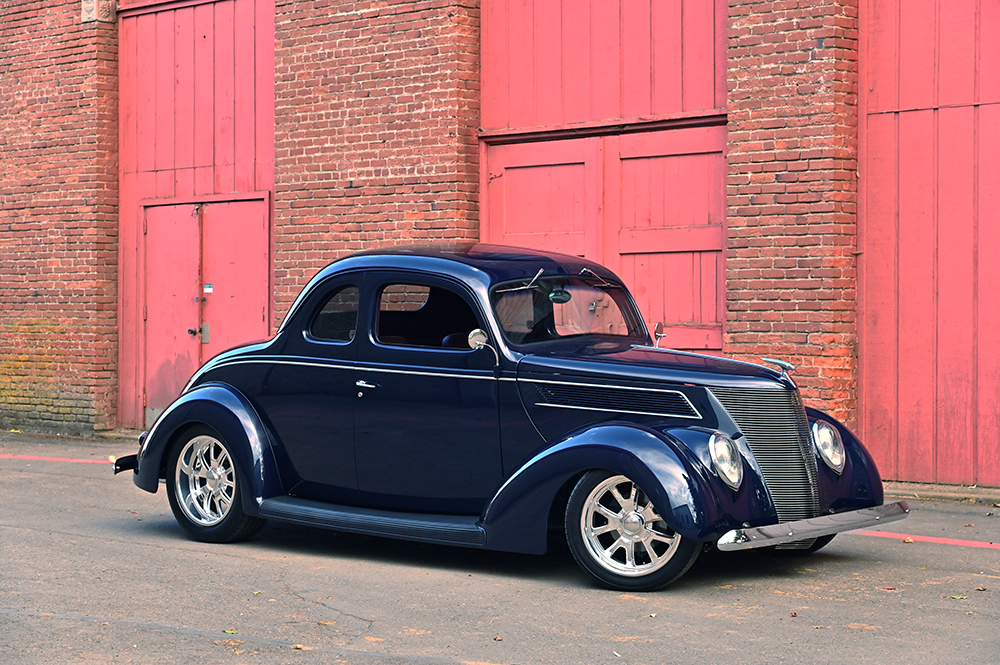 Also Check Out: Mike Green's Unique 1950 Mercury Coupe
Carl purchased his '37 Ford Coupe as a project to be completed when he retired. Carl wanted a car that was, in his words, unique, timeless, and classic and with the quality of build that he envisioned. He did have prior experience when he restored his '60 Corvette. He found a suitable project car in Liberty Lake, Washington, and towed it home. Carl recycled the original drivetrain and chassis and replaced it with a Total Cost Involved  1935-1940 Ford Car chassis in his home shop. He added a Mustang-II independent front suspension with 2-inch dropped spindles and 11-inch smooth bore calipers rack-and-pinion steering.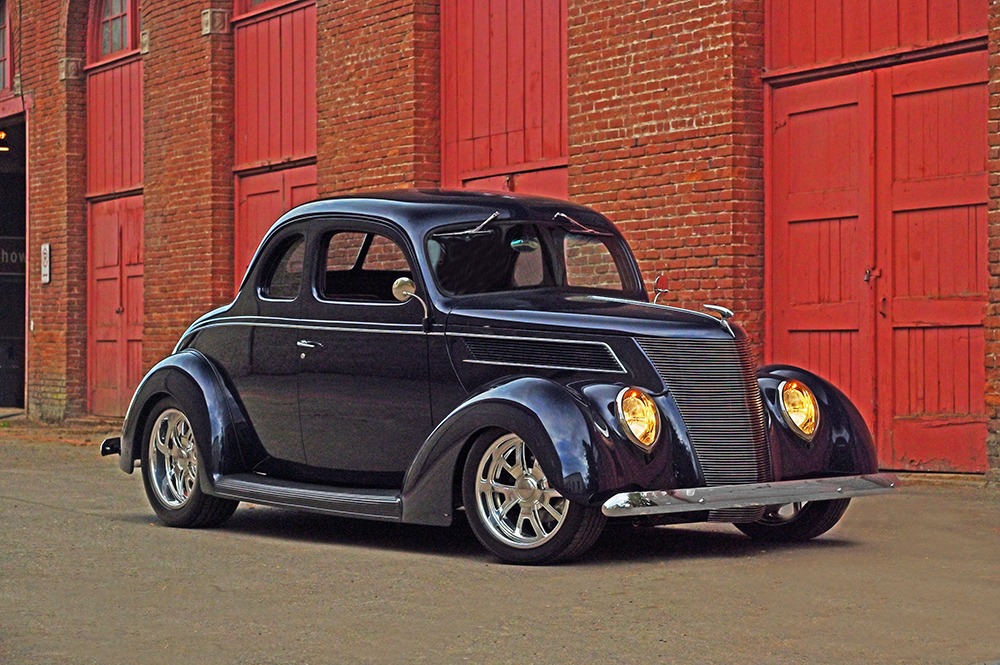 The rear suspension consists of a four-link suspension with Ridetech coilovers and 12-inch smooth big-bore calipers. Carl installed a power-steering Saginaw TC box topped by an ididit steering column and cut-down '40 Ford steering wheel.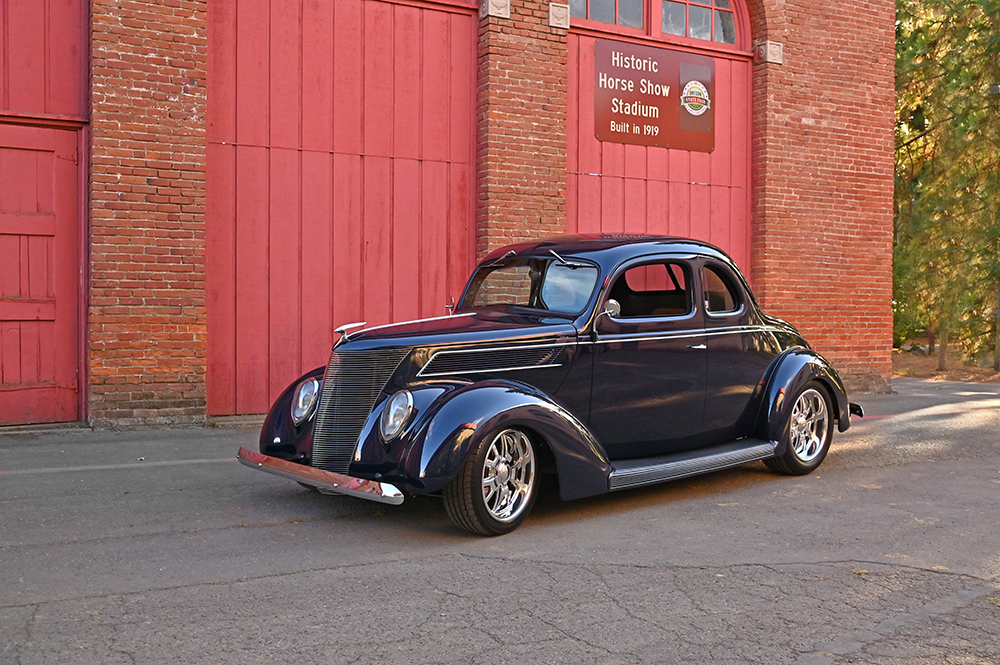 Moving toward the aft, he used a four-link suspension on a Ford 9-inch rearend with a limited-slip 3.70 ratio and 31-spline axles. A cast-iron 350ci small-block Chevy paired with aluminum performance heads and a high-lift cam. It's topped with an Edelbrock 600-cfm carburetor. It is dressed in a March serpentine pulley system that drives the polished alternator, power steering, air conditioning, and fan.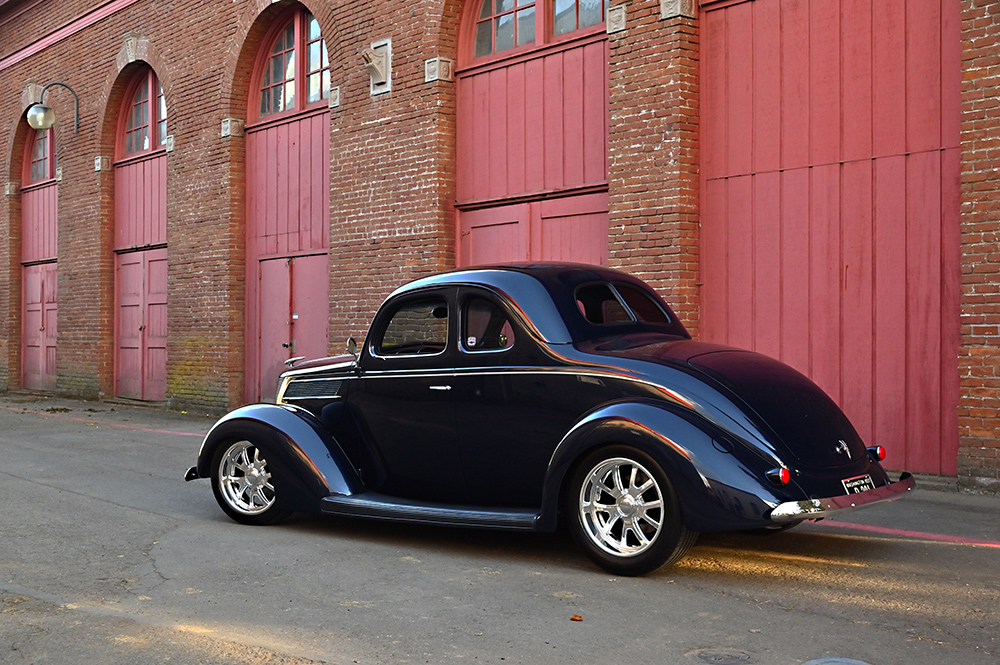 Sanderson sbc headers with stainless steel exhaust and Hooker mufflers put a lid on the sound. This package puts out about 400 hp with 450 lb-ft of torque. It's cooled with a custom Griffin Radiator.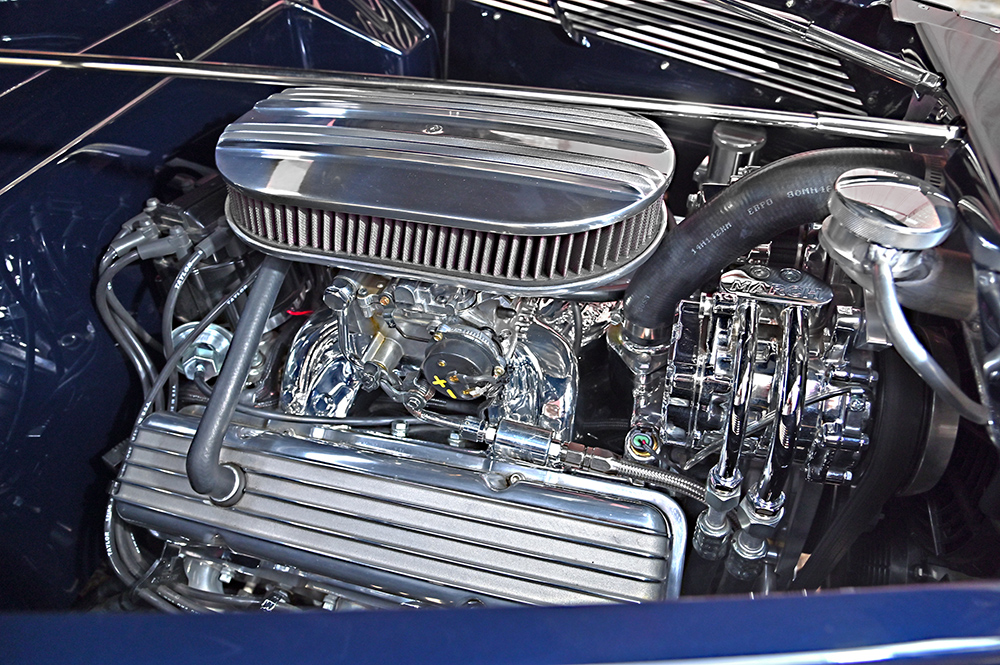 The GM 700R4 transmission gives off-the-line go and fewer stops at the petrol station. Speaking of which, a larger 16-gallon fuel tank was fitted and, along with the transmission, makes this 'old '37 Ford Sedan a "reacher." Add the 17- and 18-inch Schott Venom wheels and Michelin tires and you're ready to roll.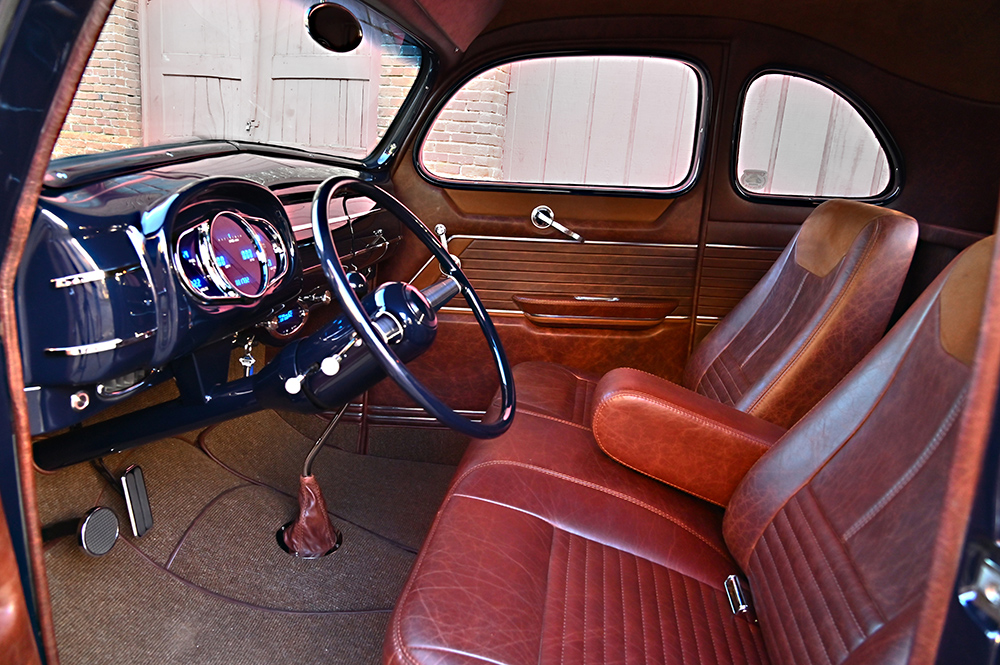 At this point, realizing that he was over his head on the rest of the build, Carl contacted Wicked Fabrication in Auburn, Washington. A good deal of time was spent massaging the body of the 1937 Ford Coupe. It was in very good shape considering its age, although it came with a bullet hole.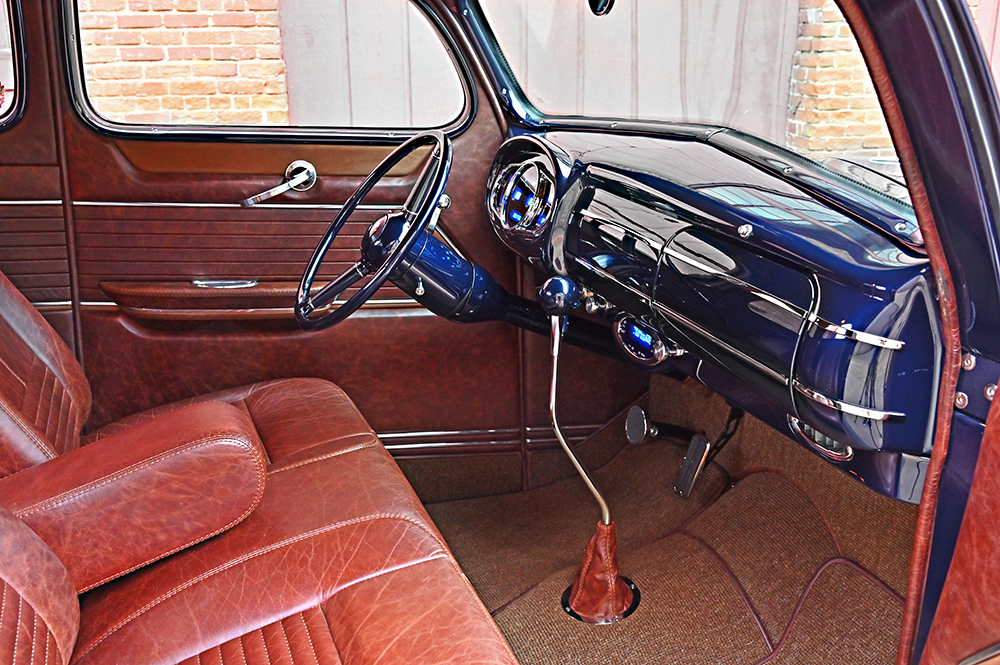 The only modifications were a 3/8-inch half-round polished stainless steel body molding and hood line and integrated taillights. On the inside, a '40 Ford dash was highly modified and fitted into the '37 Ford. This included a custom pod for the Dakota Digital gauges and a digital control panel and outlets for the Vintage Air unit.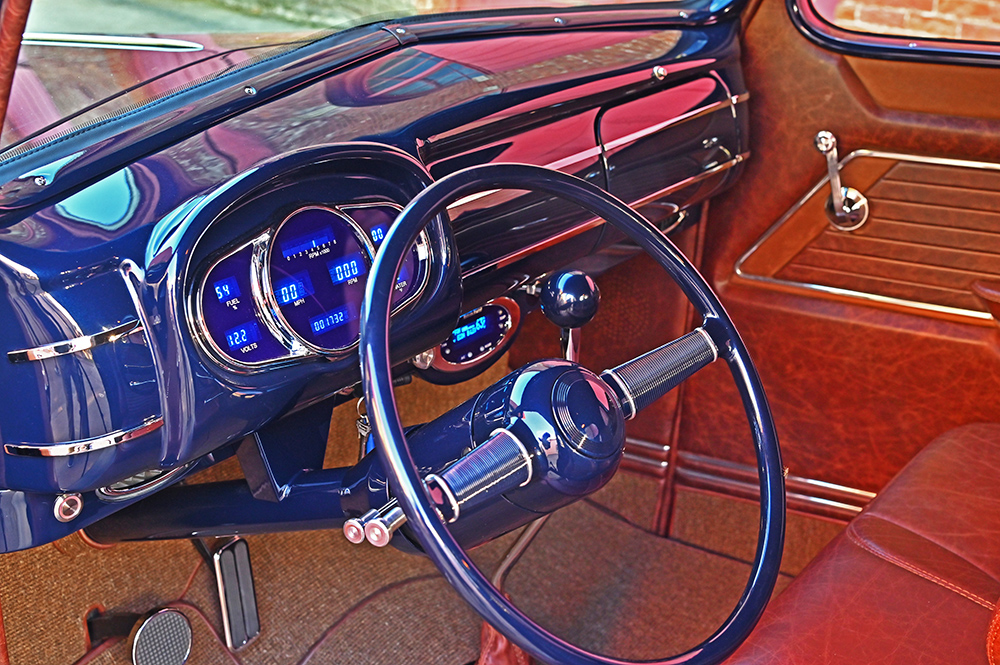 There was much discussion about the color, and Carl's wife helped him get close to the shade of blue he liked, as he is color challenged, as it were. At Thanksgiving, he passed a few samples around to the family, and they gave the thumbs up to Carl's pick. John Byers Customs, the owner being an award-winning artist for his automobile paintwork, has really made the coupe come alive. When you see this car in action you know you're looking at a step up when it comes to hot rods. The car almost glows in the noonday sun.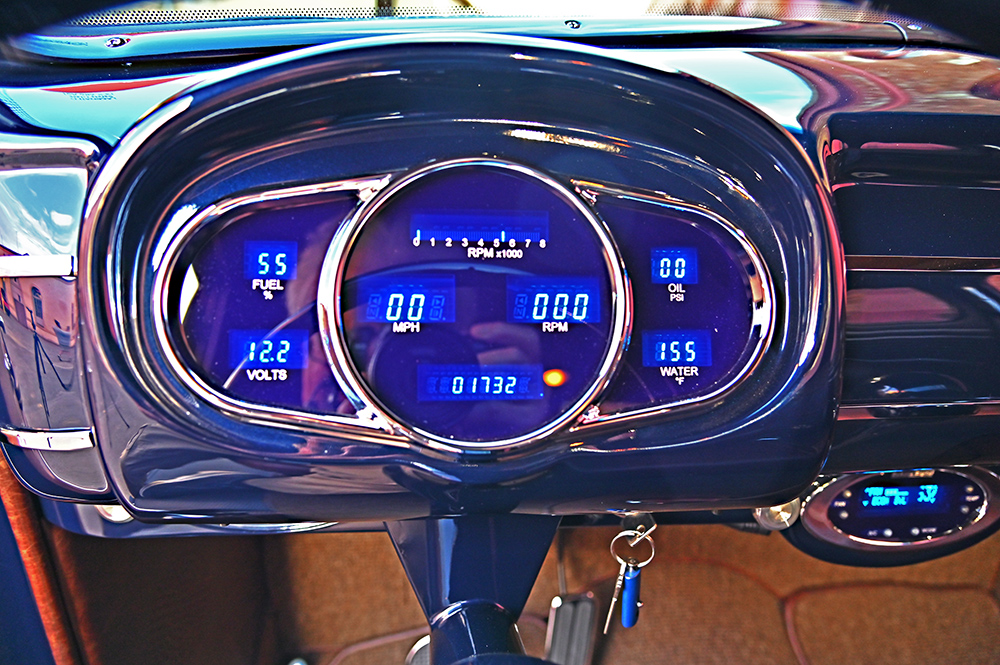 Then, it was back to the guys at Wicked who did the final custom wiring, including the Sony stereo and ARC audio speakers. The very classy interior, with hints of classic European design, is the work of Tony Miller at Stitches Custom Upholstery. Distressed leather over a Glide Engineering frame and German tan carpet checks all the boxes.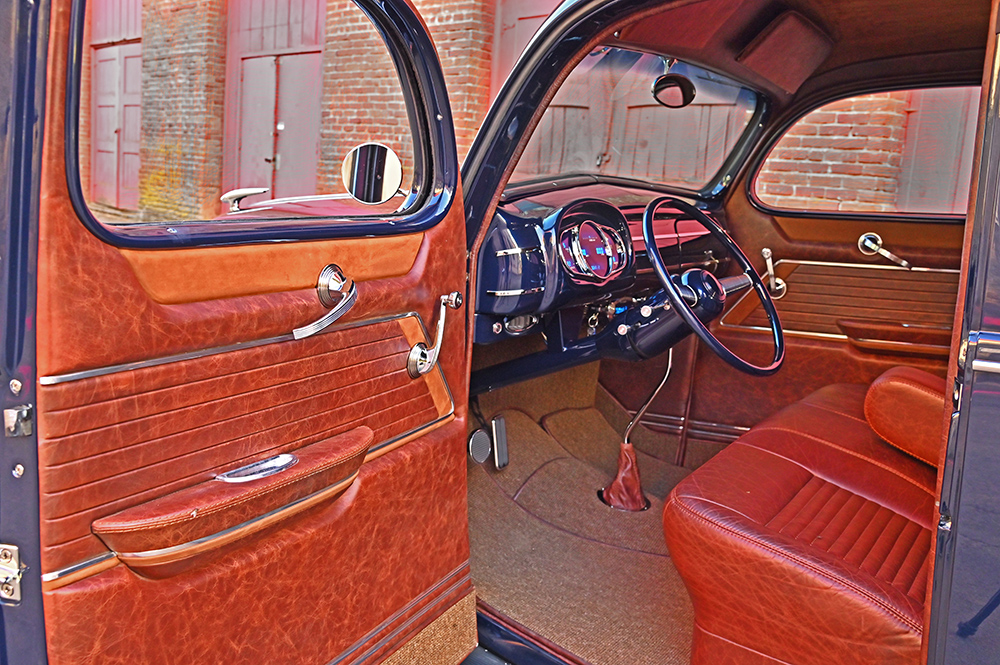 It looks like Carl exceeded his goal of completing the project before retirement. He has already put many fun miles on it, including the NSRA 50th anniversary in Louisville, Kentucky. Great planning Carl, and many miles to you! MR