The Roadster Pickup Has a Long and Storied Hot Rod Heritage
By Brian Brennan   –   Photography By John Jackson
The Ford Roadster Pickup, whether it be a Model T, Model A, or a Deuce, has a noted hot rod history. As such, it's no wonder why the '32 Ford highboy roadster pickup belonging to David Kennedy of Tennessee strikes such a cord. Additionally, it is also one of the three original Brookville Roadster Roadster Pickups and an amazing example of what can be done in our modern times.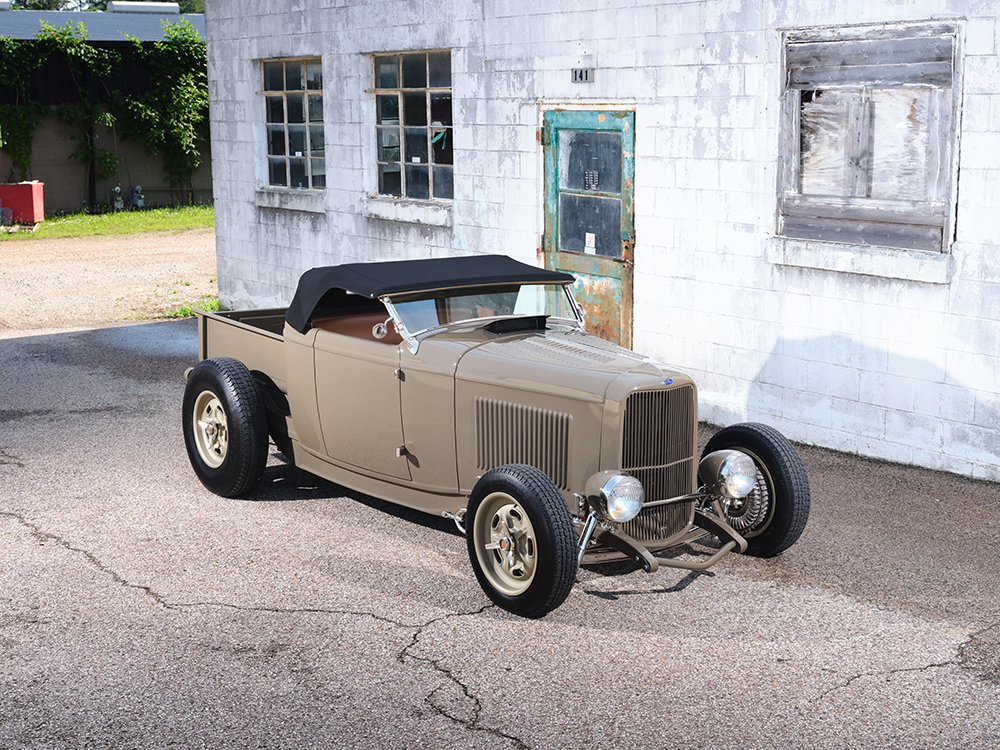 Roadster pickups have been part of the hot rod scene for decades and one can only imagine that with David's Deuce this legacy will continue. If his name rings a bell, it should, as he is the David Kennedy of Kennedy's Hot Rod Shop. Building cool rides comes as second nature to he and his staff, which is important as it was his son, Kirby, and the crew at the shop, as well as Mike Ragan on the interior, and Danny Kilborn for the brightwork, who made this project come together.
Read More: Creating A Nimble Chevy Nomad
A little background regarding the commentary on roadster pickups. Two of the all-time favorites are the Dick Mendonca (Bay Area Roadsters) and the Greg Sharp (L.A. Roadsters) pair of black Model A Roadster Pickup. (OK, maybe they're mine, too!) The narrative behind the story on the Mendonca and Model A Roadster is that Mendonca was building his roadster pickup as a means of gaining entrance into the new upstart Bay Area Roadsters in NorCal. Along comes Dave Marasco who also needed a roadster but had a Model A ('30-31) coupe at the time. Marasco took the leftover pieces from Mendonca's parts car, removed the Model A coupe body from its chassis and replaced it with a roadster pickup body. Ergo, a Model A roadster pickup with the '30-31 front fenders that are distinctly different from the '28-29 fronts. It was here that Sharp purchased the Marasco Roadster Pickup and it was Sharp who enlisted Jack Hageman (San Leandro, California) to fabricate the hood louvers. Next Sharp added the Buick Skylark wire wheels. Ross Meyer now owns the Sharp Roadster Pickup.
Let's get back on the main road–almost. In the early years of the National Roadster Show (soon to include the word "Grand" in the title) there were a handful of roadster pickups that took home the America's Most Beautiful Roadster award. For instance, there was the "Ala Kart" by Richard Peters who won in 1958 and 1959, Don Lokey in 1966, Andy Brizio in 1970 with the "Instant T," Lonnie Gilbertson in 1971 (it was an engineering marvel of its time), and Jim Molino with the "Candy Man" in 1977. Now you can see that the roadster pickup, regardless of heritage, is every bit deserving of the title "hot rod."
Read More: 1961 Chevy Brookwood Wagon Hot Rod Family Hauler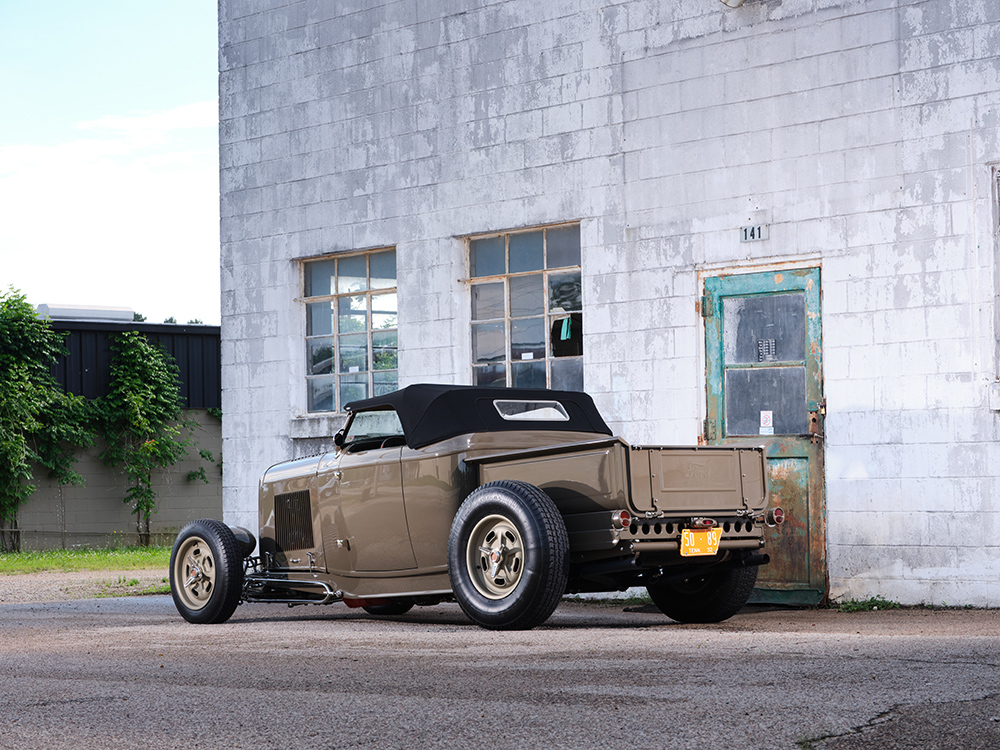 It's always interesting to find out how a project comes about. For David he took the Brookville Roadster 1932 Ford roadster pickup in on a trade. He always wanted to build a Deuce so why not a roadster pickup? All of us realize that while we may want our project to move quickly, the reality is it won't. David built the roadster pickup in his spare time with the help of his friends, the crew at the show, and, of course, his son, Kirby.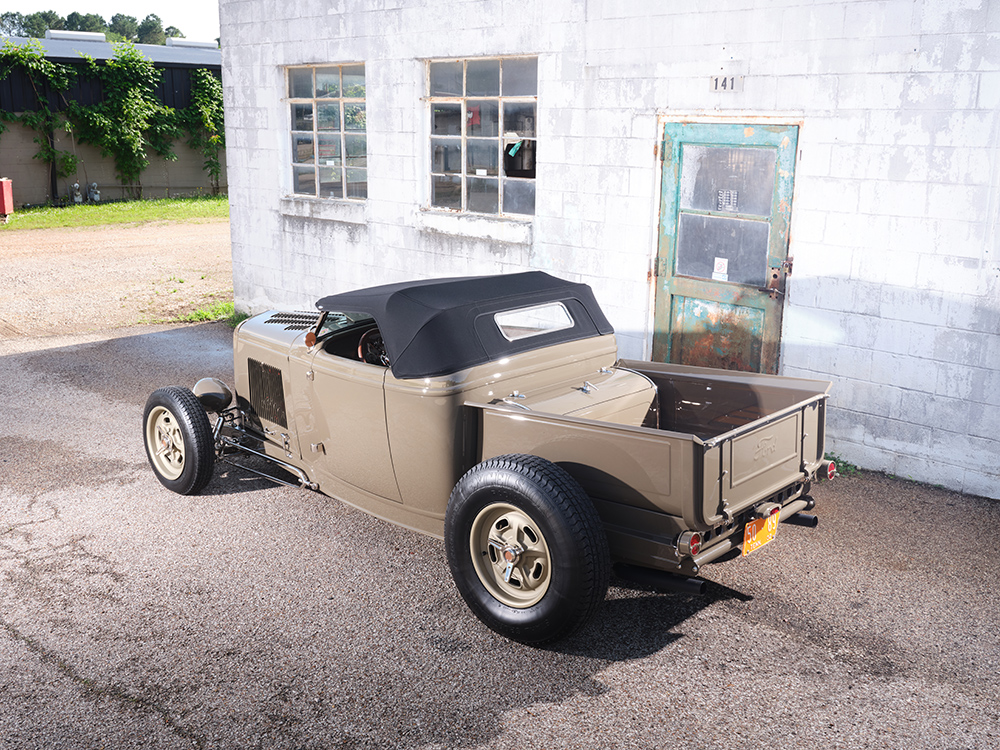 The nicely detailed small block Chevy is equipped with World Products cast iron sbc heads on the Chevy 350 engine filled with a Howards cam. From here it is topped with a Weiand intake, 600-cfm four-barrel Edelbrock Carburetor (fed by mechanical pump) with a '64 Corvette air filter and chromed and finned sbc aluminum valve covers. At first what appears to be an old-style "black" cap distributor is really a Pertronix electronic ignition conversion kit with matching coil. The exhaust manifolds are coated stainless steel Speedway Ram Horn headers with 2-1/2-inch mandrel-bent exhaust pipe flowing through a pair of Flowmaster mufflers. Other engine accessories include an Alan Grove alternator bracket with a chrome stator and an electric fan with a custom aluminum fan shroud that bolts to the Walker Radiator copper and brass unit.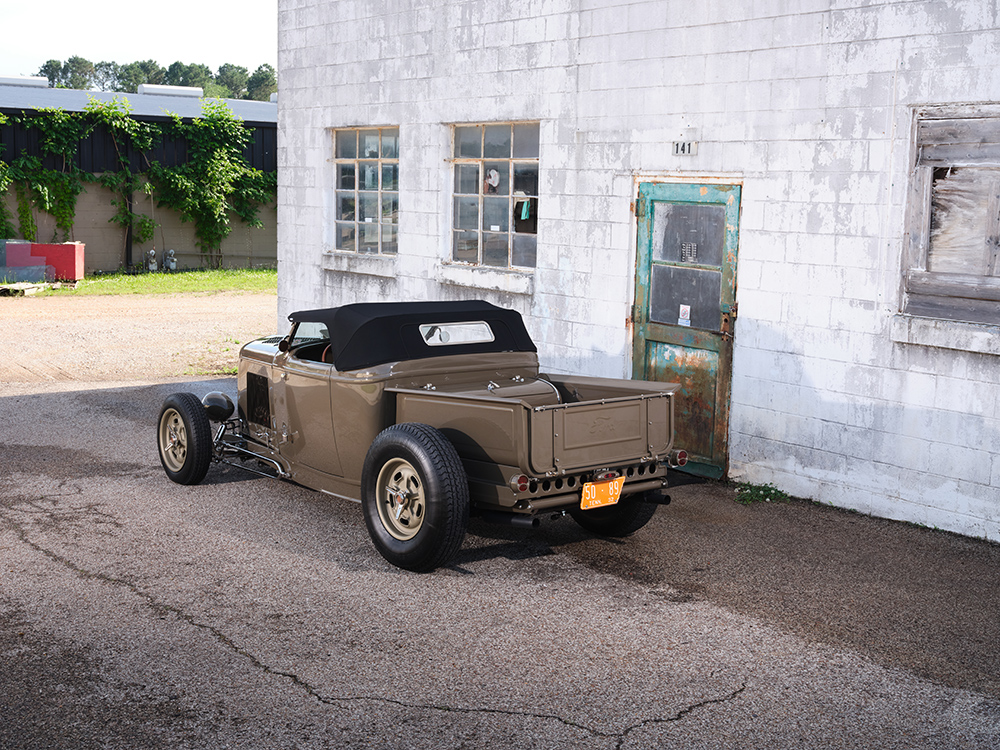 From here the power is run back through a TREMEC TKO 5-speed manual transmission (with a 10-1/2-inch clutch) and through its gears with a shifter fabricated by Johnson's Hot Rod Shop. The Ford 9 inch rear end is from SO-CAL Speed Shop with a 3.50 gears set up by Currie Enterprises.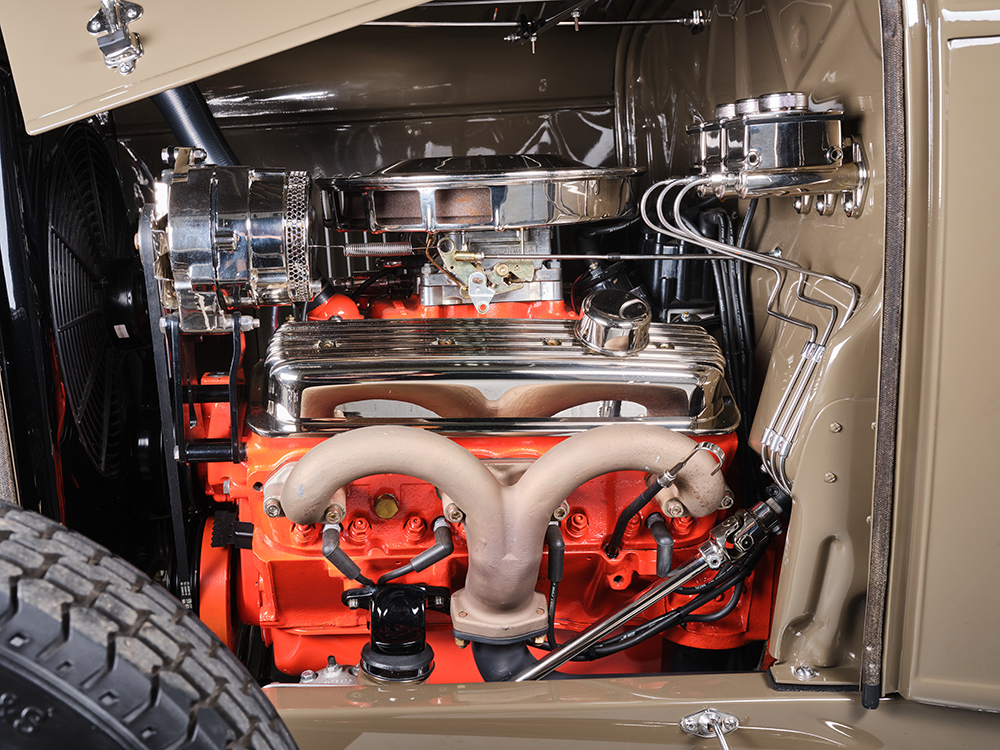 The chassis is based on a pair of ASC frame rails built by David and Kirby. The front frame horns are boxed while the rear of the 'rails were reworked. The front suspension is based on a drop and chromed Super Bell 4-inch I-beam axle with a Posies chromed leaf spring and a flat front crossmember (i.e. Model A) and early Ford-style spindles with SO-CAL chromed tube shocks. Steering comes by way of a Borgeson Vega-style steering box. Braking at the corners is made up of Wilson Welding backing plates and Buick finned brake drums in front and the rear is a pair of Ford 11-inch drums. The chromed and drilled pedal assembly are CNC fabricated components while the brake and fuel lines are stainless steel. The front suspension is nickel plated and was handled by Dan's Polishing & Chrome. Rolling stock is made up of four SO-CAL Speed Shop Halibrand-style wheels in a custom Cerakote finish with a safety wire three "ear" knockoff. The 16-inch mags are wrapped in Excelsior Stahl Sport rubber, with 5.00R16 in front and 7.50R16 in back.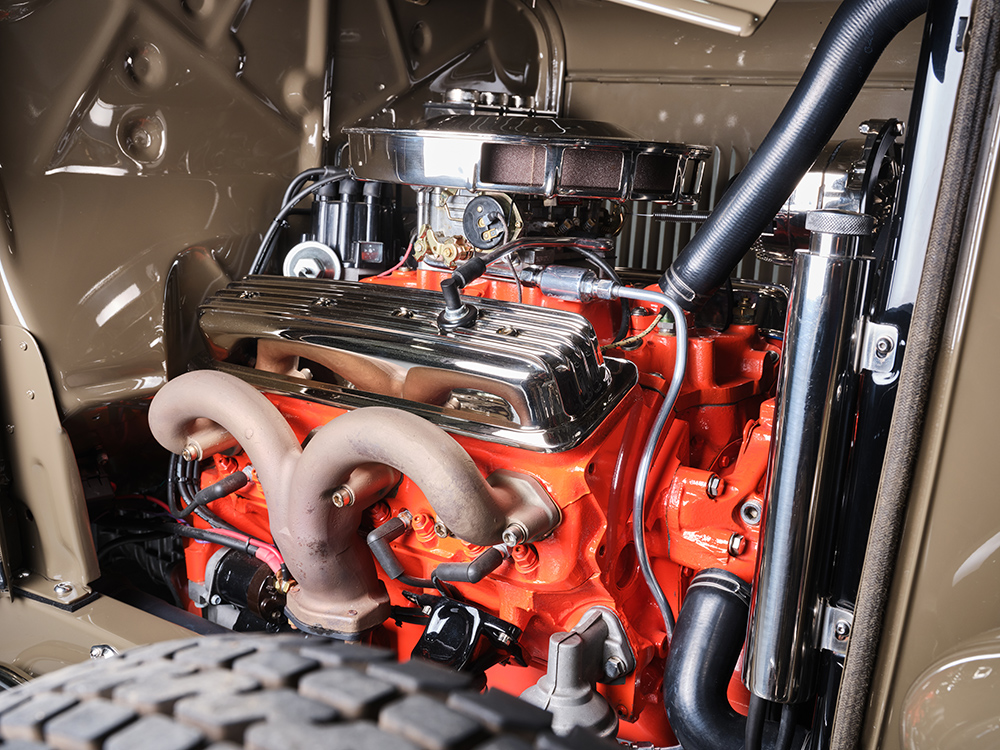 The body, as mentioned earlier, is one of the very early Brookville Roadster Pickup bodies. From here Stan Wanless windshield posts and frame are used along with a Rod Top canvas top. Looking through the windshield you can see the Rootlieb hood with hood louvers by Marasco. Also used is a '32 Ford passenger car grille with commercial insert. The headlights are '36 Ford while the taillights are early Model A ('28). There is a home-fabricated rear roll pan and Jaguar license plate light. All the body- and paintwork was handled at Kennedy's Hot Rod Shop with DeBeer paint in a Mud Stone hue.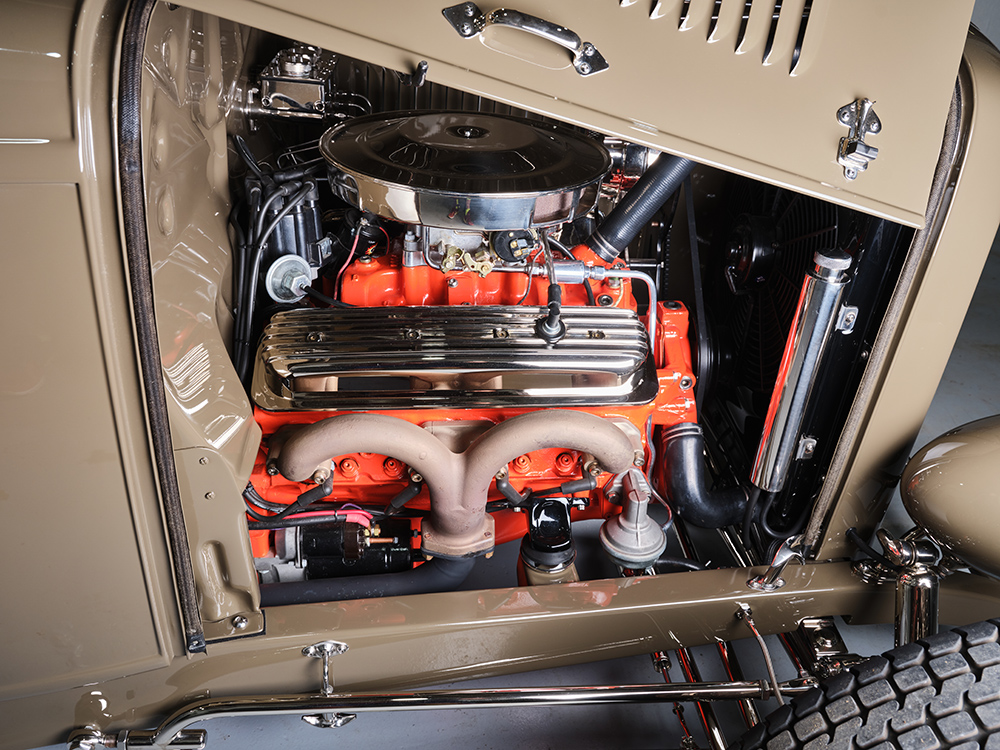 Inside the '32 Ford roadster dash is outfitted with Kintech insert filled with Classic Instruments Nickel Series gauges. The Classic Instruments consist of a five-pack that includes a 140-mph speedo, with gas, water, oil pressure, and volts gauges. Note there's a '36 Philco radio, converted to accept Bluetooth, that is column mounted. Another vintage feature is the Ha Dees car heater (circa '20s-30s) from Modine Manufacturing. Handling the wiring is an American Autowire harness that was positioned by Marasco. Next up is the use of a LimeWorks steering column topped with a leather-wrapped four-hole three-spoke LimeWorks steering wheel. Mike Ragan out of Tennessee made the custom front bench seat and covered it in Symphony brand tan leather. The carpeting is in the omnipresent German square weave in light and dark brown pepper-treatment with upholstery color material for the edge piping. Resting within the wooden bed that was shaped and fit by David, is a handmade trunk, more owner-fabricated handiwork.
Read More: Sinister & Stylish Ford 3-Window Coupe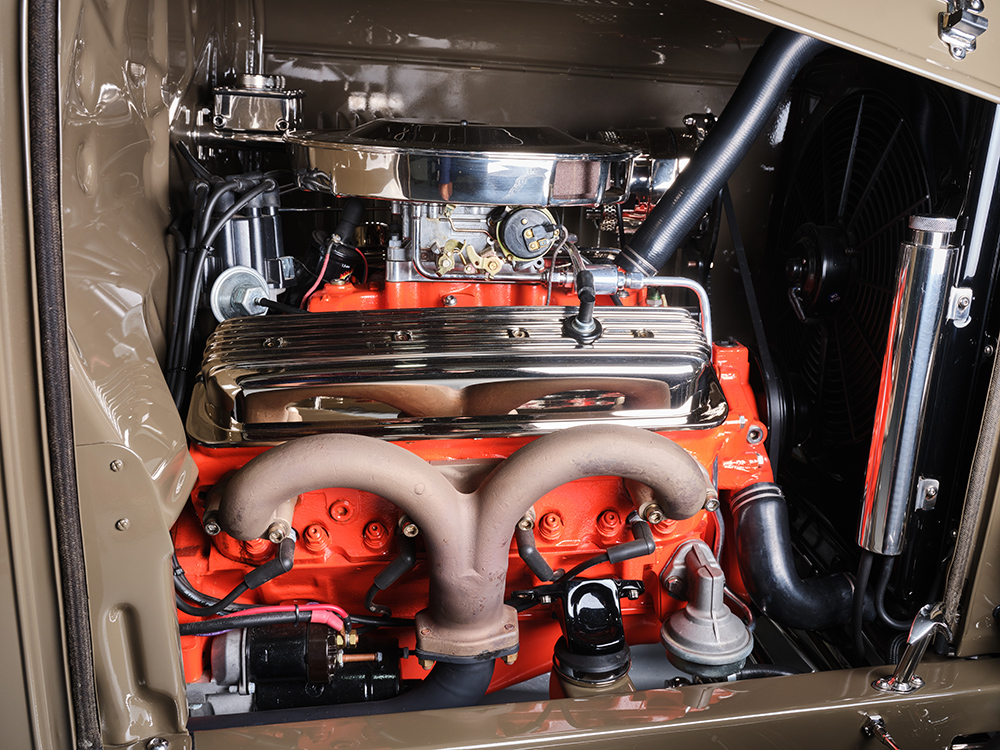 The '32 Ford highboy roadster pickup has made the rod rounds having attended numerous events and bringing home the "iron." It was awarded a Top 25 at Shades of the Past, Jessie Greening Builder's Choice at Goodguys Lexington, a Bobby Alloway Builder's Choice at Goodguys Nashville, and a Leonard Wren's Artist Award at The Gathering at the Roc. Here's another ride that will maintain the valued hot rod tradition for the roadster pickup for many more years to come.   MR