Jim Reid Jr. Honors the Past With This '57 Corvette
By Chuck Vranas   –   Photography by the Author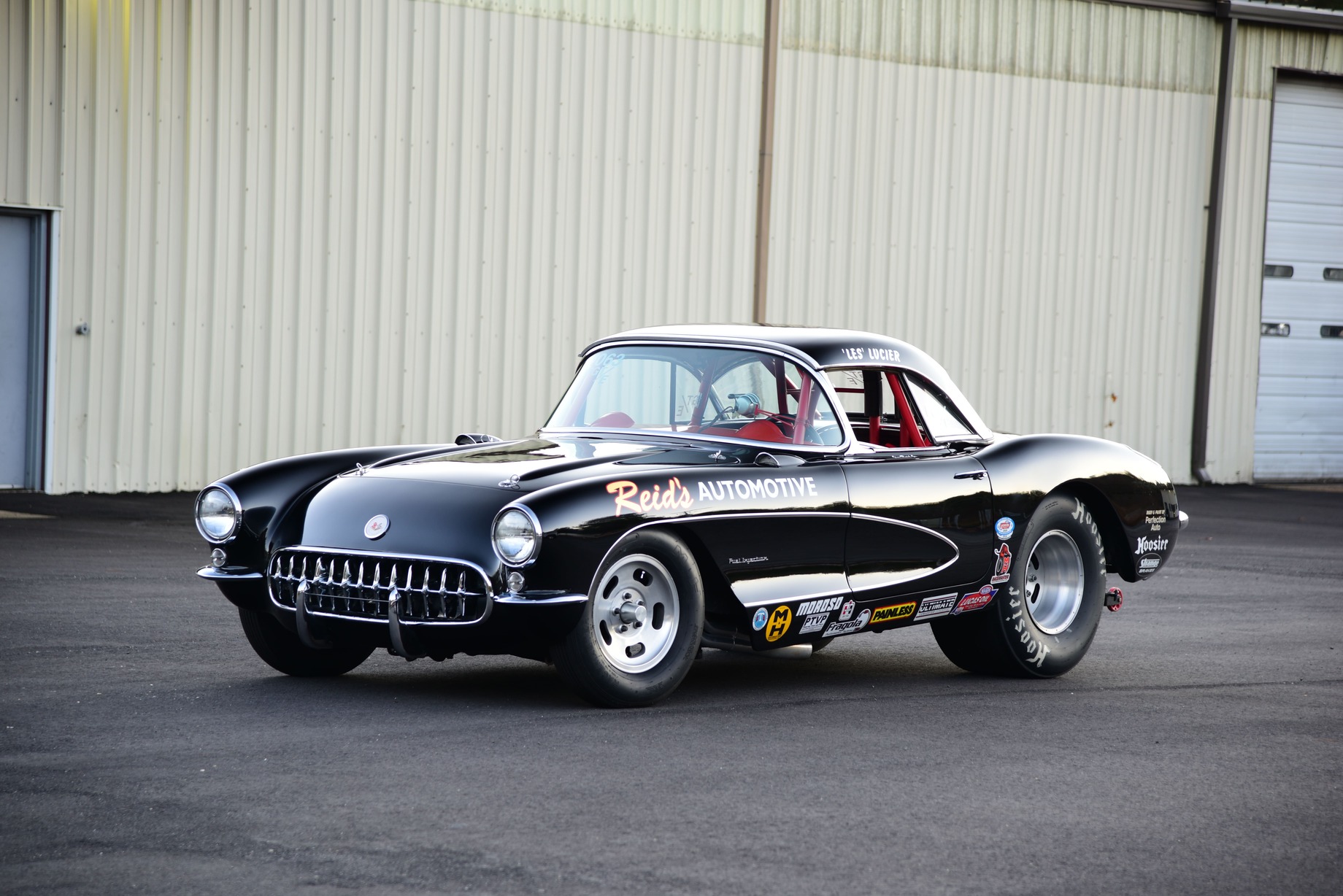 It's not every day that you get the chance to relive the past surrounded by memories of your local dragstrip. With weekend eliminations burning plenty of high-octane fuel, there was no better place to be while growing up. It got even better for Jim Reid Jr. of Hanson, Massachusetts, since his dad, Jim Sr., owned and operated Reid's Automotive, one of the most prestigious engine shops in the region.
In the early '60s, Jim Sr. became friends with local street racer Les Lucier. Not long after they paired together to field a '57 Corvette in the Street Eliminator Class at NHRA events with Lucier at the wheel and Jim Sr. building the engines. Packing a 427ci big-block the car became a fierce competitor, well known at tracks across the Northeast. Wearing California plates from a time when Lucier lived on the West Coast the car quickly became known as the "California Corvette." During this time, the experiences led him to become a second-generation engine builder right alongside Jim Sr. at the shop they still run and operate today in Whitman. The '57 Corvette laid out across our pages pays homage to the original drag car with a twist of LS power under its skin.
More Amazing Corvettes: Atlas Blue '61 Corvette With Style
As with many race cars, they eventually migrate to new owners, and such was the case with the Corvette, which moved on in 1975. As the years passed, Jim Jr. successfully competed an '87 Camaro in the NHRA Stock Eliminator Class, however, he always missed the excitement the Corvette generated at the track. It was at that moment he began a quest to locate a donor to recreate the California Corvette with a nod to the future. Trouble is, vintage Corvette prices had moved into the stratosphere, with even the most dilapidated examples bringing top dollar.
After a decade-long search, a lead came in for a '57 Corvette that had just surfaced thanks to well-known hot rod builder Dave Simard of East Coast Custom in Leominster. The former race car was a roller, missing its front clip and wearing an original removable hardtop. A closer inspection revealed that the original frame and suspension were intact, so it was an easy decision to lay down some cash for keys.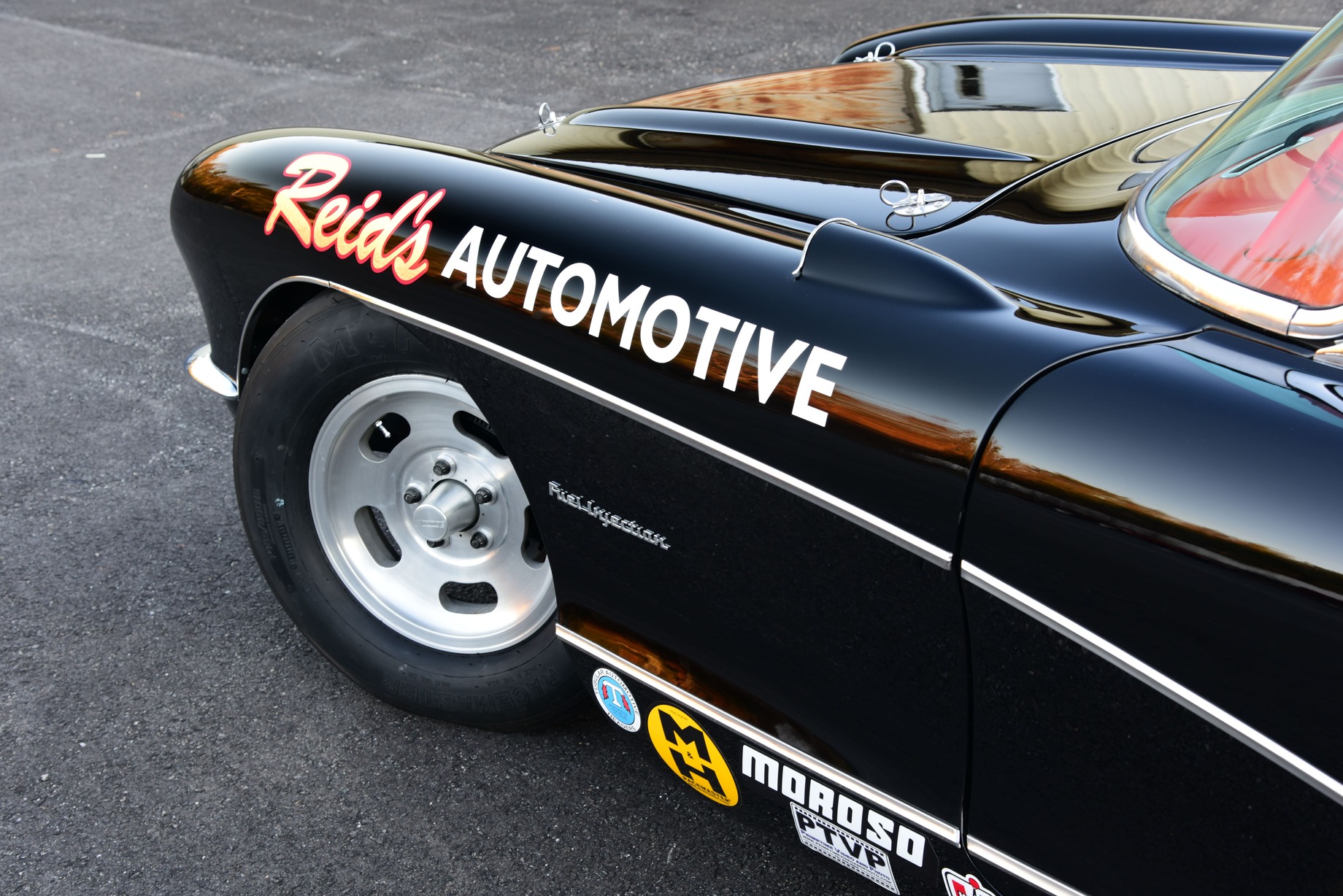 To build the car to current NHRA certified standards for the Super Stock FGT/E class he contacted Bob Moran of Falmouth to address the chassis and rollcage needs. Once the original frame was blasted clean, it proved a perfect base to work with. Moran started by reinforcing the factory bones and adding custom crossmembers while also backhalving the rear section. A Ford 9-inch spins 5.57 gears through a set of Mark Williams 35-spline axles, suspended in place by a custom four-link and Strange Engineering double-adjustable coilover shocks. The factory IFS was refreshed, complete with original spindles, new springs with one coil removed, and Santhuff's double-adjustable shocks. Moran also designed and built the chromoly rollcage as well as the firewall and trunk bracing. For plenty of stopping power, a Strange Engineering dual master moves fluid through stainless lines to matching Pro Series II, two-piece rotors deftly matched to four-piston aluminum-body calipers at each corner. Linking it to the track, you'll find vintage 15×3.5 Fenton slotted aluminum front wheels wearing M&H Racemaster rubber and Weld Racing 15×14 rims (with custom centers by Jim) capped by Hoosier race slicks.
Generating the right amount of horsepower within your class limitations is serious business. To build a strong well-balanced engine, Jim started with a '14 Chevrolet COPO 350ci LS V-8 aluminum block, machining it to perfection. A Callies 4340 forged steel Dragon Slayer crank links to matching 4340 forged H-Beam Ultra Rods capped by Diamond forged aluminum pistons getting bumped by a Comp Cams solid roller stick. A set of Chevrolet Performance aluminum square-port, LS3-based heads were warmed-over, featuring Manley titanium valves, retainers, and springs along with Jesel rocker arms. Up top you'll find an Edelbrock Super Victor EFI intake (modified for square-port heads) with matching ultra-low profile throttle body intake elbow delivering the dynamite through a set of FAST Precision Flow 46-pound injectors and a COPO 90mm throttle body managed by a FAST XFI-2.0 system. It sparks to life through a GM ignition with exhaust roaring through custom headers by Tubular Automotive of Rockland. Other cool bits include a Moroso water pump and oil pan, Aeromotive fuel pump and Powermaster alternator and starter. It's all good for a stout 620 hp with a best quarter-mile e.t. of 9.68 at 135 mph to date. To transfer the power, a GM TH200 from Sepanek Racing Transmissions packs a 6,800-rpm torque converter from Ultimate Converter Concepts as well as a custom trans brake, all linked to a chromoly driveshaft from Strange Engineering.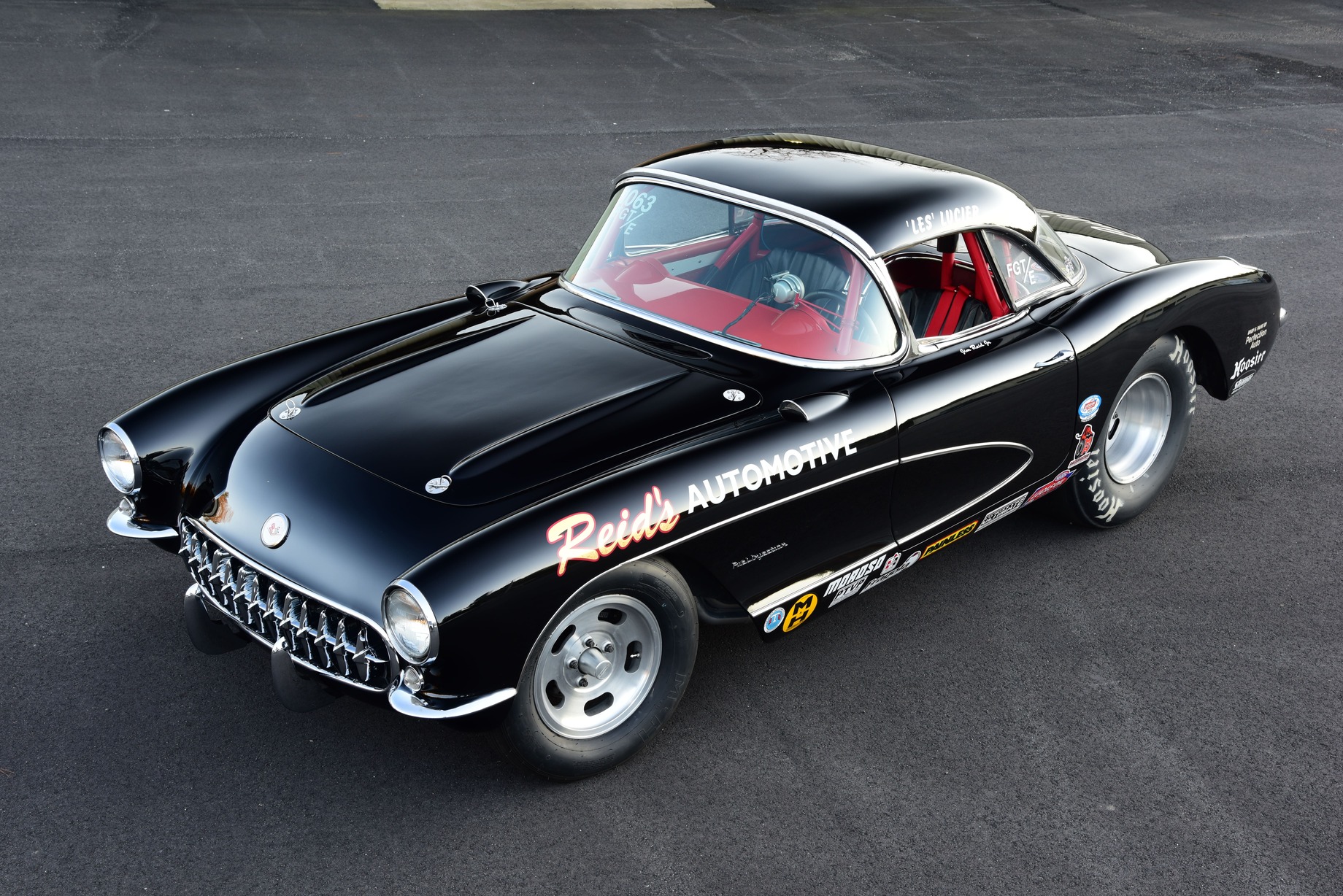 Check This Out: Tavis Highlander 1958 Corvette Rendering
Bringing the body back to life was a major task since the former race car had seen plenty of abuse on the track. The team at Perfection Auto Repair in Quincy addressed its full restoration. To make the body whole again, a call to Corvette Central sourced a one-piece, hand-laid fiberglass front end, which included inner skirts and radiator core support. With the new clip grafted in place, a new stock firewall, and upper cowl, rear wheeltubs followed along. From there the team dialed in all the gaps and prepped it for a decadent coating of Sherwin-Williams gloss black. When it came to reassembly it was a joint effort with help from family and friends in the racing community to help source and donate many of the missing trim items. Once complete, Bob Johnson of Sign Creations in Rockland got the nod to letter the car in its original glory.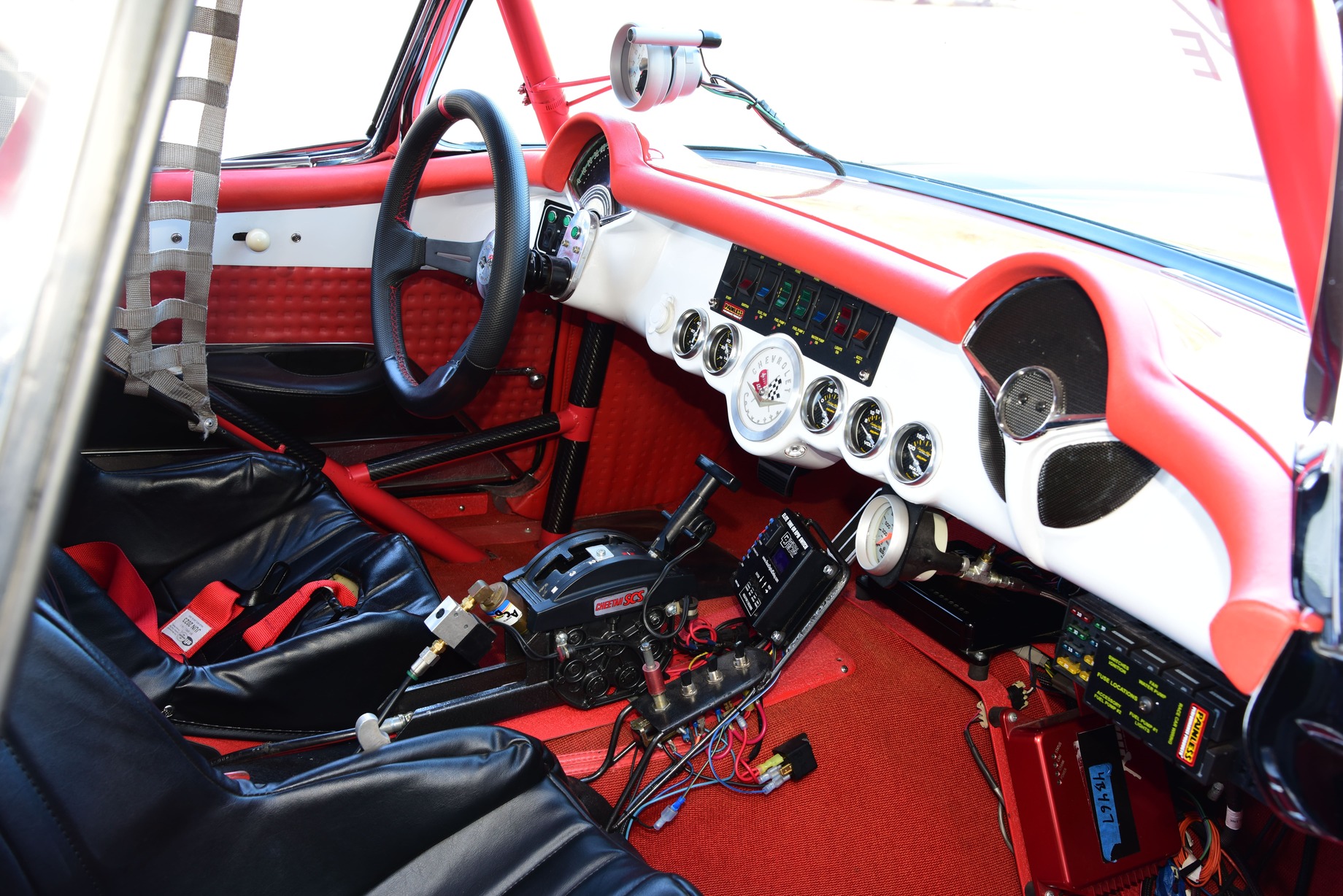 Inside it's all business, starting with the restored factory dash filled with Auto Meter dials accented by a master switch panel and complete wiring kit from Painless Performance Products, all installed by Jim Jr. A modified stock steering column turns a Grant D-Series wheel while shifts move through a TCI Automotive Cheetah SCS shifter. A set of Kirkey Racing seats wear black vinyl while safety comes from a RaceQuip five-point harness.
The journey of recreating a car to honor the original California Corvette brought with it endless memories for the Reid and Lucier families to treasure while also giving race fans the adrenalin rush of seeing the next generation tear down the quarter-mile and keeping its spirit alive.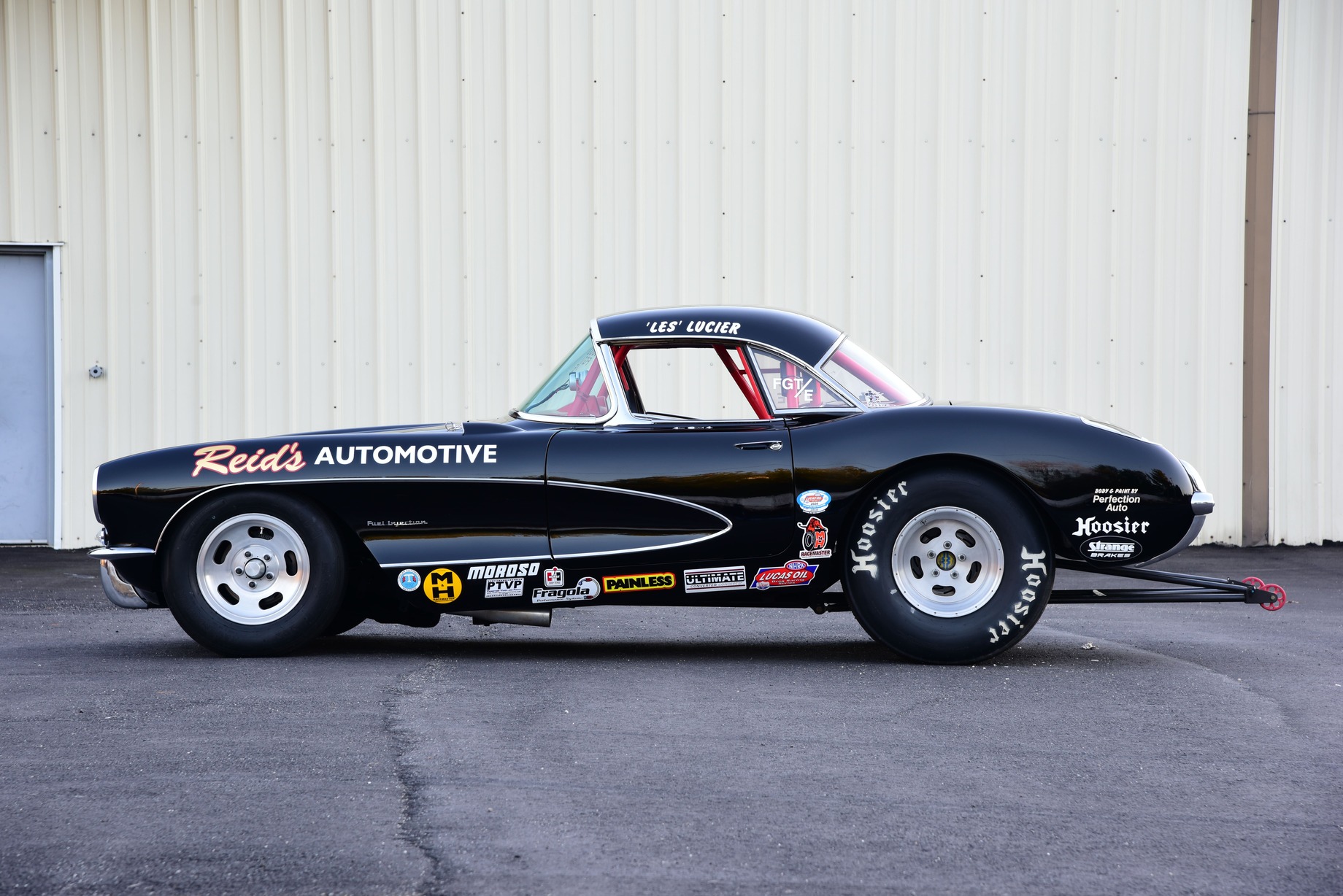 TECH CHECK
Owner:  Jim Reid Jr., Hanson, Massachusetts
Vehicle: '57 Corvette
Engine
Type: Chevrolet COPO LS V-8
Displacement: 350 ci
Compression: 12:1
Bore: 4.125
Stroke: 3.270
Cylinder Heads: Chevrolet Performance, Aluminum Square-Port, LS3-based
Rotating Assembly: Callies 4340 forged steel Dragon Slayer crank and 4340 forged H-Beam Ultra Rods, Diamond 12:1 forged aluminum pistons
Valvetrain: Manley titanium valves, retainers and springs, Jesel rocker arms
Camshaft: Comp Cams solid roller
Induction: Edelbrock Super Victor EFI intake (modified for square-port heads), ultra low-profile throttle body, FAST 46-pound injectors, COPO 90mm throttle body
Ignition: Chevrolet Performance
Exhaust: Tubular Automotive headers
Output: 620 hp
Drivetrain
Transmission: Sepanek Racing Transmissions GM TH200
Rear Axle: Ford 9-inch, Mark Williams 35-spline axles, 5.57:1 gears
Chassis
Steering: Stock Corvette
Front Suspension: Stock IFS and spindles, coil springs with one coil removed, Santhuff's double-adjustable tube shocks
Rear Suspension: Custom four-link, Strange Engineering double-adjustable coilover shocks
Brakes: Strange Engineering dual master, Pro-Series II rotors, four-piston calipers
Wheels & Tires
Wheels: Fenton slotted 15×3.5 front, Weld custom 15×14 rear
Tires: M&H Racemaster front, Hoosier drag slick rear
Interior
Seats: Kirkey Racing
Upholstery: Black vinyl
Gauges: Auto Meter
Steering; Grant D-Series
Carpet: Red loop
Shifter: TCI Automotive Cheetah SCS
Exterior
Paint: Sherwin-Williams black
Hood: Stock
Grille: Stock