Shawn Freer's Roadster Shop Based 1961 Corvette Packs LS Power
By Chuck Vranas – Photography & Videography by the Author
Much to the horror of automotive purists, there's nothing quite like tearing into your favorite classic Chevy to up the ante from bone stock to highly modified. Such is the case with Shawn Freer's 1961 Chevy Corvette from Midland, Ontario, Canada, presented for your viewing. Sure, a stock Corvette handles great and performs well in its original form but imagine turning up the heat with an explosive combination of an updated chassis and LS power to bring it into the new age.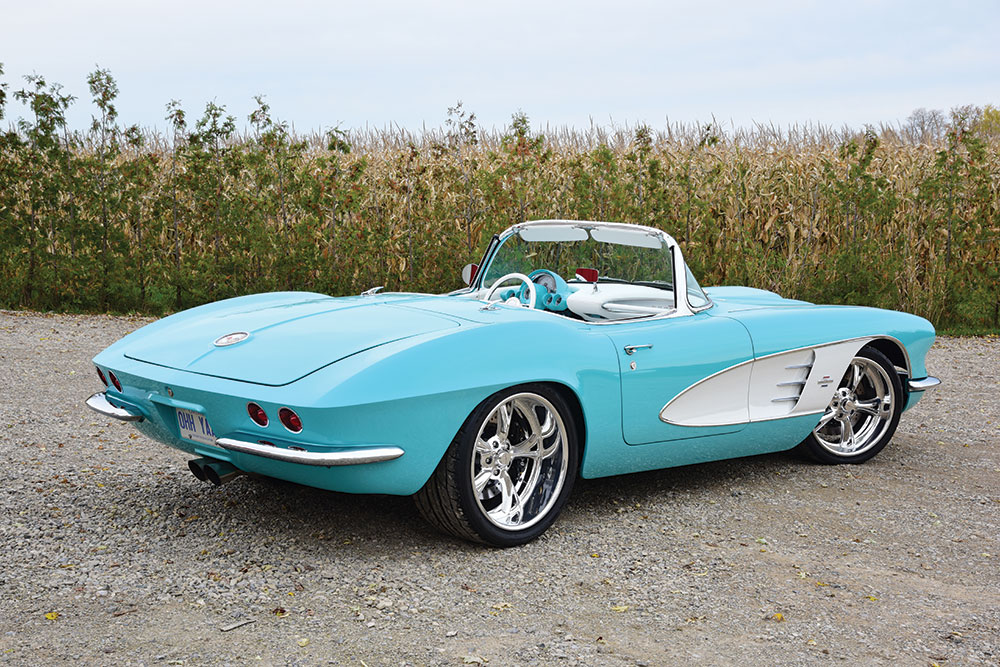 Read More: A 1965 Corvair with the Heart of a Corvette – The RareVair
Since the start, Shawn was always drawn to the sound of hopped-up muscle cars as they rolled the strip at Wasaga Beach where his parents owned and operated an IGA store. While working there during his formative years, he was mesmerized on a daily basis thanks to the changing assortment of hot rods, customs, and muscle cars that were always in the store parking lot. Surrounded by the sights and sounds it was easy to see that his performance path was set leading him to his first car, a 1975 Camaro by the time he was 15 years old. By wrenching on the car he learned the basics while cruising the strip, achieving the full experience.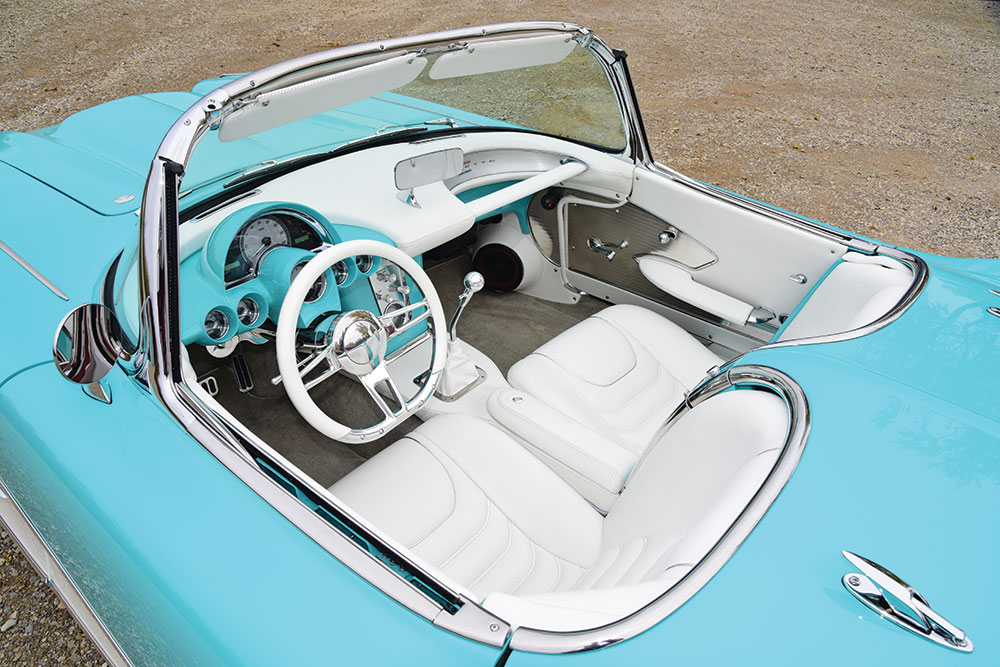 There's always one ride that invades your mind, leading to plenty of sleepless nights as you imagine yourself behind the wheel. For Shawn it was one particular C2 Corvette belonging to his good friend Scott Campbell's dad. Pure fantasy at the time, he never imagined that he would ever own one. As the years passed though there were a number of cool rides to follow but finally he landed his own 1968 and then a 1965 Corvette. Having always appreciated the classic design elements of the C1, Shawn finally made the decision to start looking for a suitable donor car to start his next project with. After scouring online ads and looking at a number of unsuitable projects, he located a 1961 Corvette in his hometown. The car, an original, non-numbers matching four-speed model had been hidden away by the owner in his barn having not seen the light of day for years. Seeing that the car was both a driver and complete, a deal was made for the title.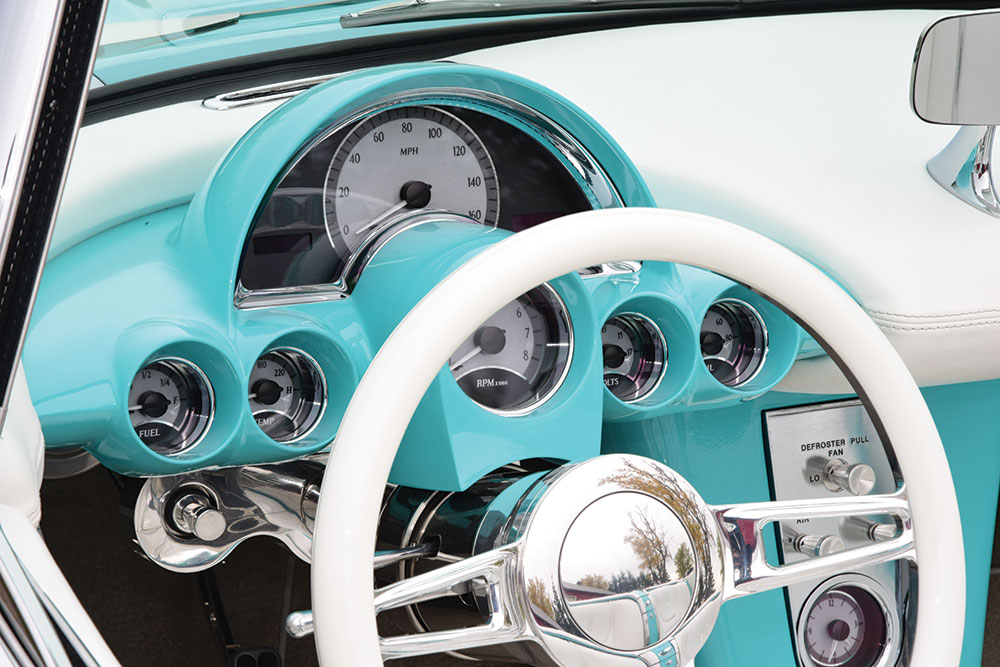 Once the car was in his shop, Shawn made the decision to take it to the next level by reconfiguring it with modern appointments set off by a killer stance. Having seen a number of wicked Pro-Touring Corvettes built by Boot Hill Auto in Erin, Ontario, he set up a meeting with shop owner Blaine Schmidt. The pair shared many of the same ideas on what it would take to bring the newly acquired C1 to the next level by artfully blending fresh chassis dynamics and modern power along with a number of exterior updates. Shortly thereafter, Shawn delivered the car to Boot Hill Auto to commence its rebirth. Starting at ground level it was obvious that the factory frame wouldn't be up to the task. With the shop regularly upgrading many of their builds with a Roadster Shop chassis it was an obvious first step to follow along with a modern aftermarket chassis. Shawn selected one of the Roadster Shop perfectly balanced Fast Track chassis that starts with hand-fabricated 10-gauge boxed frame rails, including custom crossmembers set up to utilize all factory body mount locations.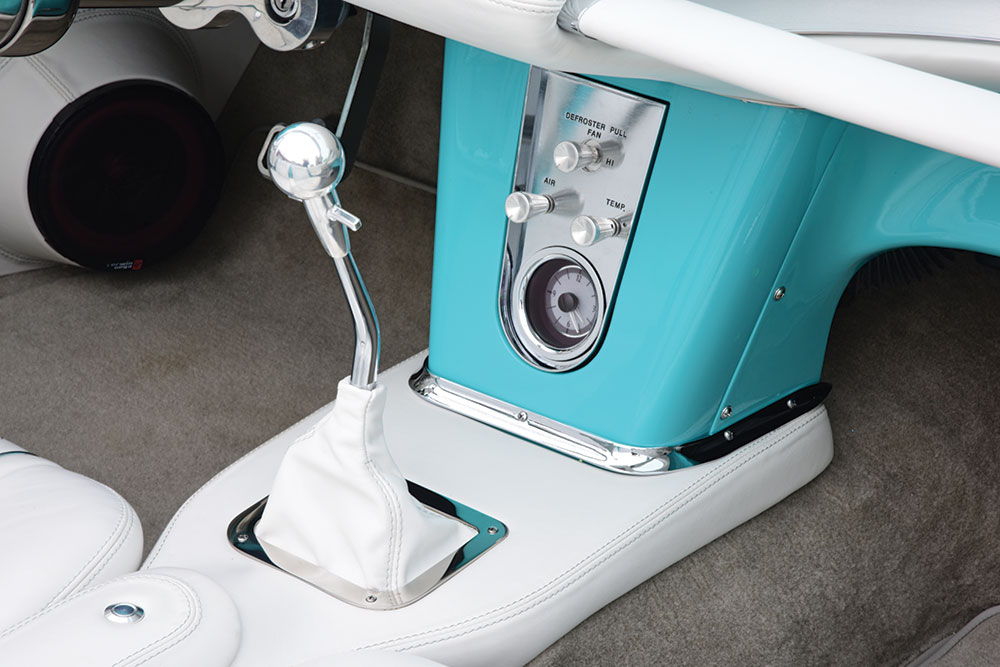 In back, the Fast Track Independent Rear Suspension assembly features a Strange Engineering Pro-Series nodular iron case packed with an Eaton Truetrac and 3.71 gears spinning 35-spline axles. It's combined with their exclusive upper and lower control arms, 1.25-inch splined sway bar and single-adjustable RS SV by Fox coilovers. For the ultimate in handling the Fast Track front suspension utilizes proprietary geometry in step with C6 Corvette spindles combined with Z06 hub assemblies matched to large-diameter 1-5/8-inch upper and 1-¼-inch lower control arms, 1.25-inch splined sway bar and single-adjustable RS SV by Fox coilovers. For maximum braking, a power dual reservoir master cylinder moves fluid through stainless lines to Wilwood Forged Narrow Superlite 6R Big Brake kit 14-inch front cross-drilled and slotted rotors with six-piston calipers matched to 4R Big Brake kit 13-inch cross-drilled and slotted rotors with four-piston calipers in back. For good looks and plenty of grip a set of 19×8 front and 20×11 rear Schott Wheels Mach V EXL are capped with Nitto NT555 G2 rubber.
Read More: Practice Make Perfect: 1957 Chevy 210 Wagon
Wanting to give the car a heavy dose of power to match its newfound handling Shawn went directly to Chevrolet Performance to check out their LS crate engines. He selected their power-packed LS3 V8 built from the get-go with all the right pieces. Starting with a cast-aluminum block featuring six-bolt cross-bolted main caps it's then chock full with a nodular iron crank linked to powdered metal rods wearing hypereutectic aluminum pistons getting bumped by a race-proven ASA hydraulic roller cam. A set of aluminum L92-port heads with as-cast 68cc chambers generate seamless power, especially when combined with factory fuel injection. Other cool engine details include Billet Specialties valve covers, Mooneyes recovery tank and a Spectre cold air intake system. A factory ignition lights the fire with depleted gasses dumping through Hooker headers to a custom 2-½-inch stainless steel exhaust with MagnaFlow mufflers by Boot Hill Auto. To move the goods, a GM 4L65E transmission links to a custom chromoly driveshaft on the way back to the Independent Rear Suspension.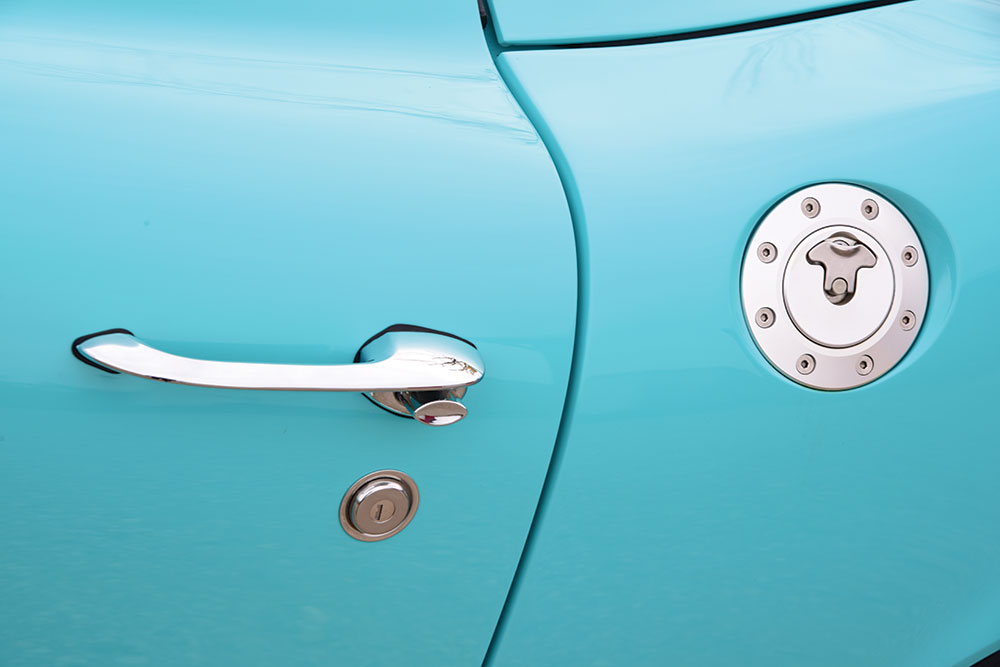 When it came time to address the body, thankfully the C1 had led a decent life having not suffered any accidents during its decades on the road. This allowed team members Tyson Stinson and Cam Buchanan to focus on modifications, starting in the engine bay with a custom firewall complemented by an LED backlit Corvette emblem. Outside you'll find a new scoop integrated into the factory hood as well as a 1959 Corvette grille, spoiler, and reworked cove vents to flow hot air from the engine bay while also housing custom LED lighting. To complete the revisions they also added an updated fuel fill, custom exhaust outlets to the rear pan, and mini-tubs to support wider rubber. With all the updates completed the body was then gapped and made razor-sharp to prepare it for paint. Cam then loaded his spray gun with plenty of Spies Hecker Atlas Blue Green accented by Chromax White coves to lay down the vibe.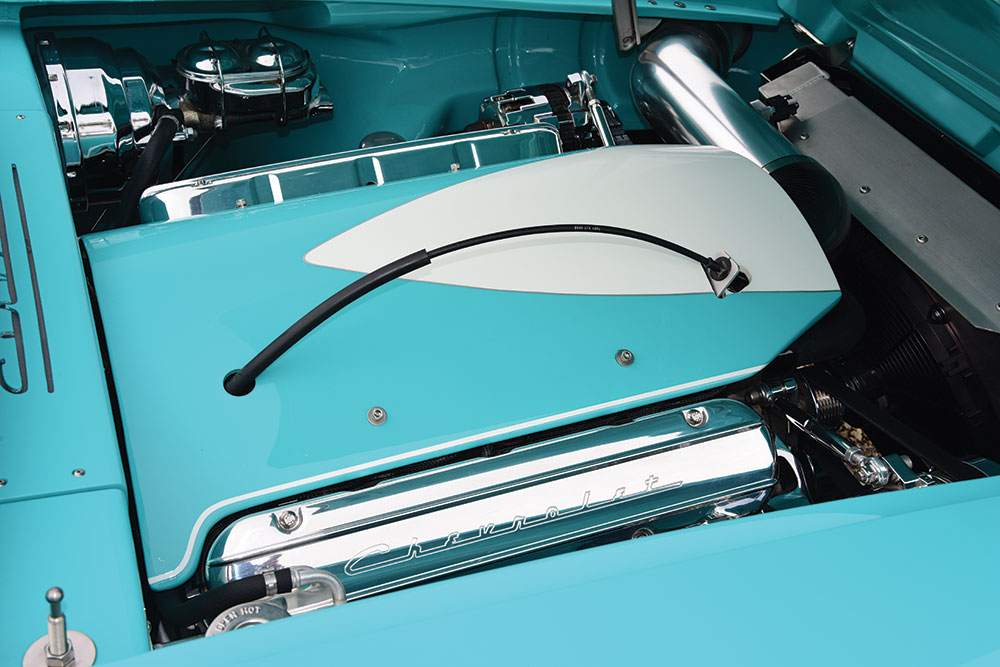 To bring an equal amount of allure to the interior, team member Shamiah Olembe got started by first wrapping the factory dash in Spinneybeck Espana white leather. He then filled it with a Dakota Digital VHX-Series gauge panel to monitor the vitals while a Lokar shifter pulls gears. Next a Billet Specialties steering wheel mounted to a polished Flaming River steering column carves the course while Vintage Air supplies a cool breeze with plenty of thump coming from a 500-watt Cerwin Vega car audio system. For comfort and style, a pair of seatback shells from Paul Atkins were used to create the seats, covering them with Spinneybeck Espana white leather accented by silver stitching and piping while also crafting the center console, all complemented by plush gray carpeting.
Read More: 1967 C10 With Hot Rod Heritage
It's easy to see that Shawn's formula for bringing cutting-edge handling and tire-searing performance to his C1 Brought the car to an entirely new level thanks to the team at Boot Hill Auto. We can hardly wait to see him put down the miles with it! MR