Joe and Ashley Seeno's 1964 Nova Wagon
By Nick Licata   –   Photography by the Author
Some of us are old enough to remember riding in the back of a station wagon with the rear glass down, cruising on the freeway—or "highway" if you grew up outside of California—sucking in fumes pulled from the tailpipe and into the party section of said wagon. The practice seemed harmless at the time, but so did a lot of things we did back in the '60s.
Joe Seeno has fond memories of wagons. He's since taken his passion for muscle cars, which began at a very young age, and felt it was time to build a vintage grocery getter with some attitude.
"I've been building muscle cars for a long time, Novas especially," Joe tells. "But I've always wanted to do a wagon." Joe spotted this specimen for sale on a Nova forum back in 2014. He took a chance the description and photos in the ad were accurate and drove six hours from his home in Granite Bay, California, all the way down to Los Angeles to pick it up. "The car was original for the most part," Joe says. "It had no engine or trans, the interior was original, and the car had one repaint and new front fenders and hood, likely due to it being in an accident at some point. The car had a clean title and I liked what I saw, so $3,200 later the car was on my trailer heading north to its new home.
As mentioned, the car had no engine and trans, but a 12-hour round-trip drive gave Joe plenty of time to conjure up a plan–or at least tidy up the one he's had spinning in his head for years.
More Nomad Love: 1956 Chevy Nomad Rolls on Morrison Chassis with LS Power
Starting with the engine bay, Joe smoothed the firewall and cleaned up inner fenders then dropped in a 2002 LS6. With a stock rotating assembly, he gave the mill a little more grunt with a Brian Tooley Racing stage 2 camshaft, BTR double valvesprings, and added a trunnion upgrade to the stock rockers. He topped it with a Holley single-plane EFI intake, with fuel delivery coming by way of a Holley fuel injection system. Proform valve covers and air cleaner, Delmo Speed intake kit, and Lokar LS Classic Series distributor kit incorporate an appropriate vintage small-block look. An Eddie Motorsports accessory drive system leads the way and looks damn good doing so.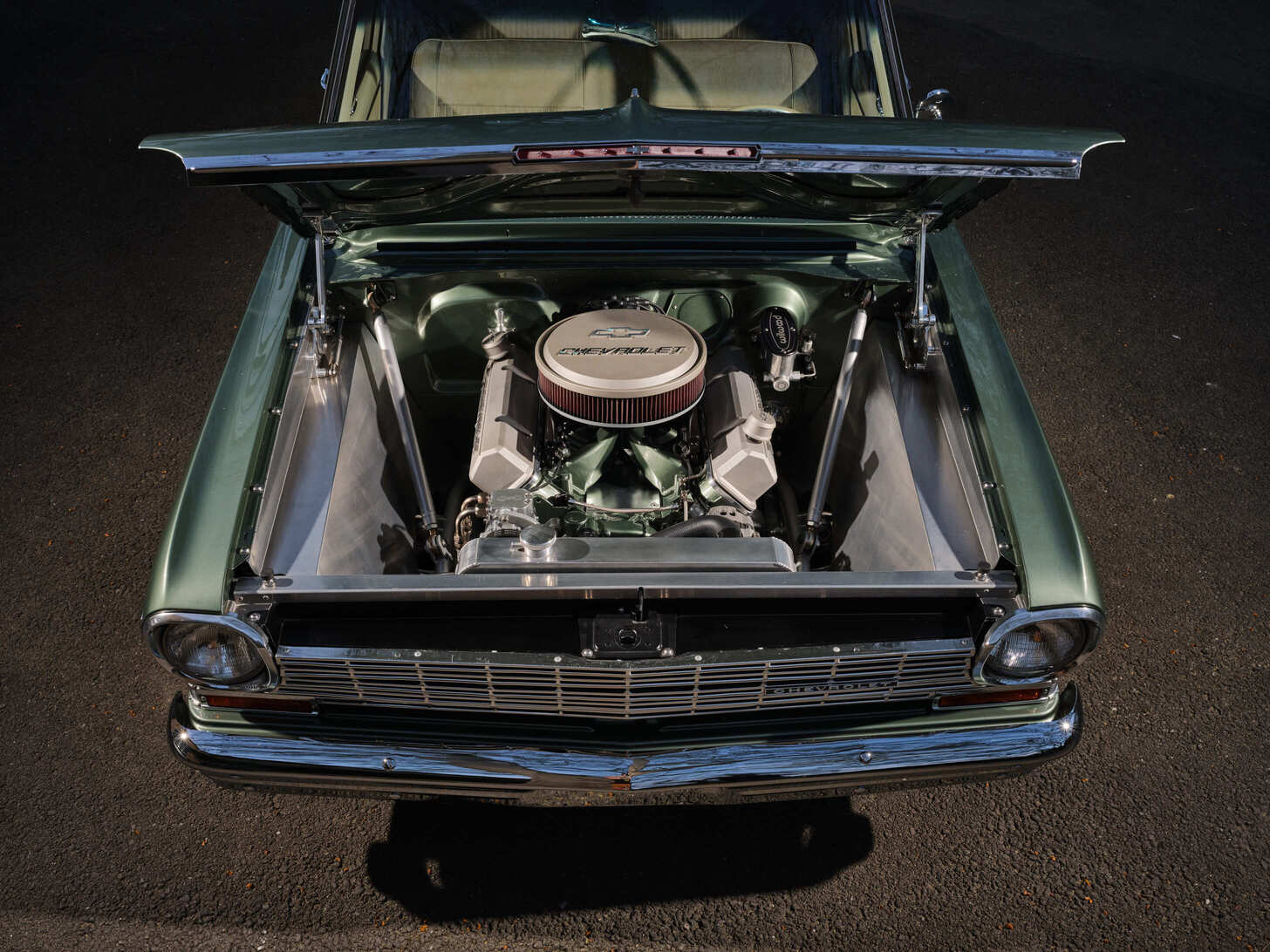 The exhaust system consists of Stainless Works 1 ¾ headers, 2 1/2-inch exhaust, and Black Widow Venom mufflers give it a burley tone. The car has yet to hit the dyno, but Joe estimates about 400 hp considering the mild upgrades. He's quick to point out that the car wasn't built to rotate the earth. "It's just a cool ride with a good amount of attitude in a somewhat uncommon package," Joe relays.
A GM 4L60E transmission is backed up by a Summit Racing 2,800 stall converter and a stock 10-bolt, Yukon limited slip, and 3.73 gears get  power to the ground.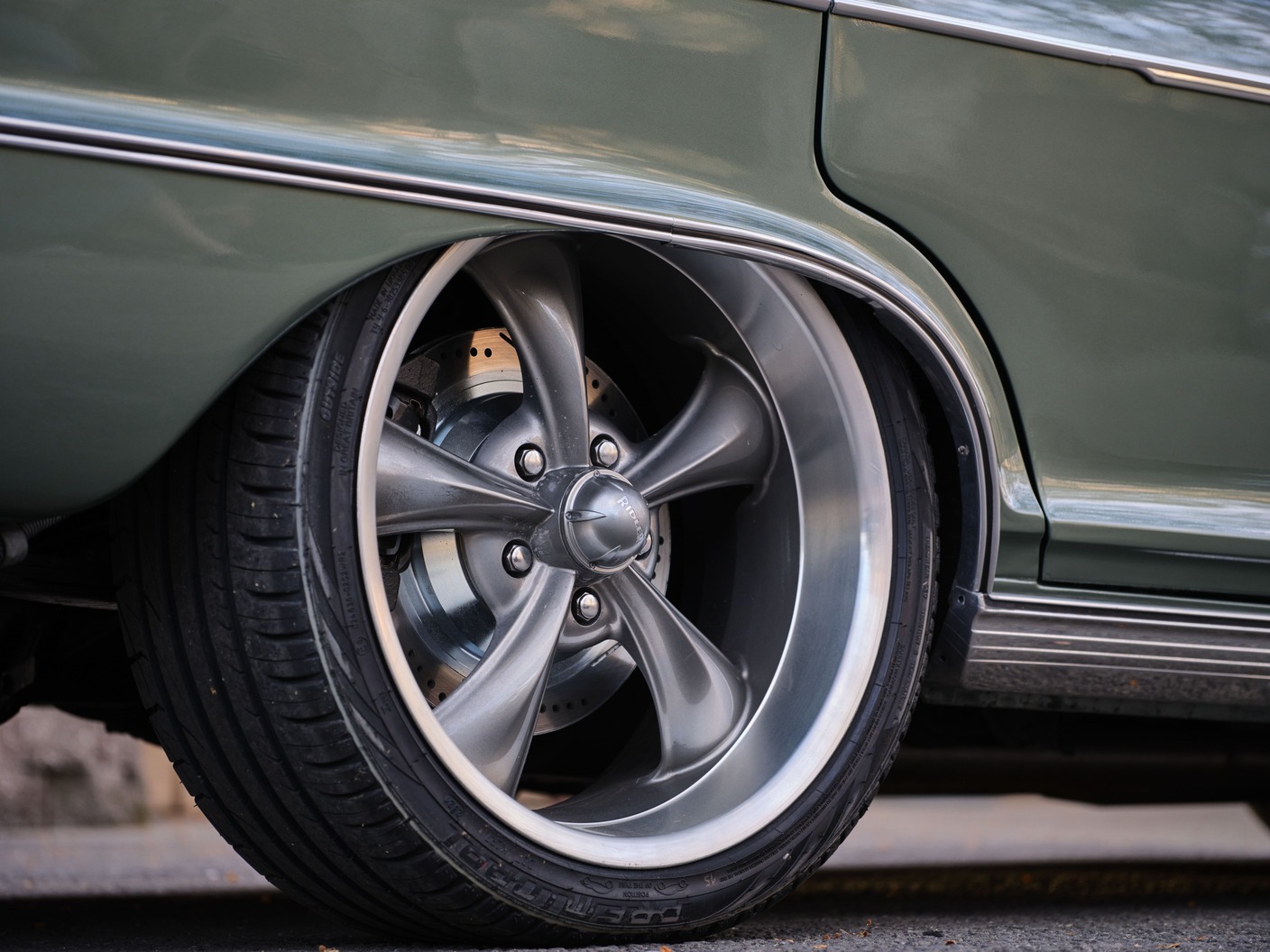 For now, the rear sits on a stock suspension with 2-inch drop leaf springs, air shocks, and an Addco sway bar for improved lateral performance. A four-link is next on the "to-do" list, but for now the mostly factory bits work in conjunction with a TCI Pro Touring front clip loaded with 1 1/8-inch sway bar, Ridetech adjustable coilover shocks, and 2-inch drop spindles. Competition Engineering subframe connectors tie it all together, and a power rack-and-pinion steering system ensures accurate and sporty navigation. Wilwood 12-inch discs and four-piston calipers control the stopping process up front, while GM 12-inch rotors and PBR single-piston calipers reside out back. A Wilwood master cylinder confirms proper pedal pressure, and a Wilwood proportion valve divvy up the front and rear braking duties.
Thanks to the low-slung stance, the Nova carries a mischievous posture and the Ridler 695 five-spoke wheels with gray centers wrapped in Nankang 225/40 R18 rubber play into the scheme.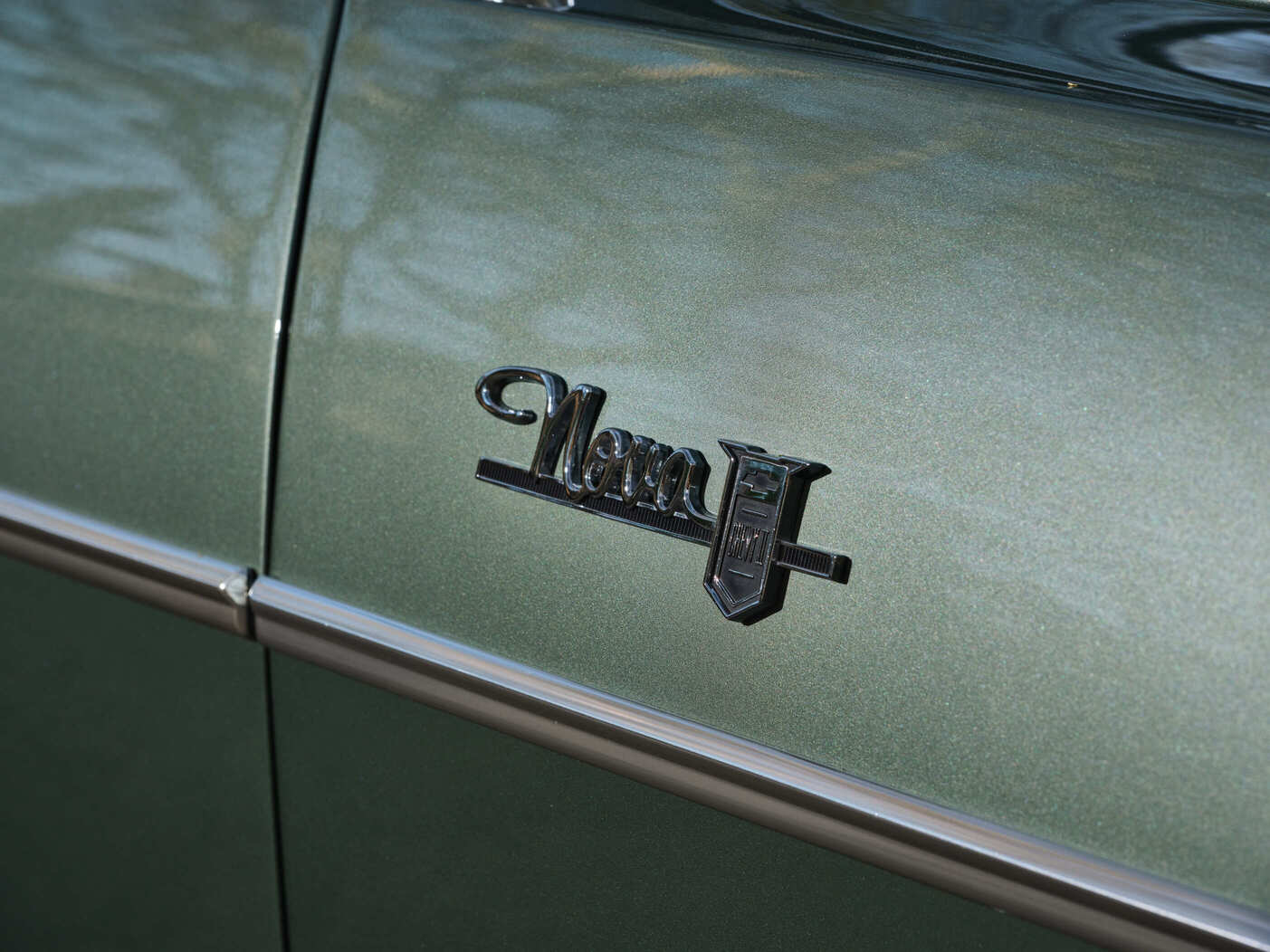 Classic Nomad Art: Chevy Concepts – 1955 NOMAD
The exterior is where the wagon glistens due to the Matrix Custom Green and Metallic Pearl–a unique color that takes this ride to the next level. Joe is a bit of a perfectionist when it comes to his vintage tin and has a no-nonsense approach to the bodywork aspect and getting it done right. This ain't his first rodeo, so he smoothed, wet-sanded, and gapped the sheetmetal accordingly prior to laying on the pigment. "I wasn't on a strict time frame to get the car done, but I'm fairly versed when it comes to paint and body," Joe says. What I failed to take into account is how much more sanding and buffing there is when the process is done on a wagon. Working the roof seemed endless, but to me sanding and buffing can be quite therapeutic."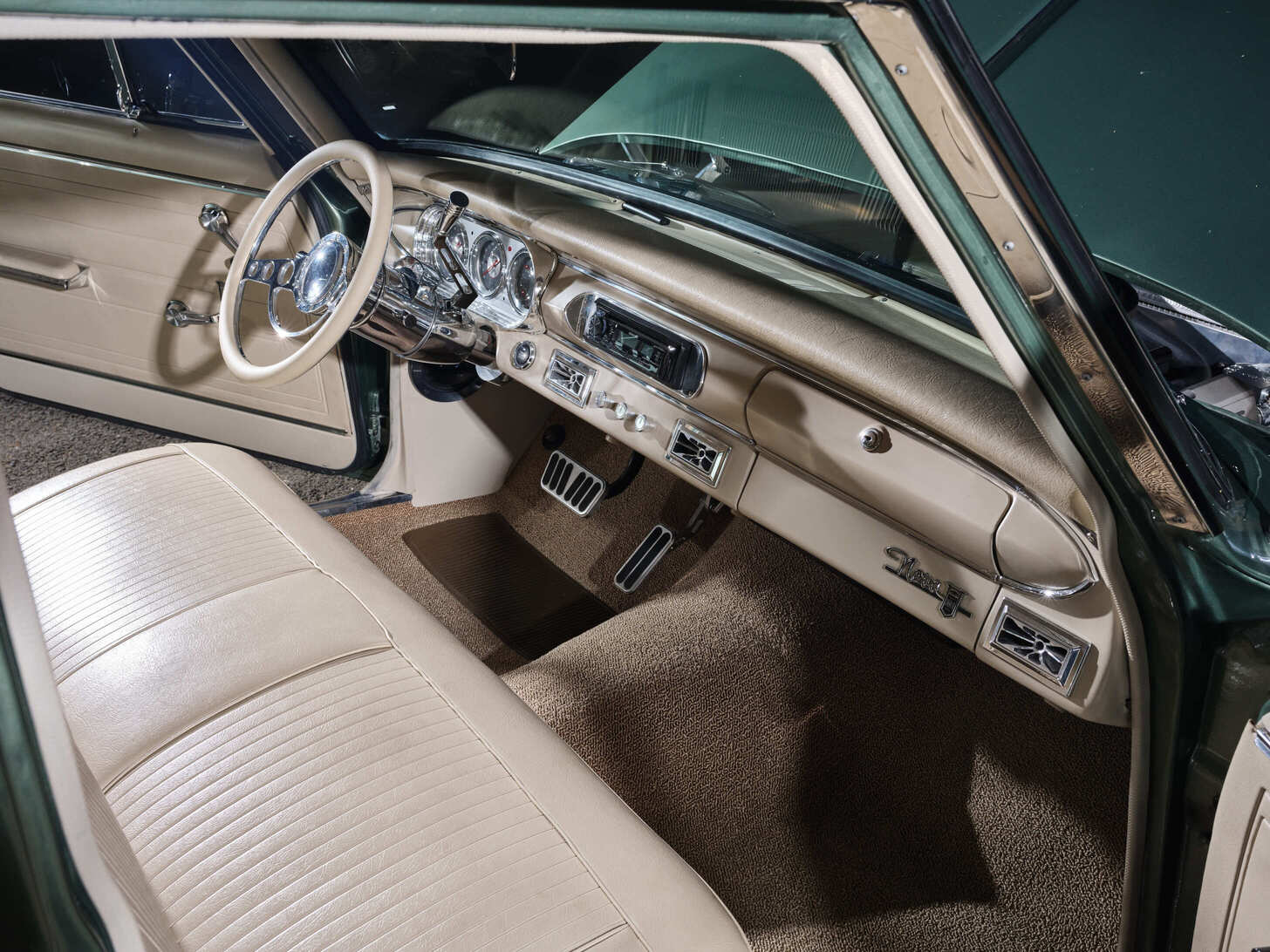 Joe hit the interior with a mostly stock-appearing theme while tying in a few custom nuances and modern bits. Joe went to Restomod Air to keep the office climate comfy then stretched the lower portion of the dash to give it a custom vibe and ample room for the Restomod vents. The process added a little more time to the project, but once again, deadlines weren't an issue. Classic Instruments gauges stick with the vintage vibe while offering modern functionality, and the Flashpower steering wheel and Lokar pedals add some performance attitude to the landscape. Joe started the interior process with a layer of Dynamat prior to laying down the OC Auto Carpets Fawn carpet then covered the stock seats, factory-repro door panels, and back section in Parts Unlimited Light Fawn vinyl. The relaxed setting evokes long highway drives, which is the main reason for this whole exercise.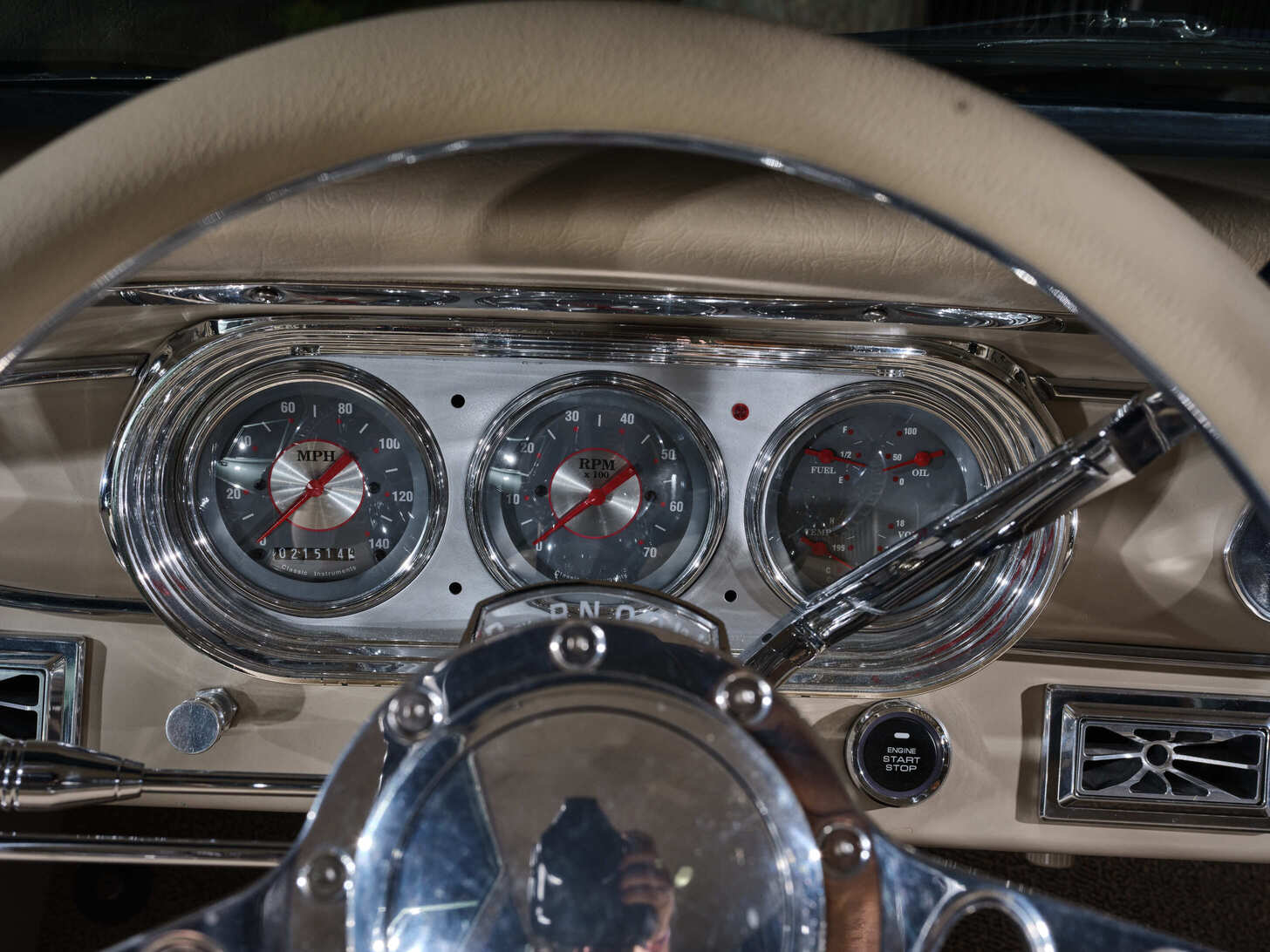 So far Joe and his wife, Ashley, enjoy the reliability and modern feel of driving the vintage wagon, and the attention the car gets at shows is icing on the proverbial cake. One of the most memorable moments for Joe was the look on Ashley's face when she first laid eyes on the car in its most vulnerable state. "Sure, the car was a little raw when I brought it home, but she didn't have the same vision as I when it came to the Nova's endgame," Joe laughs. "She loosened up when I allowed her to choose the car's paint color; and when I let her in on the fact that I was building the car for her, I was totally in the clear."
Yep, Joe had a vision–one well beyond the mismatched fenders and lack of engine and drivetrain. There was little doubt in his mind that he was going to build something cool, and he's not yet done. As for Ashley, once she gets behind the wheel and cranks up the Kenwood through the Sony speakers, there's no doubt in her mind that she's driving the coolest Nova wagon ever–roof rack and all. ACP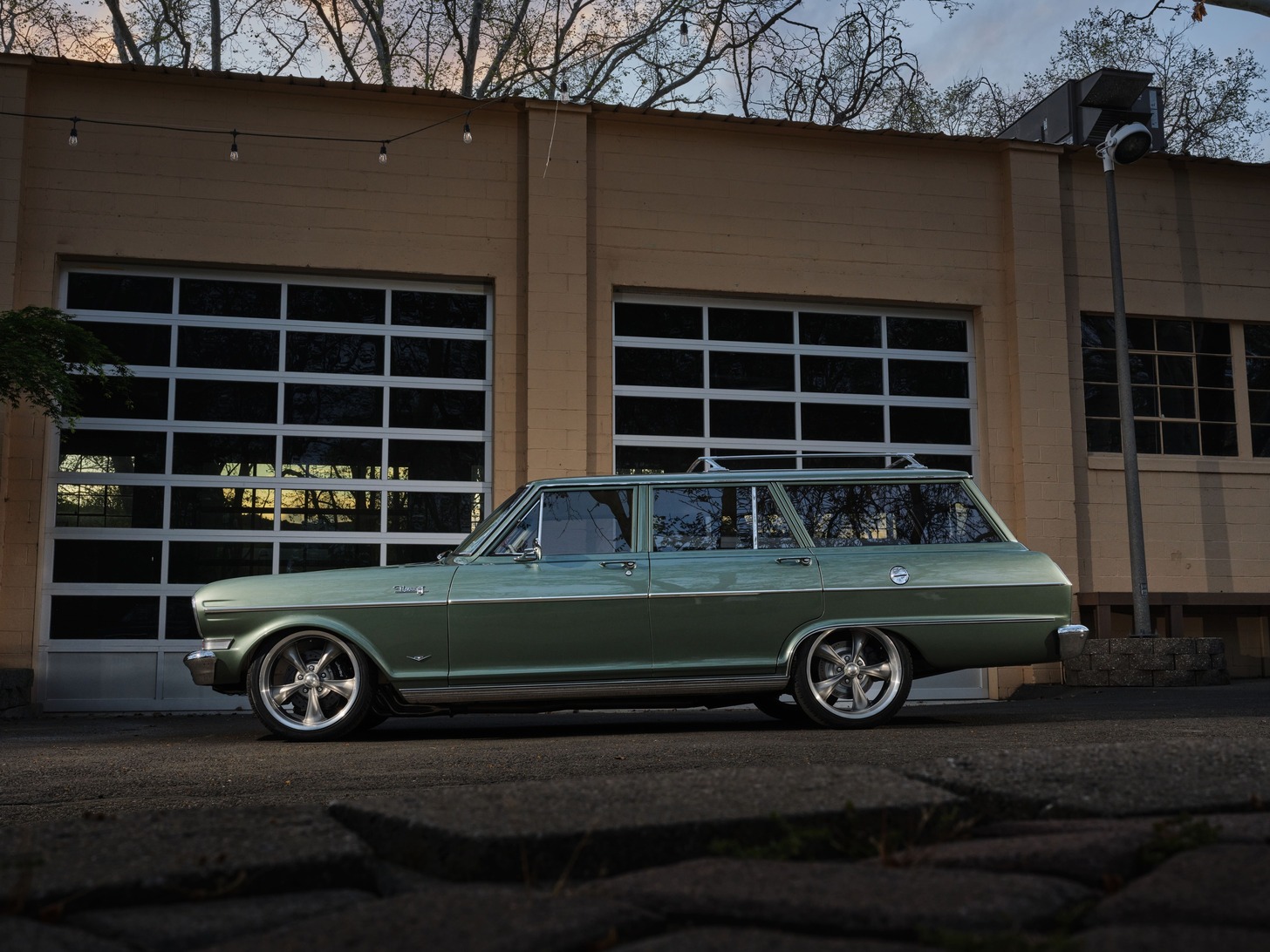 More 60's Chevy Performance: 1966 Chevelle Wagon, as a Gasser!!!
TECH CHECK
Owner: Joe & Ashley Seeno, Granite Bay, California
Vehicle: 1964 Chevy Nova Wagon
Engine
Type: 2002 LS6
Displacement: 5.7L/346 ci
Compression Ratio: 10.5:1
Bore: 3.898 inches
Stroke: 3.622 inches
Cylinder Heads: GM aluminum
Rotating Assembly: Cast-iron crankshaft, powdered metal I-beam connecting rods, hypereutectic aluminum pistons
Camshaft: Brian Tooley Racing Stage 2 camshaft, 0.620/0.605 lift, 227/238 duration at 0.50, 113.5 LSA
Valvetrain: BTR double springs, stock rockers with trunnion upgrade
Induction: Holley single-plane EFI
Engine Assembly: Owner
Exhaust: Stainless Works headers, 2.5 custom exhaust, Black Widow Venom 250 mufflers
Ancillaries: Eddie Motorsports accessory drive system, Delmo Speed intake kit, Lokar LS Classic Series distributor kit, Proform air cleaner and valve covers, Lokar wires, Spal dual electric fans, Powermaster alternator, Tanks 16-gallon EFI tank, EZ Wiring wiring harness, Eddie Motorsports hood hinges
Output: 415 hp / 400 lb-ft
Drivetrain
Transmission: 4L60E
Torque Converter: Summit Racing 2,800 stall
Rear Axle: GM 10-bolt, 3.73 gears, Yukon Gear posi, limited slip
Chassis
Front Suspension: TCI Pro Touring subframe, 2-inch drop spindles, Ridetech adjustable shocks, rack-and-pinion steering
Rear Suspension: Stock GM, Addco Performance sway bar, air shocks
Brakes: Wilwood 12-inch rotors, four-piston calipers front, 2002 GM 12-inch disc PBR calipers rear, Wilwood master cylinder, and prop valve
Wheels
Wheels: Ridler 18×8 front and rear
Tires: Nankang 225/40R18 front and rear
Interior
Upholstery: OC Auto Carpet Fawn carpet
Seats: Stock bench, Parts Unlimited vinyl covering on doors and rear section
Steering: RPC column with ididit billet column dash, Flashpower steering wheel
Pedals: Lokar
Dash: Stock with custom fabrication by owner
Instrumentation: Classic Instruments
HVAC: Restomod Air
Head Unit: Kenwood
Speakers: Sony
Exterior
Bodywork and Paint: By owner
Paint: Matrix custom green with metallic and pearl
Hood: Stock
Trim Pieces: Trim Parts
Front Bumper: OER
Rear Bumper: OER
Taillights: Trim Parts
Joe and Ashley Seeno's 1964 Nova Wagon