Higher Ground
Joey Dean Sends His 1966 Chevelle Wagon Skyward
By Scotty Lachenauer   –   Photography by the Author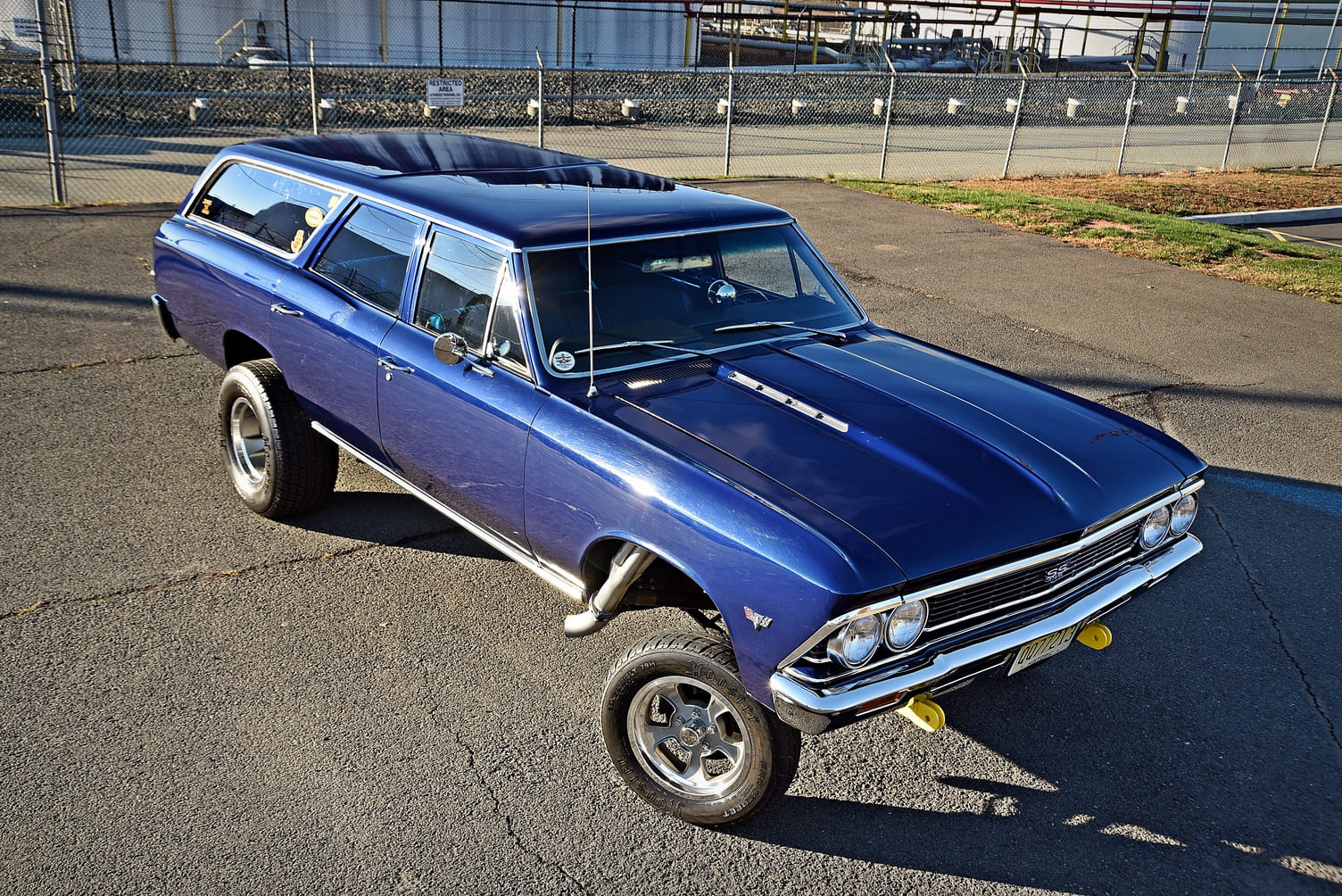 "I've always been a big fan of '66 Chevelles. In 2009 I came across a rust-free Chevelle wagon from California and I instantly fell in love. It was something different and I knew right away that I had to have it," Joey Dean, from Rahway, New Jersey, says.
Joey has always enjoyed building things that were unique to what the other guys were doing. "I started as a youngster with Legos, erector sets, and model cars. I graduated to garbage picking bikes and rebuilding them and then moved onto go-karts and minibikes. When I went to the 1974 New York Auto Show, it was a big mind-bender. It all was influential and still inspires me when I build my hot rods today," Joey states.
Like many of us, Joey's love of all things Chevy commenced at a very young age. "Both my older sister and brother had '68 and '69 Camaros as their first cars," Joey remembers. "That made me want a Camaro of my own." However, it was another hot ride that finally gripped Joey's heart and just wouldn't let go. After spotting his neighbor's boyfriend rolling up in a sweet '66 396 SS Chevelle, his love affair with that year and model took off.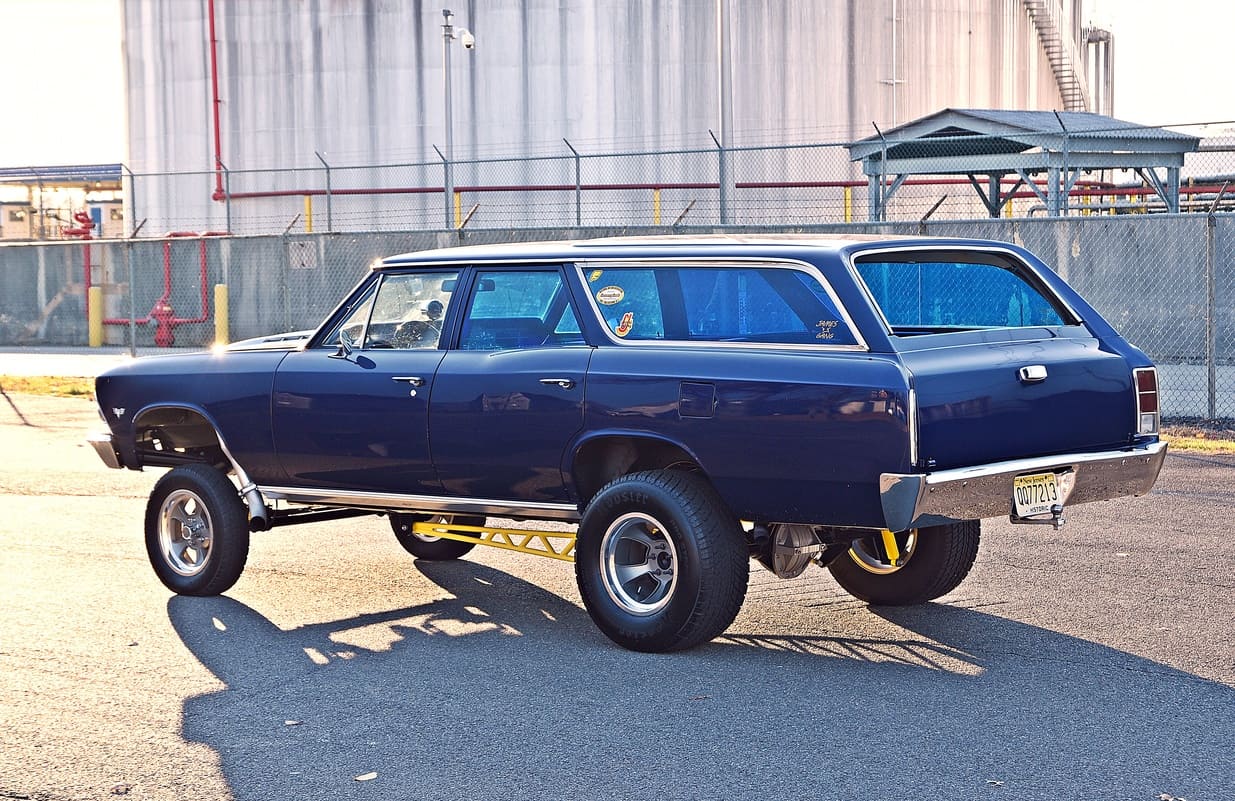 At age 16, young Joey snatched up his first '66 Chevelle. He jumped right in and proceeded to rebuild the ride in his parents' garage. During the resto, he brought its 327ci mill to his Votech school and rebuilt the small-block into a feisty powerplant. Once finished, the car hit the street as his high school ride. Though that car is long gone, it started a bond between man and home-brewed machine, which continues to this day.
The '66 wagon that Joey was smitten with was a no-brainer for him to buy. "I quickly struck a deal with the owner and brought it home. I just wanted to get it out on the road as soon as possible," Joey says.
Having all the skills necessary to get this long-form Chevelle back on the street, Joey dug in and got to work.
"At first I just did some basic hot rodding to it to get it out on the road—the bare-bones necessities," Joey states. "I drove it that way for years but deep down I knew  it was destined to become a full-fledged gasser!"
You May Want to See This: LSA Powered Pro Touring 1966 Chevelle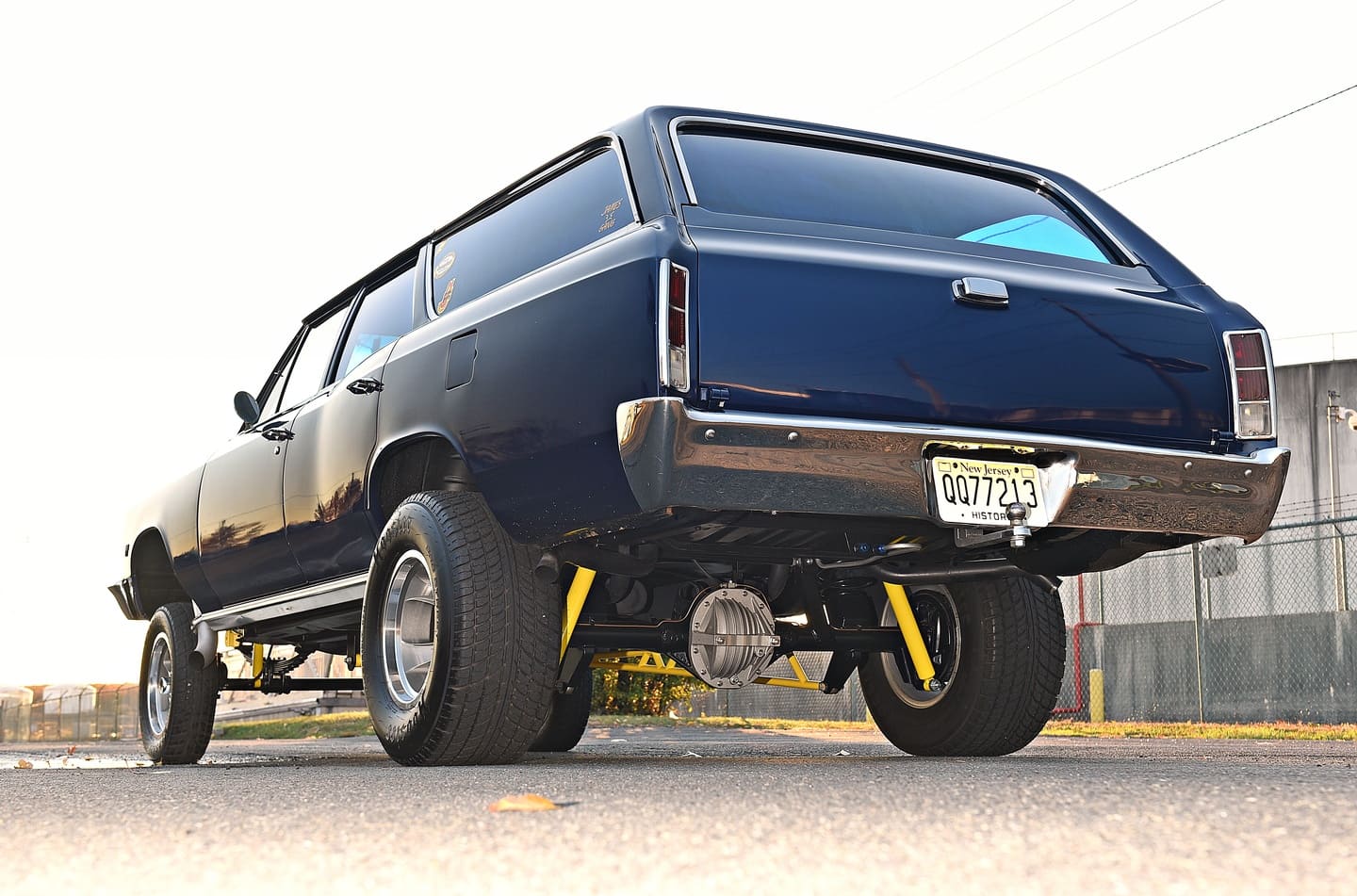 Joey did a photoshopped rendition of it early on, showing the wagon with a straight-axle and typical gasser amenities. He hung that picture on his wall as a reminder of what needed to be done. Finally, that day in 2019 arrived and he was ready to roll.
Having amassed a good collection of parts for the build, Joey started the transformation in September of 2019. However, there are a few things that he didn't need to buy since he prefers to build his own parts whenever possible. That started at a young age due to not being able to find what he needed or just couldn't afford.
Once Joey got rolling, the first job at hand was getting the massive fenderwell headers to fit. The straight-axle came next, then welding in the spring perches and getting the geometry uniform. Typically, with gassers the steering needed some figuring out as well. "I shortened the column 3 inches and installed three universal joints to get around those giant headers," Joey informs.
Other major issues included cutting back the frame for the wagon's drag link and relocating the rearend to build the suspension. "I figured out the ladder bar length and placement and then built a one-off subframe and welded that in," Joey points out. That subframe has mounting points for the ladder bars and a driveshaft loop for added safety. It also has cutouts for the exhaust and tabs for the narrowed crossmember.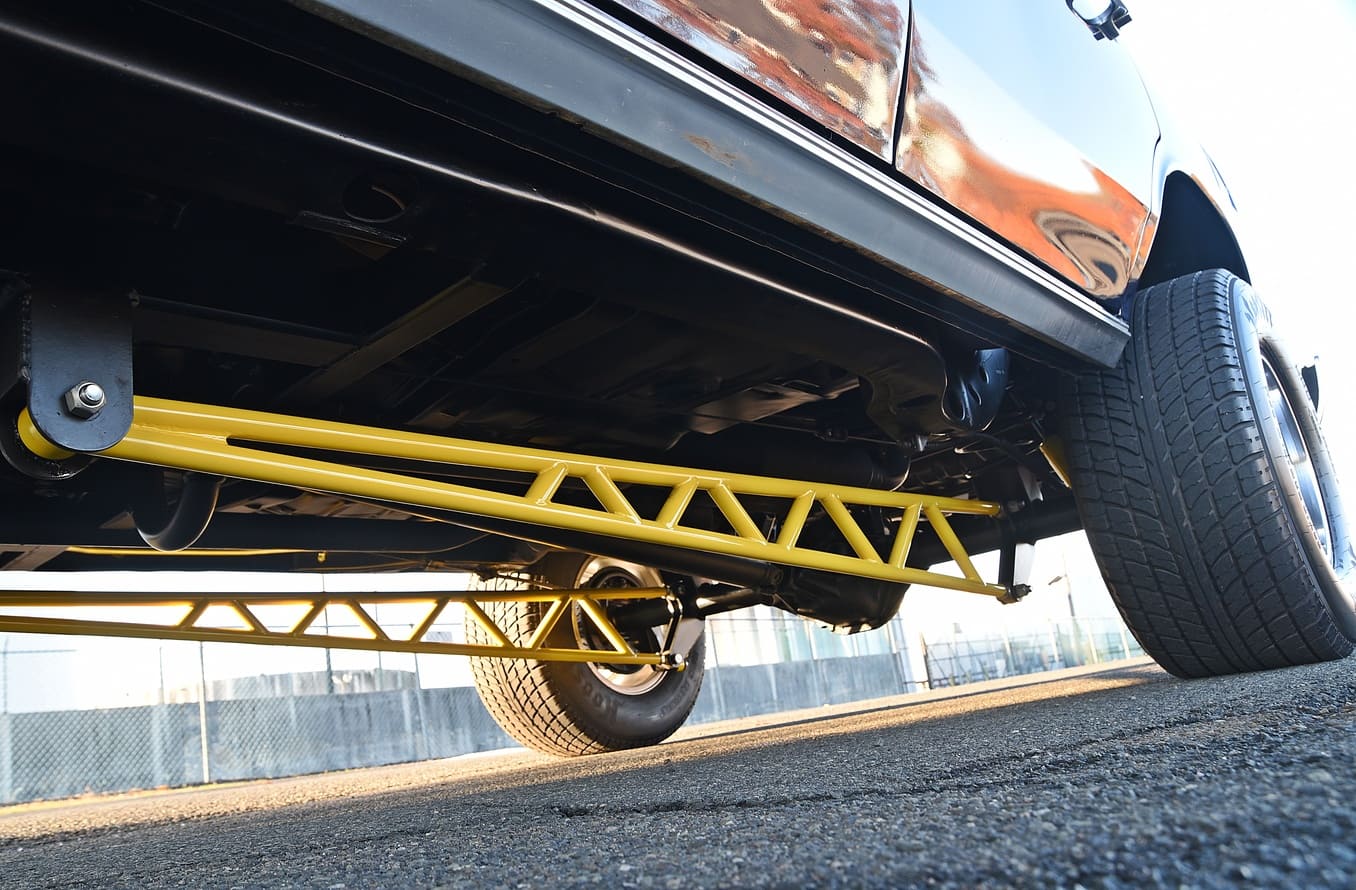 And what about those homemade ladder bars? Powdercoated vivid yellow, they prominently stand out. "I built them one piece at a time. Tube-notched and TIG-welded, they are about 6 1/2 feet long!" Joey says with a grin. Other add-ons include taller spring perches so he could run stock tailpipes and coil springs, and new upper shock mounts to make room for Panhard bar and mounts.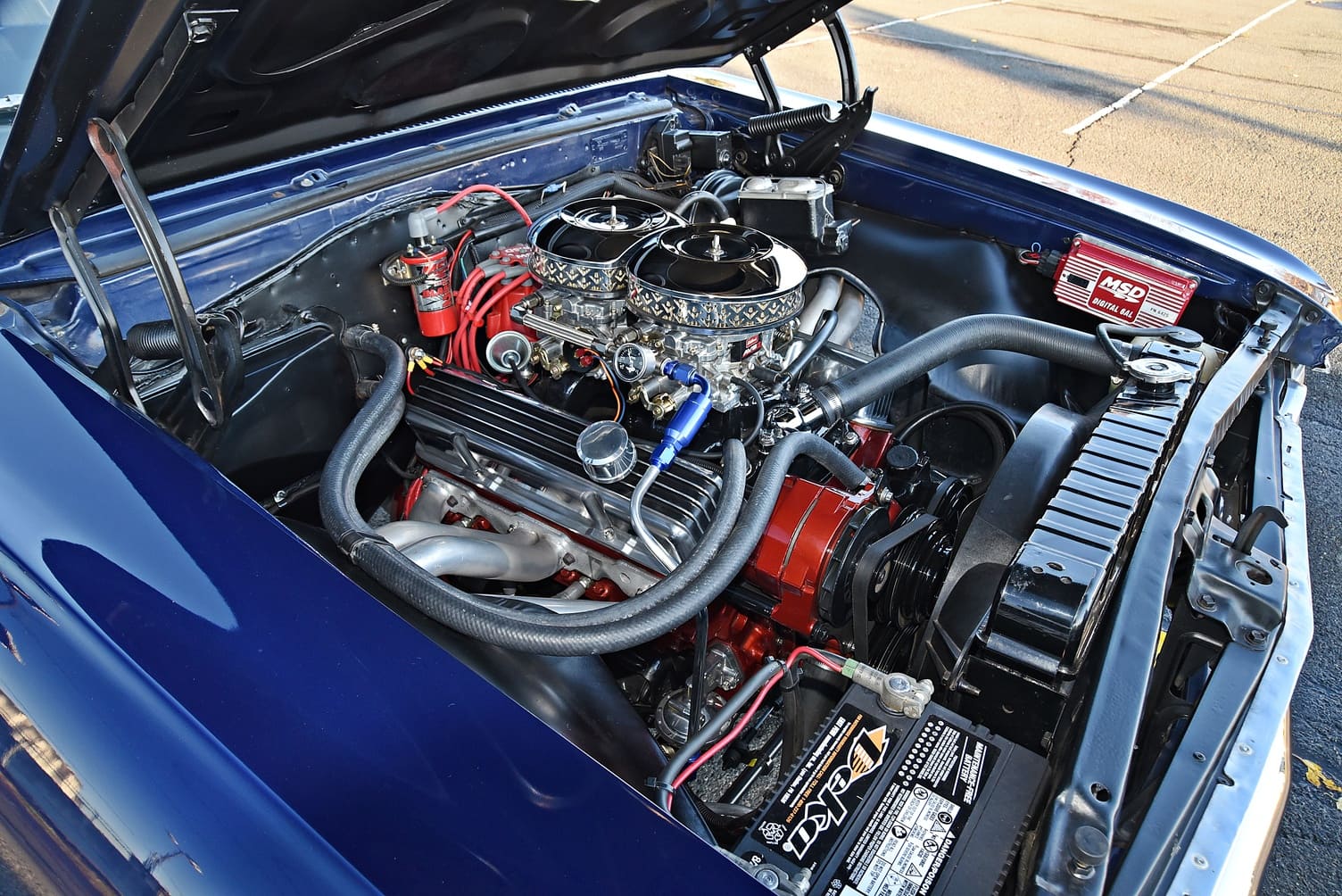 So, what did Joey choose for motor-vation in this gassed up wagon? Remember that engine he built at Votech? Well, that Chevelle is long gone, but its 327 found a new home in the wagon. And why not? He had built it up right from the start using ported LT1 heads, an Edelbrock dual-quad Performer air-gap intake, and a Lunati Voodoo cam. A pair of Edelbrock 500-cfm Performance carbs feed the little beast all the juice it can handle. Those nasty headers are from Hooker and Joey added some electric cutouts to let everyone know when he's comin' through!
All this power is shifted through a built Muncie M20 and sent to a Chevy 12-bolt stuffed with 3.42 gears. GM front discs give some extra stopping power to the stock Chevy drums out back.
On the exterior, Joey was lucky enough to save the paintjob that came on the wagon, though he needed to do some touch-ups and paint the new hood. This beautiful bonnet is a piece he fabricated himself. "It's probably the only 2-inch cowl hood in the world with the factory '66 SS grilles fabricated into it. I've never seen another," Joey says.
Check Out The One Man Show: Eric Fernandez's Homebuilt '67 Chevelle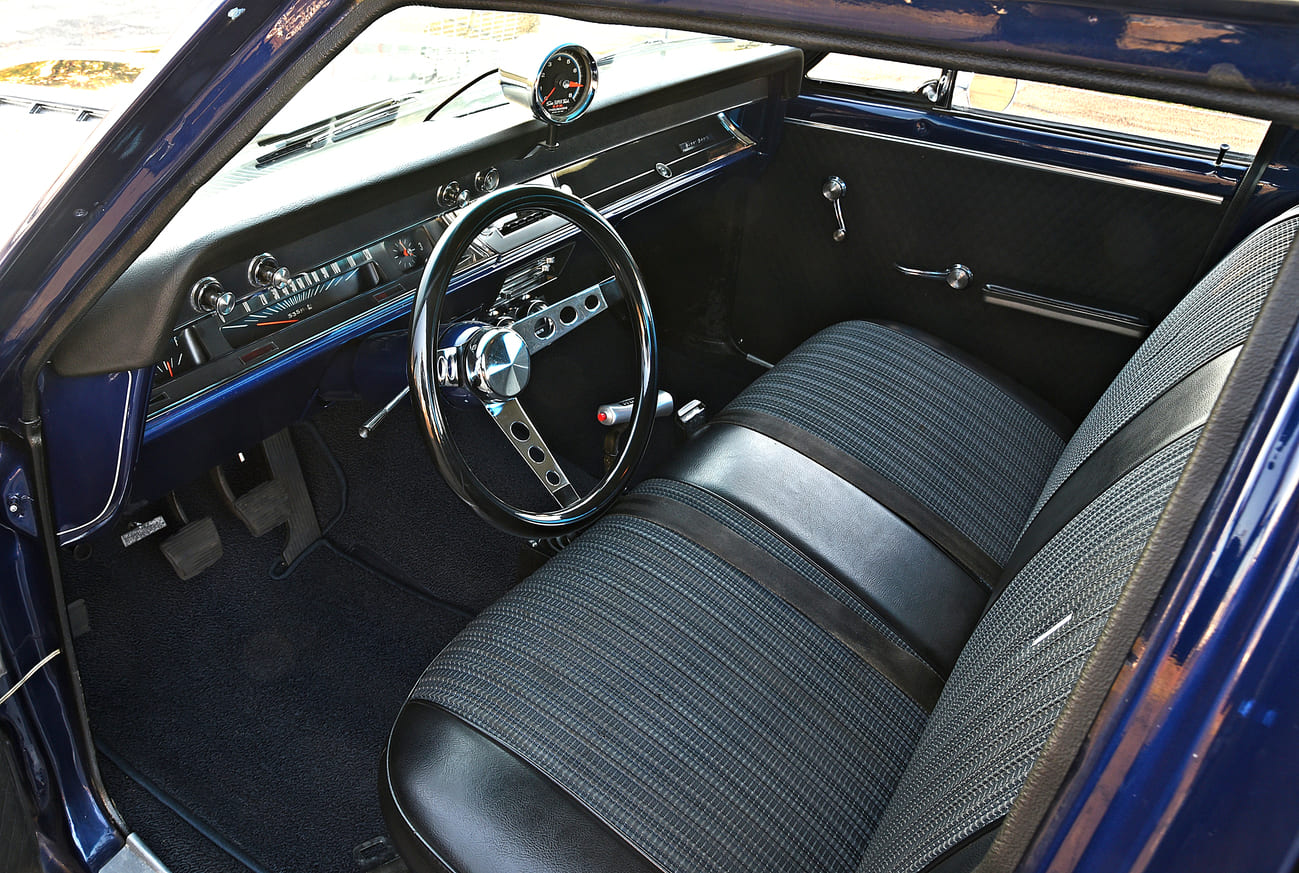 As far as the interior goes, it's got a Hurst Competition shifter with reverse lockout bangin' the behemoth through the gears. Other period add-ons include the Sun Super Tach on the column and an Auto Meter analog Autogage cluster installed under the dash. The rest of the interior is relatively stock, keeping the period-perfect look.
The wagon hit the ground runnin' in 2020, making waves at the local car shows and meetups. The Chevelle never fails to grab a gaggle of onlookers mesmerized by the jacked-up war wagon.
Are there any upgrade plans for the wagon in the future? "Right now, I'm happy with the car in every way, however, I can see an infusion of power coming at some point," Joey quips. "I can see stuffing a built-to-the-hilt 427 big-block underhood coming sooner rather than later.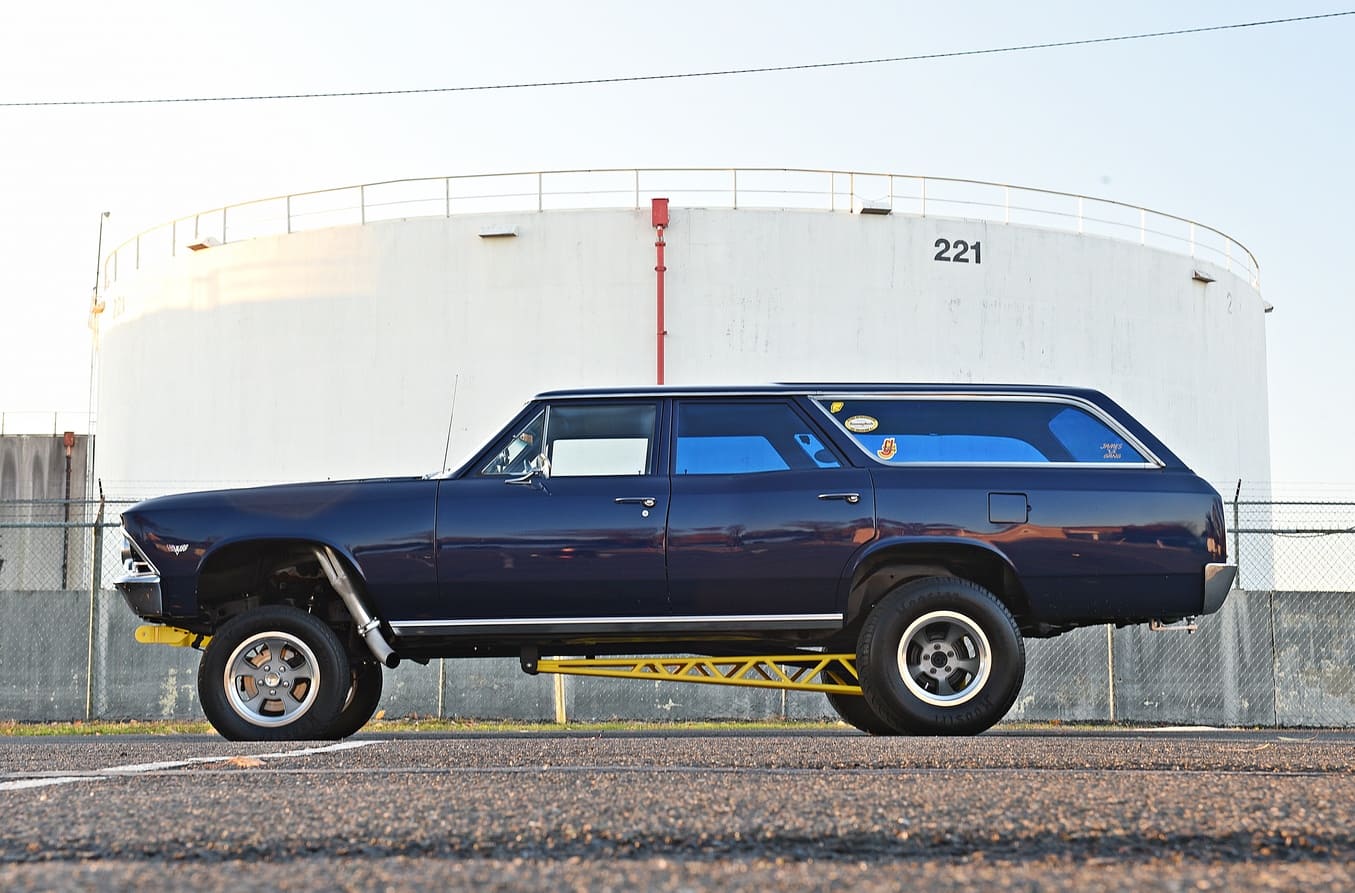 Tech Check
Owner: Joey Dean, Rahway, New Jersey
Vehicle: '66 Chevelle Wagon
Engine
Type: First-gen small-block Chevy
Displacement: 327 ci
Compression Ratio: 10.1
Block: Stock cast
Bore: 4.000
Stroke: 3.250
Cylinder Heads: 350 LT1
Rotating Assembly: Steel crank with Manley pistons and rods
Valvetrain: Lunati lifters, push rods, roller rockers, and valvesprings, 2.02/1.60 valves
Camshaft: Lunati Voo Doo cam 0.489/0.504 intake/exhaust lift
Induction: Edelbrock Dual Quad RPM air-gap intake manifold with two Edelbrock 500-cfm Performance carburetors
Ignition: MSD
Exhaust: Hooker Competition fenderwell headers with electric cutouts and full exhaust with Flowmaster mufflers
Ancillaries: Stock fuel tank with handmade fuel sump welded in and aluminum fuel line connected to a high-volume fuel pump
Output: 400 hp estimated
Drivetrain
Transmission: Muncie M20 four-speed, billet steel flywheel, Ram HDX clutch and Lakewood scatter shield
Rear Axle: GM 12-bolt post with 3.42 gears
Chassis
Suspension Front: WACS custom width chromoly tube axle made to owner specs, parallel leaf springs with custom-built hangers
Suspension Rear: Custom-built 6 1/2-feet ladder bars connected to a custom weld-in subframe, Panhard bar, performance stock-style coil springs with height adjustability, stock four-link arms removed
Brakes: GM front disc and calipers, line-lock, rear drum
Wheels: Halibrand knockoffs, 15×4 front, 15×10 rear
Tires: Hoosier Pro-street 26×7.50R15 front 29×12.5R15 rear
Interior
Upholstery: Stock with custom diamond pattern door panels
Material: Vinyl
Seats: Stock
Steering: Stock steering box with custom steering links
Shifter: Hurst Competition Plus with reverse lockout
Dash: Stock
Instruments: Column-mounted Sun Super Tach, analog Auto Meter Autogage cluster under the dash
Audio: Modern stock appearing radio, two 6×9 speakers behind front door panel and two 6×9 speakers in rear panel
HVAC: Stock
Exterior
Paint: By previous owner with additional paintwork by owner and George Ladis
Hood: 2-inch cowl hood modified by owner to accept factory '66 SS hood inserts
Extras: Tailgate factory trim and badging removed, tow-tabs fabricated as NMW tow tab appearance
Bumpers: Stock
Fabrication: All fabrication, engineering, building, and assembly by owner
1966 Chevelle Wagon in Midnight Blue…Built as a Gasser!!!