Rick Katz's '67 Chevy II
By Nick Licata – Photography by Wes Allison
As '66-67 Chevy II Novas continue to gain ground in popularity, more enthusiasts are doing their best to build one just a bit different than the masses. Rick Katz has wanted one of these box-style cars since he was 10 years old. "My older brother had one when we were teens, but he sold it—without my authorization, I might add," Rick laughingly remembers. Rick didn't offer up his age, but we can assess that there's been a few trips around the sun since he has lusted after these little Chevys. The Southern California resident began a serious search for just the right example about five years ago. "A buddy of mine found this one on the Hemmings classifieds website. It was about 80 percent completed and appeared to be exactly what I was looking for," Rick says. "The bad thing is that the car was in Nashville, but according to the photos in the ad, the car looked to be super clean, so I booked a flight to check it out. The day I got there it was pouring rain. Fortunately, the owner had a lift so I was able to see the underside, and it actually looked better in person than in the photos."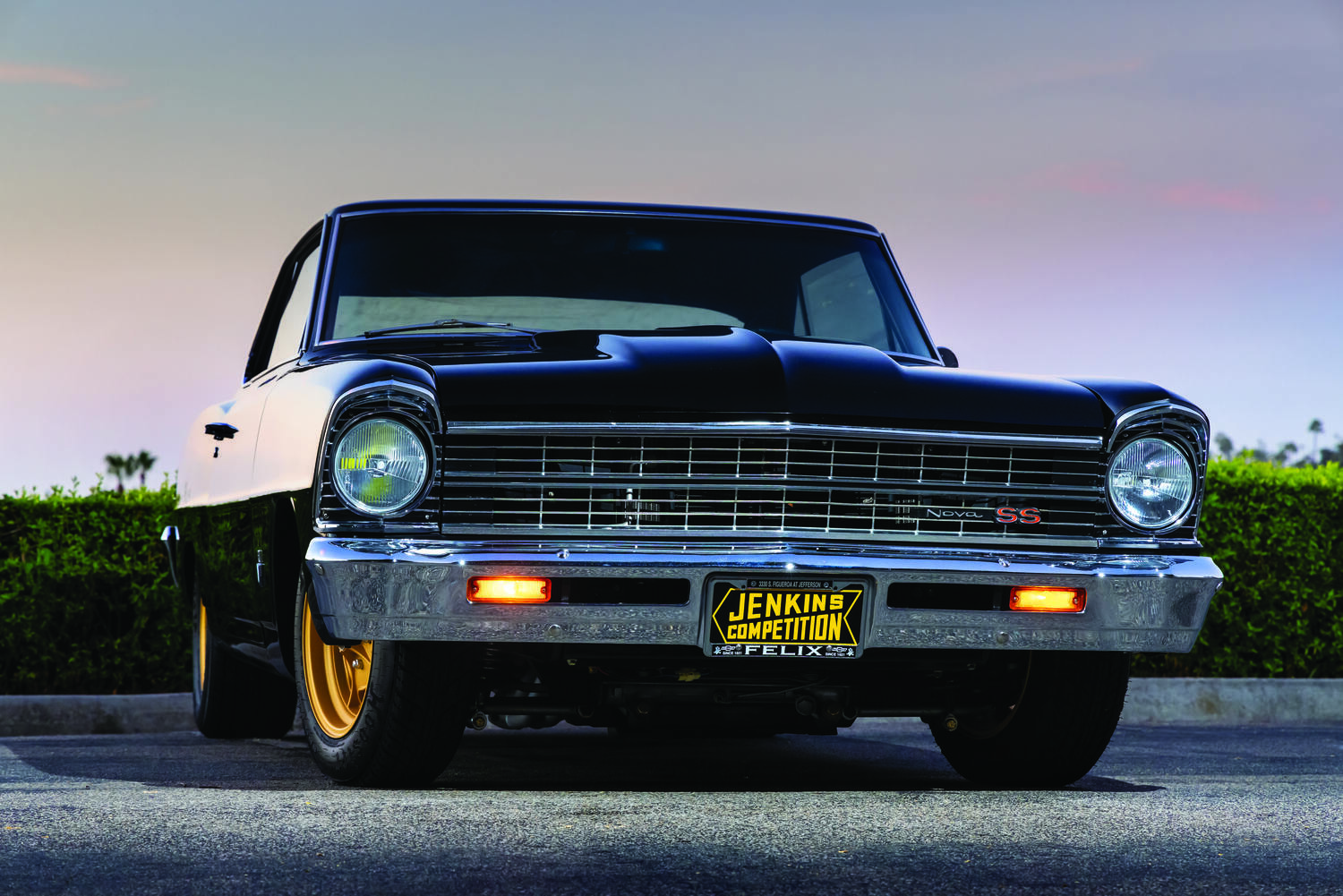 Rick pulled the trigger and had the car shipped to SoCal. With the help of Mark Boice at Scared Shiftless in Santa Ana, California, they managed to tidy up the loose ends while also adding some personal touches. "[Boice] was a huge help in getting the car to the finish line, while also adding some cool ideas of his own," Rick states. "We really wanted the car to stand out and I think we accomplished that for sure."
Check This Out: 900hp N/A SUPER STOCK NOVA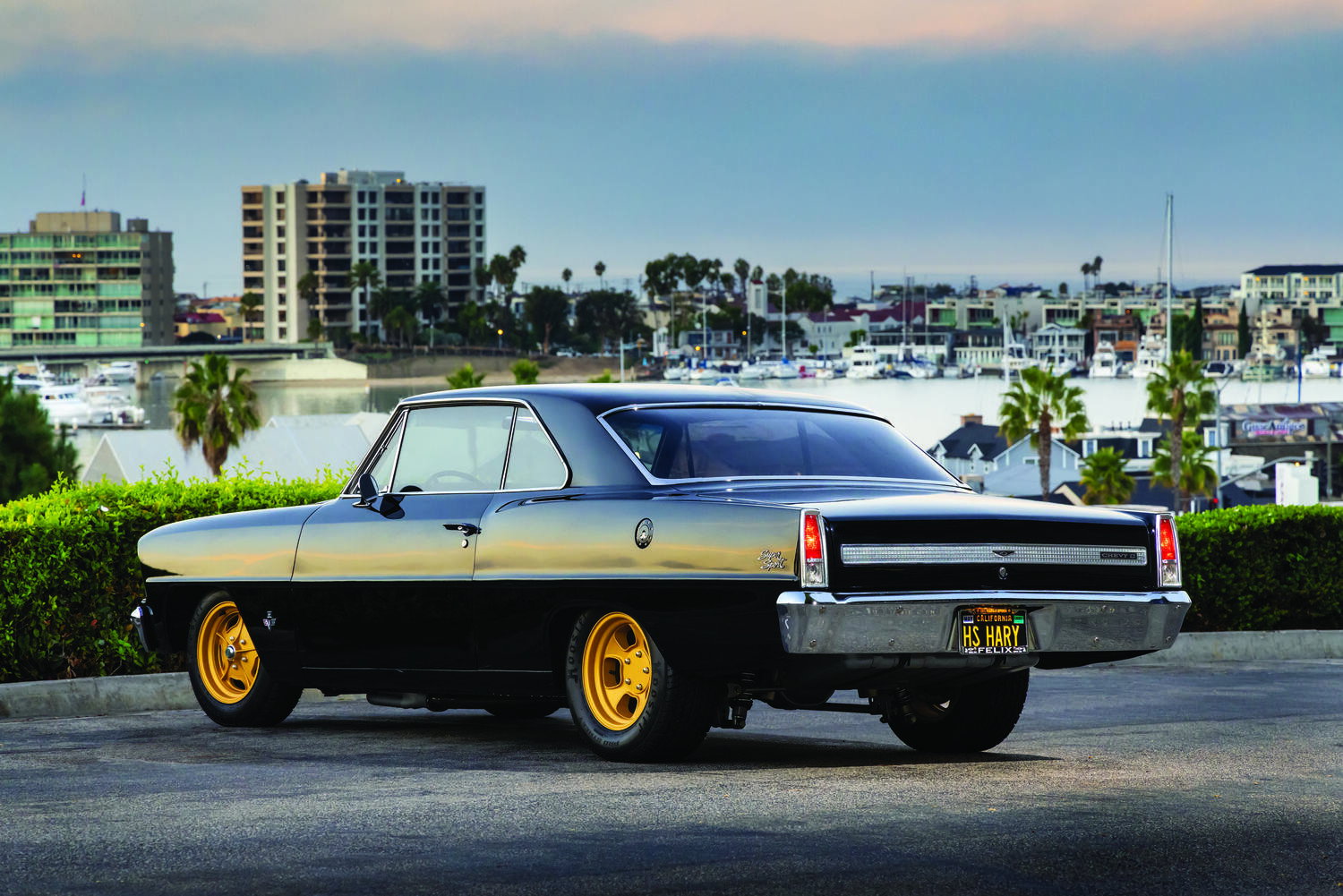 One of the selling points on the car is the 427ci small-block. Although it looked good as-is, Rick wanted a more old-school vibe, so Boice brought on board the Inglese stack injection managed by a FAST EFI system. The rest of the internal specs are mostly unknown as that info remains back in Nashville, but we can see how the March serpentine system spices up the mill, as do the Hooker Competition headers and custom Mickey Thompson valve covers. The polished Eddie Motorsports hood hinges do their part in adding additional style. With not a whole lot known about the engine's power capabilities, Rick couldn't wait for a day at the dyno to see what this thing could do. His eyes lit up when rollers gave up 550 hp to the tires—plenty of grunt for what Rick had in mind for the car.
That power is managed by a McLeod single-disc clutch and works its way to a 9-inch reared housing a limited-slip posi and 3.73 cogs.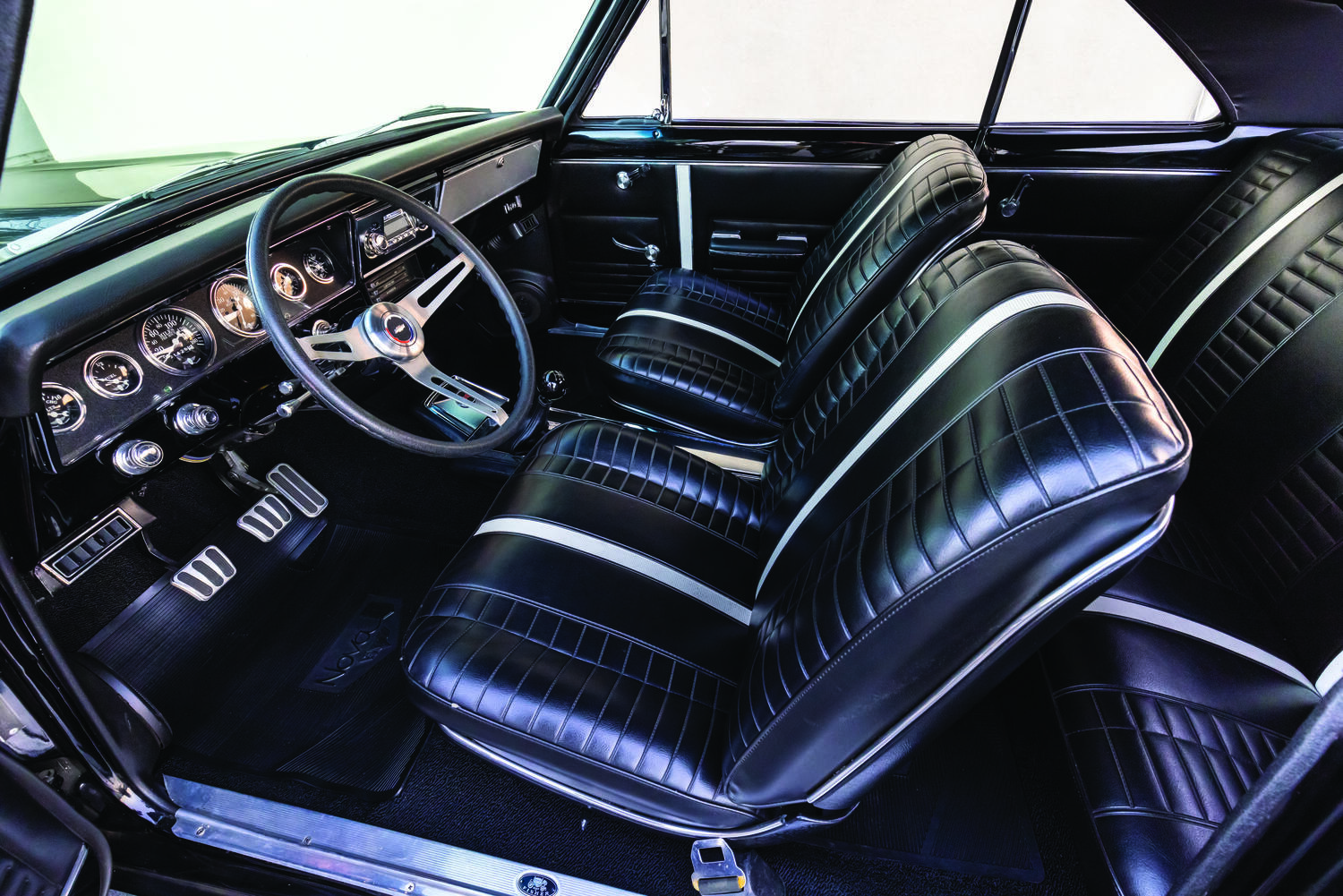 In order to make the car stand on its own while adhering to the vintage style, Rick went with a set of E-T Fueler wheels then had MBI Performance Coatings douse it in gold ceramic–something you don't see every day. It gets better. Boice had the idea using a spindle mount wheel, then attached lug nut covers on the wheels just to keep the vintage theme in check. Hoosier rubber (26×7.5 R15 front, 27×10 R15 rear) grips the ground and Wilwood disc brakes handle stopping chores.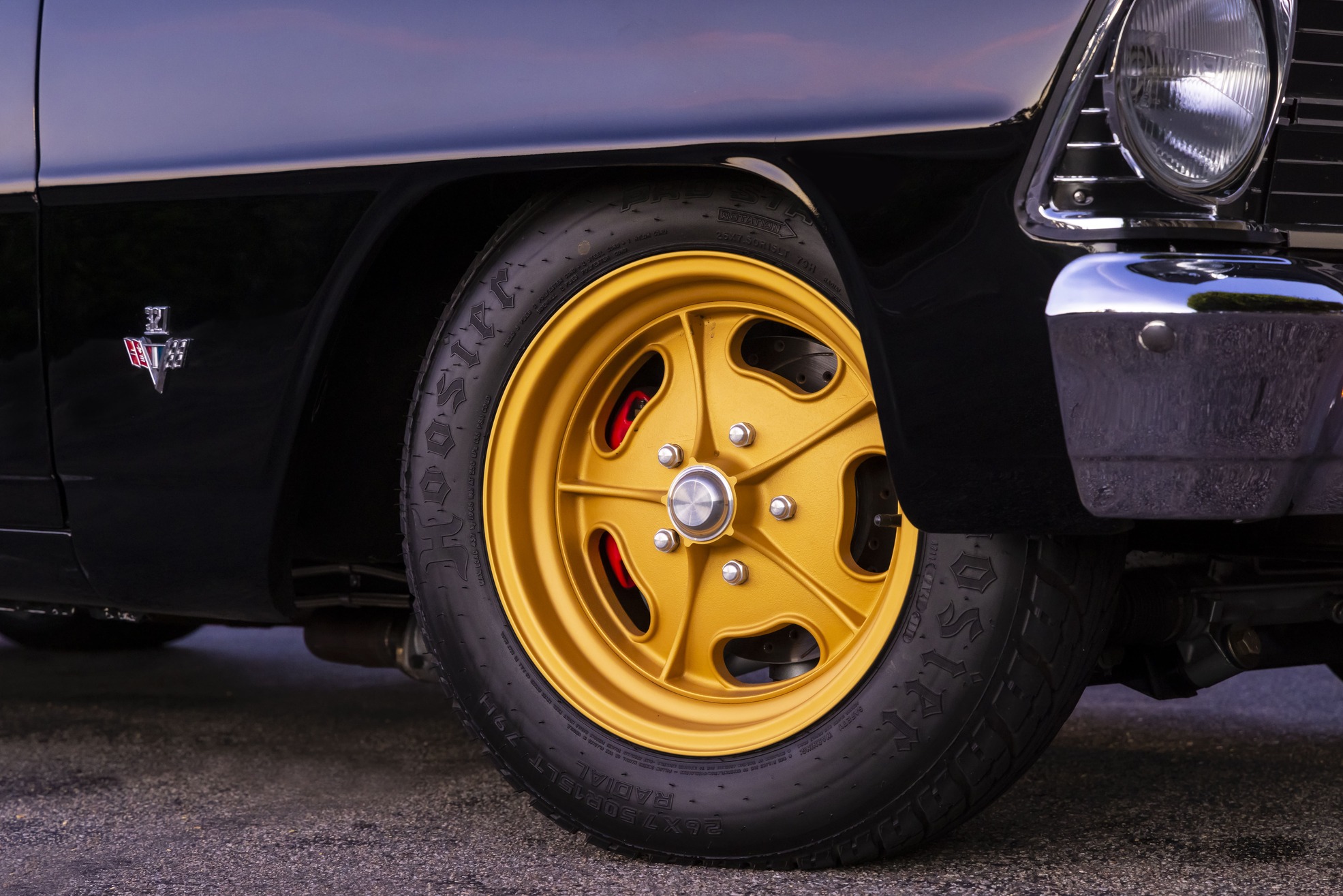 The chassis features a TCI Pro Touring IFS up front and a TCI four-link suspension system out back with dampening service handled by Ridtetch coilover shocks front and rear. "I've owned quite a few muscle cars in my life, and I have to say the handling capabilities of this car are like no other," Rick comments. "The car just takes corners with minimal effort. It's got a great combination of performance when I need it and a smooth ride for highway cruising. I just love driving this car."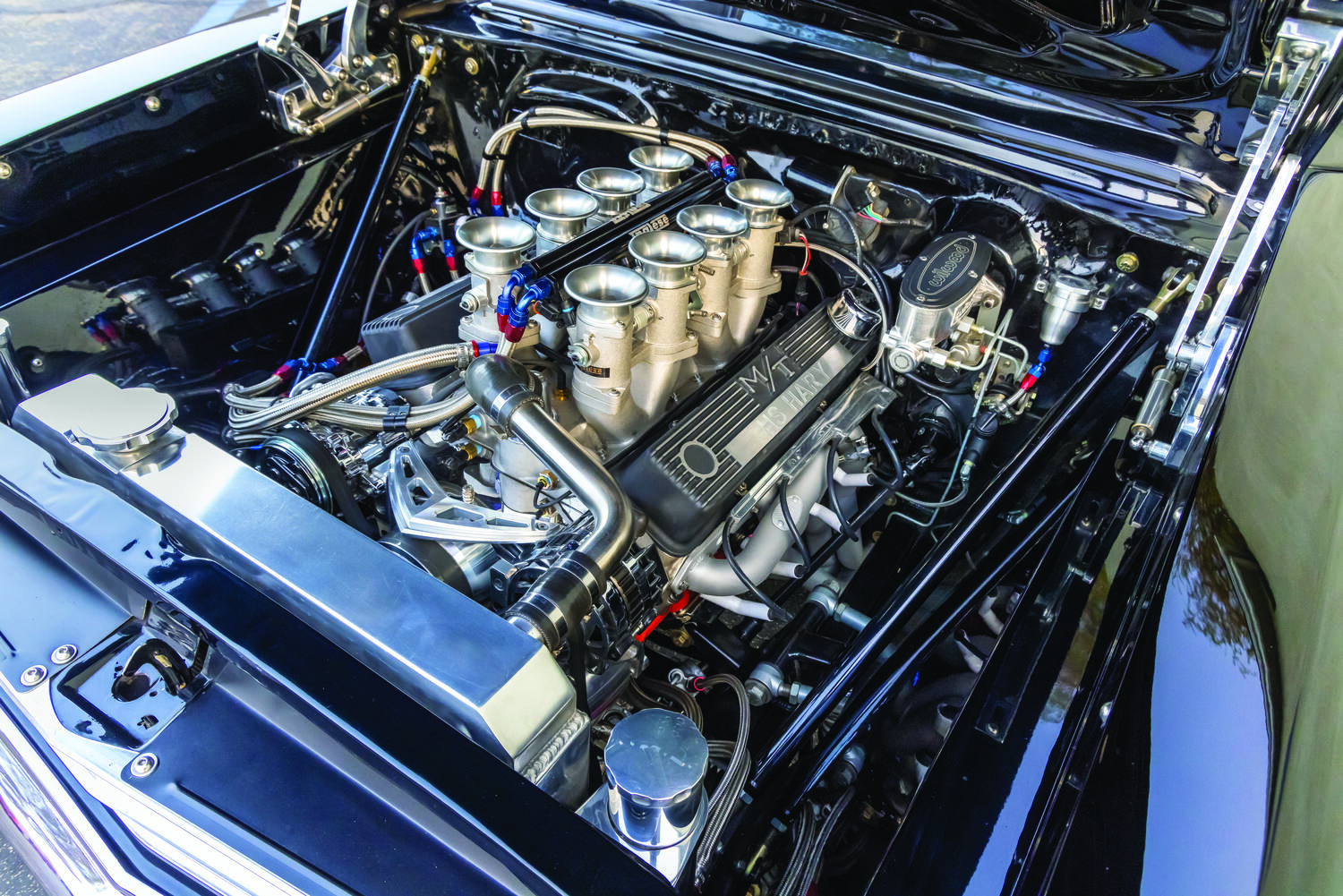 The Parts Unlimited Inc. interior goodies carry an uninterrupted old-school scene with reproduction black loop carpet, door panels, and black vinyl seat covers working in sync to ensure the car keeps its original personality. A sprinkling of aftermarket bits provide modern functionality while maintaining the period-correct perspective. Stewart-Warner gauges reside in the stock dash housing behind a stealthy piece of Lexan that Boice cut to further carry the stock setting that goes almost unnoticed, which was the point of the whole exercise. The Lokar pedals give off a bit of modern essence that lends the interior a bit more style.
Interested In Seeing More: Nova Control Panel – Parts Bin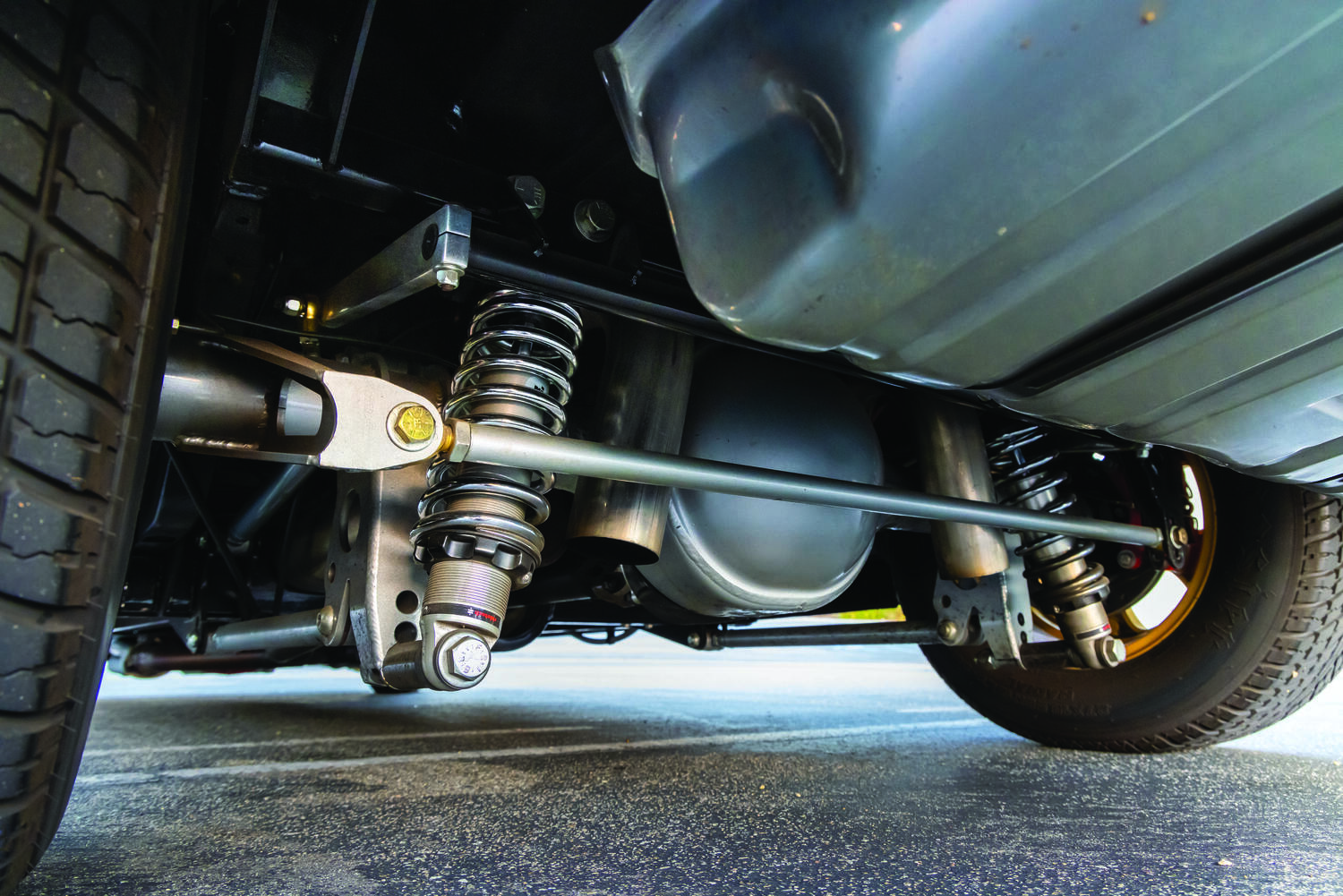 As mentioned, Rick bought the car in an almost-completed stage, so the paint details are thin, but what we do know is that the car's black pigment offers a mirror-like finish, which we can attribute to the extreme measures of sheetmetal prep and professional workmanship on the paint, wet-sanding, and final buff.
So, as we lay eyes on this amazing Nova Super Sport, we'll enjoy the scene for its face value as it's common for vital information to get lost when buying a car in the final build stages. Yeah, we'd like to know more nuts and bolts information on this car, but that doesn't take away from us enjoying the fruit of someone else's labor in these magazine pages. For Rick Katz, he got the car he always wanted since he was a young buck, and today he appreciates driving it every chance he gets.
ACP