By Chuck Vranas  –  Photography by the Author
It's easy to say that if we could turn back time to experience one of the coolest eras in drag racing that it would definitely be from the late '50s through the '60s. Back then, the quarter-mile was packed with Dragsters, Funny Cars, and Gassers all showcasing the latest in speed equipment while battling it out on a weekly basis for total strip domination. Now imagine growing up a stone's throw from you local dragstrip as a kid to experience the ultimate adrenalin rush. For Howard Smith of Dover, Pennsylvania, it was easy to see the impact of living down the street from the legendary York US30 Dragway would have on him.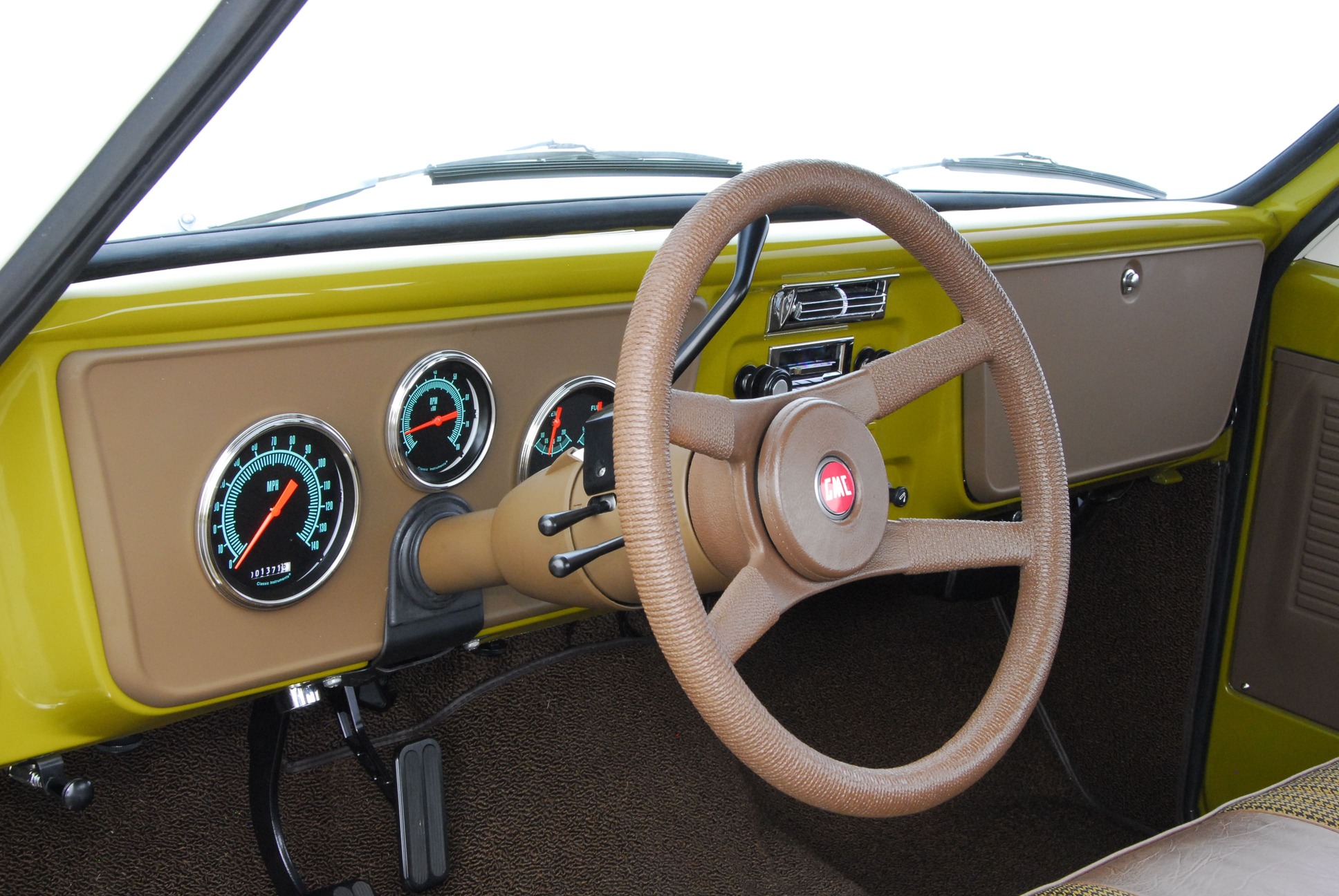 Spending every weekend at the track with his friends gave them the opportunity to hang out in the pits and watch their favorite drivers burn plenty of nitro. After earning his license a number of neat rides followed including a 1964 Studebaker GT Hawk, 1946 Pontiac and 1948 Anglia. From there an overwhelming interest in Chevy trucks led to his owning a number of them through the decades. Reflecting back to his youth, Howard had always a fascination with GMC haulers which led him to start a search for a '60s-era truck that would make for a neat daily driver. It wasn't long till he sourced a 1967 GMC Fleetside short-bed model with a stock 350ci V-8 that was in relatively good overall shape. He wasted no time in making the deal and swapped cash for the keys.
After getting the truck home it wasn't long till his wheels started turning on how he could bring it to the next level by fusing a well-balance stance with a number of subtle changes including a vintage-styled injected small-block Chevy V-8. Having seen a number of traditional hot rods built by Jon Schuchart Customs in York, Pennsylvania, he contacted Jon to talk about the build. The pair shared many of the same ideas on what it would take to bring the truck to the next level incorporating Jon's unique style. Once delivered, the truck was torn down with the first job focusing on the chassis. With the original frame in great shape, it was blasted clean and C-notched out back. A Ford 9-inch rear packs 3.50 gears spinning Moser Engineering 31-spline axles and is suspended in place by de-arched leaf springs and Pro Shocks tube shocks. To set the profile, a Fatman Fabrications IFS was added along with a 1-inch antiroll bar and QA1 adjustable coilover shocks. A GM dual power master moves juice through Ni-Cop (nickel copper alloy) lines to 11-inch Ford drums out back and 11-inch vented GM rotors with 2-piston calipers in front. For plenty of style, 17-inch cast aluminum Artillery wheels from the Wheelsmith wear Pirelli Scorpion rubber.
When it came to packing the 'rails with power, Howard wanted to pay homage to the Rochester mechanical fuel injection systems of decades past with a modern twist so he contacted Chevrolet Performance for one of their classic Ram-Jet 350ci V-8's. Straight from the crate it packs all the right goods starting with a cast iron crank linked to powdered metal steel rods wearing hypereutectic pistons with bump from a hydraulic roller stick.  A set of iron Vortec cylinder heads with 64-cc chambers generate seamless power while Chevrolet's iconic port fuel-injection system relives the past while featuring cutting-edge technology. Jon then created a one-off air induction system sucking air through the deleted inner headlight pods while also smoothing the firewall and fabricating custom Chevrolet script-style valve covers. To move the goods a TCI Engineering TH350 trans links to a custom driveshaft from Pennsylvania Truck Center in York.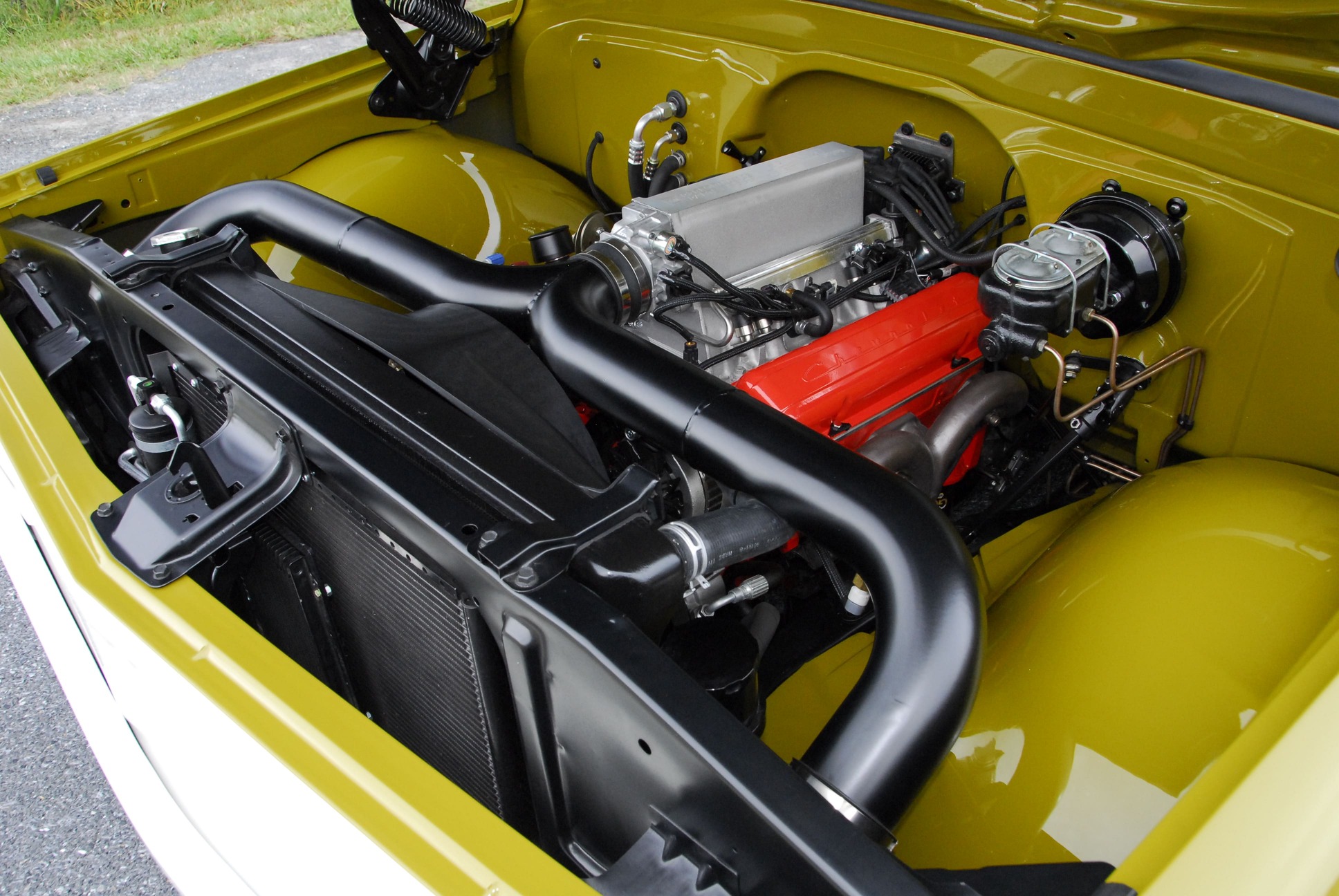 To bring the cab and bed back to life the factory sheetmetal was first blasted clean. It was then evaluated for any needed repairs which included inner and outer rockers, lower door skins, cab corners, floor braces, bed wheelwell openings and bed floor while also adding a new tailgate, all from Mill Supply. Jon then got busy with a number of subtle changes which included filling the cowl vent, shaving the grille and bumpers, filling the bed stake pockets and smoothing the tailgate face. He then followed with 1-piece side windows, fabricating inner headlight mesh intake covers and shaving all emblems. To bring the truck to life Howard wanted a subtle, yet alluring vibe that he had seen on a vintage Cessna airplane so Jon custom-blended a PPG Cessna Green and laid down the luster accented by a white cab top, grille and bumpers.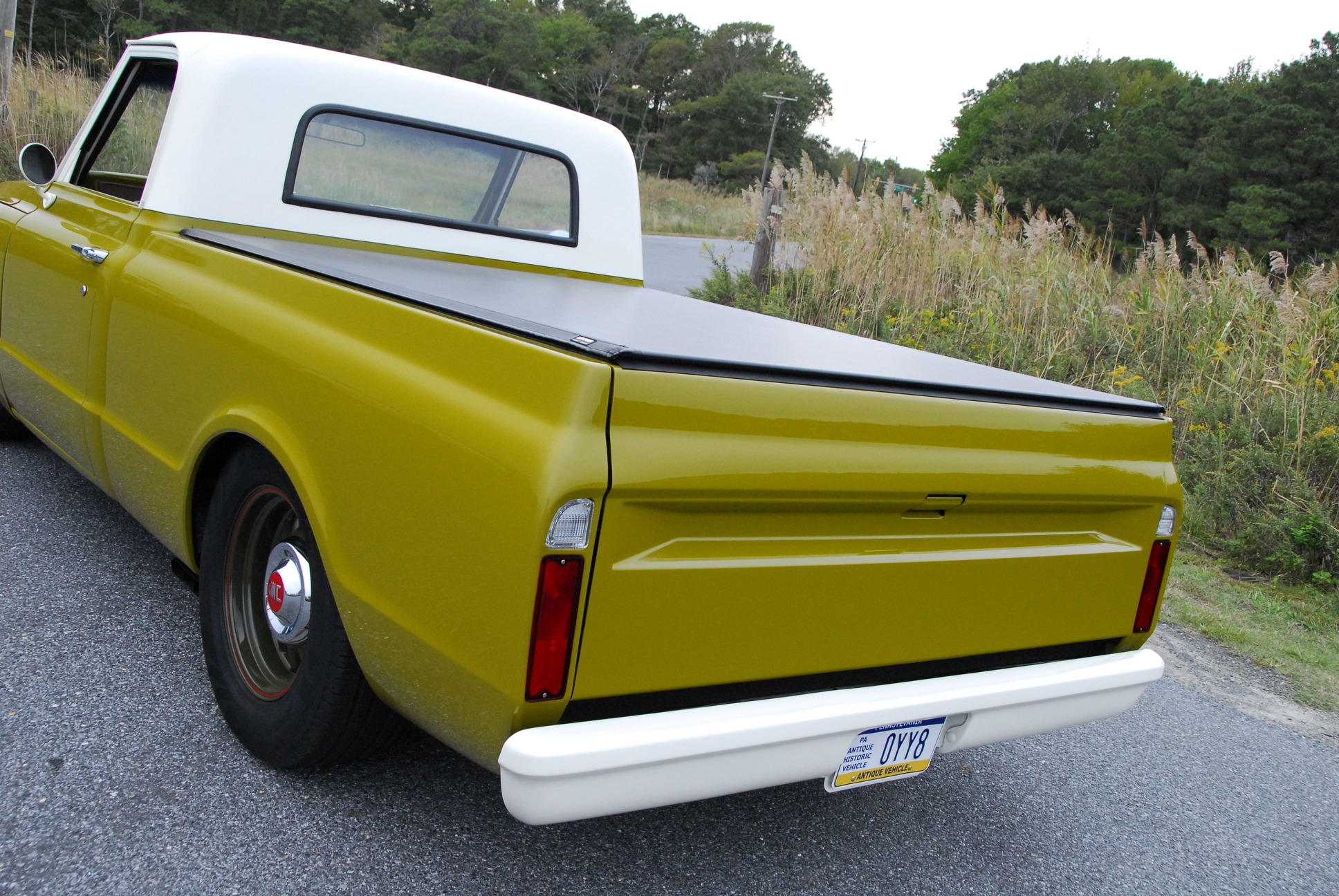 Inside, Jon dumped the stock dash pad and created a fresh gauge panel using a matching glove box door, filling it with dials form Classic Instruments. A '70s-era GM steering wheel links to a Flaming River tilt column with column shift while a Kwik Wire harness installed by JS Customs brings it all together and Vintage Air adds a cool breeze. For plenty of comfort, Dave Farmer of York recovered the factory bench in brown houndstooth while also adding complimenting door panels, headliner and brown loop carpet. This is one GMC that's raises the bar by fusing classic elements with modern technology to make it a perfect daily driver and we dig it!
Howard Smith's 1967 GMC Perfectly Blends Style and Power