The Shades of the Past Once Again Hosts at Dollywood's Splash Country the Souths Premier Event
By Brian Brennan   –   Photography By Author & Tommy Lee Byrd
It's the weekend after Labor Day so it's time for the Hot Rod Roundup … 39th to be exact. The Shades of the Past Car Club is once again hosting the event at Dollywood's Splash Country in Pigeon Forge, Tennessee.
There was lots of talk of "rain out" but so far, the 39th Hot Rod Roundup is enjoying sunny and clear skies. In fact, it's not that hot or humid – a real bonus. As has been the case for years the two-day event begins on a Friday and wraps up on a Saturday and all looks to be another very successful gathering.
This is also the home of the Triple Crown of Rodding (Best Street Rod, Best Street Machine, and Best Street Cruiser) sponsored by Modern Rodding magazine.
The truly amazing trophies were delivered to the grounds by Steve Tracey of Advanced Plating one of the founding companies of the award. They are also responsible for the plating, polishing, and all the assembly. The stunning wooden crates that are custom made to hold the trophies are once again outstanding. Many thanks to John McLeod of Classic Instruments for building the boxes one again, as he has for every year. Rick Love of Vintage Air is also instrumental in making all of this happen and he, and Vintage Air, once again stepped up. And, of course, we wouldn't be anywhere if it weren't for Bobby Alloway and his judging staff that picks all the award winners but spend a great deal of time on the Triple Crown of Rodding finalists and eventually winners.
All the winners will be gathered around the Splash Country waterpark and on display all day tomorrow. Awards will begin around 3 pm. Aside from the Top 25, the Magnificent 7, and the Triple Crown winners there are also numerous other awards given out. Of course, the big prize all the attending rodders are waiting for is to see who goes home with the 1932 Ford highboy roadster built at Alloway's Hot Rod Shop. There is also the winner of the 50/50 giveaway, which in the past typically runs around $50,000. The winner of the drawing will go home with approximately $25,000. Last year the 50/50 topped $60,000!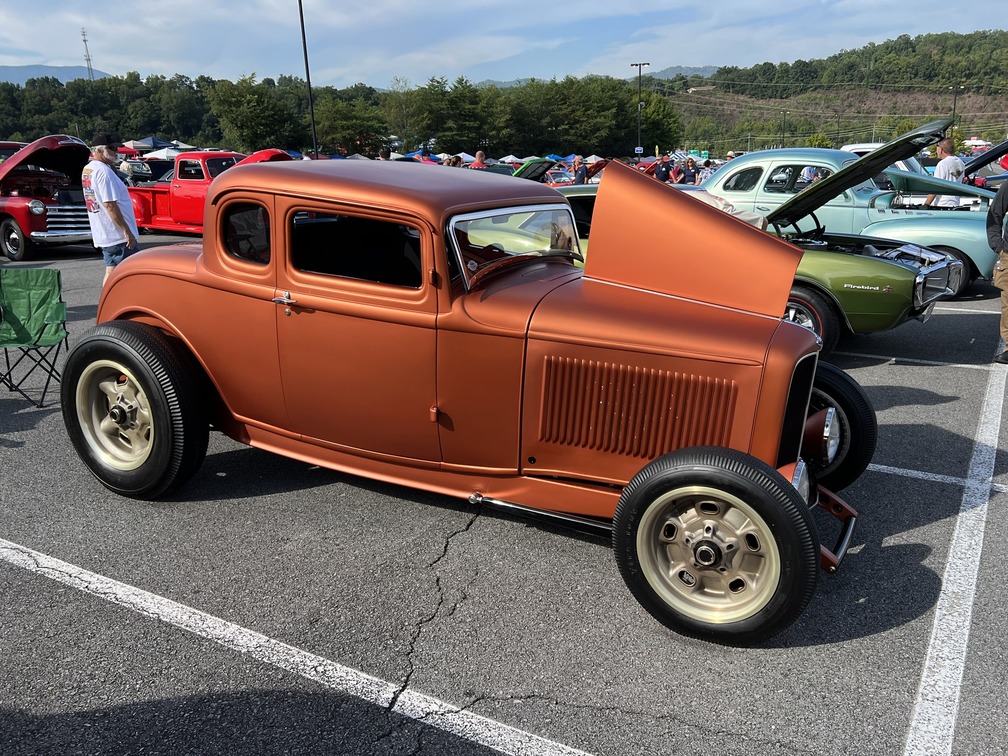 Here's a photo gallery of what's happening here at Dollywood's Splash Country be sure to look at the truly amazing hot rods that show up. The show is open to cars and trucks through '72.
It's also said that this is the last year for the Hot Rod Roundup bringing an end of an era with 39 very popular events ending. It's the truth and we are sad. But we are hearing lots of good news that Bobby Alloway will be spearheading a group that is planning a brand-new rodding event at this same time next year. Rodders will continue to enjoy hot rodding at its best. MR
39th Hot Rod Roundup … Starts Strong