Kim Eaton's '67 Chevelle 300
By Nick Licata – Photography by Matt Lankford
In 1967 gas was 33 cents per gallon, the first successful heart transplant took place in South Africa, Super Bowl I was played at the Los Angeles Memorial Coliseum between the Green Bay Packers and the Kansas City Chiefs (Packers won, 35-10, by the way), and 403,963 variations of the Chevy Chevelle rolled off GM's assembly lines with 11,695 of those being two-door sedans. Of those, only 1,903 of were armed with V-8 power. C'mon people, what were you thinking? We get it. Most people were pulling in an average of $7,300 per year, so practicality was more important than burning rubber in a new midsized auto, and the Chevelle 300 was the no-frills base model designed to accommodate those budget-minded folks. It came with minimal chrome exterior bits and a very pedestrian interior that featured vinyl-trimmed bench seats, vinyl door panels and headliner, and vinyl-coated rubber floor mats and not much more. Well, at least there were close to 2,000 people who chose performance over practicality. To those slightly irresponsible horsepower hogs, we salute you!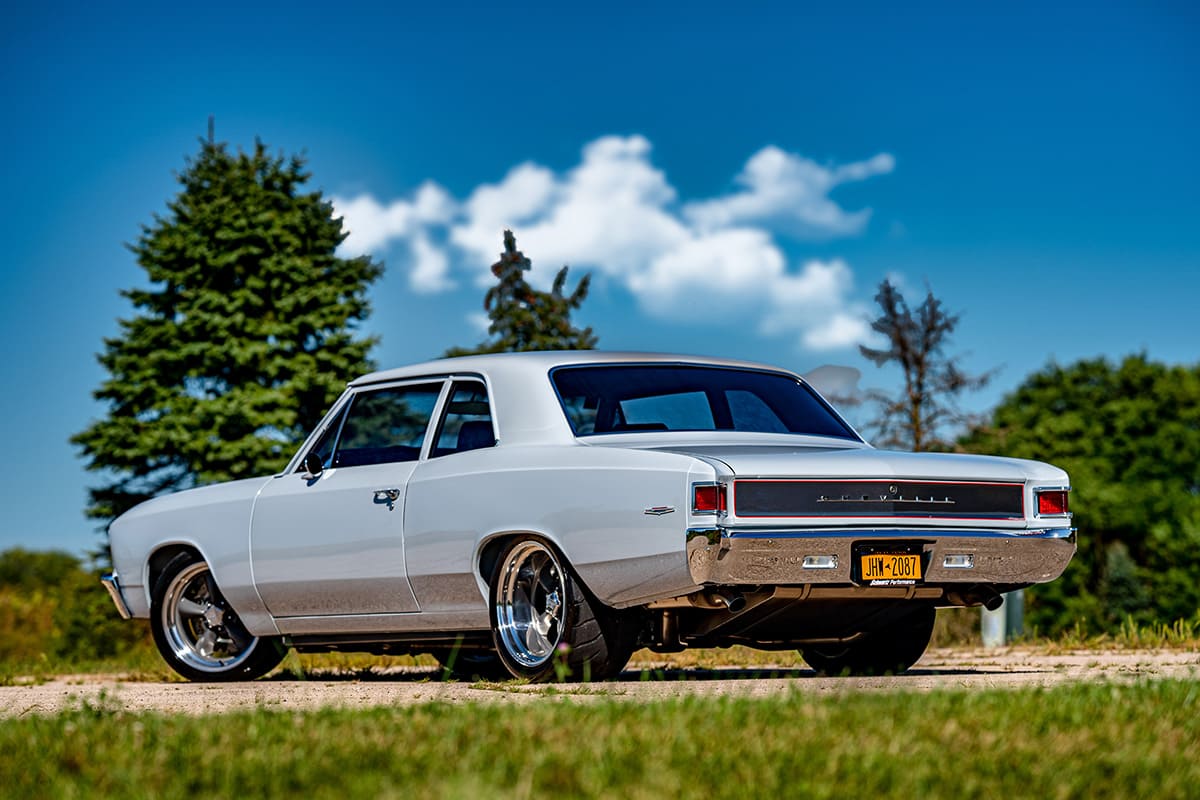 Kim Eaton's fondness for the '67 Chevelle goes back farther than he can remember. The body style was something he just couldn't let go. His recent search for a decent specimen went on for over a year until a friend told him about a very well-kept, clean example. The car was traced back to being purchased at a dealership in Williamsburg, Virginia, and lived nearby until 1990 when it was bought and stored in a climate-controlled garage for 27 years. With just 36,200 miles on the odometer, this was a perfect candidate for Kim's project. "When I went to see the car, I couldn't believe how nice it was," Kim remembers. "By looking at the car's overall condition, I could tell the previous owner really took care of it. This thing was mint."
Kim's plans included taking the car in a Pro Touring direction, which would also have plenty of power on tap.  Once the car was in his hands, Kim got busy and pulled the body from the original chassis, and with some help from a few friends, burned in a set of mini-tubs to accommodate the big rubber that would soon fill the available real estate out back. Kim points out, "The previous owner wasn't too happy once he found out I'd be doing a bit of cutting here and there to get the car in the right direction.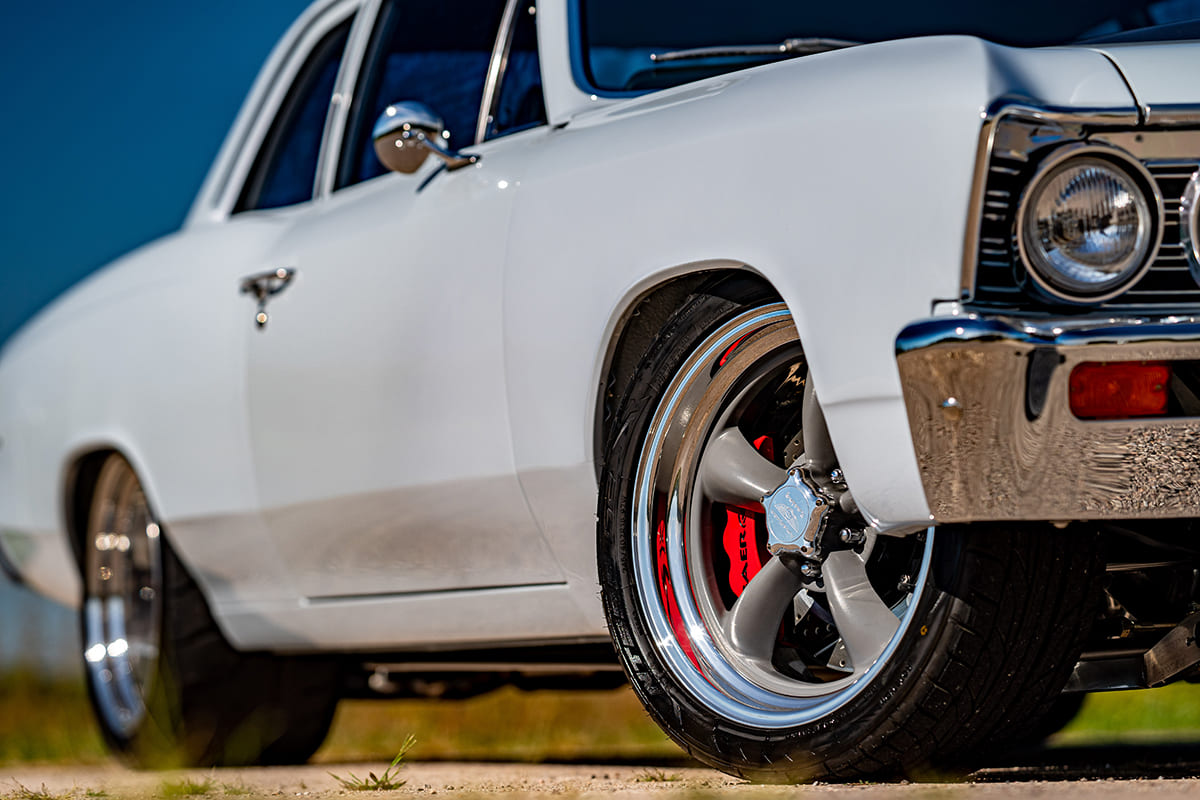 Kim went to Schwartz Performance for one of their G-Machine chassis to replace the stock underpinnings. He started the assembly process by bolting up Ridetech coilover shocks front and rear along with a set of Baer brakes on all four corners, prior to re-introducing the body and Schwartz chassis. Rolling stock consists of American Racing five-spoke wheels cloaked with gray centers for a vintage vibe (18×8 front, 18×12 out back) shod in Nitto NT555 rubber up front (245/40R18) and Toyo Proxis R88 (335/30R18) in the rear.
Life and work kept him busy, leaving little free time to spend on the car. Kim was dedicating week nights and weekends to the project and came to the realization this build would take longer than he had expected, or wanted, so he took it over to the Schwartz Performance crew and had them continue the build and final assembly.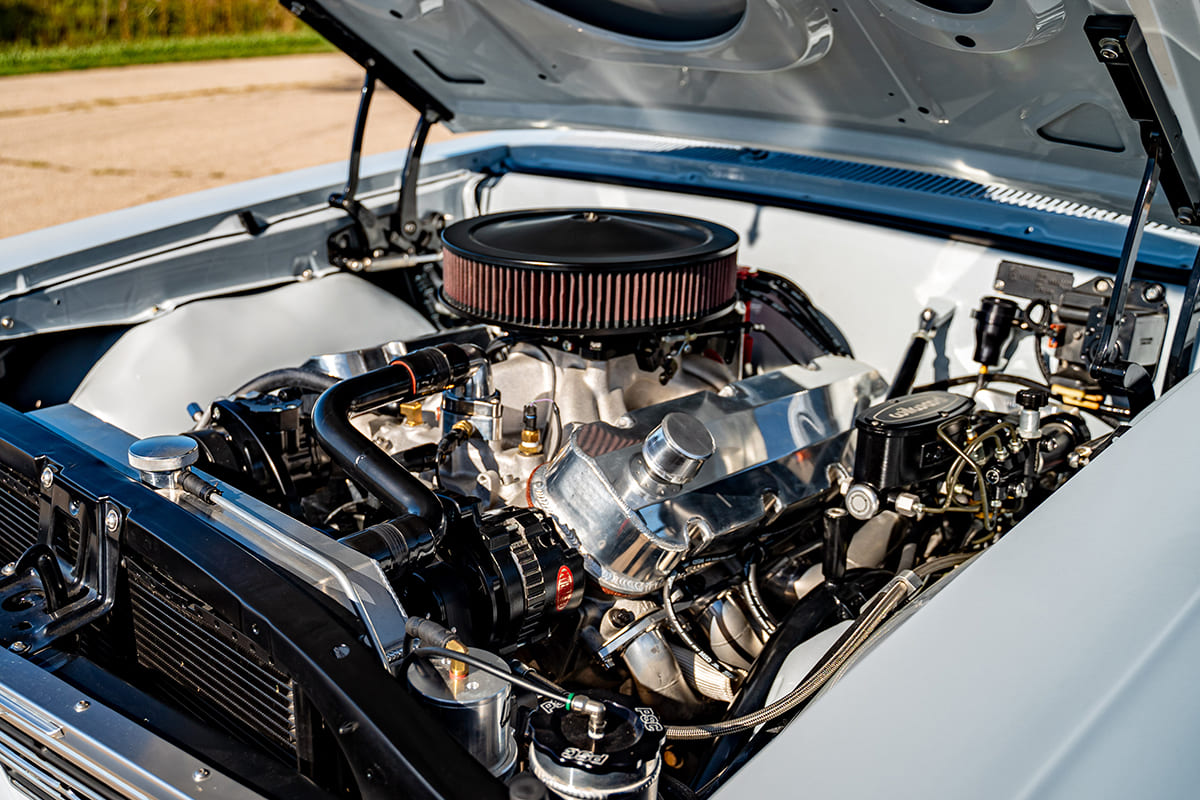 For power, Kim went with a 572 Dart Big M built by the crew at Skip White Performance in Kingsport, Tennessee. The portly mill is armed with all the quality Skip White goods to give it plenty of punch while sucking down pump gas to the tune of 740 street-friendly horsepower. Kim's requirements with his Chevelle is that it has to be fast, reliable, and a blast to drive. Mission accomplished.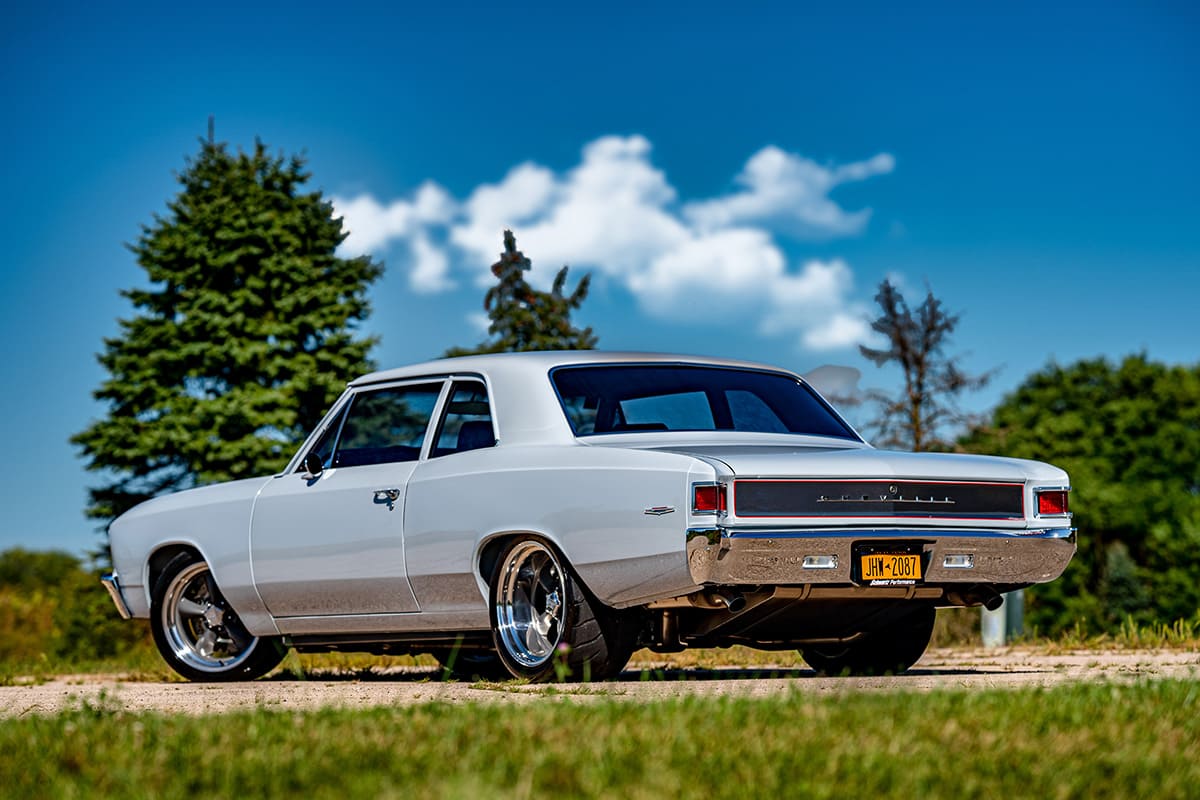 Kim prefers the additional thrill associated with a manual transmission; in this case, a TREMEC TKO 600 five-speed from Silver Sport Transmissions got the call. It's managed with a McLeod RXT twin-disc clutch that sends the grunt to a Currie 9-inch rearend stuffed with an Eaton Truetrac posi, 3.70 cogs, and Moser 31-spline axles–a robust cast of components designed to handle Kim's tendency to dump the clutch from a dead stop–something he's been known to do more often than not.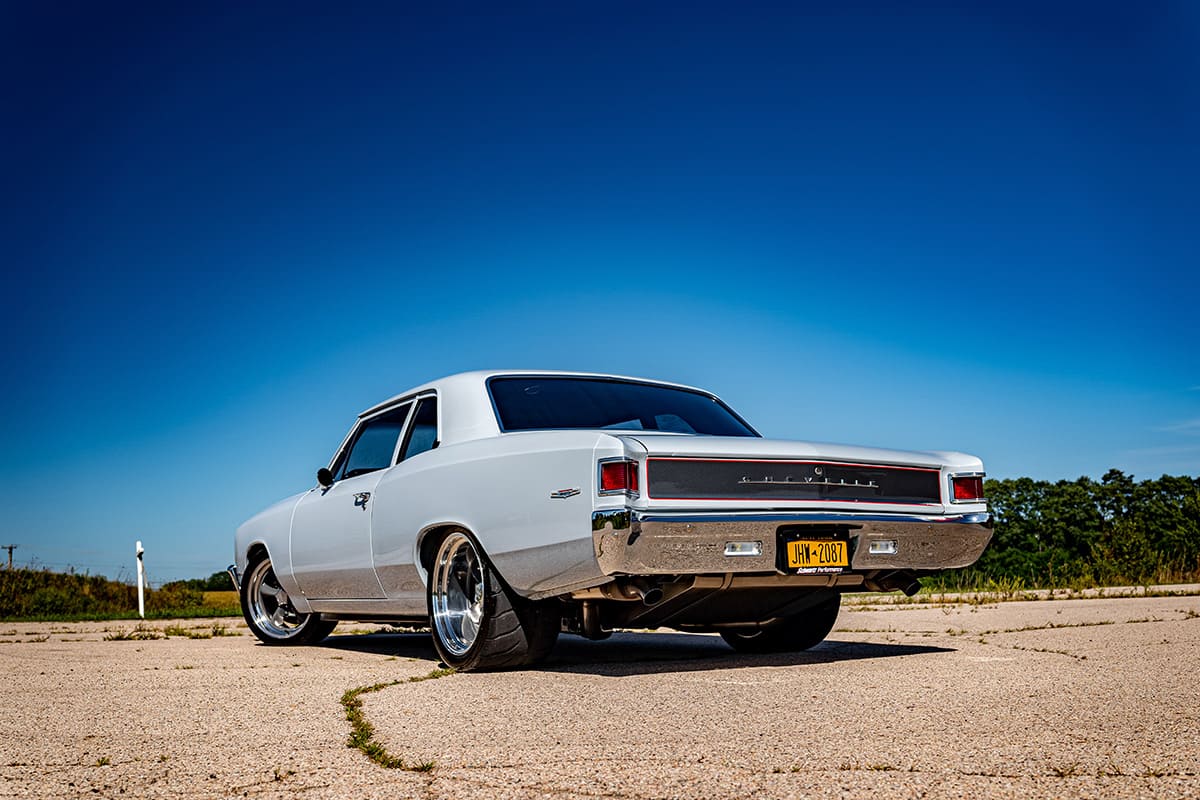 Nostalgic Auto Body in Island Lake, Illinois, primed and smoothed the shell then doused it in PPG Ceramic Matrix Gray Metallic with Audi R10 flake while maintaining and polishing up the original trim bits to their former glory. Nostalgic complemented the envelope with Shadow Gray Metallic stripes on the hood and rear tail panel–colors borrowed from the '19 Corvette palette. Red pinstriping accents the stripes and fire off more sport-inspired personality.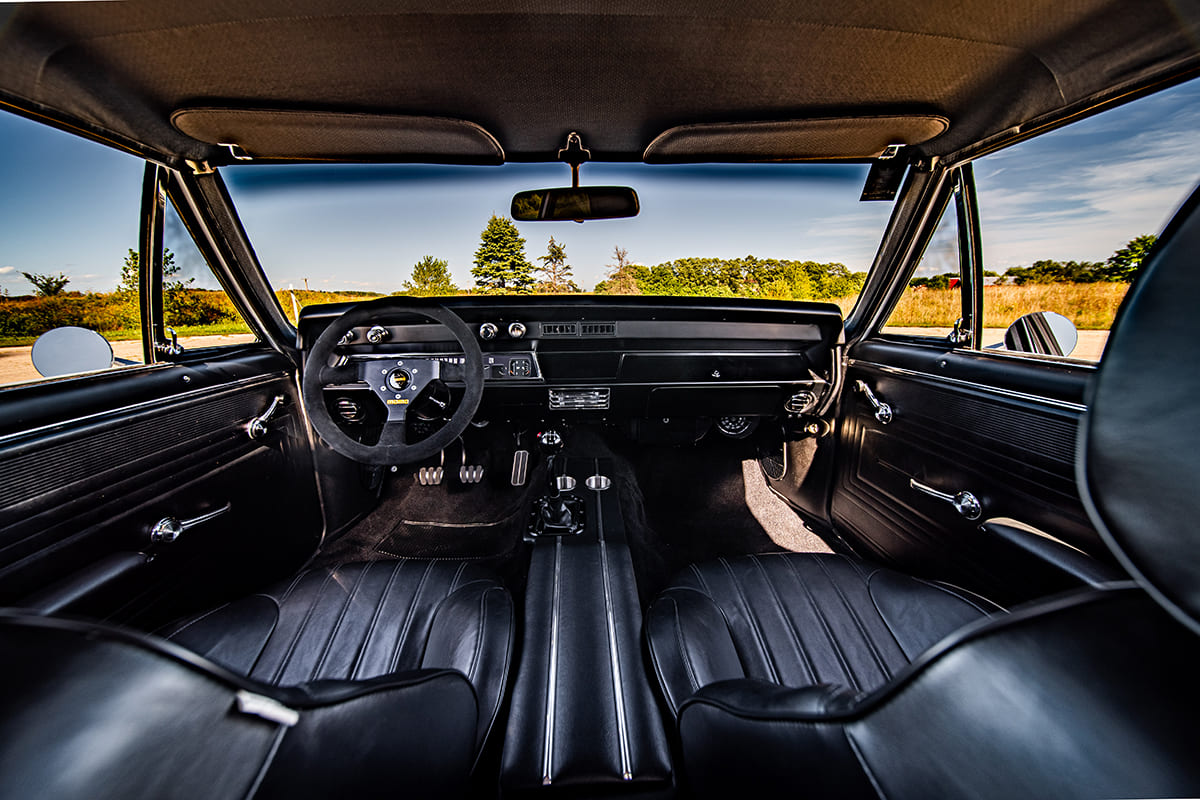 The interior consists of a cross pollination affair that carries most of the original '67 interior components with a few modern elements, such as the Dakota Digital gauge housed in the factory dash, all done up by Cassin Customizing in Woodstock. Cassin continued on with a custom center console complete with a duo of aluminum cup holders for those times when Kim hits the road for a long driving excursion. The useful contraption alleviates holding a drink between the legs, promoting premature warming of a cold beverage and less risk of a hot coffee burn in a sensitive area. Both instances can detract from a positive driving experience. Cassin maintained the 300's minimalist essence by keeping the factory door panels and hardware, then laid down black carpet from Auto Custom Carpet. Breaking up the stock appearance is a duo of Procar by Scat Rally seats and a MOMO suede steering wheel. Oh, and the red button on the shifter is used as a line lock when Kim really wants to put on a smoke show.
Eighteen months is a relatively short time when it comes to a full-tilt car build, but when the sheetmetal and overall condition of the car is close to perfect, the process moves along timely with little drama. It also helps when a solid crew of body men know the drill. And the crew at Schwartz? This ain't their first rodeo, either. It's all about gettin' it done and gettin' it done right.
Kim took a ride that originally came with the bare necessities and brought it to the next level of comfort, performance, and reliability while maintaining much of the car's vintage spirit–in our eyes it's the ideal Pro Touring street machine, and we understand Kim kinda digs it, too.
ACP
TECH CHECK
Owner: Kim Eaton New York, New York
Vehicle: '67 Chevy Chevelle 300
 
Engine
Type: Dart Big M
Displacement: 572 ci
Compression Ratio: 10.5:1
Bore: 4.560 inches
Stroke: 4.375 inches
Cylinder Heads: AFR
Rotating Assembly: Scat forged crankshaft, Scat H-beam Rods, Wiseco forged pistons, ARP hardware
Camshaft: Comp hydraulic roller (0.575/0.575-inch lift, 242/248 deg. duration at 0.050, 112-deg lobe separation angle)
Induction: Edelbrock Victor Jr. 454-R intake manifold, Holley Sniper EFI
Assembly: Skip White Performance (Kingsport, TN)
Exhaust: Lemons 2-inch headers, 3½ collectors, custom 3-inch stainless exhaust, MagnaFlow mufflers
Ancillaries: Powermaster alternator, Eddie Motorsports hood hinges, CVF drive system, American Autowire wiring harness
Output: 740 hp at 5,800 rpm, 750 lb-ft at 4,900 rpm
 
Drivetrain
Transmission: Silver Sport TREMEC TKO 600 five-speed manual
Clutch: McLeod RXT twin disc
Rear Axle: Currie 9-inch, limited-slip Eaton Truetrac differential, 3.70 gear ratios, Moser 31-spline axles
 
Chassis
Chassis: Schwartz Performance G-machine
Front Suspension: Ridetech single-adjustable coilover shocks, splined sway bar
Rear Suspension: Schwartz four-link, Ridetech single-adjustable coilover shocks
Brakes: Baer 14-inch rotors, six-piston calipers front and rear
Steering: Rack-and-pinion
 
Wheels & Tires
Wheels: American Racing Torq Thrust II; 18×8 front, 18×12 rear
Tires: Nitto NT555 G2; 245/40R18 front, Toyo Proxis R888 335/30R18 rear
 
Interior
Upholstery: Cassin Customizing (Woodstock, IL)
Center Console: Cassin Customizing
Door Panels: Original
Carpet: Auto Custom Carpet Black loop
Seats: Procar by Scat Rally
Steering: MOMO steering wheel
Shifter: Lokar
Dash: Original
Instrumentation: Dakota Digital
HVAC: Vintage Air
 
Exterior
Bodywork and Paint: Nostalgic Auto Body (Island Like, IL)
Paint: PPG Matrix Gray Metallic with Audi R10 Flake, Shadow Gray Metallic stripes
Hood: 2-inch cowl, Auto Metal Direct
Grille: Original
Bumpers: Original
Trim: Original