Envisioning  Our Dreams
By Brian Brennan   –   Paintings by Tom Fritz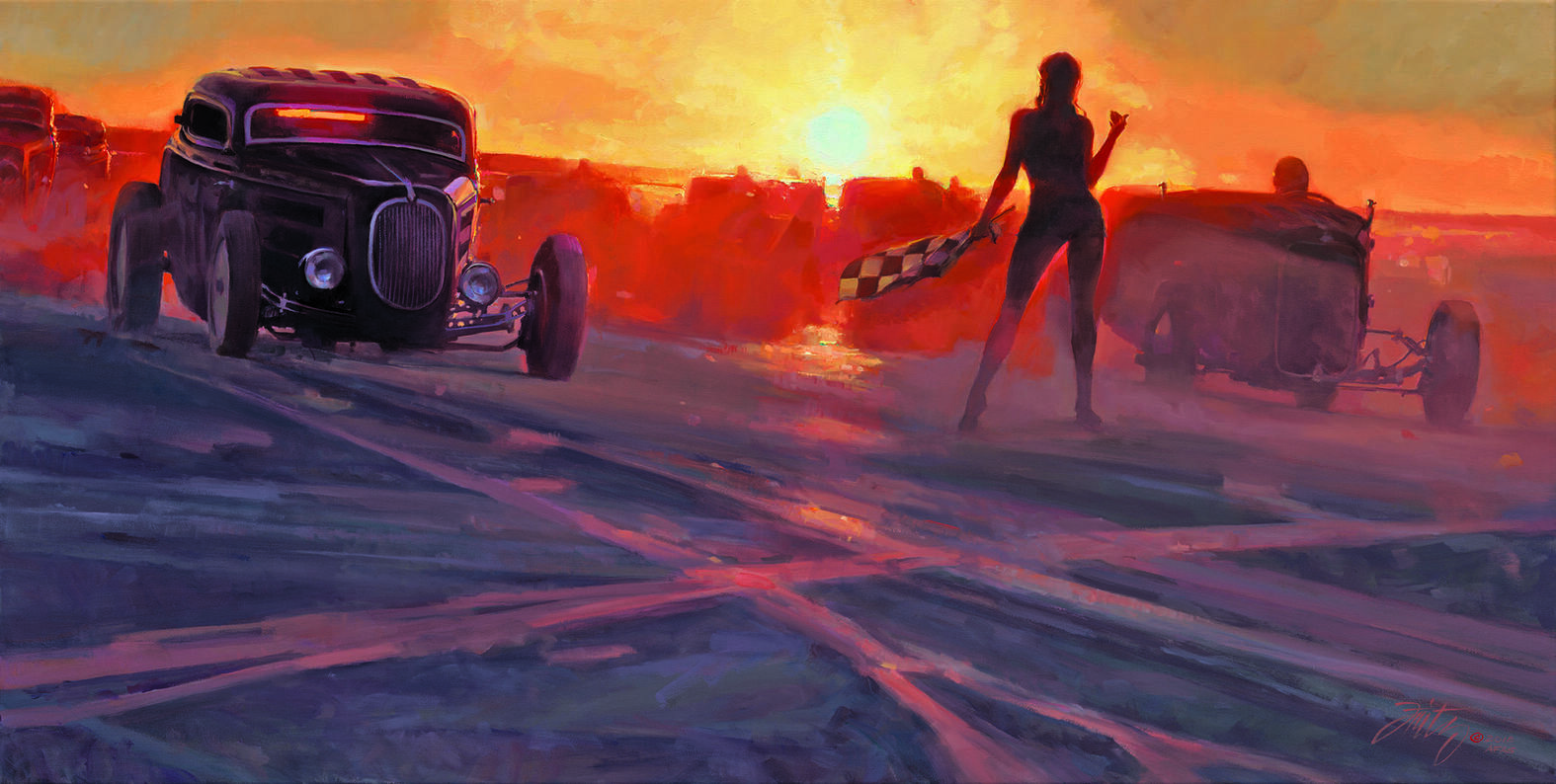 For hot rodders with any amount of rubber on the road, you will readily remember and favorably recall the artwork of Tom Fritz. A SoCal born-and-raised kid of the '60s and '70s, he happily recalls his youth's memories of all things motorcycle and automotive culture. Fortunately for us Tom is a gifted artist who applies brush to canvas at a level matching the builds of a Triple Crown of Rodding, America's Most Beautiful Roadster, or a Ridler winner. This allows the rest of us to sit back and recall the great days of bygone rodding. Additionally, should you find yourself having read, or are still reading, car magazines, you might recall that Tom's artwork has graced the covers of Street Rodder (Aug. '96) and Hot Rod (July '14). (Looks like you will have to add Modern Rodding to the growing list of publications that have featured his work!)
For more than two decades, after earning his bachelor's degree in two-dimensional art from California State University, Northridge, Tom serviced major corporations, including ITT, Litton Industries, Northrop Grumman, Petersen Publishing, and the United States Army and Air Force as a designer and illustrator. Today, he paints out of his studio in Ventura County, California.
His art is described as "… distinguished by an honest, uncontrived approach to reality that is tempered with the soft edges of impressionism." For a hot rodder such as myself I would describe it as "very cool" and "real," as what I see is what I remember happening.
Tom is a fortunate artist who enjoys the recognition of others who appreciate and want to share his talents. He's a member of the Automotive Fine Arts Society and the only seven-time recipient of the prestigious Peter Helck Award (Best of Show) at the Pebble Beach Concours d'Elegance. To this he has resting on his mantle several Athena Awards, two Art Fitzpatrick Awards, and the Lincoln Award of Excellence. At the Meadow Brook Concours, he has garnered several Awards of Excellence in addition to the Stanley Wanlass and Spirit of the Automobilist Awards. Tom also served on the induction committee for the Mattel Hot Wheels Hall of Fame at the Petersen Automotive Museum in Los Angeles.
Should there be any philatelists in the reading audience you may recall earlier in this decade a collection of stamps paying tribute to the muscle car. Tom was commissioned by the United States Postal Service to create five works for the commemorative "Muscle Cars" Forever stamp series issued in early 2013. This came after his equally successful 1998 Harley-Davidson Annual Report series. Tom was commissioned by Harley-Davidson in 2001 to paint an image commemorating their 100th anniversary.
For this story we zeroed in on his works as they revolve around hot rods and their early images. You will recognize that some of the topics are clearly from life's experiences while others are dreams and imagination any of us would have liked to have experienced. Something of particular interest with Tom's work are the titles he comes up with … right on topic and capturing the moment in words as well as paint.
I contacted Tom, who I have dealt with for 20-plus years, and told him that I wanted to do a story for Modern Rodding that would show off his art and bring back lots of great memories for so many hot rodders. Even for those who didn't experience these days, what a great way to get a feel and a peek behind all those decades past. Of course Tom wasn't about to let me walk off with a couple dozen of his greatest pieces of art but he was able to help through these pictures representing what the artwork depicted. I should say having seen much of Tom's work in person, at shows and whatnot, that while the photos are fascinating nothing, and I mean nothing, can replace seeing one of these "time capsules" in person. The colors blended in a way that yields a mood, giving each of us a visceral experience. You can feel what the painting is depicting well beneath your grease- and ketchup-stained T-shirt. Some of the paintings depict calm and comforting moods while others "all holy hell" is breaking loose and that's as it should be in our world of rodding. Our cars are extensions of us and our lives.
Some of my favorites are "Licensed For Cool," a painting featuring the Super Bell coupe on any one of its nighttime runs. I have a little experience myself in the coupe, having crossed this country in it several times and having made the runs around L.A. as well as L.A. to Fresno and back several times. I guess that will always be my favorite.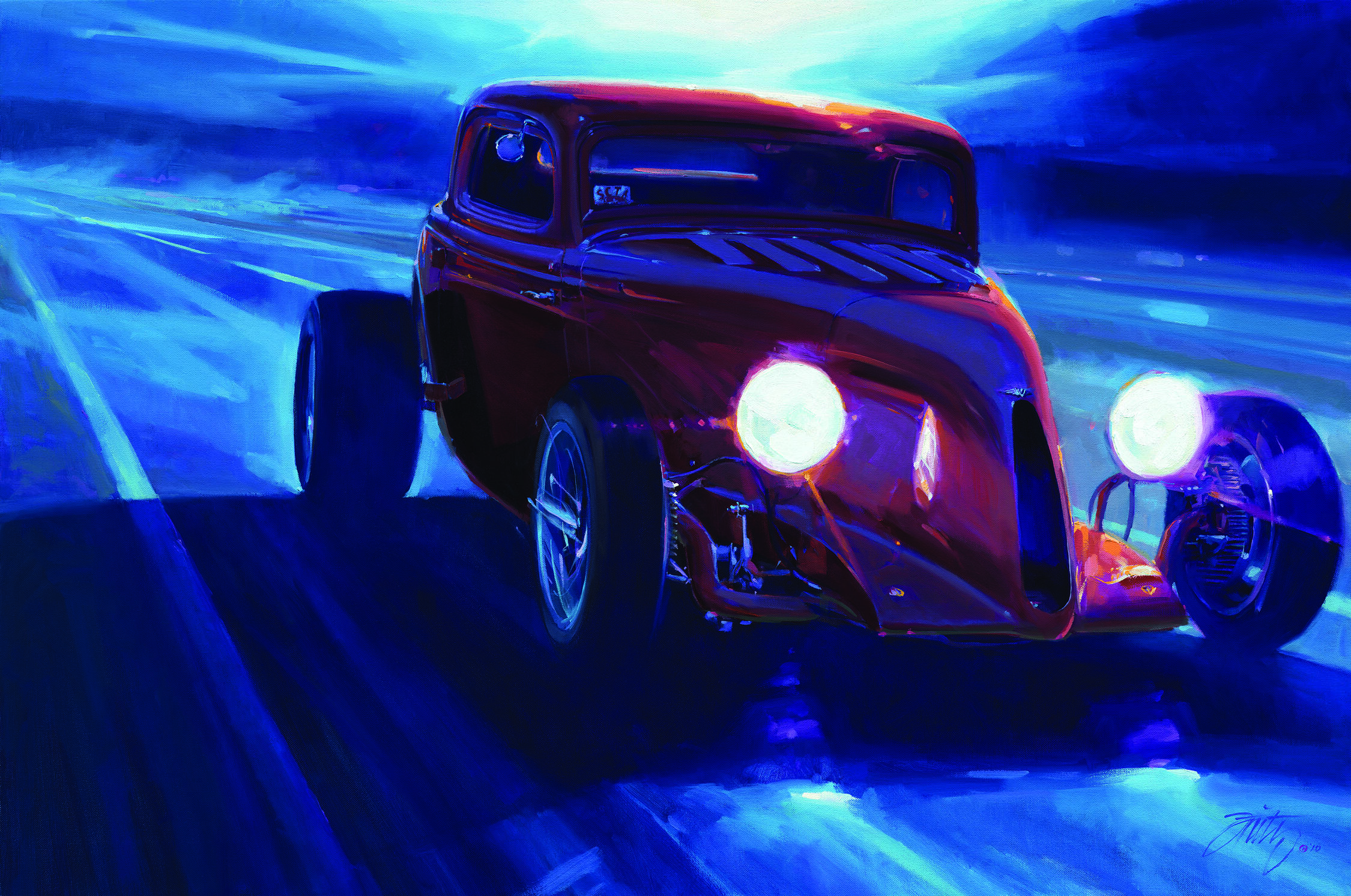 Another favorite is "Wanna Wait It Out In There." I can remember one specific drive across country to the Nats where Rod Palmer (formerly of Arizona Street Rods fame) and I sat in a pouring rainstorm in his 1932 roadster. But unlike the painting, our Deuce was a highboy and it had no top! There were several other drives where similar experiences happened and that, for me, is why I (and we) drive 'em.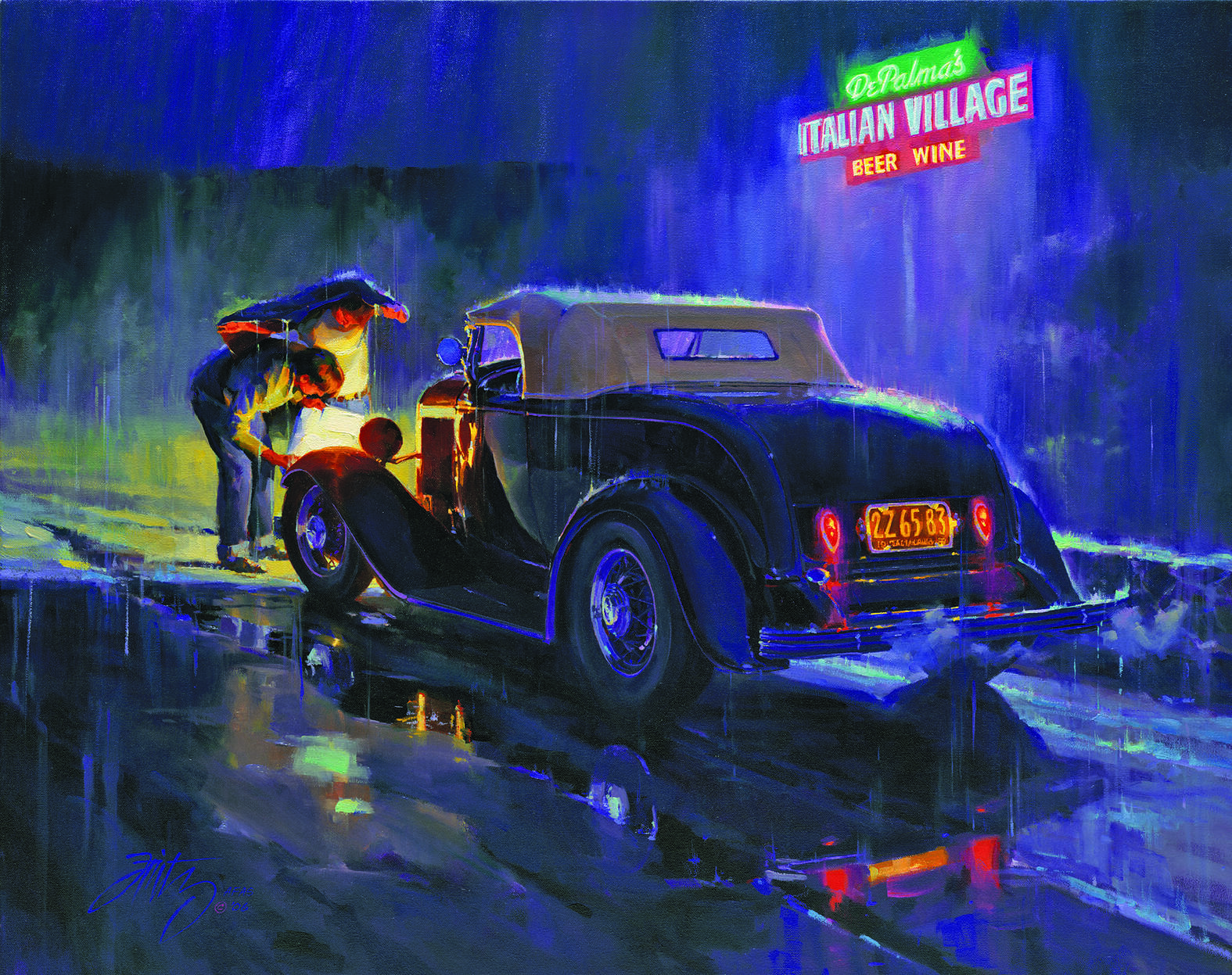 Now, all of us at one time or another have experienced "Lookin' For That Old Time Religion." Probably in our teenage years but I believe I know some rodders who have experienced this occurrence more than once in their later years!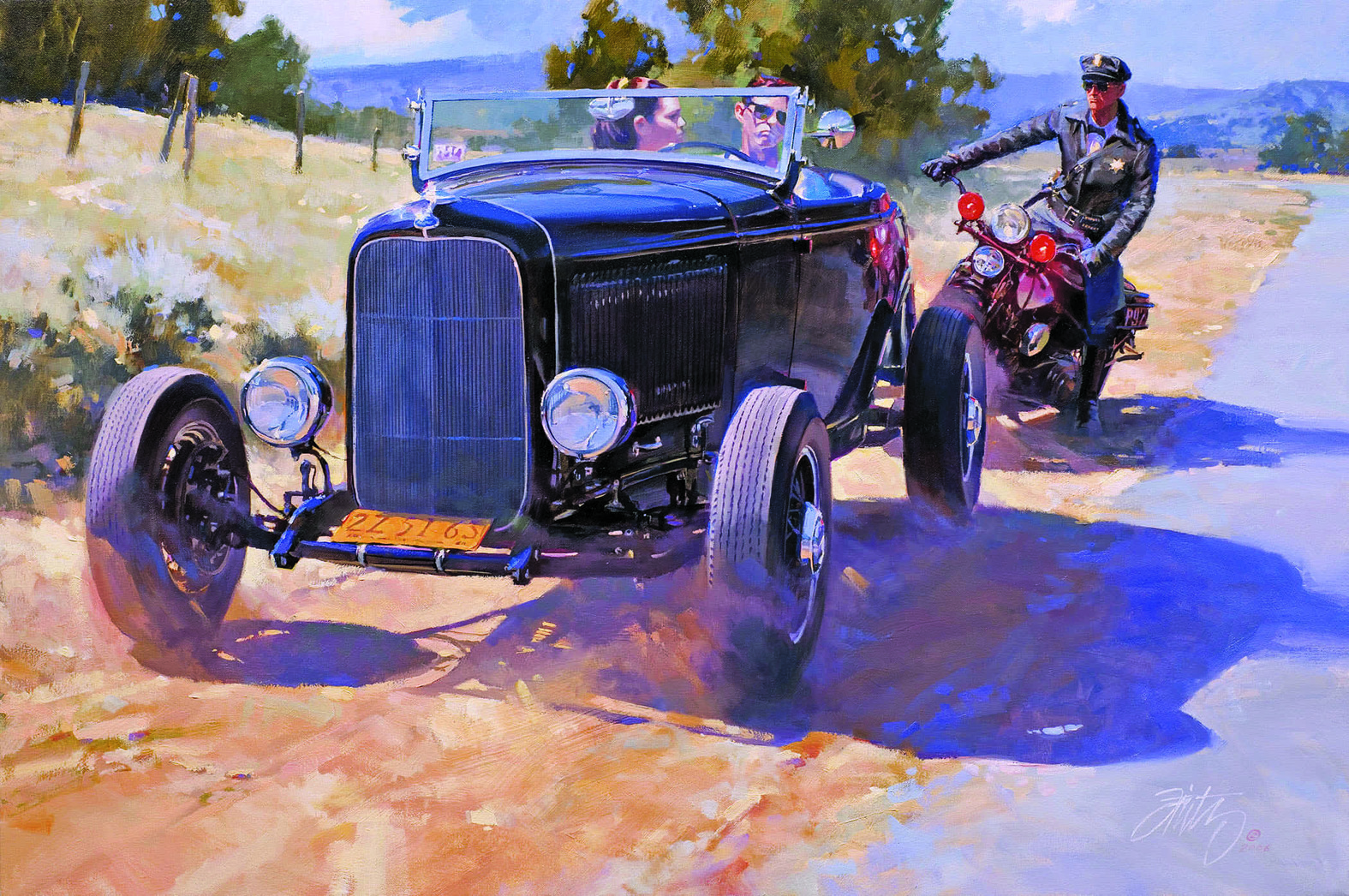 How about "Hookin' Hard"? Many of us remember the days of the Cam Wars or the Gasser Wars or the match racing that took place in the mid '60s with the likes of Stone, Woods & Cook, Big John Mazmanian, Ohio George, Mallicoat Brothers, and the list goes on. Those brightly painted Willys gassers sporting their blown Hemi motors, all the while generating deafening sounds when ready for launch, produced numerous memories all of us too fondly recall. This was a spectacle we all enjoyed, especially the night races.
There's more of Tom's artwork to be seen that depicts the early days of street racing, the long drive, or the daily cruise, and it involves the world of cars, motorcycles, and other things mechanical. Tom has managed to capture the moment that in our minds plays like an autobiographical video of our lives for so many of us. Sit back and enjoy. If you find yourself without one of Tom's paintings then keep these pages handy. I'm confident they will bring back lots of memories in short order. For those of you who want to see more, you can sample his art at fritzart.com.  MR