Chevy's Little Pal: The Camaro
By Steve Magnante – Photography by the Author
Everyone loves a Camaro. Ever since Chevrolet decided to give the Mustang some competition in the ponycar segment, the Camaro has brought a sporty vibe to Chevy showrooms all over the globe. In our junkyard exploits we've encountered some unusual Camaros. Here's a rundown of some highlights, with special attention paid to unique numbers.
Spotted at Vick's Classic Auto Parts & Cars in Chesnee, South Carolina, in April 2019, this faded-red 1978 Camaro has the spiffy D80 trunk spoiler, a $55 upgrade available on any Camaro in 1978, even inline-six–powered commuter machines. But wait, what's that we see on the steering column …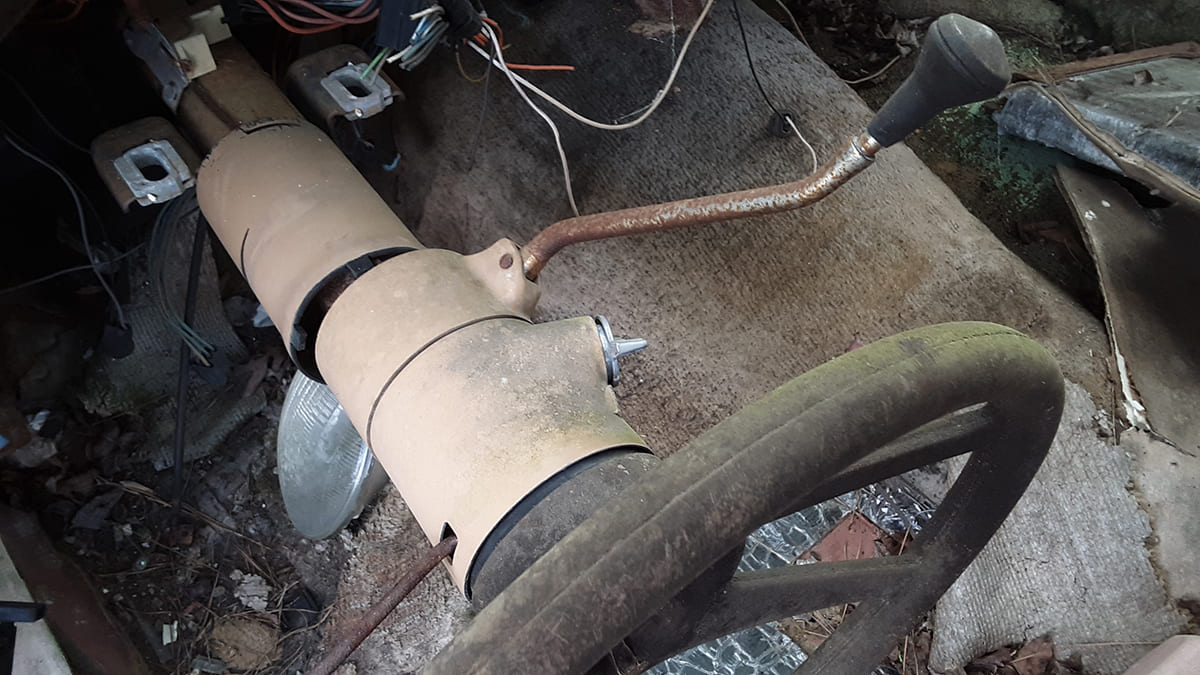 What the … is that the transmission shift lever? Yes. While Camaro's Dearborn competitor in the ponycar ranks always put the shift lever atop the center tunnel, from its beginning base Camaro shift levers were column mounted. In 1978 you paid an extra $80 for the D55 center console and floor shift lever. Records show that in 1978 261,955 out of the 272,631 Camaros built were D55 console-equipped, making this column-shifted, no-console Camaro a 1-in-25 occurrence. Notice the plain carpet-covered transmission tunnel between the front bucket seats. Camaro would eventually switch to all-floor-shift status with the Gen III of 1982.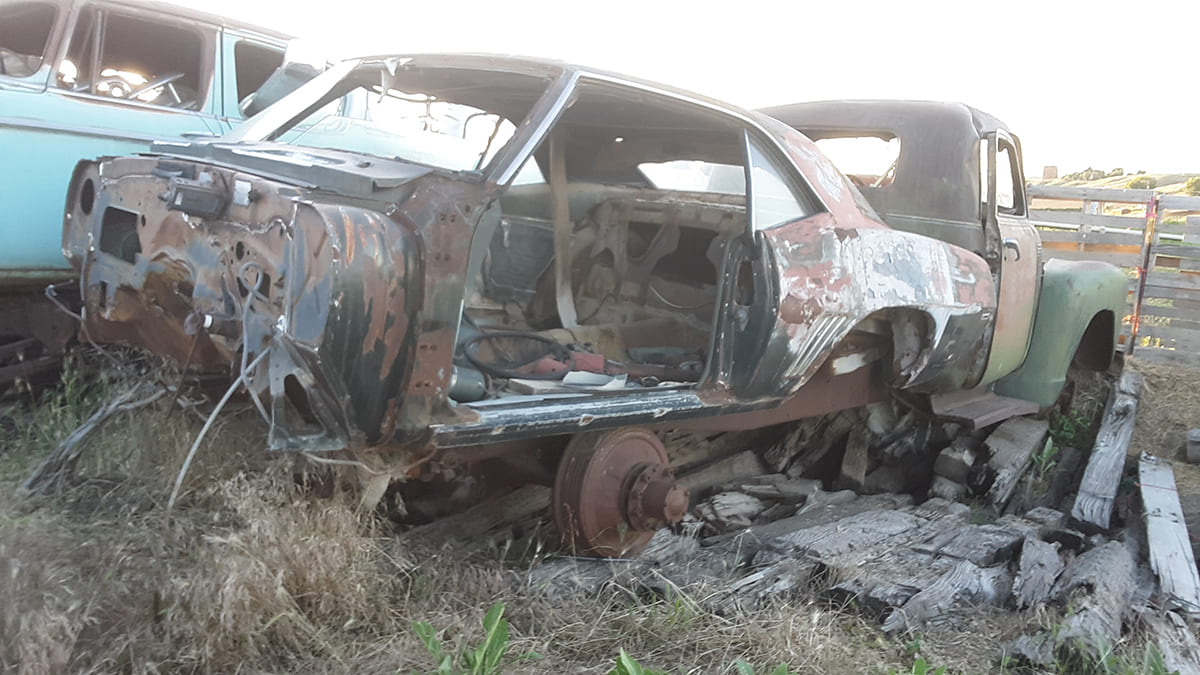 This stripped 1969 Camaro shell was discovered in June 2019 at a private old car hoard in the Idaho prairie. Inside a four-speed shift hole and three pedals elevate the fun factor and called for close investigation. Traces of original Fathom Green paint can be seen in the doorjambs and cowl panels. Speaking of the cowl …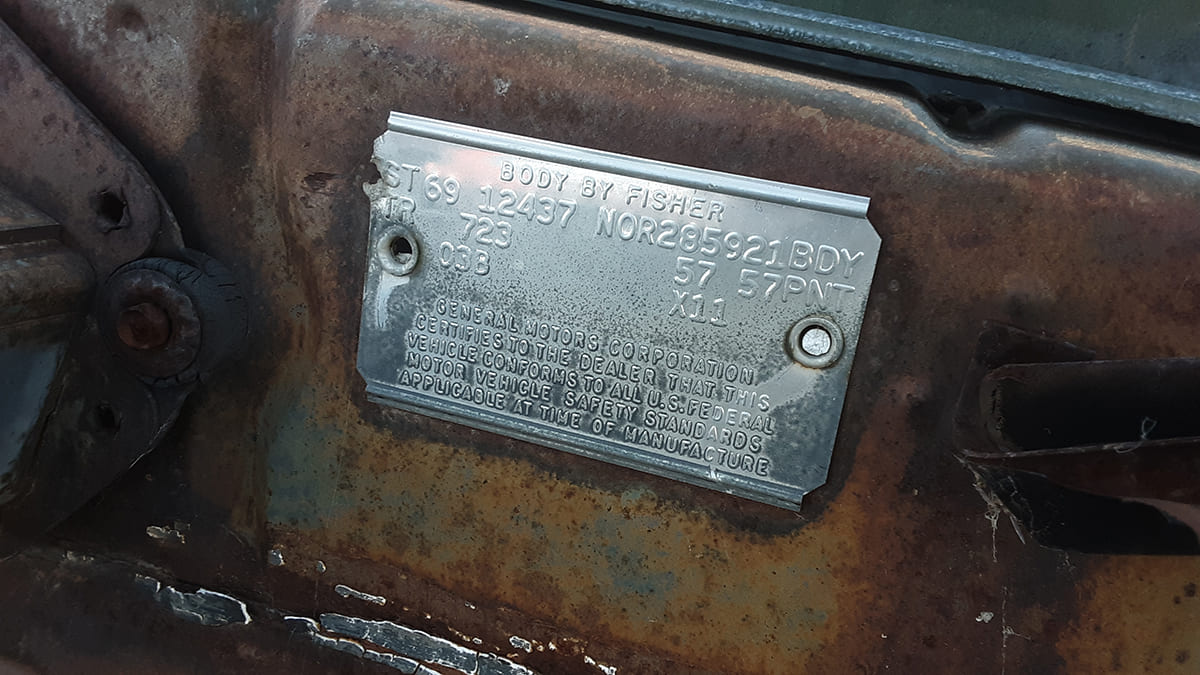 The cowl tag's 57/57 paint code verifies the Fathom Green factory coating. The second 57 indicates that the roof was also painted green and that no vinyl roof covering was specified on this particular machine. Most important here is the X11 code. Built at GM's Norwood, Ohio, plant (see "NOR"), the X11 code indicates SS350 status. The 723 trim code tells us it was built with a Midnight Green vinyl interior. The 03B code indicates that final assembly took place on the second week of March 1969.
Also living at the same private Idaho hoard (please excuse the B-52's reference) was this 1968 Camaro four-speed. Of the 235,147 Camaros built in 1968, 47,572 got a four-speed transmission, like around 1 in 5. Speaking of four-speeds, of the 47,572 installed, 1,277 were close-ratio Muncie M22 "rock crushers", 11,134 were standard Muncie close-ratio M21s, and 35,161 were Muncie wide-ratio M20s. Aside from the goofy homebrewed hood dome, this one's very pure and still has a 12-bolt rear axle.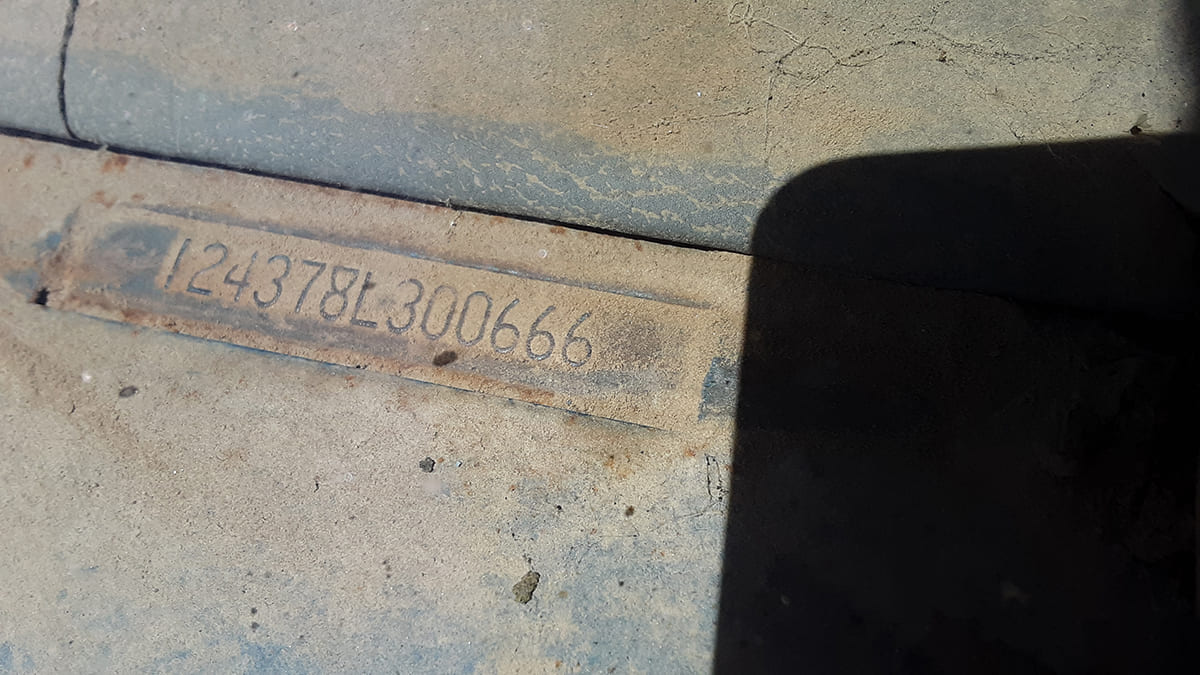 Ozzy would love this one. The "300666" sequence number tells us nothing more than that this Camaro was slotted between the 300665th and 300667th cars to roll off the Van Nuys, California, assembly line. We know it was Van Nuys thanks to the letter L in the seventh spot. The letter N would make this a Norwood, Ohio, car. The number 4 in the third spot verifies V-8 status. A 3 in the third spot would mark this as a six-cylinder machine.
A thousand miles away at Joe Duran's Bowtie Proformance in Santa Teresa, New Mexico, more cool numbers appeared on this 1967 Camaro sport coupe. But first, check out those rare early-'70s Cragar Super Trick front wheels. The original lightweight spun aluminum rim, the 15×3.5 Super Trick was meant for dragstrip use and was easily deformed by curb shots when street driven. A Ford 9-inch and a set of vintage Traction Action slapper bars hold up the rear telling us this one was last used for dragging. So what about that VIN?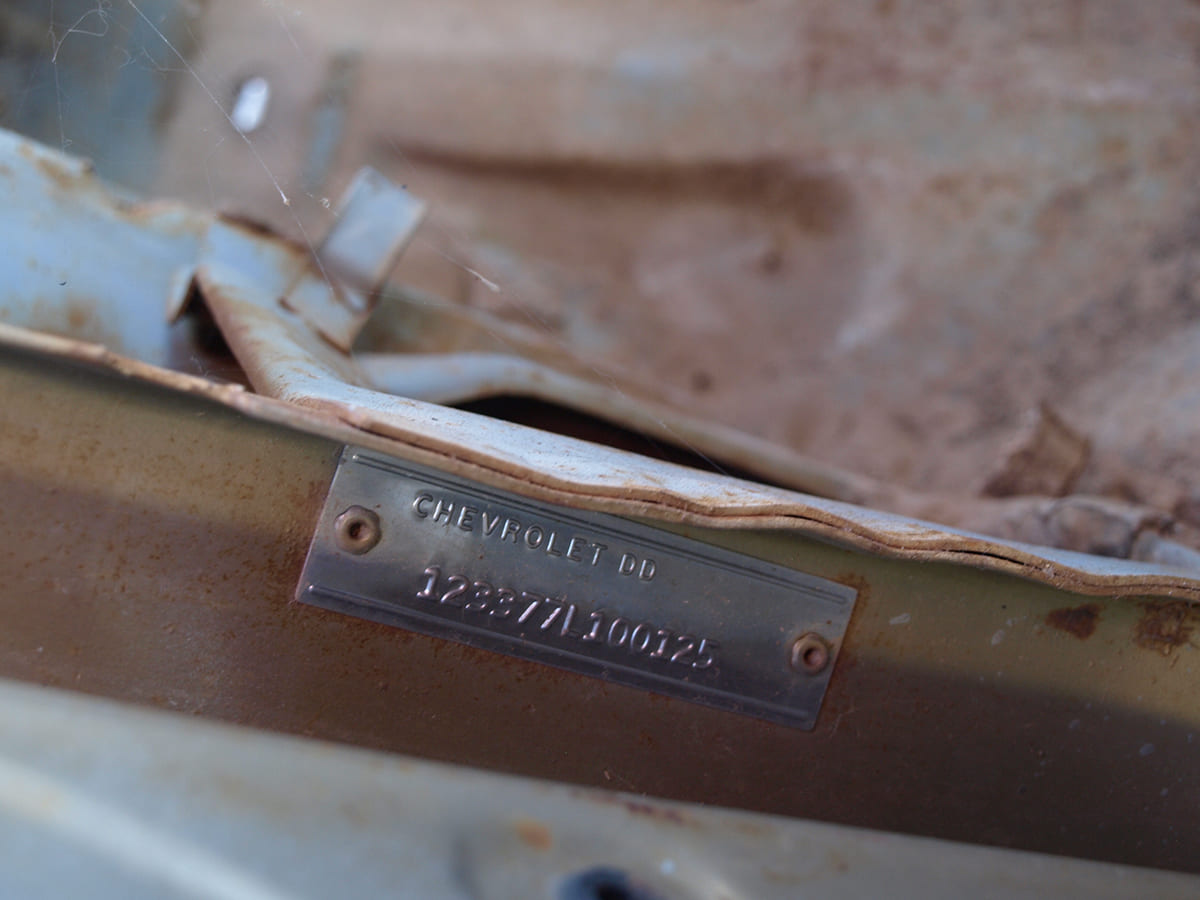 Reading 123377L100125, we know this Camaro was originally built as a six-cylinder unit (3 in third spot) at the Van Nuys, California, plant (L). But the 100125 tells us it was the 125th vehicle to leave the Van Nuys line for the 1967 model run. A few years back, Camaro number one (VIN 12337N100001) made a huge splash when GM restored it back to original condition as a six-cylinder, three-on-the-tree secretary special in Grenada Gold. So is this boneyard discovery equally important? Not so much. Camaro number one was a pre-production pilot car. Generally, the first 20-50 examples of any car are so-called "pilot builds," assembled in slow motion to help line workers get hip to the changes and features of the new model before full speed mass production kicks in. But after those 20-50 pilot cars (which often get used internally for publicity, marketing, and test purposes before being crushed), regular production begins. So Van Nuys Camaro number 125 is little more than an interesting footnote. The cowl tag's G-G Grenada Gold paint code happens to be the same as Camaro number one!