Sticks and Bones
Text & Photos By Steve Magnante
In this month's installment of Bowtie Boneyard we're at Bernardston Auto Wrecking in Bernardston, Massachusetts (413/648-9300), checking out a couple of relics from the past. As always, we cranked up our powers of observation and discovered an uncommon manual transmission–equipped Camaro and the skeleton of a Chevy legend.
From the outside, this black F-body looks like a 1981 Camaro Z28. After all, it's got the tape stripe graphics and chin spoiler seen on each of the 43,272 Z28s built in 1981. But a second look reveals some doubtful elements. Where are the Z-only functional Air Induction hood blister (1980-1981) and front fender air extractor vents (1979-1981)? Were they replaced with the base Camaro part after a fender bender? We need to check the VIN …
Happily, after 1969, we can verify Z28 status by checking the VIN (unfortunately 1967-1969 Z/28 VIN plates do not contain the needed information). Here, we see 1G1AP87J6BL151268. Breaking it down: 1=country of origin USA, G=General Motors, 1=Chevrolet, A=manual seatbelts, P=Camaro, 87=two-door coupe body, J=267ci V-8, 6=check digit, B=1981 model year, L=Van Nuys, California, assembly plant, 151268=this was the 151,268th vehicle to roll off the Van Nuys plant in 1981. The key to Z28 status is the engine code in the eighth place where we see J (for the 267 V-8). To be a Z28 we'd need to see engine code L for the LM1 350 V-8. So, we've solved the mystery, this is NOT a Z28. But wait, there's more …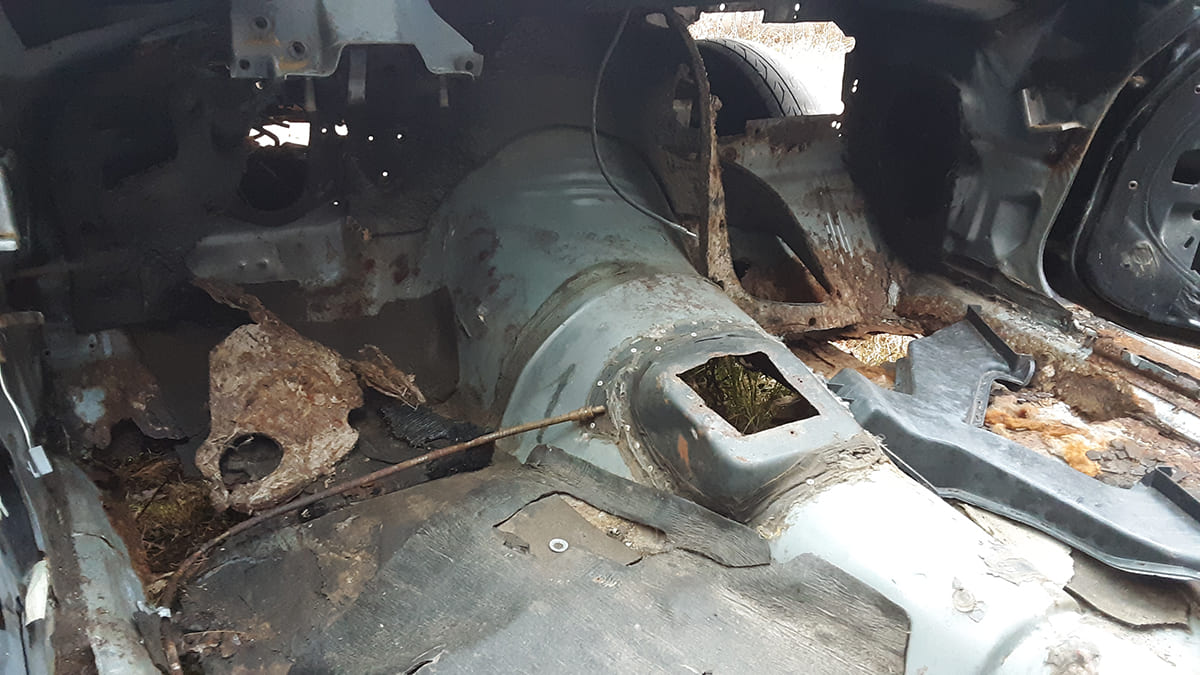 Inside we see something very cool: a manual transmission shift tunnel adapter. What's uncool is how corporate average fuel economy (CAFE) concerns eliminated the 350/four-speed combo after 1980. For 1981, four-speed Z28s were fitted with the 165hp LG4 305. LM1 350ci-powered Z28s were strictly automatics in 1981. Getting back to this 267 V-8–powered machine, the hole in the tunnel once hosted either a base three-speed manual (the final appearance of a three-speed as Camaro's base transmission) or the optional MM4 wide-ratio four-speed, which cost $133 extra and was installed in 10,780 of the 126,139 1981 Camaros built (0 in Z28s). The same shifter housing was used on three- and four-speeds, so we cannot tell which gearbox was originally installed.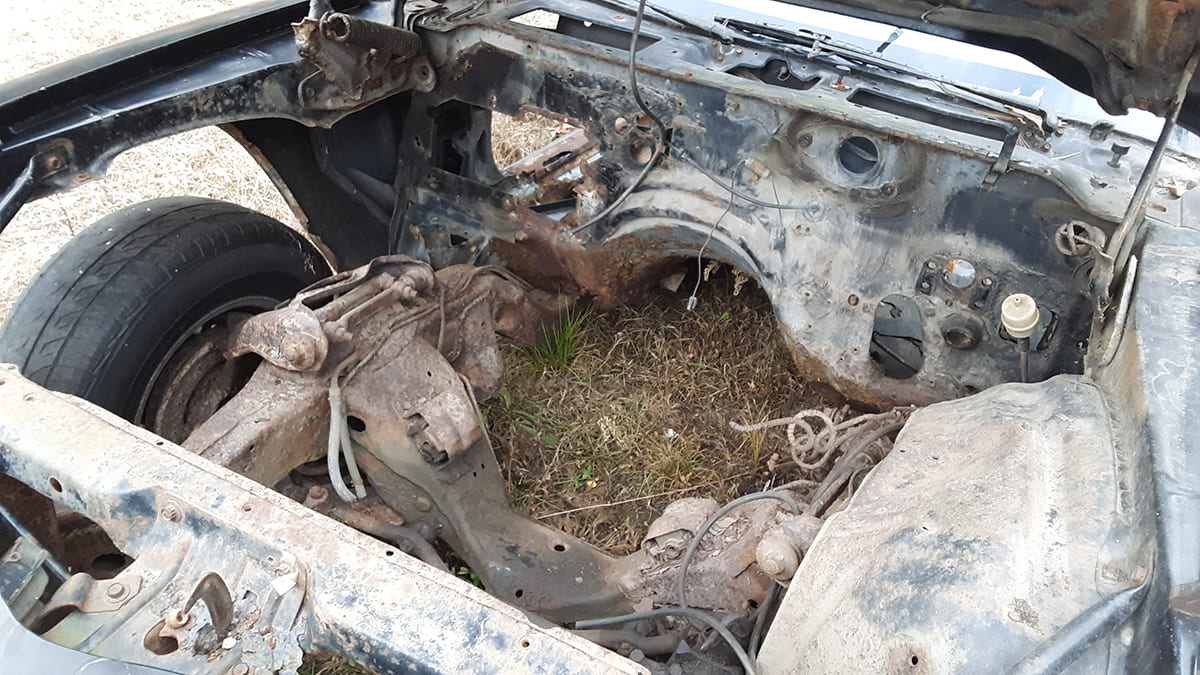 Though its gone now, the J-code L39 267ci V-8 cost an extra $75 over the base V-6, and 18,826 of the 126,139 1981 Camaros got this 4.4L small-block. With the 350's 3.48-inch stroke and 3.5-inch bore, the 267 made just 120 hp with 215 lb-ft of torque and had the smallest bore of any Chevy small-block. As for the base V-6, cars built for initial sale in California were equipped with Buick-built 110hp, 231ci LD5 V-6s, while cars built for delivery to the rest of the country got a Chevrolet-built 115hp 229ci LC3 V-6. The Buick V-6 is quickly identified by its front-mounted distributor. The Chevy 229 V-6 has a rear-mounted distributor.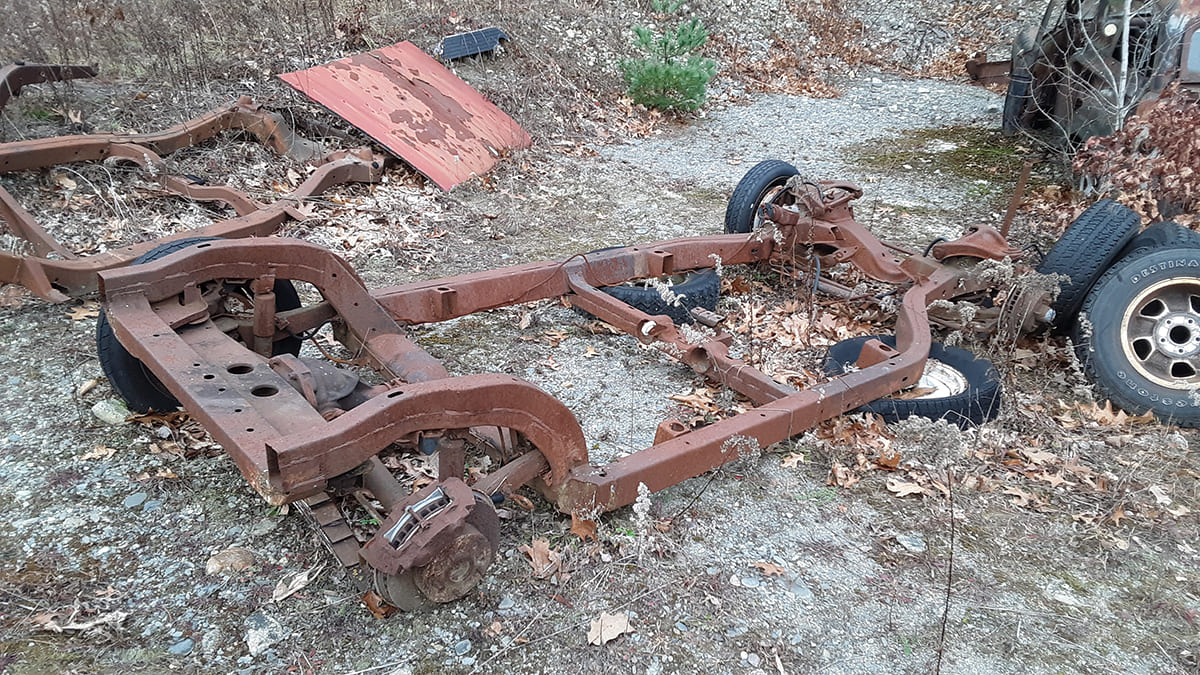 Moving on, Corvettes are a rare sight in any junkyard but somehow this Corvette frame made its way to Bernardston Auto Wrecking. The independent rear suspension identifies it as a 1963-1982 frame. The rear disc brakes further define it as being no older than 1965, as 1963 and 1964 Corvettes have drum brakes all around (except for 316 1965 buyers who specified RPO J61 drum brakes for a $64.50 credit).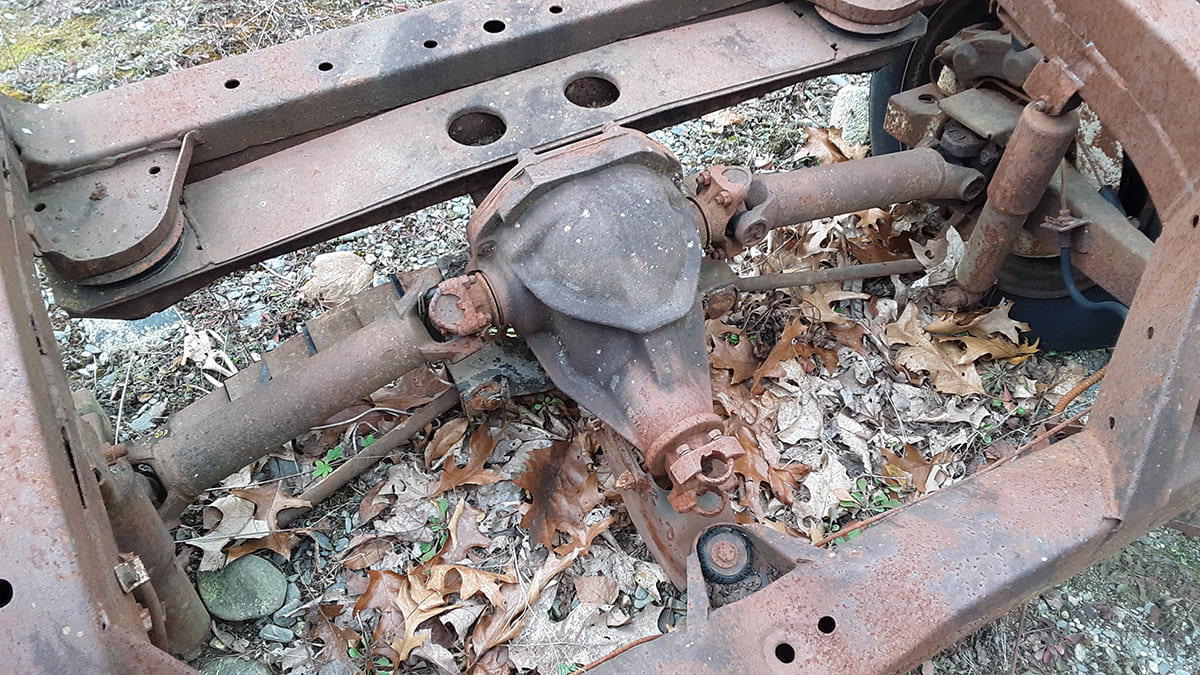 Corvette chief engineer Zora Arkus-Duntov battled with corporate bean counters for the Stingray's independent rear suspension, a huge handling improvement over the live axles and parallel leaf springs used in 1953-1962. The lack of an antiroll bar tells us this is a small-block frame. So do the U-bolt–style U-joint retainers. Factory big-blocks got stronger cap-type U-joint retainers. As with 1957-1962 Corvettes, Chevrolet charged extra for Positraction until 1970 when Posi was finally made standard and two-tire burnouts became a sure thing.
Power steering wasn't standard on Corvettes until 1977. Unlike Chevy passenger cars, which used a specific (and bulky) steering box when power assist was ordered, 1963-1982 Corvettes relied on a hydraulic ram assist and compact steering box to minimize packaging hassles. The twin-exhaust head pipe pass-through tubes in the transmission crossmember fed a full-length dual-exhaust tract (except for N14 side exhaust-equipped cars) until 1975 when a single catalytic converter was located under the passenger seat. Even though the head pipes joined into a single Y-pipe to feed the converter, the driver side crossmember tunnel remained in place (but empty) until 1980 when it was finally eliminated to save weight.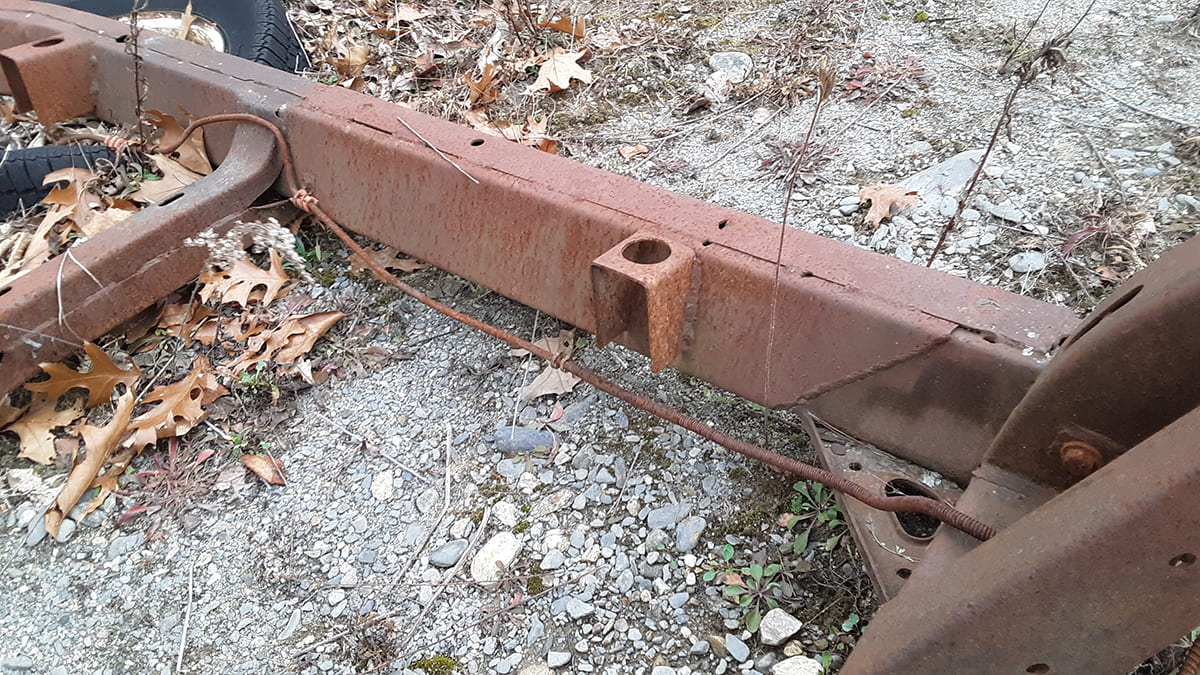 While body-on-frame Chevy passenger cars (fullsize and Chevelle) used standard C-channel framerails, only convertibles and cars ordered with the F35 Guard Beam heavy-duty frame got boxed side rails. By contrast, all 1963-1982 Corvette frames feature boxed frame siderails for maximum strength and torsional rigidity. Though a 1963 Stingray frame can be installed under a 1982 Corvette body with certain adjustments, contrary to common misconception, there were numerous detail changes made from year to year. Corvette frames are not all alike.