By Steve Magnante – Photography by the Author
The COVID-19 national lockdown of 2020 gave many of us a case of cabin fever–the feeling of being imprisoned in our otherwise-comfortable and happy homes. By staying out of circulation, we did our part to help squash the bug. But on occasion it was necessary to venture out into the world–preferably to sparsely populated locations where the risk of transmission was minimal. Such was the case one June afternoon in 2020 when we visited the quiet farming town of Charlemont, Massachusetts, and Clark's Chevy Ranch.
Over a year has passed since these photos were taken, so enjoy this review of interesting Chevy relics that face their own special pandemic: rust. It's true that rust never sleeps, but with the same spirit of human enterprise that so quickly conjured a COVID-19 remedy, any one of these vintage Bowties could be rescued.
This 1959 Nomad marks the second year the fabled Nomad nameplate wasn't affixed to a sleek and expensive two-door wagon body. Though the Nomad nameplate debuted on the 1955-1957 "Motorama dream cars come to life" two-door specialty wagons, it moved down market in 1958 aboard four-door wagons. The horizontal tail fins were rumored to cause unstable lift at speed. That myth was debunked nearly 50 years later when Motor Trend Classic magazine put one in a wind tunnel. Lift was only generated going backward!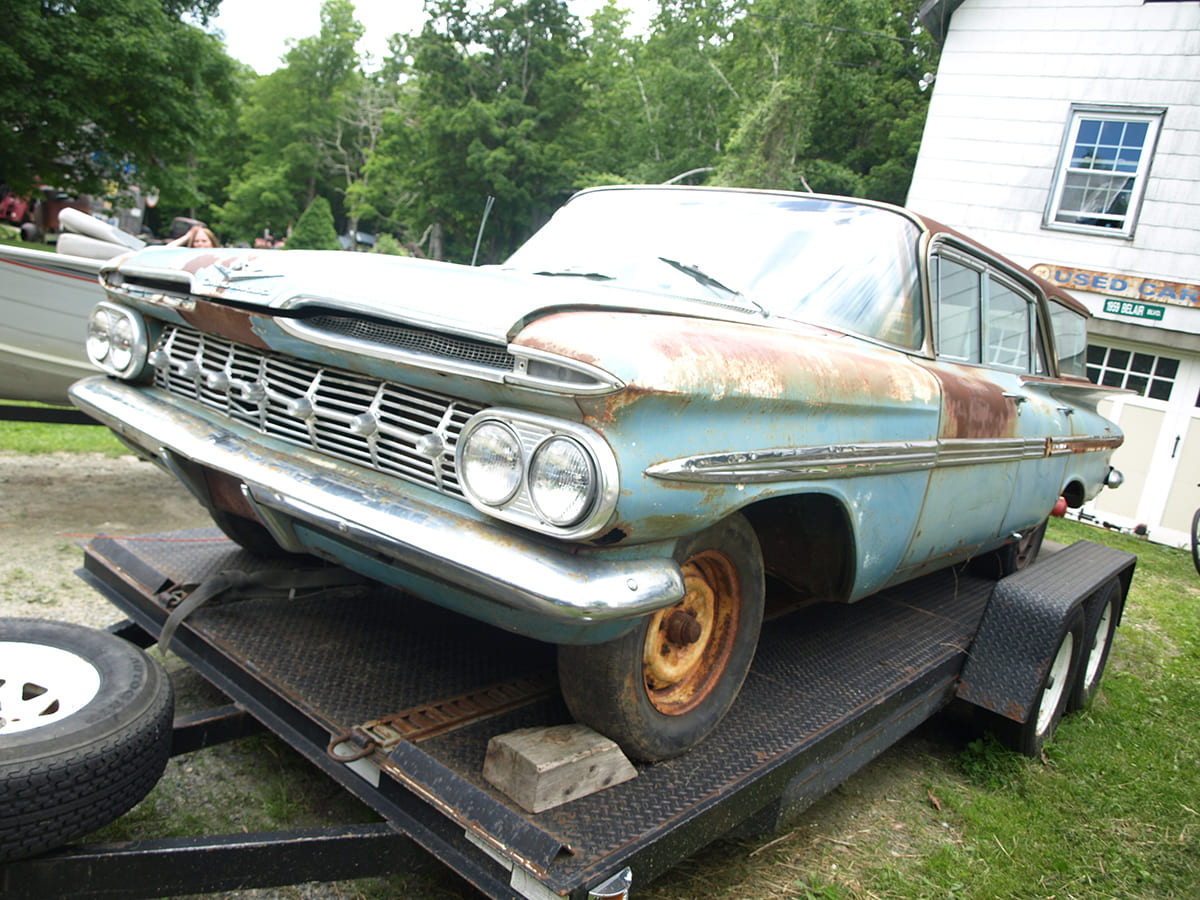 A key to the 1959 Chevy's low profile was its X-frame. Unlike the pre-1958 perimeter-type frame, the 1958-1964 X-frame allowed the footwells and floorpan to sit closer to the ground and with it the rest of the body. A unique two-piece driveshaft with a center bearing was key to the scheme. We couldn't open the hood to determine which 283 was on board but the lack of dual exhaust rules out 348 big-block power, all of which came with "twice pipes."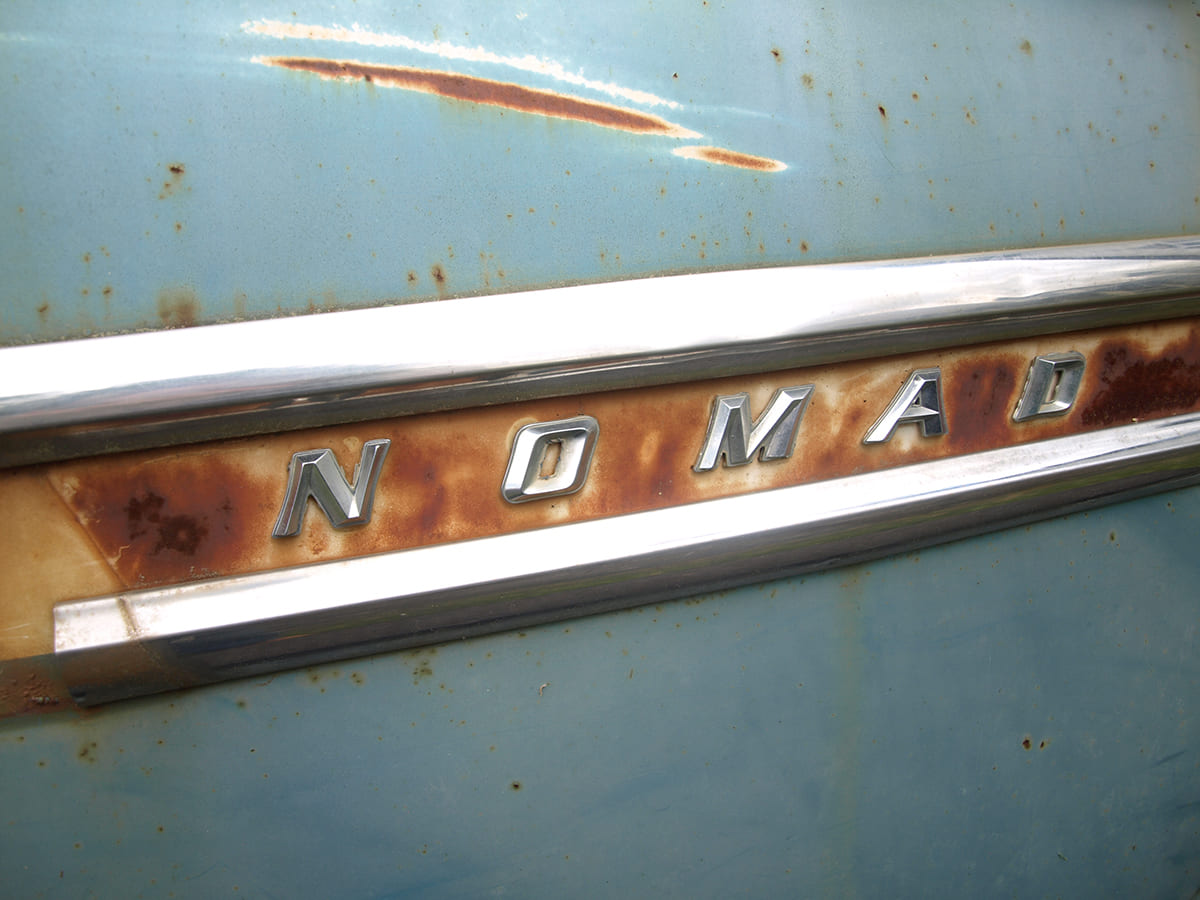 For 1959, the Nomad was the ultimate station wagon, above the Kingswood, Parkwood, and Brookwood models. Two-door wagons were only available in the austere Brookwood series. Of the 1,528,592 Chevy passenger cars built in 1959, 188,623 were four-door station wagons and 20,760 were two-door Brookwood station wagons.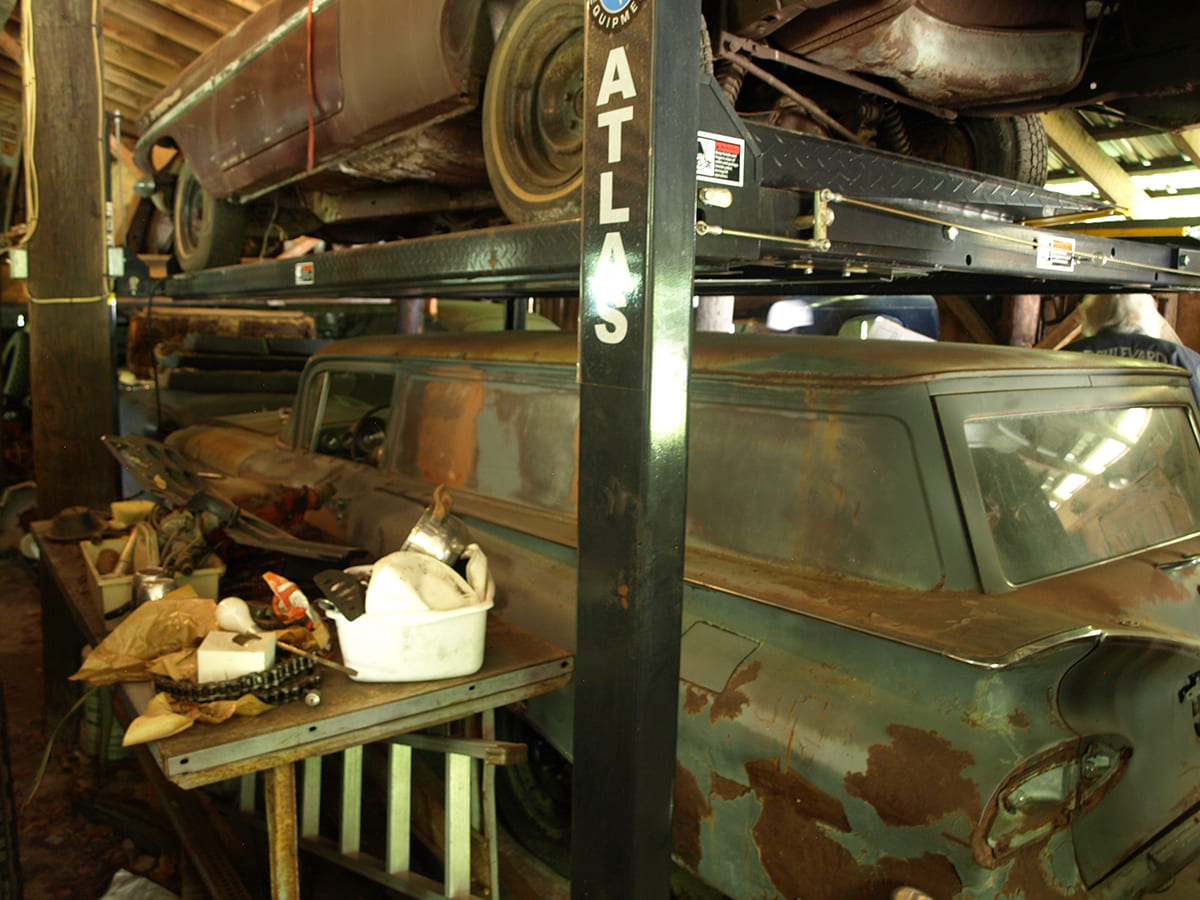 Please pardon the fuzzy focus and feast your eyes on an ultrarare 1959 Biscayne sedan delivery (bottom). Similar to a Brookwood two-door station wagon–but with metal window filler panels in place of glass, just 5,226 were built, and reliable records say that 814 of them were built with the burly 348 big-block. You have to wonder what kind of buyer would combine tire-burning torque with that austere body shell. This one packs the 283 small-block and is headed for restoration one day soon.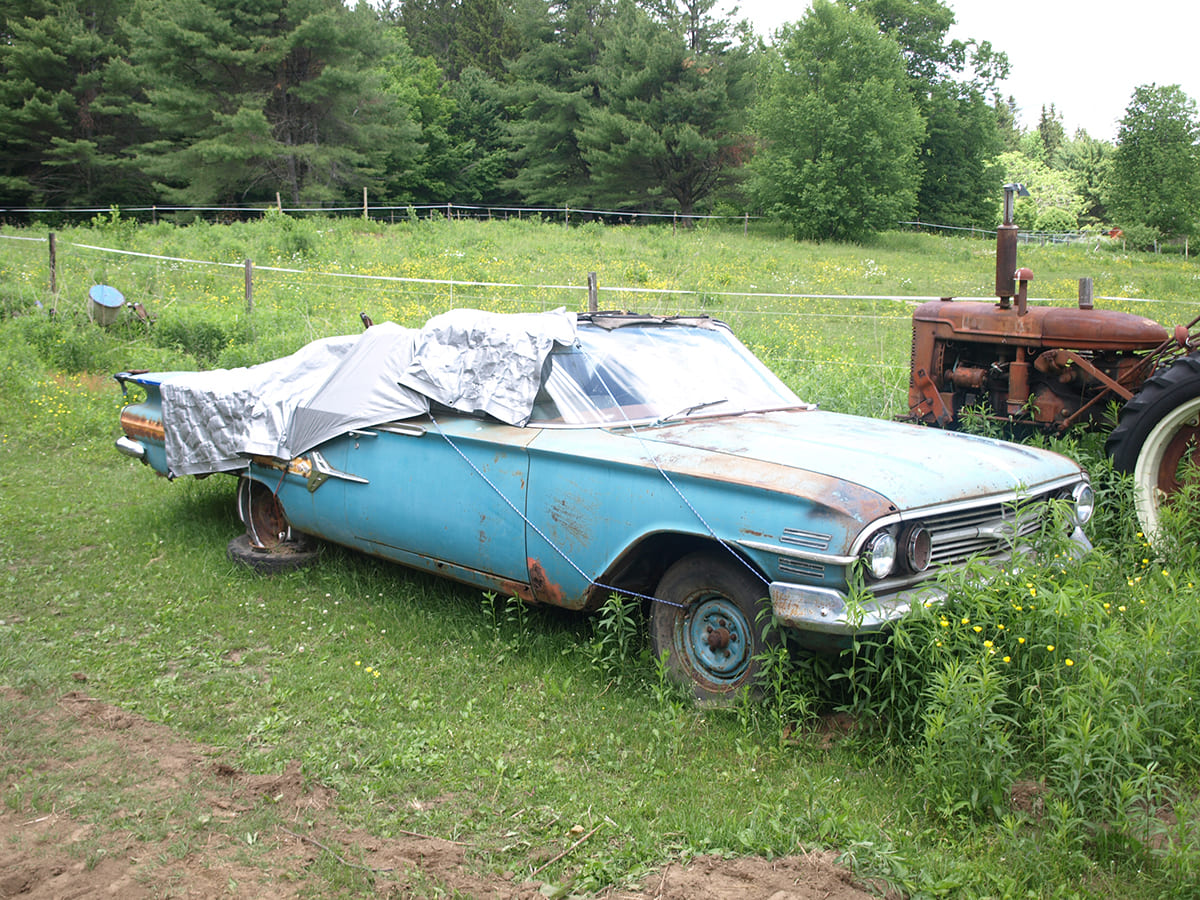 Impala was in its third season and tail fins were seen for the last time when this 1960 convertible was built. Chevy was on a roll and total model year production hit a record with 1,651,753 sales, up 14.2 percent from 1959. Of those over 1.6 million Chevys, just 79,903 were Impala convertibles. The Impala was the only fullsize Chevy offered as a convertible. The Biscayne and Bel Air were strictly of the fixed-roof variety.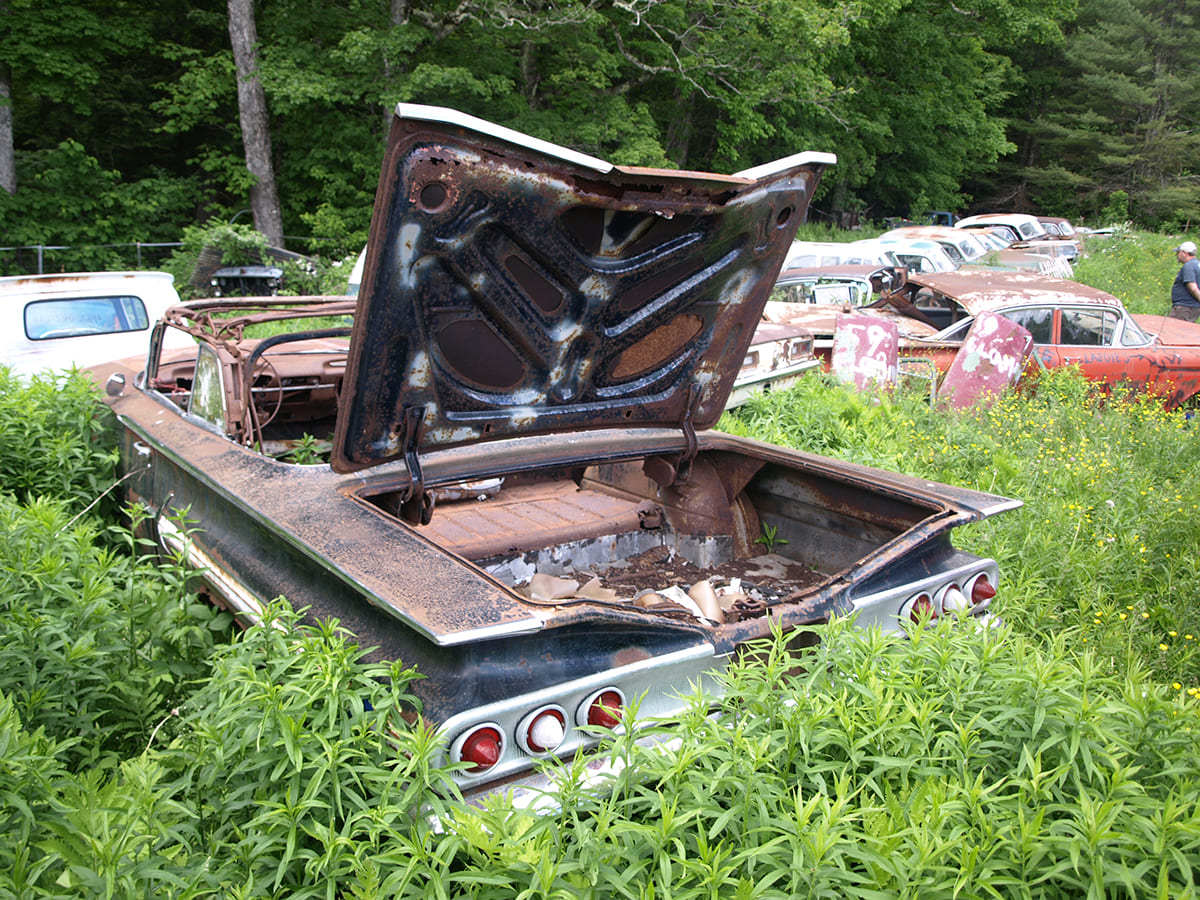 Another one of the 79,903 1960 Impala convertibles languishes with its massive trunk opened to the elements. Though the revolutionary Corvair and sporty Corvette stole showroom attention, fullsize (Biscayne, Bel Air, and Impala) sales still accounted for 84.2 percent of Chevrolet sales volume. The Impala convertible's base price of $2,847 was $1,025 less than a Corvette roadster, though options like the Special Turbo-Thrust tri-carb 348 and four-speed transmission ($628), power steering ($75), power windows ($102), tinted glass ($38), power brakes ($43), whitewall tires ($40), push button AM radio ($57), and electric clock ($16) could nearly even the gap, $3,846 to $3,872.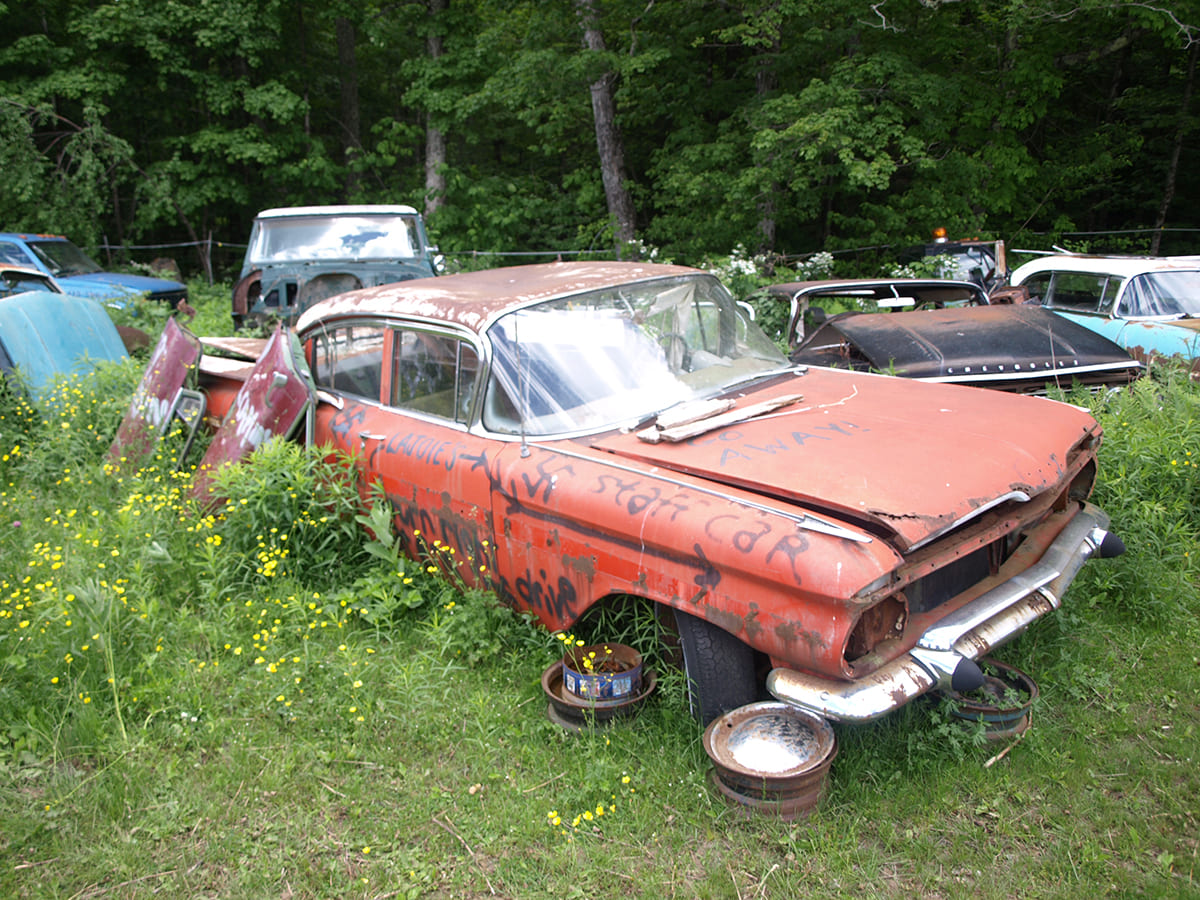 From the other end of the option sheet, this 1959 Bel Air four-door sedan sits atop the same radical X-frame and four-corner coil spring suspension launched in 1958 but has a totally different lower, wider, and longer body. The compound curve windshield was inspired by the 1955 GM Motorama LaSalle II dream car. 1959 was the final year for the optional Rochester Ram Jet mechanical fuel injection system on fullsize cars but also the first year for factory-installed "four on the floor," neither of which appear on this Bel Air.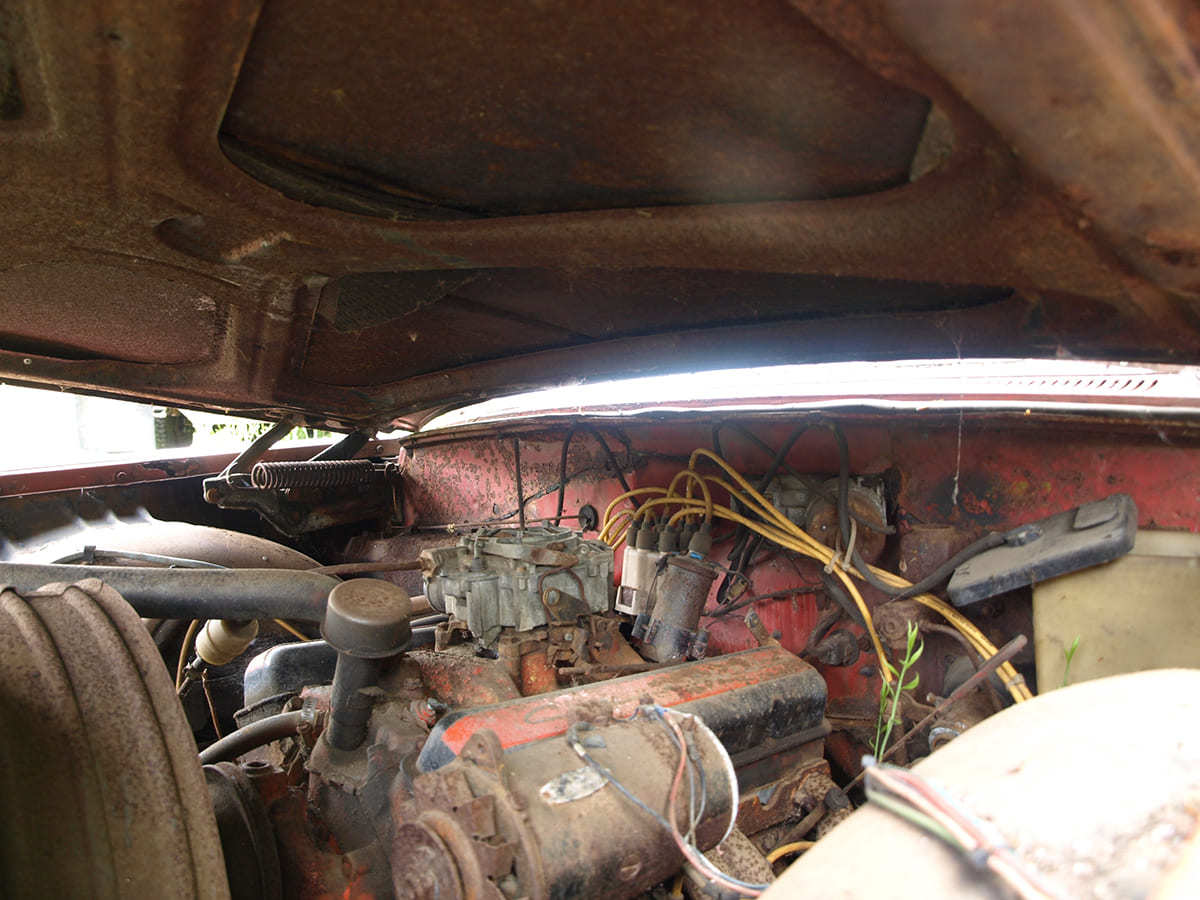 Though the sleepy 135hp Hi-Thrift 235ci overhead-valve inline-six was standard, V-8 models got a 185hp Turbo-Fire 283 V-8 with a two-barrel carburetor and single exhaust. But here we see the optional 230hp Super Turbo-Fire 283, which added a Carter WCFB four-barrel, dual exhaust, and an extra point of compression (9.5:1 VS 8.5:1) for $147. Interestingly, the base 283 two-barrel could be had with dual exhaust for an extra $19. Note the rusty steel tubing exhaust headers added decades ago.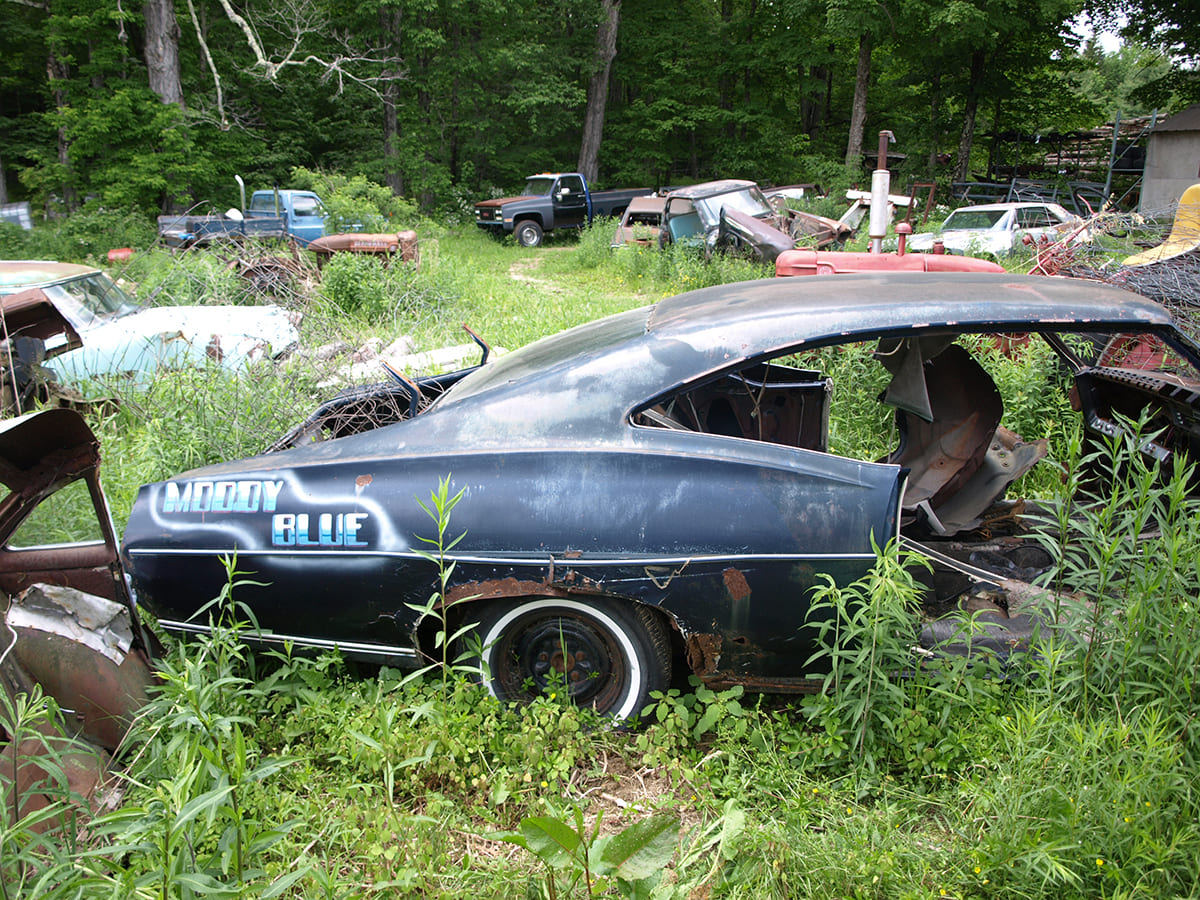 Fullsize fastbacks were a big trend in the mid '60s and most agree that Chevy did them best. Long and slick without looking bloated, the sales catalog identified them as "Sport Coupes" but don't expect to find one with Biscayne or Bel Air emblems, these beauties were strictly of the Impala and Impala SS variety (the Caprice was deemed too formal for the youthful fastback treatment). This small-block, two-barrel, automatic 1968 Impala fastback must have been owned by an Elvis fan. Moody Blue was "the King's" final studio album, released in July 1977, just a month before his death.
The one-piece windshield identifies this Chevy as a 1953 or 1954 model. Unfortunately, the low-demand four-door body dooms it to parts-car status … today, when new four-doors outsold two-doors by a huge margin. The exposed engine offers a look at the incredible height of the 235 six-banger. Beyond the vertical block and head, the "top hat" oil bath air cleaner added to the challenge for body stylists seeking lower, longer lines. It is telling that while the same Blue Flame six continued aboard the revolutionary 1955 models, a new side-mounted air cleaner was designed to fit under the 1955's much lower cowl and hood.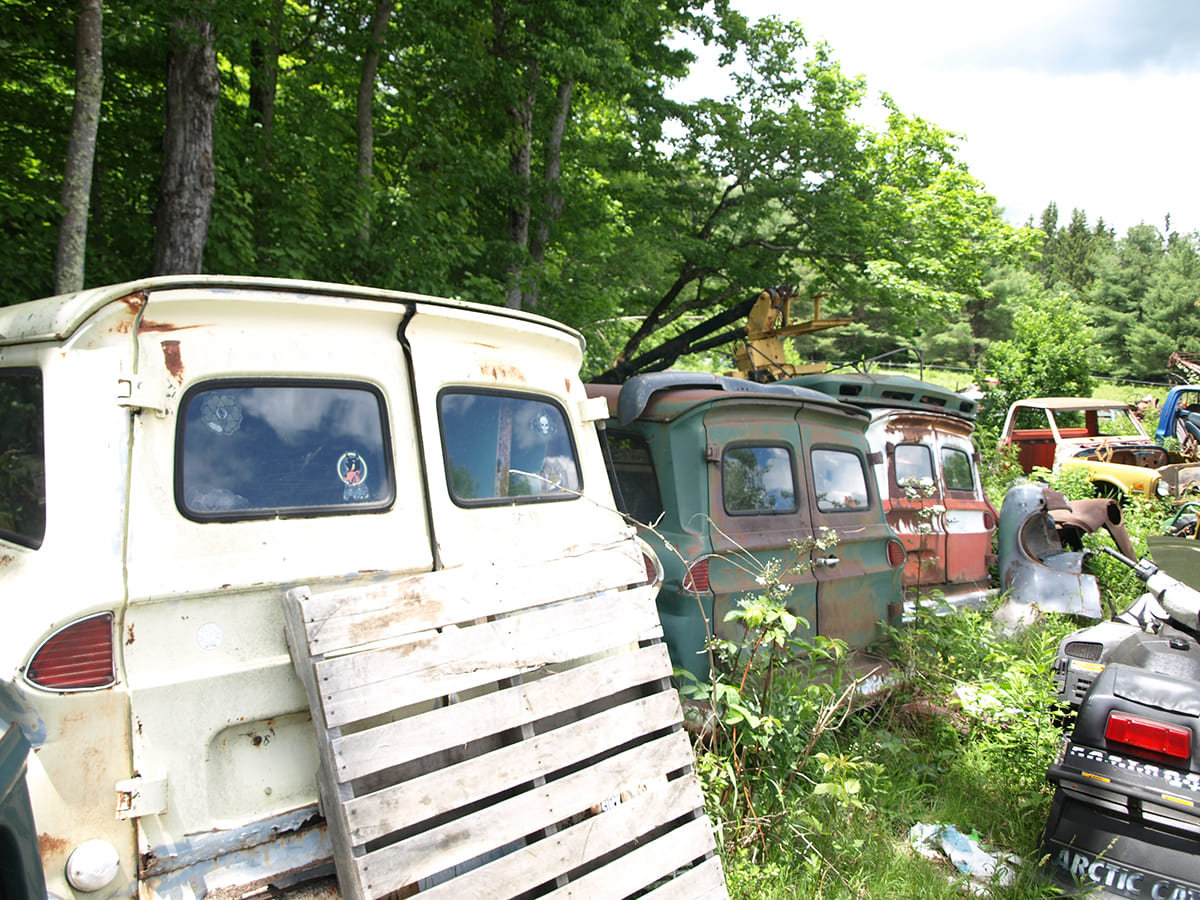 The Suburban Carryall hasn't taken off among collectors … yet. The unique overhanging "brow" above the rear cargo doors is a styling cue seen on many GM roof designs, from Cadillac to Biscayne. The GMC version of the Suburban Carryall was available with a V-6, something not offered by Chevrolet. The swing-out cargo bay doors were standard but a two-piece liftgate/tailgate was offered. Two-tone paint cost $20.90 on Suburbans, $8.35 more than the $12.55 cost on pickup trucks. Hey, the extra paint costs money!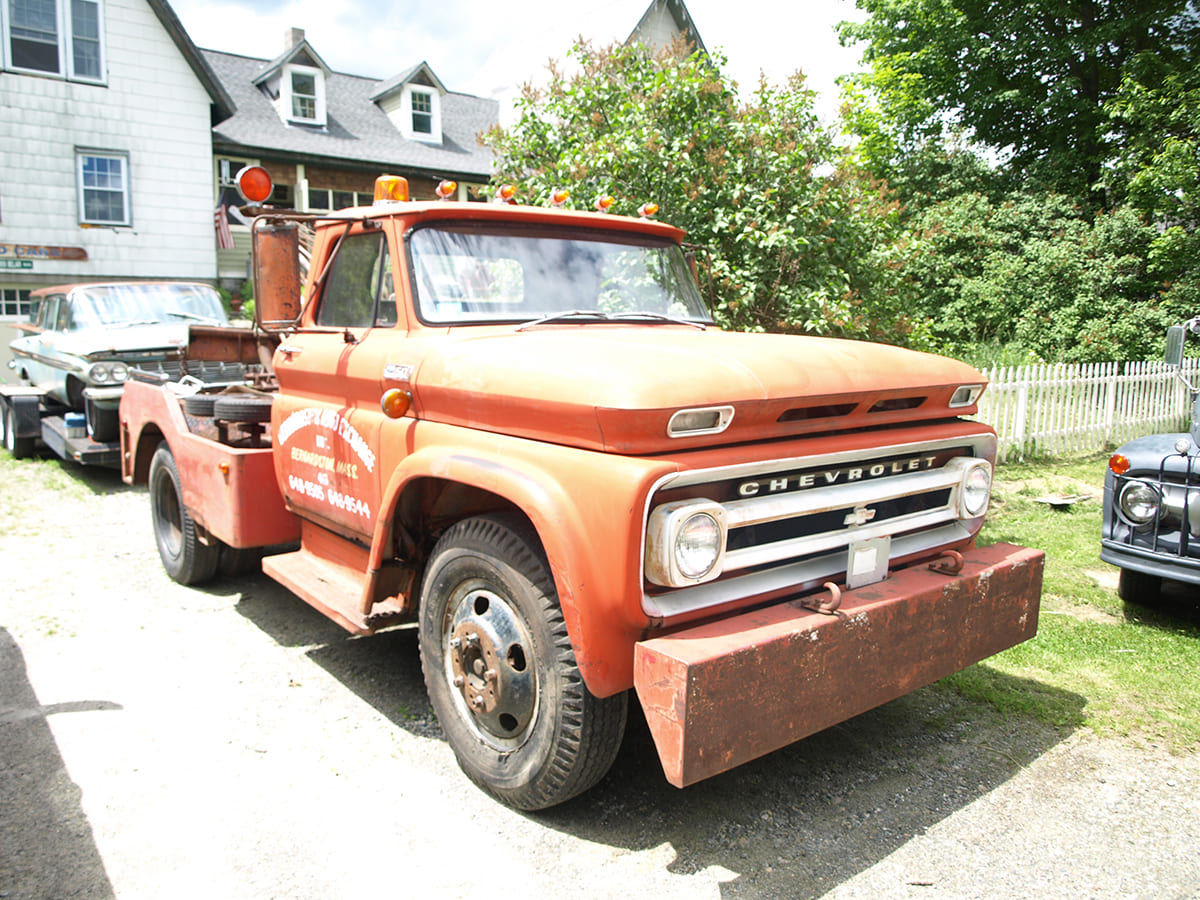 Trucks aren't typical fare here at All Chevy Performance magazine, but this tough 1966 Chevy wrecker can't be ignored. The five-lug hubs and wheels mark it as a C50, the lightest model in the medium truck line, larger C60's had six lugs. For 1966, engines included the same 230-inch six used in the Nova (with durability upgrades), a 292 six, 283 V-8, 327 V-8, and, for the final time, the "so fine" 409, detuned to 255 hp. Though the 409 was discontinued for Biscayne, Bel Air, and Impala use in mid 1965 to make way for the 396, trucks got the 409 through 1966. Unfortunately, no 1/2-ton 409 pickups were ever factory built.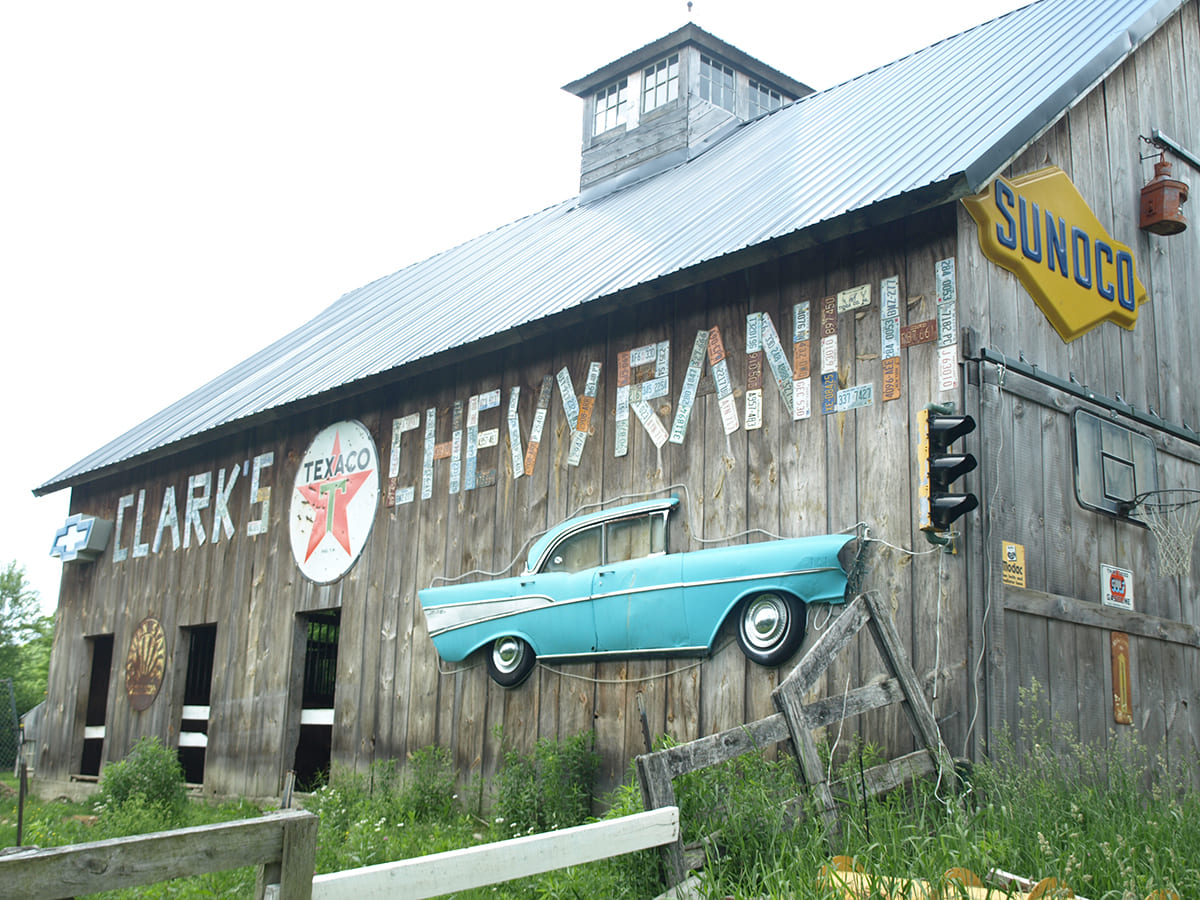 Clark's Chevy Ranch is located in sleepy Charlemont, Massachusetts, where this ingenious barn side sign attracts visitors. Amid the field of vintage tin explored here, an enclosed steel barn shelters a fine collection of 1959 Chevys, including many convertibles. Check out Clark's Chevy Barn on Facebook.