Steve Aguilar took a GT approach with his 1971 Camaro
By Nick Licata – Photography by Wes Allison
As a kid, Steve Aguilar harkens back to the days when young hot rodders in his neighborhood were wrenching on Tri-Five Chevys, old Pontiacs, and '60s-era Chevys. His best friend had a 1966 Chevelle loaded with a 396, and that was all it took to get him hooked.
With a long history of being into muscle cars, in 2012 he got a hankerin' to seek out a 1967 GTO as a project to take him back to the good old days when he stumbled across a really nice 1971 Z28 Camaro. "The car was in a Porsche shop in Costa Mesa, California. It was in great shape and well documented," Steve says. After driving the car a few times, the lack of power and handling capabilities left Steve wanting more.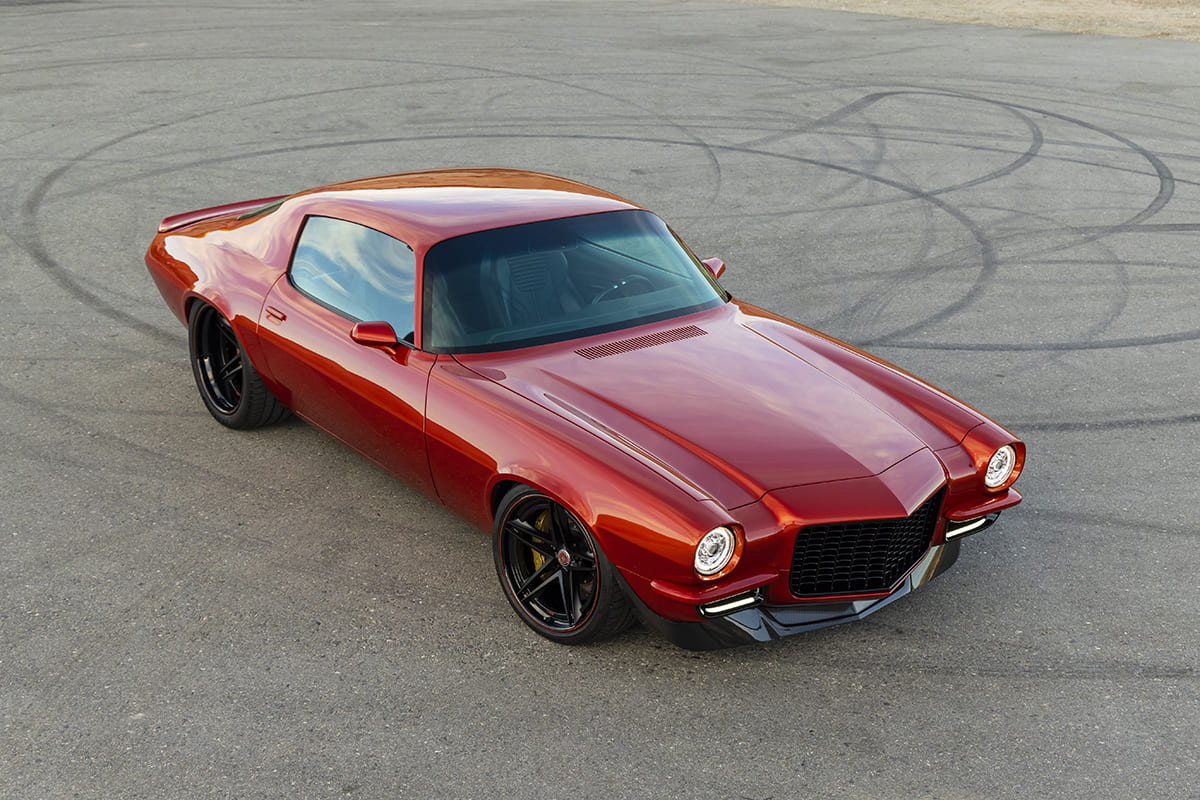 "I was really into what Roadster Shop, Detroit Speed, and Ringbrothers were doing with these cars, so I hit up Sean Smith to design the Camaro along those lines. "I told [Smith] to imagine this car being dropped off in Germany at the AMG or BMW factory," Steve recalls. "And how those designers would've approached building a car that in 1971 would have been considered one of the Top 10 best cars in the world."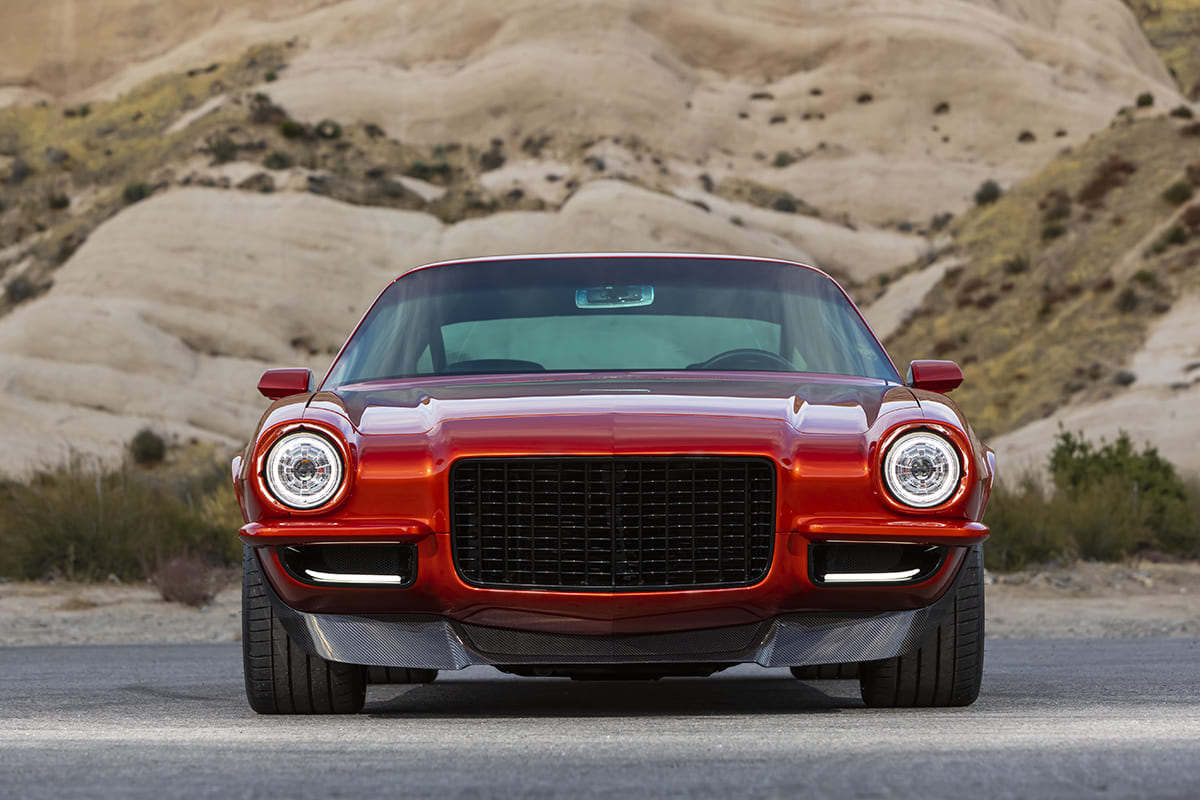 When you bring up an early '70s Chevy Camaro, it's natural to relate that to good old American Detroit muscle. But Smith pulls back and recognizes the car's long, sleek body lines and how they parallel vintage European sports cars.
Smith rendered the car with the rocker panels lowered 2 inches for a sleeker, lower look and to hide the pinch welds and gas tank. The exhaust pipes were also extended through the rear valance—another European touch. They were just getting started, as the custom nuances kept flowing.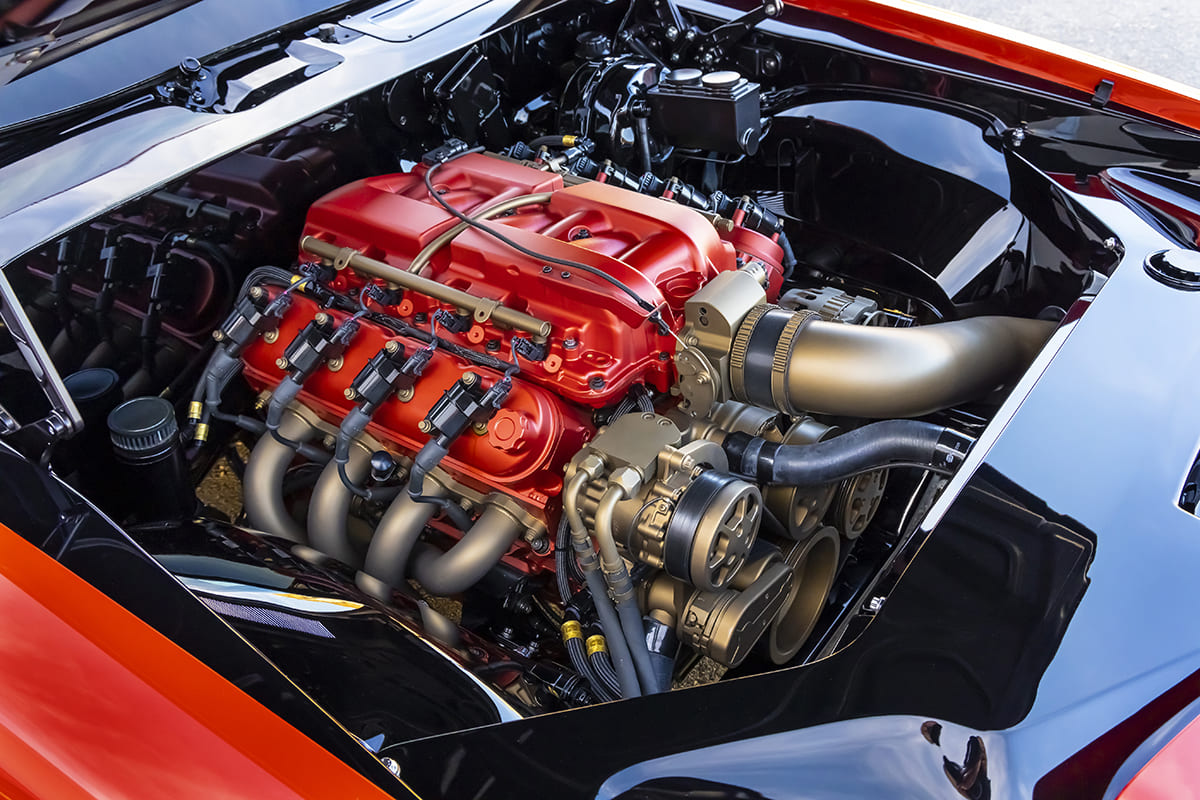 With Steve and Smith on the same page, so to speak, Steve then focused on a stout powerplant to fit the build. He called on the guys at L&R Custom Engine Building in Santa Fe Springs, California, to do their magic on an LSX 454. They are known for building incredible high-performance engines. They bored the block 4.125 inches and stroked it to 4.250 inches then stuffed the bullet with a Scat forge crankshaft 4340 forged H-beam rods, and 11.4:1 forged RaceTec pistons. Mast Motorsports Black Label cylinder heads were sourced as was a Brian Tooley cam. ARP fasteners keep it all together. Fuel delivery comes by way of a Detroit Speed (DSE) "Super Tank" 18 1/2-gallon fuel tank and an MSD Air Force intake painted to match the Holley valve covers and the overall engine bay motif. An Eddie Motorsports accessory drive system runs the show tucked behind the C&R aluminum radiator and dual SPAL PWM fans. Borla XP mufflers slightly subdue the engine's aggressive tone delivered by the DSE headers and custom-fabricated 3-inch stainless exhaust. The ensemble not only delivers a stout 700 hp and 643 lb-ft of torque, but Steve and Smith's quest for a remarkable-looking engine bay was met far beyond Steve's expectations.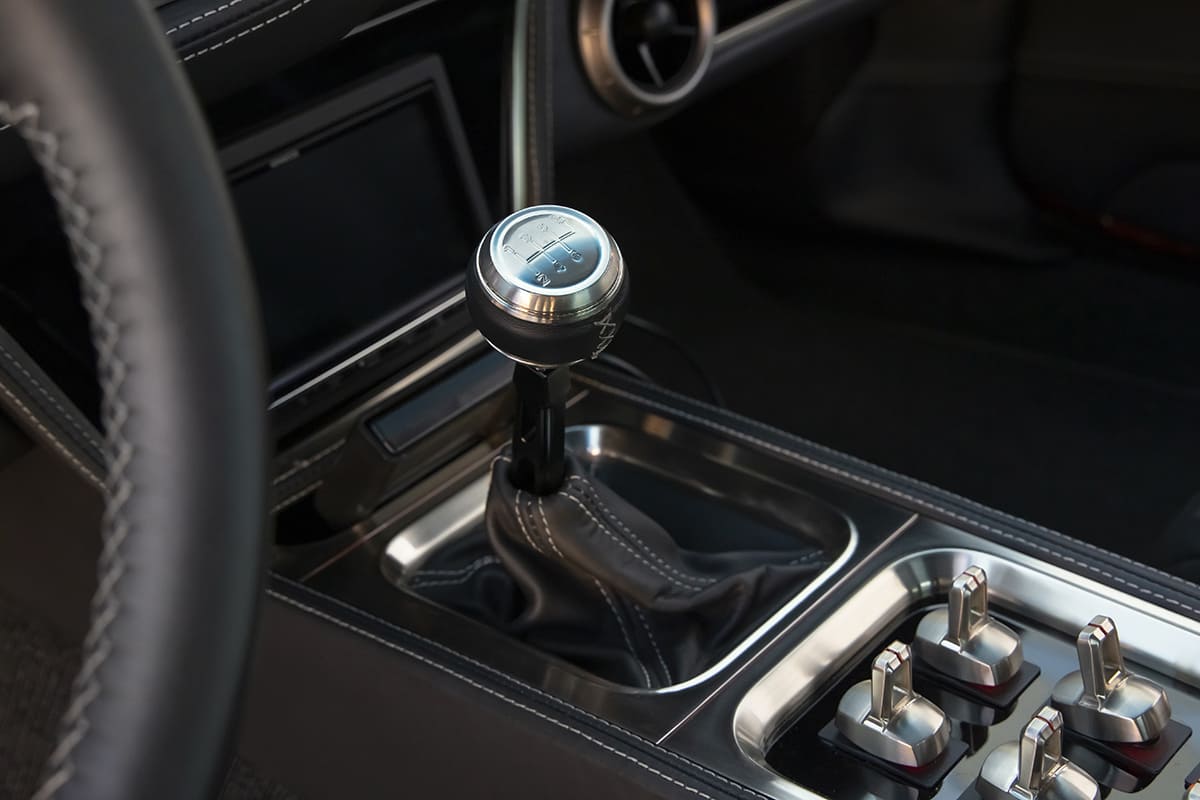 Steve prefers the three-pedal gear-change system—he likes to keep busy, so a McLeod RXT twin-disc clutch is backed up by a Bowler Transmissions Stage II T56 six-speed built to handle the Camaro's potent power, while ensuring smooth and effortless high-rpm shifting.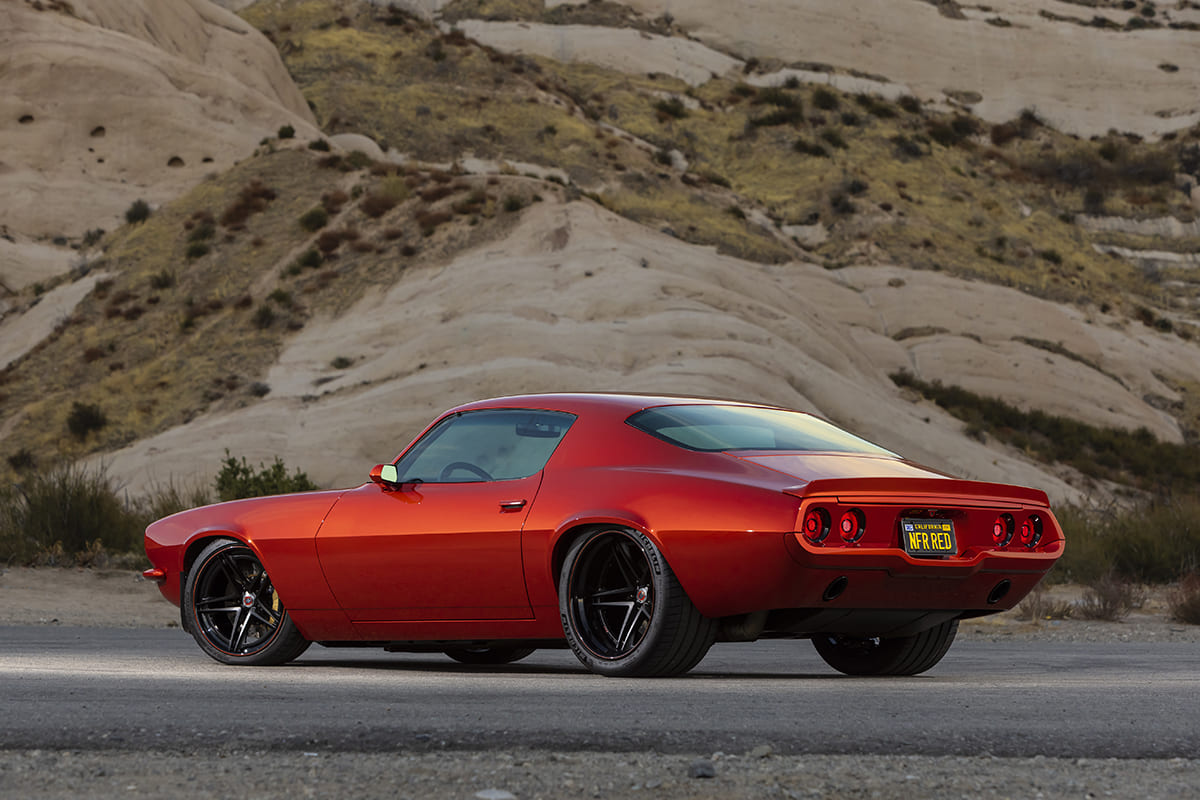 Continuing to pull from the sports car world, modern handling capabilities had to comply with the car's performance personality, which lured Steve to DSE for their top-tier suspension goods. Up front a DSE hydroformed subframe is outfitted with nitrogen-filled JRi coilover shocks and 600-pound springs, while the rear consists of a QUADRALink suspension armed with JRi shocks and upgraded 10-inch-long 250-pound springs. A GM 12-bolt houses 3.90 cogs, Eaton Detroit Truetrac diff and Currie 35-spline axles get the power to the ground.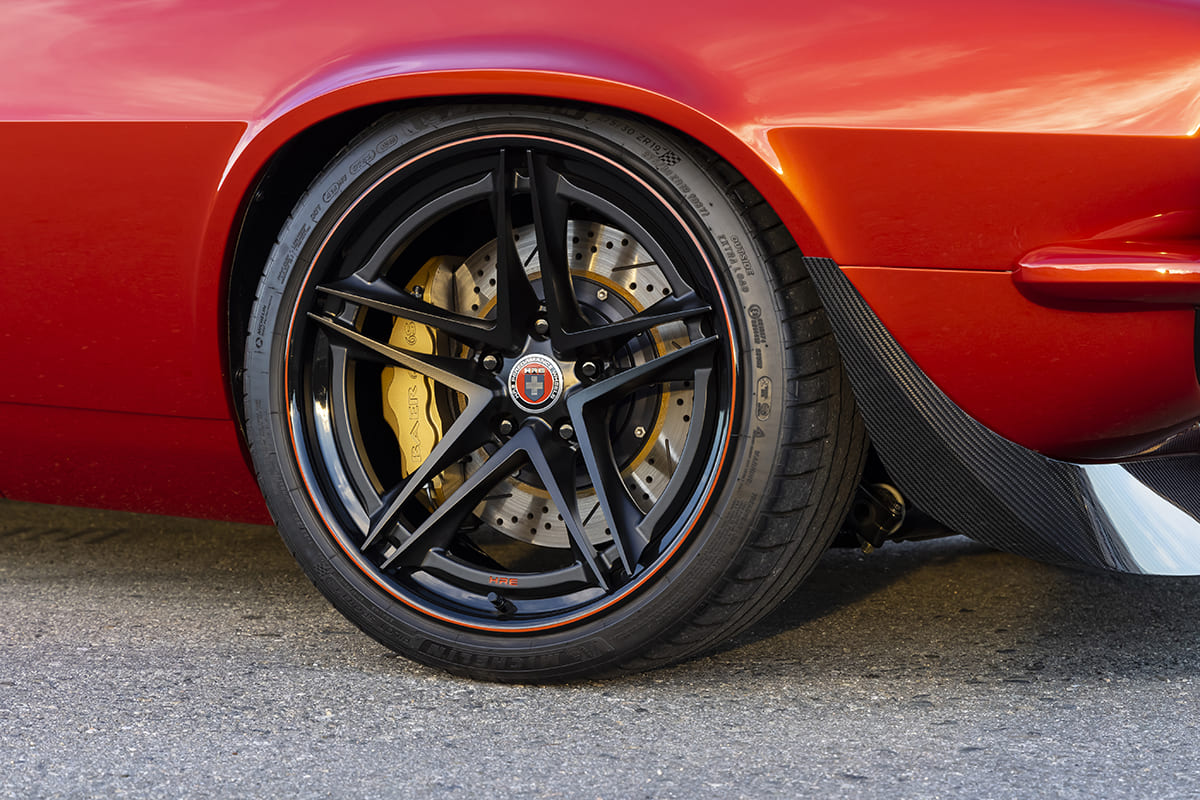 For aggressive stopping power, Steve went with Baer 14-inch rotors and six-piston calipers on all four corners complemented with a Baer master cylinder. The sports car influence continues via the HRE S270h wheels (19×10 front, 20×12 rear) wrapped in Michelin Pilot Sport rubber, sized 265/30R19 and 345/30R20.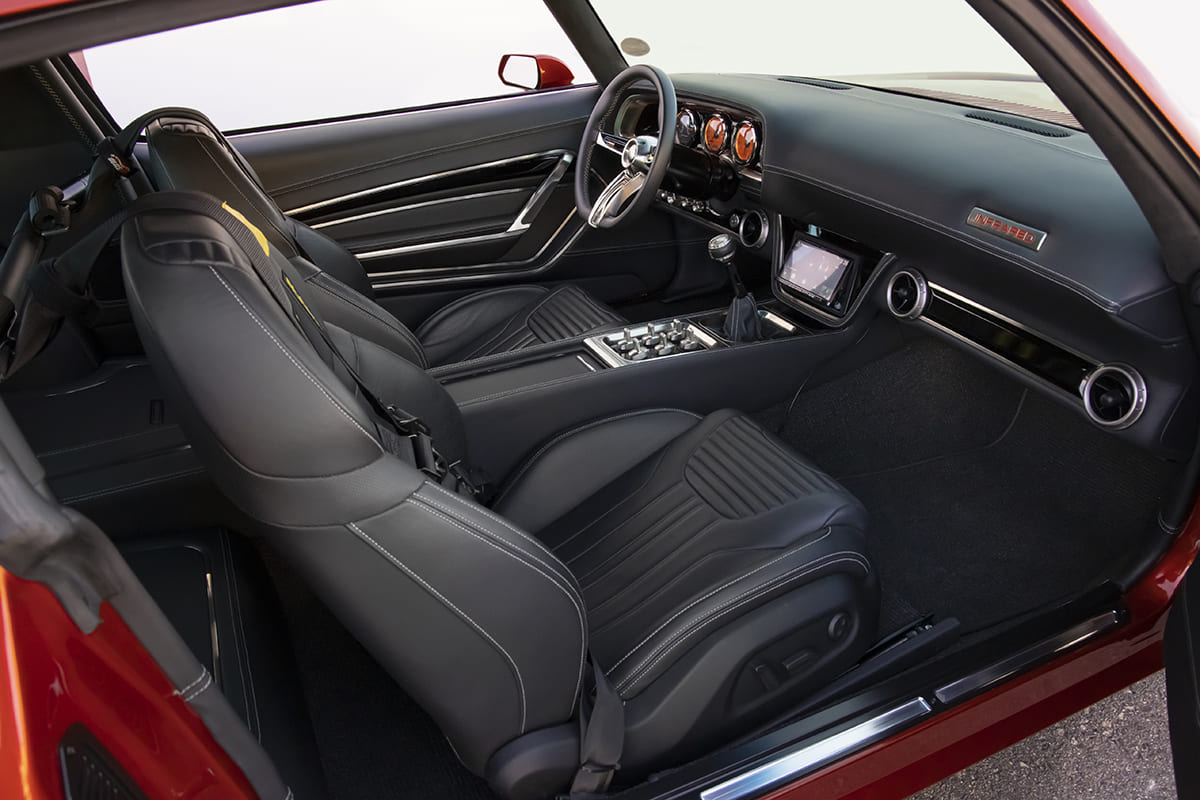 The Camaro's interior retains its original spirit while once again drawing in European style via Smith's design cues and Gabe's Custom Interior's (San Bernardino, California) expertise to pull off the exceptional fabrication and craftsmanship required to put this Camaro in a class by itself. The custom-designed dash cluster grabs some influence from the Porsche world and uses Classic Instruments orange and black background gauges for vital statistics. The GT40 switches, CNC-machined instrument housing, center console ring, unique steering wheel, and shifter ball were designed by Smith and machined by Sparc Industries, reflect offerings from the sports car world and ties in nicely with the Audi TT seats, Schroth Racing safety harness, and leather-wrapped DSE rollcage. Gabe's pulled out all the stops with Hyde's Neo Perseus Hydes Leather and Alcantara throughout that offers an attractive driving environment. Restomod Air provides a cozy climate and Audio Shoppe (Riverside, California) dialed in the powerful audio system featuring a Kenwood head unit and ARC Audio amps and speakers throughout.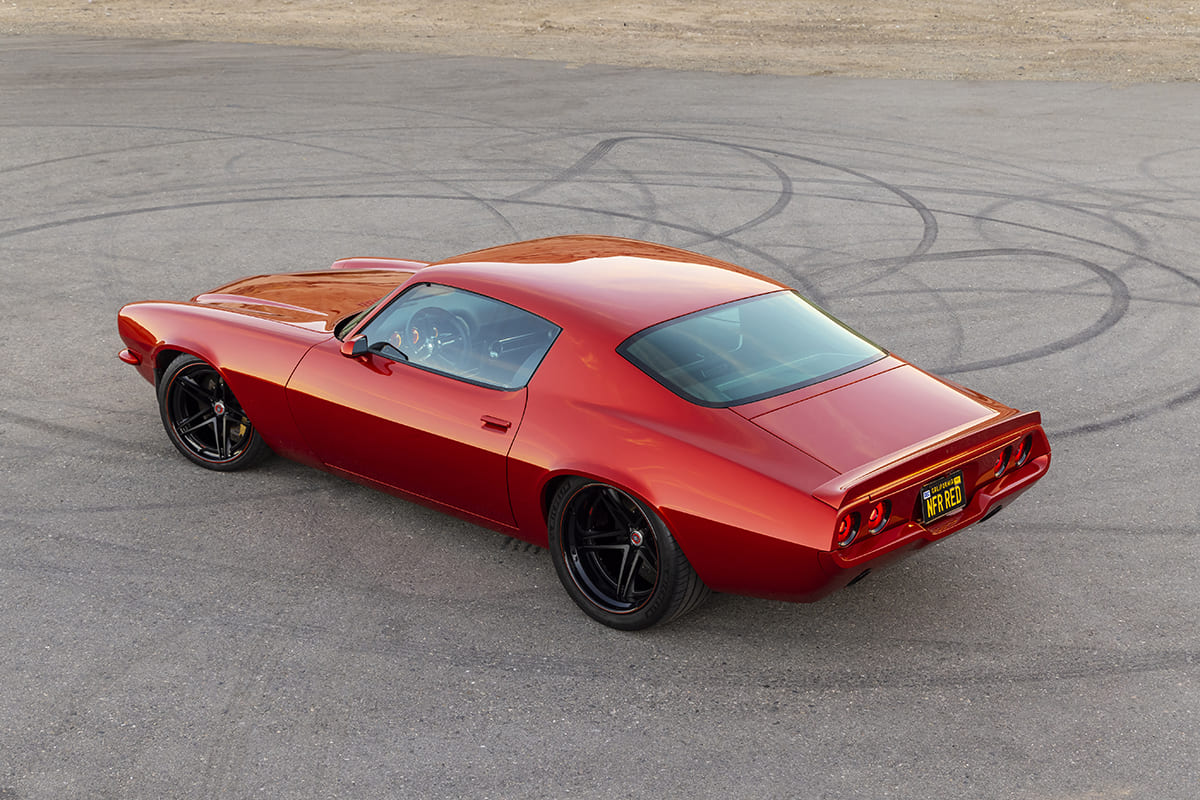 With the car retaining the factory sheetmetal, Leo Vargas at Carrocerria Americana in Riverside, California, started with a solid foundation to massage and sharpen the body lines to perfection prior to spraying the envelope in BASF Glasurit Shakir Metallic Orange pigment and mile-deep clear.
The original door handles and side glass were also retained, while Eddie Kotto provided and installed the flush-mount windshield and rear window to flow with the second-gen's slick body style accented by the extended stock rear spoiler. The factory bumpers were smoothed, shaved, and tucked to coincide with the car's slippery look. Once again, Smith designed a unique carbon spoiler and air scoops, which direct cool air through the one-off CNC billet intake scoops, which also carry the daytime running lights and turn signals. The grille is a one-off piece designed and machined by Evod Industries and high-gloss powdercoated by Pacific Coast Powdercoating for what Steve calls a scalloped "moving forward" look and phenomenal styling.
Steve made a point to credit Stone Metal Shop, BND Performance, Leo Vargas, and Smith for their talent, advice, and ability in making this car better than he could have imagined.
What started out as a garden-variety muscle car for Steve and his son, Jacob, to enjoy on weekend cruises eventually turned into a SEMA-quality build—a car that features the best of the best parts and remarkable craftsmanship and style. But that doesn't hinder Steve and his son from enjoying the car more than ever. A Camaro built to this quality might be garage-kept and trailered like a queen, but we've seen Steve on numerous SoCal cruises and can say from first-hand experience he's not shy when it comes to dipping into a good amount of the 700 hp.
Owner: Steve Aguilar
Vehicle: 1971 Camaro
Engine
Type: LSX 454
Displacement: 454 ci
Compression Ratio: 11.4:1
Bore: 4.125 inches
Stroke: 4.250 inches
Cylinder Heads: Aluminum Mast Black Label 305
Rotating Assembly: Scat 4340 crank, 4340 forged H-beam connecting rods, forged RaceTec pistons
Camshaft: Brian Tooley Racing hydraulic roller (0.631/0.610-inch lift; 239/254 deg. duration at 0.050)
Induction: MSD Air Force
Ignition: GM
Exhaust: Detroit Speed 1 7/8-inch headers, custom 3-inch exhaust, Borla XP mufflers
Serpentine System: Eddie Motorsports
Ancillaries: Edelbrock water pump, Holley valve covers, K&N air cleaner, ARP fasteners, XRP hoses, Ringbrothers hood hinges, C&R aluminum radiator, SPAL fans
Engine Assembled and Machined By: L&R Machine (Santa Fe Springs, CA)
Output (at crank): 700 hp at 6,300 rpm, 643 lb-ft at 5,500 rpm
Drivetrain
Transmission: TREMEC T56, Bowler Stage II upgrade
Rear Axle: GM 12-bolt, limited-slip differential Truetrac, 4.11:1 ratio, 35-spline axles
Chassis
Front Suspension: Detroit Speed hydroformed subframe, tubular control arms, JRi shocks, 600-pound springs, subframe connectors
Rear Suspension: Detroit Speeed QUADRALink, JRi shocks, 250 pound springs
Brakes: Baer 14-inch rotors, six-piston calipers front and rear, Baer master cylinder
Wheels & Tires
Wheels: HRE S270H 19×10, 20×12
Tires: Michelin Pilot Sport 265/30R19, 345/30R20
Interior
Upholstery: Gabe's Custom Interior (San Bernardino, CA)
Material: Hand-stitched leather
Seats: 2013 Audi TT
Seatbelts/Safety Harness: Schroth Racing
Rollcage: Detroit Speed leather-wrapped by Gabe's
Steering: ididit column, Sean Smith Design, Machined by Space Industries
Shifter: Lokar
Shifter Ball: Sean Smith Design
Pedals: Lokar Goolsby Edition
Dash: Sean Smith Design
Instrumentation: Classic Instruments
Audio: Kenwood head unit, ARC Audio amps, ARC Audio 5 ¼ coaxial, ARC Audio dual 10-inch subs
Audio Installation: Audio Shoppe (Riverside, CA)
HVAC: Restomod Air
Vents: Ferrari Custom
Exterior
Bodywork: Leo Vargas at Carrocerria Americana (Riverside, CA)
Paint By: Leo Vargas
Paint: BASF Glasurit Shakir Metallic Orange
Hood: Original Stock
Grille: Billet Aluminum by EVOD Industries (Escondido, CA)
Bumpers: Original, modified, tucked
Taillights: Digi-Tails
Headlights: Dapper Lighting
Side Mirrors: Custom Billet by BBT Fab (Mahomet, IL)
Windshield: Flush Fit by Kotto Auto Glass (SoCal)