Monique DeLancey's 1966 Chevy Impala SS Cruises the Next Level
By Chuck Vranas – Photography & Video by the Author
There's nothing finer than loading up the family on a sunny afternoon and heading over to the local dairy for some ice cream. It's nothing short of an American tradition where the ride there can be almost as much fun as picking out your favorite flavor at the counter. Trouble is that by the time you pack your crew back into the car with all their treats, there's always worry of messing up your ride. For Monique DeLancey, of Middleborough, Massachusetts, creating the cool 1966 Chevy Impala SS you see before you was an exercise in creative restraint when it came to making it family friendly. Your eyes aren't playing tricks with you either, as there's a color shift on the lower quarters that we'll address as the story unfolds.
The only stipulation that Monique had before undertaking the build was that it would need to encompass the ability to be driven anytime, handle like it was on 'rails, and have plenty of performance packed underhood. Being able to incorporate these values led to many conversations with her husband, Dave, who's no stranger to fullsize Chevy muscle, as his ferocious big-block urged 1965 Chevy Bel Air has been featured in Modern Rodding. For Monique, the design elements of a 1966 Chevy Impala Super Sport coupe with its flowing body lines and enough room to accommodate the family made it the perfect candidate.
When searching out an original car for Monique Dave's main concerns were that the body was straight, rust-free, and possess a perfect patina. The quest lasted a year but finally a mint survivor was found in California by Southwick Motors in Southwick, Massachusetts, who transported it back East. It was obvious the 327ci-powered, unmolested Impala SS had been well cared for with the only body repairs in more than 50 years illustrated by the non-matching paint on the lower quarters, adding to its unique personality. Having worked with Chris Cerce of Chris Cerce Customs (CCC) in nearby Taunton on a number of builds, the Impala was delivered for evaluation where the pair shared many of the same ideas on what it would take to bring the car to the next level.
After reviewing the car, Cerce contacted Roadster Shop (RS) to inquire into having a custom chassis crafted for the fullsize, fourth-generation Chevy, requiring it to be shipped to their Illinois facility. Once there, the RS team got busy gathering all the specialized information needed to design and engineer a fresh base to be fabricated for the project. Utilizing in-house, state-of-the-art, 3-D scanning FaroArm technology they were able to secure the surfaces and dimension points of the new project. From there, using the obtained data as a base, they crafted one of their signature chassis, incorporating all of the dynamics required to meet individual plan needs.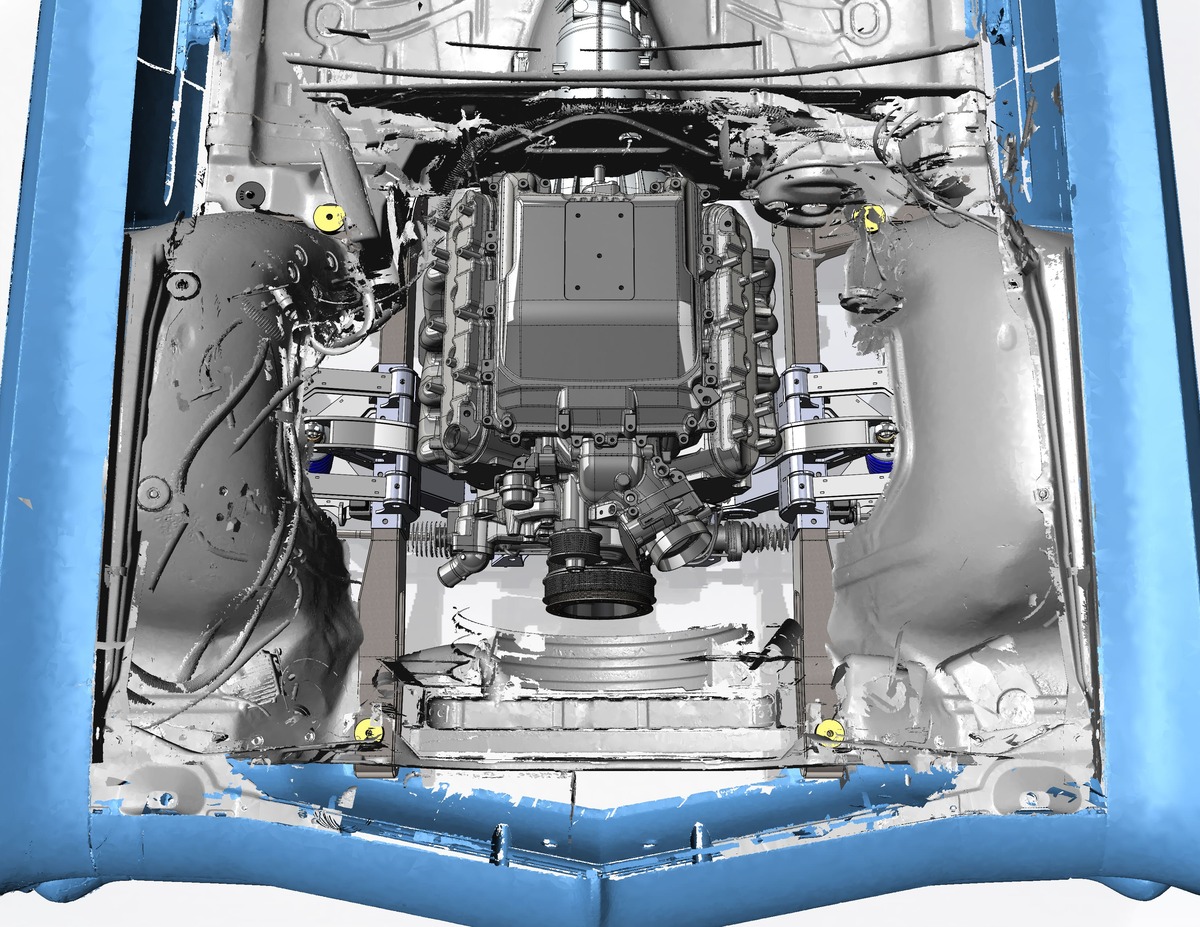 Building the REVO IFS Stage III chassis started with hand-fabricated 10-gauge boxed framerails with CNC-located factory mounting points for body, bumpers, and core support as well as custom crossmembers for absolute strength and stepped front and rear 'rails for a lower ride height. Out back, a Strange Engineering 9-inch rear packs 31-spline axles to spin matching 3.50:1gears with Detroit Truetrac. It's all suspended in place by a large-diameter triangulated four-link combined with a 1-inch through-frame splined sway bar and AFCO single-adjustable Pro-Touring coilover shocks. For razor-sharp handling, RS exclusive upper and lower tubular control arms are deftly matched to Wilwood forged ProSpindles with AFCO single-adjustable Pro-Touring coilover shocks, 1-inch through-the-frame splined sway bar, and front-mounted power rack-and-pinion steering. If speed is your game then you'd better plan for stopping in an instance. A Bosch electric brake master, modified at Rad Rides by Troy to work in a modern muscle car (and custom-mounted to the firewall by CCC), pushes fluid through stainless lines to Baer Pro+ 14 brakes featuring 14-inch cross-drilled and slotted rotors with six-piston calipers at each corner. To maintain tradition with a perfect vintage look is a set of custom Forgeline OE1 Heritage-Series three-piece wheels, sized 20×9.5 (front) and 20×10.5 (rear) wearing Nitto NT555 G2 rubber with red-line accents (produced by Diamond Back Tire), sized P275/35-19 (front) and P295/35-20 (rear), respectively.
When it came time to update the original small-block with a wicked kick, a call was placed to Don Hardy Race Engines of Floydada, Texas, for one of their fire-breathing 376ci supercharged LSA V-8s. A Chevrolet Performance LSA aluminum block with six-bolt, cross-bolted main caps was massaged to perfection and packed with a forged steel LSA crank with eight-bolt flange linked to Lunati 4340 forged steel H-beam rods wearing Diamond LSA forged aluminum pistons. A custom Don Hardy cam sets the beat while their exclusive CNC-ported LS3 aluminum heads make seamless power. Up top, a Holley Dominator EFI system matched to 85-pound injectors delivers the final punch through a 1.9L Eaton TVS supercharger with four-lobe high-twist rotors sealing the deal. LS7 coils light the fire with spent gases dumping through Hooker exhaust manifolds to a 3-inch stainless exhaust with MagnaFlow mufflers by CCC. The goods move through a built GM 4L80 trans with Circle D 2,800 stall converter by Accurate Transmission of Hartford, Connecticut, to a custom driveshaft. It's all good for a tire-shredding 850 hp when called into action. Other cool bits include a Moroso oil pan, 20-gallon stainless tank from Rick's Hot Rod Shop, Billet Specialties LSA Tru Trac serpentine system, and custom-mounted classic small-block Chevrolet valve covers by Don Hardy.
When it came to addressing the body the formula was simple, leave it alone, including the mismatched paint on the lower quarters. The well-preserved exterior wears its patina well, allowing Cerce and team member Noah Raposa to instead focus on other details, like fitting the updated driveline in place. To make it look like a seamless factory install they got busy by first completely smoothing the firewall, followed by fabricating widened inner fenders along with a custom trans tunnel, completing it all with a flawless coating of satin black. Underneath, the car was stripped and treated to a spray of bedliner for durability, seeing as the car would see plenty of hard-core miles.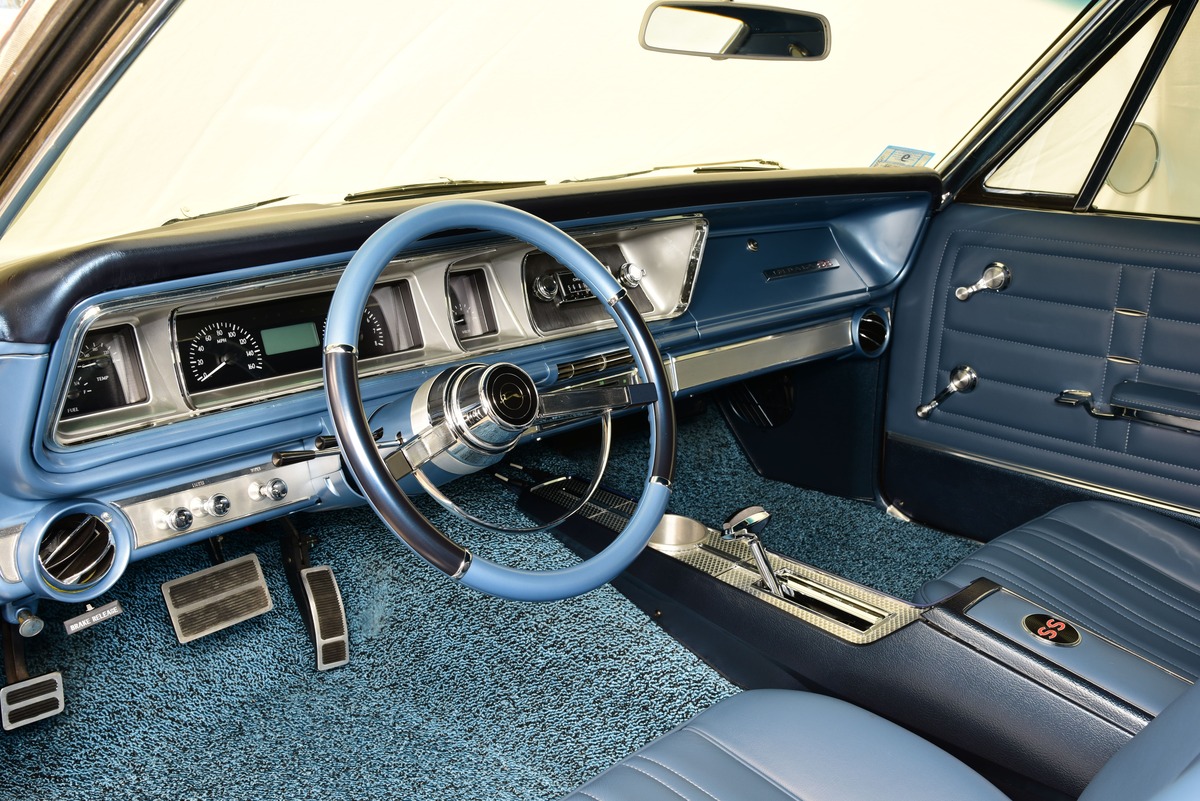 Peering into the interior seems like it's bone-stock, however there's a twist. First the factory dash was freshened up by the CCC team who also added Dakota Digital VHX gauges to monitor the vitals while an American Autowire kit installed by Brandon Martins brings it all to life. A custom one-off steering wheel from CON2R mounted to a Flaming River tilt column adds elegance, while shifts move through a floor-mounted console unit. To bring the look of a factory interior to the next level, Vintage Stitch of Bristol, Wisconsin, masterfully stitched up a winning combination, recovering the stock seats and panels in light blue leather accented by a custom headliner and complementing German square-weave carpeting.
This is one wicked ice cream cruiser built for plenty of performance and family fun and we dig it! MR