Art and Craig Morrison Tell Us How They Got Their Chassis Company to Where it is Today
By Gerry Burger – Photography by AME
When speaking with owners of a successful hot rod business I often ask, "What was your first car?" At last year's Shades of the Past event I was fortunate to have dinner with Art and Craig Morrison (along with fellow automotive industry folks like Vintage Air's Rick Love, John McLeod of Classic Instruments, and our own fearless leader, Brian Brennan). Anyone who has been involved in the race car or hot rod universe knows the name Art Morrison and the company Art Morrison Enterprises (AME). To say I joined an enthusiastic group would be an understatement.
While the company is known today for their world-class chassis and suspension components, there's a colorful history behind the company. That history began in 1963 when 15-year-old Art bought his first car, an Olds-powered 1930 Model A coupe. As it turns out, the Olds motor was less than healthy so Art and a pal went to the local boneyard and scored a Buick Nailhead coupled to a three-speed tranny. That weekend Art performed his first engine swap, including welding up motor mounts with his trusty Lincoln buzz box. The Model A served him well for a couple years but was replaced with a 1954 Chevrolet. By 1965 Art was out of school and the anemic six-cylinder was replaced with a 425hp big-block Chevy coupled to a four-speed. The front suspension was unbolted and replaced with an I-beam straight axle from a postwar Ford. While still street legal, the old Stovebolt spent weekends at the dragstrip, running impressive times in the mid-12s at 118 mph.
Art's timeslips were replaced with a draft notice and after two years in the Army, including a 13-month tour in Vietnam, Art was discharged on his 21st birthday.
In 1969 he met Chuck Poole, owner of the famed Chuck Wagon wheel standers. In the late '60s no major drag race event was complete without some quarter-mile wheel standers. The duo hit it off and by 1970 Art was wheel standing a nitro-sipping big-block–powered VW pickup. This brought Art into the realm of professional drag racing and before long he was repairing and improving race cars and also driving and subsequently crashing a wheel-standing AMX. That top end crash made him and his wife, Jeanette, reconsider his career path, as she was trackside to witness the crash. Art hung up his race helmet and decided to make a living wearing a welding hood. He was still working out of his dad's 30×60 former carpentry shop located next to the house. By 1972 Art was building race cars for customers, mostly "door slammers" in the modified production classes. Building record-holding race cars under the A M E banner created a steady stream of customers.
In 1975 Craig Morrison was born, the same year AME began building rear-engine dragsters. Once again, record-breaking runs in the sportsman classes resulted in AME building over 130 complete rolling dragsters. The 30×60 shop was too small for this level of production. In 1978 AME moved to a new 8,000-square-foot facility. By the time Craig was 10 years old he was working around the shop after school and summers doing everything from cleaning up to learning how different tools and machines worked. Craig continued working at the shop summers while attending the University of Washington; upon graduation he joined the family business.
By the '90s two things were happening: drag racing was becoming more and more a professional sport and the little guy drag racer was fading from the scene. However, the Pro Street movement was underway and AME answered the call by using their race car knowledge to build Pro Street cars. The company was transitioning from building cars to mail-order component sales. The components and suspension sub-frames were popular, but while working shows Craig fielded steady requests for a complete chassis.
The decision was made to build a complete frame, and since the Tri-Five Chevy was (and still is) a robust market, they decided to build a chassis and roll it under Art's own 1955 Chevy. An engineer handled the reverse engineering of the frame so everything from the body to motor to the bumpers would perfectly bolt in place. They then drove the car from Tacoma, Washington, down to Southern California for a competition, including skid pad, autocross, drag race, and braking. Art's 1955 Chevy performed on virtually the same level as a C5 Corvette, a level of performance unheard of at the time. (That sound in the background is the phone ringing at AME.) The complete replacement chassis part of the business was underway (to date over 1,600 Tri-Five Chevrolets now rest on an AME chassis). Today AME can manufacture a complete chassis for virtually any car through CAD design and engineering. The more popular cars, like the C1 and C2 Corvette, Ford and Chevy trucks, Camaros, Chevelles, and 1959-1961 Chevrolet (and the list goes on), have dedicated fixtures to meet demand. AME also has street rod chassis for Ford and Chevy from 1935 to 1948 and the ever-popular Pro Street Willys. Building all of these engineered chassis takes room and a company that began in a 30×60 garage recently moved into a new 80,000-square-foot facility directly across the street from the earlier shop. Their latest line of GT Sport chassis has proven to be wildly popular and AME will design the chassis to fit your needs, from street cruiser to straight line performer or road course track days.
At AME they address the shortcomings of vintage automobiles and set about improving the ride, handling, and overall safety of a vintage car with updated engineered suspension, steering, brakes, and chassis. Professional shops across the country regularly use AME chassis, and buying a complete roller frame makes things very easy for the homebuilt hot rodder. While AME sells a full line of bolt-on upgrades and weld-in subframes there is no doubt the complete chassis is what made AME famous. The craftsmanship on every AME product is truly amazing and the manufacturing process is state-of-the-art.  Just check out their website or catalog to see the range of frames and products they offer.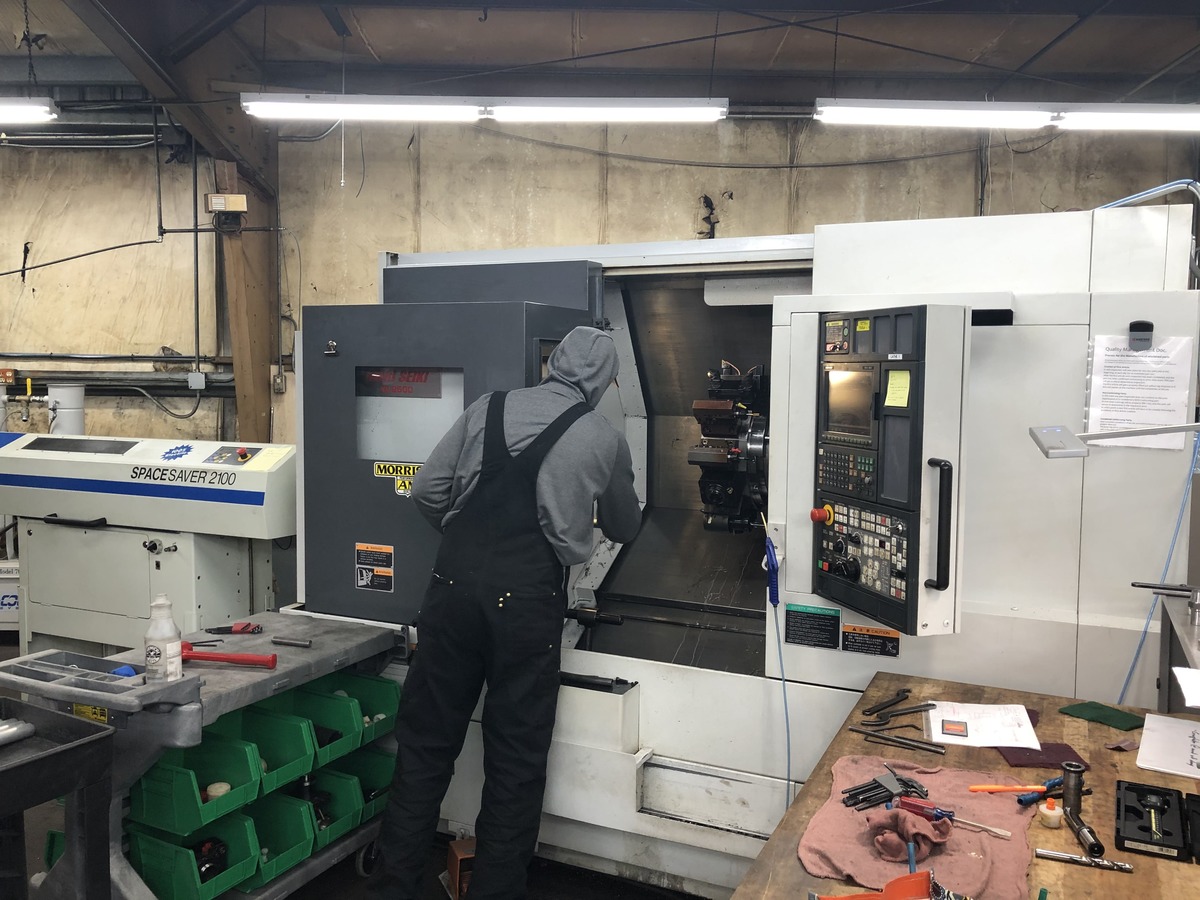 Dinner was over, including the obligatory walk to the ice cream shop. The several hours bench racing with Art and Craig Morrison was pure fun, with plenty of laughs and car stories. At the end of the day it was obvious these two gearheads still have an abundance of enthusiasm for hot rods, and that may be the biggest asset for any hot rod company. MR
Side Bar
AME Chassis Products
Another very popular offering from AME is the replacement chassis for the C1 and C2 Corvette. A closer look at the C1 unit reveals a formed and welded chassis using 2×4 framerails and X-member. The frame offers some Corvette DNA in the form of C6 front control arms while out back you have the option of a 9-inch Ford rearend or the AME multi-link IRS suspension. It would be hard to resist a C1 with four-wheel independent suspension and once again it can be as simple as lifting your body off the original frame and bolting onto the AME chassis.
Let's face it, trucks are hot, particularly '60s GM and Ford pickups, but AME has you covered from 1947 to 1972, and, of course, they can do other years and models on request. We took a look at the popular 1967 to 1972 C10 chassis. This proved to be a real challenge for the engineering department since trucks mean different things to different people. From boulevard cruiser to hauling a race car in an enclosed trailer, trucks must be able to perform a multitude of tasks. Due to the strength requirements, the main framerails are formed from 2×6 rectangular tubing. Forged Wilwood spindles are found up front while out back you can choose between a 9-inch rearend located by a beefy triangulated four-bar system or you can opt for the IRS. Like all Morrison GT Sport chassis, they are completely engineered with tunnels for oversized exhaust systems and ample room for headers, radiator mounts and motor mounts for your engine.
Speaking of headers AME offers headers that fit their frames perfectly and you can also purchase everything from Wilwood brakes, to brake lines, full roll cages, to rod ends, and fabrication components. If you prefer to add a front or rear subframe to your existing frame, AME can supply you with a subframe that is engineered for your specific year and model car. In short, if it is a chassis or attaches to a chassis AME has the products you've been trying to find. MR
AME
(800) 929-7188
www.artmorrison.com
In The Shop: Art Morrison Enterprises