At a time when most kid's head home from school hoping to squeeze in a few hours of  bike riding, JP Koop of Hudsonville, Michigan, was shoulder-to-shoulder with his dad learning about the families extensive car collection. It was there that JP grew to appreciate the finer points revolving around design elements and engineering built in to all of the 30-plus marques his dad owned including those from Packard and Ford to name but a few. With a grouping that spanned many decades of both cars and trucks, everyday was a learning experience.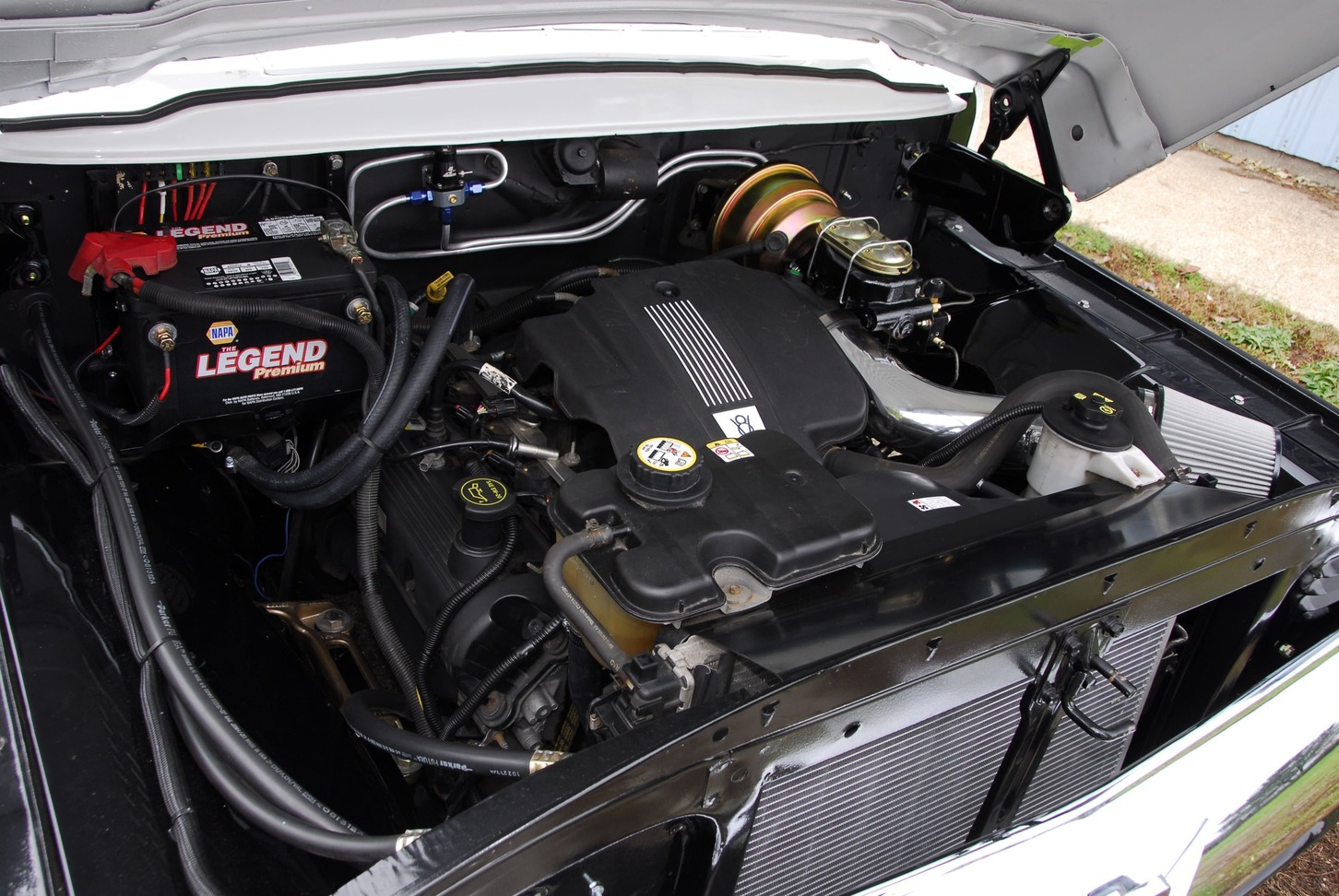 Once earning is license, he hit the streets behind the wheel of a 1969 Ford Mustang filled with a 428ci mill, spending plenty of nights cruising through the Holland and Lake Michigan areas to check out the scene. Along the way there was also plenty of time spent watching many of the legendary driver's burn nitro at Martin's US 131 Dragway to see who would dominate the strip. Through the years JP gained a deep appreciation for trucks both in the collection and through the family business. He eventually restored a number of them including a 1952 Ford F2 4-wheel drive pickup with a Marmon-Herrington conversion as well as a 1966 Ford F100. Having grown up on the restoration side of the hobby he longed to take on a build on the custom side where he could infuse any number of cool elements to make it his own.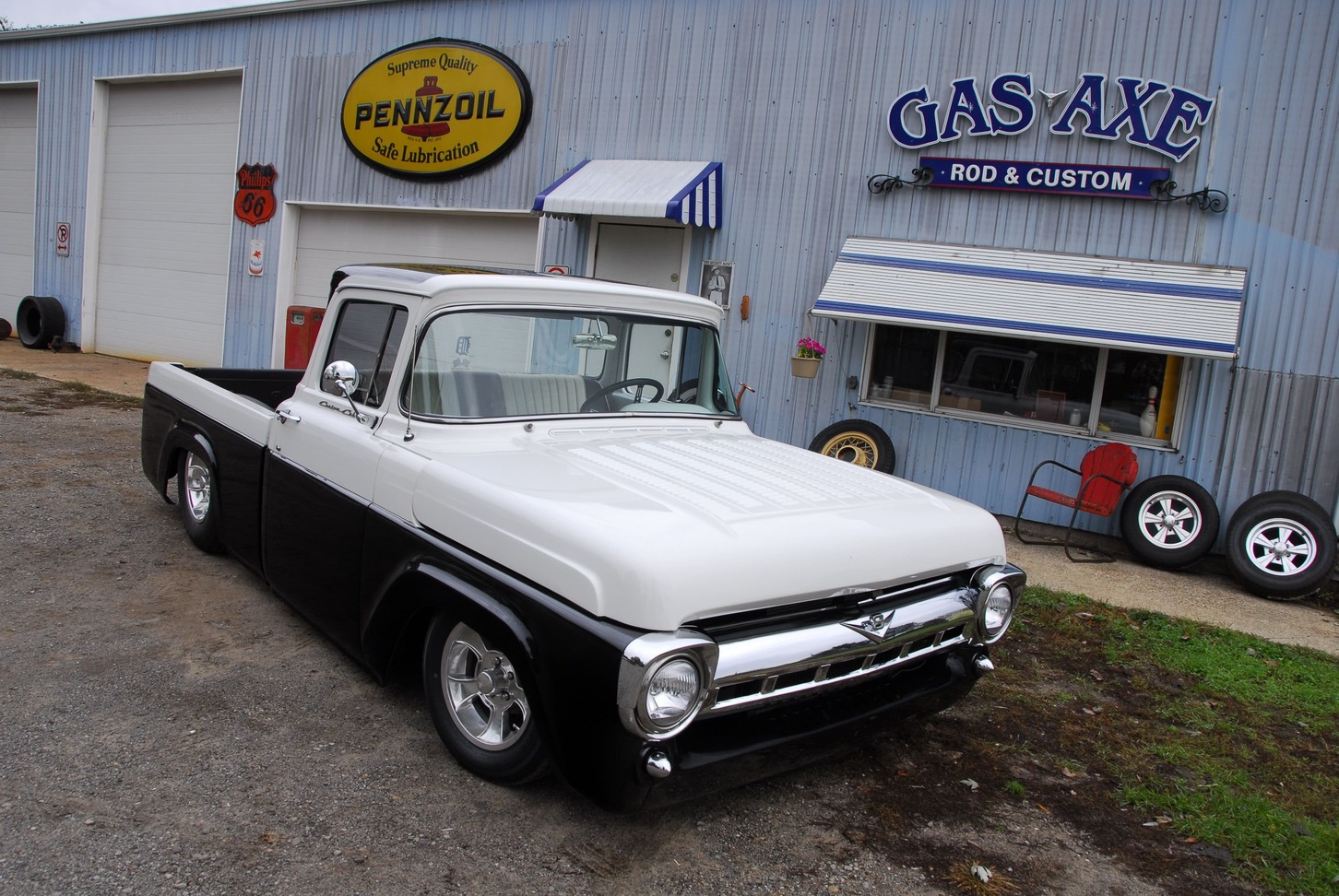 JP made the decision to start a search for a 1957 Ford F100 seeing it was the first year of the third generation of the F-Series trucks packed with a fresh new look and mechanical updates. He eventually located a rust-free model in Arizona that would be a perfect candidate for the build. Without wasting anytime he swapped cash for the keys and had the truck shipped to his home shop for evaluation. To discuss ideas for the build he contacted Mike Boerema of Gas Axe Garage in Allendale, Michigan, since they had worked on previous projects together. The pair shared many of the same ideas on just what it would take to give the truck a wicked stance combined with modern power while also showcasing the trucks classic lines.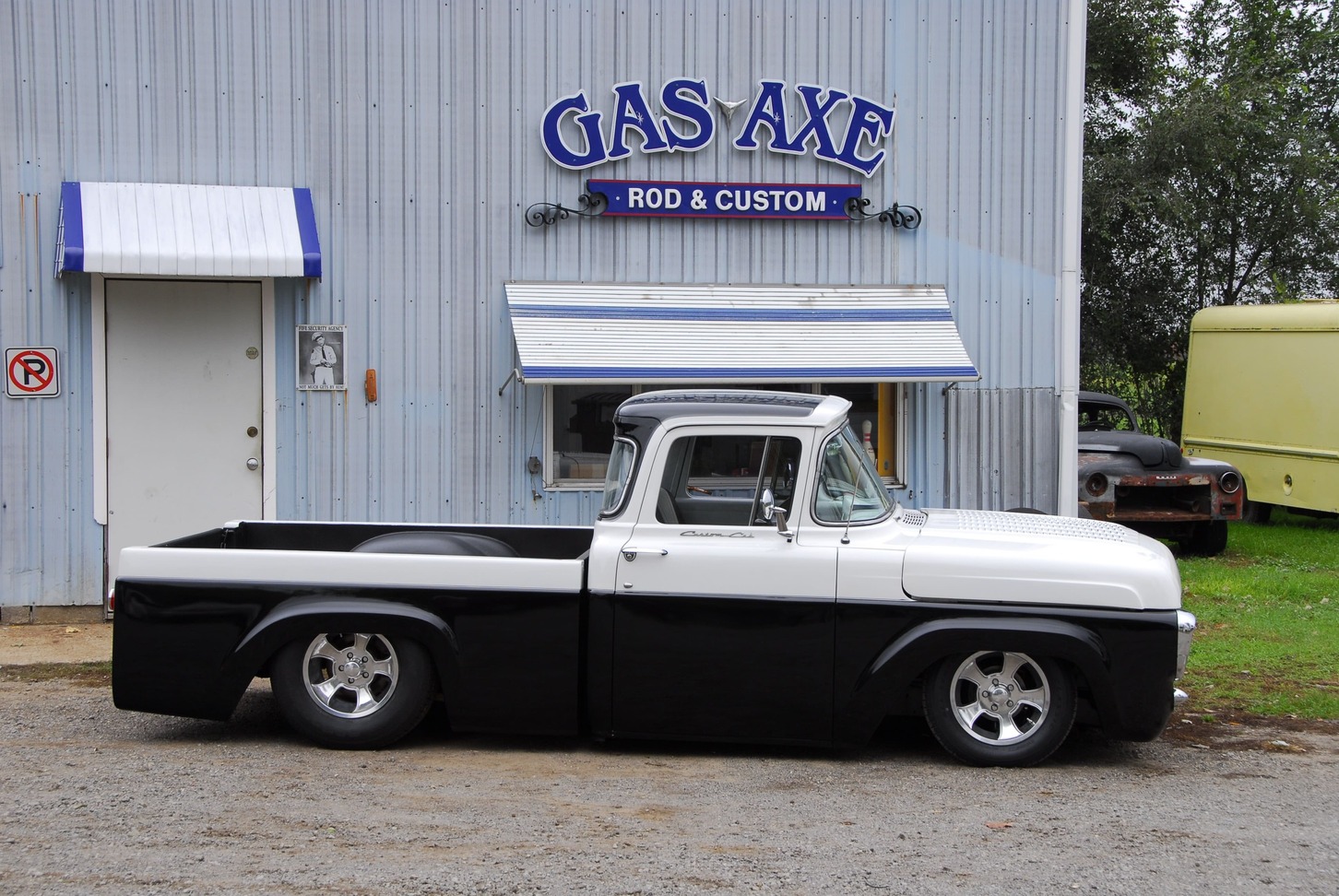 The team at Gas Axe wasted no time in tearing down the F100 to get started. Since the original frame was rock-solid, it was blasted clean and Z-d 6-inches out back to set the new stance.  A 2005 Ford Crown Victoria 8.8 rear packed with 3.55 gears was set in place by a custom 4-link and Panhard bar combined with Air Lift 'bags. For razor-sharp handling, a refreshed 2005 Ford Crown Victoria IFS was grafted in place complimented by 2-inch drop spindles and Air Lift 'bags matched to an Air Lift AutoPilot V2 air management system to control the ride height. When it's time to drop anchor, a Summit Racing dual master pushes juice through steel lines to Ford 11-inch rear and 9-inch front vented discs with 2-piston calipers. Linking it to the street are 15-inch Rocket Racing Injector-series wheels capped with BFGoodrich rubber for a truly classic look.
It was important to fuse plenty of power and dependability into the build seeing the truck would experience plenty of road miles. A warmed-over 2005 4.6L Ford Crown Victoria Police Interceptor V-8 was transplanted between the 'rails to make a statement. The engine features all the right bits starting with a cast iron block packed with a cast iron crank matched to cracked powdered metal rods topped with hypereutectic aluminum pistons getting bumped by a factory stick. Aluminum heads make seamless power breathing through the stock intake topped with Sequential Electronic Fuel Injection (SEFI). Factory electronic coil-on-plug ignition lights the fire with spent gasses dumping through stock exhaust manifolds to a custom 2 ½-inch dual exhaust with Flowmaster mufflers. To move the power, a Ford 4R75W trans links to a custom driveshaft from D&R Driveline.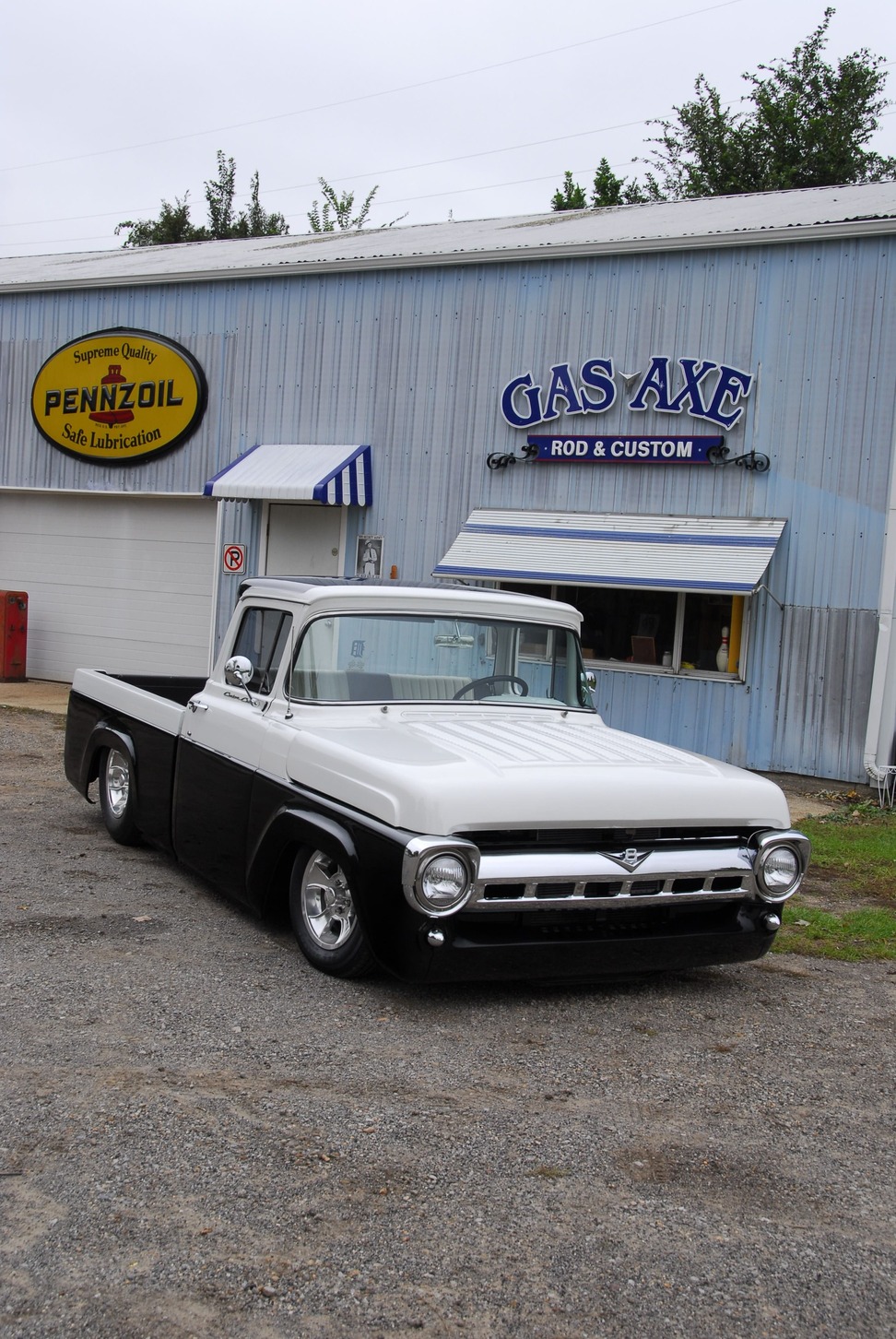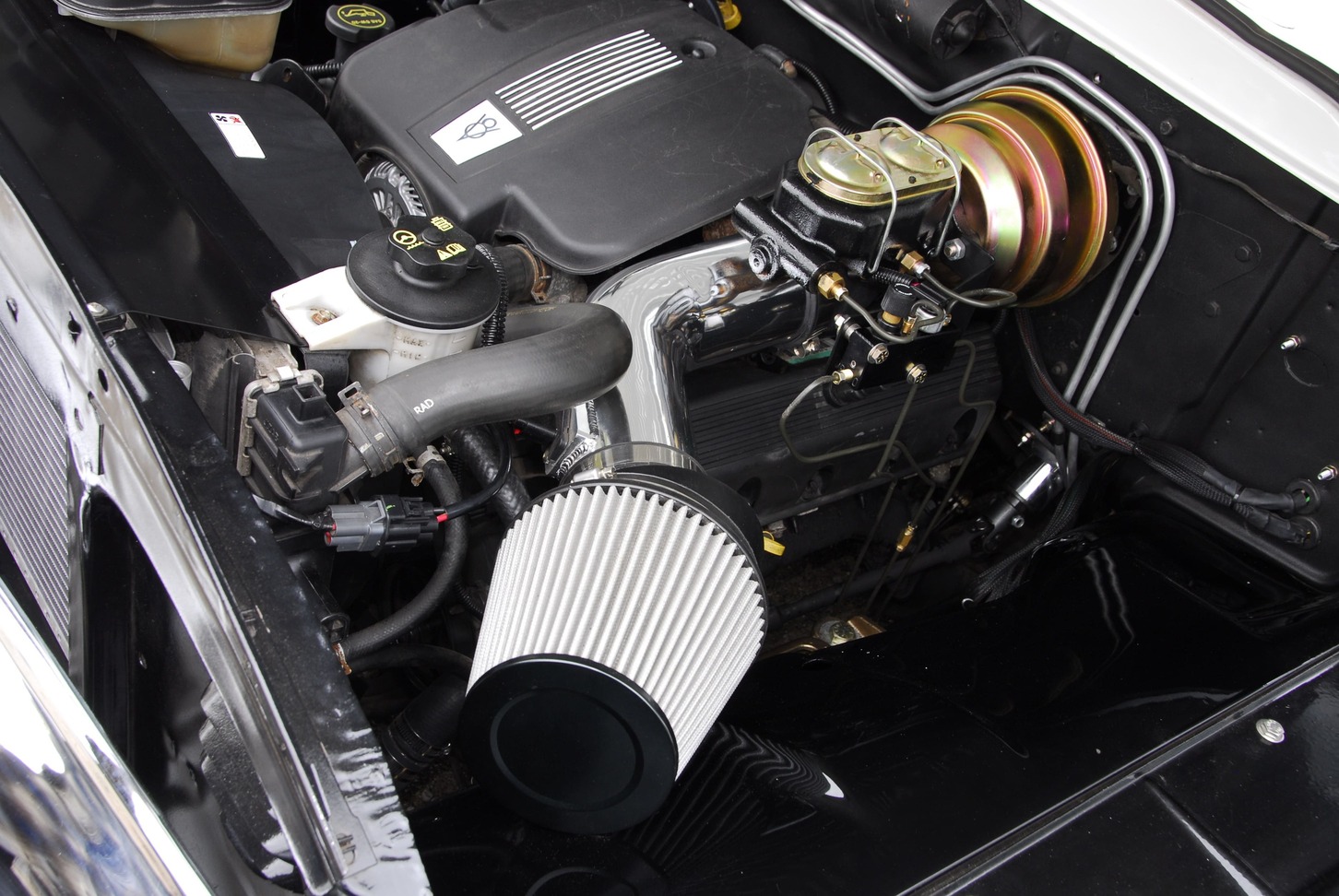 Starting with a clean rust-free body is always a plus in keeping repairs to a minimum, allowing you to concentrate on custom updates. Dialing in the vibe started with a shaved and louvered hood and tailgate as well as shaved bumpers and finished with '56 Pontiac taillights. Ted Aguilar of Walker, Michigan, worked his magic by metal finishing everything to perfection while also setting the gaps. He followed by laying down a seductive coating of PPG Tuxedo Black and pearl white to bring it all to life. Inside the stock dash packs Dakota Digital gauges to monitor the vitals while a GT Performance, GT3 Retro steering wheel meets an ididit tilt column and shifts click though a unit from Lokar. Vintage Air adds a refreshing breeze accented by tunes from JVC. For comfort, a ½ ton Chevy truck bench seat was modified to fit and covered by traditional pleats in black and white vinyl by Rex "Moon Dog" Parsons of Grand Rapids who also stitched up the accenting side panels and black loop carpeting. This F100 packs great looks while seeing plenty of miles and to us that's as cool as it gets!