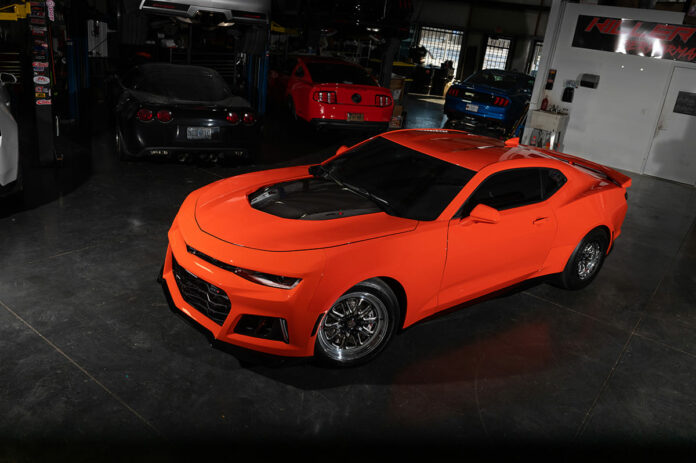 Justin Keith's 2019 Camaro
By Nick Licata – Photography by Grant Cox
Justin Keith knows what it takes to make horsepower in a late-model muscle car—he's been upgrading his rides for over 17 years and he's co-owner of Street Car Takeover, a 19-race drag racing series that features classes from insane Street Outlaw to Daily Driver Mild 12:00 Index Class. He's also the founder of Killer Performance KC, a shop out of Grain Valley, Missouri, that specializes in high-performance, late-model domestic cars. Suffice it to say, Justin is in the mix when it comes to building kick-ass street cars and straight-line racing. He credits growing up among the local Kansas City car community as the seduction—the lure that got him hooked on the car culture.
When we first met Justin he was throwing down a bunch of hurt in a 2017 ZL1 Camaro with a ProCharger supercharger. He made a bunch of noise and was having a blast with that car for a couple years, but when GM announced that Crush, a color about as close to Hugger Orange as you can get, would be available for the 2019 Camaro, he was all over it. He sold the 2017 Camaro to make room for a spanking-new 2019 model.
Although Justin was enticed by the color, his main motivation was to go out and set the stock ZL1 Camaro supercharger quarter-mile record. But let's back up a bit. Who in their right mind would take a new car with a scant 500 miles on the odometer and tear into the engine and start swapping heads, change blower pulleys, and the low side fuel system to support copious amounts of E85? That would be Justin, and he did so in a matter of two weeks. In that slender amount of time, those mods brought the car up to 850 hp. In fact, the first time at the 'strip, the car delivered a 9.67 e.t. at 143 mph all while carrying that "new car smell." Sure, that was nice and all, but Justin had his sights on breaking the record–that was the goal. Finally, on August 7, 2019 at Maryland International Raceway, the car went 9.50 at 144–the new quarter-mile record was his. "To this day, that's the most memorable moment I've had with the car," Justin expressed.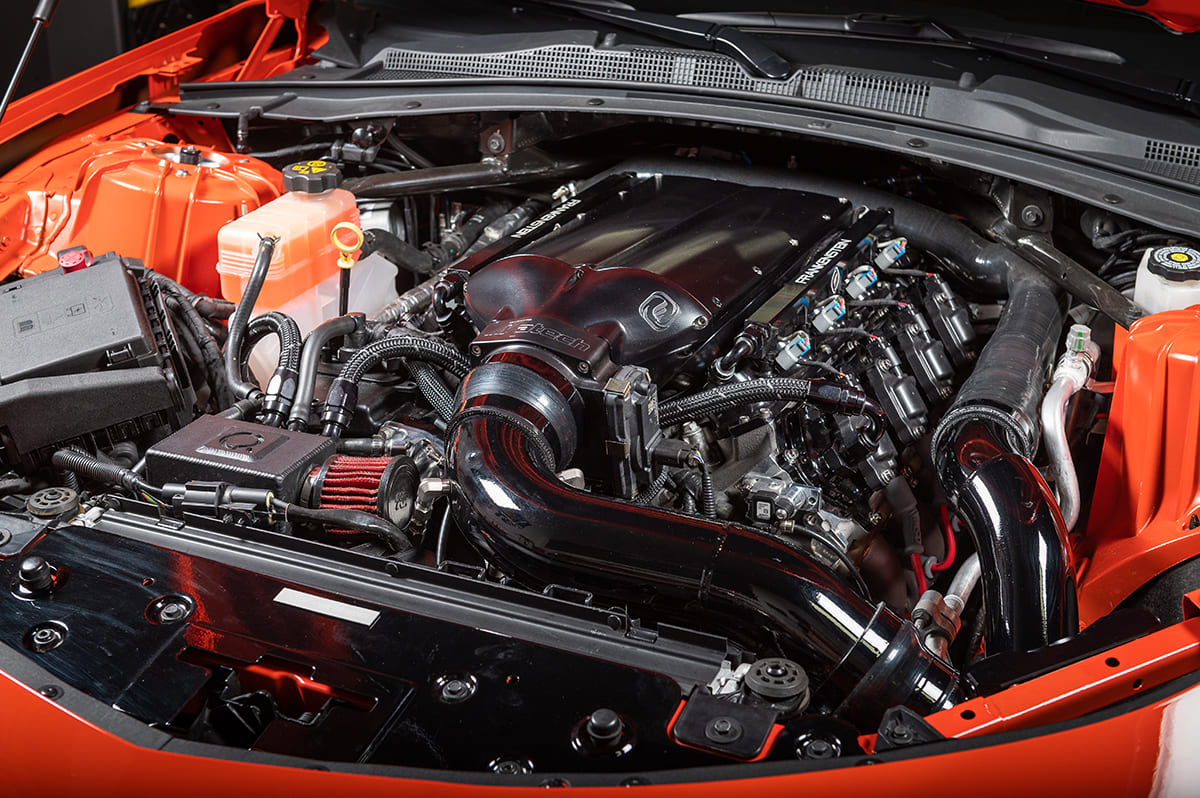 With Justin being the typical hot rodder, he got used to the power–he got complacent, so it was time to up the car's game. Justin got with his crew at Killer Performance KC, discussed a plan, which led them to pull off the supercharged combination and come back with a twin-turbo setup from Comp Turbo Technology. Once again it was no small feat, as Justin enlisted Late Model Engines (LME) out of Houston, for a sleeved, 2020, 390ci LT4 bullet armed with the goods to handle every bit of the 1,400 hp and 1,100 lb-ft of torque the powerplant produced. The whole gestation took just about two months, and the first time at the track on 18 pounds of boost (it can safely take 30-plus pounds), the car busted out a best quarter-mile blast of 8.64 e.t. at 157 mph! "At this point, we are still dialing in the 60-foot times," Justin reveals. "So, we'll add more boost as we go along."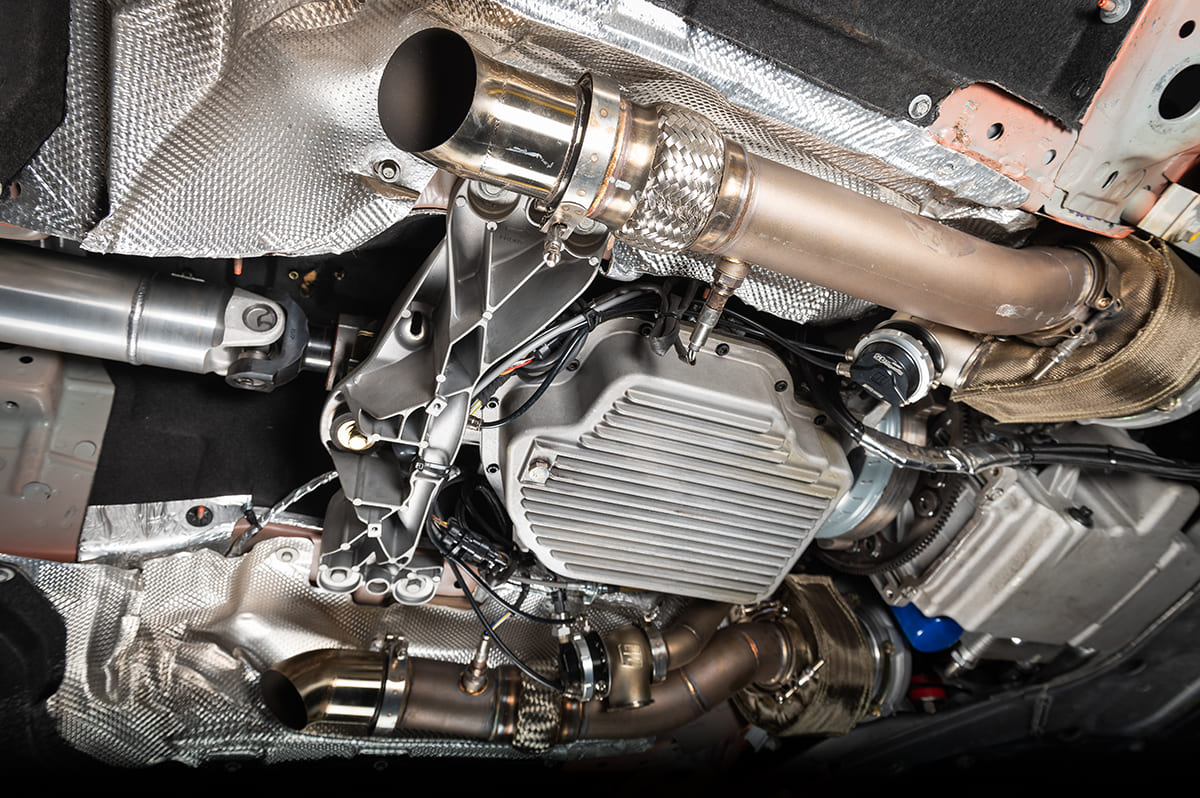 An RPM Transmissions TH400 trans and Circle D Specialties torque converter effortlessly manages the grunt delivered by the healthy LT, which sends twist to the GForce Performance Outlaw axles via a GForce carbon-fiber driveshaft. B&M deals with shifting chores, and amazingly, the stock rearend armed with 2.85:1 cogs still holds up its end of the bargain.
Beyond the Menscer Motorsports springs and shocks up front, the factory suspension remains, including the stock Brembo six-piston calipers and 16-inch rotors. Out back, Justin dialed in Menscer Motorsports shocks and springs and brought on a set of CarlyleRacing brakes consisting of 13-inch rotors and four-piston calipers.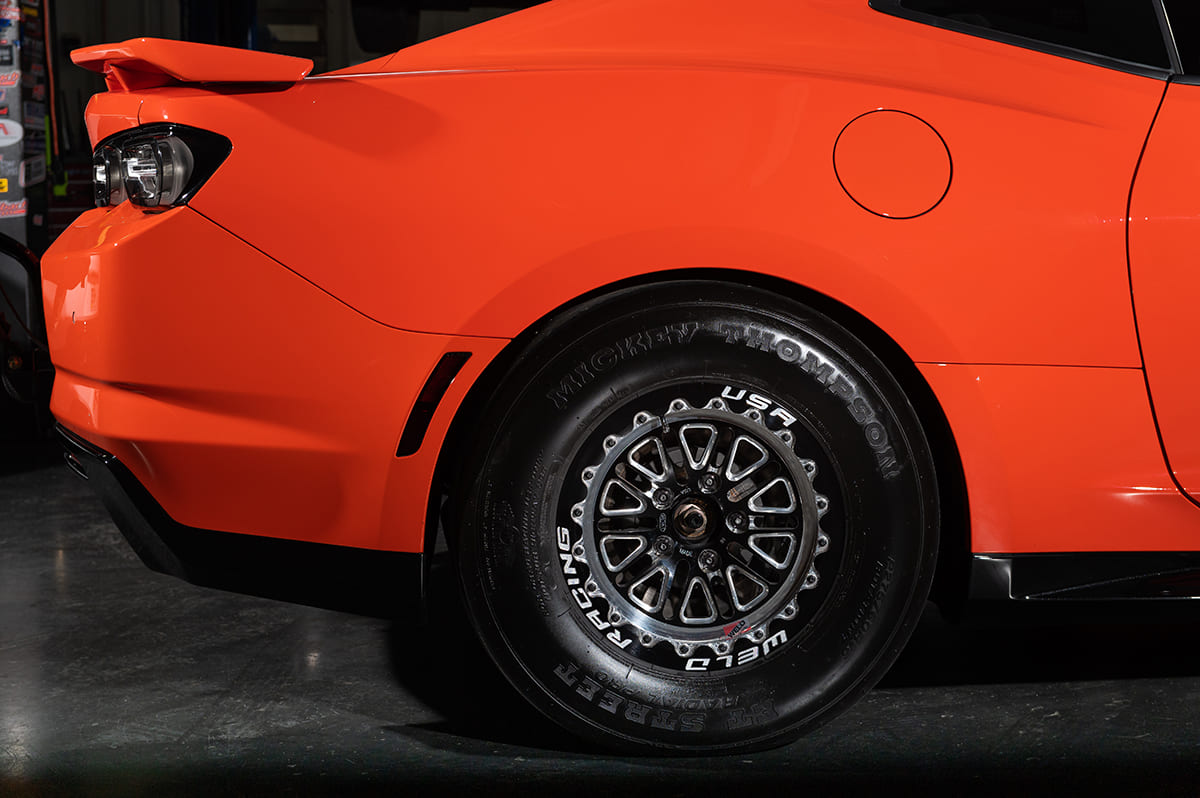 Weld S72 wheels (18×5 front, 15×10 rear) add a bunch of style to the Camaro, and the smaller-diameter rear wheels provide a suitable base for the substantial sidewalls of the 275/60R15 Mickey Thompson 275 Pro rubber out back, while the less-demanding front wheels source MT 28x5x18 rubber.
"To me, the late-model ZL1 Camaros are a great bang for the buck, Justin states. "Off the showroom floor they make decent power, they look great, and it's a car I regularly drive on the street. It still has the stock rearend, full factory interior, good tunes, and kick-ass air conditioning that blows super cold air. It's just a great car; there's not much more I could ask for. Sure, I could have bought a vintage car and spent a lot of time and money fidgeting with paint- and bodywork, and a bunch of costly interior modifications to make it look cool, but with this car, all my effort went straight to performance. The only interior modification is the eight-point RPM rollbar we installed for additional safety and to comply with track rules and regulations for the 8-second times the car runs."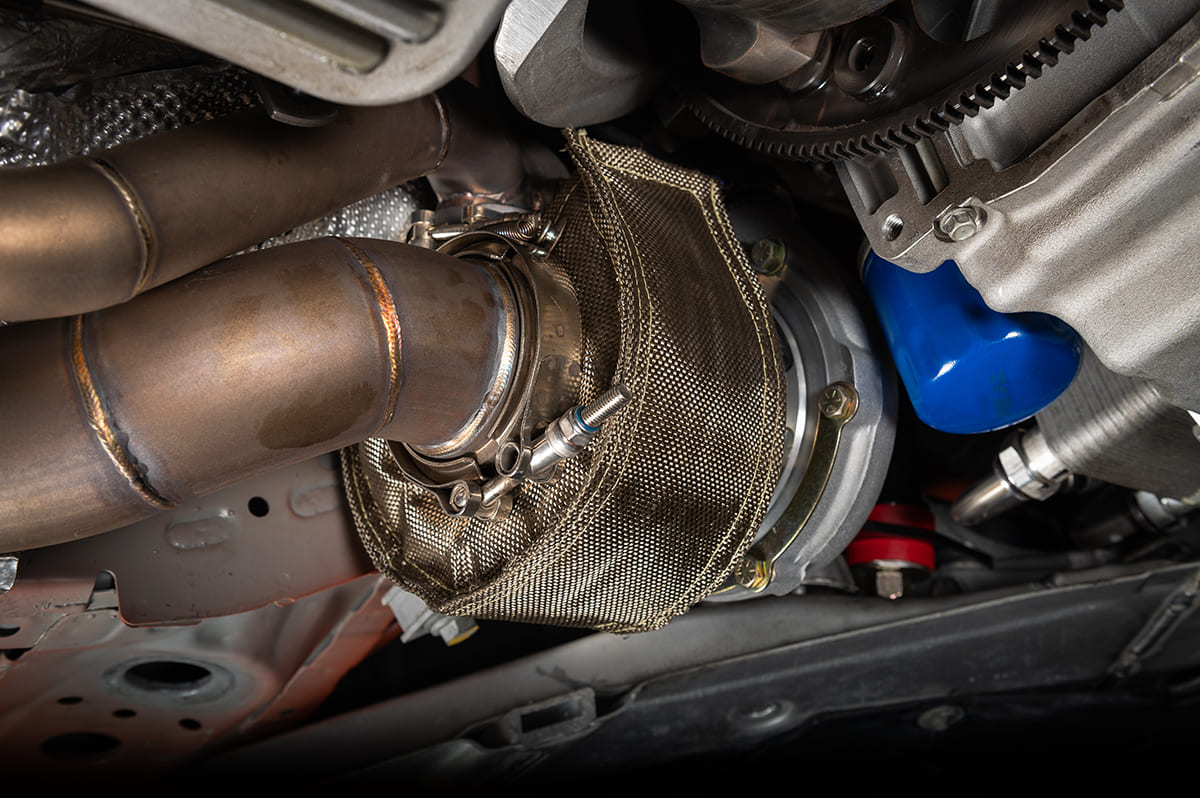 When we asked Justin if he would have done anything different with the most recent power upgrade on the car, he quickly responded: "Yeah, if I had to do it all over again, I'd have used bigger turbos."
Something tells us Justin's ZL1 will be getting another boost in power at some point. It's the typical racer mentality – it's what car guys do.
ACP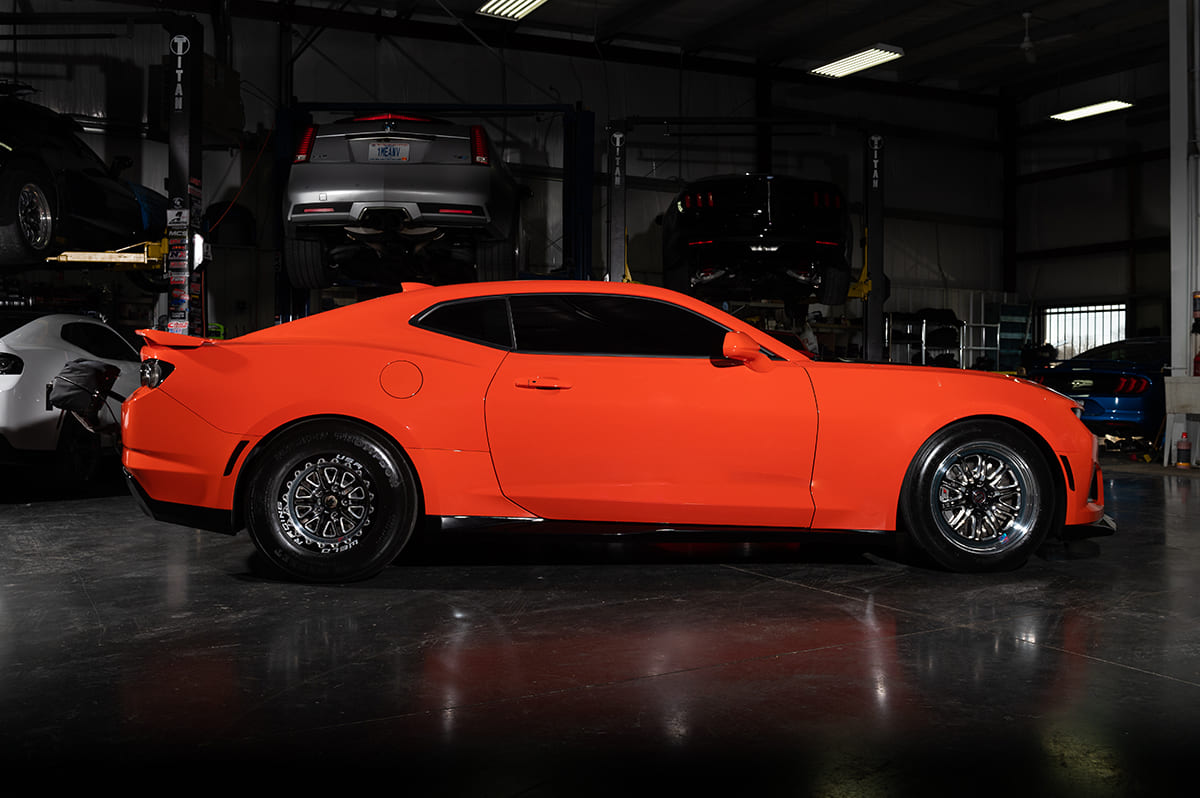 TECH CHECK
Owner: Justin Keith, Blue Springs, Missouri
Vehicle: 2019 ZL1 Chevy Camaro
Engine:
Type: LME-prepped Chevrolet LT4
Displacement: Sleeved 390 ci
Compression Ratio: 10:5.1
Bore: Stock
Stroke: Stock
Cylinder Heads: CID/LME Aluminum
Rotating Assembly: Callies Magnum crankshaft, Callies Ultra Billet connecting rods and Diamond forged pistons
Valvesprings: CID/LME
Camshaft: Futral Motorsports TT Cam
Assembly: LME
Induction: Frankenstein Billet Intake, Holley Dominator EFI
Power Adder: Comp Turbo Technology 6871 twin turbos
Exhaust: Huron Speed Headers, Huron Speed exhaust, no mufflers
Ancillaries: Holley ignition, Katech valve covers
Output: 1,400 hp, 1,100 lb-ft
Drivetrain:
Transmission: RPM Transmissions TH400 (Anderson, IN)
Torque Converter: Circle D Specialties (Houston, TX)
Shifter: B&M
Driveshaft: GForce carbon fiber
Rear Axle: Stock GM rearend, GForce Outlaw axles, 2.85:1 gears
Chassis:
Front Suspension: Stock with Menscer Motorsports shocks and springs
Rear Suspension: Stock with Menscer springs and shocks
Brakes: Stock Brembo 16-inch rotors and six-piston calipers, front; CarlyleRacing 13-inch rotors, four-piston calipers, rear
Wheels & Tires:
Wheels: Weld S72 18×5, front; 15×10, rear
Tires: Mickey Thompson 28x5x18, front; 275/60R15, rear
Interior:
Upholstery: Factory
Seats: Stock
Steering: Stock
Shifter: B&M
Parachute Handle: Motion Race Works billet release handle
Instrumentation: Holley EFI
Radio: Stock
HVAC: Stock
Rollcage: Eight-point RPM installed by Killer Performance KC
Exterior:
Bodywork and Paint: GM
Paint: Crush
Hood: Stock ZL1
Parachute: Stroud