This 1933 Ford Was Once Couped Up Since 1975
By Brian Brennan – Photography by Dale Moreau
Having spent a lifetime enjoying the car hobby from the curb, Jeff High (Shoreline, Washington) thought it was time to drive onto the onramp and have some fun of his own. In the back of his mind he knew there was a way to get involved and all it would take was a friendly family conversation. As it turns out his wife's uncle had a 1933 Ford five-window coupe tucked away in Grandma's garage since 1975.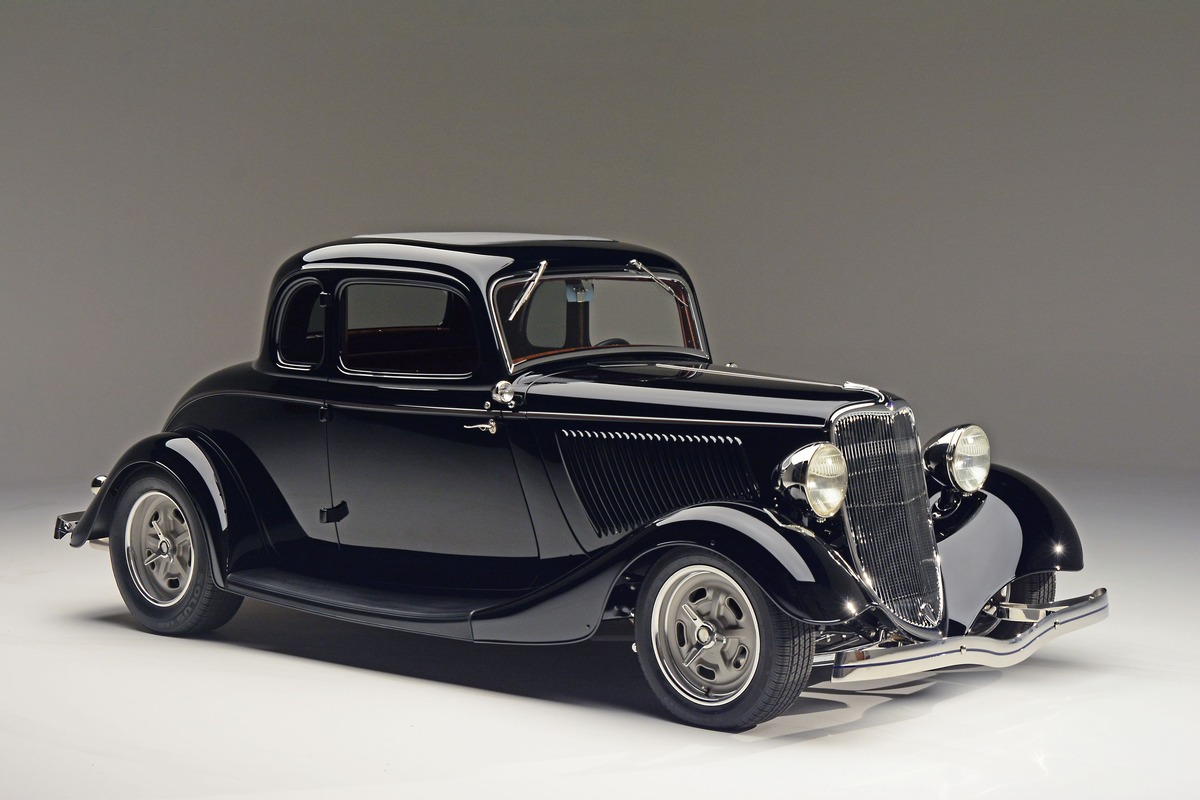 Jeff was able to purchase the neatly stored coupe in 2013 and thus began the journey toward turning this piece of original "Henry's Tin" into a modern-day street rod. The car was complete and required very little in the way of sheetmetal work to make it pristine. In fact, a few minor patch panels was all it took to make this stocker ready for primetime. We see the removal of the factory rear bumper and then replaced with one from a pickup. The body itself along with the grille, hood, fenders, running boards, headlights, taillights, cowl lamps, and trim are all original. It should also be pointed out that the car's original wood is still in use and the roof insert material is N.O.S. The exterior is painted in Henry Ford's favorite color: black. Today's modern paint comes from the mixing room of House of Kolor. Next up there's a beltline pinstripe laid down by Mitch Kim.
Exterior-wise the noticeable changes include the use of modern-day wheels and tires. At each corner you will see a recreation of the '40s-'60s era circle track and road race wheel. These E-T Wheels are the popular Sebring knockoff model wheel, measuring 16×6 in front and 17×7 in back, and are all wrapped with Kumho 195/55R and 235/65R rubber.
The fun in this hot rod begins under the sheetmetal (not that there's anything not cool about a stock-bodied five-window coupe) with Steve's Auto Restorations (SAR) seizing the stock 1933 frame and boxing the 'rails. Next up SAR hung the front and rear suspension, running brake lines, and sorted out other chores. Following along is the installation of a Super Bell chromed and dropped I-beam fitted with Pete and Jakes Hot Rod Parts (P&J) spindles, transverse leaf spring, chromed tube shocks, and a modified P&J front sway bar. Guiding this street rod down the road is a Vega steering box tied in with a Flaming River column while the braking responsibilities are handled by a Wilwood master cylinder and disc brakes (four-piston Dynalite calipers) located in the front and rear. In back is the traditional Ford 9-inch rearend (packed with 3.89 gears) positioned by coilover shocks, a P&J sway bar, and a pair of 7/8-inch mild steel tube ladder bars with urethane bushings at the front center pivot and adjustable clevises at the rear.
SAR dropped in a Ford Performance Parts 363ci crate engine with the latest Z2 cylinder heads (comes with either a front or rear sump pan) rated at 507 hp (6,500 rpm) and 450 lb-ft of torque (5,100 rpm). However, the focal point of this V-8 has to be the Autotrend EFI eight-stack system (thanks to Dave Ehrlich) feed through a Walbro electric fuel pump, which grabs the high-octane juice from the Tanks Inc. stainless steel gas tank. The heads are packed with stainless steel valves that measure 2.05 inch on the intake and 1.60 inch on the exhaust pushed into operation by 1.65 ratio rocker arms on 7/16-inch stud mounts. This pump gas motor is based on an iron Boss 302 small-block Ford package that's built using a Scat forged steel crank, forged I-beam connecting rods, and ARP hardware throughout. The hydraulic roller camshaft packs a potent 0.580-inch/0.602-inch lift. Other engine accessories include a Vintage Air Front Runner, a Powermaster starter, an MSD Pro Billet distributor, coil, wires, and MSD electronic ECU, Sanderson 1-½-inch tube headers with custom stainless steel exhaust and Porter mufflers, and Ford Racing Boss valve covers. The coupe is packed with its potent punch small-block Ford is that's backed up to a TREMEC TKO five-speed with an 11-inch clutch, billet flywheel, and the always-present Lokar shifter.
Equally as impressive is what's happening inside the "office." The original dash and garnish moldings are treated to a woodgrain effect through Juliano's Hot Rod Parts. The "eye candy" comes across through the use of Classic Instruments gauges placed within the engine-turned gauge panel. On the backside is the American Autowire Highway 22 Plus wiring kit that receives its power from the Optima trunk-mounted battery all wired by the staff at SAR. Other interior appointments include the Vintage Air A/C and The Wheel Shoppe banjo wheel on top of the Flaming River column. The stock and refurbished bench seat frame and springs are covered in maroon leather from the sewing machine of Dan Leisy of Dan's Auto Upholstery. Leisy also handled the carpeting effort with a wool blend and the headliner in a burgundy Nova suede. MR