This 1936 Ford Three-Window Coupe Makes its Own Mark
By Brian Brennan – Photography by the John Jackson
It's been uttered over and over that discovering the "how and why" someone builds their hot rod is oftentimes more interesting than the car itself. Here we have both—a great car and a great story. If there's one thing that we all have in common it's the miles we travel and the time we invest in finding the right project. In the end we should be so lucky to drive our "end result" as many miles as we traveled in our quest. And that brings us to this all-steel 1936 Ford three-window coupe.
Amadeo "Amie" Angelo from Drummond, Montana, is a cattle rancher by trade so long hours, hard work, and great distances are not foreign to his daily life. While enduing life's ups and downs, he's held steadfast to what he likes in vintage tin, a 1936 Ford coupe. (Tucked away in another barn are future projects, such as a 1940 Suburban and a 1938 Chevy cabriolet.) Again, like so many of us, he attended car shows most of his life but life doesn't always present the time necessary to "dig in." But the times, they're a changin' and the opportunity wasn't lost on Amie.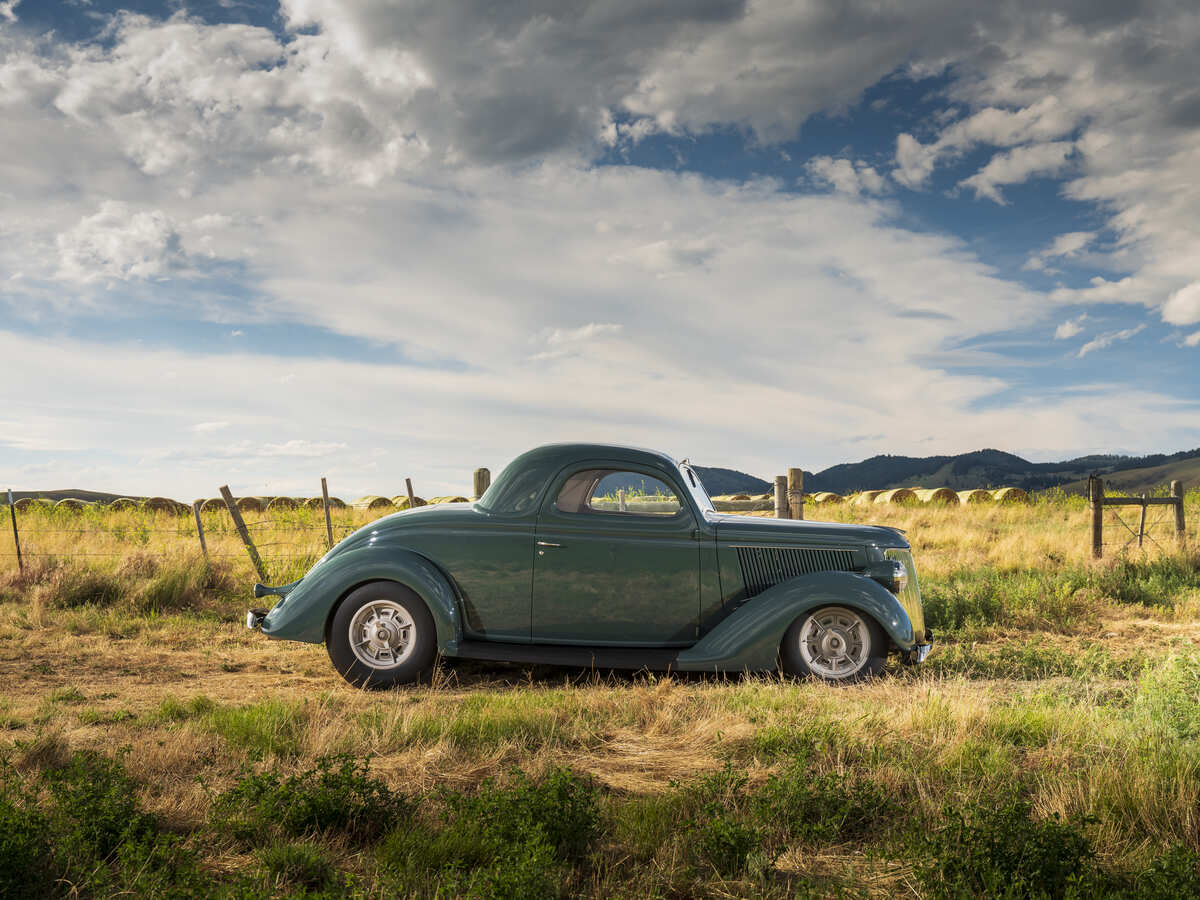 The search lasted about two years before Amie found the "right" car. He traveled from home to New Mexico then to Los Angeles and onto Sacramento where he located the perfect foundation for his new build. It's the ol' "friend of a friend" connection that brought him to the "correct" 1936 Ford coupe. As the story goes, the owner really didn't want to part with the coupe but six months of perseverance finally netted Amie the decisive weekend of negotiating when a deal was made and the coupe was brought home.
It was at this point in the journey when Ben York, of Roseville Rod & Custom (RR&C) in Roseville, California, entered and he and Amie linked up. York and his staff used their substantial talents and blended a Roadster Shop chassis, an ARDUN Enterprises V-8, and a beautifully massaged 1936 Ford coupe with just the right number of modifications to bring this hot rod to life.
The foundation for this 1936 Ford three-window coupe is based on a Roadster Shop 1935-1940 Ford REVO chassis engineered for optimal street ride and handling performance. It comes with the standard REVO IFS with drop spindles, splined sway bar, upgraded to Penske double-adjustable coilover shocks. The 57-inch-wide Ford 9-inch rearend (Detroit Truetrac limited-slip differential with 3.90 gears) is further enhanced with a triangulated four-bar setup, again Penske coilovers, and upgraded with a Roadster Shop sway bar. Both the front and rear are equipped with an enhanced brake package wrapped around Baer discs featuring 11-inch rotors and appropriate calipers. The frame was fitted with brackets to accept a blown ARDUN V-8, TREMEC TKO five-speed, clutch pedal, power brake booster and pedal, and plumbing package, which includes stainless steel brake lines. Steering is under the watchful turn of a Maval rack, which controls the rolling stock consisting of one-off EVOD wheels (reminiscent of '50s Indy racing), measuring 16×6 and 16×7 with Diamond Back Classics radial rubber measuring 6.00-16 and 7.00-16.
We mentioned an ARDUN Flathead V-8. That should get any hot rodder's beat to quicken and pique his curiosity. This isn't any ol' ARDUN-equipped Flathead, if there's such a thing, but rather the highly desirable V-8 from ARDUN Enterprises; now under the watchful eye of Don Jr. and Don the III. The Ferguson ARDUN project (picked up where the late Don Orosco of Monterey Speed & Sport had progressed) is based on an aluminum Flathead block (with enhanced main caps and deep skirts, for those wishing Flathead numbing power) and enhanced ARDUN heads (significant design modifications); ARP hardware is used throughout the engine.
ARDUN Enterprises is now replicating S.Co.T. superchargers, which, like the heads, look period-correct and the case is filled with today's technology and outfitted with 4-71 helical-cut rotors. You will also find one of these resting on top of Amie's 294-inch Flathead. The street version of the ARDUN-equipped Flathead produces about 1 hp per cubic inch unblown but with a S.Co.T. blower it can achieve another 50 hp with 5 pounds of boost. Amie's Flathead is moving in the direction of 400 hp and for a street Flathead that should provide plenty of excitement. Bolted to Zora Arkus-Duntov's creation is a TREMEC TKO five-speed from Modern Driveline, which also supplied the clutch, flywheel, and a handful of trans mods to make the package work.
The gas tank was supplied by Rick's Tanks as was the in-tank EFI pump. The exhaust is by way of RR&C headers featuring 1-1/8-inch tubes that link with a custom RR&C stainless steel exhaust system. SPAL supplied the 16-inch electric fan, Powermaster supplied the starter, and the custom alternator runs off the blower drive all masterfully handled by RR&C, which also made the custom air cleaner. Other appointments include the Autotrend EFI with a Holley HP ECU, an electronic ignition housed to look like a vintage magneto (possibly a Vertex), an MSD coil, cloth braided spark plug wires, while the "juice" is derived from the trunk-mounted Optima RedTop battery.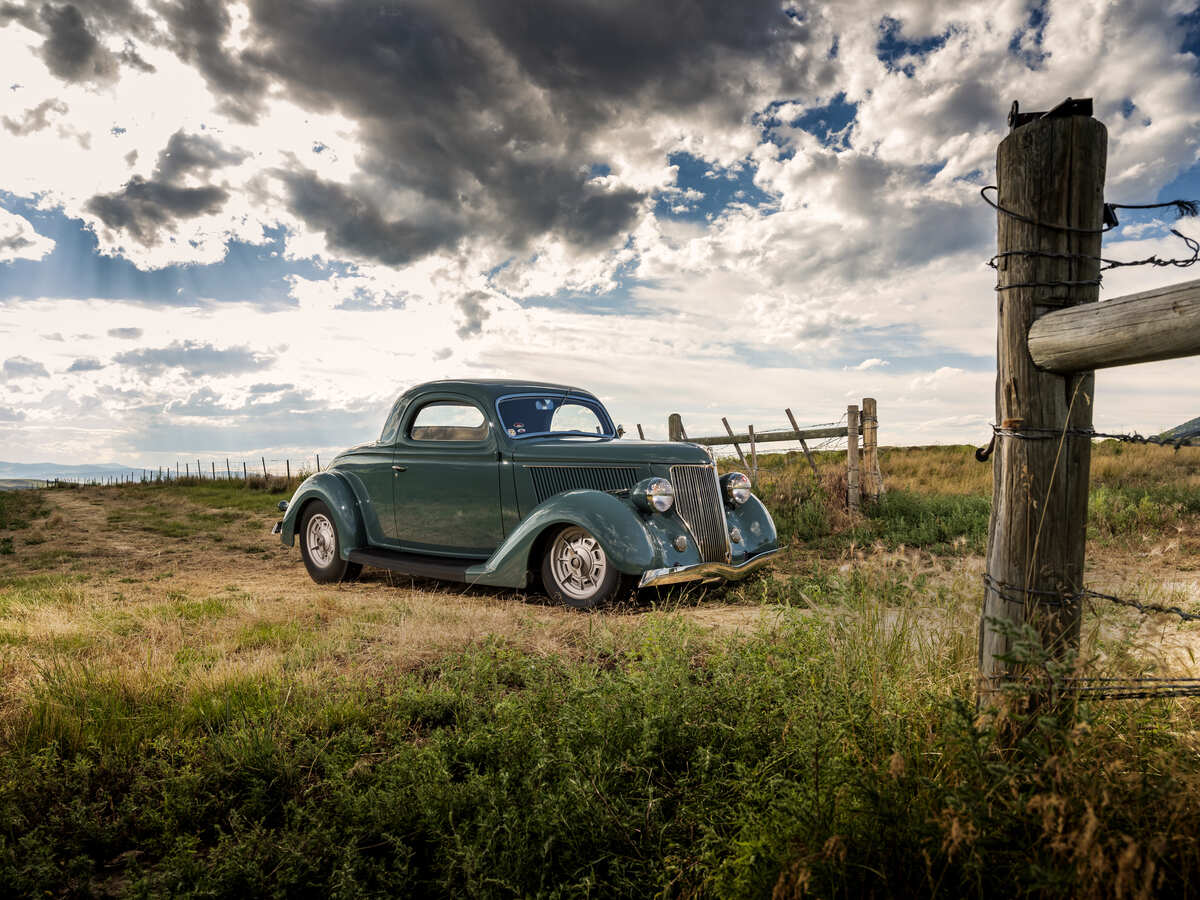 The body has an assortment of mild changes but we feel they are well measured as the coupe has a great stance and the appropriate hot rod look. The top was chopped ever so slightly with 1 inch cut from it. The front fenders were then modified to allow for valve cover clearance. In order to gain this clearance, the hood sides where they meet the fenders were modified by being raised 1-1/2 inches yielding the necessary ARDUN valve cover clearance. Over the meticulous bodywork performed by RR&C, a 1940 Ford factory color was applied. Although a shade darker than stock, the Cloud Mist Gray comes from the color charts of PPG.
A look inside gives you the sensation of an "open air concept" that could easily be seen in many of today's homes. RR&C achieved this look by removing the divider between the truck and the passenger compartment. Should you look into the trunk you can see forward to the dash. By doing so it gives the interior a more spacious feel as well as allowing room for the positioning of the custom bucket seats utilizing 1956 T-bird seatbelts. Dave Putnam (Orangevale, California) used a dark brown leather to stitch over the custom buckets resting on top of unique seat risers all crafted by the crew at RR&C. They also produced the unique luggage rack that resides within the trunk. Putnam also used the same leather on the center console and boot, the door panels, and the nifty accessory pockets in the doors. The headliner is a tan wool while the carpeting and floor mats are a dark brown tight weave pile all from the sewing machine of Putnam. Rising from the console is a 1939 Ford truck shifter handle, while immediately alongside is a 1936 Ford steering column complete with ignition key and topped with a 1935 Chevy steering wheel. Also mounted to the column is an original "knee-knocker" Stewart-Warner mechanical tach run off the back of the alternator; another one-off piece by RR&C. The oil, water, fuel, and amp are N.O.S. Stewart-Warner 2-3/8-inch-diameter gauges mounted into the stock dashboard with a clock mounted in the glovebox door. But you will notice a gauge that you've probably never seen and that's the blower pressure gauge that RR&C had made up for this particular blown ARDUN.
If you look beneath the dash you will spot the makings of a South Wind gasoline heater. (Yes, gasoline!) First invented in the '30s it was 1934 when Stewart-Warner eventually produced over 3 million for use in cars, planes, and military vehicles. It was in the '40s that the Stewart-Warner Southwind used them in Fords. By the time the '60s arrived, engine coolant replaced gasoline as a method of providing heat … probably a wise choice. But I digress. The Southwind isn't a heater anymore but rather the housing for the fuse panel based on a Haywire system and wired to work by the RR&C crew. Next to the heater you will see a panel that's held in position by a pair of clips but it's what rests behind the panel that's of interest. It's a Holley touch screen that allows one to manage the computer settings. Remember, this Flathead is brought to life through an Autotrend EFI system requiring the use of modern electronics and a means of control.
The coupe is no stranger to awards, having won the Goodguys Hot Rod of the Year in 2019 and three Goodguys Pros Picks as well as a Best Rod at the Grand National Roadster Show. Again, this is one of those hot rods that you must see in person to appreciate the amount of creativity and craftsmanship that was invested in this ride. It's a hot rod befitting any road well-traveled. MR