Ryan Gates Unleashes Rhodium, His Pro Touring Gen 1 Camaro, That's Widebody Perfection
By John Drummond   –   Photography by the Author
Rhodium, atomic table element number 45, is a silvery-white metal found with Platinum that is more expense than gold. It is now well represented in this 1968 Camaro widebody, designed by Steve Keefer and Ben Hermance, for owner Ryan Gates. Rhodium is the latest offering from Keefer's East Bay Muscle Cars' (EBMC) 6,000-square-foot shop in the fertile farming community of Brentwood, California. EBMC specializes in muscle cars and Pro Touring machines exclusively. The rides that emerge from this forward-thinking team are perfectly balanced, feature razor-sharp lines, perfect gaps, plenty of power, and racy interiors.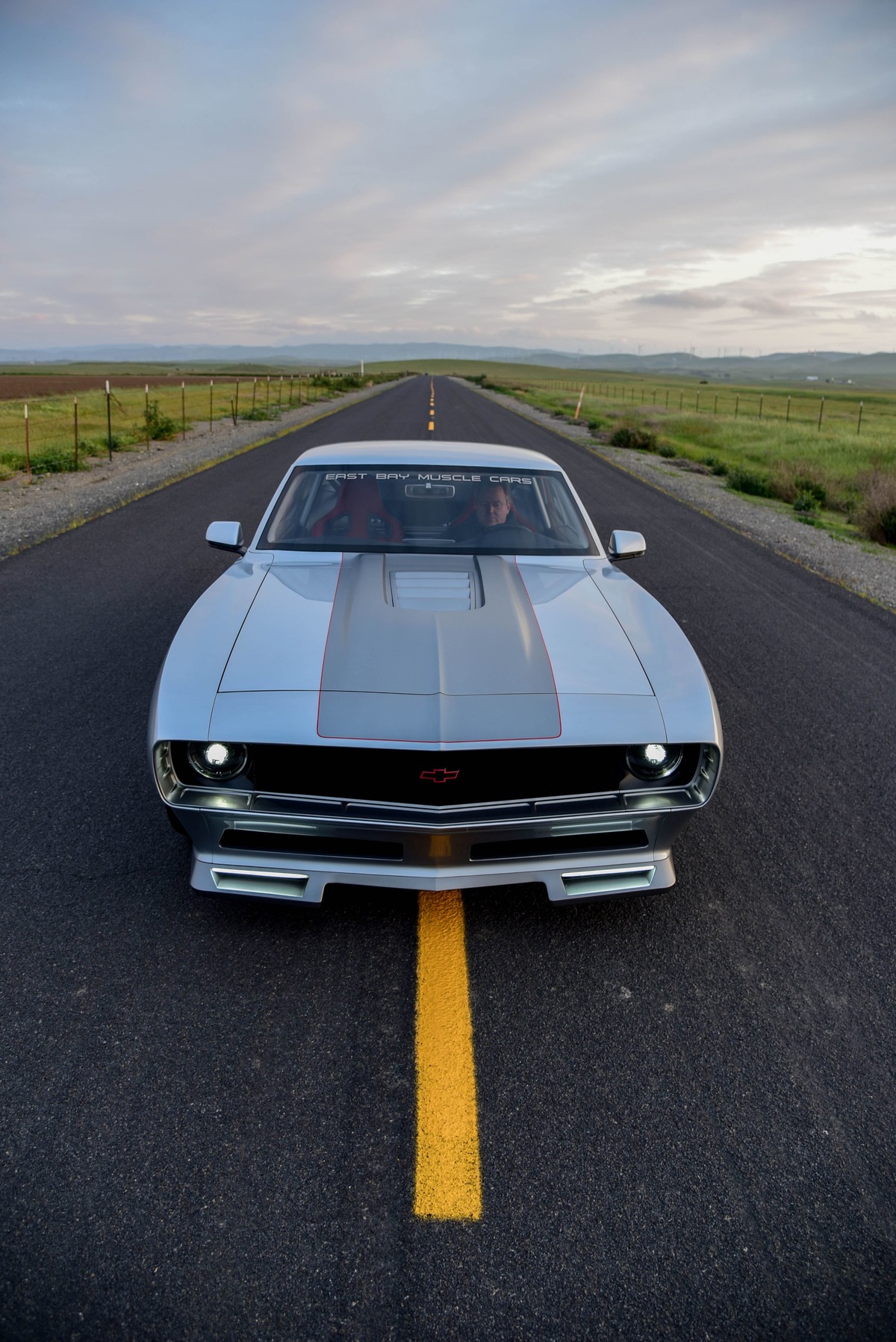 In May 2007, not many people had heard of Keefer's EBMC. That changed 30 days later year when Keefer cruised his fresh 1970 Ford Mustang Mach I through the gates of the Goodguys Summer Get-Together at the Pleasanton Fairgrounds in Northern California. It was EBMC's debut build. The deep maroon pony, perfectly "stanced" on a set of brushed Budnik wheels, raised plenty of eyebrows. It was a harbinger of Pro Touring cars to come from the creative minds at EBMC.
While the concepts and construction of these cars are similar, each vehicle is distinctly different. All feature liberal amounts of 3-D–printed components, an EBM C staple.
Gates' Camaro, more than any other, showcases EBMC's propensity for fabrication and modern design. To allow for a deeper dish on the wheels and a more-aggressive look, the body was widened some 5 inches from stem to stern. All areas of the car were modified and reworked by the craftsmen in EBMC's fabrication department.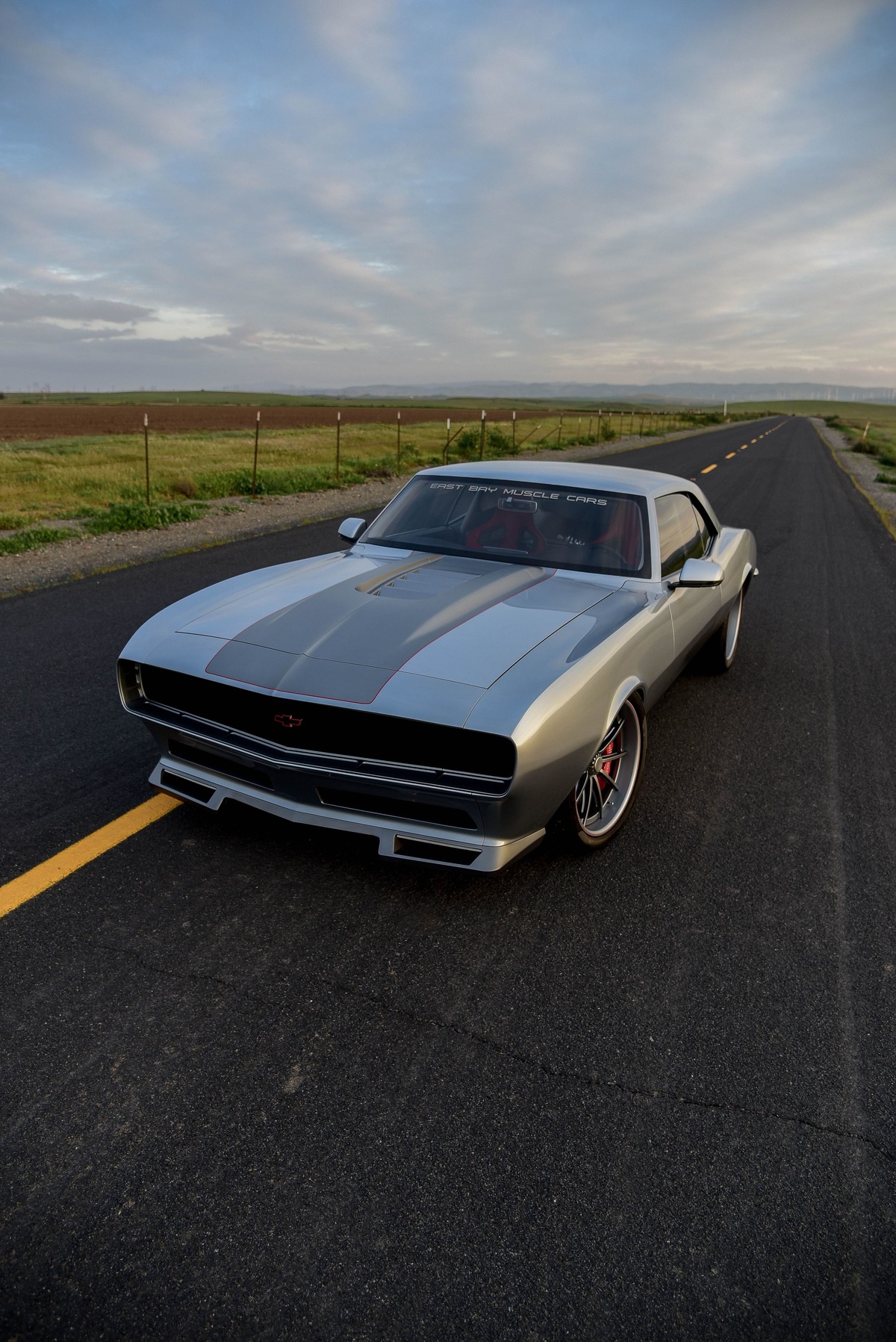 Mods are extensive, as you might imagine. The cowl is scratch-built, forming a precision confluence of the widened A-pillars and fenders all perfectly reshaped and gapped. Looking for an aggressive face, a seven-piece billet aluminum grille insert was CAD-designed in-house and cut by Alumicraft Street Rod Grilles. Included in the assembly are linear actuators on machined Delrin tracks. The LED headlight surrounds were 3-D printed. Below the grille, a bottom valance is 3-D printed, offering dramatic forward flairs housing more LED illumination. The forward-most lip of the peaked hood above the radiator has an aggressive front rake, establishing a wind-friendly, upward-flowing slope leading into the custom-fabricated air inlets.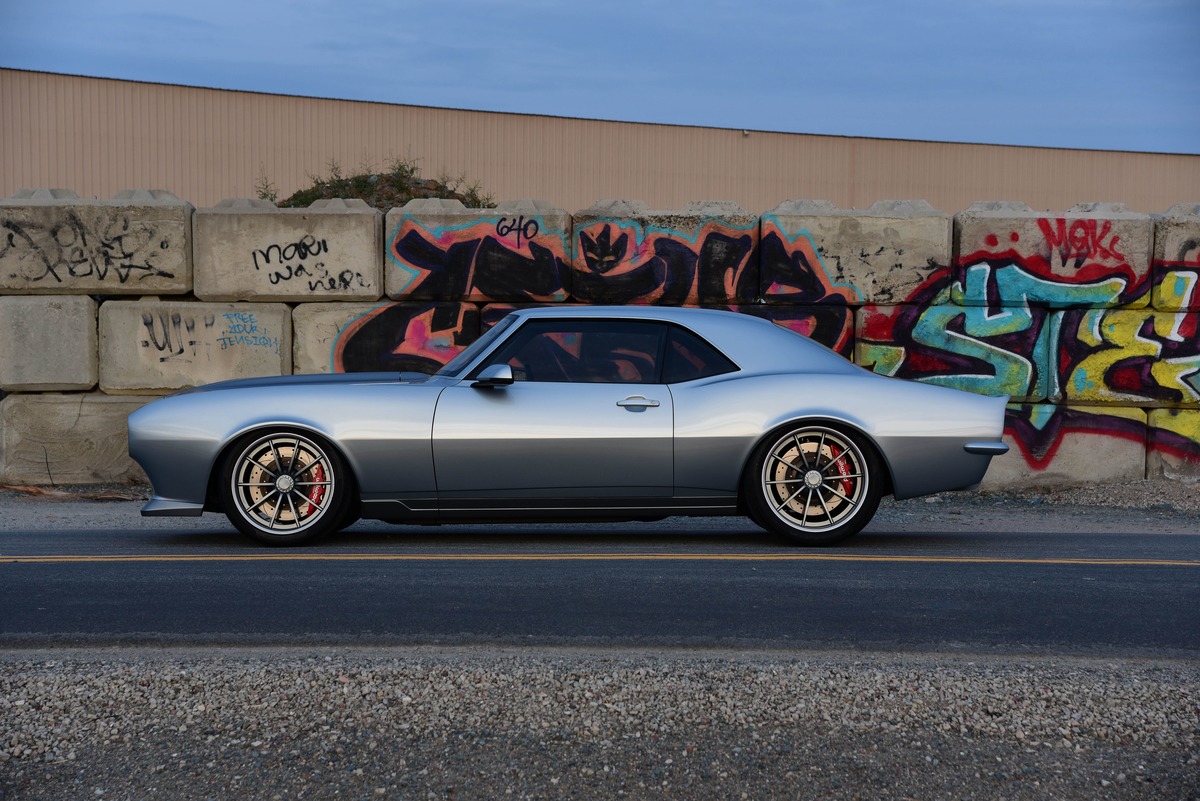 Moving toward the center of the car, the doors close with a precision click like a modern car only with more punch. The 2019 Camaro door latches and handles were seamlessly grafted into the doors, providing that new car feel and functionality. The sideview mirror arms were 3-D printed to support late-model Mustang mirror housings. Everything is so precision, the untrained eye wouldn't have a clue these body mods differ from factory lines. All of the factory OE glass was flush-mounted with closed channels for airtight fit and finish.
Back in the business end of the car, the lengthened wicker bill sits above the rear tail panel designed in-house and made entirely from billet aluminum, including the taillight bezels. The CNC'd rear diffuser houses a set of wide-mouthed Lokar exhaust tips.
Open the decklid and your eyes are instantly drawn to the exotic inboard cantilevered rear coilovers; a calling card of the new Chris Alston's G-Street IRS suspension. No stone was left unturned on mods as evidenced by the "tipped" downward rear quarters behind the tires, adding a more-aggressive rake.
Being a Northern California–based project, Keefer chose one of the region's stars, Compani Color of Hayward, to handle the paint and body chores. What emerged was a silky-smooth muscle car adorned in BASF Glasurit Porsche Silver to mimic the hue of, you guessed it, Rhodium.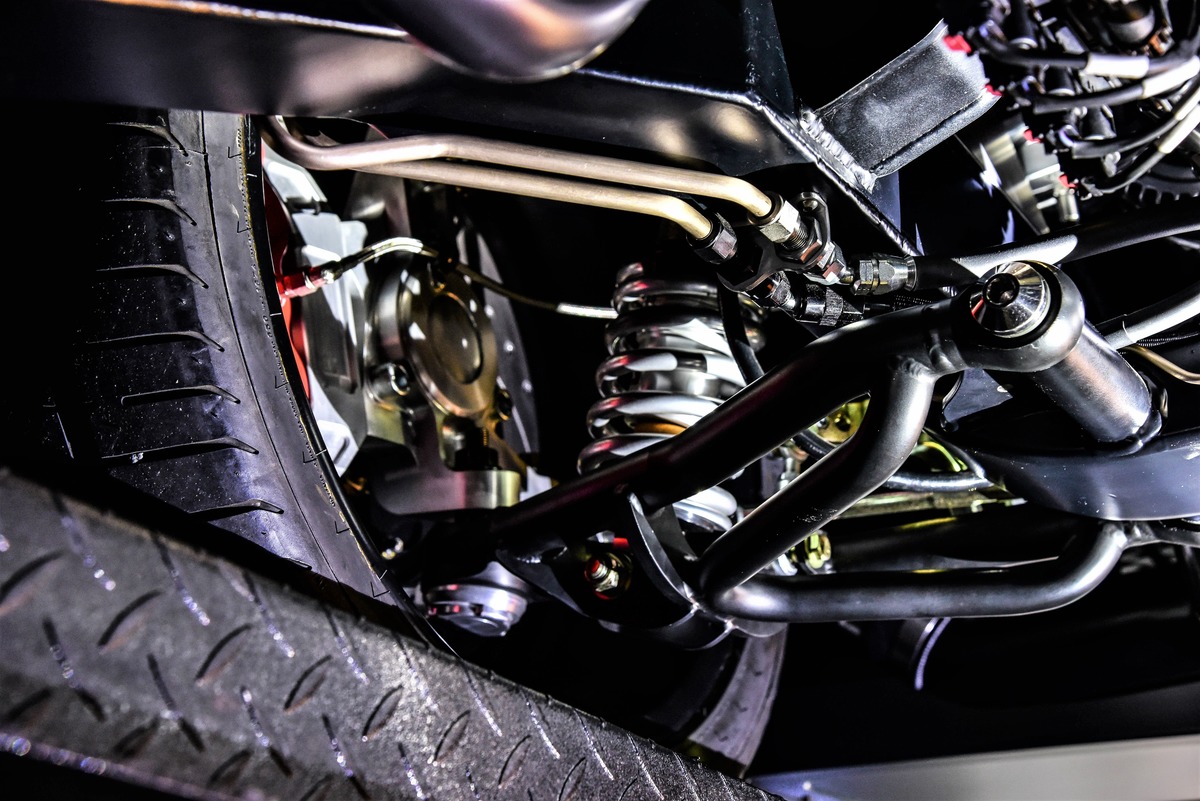 As mentioned, the car gets its legs from Chris Alston's new G-Street chassis. Being one of the first cars to feature Alston's new IRS system, it includes the cantilevered inboard shocks and center lock hubs. Front suspension is also Alston's goods, with VariShock four-way adjustable coilovers.
Tucked inside the custom-painted, body-matched 19×10.5 and 20×12 Forgeline Motorsports GT3C wheels are 15-inch Wilwood rotors as well as six-piston front binders and four-piston rears. Traction is courtesy of 305/30R19 and 335/30R20 Pirelli P Zeros. All of the underpinnings are designed for maximum g-force, stay-flat cornering, as well as added stability during high-speed straightaway blasts.
Under the opened hood, the engine bay is a spectacular shrine to Rhodium's rowdy GM LT4, which is set back for a 49 percent front and 51 percent rear weight distribution. Featuring textured panels appropriately positioned throughout, the engine bay is as smooth as the exterior in terms of execution and fabrication. In front of the 3-D–printed engine cover is an air-to-air intercooler feeding the D-1SC Pro Charger mounted up to replace the factory supercharger. The entire presentation, including the custom matte red–painted engine cover and valve covers, is a sight to behold.
As he was driving away during our photo shoot, Keefer stomped on the loud pedal, seemingly waking the dead. This thing thunders and has a 620-rwhp dyno sheet to prove it. The electric power steering pump and electric-boosted brakes, double-disc GM clutch, and hydraulic actuated GM throwout bearing are essential items for power transfer. A lightweight aluminum driveshaft from Inland Empire and Strange S-Trac aluminum differential with 3.70 gears are ideal for hard launches and midrange torque. Word has it though, the LT4 will soon see a cam swap, more boost, and an E85 tune.
After a joint brainstorm between Gates and Keefer, the decision was made to go with red, race-inspired guts. DJ Designs was tabbed for the task and they nailed it. Everything is precision and form fitted to Gates for maximum control, especially the Recaro seats with Corbeau race belts. That's useful when considering the power Rhodium possesses. The Sparc Industries billet aluminum steering wheel offers a perfect grip for anxious hands. Banging through the gears is smooth thanks to grippy Lokar pedals and polished shifter arm topped by a shiny black Speed Dawg knob. A full Dakota Digital HDX LED custom gauge panel lights the way at night.
We were smitten by Rhodium when we saw it on Keefer's Instagram feed @eastbaymusclecars. After its 2019 SEMA debut in the Odyssey Batteries booth, where it took home the prestigious Chevy Design Award for "Innovative Use of Technology," the car then went to the Grand National Roadster Show and then the Sacramento Autorama. At both venues it captured first in class as well as the sweepstakes award.
No wonder it did so well. Seeing it and hearing it in person during our shoot was transcendent. An old folktale came to mind when on location out in Brentwood's infinite grassy fields. A duck hunter once told us how he got his black lab so dialed-in and good at pointing to the birds he chased. The hunter's reply was simply, "Well, you have to start with a good dog."
Taking pictures of Rhodium was a parallel. Good cars are easy to shoot. From any angle. MR
Pro Touring Perfection Lives in This 1968 Camaro