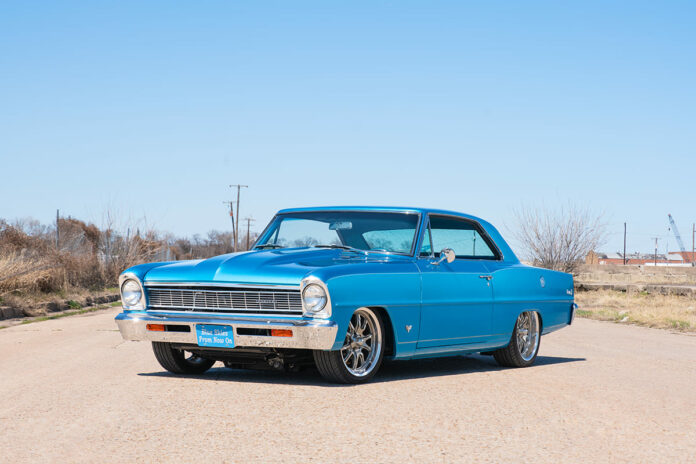 Don Silaff Keeps His 1966 Nova in Cruise Mode
By Nick Licata – Photography by Ryan Miller
"My brother and his friends built and reworked their cars, so that got me interested, too," Don Silaff remembers. "At 18, I bought my sister's 1954 Chevy two-door Bel Air and started to make it mine. I rebuilt the 235 six-cylinder and added dual exhaust, lowered it, and painted it gold with a touch of lime, painted the wheels black, and added baby Moons."
That's the short version on how Don's wheels began to spin in the car world. Being a "car guy" for over 57 years, the Nevada, Texas, resident has owned a 1937 Ford convertible (2014-2015 Goodguys Builder's Choice award at Texas Motor Speedway), the aforementioned 1954 Chevy, and he bought a new 1967 GTO, which he sold rather abruptly due to being drafted in 1968–an unfortunate situation but the GTO had to go. After returning from the Army, he bought a 1970 Dodge Challenger, got married, then made way for a 1948 International pickup. Don looks back on that lowered and patina'd hauler and tells us, "it may have been the first true rat rod in the Dallas area. It was a rat rod way before rat rods were a thing."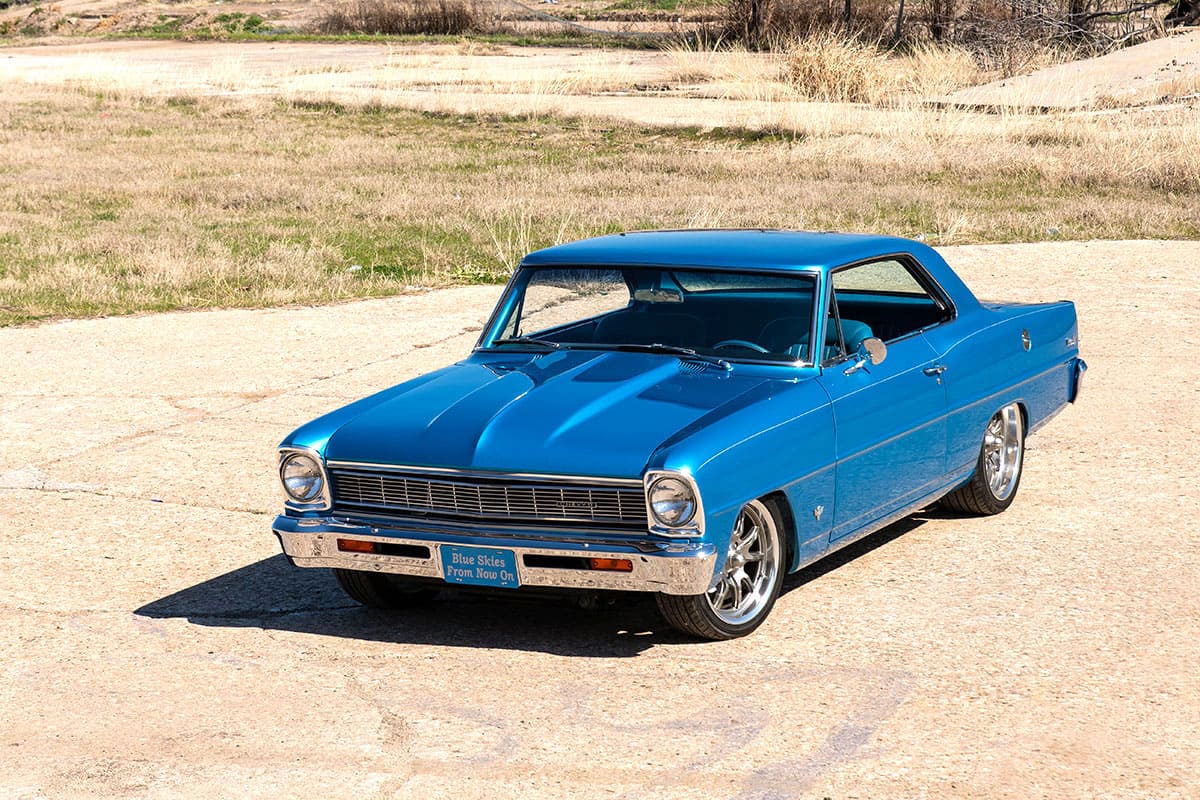 The 1937 convertible got sold to a woman who had been stalking it for about three years. "I won a lot of awards with the car and I really enjoyed it, but it was time for something different," Don says. "With the 1937 gone I wanted a good 'daily driver' and I really liked the look of the 1966-1967 Novas." An online search led him to this 1966 in Pennsylvania. The car had A/C and a Mustang II frontend and was pretty much built, but there was room for improvement. "It was built locally and owned by a gentleman who had recently [died], so it was being sold by his daughter," Don informs. "The A/C was an important factor, as out here in Texas it's an absolute necessity."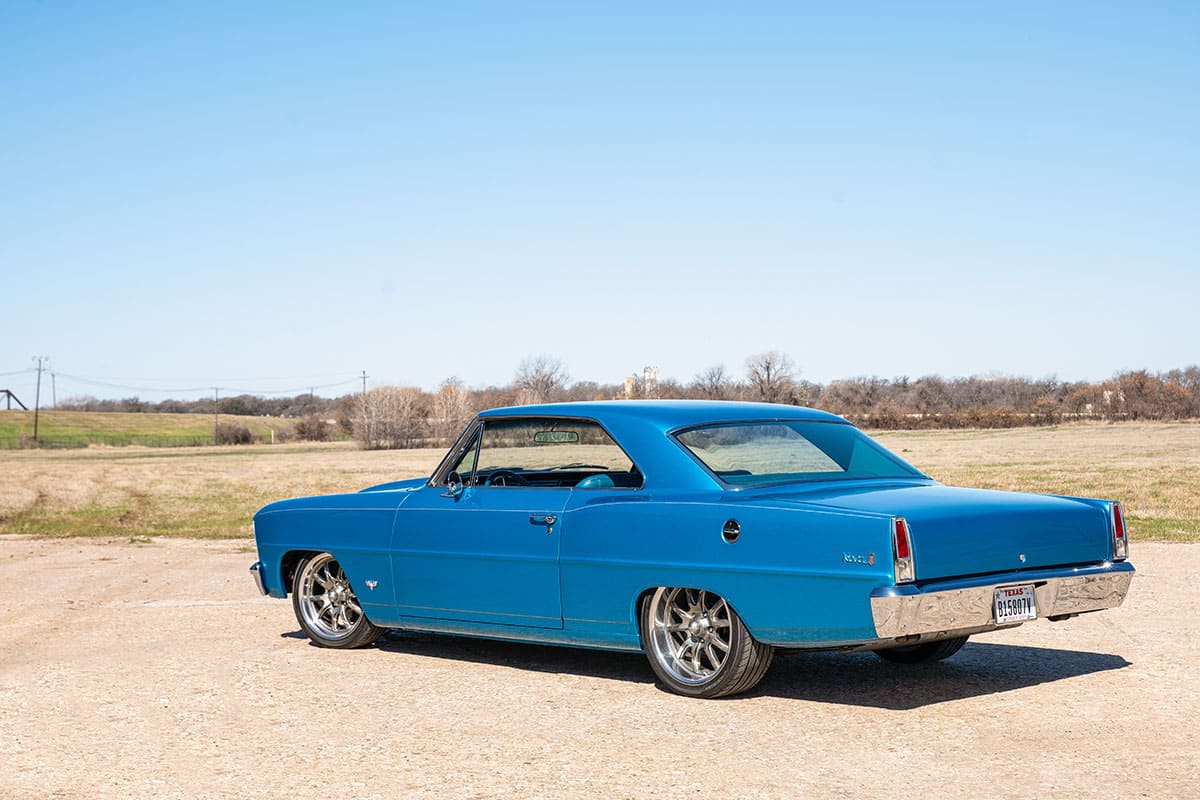 Once the car made it to Don's garage, he began to personalize it to his taste. "I needed to lower the car a little in the front and drop the rear a lot." Don said with a smirk. "Getting the right stance required the installation of mini-tubs to get it down to a decent ride height." As they say, "stance is everything," and Don complied with the adage.
The car rides the original frame but was upgraded with a Heidts Mustang II suspension up front, which includes 2-inch drop spindles. Don kept the leaf spring suspension out back and added lowering blocks for aesthetics and a sway bar to help diminish body roll. Bilstein shocks reside up front and Doetsch Tech single-adjustable shocks were used out back.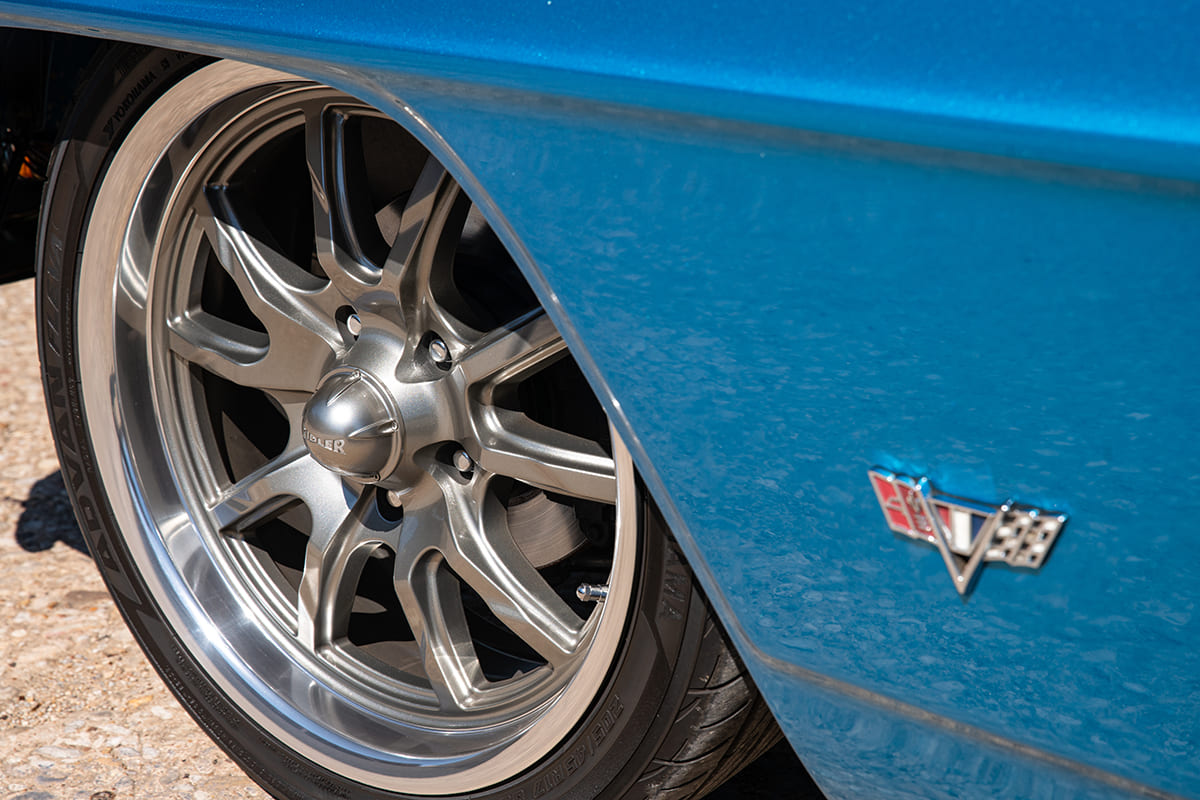 Rolling stock consists of Ridler 650 wheels (17×7 front, 18×8 rear) sheathed in Yokohama Advan Fleva V701 rubber (205/45R17 front, 235/40R18 rear). For now, the stock drum brakes still ride out back and GM discs with two-piston calipers handle stopping duties up front. But as Don says, "These cars are never really done, so upgraded discs aren't a stretch at some point."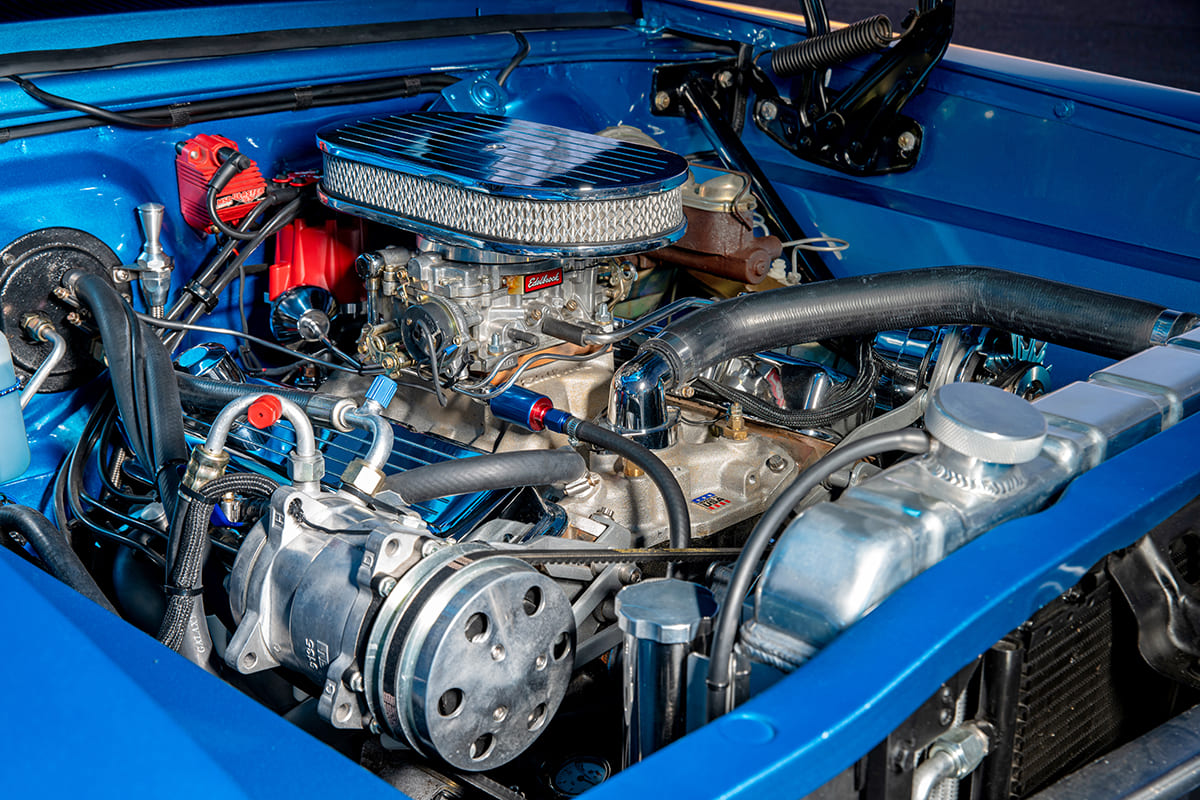 This ain't no drag car, and it's no autocross cone-cutter, so Don employed a basic 350 small-block crate engine for motivation. Induction comes by way of an Edelbrock 600-cfm carb perched atop an Edelbrock performer intake, with spent fuel exiting through a set of Sanderson headers and a 2.5-inch exhaust topped with a pair of Dynomax mufflers. Sure, more power is certainly a possibility in the future, but for now he's takin' it easy and enjoying the ride.
A 700-R4 trans was assembled by Phoenix Transmission out of Weatherford, Texas, and is accompanied by a 2,000 stall converter. Nothing fancy or over the top out back–a 10-bolt with a limited-slip posi and 3.08 gears proves worthy to get the job done.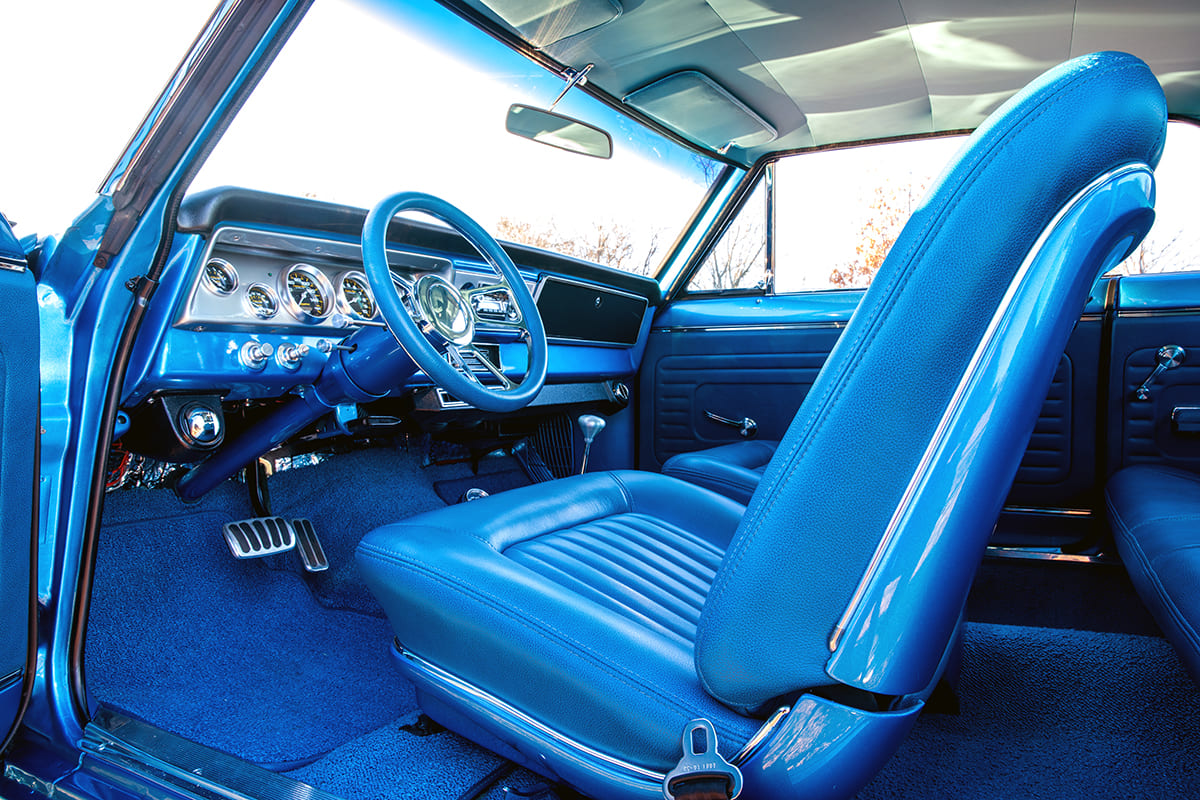 The interior is a tidy-looking ensemble featuring a steady flow of modern flair done up by Quality Custom Rides. They stuffed the stock dash with a set of Auto Meter gauges and built a custom center console for the Lokar shifter. Ray Mitchell from All Pro Trim & Glass (Forney, Texas) did the upholstery and matched up a set of leather door panels with the stock bucket seats. Climate is controlled by a Vintage Air A/C system and a period-looking head unit helps retain some classic style to the scene. The attractive cabin also includes an ididit steering column topped with a custom leather half-wrapped steering wheel for accurate course direction.
On the exterior side of things, Quality Custom Rides smoothed the body and set the gaps to perfection prior to laying down a sea of BASF Marina Blue. The stock trim was removed for an uninterrupted clean envelope, while a cowl hood was incorporated for function and form. The stock headlights and taillights remain, with the only mods being a set of LEDs behind the stock rear lenses.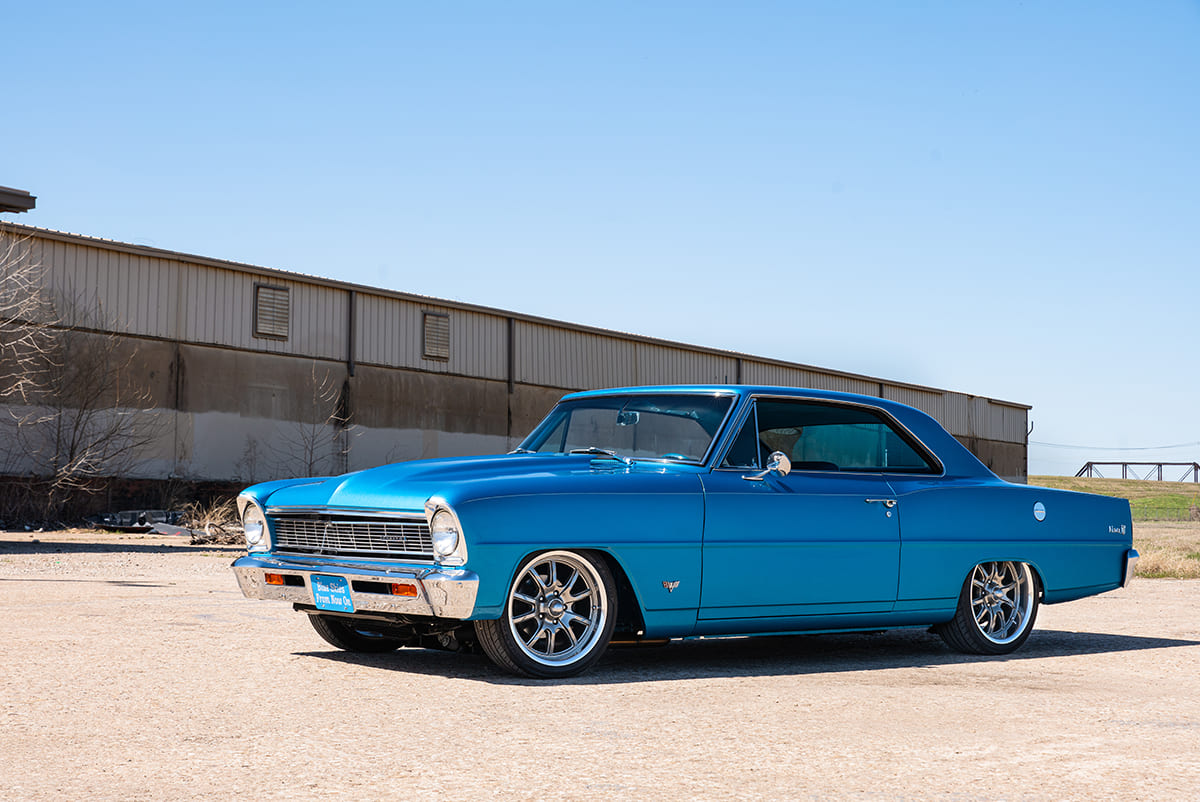 "I built and reworked most of the car myself," Don says. "But when I needed assistance, Roger Lynskey, my buddy from RPL Customs (Royse City, Texas), was always there to lend a hand, so I'd like to thank him for all the help."
Yes, Don has the experience and ability to build an absolute street bruiser, but in just about a year, he took the route of building a cool cruiser with A/C and a comfortable ride for unlimited miles of street duty. Regarding sticking with the small-block, Don says: "It's got the right look, the right sound, and is something I'm totally familiar with. It fits my personality and my 1966 just fine."
Like the front license plate on Don's Nova says, "Blue Skies From Now On," it's a positive outlook from a true old-school hot rodder.
ACP
TECH CHECK
Owner: Don Silaff, Nevada, Texas
Vehicle: 1966 Chevy Nova
Engine:
Type: Chevy small-block
Displacement: 350 ci
Compression Ratio: 8:1
Bore: 4.00 inches
Stroke: 3.48 inches
Cylinder Heads: Stock iron
Rotating Assembly: Nodular iron crankshaft, powdered-metal steel connecting rods, cast aluminum pistons
Camshaft: Hydraulic flat tappet (0.450/0.460-inch lift, 222/222 deg. duration at 0.050)
Induction: Edelbrock Performer intake manifold, Edelbrock 1406 600 cfm, AC Delco air cleaner
Assembly: GM
Exhaust: Sanderson headers, 2.5-inch exhaust, Dynomax mufflers
Ancillaries: MSD ignition, chrome ball-milled valve covers and breather, Profrom alternator, FlowKooler water pump, Flex-a-lite fan, two-row aluminum radiator
Output: 308 hp at 5,100 rpm, 347 lb-ft at 3,900 rpm
Drivetrain:
Transmission: 700-R4 by Phoenix Transmission (Weatherford, Texas)
Converter: 2,000 stall
Rear Axle: Stock 10-bolt with limited-slip differential posi, 4.08 gears, stock axles
Chassis:
Front Suspension: Heidts Mustang II, 2-inch drop spindles, Bilstein shocks
Rear Suspension: Stock multi-leaf, Doetsch Tech shocks
Brakes: GM disc front, GM drum rear
Wheels:
Wheels: Ridler 650 17×7 front, 18×8 rear
Tires: Yokohama Advan Fleva V701 205/45R17 front, 235/40R18 rear
Interior:
Upholstery: Blue loop carpet, blue leather door panels by Ray Mitchell at All Pro Trim & Glass (Forney, Texas)
Seats: Stock buckets, leather by Ray Mitchell
Seatbelts: Juliano's
Steering: ididit steering column, custom leather half-wrap steering wheel
Shifter: Lokar
Pedals: Lokar
Center Console: Quality Custom Rides (Lancaster, Pennsylvania)
Dash: Stock
Instrumentation: Auto Meter
HVAC: Vintage Air
Exterior:
Bodywork and Paint: Quality Custom Rides
Paint: BASF Marina Blue
Hood: Cowl
Grille: Stock
Bumpers: Stock reproduction