Street/Strip Chevy Can Also Bring Home the Groceries
By Scotty Lachenauer   –   Photography by the Author
Matt Paxson grew up with a lead foot and a thirst for speed that could only be quenched by getting behind the wheel of his own muscle car. A 1970 Chevy Nova was always bouncing around his head. From day one Matt's father, George, knew he was in for a big heap of trouble with his car-crazed child. From blazing around in his suped-up Mattel Power Wheels "Bigfoot" to ripping up the backyard on their own NASCAR-style oval in his gas-powered cart, George had a feeling that the thrill of going fast was something his son was going to need every day going forward.
Once Matt became of age where a fullsized ride was in his sights, he got a job, fell for a girl, and also became enamored with an old work truck he spied daily on his way to and from work. Matt spent a year prodding the truck owner for the ride, and finally the owner caved. And the girl? Well, she became his bride.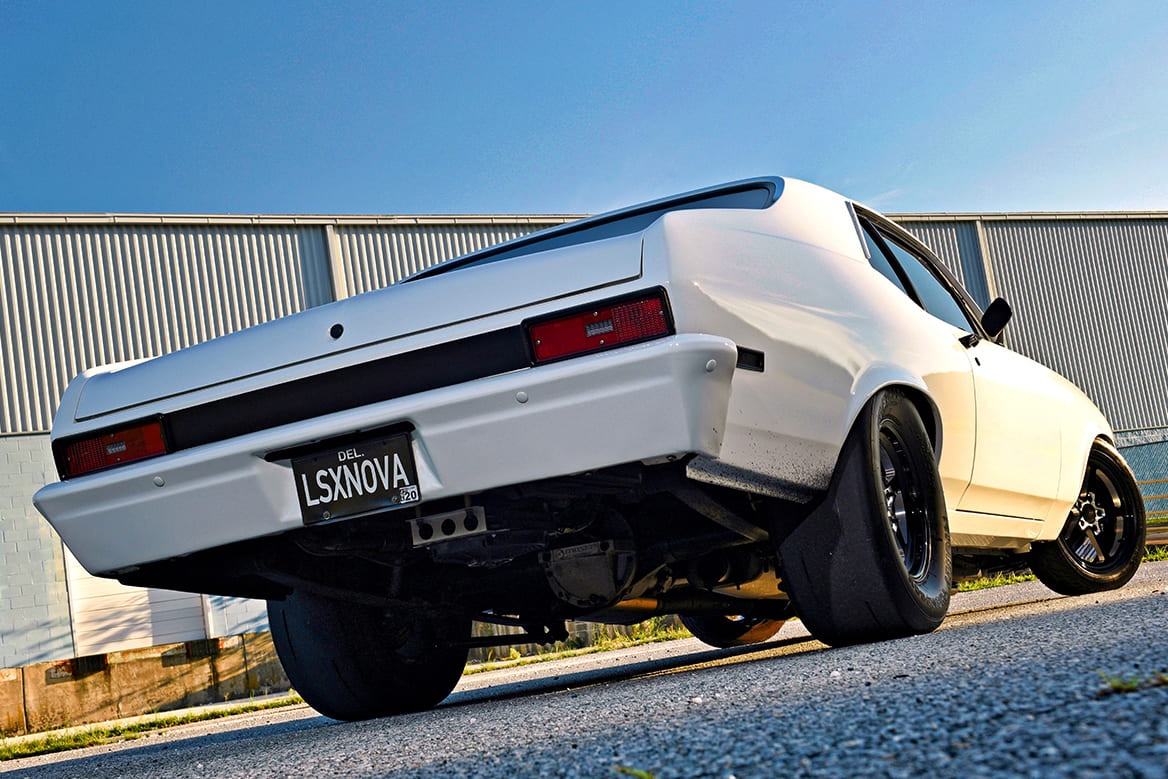 That truck would be the couple's main steed for years, and with marriage came more responsibilities, pushing future hot rod stuff to the back burner. But Matt always had the urge for a sportier ride to hit the streets, so he began looking for that 1970 Chevy Nova to build—the one that's been rattling his brain for years.
Luckily, Matt's wife was on board with his hot rod plans, so there was no need to hide parts or burn receipts. But for now, the goal was to source a good starting point for the build. Luckily, he found a ride not far from his abode. "I found it for sale online about 30 minutes from my house in reasonably good shape, but it needed obvious work on the quarters," Matt informs.
Unfortunately, the good news ended there. The guy was asking top-dollar and Matt couldn't get him down to where he could pull the trigger. Leaving empty-handed, Matt just couldn't stop thinking of what could have been.
Not wanting to see the 1970 Nova escape his son's grasp, Matt's dad ponied up a small loan to ensure the Nova made it back to Matt's garage. "I was so excited I immediately jumped in and got the brakes working,"  Matt says. Getting it street-ready went so smooth that they even got to take it to the Cruisin' Ocean City event that year. However, Matt still needed a game plan to bring the Nova up to snuff.
The basic idea was to make the Nova a dependable, powerful street car that was worthy of being a daily driver. It started with the rear and then progressed through the powertrain. A Moser 12-bolt rear with 3.73s made its way in, along with Calvert split monoleafs and a set of low-profile CalTracs. Up front, the Nova received a pair of QA1 coilovers while retaining the stock control arms. Subframe connectors were installed as well.
Matt had beaten the hell out of the 350 till it formed a knock. A built 355 was then installed, which had a very short lifespan under Matt's right foot. That's when the boys got serious. Matt sold off the remains of the small-block and put that cash toward a 427 LSX block. He built that engine up with whatever he could get his hands on, and in return that powerplant pushed the Nova into the 10s in the quarter-mile.
Still wanting more power, Matt continued to refine the LS7. Mahle pistons and LS7 heads, modified by Bill Ceralli Racing Engines, pushed the compression to a healthy 11:1. A GM LS7 carb-based intake was drilled for multi-port fuel injection. A Holley throttle body and an Aeromotive A1000 in-tank pump help keep this beast fed the "juice" it needs.
The Nova's nagging rust issue once again reared its ugly head. It was time to handle the quarters and paint. "D&S Fabrication in Kenton, Delaware, took care of the rust problems and painted it Oxford White," Matt says. But it was no small feat to bring this ride up to snuff.
Matt then enlisted another friend to paint all the trim black, which cut down on costly chroming and metal trim restoration. Three weeks later the car was ready to hit the track. In just 2-½ months they took the car from being a shell at the body shop to a full-blown street/track car. To do all that in the short amount of time was nothing short of outstanding.
Being an all-steel street car, it's not the stealthiest on the 1320. Add in some sound-deadening material, and the Nova gets a bit heavier. But even with its thick waistline, it hits the traps in the mid 10-second zone on just motor. With a 175 shot, the 3,700-pound 1970 Chevy runs mid 9s. "This ride is a true blast to drive around town and not-so bad on the strip. It ran a best of 9.48 at 137 mph," Matt says.
There are more plans for the pure bleached 1970 Nova. Being a true street car, it's on the road over 150 miles a week, but we see more power is in the wings. "A pair of turbos might be in its future. I really want to see what this 427 can do under boost." But Matt confirms, "It will always be a daily driven, all-steel street car, and that won't ever change under my ownership."
We get it Matt. We certainly do. ACP
Street-Driven 1970 Nova Runs 9-sec ¼-mile ET's
TECH CHECK
Owner:  Matt Paxson
Vehicle: 1970 Chevy Nova
Engine
Type: LSX
Displacement: 427 ci
Compression Ratio: 11:1
Bore: 4.125 inches
Stroke: 4.000 inches
Cylinder Heads: Six-bolt LS7 heads sent to Matt Messier at Ceralli Racing Engines
Rotating Assembly: GM LS7 rotating assembly with Mahle pistons
Camshaft: Comp cam, LS7 lifters
Power Adder: Nitrous Express Gemini plate kit 175 hp
Ignition: Stock coil packs, MSD plug wires
Induction: LS7 intake, Holley throttle body
Engine Management: Holley HP EFI
Exhaust: Dynotech headers, Race Series Bullet mufflers to  MagnaFlow mufflers
Built By: Matt Paxson
Tuned By: Matt Paxson
Drivetrain
Transmission: Transmission Specialty's T-400 manual valvebody with trans brake
Converter: 3,500 stall converter
Rear: Moser 12 bolt rear, 3.73 gears Eaton locker
Chassis
Steering: Stock (manual box)
Front Suspension: QA1 coilover shock, stock upper and lower control arms with poly bushings
Rear Suspension: CalTrac split monoleafs with low-profile CalTrac traction bars
Brakes: GM S10 disc conversion front and rear
Wheels & Tires:
Front: JEGS Star 17×4,
Mickey Thompson S/S ET Street 26×4.5
Rear:  JEGS Star 15×8,
Mickey Thompson 275/60-F15 Pro Radial
Interior
Seats: NRG
Upholstery: Stock
Gauges: Holley EFI Digital Dash
Steering Wheel: Grant
Carpet: Stock
Shifter: M&M
Exterior
Paint: Oxford white
Hood: 4-inch steel cowl hood
Grille: Stock