There's Nothing Around Like This 1969 Dodge Super Bee
By Brian Brennan – Photography by Grant Cox
It's pretty hard not to stop, stare, and then stare some more when looking at DeWayne Spiess' 1969 Dodge Super Bee out of De Soto, Kansas. DeWayne recalls his younger days when his dad brought home a 1969 Dodge Super Bee after leaving the Navy. For those who remember their history, the original Dodge Super Bee (1968-1970) was based on the Dodge Coronet two-door coupe. It was Dodge's version of the Plymouth Road Runner. As the story goes, the name "Super Bee" comes from the Chrysler midsized car "B"-body designation. And of course, the "Super" nameplate results from the engine packages offered in 1968. There was the base motor in the 383 Magnum or the optional (and expensive) 426 Hemi engine. Reports say only 125 Hemi cars were made. It was in 1969 that the pillarless hardtop version was introduced and that's what we see here. All of those great memories never left DeWayne and in time his friend Michael McLin Jr. told DeWayne about a Super Bee that was in a barn that needed a new home.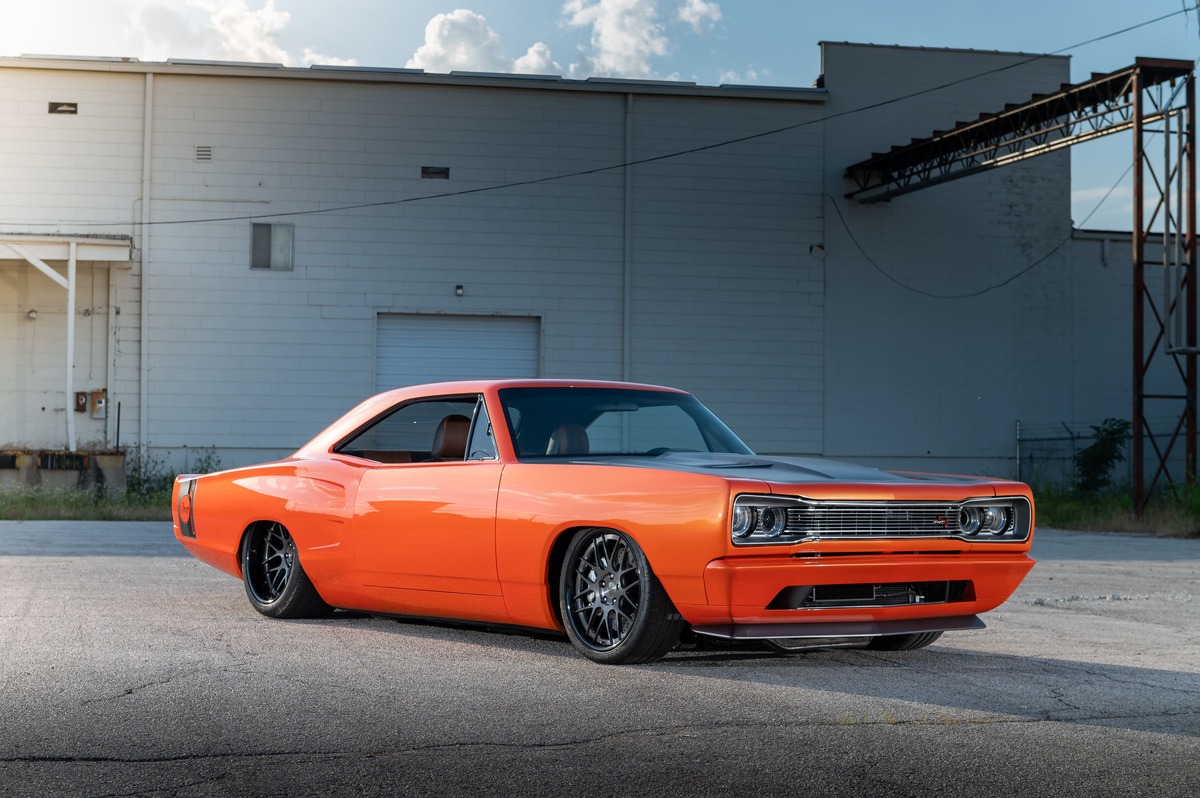 This mean machine is no stranger to being ogled at as it has won the Goodguys Speedtech Performance Stance Award as well as Best Paint at the Kansas City World of Wheels car show. It's no wonder as you stare at this brilliant Axalta-sprayed orange Super Bee that one might overlook some of the subtle sheetmetal changes. For instance, the driprails and door handles were shaved while the hood and both bumpers were custom fabricated along with the flush-mounted windshield glass. The well thought out custom bodywork was handled by the staff at The RestoMod Store in Lee's Summit, Missouri. The Super Bee also features custom striping on the hood, a "bumble bee" horizontal tail stripe, and graphics with all of this handiwork appropriately conducted by The RestoMod Store.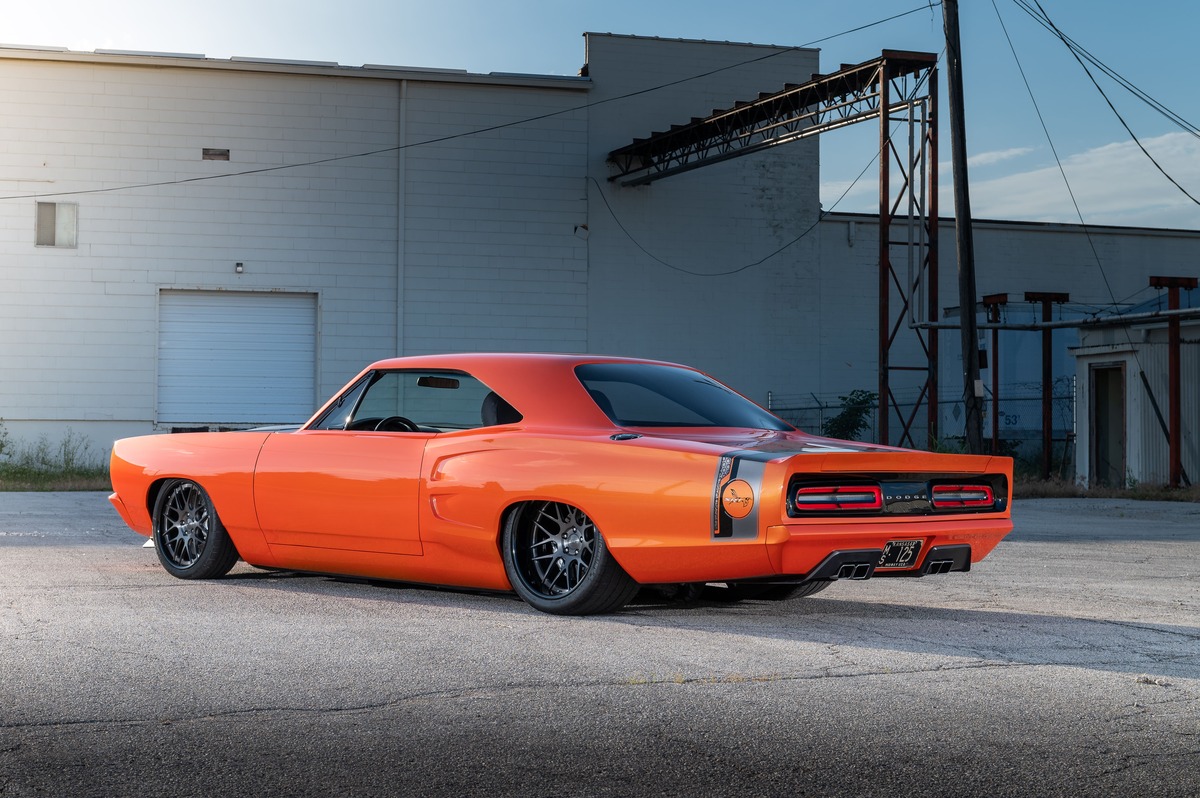 While looking over this low-riding Super Bee you can't miss the custom-sized Forgeline DE3C forged concave wheels in a black finish, measuring 19×8 in the front and 20×12 in the back, while neatly packaged in Michelin rubber, sizing 235/35R19 and 345/30R20. Look even closer and you will see the obligatory performance-minded calipers, drilled-and-slotted rotors, all from a 2009 Charger SRT. Let's jump on this right away. You will be seeing a repeating theme in the 2009 Dodge Charger SRT and our 1969 Dodge Super Bee.
The RestoMod Store literally took the floorpan and the chassis from a 2009 Dodge Charger SRT and placed it underneath the 1969 Dodge Super Bee. There were some suspension upgrades, which include RideTech air system and the SRT IRS that was narrowed to accept the performance-leaning wheels and oversized rubber. The brake system, sway bar, and even the steering column are late-model Charger SRT.
If you like large doses of horsepower then you will like the SRT 6.1L Hemi massaged by High Horse Performance as they added a Comp Cams custom grind, Fore Innovations fuel system, all held together by ARP hardware. A massive power punch comes from the Whipple Supercharger, bringing the rear-wheel horsepower rating to 780 dialed in power by Knight Performance. Exiting the spent gases is an exhaust system fabricated by The RestoMod Store around Kooks Industry 1-7/8-inch stainless primary tube headers that empty into 3-inch exhaust tubing linked to a pair of Flowmaster Super 40-series mufflers. That should get the job done! Moving this power to the narrowed SRT IRS is a Nicholls Performance Transmissions–built SRT auto that's run through its gears with the iconic pistol grip shifter (a must in any Mopar).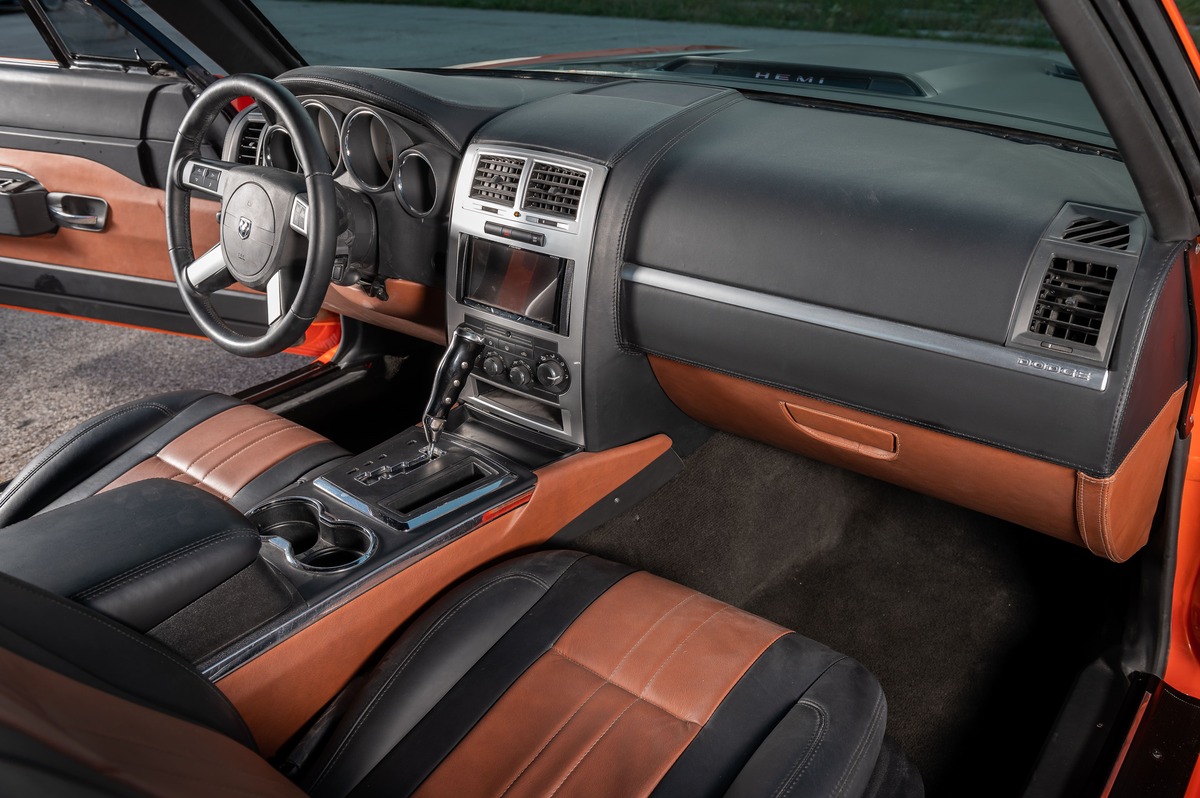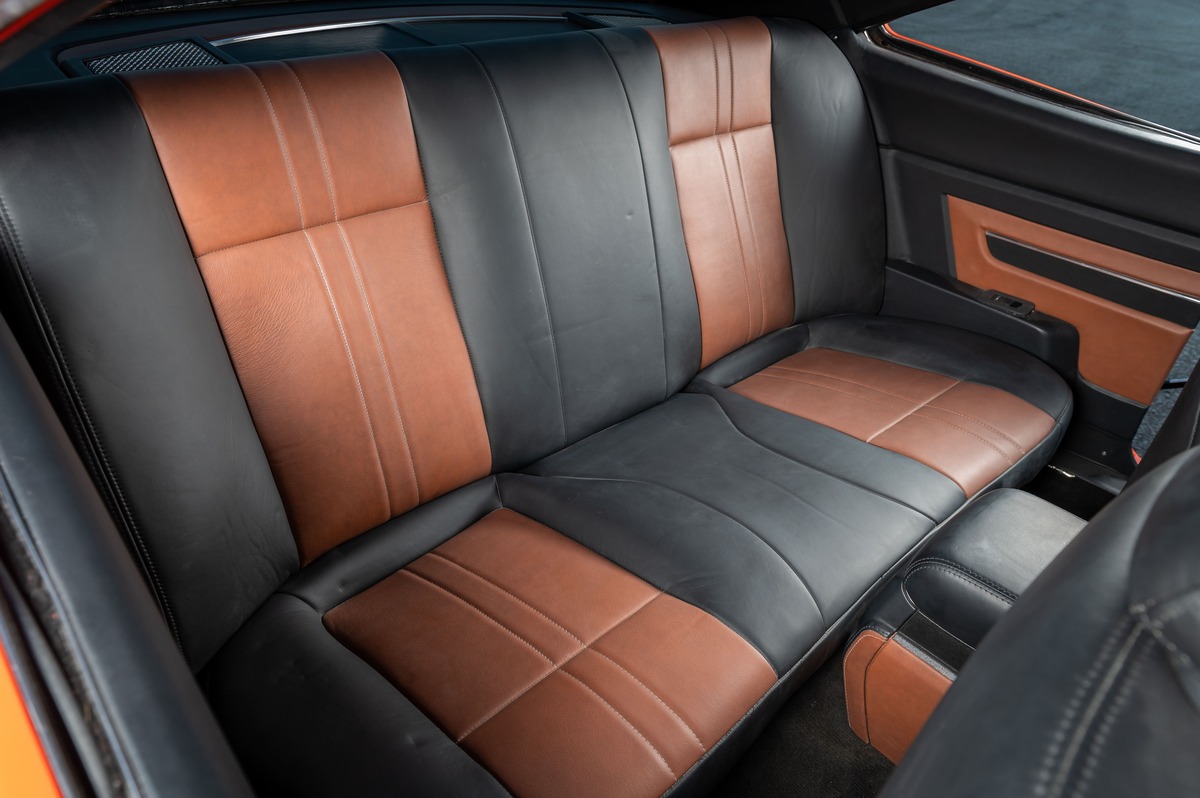 When you open the doors and look inside there will be a familiarity, especially if you are a Mopar fan. Virtually every interior piece that could be used from a 2009 Dodge Charger SRT is right there before you. The rear seat is custom made off the workbench at The RestoMod Store. They also performed the additional required craftsmanship to install the Charger SRT dashboard and instrumentation, steering column and wheel, center console and obligatory pistol grip shifter, air conditioning/heater/defroster and info center, and wiring all into the 1969 Dodge Super Bee.
In this case what you see up top isn't what you might have expected beneath. However, we are very happy to say that this vintage muscle car over delivers on looks and performance. MR