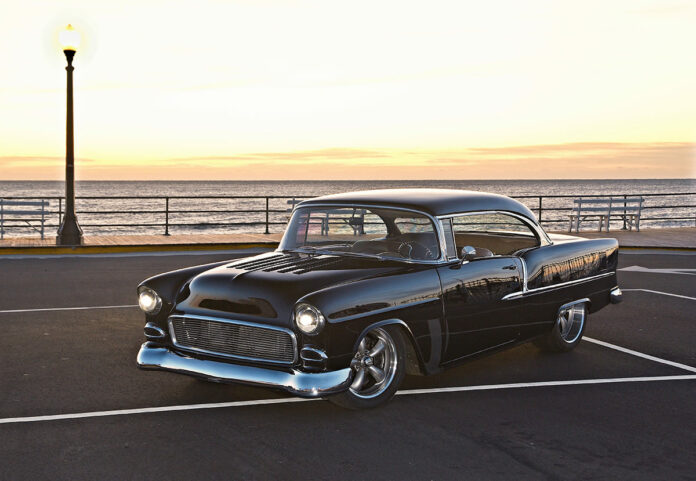 Knocking the Naysayers and Building the 1955 They Wanted
By Scotty Lachenauer – Photography by the Author
Since his early youth, Ron Rauso of Long Branch, New Jersey, always had a thing for Chevy's iconic 1955 model. It was that ever-accelerating admiration for the first-year Tri-Five that drove the teenager to snatch one up for his first dose of four-wheeled freedom shortly after earning his driver's license.
However, years later, it was his son, Christopher, who pushed his dad to revisit his youth and procure another 1955 Chevy for their first father-son build. Even though he was short on years, the young gun stepped up and helped dad build a Bowtie that was a blend of their ideas of what a 1955 should be, no matter what the skeptics said.
From the start, Ron and Chris' vision for their recently procured project 1955 was going to be completely of their own design. "We wanted to build it our way, which meant going against some of the tried-and-true recipes to achieve our goal. We were looking to buck the trends of typical traditional builds and put our own ideas to work that would modernize but, more importantly, make it perform and handle like a newer car, while retaining its vintage look," Ron states.
Slowly, the needy and much-maligned 1955 became roadworthy. The Chevy was driven and enjoyed for a couple years while being a hotbed of trial and error for some of the duos own modern ideas. Many of those innovations were done at the new shop, which Ron opened in 2011. "I opened up AutoWorks in Middletown, New Jersey, for Chris and three years later I joined him. We do all sorts of auto accessory work, with an emphasis on the electrical side, and of course, hot rod builds for customers where Chris specializes," Ron says.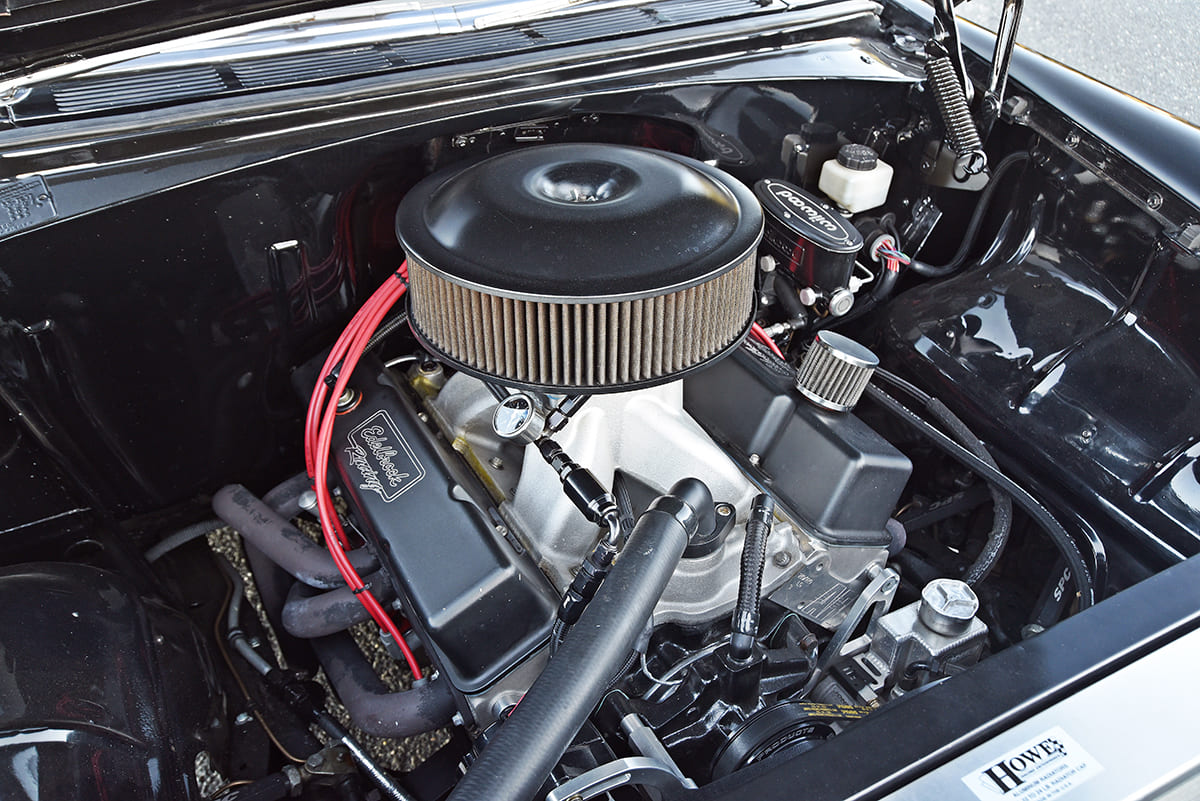 With the convenience of a full shop, the Chevy began taking shape. By this time the ride had seen more modifications, including a louvered hood and a fresh base/clear Mercedes black paintjob by C&M Body in Keyport, New Jersey. A new powerplant for the 1955 was also ordered. The stout 406ci mill was built up, starting with a Dart SHP block and adding a Scat rotating assembly, pushing 11:1 compression. It's sent through the gears with a beefed-up TREMEC T56. "As far as the engine went, our goal was to build a 600hp naturally aspirated engine that would have street manners and be dependable enough to take on daily drives. We definitely achieved our goal," Ron says.
Ride height was the next thing to get tackled, and the guys knew that they wanted it as low as possible without the use of airbags. "Again, attempting to buck the traditional methods of lowering, where an air-ride car is dropped at the show but driven at a higher height, we made suspension modifications to achieve a constant 5-inch drop, which would keep us down in the weeds," Ron says. The front crossmember ends up with 3 1/2 inches of clearance—just enough to handle New Jersey's often-mangled roadways.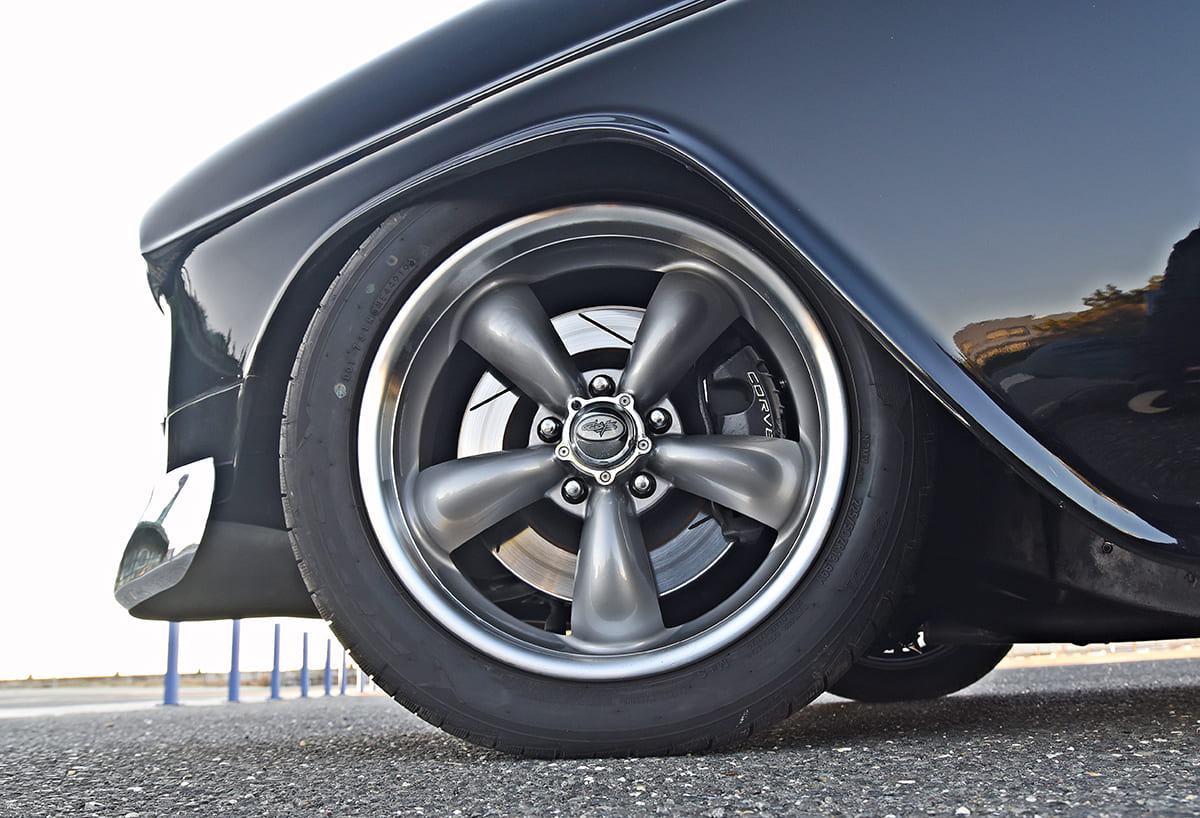 When it came to the four corners, Ron had a set goal in mind when selecting the car's wheel/tire combination. "A lot of guys make a big mistake when selecting the right rim and tire size. These massive stock wheelwells can take a big combo. We went with Coys C5 wheels, 18×7 up front and 20×10 out back. Chris and I then decided on a set of taller tires to help fill up those wheelwells; Nitto Motivos in 225/50R18 under the fenders and a pair of Nitto 555R 275/40R20 drag radials inside the rear quarters. They really gave us the look we were after," Ron says.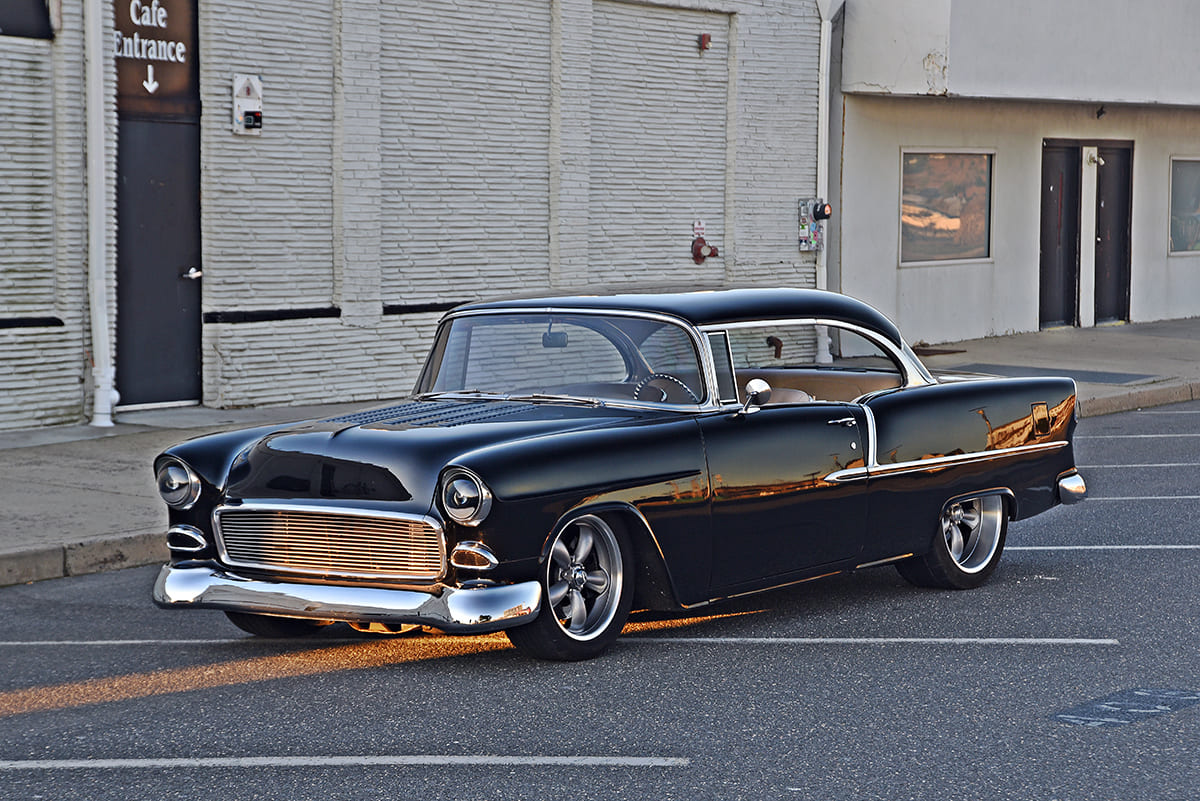 From here the boys' work really started to shine. "We came up with a few one-off modifications we hadn't seen done before," Ron reveals. First mod was the headlights, which are custom-made HID projector lights used on many Mercedes-Benz vehicles. The backgrounds (not lenses) are blacked out to keep the sinister look they were going for," Chris adds. "We also designed the complete electrical system, including a bulkhead connector that can be disconnected at the firewall, a push-to-start system salvaged from a Nissan Altima, and an electronic parking brake from a 2015 Tesla P85; a setup that is triggered by a Mercedes S600 parking brake switch, which happens to fit the curve of the dash perfectly and looks like it was born there," Ron says.
The interior was also modified to fit their needs. A set of 1964 Impala buckets were added, and the upholstery was done over in a leather substitute by Ace Auto in Red Bank, New Jersey. The stock dash is now stuffed with Classic Instruments gauges. An Innovate Technologies air/fuel gauge is an important addition to help the guys keep track of their major mill up front. To help keep this Tri-Five pointed in the right direction, a Billet Specialties steering wheel tops a CJ Rodz tilt wheel column. This twists a Concept 1 power steering box up front.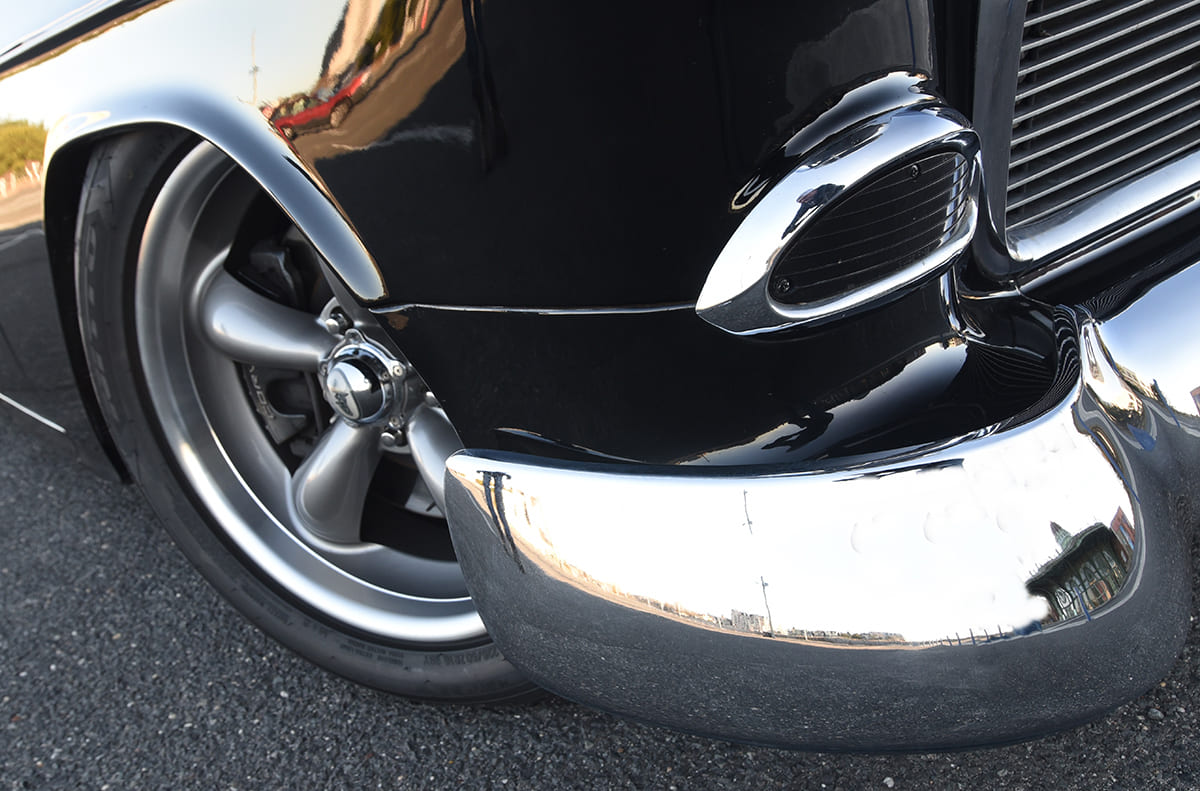 One modification that seems to go unnoticed, except for the die-hard Tri-Five guys, sits right up front. "One of the design flaws of the 1955 Chevy as far as I was concerned were the bumpers. I ordered up a new raw bumper and we cut 2 inches out of the front splash pan, allowing the bumper to be tucked up to the body for a snug fit, then sectioned 2 inches out of the sides to adjust for the 2-inch tuck. This helps it fit properly in respect to the wheelwells. Most people do not notice the mod since it now looks like it belongs, but it is gratifying when they do," Ron adds.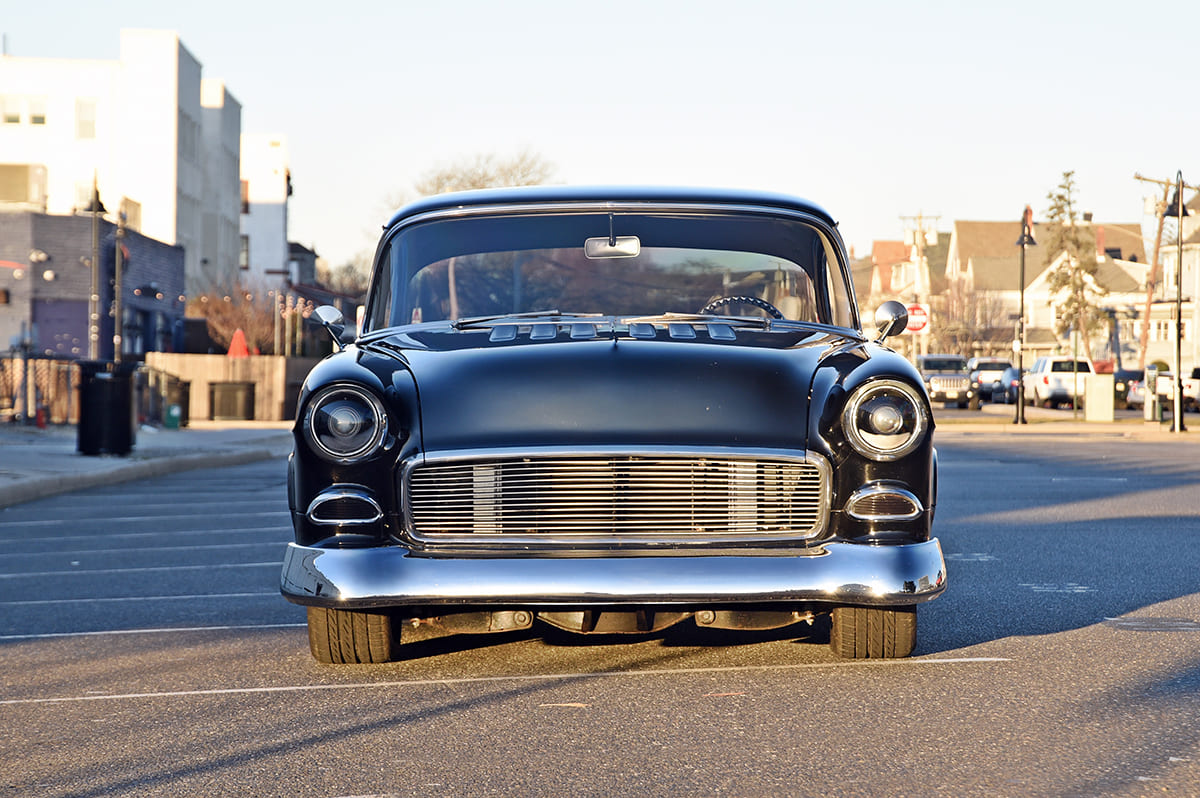 With this setup Ron and Chris have ran the car all over Jersey, bringing it to top shows where the Tri-Five has garnered plenty of awards and oohs and ahhhs to boot. The Rausos' stunning Chevy is often parked right out front of their Autoworks shop and has resulted in a good number of hot rod builds being completed over the years. "We currently have two Tri-Fives under construction, implementing several of the one-offs and mods that we tested on our 1955 build," Ron states.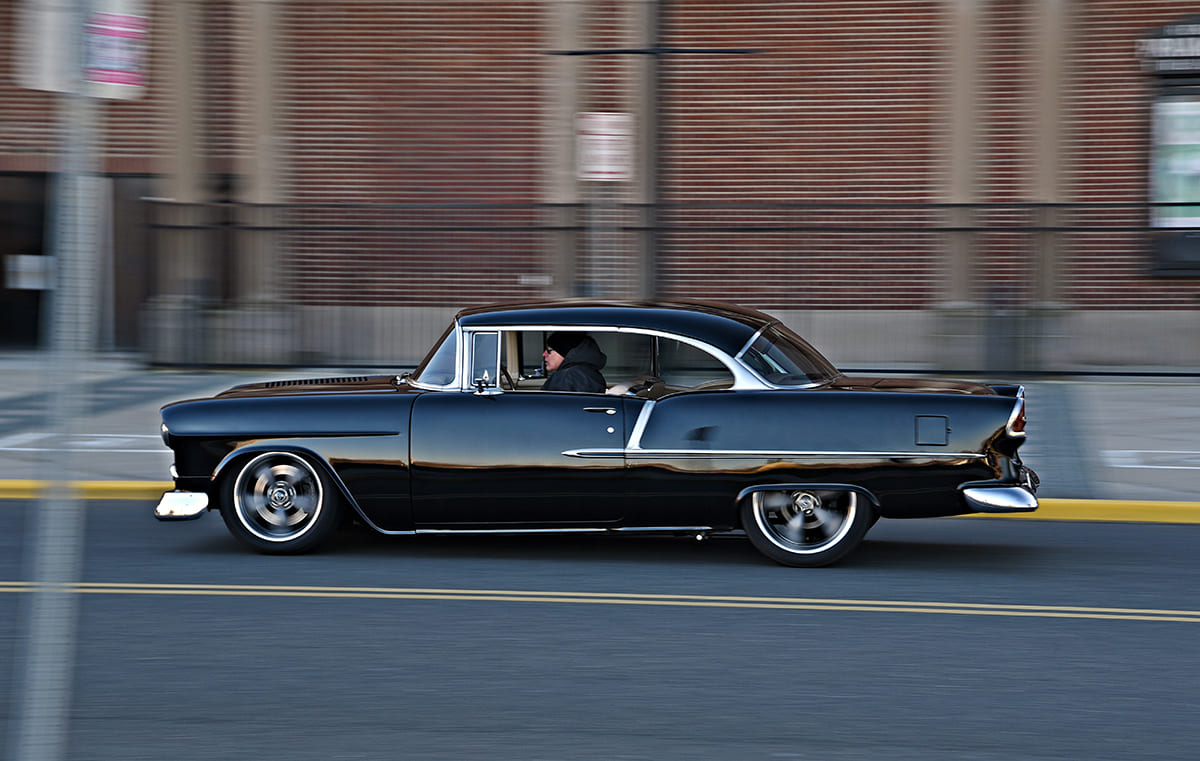 TECH CHECK
Owner: Ron Rauso
Vehicle: 1955 Chevy 210 Sport coupe
Engine
Type: Dart SHP small-block
Displacement: 406 ci
Compression Ratio: 11:1
Bore: 4.155
Stroke: 3.750
Cylinder Heads: AFR 220cc aluminum heads
Rotating Assembly: Scat forged crankshaft, Scat forged H-beam rods,
PBM forged pistons
Valvetrain: Jesel shaft rocker setup
Camshaft: Bullet solid roller cam 0.626/0.626 lift, 290/300 duration
Induction: Edelbrock Super Victor II, AED 1,000-cfm carburetor
Ignition: MSD Ready to Run Distributor,
MSD 6AL-2 ignition control box, MSD Blaster SS coil
Exhaust: Doug's headers, 3-inch X-pipe exhaust system with Borla mufflers
Output (at crank): 600 hp
Drivetrain
Transmission: TREMEC T56
Rear Axle: GM 12-bolt with Richmond 4.33 gears
Chassis
Front Suspension: Williams Classic Chassis Works 3-inch drop spindles, SPC upper control arms, 2-inch lowered springs, Bilstein HD shocks, RideTech MuscleBar sway bar
Rear Suspension: Posies Super Slider 3-inch drop leaves, 2-inch drop blocks, Viking B242 adjustable shocks
Brakes: Rear LS1 Camaro discs, front Corvette C5 13-inch brakes, Wilwood master cylinder
Wheels & Tires
Wheels: Coys C5 18×7 front, 20×10 rear
Tires: Nitto Motivos, 225/50R18 front, Nitto 555R 275/40R20 drag radials
Interior
Upholstery: Ace Auto (Red Bank, New Jersey)
Material: Leather substitute
Seats: 1964 Impala
Steering: CJ Rodz tilt wheel column, Billet Specialties steering wheel
Shifter: B&M Ripper shifter
Dash: Stock
Instrumentation: Classic Instruments, Innovate Technologies air/fuel gauge
Audio: Custom-fabricated hidden 400-watt audio
HVAC: Stock
Exterior
Bodywork: Owner
Paint By: C&M Body (Keyport, New Jersey)
Paint: Mercedes black
Hood: Custom louvered
Grille: Stock
Bumpers: Original modified by owner